Cutting out meat and animals products from your diet might sound like a recipe for disaster but many vegans would completely disagree. Not only can vegan dishes be extremely healthy but, with the right recipe, they can also be packed full of flavor. At the same time, good vegan dishes don't tend to contain that oddly textured meat substitute or fake cheese that you might expect. Instead, they end up being delicious and wholesome meals that are often entirely unique.
With so many vegan cooks, authors and bloggers out there, it shouldn't be too surprising that there is a large number of vegan cookbooks to choose from. Some of these target people with relatively little cooking experience and offer basic dishes, while others are considerably more complex and interesting. At the same time, you'll find that some recipes attempt to make vegan versions of traditional foods, while others focus on entirely unique recipes.
In the past, we've done a post looking at vegan cookbooks, so with this list, we're going a bit more specific and looking at slow cooker cookbooks for vegan meals. Slow cookers are great tools for anyone who has a busy schedule and doesn't always have time for a full meal. But, most cookbooks tend to focus heavily on meat dishes for slow cooking, which doesn't do vegans much good at all. So, here are some of the best choices if you want to get more slow cooking into your vegan lifestyle.
Before you start reading though, I just wanted to let you know we have another very cool post about slow cooker dessert cookbooks. They are not vegan, but you can easily substitute many of the ingredients, as I'm sure you're used to doing. The main thing is to learn the process of creating a dessert recipe and you can get creative from there.
Amazing Vegan Slow Cooker Cookbooks
Vegan Slow Cooker Cookbook by Jessica Brooks
Vegan: Delicious Slow Cooker Recipes
Jenny Walker's The Vegan Slow Cooker Cookbook
Quick and Easy Vegan Slow Cooking
Vegan Slow Cooking for Two or Just for You
Fresh from the Vegan Slow Cooker
Vegan Slow Cooker by Marie Richler
Vegan 101: Slow Cooker Edition
The Vegan Slow Cooker Cookbook
Everyday Vegan Slow Cooker Cookbook
The Vegan Slow Cooker by Kathy Hester
Vegan Slow Cooker for Beginners
Top Pick
Vegan Slow Cooker Cookbook by Jessica Brooks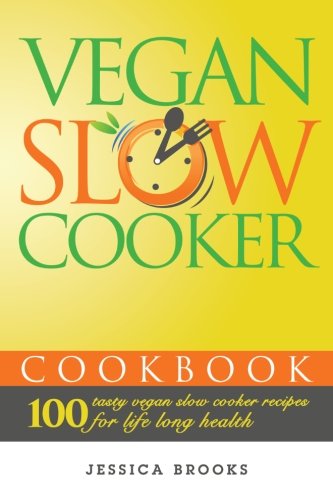 For vegan slow cooking, this cookbook is a fairly popular option and with good reason. The book opens with a discussion of the vegan diet and the benefits it offers, not just ethically but also in terms of health. Then it focuses on the various recipes, offering 100 different recipes across a variety of styles.
This includes some recipes for breakfasts and for side dishes, as well as ones for mains and for desserts. That variation is perfect if you looking for a slow cooker book that doesn't just focus on soups and stews.
Vegan: Delicious Slow Cooker Recipes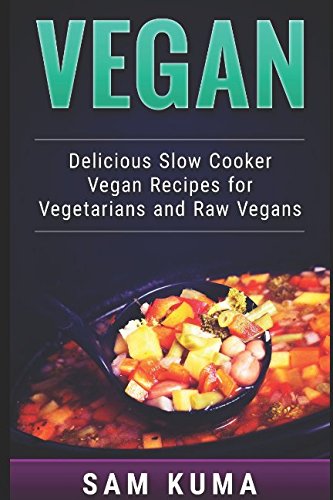 This cookbook is a simpler option, offering around 50 recipes. In many ways, this particular book is best suited for people who want fairly basic vegan meals. A key reason for this is that many of the recipes in the book are traditional recipes with vegan ingredients substituted in. Many of those substitutions are obvious and could be anticipated, although there are some more unusual ones as well.
It is also worth noting that the Kindle version of the book doesn't offer any images or a table of contents and the physical version probably doesn't either. This may make it unappealing but we're chosen to include it on this list because it is still a good introductory cookbook. Additionally, at a cheaper price for the Kindle version of the book, this is a fairly easy way to get new ideas for your meals.
Jenny Walker's The Vegan Slow Cooker Cookbook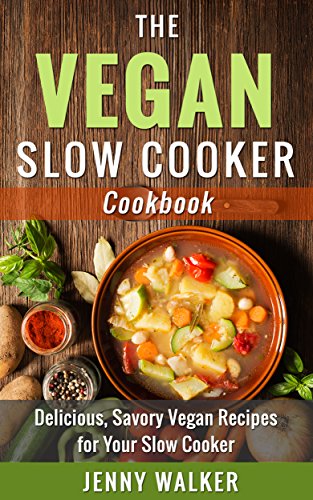 This cookbook is another relatively short one but it is still an interesting choice. The book splits its recipes into four categories, which are types of chili, soups, curries and regional favorites. Each of those sections offers up some recipes that you are probably familiar with along with some others that are unusual. Once again, the book does not offer any pictures to guide you but the recipes themselves are still worth trying out.
Quick and Easy Vegan Slow Cooking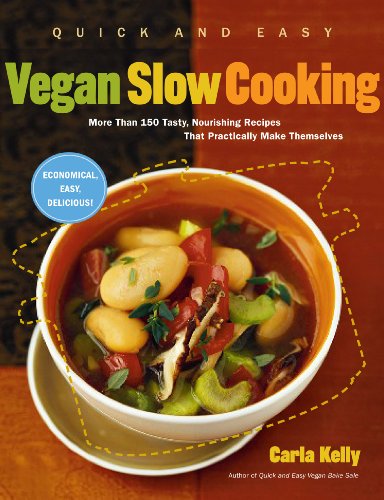 This cookbook acts as a great resource for vegan slow cooking, simply because it covers all of the bases. For one thing, the variation in recipes is impressive, with the author offering some simple options that kids would enjoy as well as more complex choices for adults. At the same time, the author also offers information about which dishes suit a gluten free diet and there are also some recipes that focus on sides to go along with slow cooked meals.
However, it is important to note that many of the recipes are more complex than what many people would expect. Often, people rely on a slow cooker because they want meals that require minimal work, where you can mostly just dump in the ingredients and leave it at that.
That isn't the case with this recipe book. Instead, many recipes have a decent amount of prep work and may even have additional steps during cooking. The end result is meals that taste better and are more complex, but for some people, the recipes may not be worth the extra effort involved.
Vegan Slow Cooking for Two or Just for You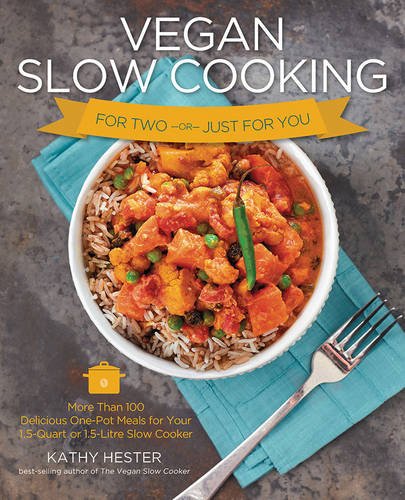 One frustrating thing with slow cooker recipes is that they tend to be designed for large families. If you're on your own or cooking for two, this can mean you end up with a lot of leftovers, which isn't always desirable. This cookbook takes a very different approach and instead focuses on using a small (1.5 to 2 quart) slow cooker. This difference alone makes this cookbook interesting and there is also the advantage that it offers more than 100 different recipes across multiple types of food.
Fresh from the Vegan Slow Cooker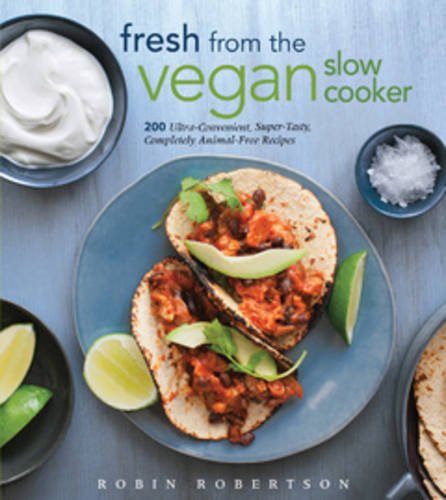 We actually included this book on our overall list of best vegan cookbooks because it really is that good. Unlike most other books on slow cookers, the author of this one actually takes the time to talk about how to make adjustments for various slow cooker models, along with recognizing the quirks of individual machines.
Those tips can make a large difference in the food that you cook as the various models of slow cookers do vary more than you might expect.
In terms of the recipes itself, this book offers around 200 and they encompass a range of different types of food, including Asian, Mexican and European cooking. The recipes aren't limited to main dishes either and there are some recipes for desserts, breakfasts, snacks and even drinks. Reviews suggest that the food itself also turns out great, although some prep work is involved in many of the recipes.
Vegan 101: Slow Cooker Edition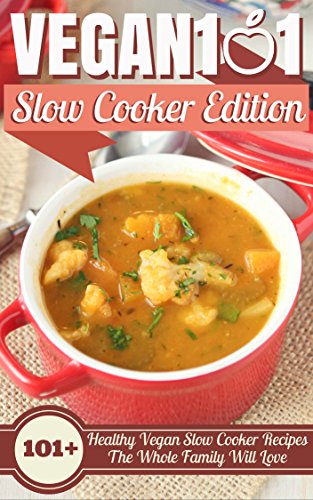 With more than 101 recipes and a low purchase price, it's hard to go wrong with this particular cookbook. If nothing else, the recipes provide a lot of variety and there are many different types of meals to choose from. There is also a table of contents, although this is a little confusing at times.
The recipes themselves do appear to be fairly good and easy to follow. In fact, reviewers have noted that many of the meals turn out well and are popular among guests. The recipes also tend to need relatively little prep work, which is great for those in a hurry.
However, while the recipes may be great for this cookbook, the formatting does leave a bit to be desired. The book itself is plain black and white text, with no images, and the spacing between recipes is unusual, which often means that a new recipe will start half way down a blank page.
That pattern may be because the spacing was designed with one specific device in mind. Regardless, as annoying as the formatting may be, the recipes in this cookbook do still seem to be worth the effort.
The Vegan Slow Cooker Cookbook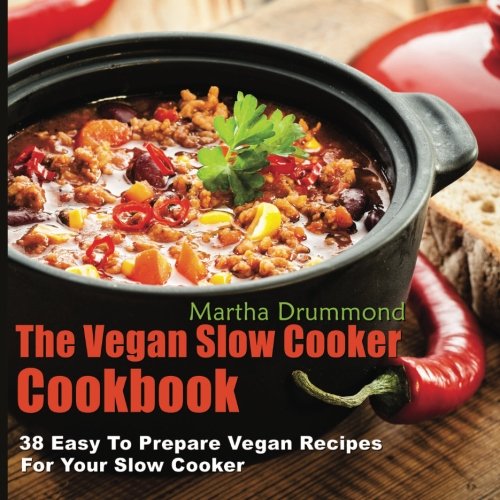 This cookbook is another fairly basic option but it still stands as a good way to add in more variety to your meals. Many of the recipes in the book are along the lines of curry or chili but nevertheless, there are some recipes that stand out, including ones for dessert and even for yogurt. Most of the recipes also require little prep work and are easy to make, which is perfect for those who aren't experts in the kitchen.
Everyday Vegan Slow Cooker Cookbook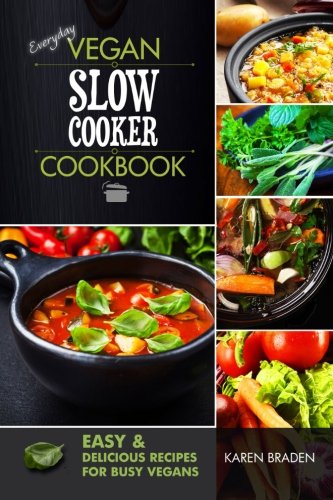 The bright colors of this cookbook make it seem appealing right from the start, although judging a cookbook by the cover probably isn't the best plan. Thankfully, the book itself is actually appealing and it is one of the few shorter cookbooks that actually offers some images – although none of them appear to be of the food that you make.
In terms of the recipes themselves, most appear to rely on common ingredients and are fairly simple to make. Across the whole book, there is a total of 25 recipes divided into 5 categories. So, once again, this is not an extensive cookbook but it may still be appealing as a source of new ideas or as a basic introduction to vegan cooking.
The Vegan Slow Cooker by Kathy Hester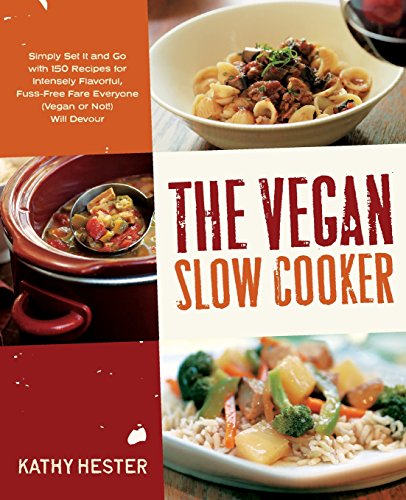 This cookbook is one of the most frequently recommended books for vegan slow cooking and it's even popular for vegan cooking in general. With 150 recipes on offer, the book does provide a considerable amount of variety, regardless of your preferences. In some cases, the recipes are designed so that you have a hot meal ready for you after a day at work, while in other cases, recipes may take just a few hours to cook in the slow cooker.
There are also a few fairly unusual recipe choices in this book, such as recipes for wine, hot chocolate and for sauces. These recipes do mean that there are fewer actual meals in the book than you might expect but even then there is still a considerable selection. The recipes are also designed to be healthy and they are good enough to be popular among non-vegans too.
Vegan Slow Cooker for Beginners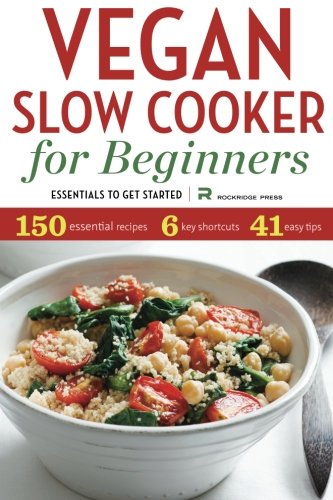 This final cookbook offers a combination of recipes, shortcuts and tips for vegan cooking. Much of that advice emphasizes various ways to save time and to stock your pantry. There is also advice on the best choices for a slow cooker if you haven't purchased one already. The various tips can play a key role in helping people to get the most out of slow cooking because it can sometimes be challenging to figure out the quirks of your own slow cooker and to take these into account when following a recipe.
Reviews for this cookbook suggest that the recipes themselves turn out well and that many of them were extremely easy to follow. At the same time, some of the recipes were more unusual and great for making mealtimes more interesting.
Now, there was one common complaint, which is that the book uses a number of processed ingredients. For some people, this is a major issue while others don't mind. Ultimately, it comes down to personal preference but the reliance on processed ingredients does make sense as this cookbook is targeted at beginners and processed ingredients do tend to make cooking easier.
Top Pick
As you may have noticed, many of the cookbooks that we found tended to be on the simple side. Often these may be a good source of ideas or additional recipes but they aren't good reference tools to rely on in your kitchen. However, there are a couple of books that we do recommend from this list that would be perfect for a vegan cook.
The first of these is Fresh from the Vegan Slow Cooker. This book continues to be popular both as a slow cooker cookbook and as one for vegans in general. The recipes themselves are a key reason for this, especially as there is more variety in those recipes than you will find in most other cookbooks. The fact that the book contains 200 recipes also helps, as it makes it much more likely that you will find a number of recipes that suit your tastes and needs.
The second key book that we recommend is The Vegan Slow Cooker by Kathy Hester. While the book doesn't exactly have a unique name, it is another good choice and offers a range of different types of recipes, including some that are fairly unusual. This one is a particularly good choice if you are sick of slow cooker books that mostly rely on stews and soups, which can get boring fast. Finally, the book also looks great and that's something that can't be said of many of the other books on this list.
Best Slow Cookers
Now you need a slow cooker. Even if you already have one, it's probably time to upgrade. Have you see how amazing these things have gotten lately? Precision cooking and timing, sleek designs, and other up to date features means you can cook the absolute best-tasting meal possible without investing much of your time. Cooking vegan doesn't have to be complicated or take forever.
Check out some of our slow cooker review posts to see what we think of individual models, or categories based on price and size. You can also check out some original slow cooker recipes we've created to get started with some tasty meals there. Not all are vegan though!