Are video games bad for you? You've probably heard that question countless times, not to mention plenty of arguments saying that violent games led to mass shootings, to violent crimes, and countless other problems. Today we want to flip the script. Rather than talking about the concerning features of games, we want to ask, are video games good for you?
Because, as it turns out, games really do offer benefits – and more of them than you might expect.
This effect isn't as surprising as it might sound. After all, video games are dynamic and engaging. They can require players to think, plan, solve problems, or strategize, while also offering a variety of tasks that require pinpoint timing and good reflexes.
The engaging nature also means that players can get very engrossed in the game, which may increase any positive effects. You might find some of the same benefits with board games too, but not all of them.
Are Video Games Good For Your Health?
Types Of Video Games
Benefits Of Video Games
How Video Games Could Be Harmful
Do Video Games Promote Violence?
Should I Play Video Games?
Should Kids Play Video Games?
Final Thoughts
Types Of Video Games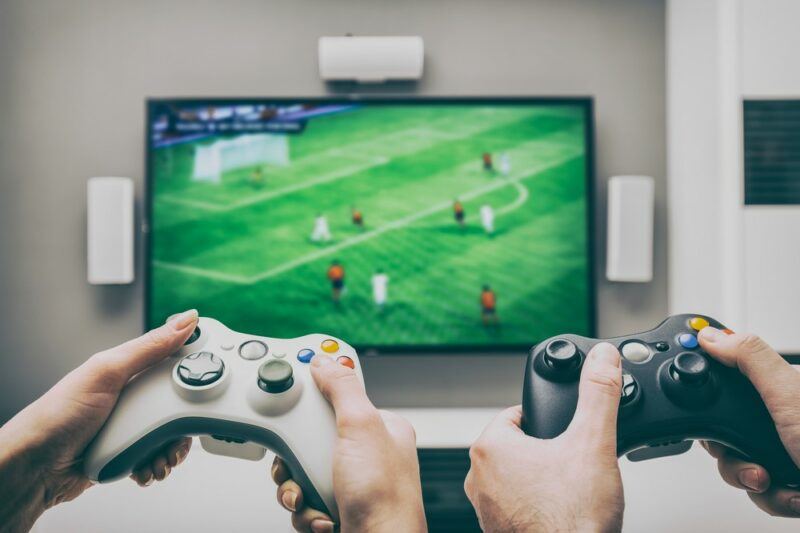 Before we look at the benefits and risks of video games, we need to talk about the types that are out there. This won't be a complete list, of course, as there's an almost endless selection of genres and sub-genres, along with games that don't easily fit into any category.
Even so, thinking about the type of game is important – as the effects of playing will vary depending on the type that you choose. For example, a puzzle game that's complex and requires careful attention is quite different than a fast-paced first-person shooter, where the main goal is to kill everything that moves.
Here are some broad genres, along with the types of games that fall within them.
Action. Action games are typically fast-paced and often violent, where players need to respond quickly. Many fighting games, like Street Fighter, focus on hand-to-hand combat, while there are also plenty of shooters, which focus on guns instead.
Platformer. Platformer games are sometimes considered action games too, as they rely on fast responses. Platformer games get their name from the use of platforms as part of the gameplay, although some now use environmental puzzles instead. Most platformers are bright and colorful, like Spyro or Super Mario Bros. Such games often use cartoon violence, where enemies are likely to explode in a puff of smoke or coins, making them appealing to kids or anyone who is avoiding violence.
Adventure. Adventure games are often narrative-heavy and focus on storytelling. Many keep the violence low or have no violence at all. Adventure games often have a focus on puzzles or problem solving too, which can make them challenging for some players.
Action-Adventure. These games take elements from the action and adventure genres. As such, they're often rich in story and may have many cut scenes, but there's a decent amount of action too. While the style can lead to violent games, many action-adventure games keep the violence to a minimum.
Sandbox. These games allow players more control than normal, often having few goals for them to meet. The style can vary dramatically. For example. Minecraft is considered a sandbox game, one that allows you to engage in combat and build elaborate structures. Some action and action-adventure games, like Grand Theft Auto, sometimes call themselves sandbox too because of the freedom they provide.
Real-Time Strategy (RTS). Not surprisingly, RTS games have a strong strategy focus. Players need to plan ahead and think their decisions through. Most such games have a top-down view and use some resource management,
Role Playing Games. These games come in many forms, including action-based ones. The common element is that players follow one character or a group of characters that level up over time. There's often a focus on gaining skills, acquiring new gear, and more. Examples include Skyrim, Fallout 4, and the Final Fantasy series.
Sports Games and Simulations. Sports games and simulations are designed to mimic real life in some ways, with varying degrees of realism. Some sports games try to get as close as possible to the real thing and even have partnerships with respective sporting organizations.
Another difference is the level of realism. Some games are hyper-realistic, where they might look almost as impressive as a movie (if your computer can handle the graphics). Others don't reach that quality of graphics or use a different design style, perhaps one designed for comedic effect.
Benefits Of Video Games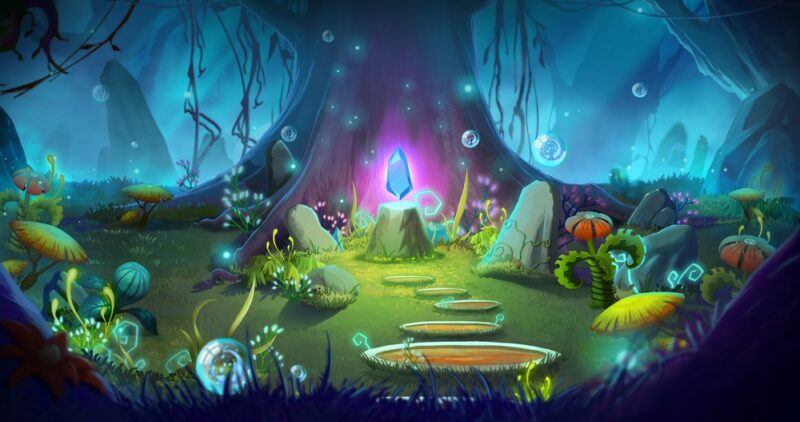 They Provide At-Home Entertainment
The entertainment value of video games is obvious and is also more important now than ever before. After all, the COVID-19 pandemic means that many out-of-the-home activities that we love have been put on hold or, if we can do them, they're not quite the same.
Video games, on the other hand, are designed to be played at home.
They also have an advantage over many other activities, as video games are often very engaging. The experience is much different than sitting and passively watching TV shows or even reading a book.
Can Improve Hand-Eye Coordination
Video games can be amazing for reflexes and hand-eye coordination. This is particularly true for action and platformer games, where you need to react quickly. Many of these games are seriously difficult, particularly at the later levels.
The improvements to reflexes and hand-eye coordination aren't just relevant to the game environment either. They easily flow onto other parts of life.
Games Offer Cognitive Benefits
It's easy to see games as passive entertainment. Yet, this isn't the case at all. Games often require an incredible amount of coordination and problem solving.
Some games make players think harder and more creatively than they would in any other situation – and those skills flow through into other parts of life. Challenging your brain like this may also improve your cognitive abilities, making you better at work, at sports, and in other areas.
You can even find children's educational games. These are designed to help children learn and can be surprisingly effective.
However, don't assume that a game needs to be educational to offer cognitive benefits. Regular games may even be better for the brain, as they're well-designed and enjoyable. People want to play them, while educational games tend to be less entertaining.
Might Improve Mental Health
Surprising as it may seem, video games could improve mental health – and they do so in multiple ways.
They're entertaining, giving you a break from any mental, emotional, or practical strain that you're facing.
Some video games can make you feel happier.
The social connection is incredibly important for mental health, especially for people who would be isolated otherwise.
Confidence from in-game success can improve self-image for people who are struggling.
Some games have a mindfulness-like effect, helping people to disengage and to decrease hypersensitivity.
Research even suggests that games could be used as part of treatment for depression and anxiety
Of course, the type of game you're playing and the time you spend are going to influence the mental health impacts. Spending hours upon hours gaming each day, while avoiding the real world, isn't going to help with your mental health.
Similarly, while a game like Animal Crossing might make you feel happier, an intense and violent game probably won't.
The trick is to use games as entertainment and a way to relax – not as a way to escape life.
Can Help With Confidence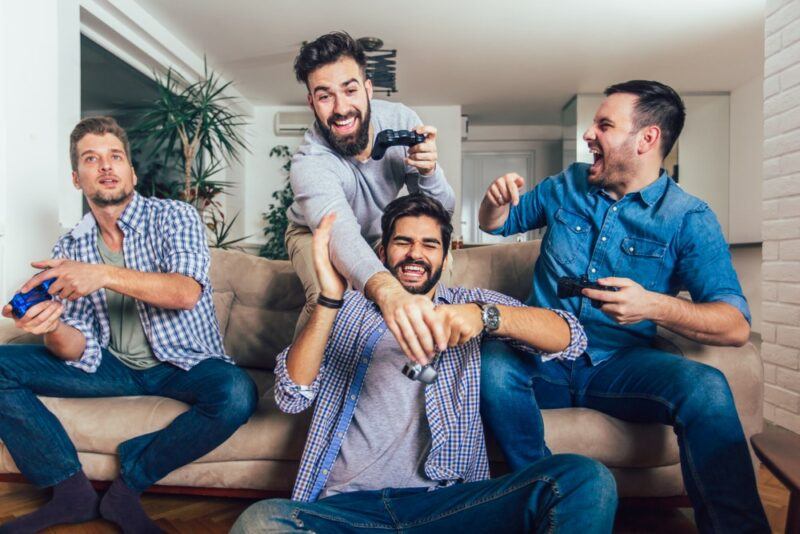 Some types of games can help with confidence too, because they offer a sense of success and achievement. This effect is strongest in games where players have challenging tasks to complete or difficult puzzles to solve.
That sense of achievement could be highly relevant to anyone who struggles elsewhere in life. In other words, being successful in your game can make you feel like a winner, which then gives you confidence to succeed in real life.
There's a catch here though. The confidence increasing effect of games can sometimes be addictive. Some people find it easier to keep winning in their game than to take a risk in real life instead. You'll need to watch out for this to make sure that you stay healthy and engaged in life.
They're A Source Of Social Connection
Games are often seen as socially isolating, as you're shutting yourself away in a digital world. Yet, many gamers will tell you that this isn't true at all.
Multiplayer games, particularly MMORPGs (massively multiplayer online roleplaying games) provide a way for people to connect online, often over long distances. Strong friendships can even develop this way, with players talking to each other outside of the game too or even meeting up eventually.
The effect isn't surprising when you look at the number of players in these games. World of Warcraft, for example, is estimated to have more than 116 million players, while Elder Scrolls Online has close to 19 million.
Plus, many online games have a team component, where a group of people needs to work together.
The connection you find in a game isn't the same as meeting up with people in real life. But, you don't need to choose one or the other. Plenty of people have online social connections, along with in-person ones.
Games also allow you to connect with people in times and in ways that you couldn't otherwise. For example:
People with anxiety often find online interaction a safer starting point than in-person conversations.
Many online games have global audiences, so there's always someone to talk to, even if you're playing at 2 am. This can be incredible if you're in the middle of a mental health crisis and urgently need some form of social connection.
COVID-19 means that many of us have fewer than normal in-person options for connection, making the online environment much more valuable.
Some Games Provide Exercise
While most video games are played with a controller or a keyboard and mouse, some encourage physical movement instead. PlayStation Move, Wii, and Xbox Kinect are all designed with movement in mind.
There are plenty of active games, including sports-based ones, dance games, exercise games, and even adventure games where you are using your body to control some of the action.
These games don't just promote light exercise either. Some of them can be quite intense.
The style can be perfect for anyone who struggles with exercise. Turning the whole thing into a game really does make a huge difference. Besides, having an enjoyable way to exercise at home is useful while the COVID-19 pandemic is still raging.
How Video Games Could Be Harmful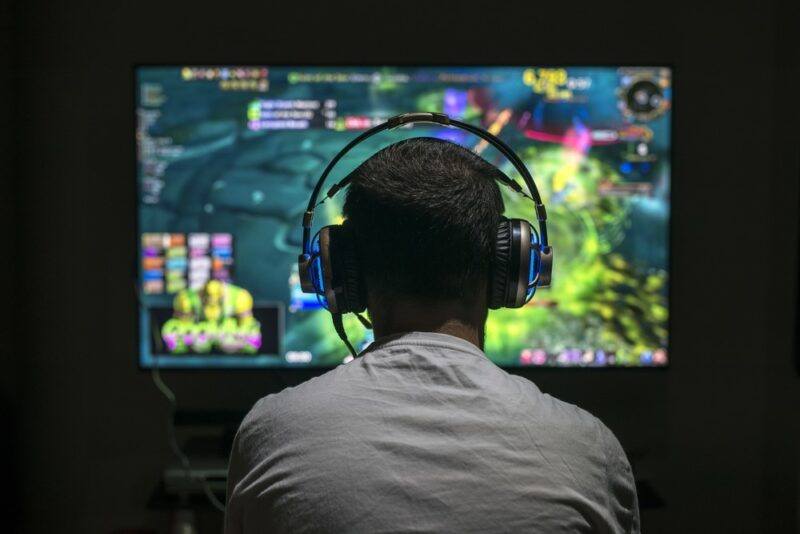 The list of arguments against video games is long and often repeated. While there are plenty of valid points in there and some real risks, the issues are often taken out of context or exaggerated.
We've highlighted some of the main risks below. As an adult, it's your job to weigh up the pros and cons, then decide for yourself. Don't forget that video games aren't all the same either. There are many different types, including some that aren't violent at all.
The type of video game that you play and how long you spend playing it is ultimately much more significant than whether or not you play games at all.
Most Games Are Sedentary
Games generally involve sitting in the same place the entire time. Often it's just your hands moving and little else (except with the movement-based games that we mentioned earlier).
The lack of movement can easily be a problem, promoting weight gain and a variety of health issues.
This issue isn't a big deal if you're playing games every so often and only for an hour or two at a time. Just make sure that you're still getting regular exercise.
Gaming May Disrupt Sleep
Playing games often disrupts sleeping patterns. This may be partly due to the blue light from the screen disrupting melatonin production.
The addictive quality of games is another factor. It might be difficult to stop playing at bedtime if you're enjoying yourself.
The best way around the issue would be to avoid playing games in the evening and at night. However, adults with full-time jobs may struggle to find other times to play games.
Your Social Skills May Be Affected
While gaming can offer some social contact, it's not even close to interacting with people in person. Spending too much time on a game and not enough in the real world can impair your social skills and disrupt your friendship network.
This is a particularly big issue for anyone who works from home or is unemployed, as your social opportunities are already less than they could be.
Games Can Be Additive
Some people do get addicted to video games, where they spend large amounts of time gaming and aren't interested in much else.
The biggest indication isn't the amount of time that you spend gaming, but what the rest of your life looks like. If you're addicted to gaming, then your game is likely to be on the forefront of your mind most of the time. The time you spend being social, going out, and exercising is probably much lower than normal too.
Such patterns are signs of a serious problem. They could mean that you need to dramatically cut down the time you spend playing – or perhaps take a break for a while.
Do Video Games Promote Violence?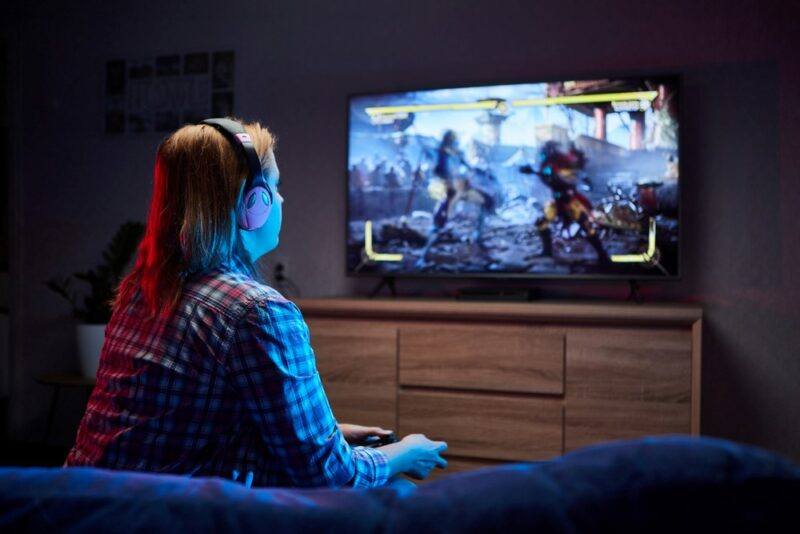 One of the biggest concerns is that violent video games will make people more aggressive and even violent. Plus, just like with movies, the graphics and level of violence in video games just seem to be getting more intense.
Take the modern Tomb Raider games as an example. They're partly action platformers, but end up with a shocking amount of killing too, some of which is very up-close and graphic.
That's not even counting all the games where violence seems to be the only goal, like the entire shoot 'em up genre and fighting games. Some games, like the Grand Theft Auto series and Postal allow players to be violent whenever and however they choose, with little discrimination.
However, the idea of blaming video games isn't so different than how some paintings caused moral outrage in the past, how some books were thought to create moral decline, or how comic books were linked to juvenile delinquency (yes, really).
Researchers have spent a lot of time digging into video games and their impacts, with mixed results.
One recent report suggests a consistent link between violent video games, while many academics contested the report, saying that the research wasn't well designed.
Despite all the concerns, violent video games are popular and most people who play these games don't appear to go out and commit crimes afterward.
Some claims suggest that violent games contributed to school shootings in the United States. Yet, other countries have had access to the same games and don't have the same problems with school shootings.
Indeed, plenty of authors say there's little evidence that video games promote violence at all.
Some evidence suggests that violent video games can increase aggressive behavior, including pushing, threats, and hitting. Similarly, games may decrease empathy and promote antisocial behavior.
Right now, the idea that video games promote violence is largely rhetoric. There's little evidence backing the claims up. The games may, however, promote aggression, which is concerning for parents. There's also the chance for long-term effects that we don't know about yet.
Don't forget that the potential for violence is specific to violent video games – not all video games. Games with a focus on problem-solving or world-building, for example, aren't likely to promote violence at all.
Should I Play Video Games?
If you're playing video games for entertainment and relaxation (rather than escapism), then they're not a bad idea at all. They may even be helpful, giving you something enjoyable to do that is surprisingly stimulating and may help your brain and reflexes.
Most of the issues with video games come from two areas – violence and overuse.
As we discussed in the previous section, the link between violent video games and violence hasn't been proven. Such video games may be harmful to some people, but not to others.
The simplest answer is to avoid violent video games entirely if you're concerned. There are plenty of other types to try anyway.
If you do play violent video games, try paying attention to how you feel afterward and whether there's any increase in aggression, frustration, or anger. If you do notice an increase in aggression, it might be best to choose another type of game.
The other important approach is to moderate the amount of time that you spend playing. Make sure that you have enough time for the important things in your life, including exercise and social connection.
Should Kids Play Video Games?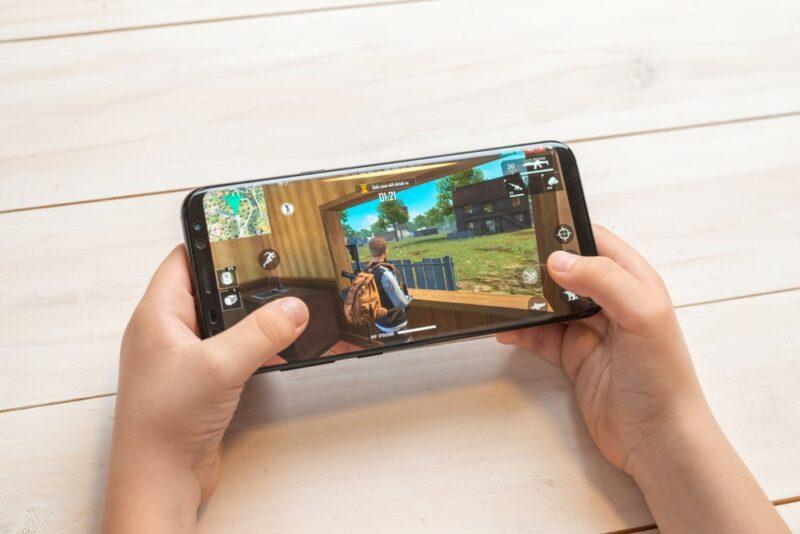 Video games are interesting. There's clear evidence for benefits and for harm.
This balance suggests that rather than prohibiting video games entirely, parents should be careful. This includes paying attention to the games that your children play, their behavior, and the amount of time that your child spends playing.
Many parents do this by having time limits and by insisting on regular breaks. And, if the child starts to become irritable, it might be time to stop them from playing for a while.
It's also important to talk to your child about the risks, particularly if they're playing online. Doing so is ultimately safer than prohibiting your child entirely, as it's better to develop a trusting relationship with them than to risk them going behind your back.
Final Thoughts
Asking whether video games are good or not is far too simplistic. The effects of games are influenced by many things, including the person playing them, the time they spend gaming, and their motivations – not to mention the specific games that are being played.
Many people have no problems at all with games, finding them enjoyable and not addictive, and using them as a small part of their life. For people in this camp, video games could be beneficial, providing stress relief, social contact, improved coordination, and more.
Others find that they easily get lost in games, spending hours upon hours playing, while avoiding other parts of life. Or, they may become aggressive after playing, perhaps due to the images in the game or because of frustration while playing.
People falling into this second camp are at more risk and may see fewer benefits from games.
These differences mean you need to pay close attention to the games you choose and how you feel after them. Watching your patterns can help too. If you notice that video games start to become your main, or only, source of entertainment, then it's time to pull back and spend more time on other areas of your life.