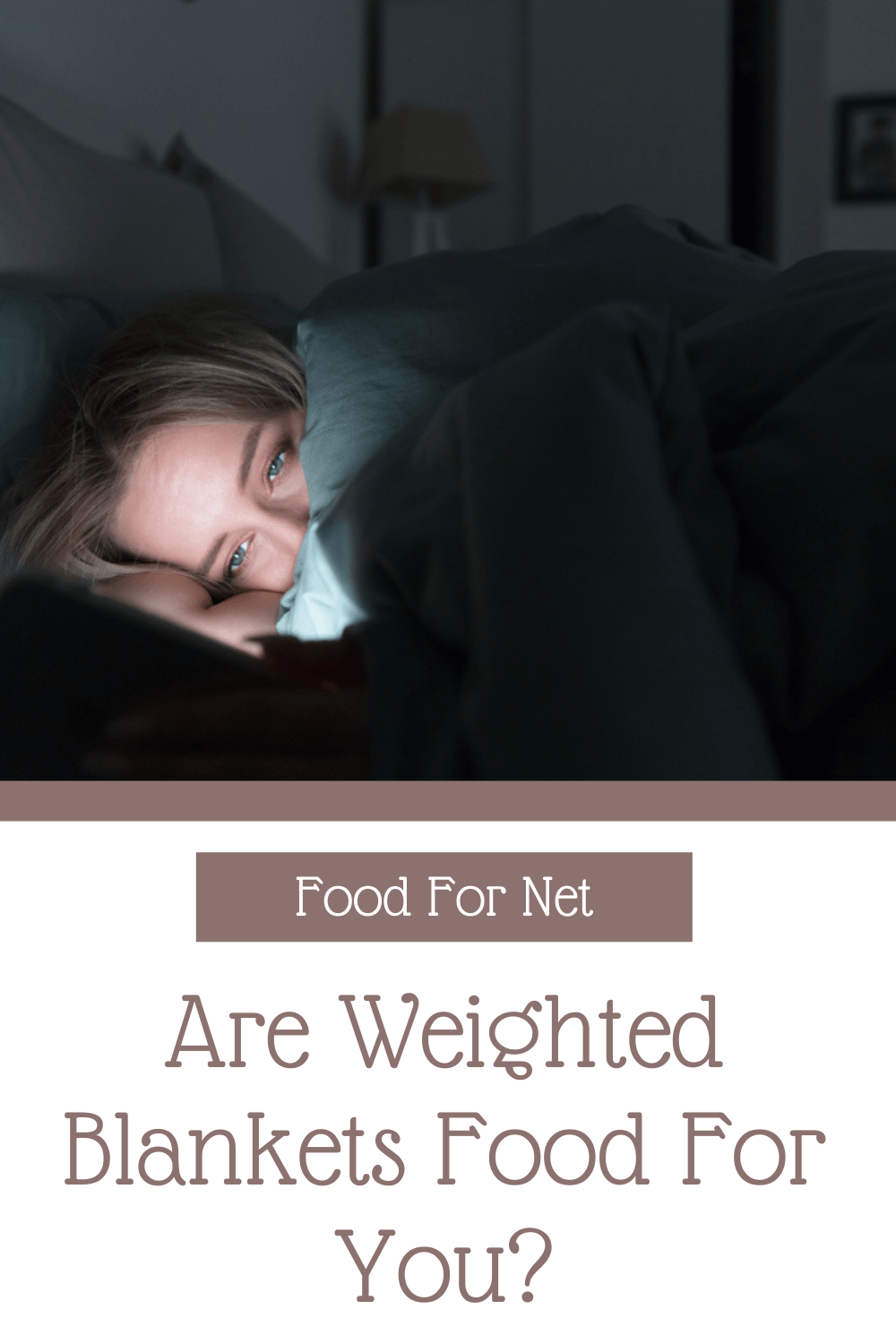 Weighted blankets have gone from being an obscure idea to an incredibly popular one. They're often hailed for their ability to decrease anxiety, to provide comfort, and to improve sleep. While they certainly sound appealing, are weighted blankets good for you in practice?
The underlying idea is simple enough. Weighted blankets provide deep pressure stimulation. This is similar to the sensation that you get from being hugged or from having a pet in your lap. Weighted blankets, however, are hands-off. No other person or animal is needed, which could make them powerful indeed.
While the idea sounds amazing, the science is still catching up. So, let's take a close look at what we currently know about the blankets and whether it's worth getting one for yourself.
Are Weighted Blankets Good For Your Health?
What Are Weighted Blankets
Benefits Of Weighted Blankets
Problems With Weighted Blankets
Should You Use One?
How To Choose A Weighted Blanket
Final Thoughts
What Is Are Weighted Blankets?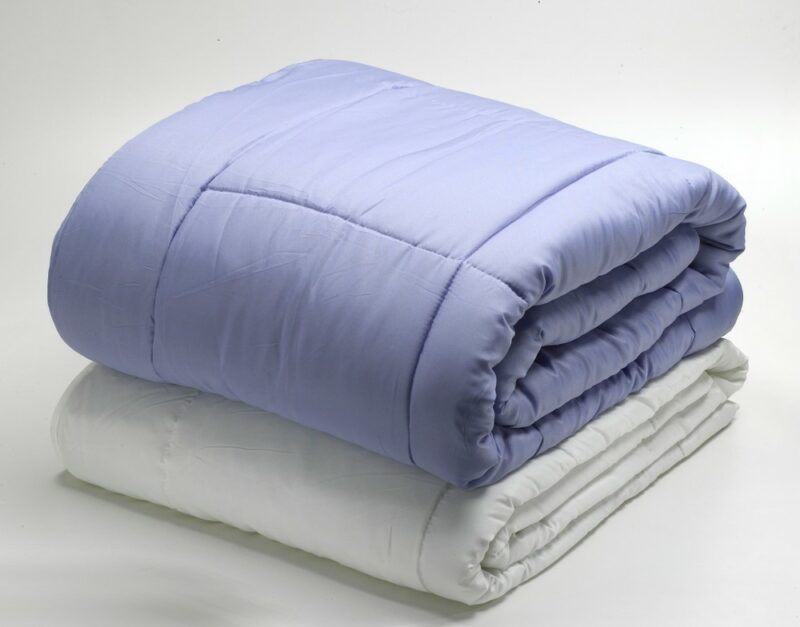 As the name suggests, weighted blankets are simply blankets with extra weight. They're often made by sewing together many small compartments, each of which is then filled with weighty components, like glass beads, plastic pellets, or metal beads.
The beads or pellets provide the weight, without making the blanket overwhelmingly hot. Some weighted blankets use relatively light materials, making it possible to use them even in the summer.
The style and material can vary dramatically, depending on the product that you choose. It's even possible to make a weighted blanket yourself. Doing so can be much cheaper than buying a weighted blanket, although the process can be time-consuming.
Benefits Of Weighted Blankets
Can Improve Sleep Quality
The blankets are often linked to improved sleep. There's something about the extra weight that helps people to feel less restless and to calm down faster.
This isn't just theory either. Many people swear that weighted blankets have done wonders for them, helping them to sleep deeper and for longer than they could before.
To work out whether this applies to you, think about how you feel in the winter with plenty of heavy blankets on top of you. How does the weight of the blankets feel? Do you find them comforting or do they make you feel trapped?
Weighted blankets give you that same type of weight, with less heat. So, if you find weight comforting, the blankets could help you sleep. If you don't, then the blanket might make sleep more difficult instead.
Relevant For Depression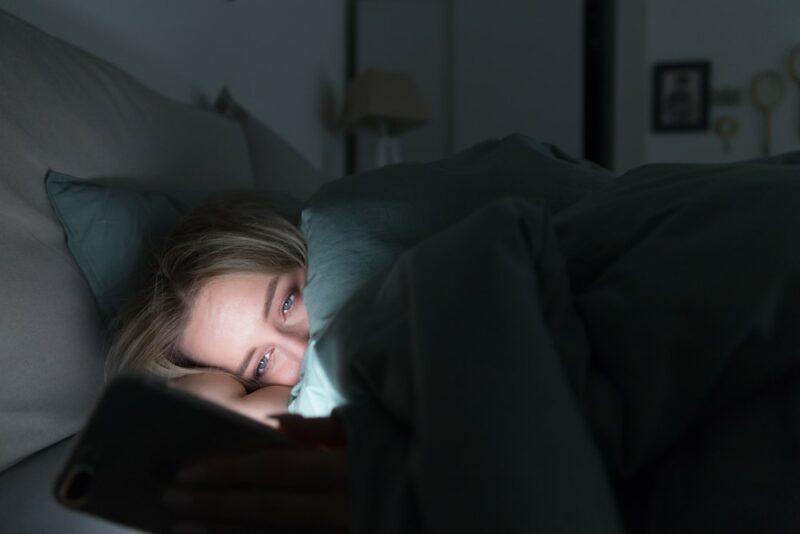 Treating depression is complicated. The best approaches involve a combination of techniques, including exercise, psychotherapy, and sometimes medications.
Things that make you feel better and safer can be a part of this mix as well, including weighted blankets. Some therapists even recommend weighted blankets to their patients. If nothing else, the blankets can be a way to help feel in control. Their weight also gives you something else to focus on, rather than your intense emotions or thoughts.
Weighted blankets certainly won't solve depression on their own. Still, they're not likely to hurt and they can be a useful tool in your kit bag.
Can Reduce Anxiety
Weighted blankets are perhaps most famous as a way to decrease anxiety. The extra weight is meant to help calm your sympathetic nervous system, making you feel calmer and more grounded. Indeed, many people with anxiety do find the blankets to be very soothing.
As was the case for depression, a weighted blanket isn't likely to resolve your anxiety overnight. It does nothing at all for what is triggering your anxiety to begin with, nor does it teach you healthy physical or mental habits to reduce anxiety overall.
All the blanket does is give you a safe space, where you can calm down for a while.
This safe space, however, can be incredibly helpful, especially if you are working on your anxiety in other ways as well.
May Help With Panic Attacks
The blankets could even be relevant when you're experiencing a panic attack. Not only do they promote a sense of comfort and safety, but they also help to ground you, by giving you something outside of yourself to focus on.
However, this effect won't be true for everyone.
If you struggle with feeling closed in or trapped, for example, then a heavy blanket around you could be the worst possible thing. You'll need to cautiously experiment to find out whether the blankets work for you.
Also remember that the blanket probably won't stop the panic attack entirely. Often it simply helps to calm you down sooner or make the sensations more bearable.
May Help People With Autism As Well
Weighted blankets are relevant for autism too, helping to relieve stress and making it easier to focus on what's happening. These effects are particularly relevant when the individual is in a demanding situation or is highly stressed.
The blankets can help in another way too, by providing comfort when an autistic person is feeling over-stimulated. This comfort can help them to relax and recenter, turning an unbearable situation into one that can be managed.
Some studies have highlighted potential benefits from the blankets, but research is spotty. Most of the evidence comes from personal anecdotes. Because of this, it's important to talk to any relevant doctors or therapists before using a weighted blanket regularly. They'll be able to help you decide whether the idea is worth trying and whether there are any risks.
Problems With Weighted Blankets
While weighted blankets can be helpful, they're also something to be cautious with, as they're not suitable for everyone.
Can Be Difficult To Remove
Weighted blankets are heavy. That's the point, but their weight also makes them difficult to remove. For the average person, this simply means you need a little more effort than normal – like throwing heavy blankets off your bed in winter.
But, for people with limited upper body strength or cognitive ability, weighted blankets can be frustrating, scary, or even dangerous.
Imagine having an anxiety condition, then feeling like you're trapped under a blanket that you can't get off. That would be terrifying. The situation would be even worse if you faced cognitive challenges, as you mightn't even understand what is happening.
As such, anyone using a weighted blanket should be able to remove it on their own.
Not Relevant For Everyone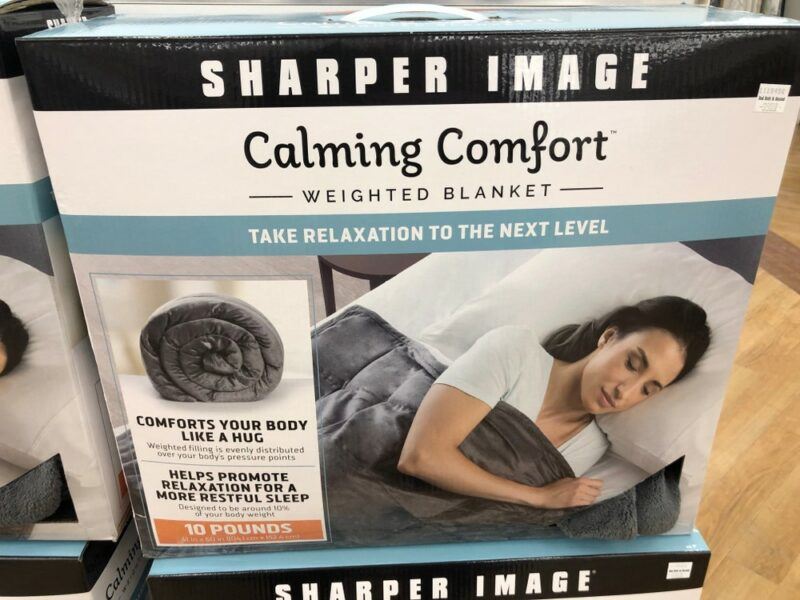 Weighted blankets can also be a problem for some medical conditions, including low blood pressure, asthma, and type 2 diabetes. In fact, any condition that influences your respiration or blood pressure could be made worse by a weighted blanket.
Honestly, if you have any type of health condition at all, it's best to talk to your doctor before using a weighted blanket. This way you can be certain there are no risks before you get started.
Also, the blankets aren't safe for infants and toddlers. There's too much risk that they'll become trapped by the blanket.
Most Proposed Benefits Haven't Been Proven
Despite their increasing popularity, evidence for weighted blankets is extremely variable. Some studies show that they might be useful for specific populations at specific times, while other studies highlight no benefits at all.
Indeed, most of the evidence we have that these blankets work come from personal stories and reviews – from people who have tried the blankets for themselves and seen positive results.
There's A Lot Of Hype
Weighted blankets are all the rage right now. There's a lot of marketing surrounding them, along with many people saying just how amazing the blankets are.
Marketing like this can be frustrating. It's easy to get caught up in all the positive stories and miss just how much we don't know about the blankets. Honestly, for every person that they work well for, there could be two or three people (if not more) who see no benefit at all.
They're Expensive
Not surprisingly, weighted blankets cost more than your regular blanket. You might be able to pick one up for under $100, but many others cost closer to $200 instead.
You're partly paying for the size and the weight of the blanket, so a blanket suitable for an adult will generally cost more than a child's one.
The type of material used will influence the price of the blanket as well. Pricier versions tend to be more durable. Some of them are designed to be breathable too, which is a useful feature and helps to keep you cooler.
The price of weighted blankets is a serious limitation, as some people mightn't be able to afford them at all.
Also, you're often buying weighted blankets in a box or online. You don't get the chance to test the blanket for yourself first, so you need to pay the money before you even know whether the blanket will be helpful. That's frustrating because the benefits of these blankets aren't guaranteed at all.
Should You Use One?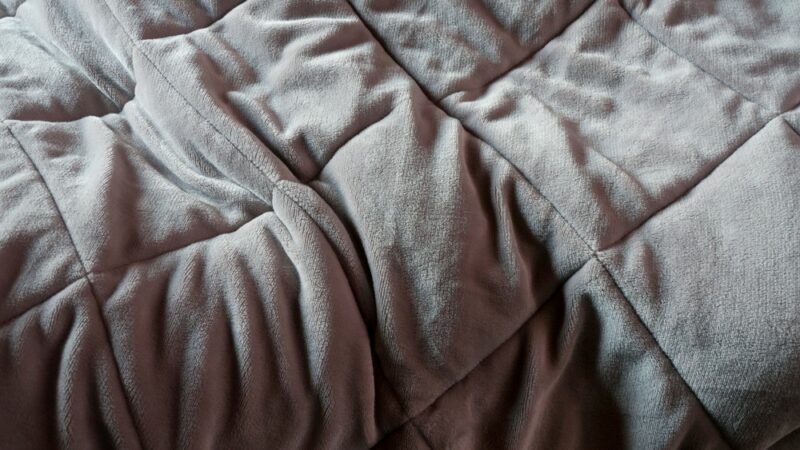 One of the coolest things about weighted blankets is that they're a therapeutic aid that can be purchased or made for home use. This can be fantastic for people with anxiety or depression, who are looking for approaches that they can apply themselves.
However, the blankets are most relevant for people with anxiety, depression, autism, or related conditions. You might enjoy the weight or the feel of the blanket, but unless you experience one of these conditions, weighted blankets aren't likely to help you much at all.
If you do suffer from anxiety, depression, or high levels of stress, then a weighted blanket might be relevant. There are no guarantees, of course, but with so many positive stories about the blankets, they're at least worth trying for yourself.
Besides, even if the blankets only work through the placebo effect, a positive effect is still a positive effect. For people struggling with sleep or anxiety, anything that might help is worth trying once.
How To Choose A Weighted Blanket
Blanket Weight
If you're going to use a weighted blanket, you need to choose the right weight. Most products will provide details on them but, in general, the blanket's weight should be somewhere between 5% and 10% of your weight.
For adults, this often means a blanket between 12 pounds and 30 pounds. Children will generally need lighter blankets, often less than 8 pounds. Seniors may need light blankets as well, as their physical strength is often limited.
Also make sure that whoever is using the blanket can remove it on their own, without any issues.
The weight recommendations aren't hard and fast rules. You may need to experiment to find the right weight for your needs. For example, people who sleep on their side may need lighter blankets than those who don't, while people who get a lot of comfort from weight might choose a heavier than normal one.
Blanket Size
The size of your blanket matters too. Some people prefer small blankets that wrap snugly around them, while others look for larger blankets that cover the whole bed. Either style can work well, although the smaller blankets tend to be cheaper.
It is, however, important to avoid blankets that are too large. If the blanket ends up hanging over the edge of your bed, the weight could easily drag it down onto the floor.
Blanket Material
Finally, there's the material of your blanket. Some weighted blankets use materials like bamboo, which help to keep you cool. This gives you a blanket that's heavy but not hot, a style that might be perfect if you overheat easily or live in a hot climate.
Other weighted blankets are plush instead and should help to keep you warm. These can be perfect if you often feel cold. Plus, the combination of weight and warmth may be particularly good for relieving anxiety.
There are other differences too, including whether the blanket uses plastic pellets, glass beads, or something else for weight. There are even some that bypass the filling idea entirely and use layers of fabric or yarn to provide the blanket's weight.
These differences are why it's worth buying a blanket in-person, rather than shopping for one online. Hopefully you'll be able to try the blanket out or at least feel it before purchasing. If not, perhaps you can find a place that allows you to try the blanket for a while and return it if it isn't quite right.
Looks At Reviews
If you're stuck for ideas, check out weighted blanket reviews. The best ones highlight a variety of products and give you full details about what they feel like to use, what their strengths are, and where they don't do so well.
Reviews are always helpful, but they're particularly powerful for weighted blankets, as there are so many differences between the products. Without reviews, it would be tough to find a perfect fit for your needs.
Final Thoughts
For the right person and the right situation, weighted blankets can be powerful. The comfort they provide is similar to being hugged, except that you have complete control. It's easy to see how this is perfect for anyone with anxiety, even more so if you happen to live on your own.
I've played around with weighted blankets myself and find them incredibly useful when I'm highly stressed, as they help to calm me down and make me feel more grounded.
Still… weighted blankets aren't useful for everyone. They're most relevant for people who deal with anxiety, depression, and perhaps for autistic children. If you're healthy and doing well mentally and emotionally, then the blankets mightn't help you much at all.
There are plenty of other ways to feel good too, including healthy practices like taking a sauna, getting a massage, and trying hot yoga.
Frequently Asked Questions
Are Weighted Blankets Safe?
Weighted blankets are generally considered safe for most adults and some kids. However, there are some major caveats here.
First, research is still ongoing. The blankets haven't been tested for every health condition and every population, so there's a lot we don't know. Blankets come in different styles and weights too, which also influence the potential benefits and risks of the blankets.
Second, the blankets aren't good for everyone. People with circulation issues, low blood pressure, or open wounds may experience problems with weighted blankets. In fact, it's best to talk to a doctor if you have any health conditions at all.
Weighted blankets are also a poor choice for young children and seniors with limited physical strength, as they may not be able to remove them when needed.
Are Weighted Blankets Hot?
They can be, as the heavy blankets do tend to trap moisture and heat, which increase your body temperature. However, some are designed to address this issue. Such blankets rely on breathable material, which helps air to circulate. Some even use heat wicking fabric to make them even cooler.
If you're worried about heat, look for products that are marketed as breathable, cooling, or for summer. You can also check out online reviews to see how others experience the blankets.
Are Weighted Blankets Good For Arthritis?
Weighted blankets can help with chronic pain, including arthritis. They provide just enough pressure to ease pain rather than increasing it. However, you need to choose the blanket weight carefully, as an excessively heavy blanket could easily cause pain.
It's also important to pay attention to your body. Some people may experience increased pain from a weighted blanket, particularly if their joints are very sensitive or the angle is wrong. 
If this is the case for you, it's important to ditch the blanket. Seriously. Even if many people with arthritis benefit from the blankets, some people won't.
Are Weighted Blankets Bad For Circulation?
Weighted blankets have mixed effects on circulation. Some people find that their circulation improves, which is partly why they feel better when using the blankets.
Others find the opposite, particularly if they have a serious health condition like diabetes. This is why it's important to check in with your doctor first and pay attention to your physical responses.
What Is In A Weighted Blanket?
Weighted blankets often have pockets that are filled with something to weigh them down. Glass beads are a particularly common filling, but you may also see sand, steel beads, pebbles, grains, or plastic poly pellets.
You'll occasionally see blankets that don't use filling at all. These may simply use a heavy material or be cleverly knitted to increase their weight. Such blankets mightn't be as heavy as ones with a filling, but their weight is distributed more evenly, which can be helpful.