Blue can be found around us in the natural world…and in very large quantities! Both the sky and the ocean are blue. I think we all know the phrase "feeling blue" but that doesn't mean having a blue kitchen is going to make you sad all the time! It can convey peace, relaxation, and even spirituality. It's a calming color, and is perfect for someone that enjoys spending an afternoon tinkering around baking something just for the heck of it.
There's a huge range of blues to choose from, as you can see from the 30+ blue kitchen designs I grabbed from around the web below (I'll continue to add them as I discover them). Notice how darker blues with stainless steel can create a modern, clean look, while lighter colors with more traditional cookware can give the space a "homey" feeling.
Of course, your kitchen is your own to create!
In a few days I'll also be updating this post with a link to blue kitchen utensils and equipment you can browse and purchase to color coordinate appropriately.
Rustic, recycled barn board style floor boards compliment the sky blue cabinets.
Cerulean blue walls with cream cabinets and cream or lemon chiffon appliances and cabinets.
Denim blue glossy cabinets and rectangular white tile backsplash
Dutch blue dominates this kitchen's cabinetry
This beach style kitchen is enhanced with light blue.
Check out that amazing wine rack painted in steel blue!
I get a 50's vibe from this one!
Country Kitchen with blue accents
Baby blue walls and white shelves looking pristine
Cool metal look and clean lines complimented by dark wood accents
Here's some light wood with Navy blue walls
Brow mosiac backsplash and blue-gray cabinets

Dark stained wood and granite countertops
Blue Vintage Design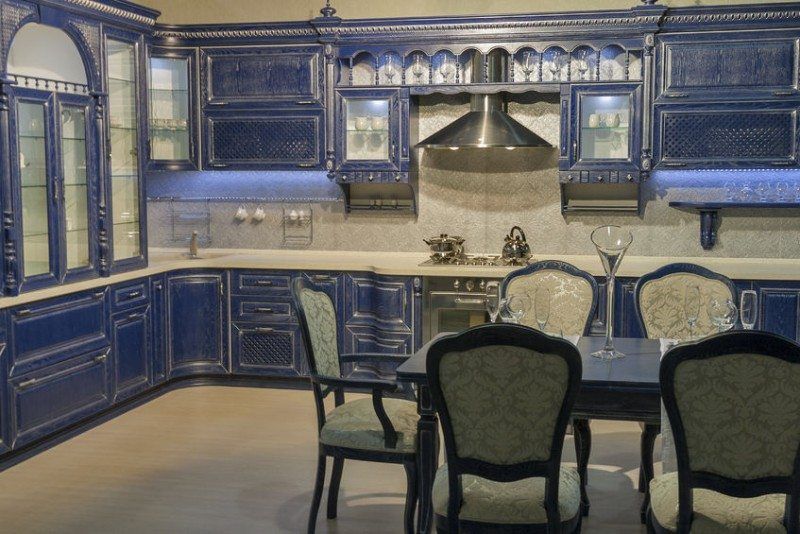 Stainless steel appliances and Sapphire blue
Teal Tile w/ Grey

Varying shades of blue and green. It reminds me of the seaside!
Colonial house with rustic cookware
Sophisticated design with Prussian blue wallpaper

Kitchen Island with stained blue wood
Sapphire blue vent hood and stove
Cottage with blue cookware
Baby blue vent hood and old school range
Modern Kitchen with Prussian blue

Royal blue range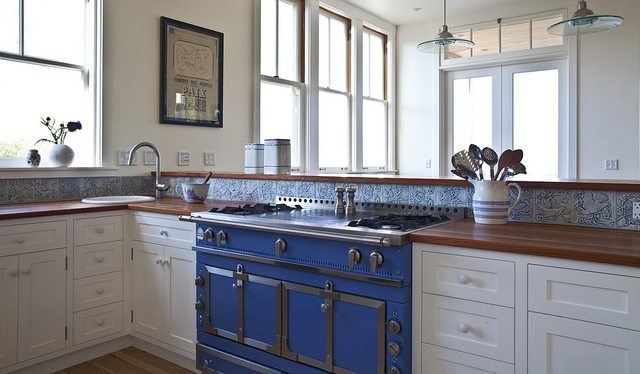 Tiffany blue with dark gray stone backsplash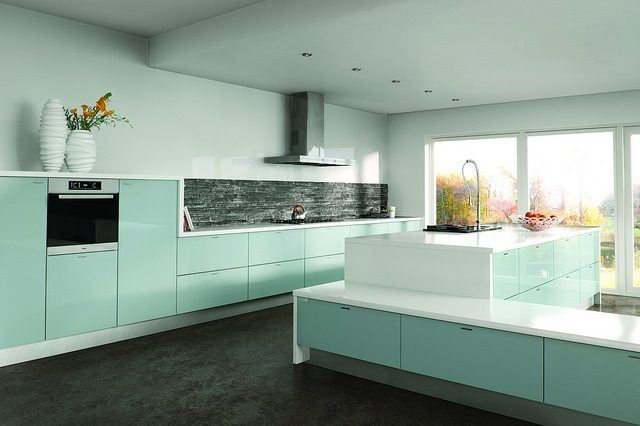 Look forward to the blue kitchen appliances post in the next day or two!