Camping with children sounds like a fantastic adventure. It's also one that can quickly turn into a nightmare, as they get hungry, tired, and downright frustrated. Finding the right camping food for kids can make your experience so much easier. Not only does the food take their attention away from how they're feeling, but your kids can also be involved in the prep.
In fact, many of the foods on this list can be made entirely by your kids. You don't need to be involved at all, aside from keeping an eye on them to make sure everything proceeds as it should.
Some other foods can be fully or partly prepped beforehand, making your camping experience that much easier. No one wants to try and prepare a complex meal during camping when the kids are stressed and simply done with the entire experience.
For more ideas, why not check out our list of food for camping? While the foods featured on that list were chosen with adults in mind, many are perfect for kids too. Some picnic foods for kids are perfect as well. You could also look for camping cookbooks. The best ones don't just feature recipes. They also act as a guide to your entire camping experience.
Camping Food For Kids
Shredded Chicken Or Pork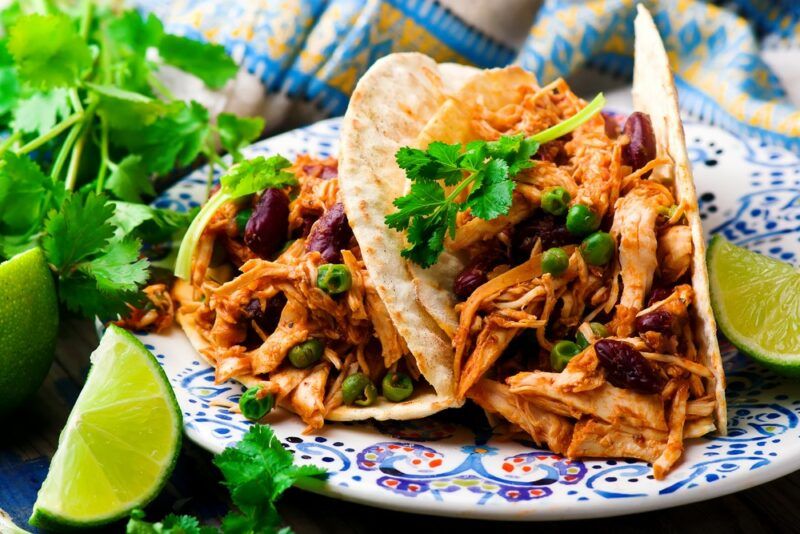 One of the trickiest things about food for camping is making sure that everyone gets enough to stay satisfied. You don't want to go to all that effort, just to find out that the kids are starving an hour or two later.
The best way to keep everyone full is to make sure there's plenty of protein.
Meat is one way to get that protein and keep everyone happy. But, cooking meat during a camping expedition can be an exercise in frustration. Doing so is completely possible, of course, but the process often takes longer than you expect, which isn't fun when the kids are hungry.
To make things easier for everyone, try preparing the meat before you leave. Shredded chicken or pork is perfect here, as it can be easily reheated. Plus, you can use the shredded meat in countless ways, such as on baked potatoes, in rolls, on tacos, or even on its own.
Potato Boats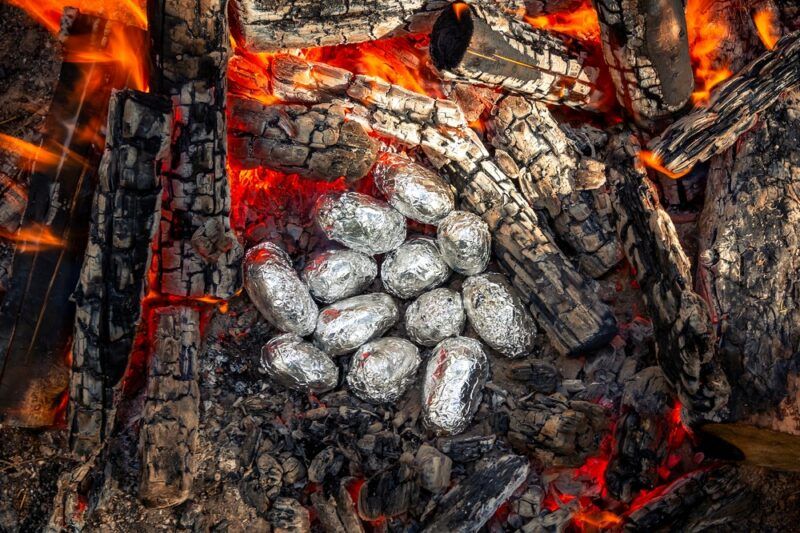 Why just cook regular baked potatoes when you can fill them up with ham and cheese instead? You can get ahead of the game by baking your potatoes before you leave home. This way it doesn't long to make them hot and crispy.
To prepare this dish, you make regular cuts into your baked potato, then slot pieces of meat and cheese into those cuts. Wrap the entire thing up with tinfoil and then it can be barbecued or even cooked in the fire.
Of course, using ham and cheese is just one option. You could easily play around with the fillings. Anything normally served with potatoes could be an excellent choice here, including taco meat.
Baked Apples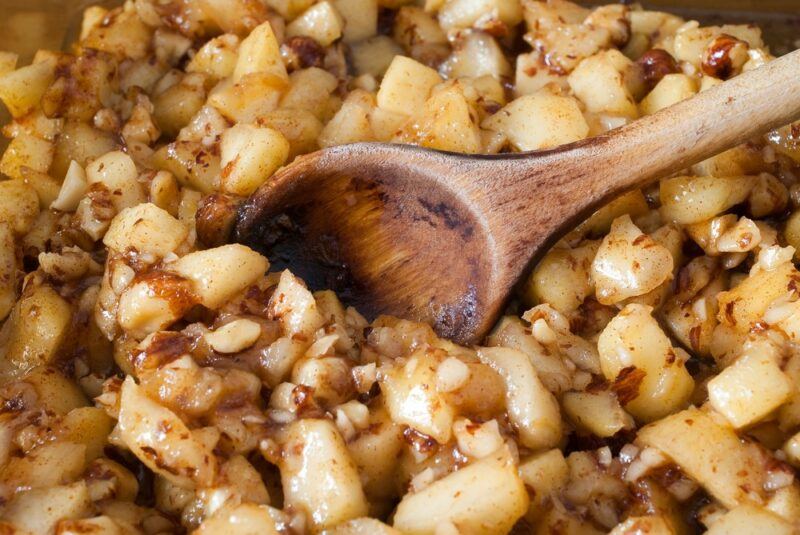 Want something sweet, delicious, and simple? Baked apples could do the trick nicely. All you need to do is slice apples, sprinkle sugar and cinnamon on top, and then wrap them in foil.
The foil packages only need to be heated in the fire for 10 minutes or so before the apples are soft and delicious.
Sloppy Joes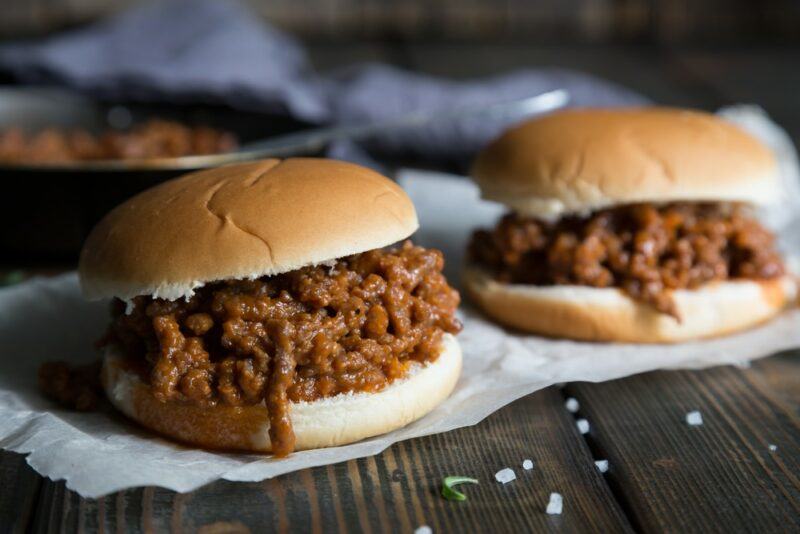 Sloppy joes aren't just a meal for the home. They can also be a delicious addition to your campsite eating too.
One trick is to brown the ground beef before you leave for your trip. You can add onions, spices, and anything else at this point as well.
As for the sauce, you have two options. If you make your own sauce, you can prepare this before the trip too. If you use sauce from the can instead, simply bring the can along.
Either way, you have a hearty camping meal that just needs to be heated up. That's much easier than trying to make sure that the meat cooks fully using your camping stove.
Mac And Cheese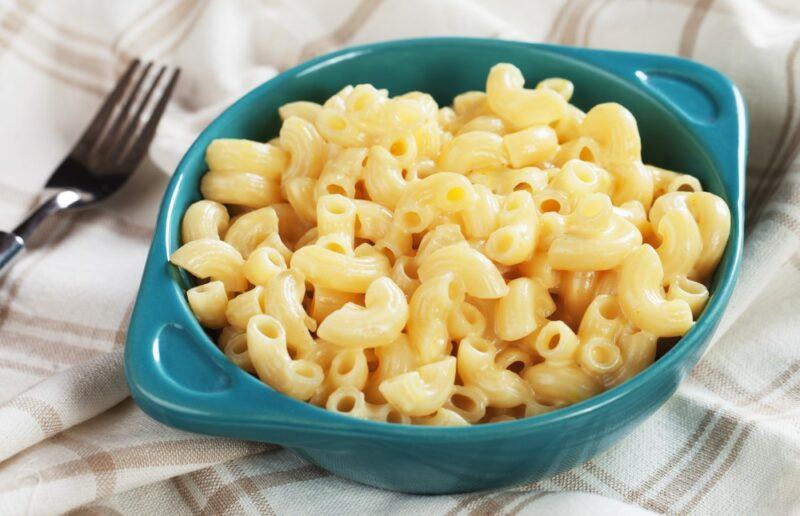 Mac and cheese is another home classic that works well for camping too. It's also an easy way to win over your kids.
You could theoretically make mac and cheese from scratch at the campsite but, honestly, that process would be too frustrating for most families. Besides, cooking pasta can be a pain when your water supply is limited.
To make things easier, try cooking the pasta at home first. Mixing a little olive oil in the pasta once it is done should be enough to stop it from sticking. Then you just need to heat the pasta up again and add the other ingredients when you're at the campsite.
Walking Tacos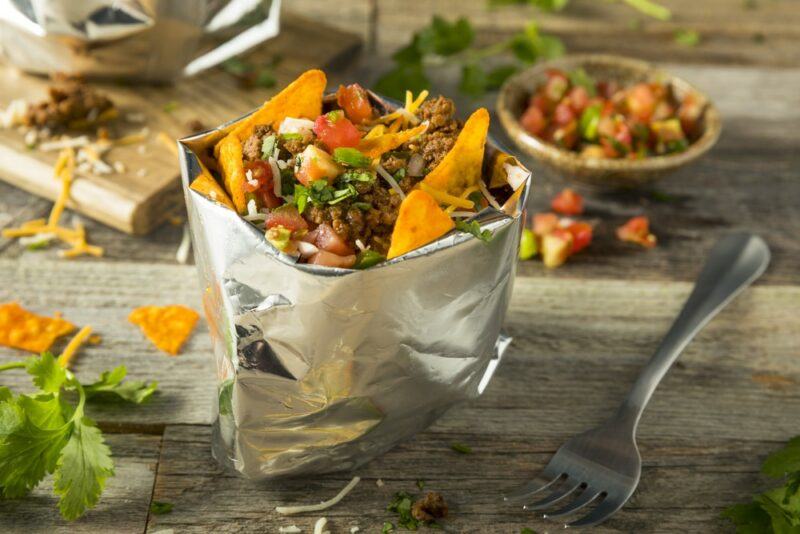 Have you seen walking tacos before? The idea isn't new, but it's too good to pass up, especially when you're camping.
The idea is just to give everyone an individual snack-sized bag of taco chips, cut the bag open, then add the ingredients on top of the chips. All the popular toppings work well here, including meat, vegetables, cheese, and sour cream.
You can save yourself some work by preparing the meat ahead of time. That way it just needs to be reheated when it's time to have the meal.
Dessert Cones

These cones can be as simple or as complicated as you like. The basic idea is that you're taking regular ice cream cones, stuffing them with ingredients like chocolate chips, nuts, mini marshmallows, and anything else you can think of.
Then, you wrap the cones in tin foil and heat them over the campfire for 10 minutes or a little less. Keep them upright, as the contents will all start melting and running together.
You could even just skip the campfire step and eat the cones as they are. The ingredients wouldn't get melty, but at least the process would be simpler. If you're not heating the cones, you could add fresh fruit as well.
Just be careful with timing for this treat. Too much sweet food too late at night can sometimes contribute to night terrors in kids.
Pizza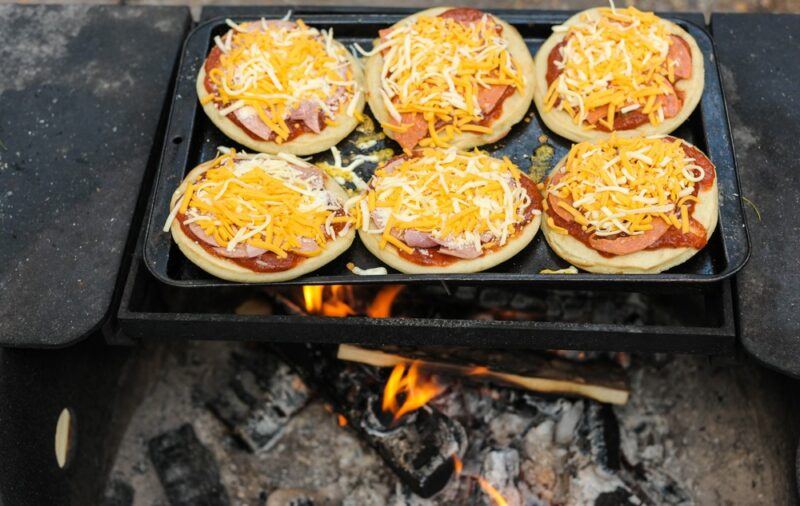 Pizza is a go-to favorite for almost any occasion – and camping is no exception. Making pizza isn't as impossible as it might seem either. Many recipes rely on preparing the pizza in a frying pan, either over a fire or on a camp stove.
You can make the dough yourself or rely on refrigerated pizza dough from the store. Either approach works well, although refrigerated pizza dough does require less work.
Most of the time, you'll need to cook the pizza base on its own for a while, then flip it. Once you've flipped it you can start to pile on the toppings. Covering the pan in some way, like with a lid or a frying pan, can help. This traps the heat in and helps everything to cook evenly.
Meat And Cheese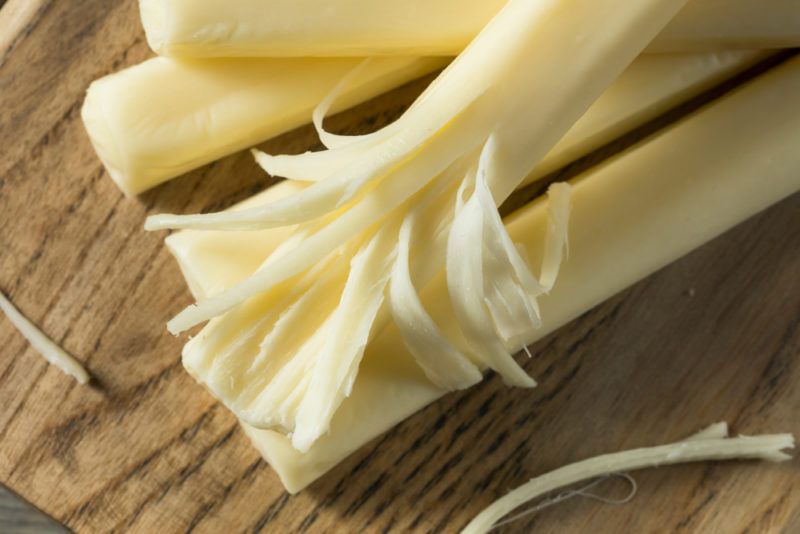 Camping meals don't need to be complicated. Sometimes you don't even need to cook anything.
One of the simplest options is just to roll some string cheese up in a piece of lunch meat. This gives you a delicious snack that's easy to eat and packed with protein. It's the perfect way to keep kids full while you're trying to get dinner ready.
Hot Dogs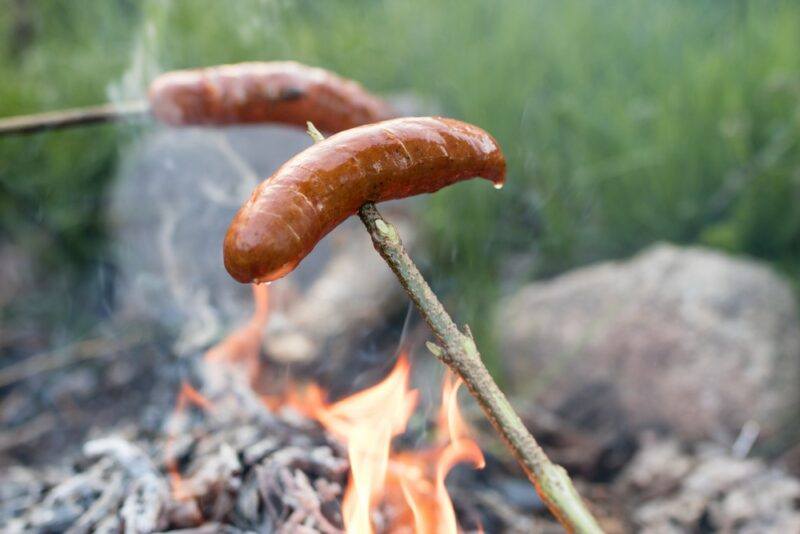 Hot dogs are an excellent choice, as kids can roast these over the campfire themselves.
You don't need to keep the hot dogs as-is either. Cutting them into shapes may help them to cook faster.
You can even get creative and make animals an octopus or something similar using the hot dogs. Doing so is a great way to keep the kids engaged.
Pigs In A Blanket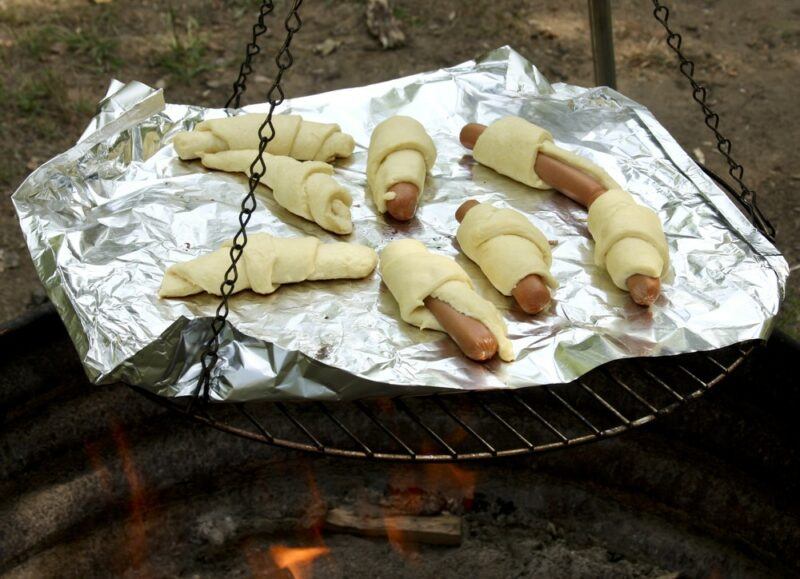 Did you know that you can make pigs in a blanket over the campfire? To do so, you just need a can of crescent rolls, plus whatever type of hot dog, chicken sausage, or other meat you plan to use.
Simply use a triangle of the dough around each piece of sausage, stick the snack on a stick, and hold it over the campfire for ten minutes or so. That should be all it takes.
The kids will probably need adult supervision for this snack, as it would be easy to burn the dough. Or, you can always use the technique shown in the image.
Omelets (in a bag!)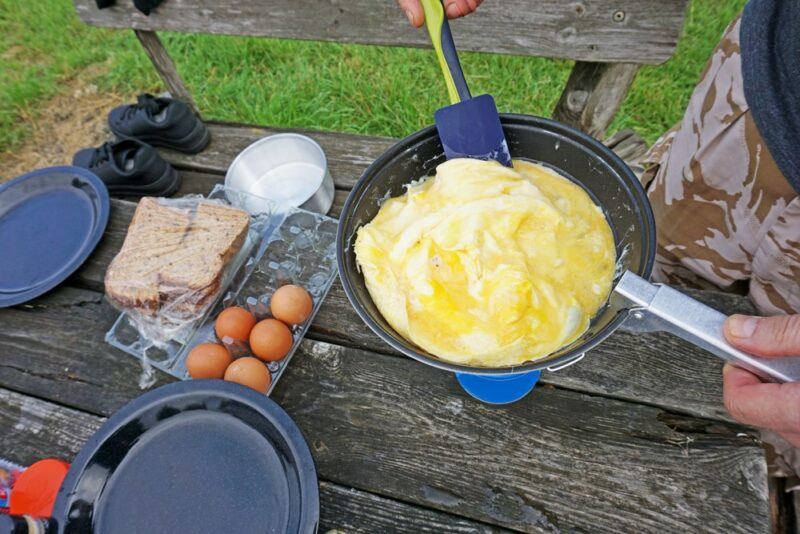 Omelets are always a great way to fill everyone up. They're packed with protein, cook quickly, and can be easily customized.
Rather than making pancakes the conventional way, why not try making an in-the-bag version instead? This approach relies on Ziplock bags, which you fill with your eggs and any other ingredients that you need. You do this before you leave for your trip, then press the air out and seal them.
Cooking the omelets is incredibly simple. You just need to drop the bags into a pot of water. Ten minutes or so is often enough to cook the omelet entirely. Then you can open the bag and drop the finished meal onto a plate.
The omelet might not be as pretty as one that you make at home, but it will be just as delicious and requires much less effort.
Banana Pops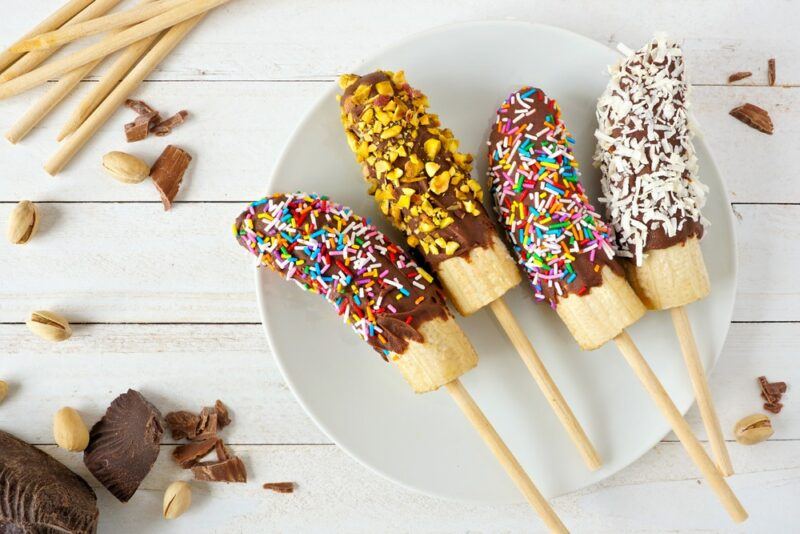 Banana pops are fantastic as a type of party food, partly because they're so simple. They're also delicious and easy to customize, features that are perfect while you're camping too.
All you need to do is peel the banana and dip it in something sticky. Then you can use sprinkle on whatever toppings, like chocolate chips, shredded coconut, or granola. Peanut butter is the easiest sticky ingredient to rely on when you're camping, but there are other options too, including Nutella and melted chocolate.
Pancakes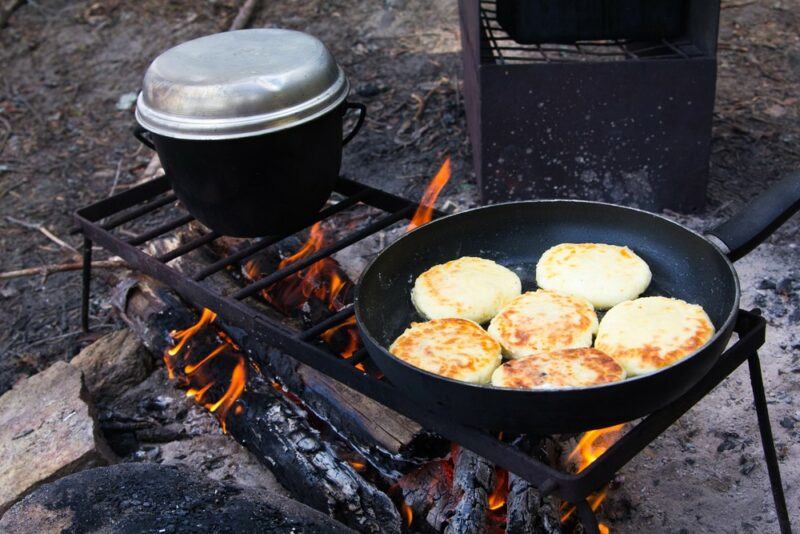 Pancakes are a little tricky to make while camping, but they're not as bad as they might seem. You just need a heat source and a frypan. A camp stove is the best choice here, as this will give you a consistent source of heat.
The other trick is to make sure that the pancake batter doesn't require much work. There are two easy approaches here. The first is to use 'Just Add Water' pancake mixes. These taste surprisingly good and all the measuring is done for you.
Or, if you prefer to take the homemade angle, you could make the pancake mix before you leave home. That way all you need to do is give it a good stir before you make your pancakes.
Trail Mix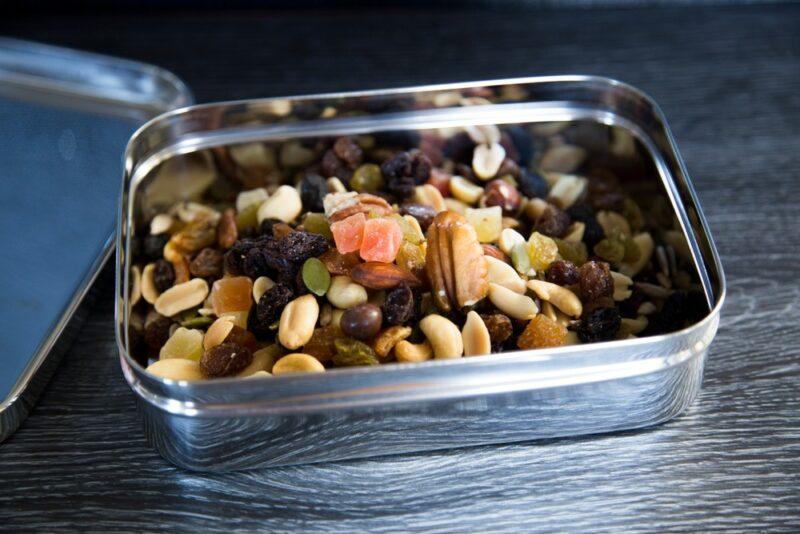 Trail mix is an excellent choice for hungry tummies. Not only is it delicious, but the snack also offers plenty of protein and is easy to eat.
Nuts, dried fruit, and chocolate are the most common ingredients in trail mix. But, you might change things up a bit if you're feeding kids. Why not add some mini marshmallows, yogurt covered raisins, goldfish, or small crackers in there?
Muffins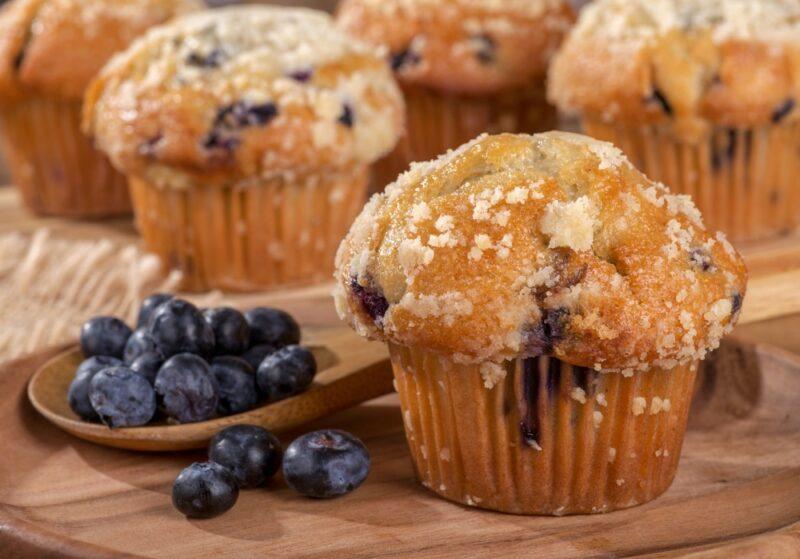 Muffins are one of the simplest options, as all the work is done beforehand. Plus, there are countless muffin recipes out there, including sweet and savory ones. It's not difficult to find a few that your family is going to absolutely love.
To make the muffins even more substantial, try adding some protein rich ingredients, like nuts. You could even use protein powder.
To make things even easier for yourself, why not prepare the muffins days before your trip and then throw them in the freezer? They'll defrost slowly and should be ready to eat by your first evening.
Popcorn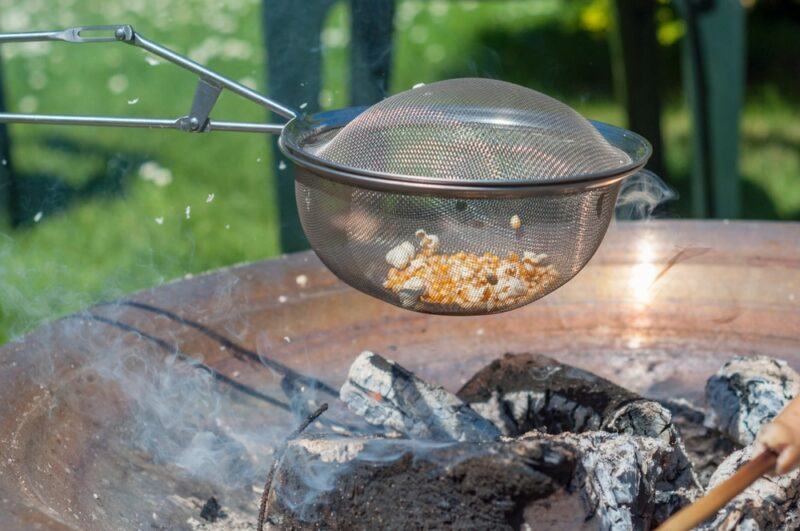 Some types of bagged popcorn can be prepared in a skillet, which makes them an easy option while you're camping. Popcorn is also an incredibly popular snack, one that your kids are certain to love.
You will, however, need to read the instructions carefully to make sure the popcorn turns out how it should. After all, no one enjoys eating burnt popcorn.
There are other techniques too, like the one shown in the image.
Grilled Sandwiches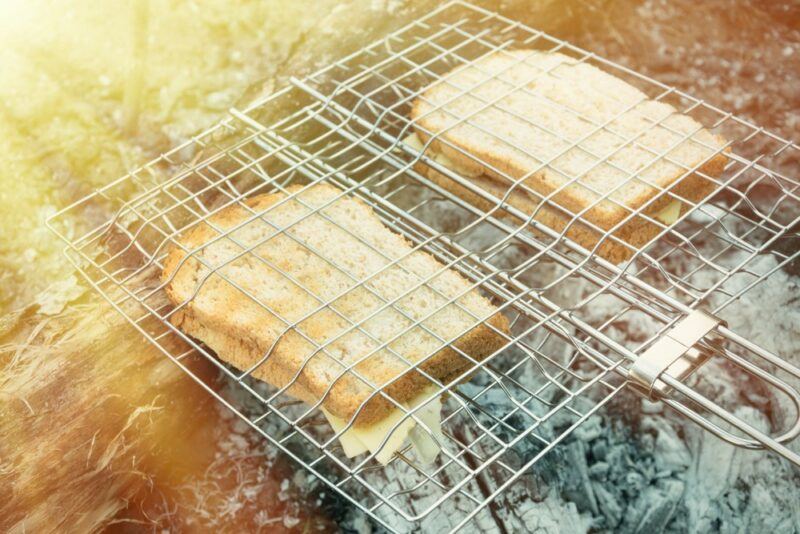 Adding some warmth is a fantastic way to make sandwiches just a little more special. You can make these in the skillet by toasting the outside of your bread first, then start to add fillings. Once you've built the sandwich, keep it on the heat for a little longer to make everything melty and delicious.
Cheese toasties are the classic example here. These are easy to make too, as you have few ingredients to worry about. But, most other ingredients taste delicious when they're warm too, so why not let your imagination go wild?
You can even make grilled peanut butter and jelly sandwiches. Just make sure that you add the jelly last, right before serving. That way it doesn't make your toast soft.
Protein Bars And Bites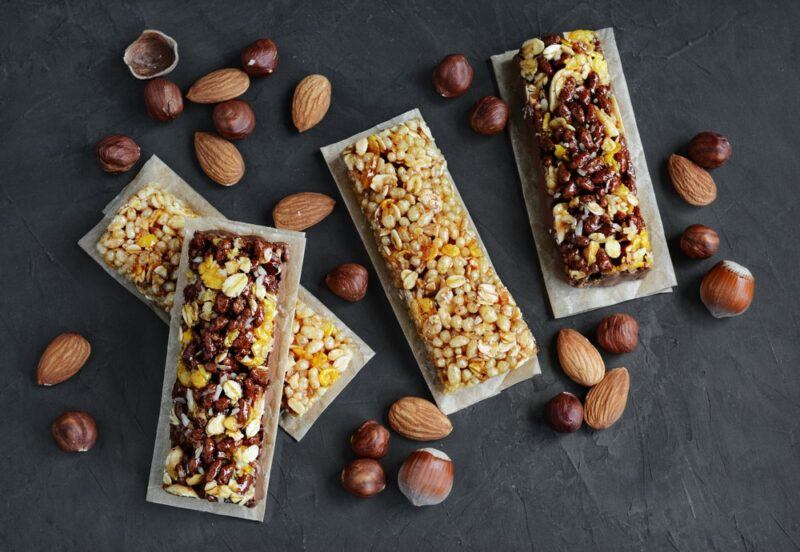 Protein bars and bites can be easily found at your local grocery store or you can make your own. Either way, you get a snack that's easy to eat and contains a lot of protein. This could be perfect when everyone is hungry and needs something to eat pronto.
You can play around with the flavors too. Peanut butter, mint, chocolate, white chocolate, and berries, are just some of your flavor options and there's an endless range of potential combinations.
While it's easy to think of protein bars as being healthy, you should always closely check the ingredients' label or recipe. Some versions contain an excessive amount of sugar and barely any protein, making them a poor choice for health.
Campfire Stew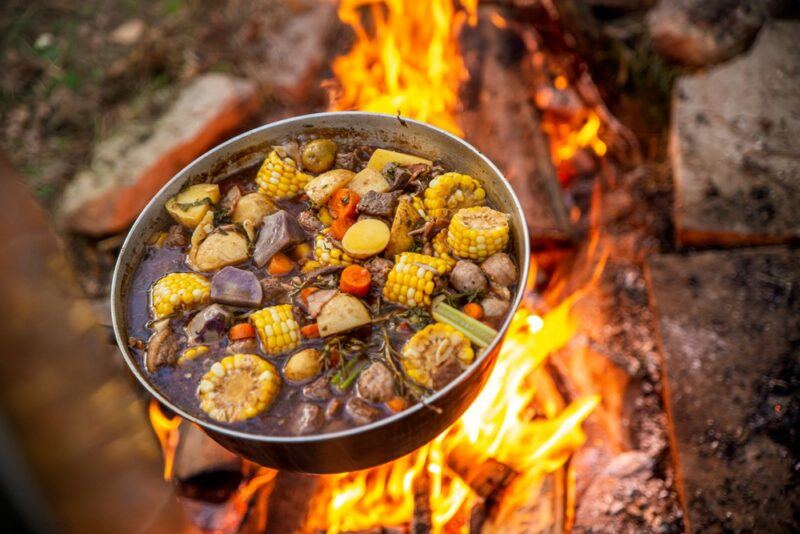 Making a stew over the campfire is an age-old classic, so why break with tradition? Meat, beans, and vegetables are all popular ingredients and you can easily tweak the recipe to match your flavor preferences.
Besides, it's not like you really need a recipe anyway. Most combinations of ingredients end up creating a delicious stew when they've been cooked together for long enough.
The biggest issue here is how long it takes to cook a stew from scratch. This might not work well at all for modern camping families, especially if the kids are hungry and impatient.
If you're worried about this issue, look for a recipe that can be cooked beforehand. Then all you need to do is reheat the stew over the campfire a little before it's time to eat.
Important Food Tips When Camping With Kids
When camping with kids, try not to go overboard. Seriously. Complex meals won't necessarily be any more popular than simple ones, so why go to the extra work? Also remember that everything takes more effort when you're away from home, making simple the best choice in most situations.
Make sure you have a good set of equipment too, including the basics for cooking and storing your food, along with utensils, plates, and the like. While paper plates seem like an easy solution, enamel ones are often better. These are much sturdier than any paper plate and aren't easily brown either.
The stove needs to be reliable too. You don't want something that's going to give up on you right at the crucial moment. Thankfully, you don't need to spend a lot to get a camping stove that will stand the test of time.
Finally, don't forget about the water. You need it for washing up, for drinking, for cooking, and for countless other situations. Make sure you have enough.
Related Content