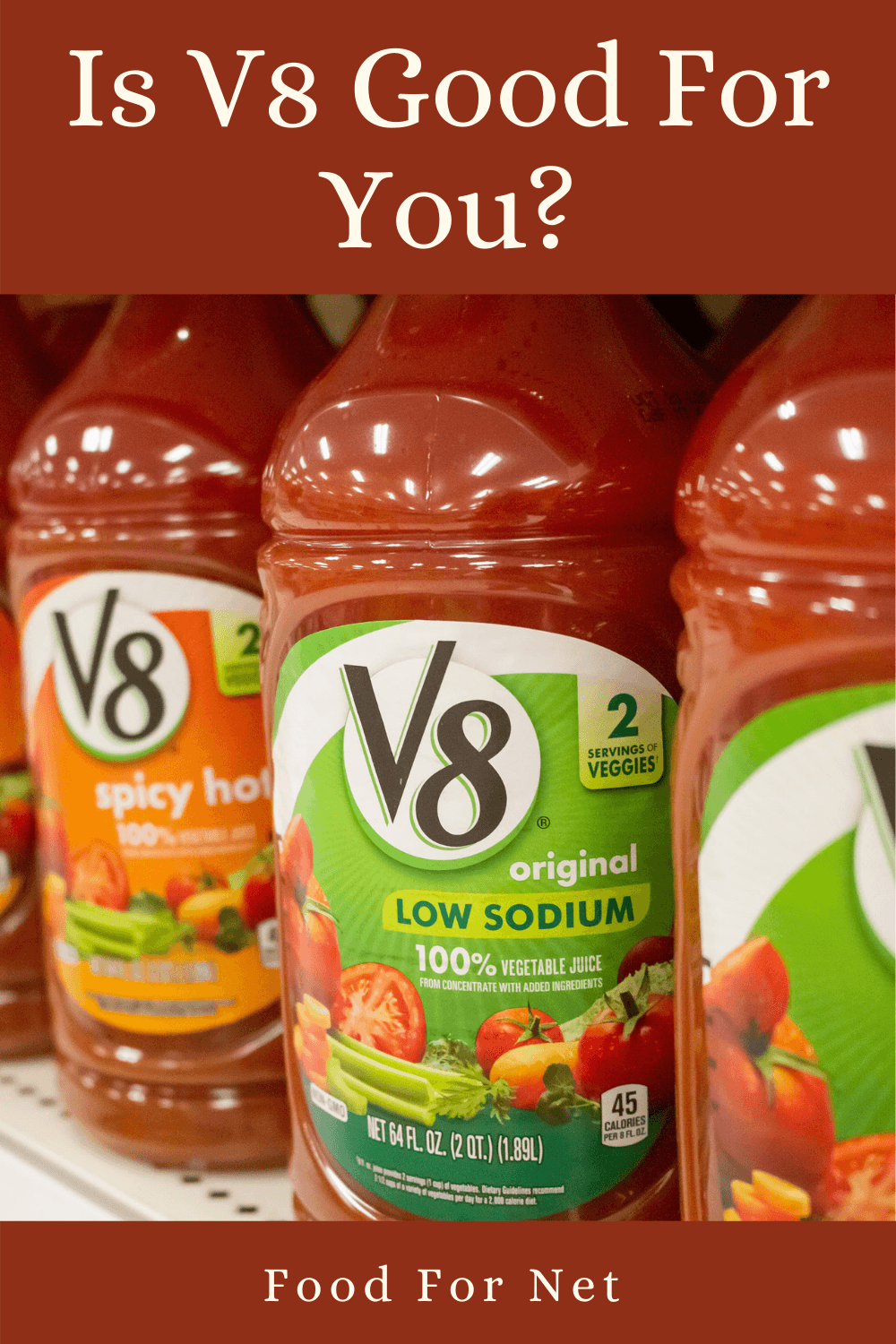 It's easy to rattle off reasons for seeing V8 vegetable juice as a healthy choice. The drink is made from pureed vegetables, after all, so it offers plenty of vitamins, minerals, and antioxidants. But, is V8 good for you?
That's a question we need to ask, as most foods aren't as straightforward as they first seem. Take Vitaminwater as an example. That seems like it should be an excellent drink for nutrients and keeping you hydrated.
Yet, it's highly processed, contains either sugar or alternative sweeteners, not to mention other additives. There aren't that many vitamins and minerals in the drinks either and, those that are present, mightn't be absorbed well. Many sports drinks follow similar patterns, as do other processed drinks.
While V8 has some advantages over Vitaminwater and similar products, there are areas of concern as well. That's why, to answer the questions about V8, we need to take a close look at what the drink offers, including its strengths and limitations.
Is V8 Good For You?
What Is V8?
Types Of V8
The Benefits Of V8
Why V8 Isn't As Good As It First Sounds
Should You Drink V8?
Remember That The Products Aren't All Equal
Final Thoughts
What Is V8?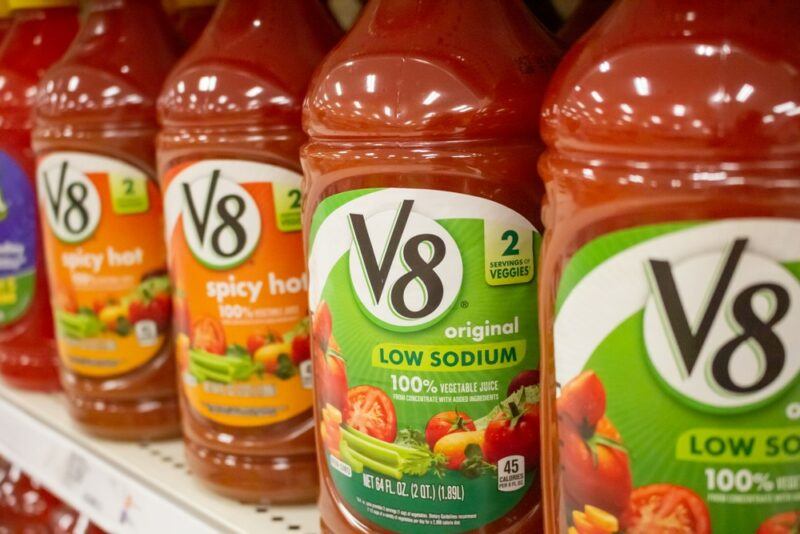 V8 traces its origins to William Peacock, back in 1933. This was during The Great Depression and he was looking for ways to provide people with more nutrition, particularly as getting access to fresh vegetables was not always easy.
William and his son experimented with juicing and blending vegetables until they found a combination of tomato juice and 7 other vegetables that tasted good and was nutritious. The use of 8 vegetables is where V8 gets its name from.
Like many companies, V8 has expanded and refined its product over time. There are now various types of products in the range. Some use a different combination of vegetables, while others add fruit, water, or other ingredients to change the flavor and nutrient profile.
However, the classic vegetable juice still remains the tried and true favorite, one that many people turn to time and time again.
Types Of V8
The V8 brand is most well-known for V8 Vegetable Juice. This is their original product, which includes juice from tomatoes, carrots, celery, beets, parsley, lettuce, watercress, and spinach, along with salt, vitamin C, beta carotene, citric acid, natural flavoring, and salt.
There are now variations on this original recipe, including Bloody Mary Mix, High Fiber 100% Vegetable Juice, Low Sodium Spicy Hot 100% Vegetable Juice, and Essential Antioxidants 100% Vegetable Juice.
Beyond this, there are now three other product lines:
V8 +ENERGY. These are promoted as natural energy drinks. They contain 80 mg of caffeine per can and rely on a combination of fruit, tea, and some vegetables. Flavors include Black Cherry, Peach Mango, and Pomegranate Blueberry.
V8 +HYDRATE. The hydrate range consists of small cans that use purified water, sweet potato juice, and some other juices. The goal is to keep you hydrated and the combination of water and electrolytes means that the drinks should have that effect.
V8 Blends. These products use vegetables, along with some fruit juices. The approach creates a less intense flavor profile than the pure vegetable juice products. Some of these include:

Caribbean Greens. Designed to be a lower sugar fruit and vegetable blend. This one relies on carrots, sweet potatoes, spinach, grapes, apples, and coconuts as ingredients.
Healthy Greens. This green juice includes spinach and yellow carrots as the main vegetables, along with apples and pineapples to balance the flavors.
Acai Mixed Berry. This version mostly relies on fruit, including apples, grapes, acai berries, and blueberries. However, there are some sweet potatoes and carrots included as well – enough to still give you a full serving of vegetables per serving,
Orange Carrot. This is another lower sugar option. The juice uses oranges and carrots, along with white grapes and sweet potatoes.
The Benefits Of V8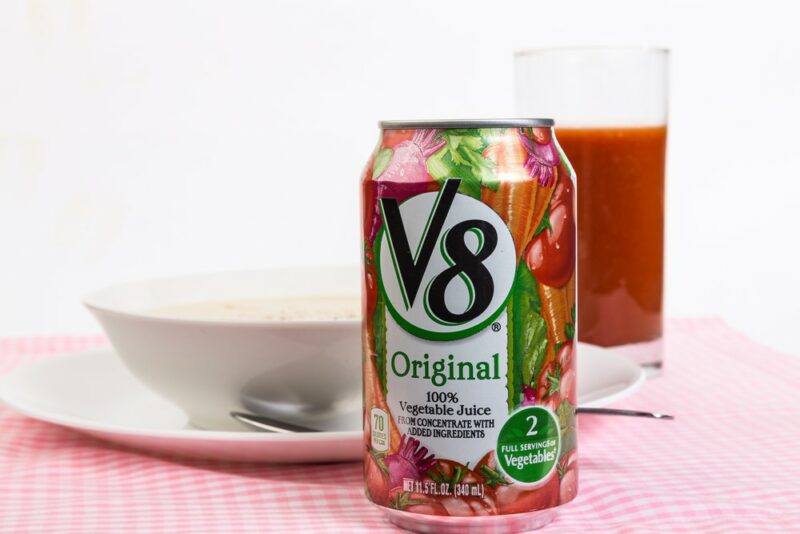 The Nutrients
Vegetables are the main ingredients in V8. So, it's not surprising that the juice offers a decent array of nutrients. An 8 fl. oz serving of the original juice, for example, provides 80% of your daily vitamin C intake, along with 20% for vitamin A, 20% for potassium, and smaller amounts of iron and calcium.
Those amounts are decent for a single glass of juice. Plus, drinking a glass of juice takes barely any time. That's perfect if you want your nutrients quickly.
The potassium may be particularly important, as many of us aren't getting enough of this mineral. In fact, according to some estimates, less than 2% of Americans are getting the potassium they need (which makes potassium rich foods extremely important).
The Sugar Content Is Low
Many of the drinks we rely on regularly are high in sugar and calories. This isn't the case for V8 at all.
Instead, that same 8 fl. oz serving size contains just 45 calories and 7 grams of sugar. That's not too bad, especially as those are naturally occurring sugars. The company doesn't add extra sugar into the drink at all.
The low sugar and calorie content makes V8 an easy choice for weight loss or just as a healthy alternative to soda.
Helpful When Fresh Vegetables Are Difficult To Find Or Eat
While fresh vegetables are generally much healthier than V8, fresh vegetables can sometimes be difficult to find, to afford, or to eat. Some people struggle with this because they live in 'food deserts', where there are few nearby options for food and large grocery stores may be outside of easy travel distance.
People living in such places may need to rely on products with a decent shelf life, including options like V8.
And, even when fresh vegetables are accessible, some people find them difficult to eat. This could be due to challenges with chewing or swallowing, or even because the person doesn't like the taste of vegetables.
V8 can be helpful in such situations. After all, the nutrients from V8 are still better than getting no vegetables in your diet at all.
Why V8 Isn't As Good As It First Sounds
V8 Is Processed
Despite the marketing, V8 isn't just juice made from pureed vegetables. It also goes through multiple processing steps. This includes getting rid of most of the fiber, pasteurizing at high heat, and reconstitution from concentrate.
You can spot the pattern when you look at the label from the products. For example, the original juice includes the line "water and concentrated juices of…".
Each of these processes can reduce the benefits of your juice. Some enzymes, antioxidants and nutrients could even get entirely destroyed in the process. The finished juice has some benefits, true, but it will never be the same as fresh vegetable juice.
And, to make matters worse, the ingredients list also includes natural flavoring. It's always a shame when companies rely on flavoring agents rather than simply the flavors that the ingredients offer.
It Has Much Less Fiber Than Whole Vegetables
One of the biggest differences between V8 and whole vegetables is fiber. You do get some fiber in the drink, but not a large amount.
For example, an 8 fl. oz serving of the original V8 juice provides just 2 grams of fiber (along with 7 grams of sugar). In contrast, a half-cup serving of carrots contains 2 grams of fiber and just 3 grams of sugar.
You'll almost always get more fiber and less sugar from a serving of real vegetables than from a serving of V8.
This difference mightn't be a problem if you're having plenty of vegetables in your diet and only drink V8 every so often. But, if you heavily rely on V8, then your fiber intake may end up suffering.
Other Nutrients Are Lacking Too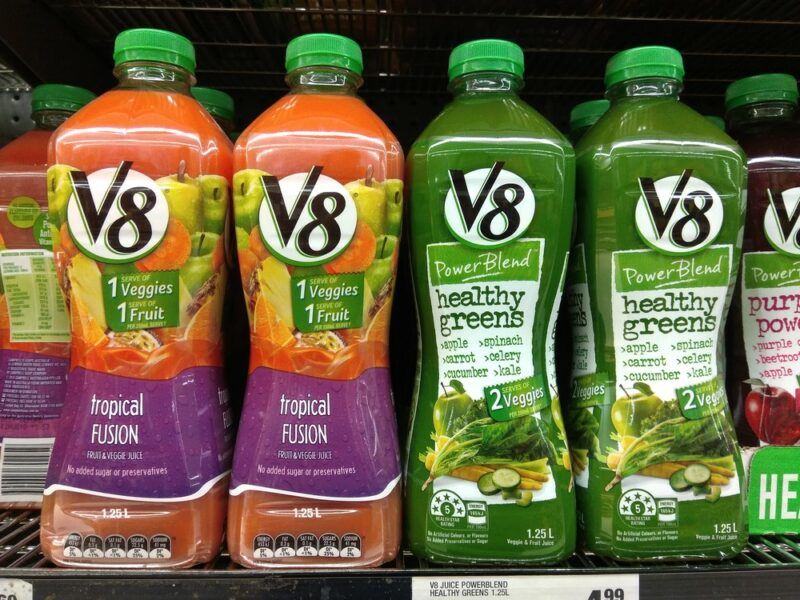 Fiber isn't the only thing you lose. Levels of various vitamins, minerals, and antioxidants tend to be lower in V8 than they are in whole vegetables too.
The effect is partly because some of the nutrients get lost during processing.
Plus, V8 uses a limited selection of vegetables, which impacts the range of nutrients that's present. In fact, the original V8 product relies heavily on tomato juice and uses smaller amounts of the other vegetables.
It's not surprising then that V8 doesn't contain much vitamin E, folic acid or many of the other nutrients you find in fresh vegetables.
The Sodium Content
Some V8 products use salt as an ingredient. For example, an 8 fl. oz serving of the original flavor contains 640 mg of sodium. That's close to 30% of your daily intake of sodium from a single glass of juice.
This could be a serious issue, as too much sodium can contribute to high blood pressure, kidney problems, and heart failure. These issues are particularly concerning when you're regularly getting too much sodium and, unfortunately, many of us are.
Thankfully, there are low sodium V8 products too, including the low sodium version of the original juice, which contains 140 mg of sodium per serving. While the sodium level here is dramatically decreased, it could still be too much on a low sodium diet.
You'll need to pay attention to your intake too. Even the low sodium version of V8 could be a problem if you're drinking multiple glasses of it every day.
You're Not Really Getting A Serving Of Vegetables
V8's marketing talks about how an 8-ounce serving of the juice gives you 1 or 2 servings of vegetables (depending on whether you're choosing the fruit and vegetable blends or the pure vegetable juice).
It's a nice idea but, let's be honest, you're not actually getting a serving of vegetables in each glass. Even if you choose one of V8's few high fiber products, you'll never get all of the nutrients that you get from vegetables.
Then there's the whole idea of 'a serving of vegetables'. Official recommendations vary between recommending anywhere from 5 to 10 servings of vegetables per day.
While looking at servings of vegetables can be useful if you're worried about not getting enough – the idea assumes that all vegetables are roughly the same.
They're not.
Vegetables vary in their calorie and carb content, not to mention their nutrients and plant-based compounds. Focusing heavily on V8 juice as a source of vegetables would mean you're over-representing some types and not getting enough of others.
In fact, the original version of V8 is mostly just tomato juice. There are some other nutrients in there too, but the nutrients are vastly different than, say, having a salad packed with dark leafy greens.
Let's not forget that some of the nutrients from the vegetables will be lost in processing too.
The Nutrients May Not Be Absorbed Well
We often eat vegetables as part of a meal, at the same time as other wholesome ingredients, like sources of healthy fats, legumes, whole grains, and more. Doing so gives us access to a broad array of nutrients and other beneficial compounds.
Eating like this is important, as the components of different foods interact with one another. For example, some fat is needed to help our body absorb some nutrients and plant-based compounds.
If you're using V8 instead of getting enough vegetables in your diet, then you may end up absorbing fewer nutrients than you would normally.
Should You Drink V8?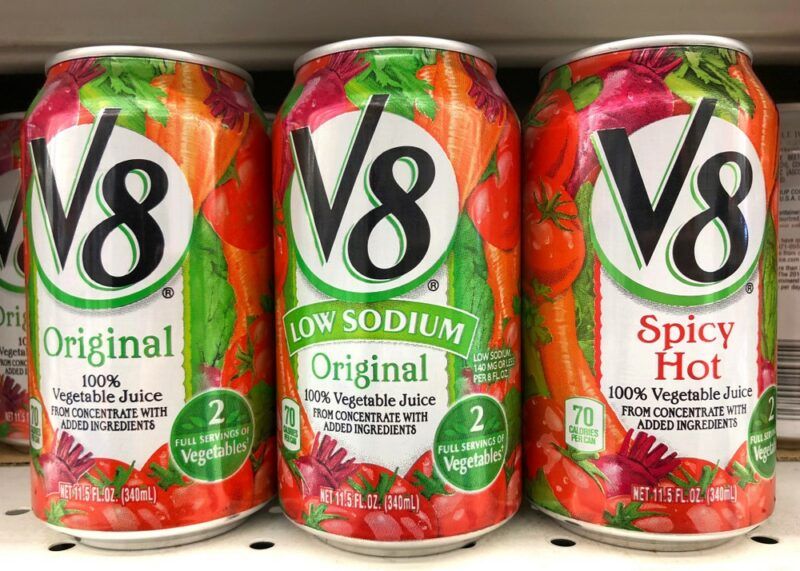 V8 fulfilled its original purpose well, providing people with nutrients from vegetables that they may have missed out on otherwise. It is still useful for this purpose. So, if you struggle to get enough fresh vegetables in your diet, V8 could be a useful alternative.
But, these days, it's easy to take the '2 servings of vegetable' claim literally – to imagine that V8 is the same as eating 2 servings of vegetables. It's not. V8 will always be inferior to eating fresh vegetables.
This means that V8 is best seen as a way to top up your diet. You'll only do yourself harm if you start relying on the juice instead of eating vegetables.
Remember That The Products Aren't All Equal
This discussion has mostly focused on the benefits and problems with V8 vegetable juice. However, the other V8 products follow their own patterns.
For example, while V8 vegetable juice provides 2 servings of vegetables per 8 fl. oz, you get 1 serving of fruit and 1 serving of vegetables from the V8 fruit and vegetable blends. These blends have a different balance of nutrients than the vegetable juice too.
For example, the Acai Mixed Berry flavor uses sweet potatoes, carrots, grapes, acai berries, and blueberries as the main sources of juice. An 8 fl. oz serving provides 20% of your vitamin C and vitamin A targets, along with 6% of your potassium target, no calcium, and no iron.
There is less sodium in this product than the vegetable juices, with just 75 mg per serving. But, even with no added sugars, the drink still contains 23 grams of sugar. That's a lot of sugar for a drink that claims to be healthy.
The energy and hydration drinks have their own patterns too. Then there are all the differences between one flavor and the next.
The differences mean that it's always best to go back to the ingredients label. Take a close look at the nutrition facts to see whether the drink you're interested in is a good choice for you.
Final Thoughts
V8 is made from vegetables, contains some important nutrients, has no added sugar, and doesn't use many additives. All of those features make it a useful choice, especially for times when eating fresh vegetables.
Even so, you still need to be careful. V8 drinks can have a surprising amount of salt and they never contain as many nutrients as whole vegetables. It's best to rely on V8 every so often, rather than using it as a regular replacement for vegetables.
If you like the flavor of V8 and want more benefits, why not make a similar type of vegetable juice at home with a juicer? You'd end up with many more nutrients than V8's version. Your vegetable juice might taste much better too.
Frequently Asked Questions
Is V8 Good For Diabetics?
V8 juices aren't ideal for diabetics, as most of them contain a surprising amount of sugar. Even the fairly low sugar versions could spike your blood pressure.
Plus, when you focus on juice, you're missing out on all the fiber from real vegetables. It's much better to eat fruit and vegetables directly. Doing so has a lower effect on your blood sugar and offers more health benefits.
How Much V8 Should I Drink A Day?
For most people, a single 8-ounce glass of V8 should provide plenty of benefits without being too high in sugar. You could consume more than this, but honestly, it's better to get your nutrients from fruits and vegetables instead.
Is V8 Keto Friendly?
You often get around 8 to 10 net grams of carbs in a serving of V8. This is low enough that you could potentially fit a glass or half a glass of V8 juice on a keto diet.
However, this will depend on your macro targets, as this is a decent number of carbs for a single glass of juice. Many keto dieters would choose to skip the juice and focus on actual fruit and vegetables instead.
Is V8 Good For Weight Loss?
Some research has found that drinking V8 increases weight loss, perhaps because the juice provides extra nutrients. After all, we know that getting enough nutrients is essential for staying healthy and losing weight.
There's some fiber in the juice as well, which can help you stay full. The juice isn't as powerful as eating veggies directly, but it works well if you struggle to eat vegetables regularly.
Is V8 Good For Your Liver?
The nutrients and antioxidants in V8 help your body to function well, which includes helping to boost liver health. The best options are the juices that are high in nutrients and don't contain too much sugar or sodium.