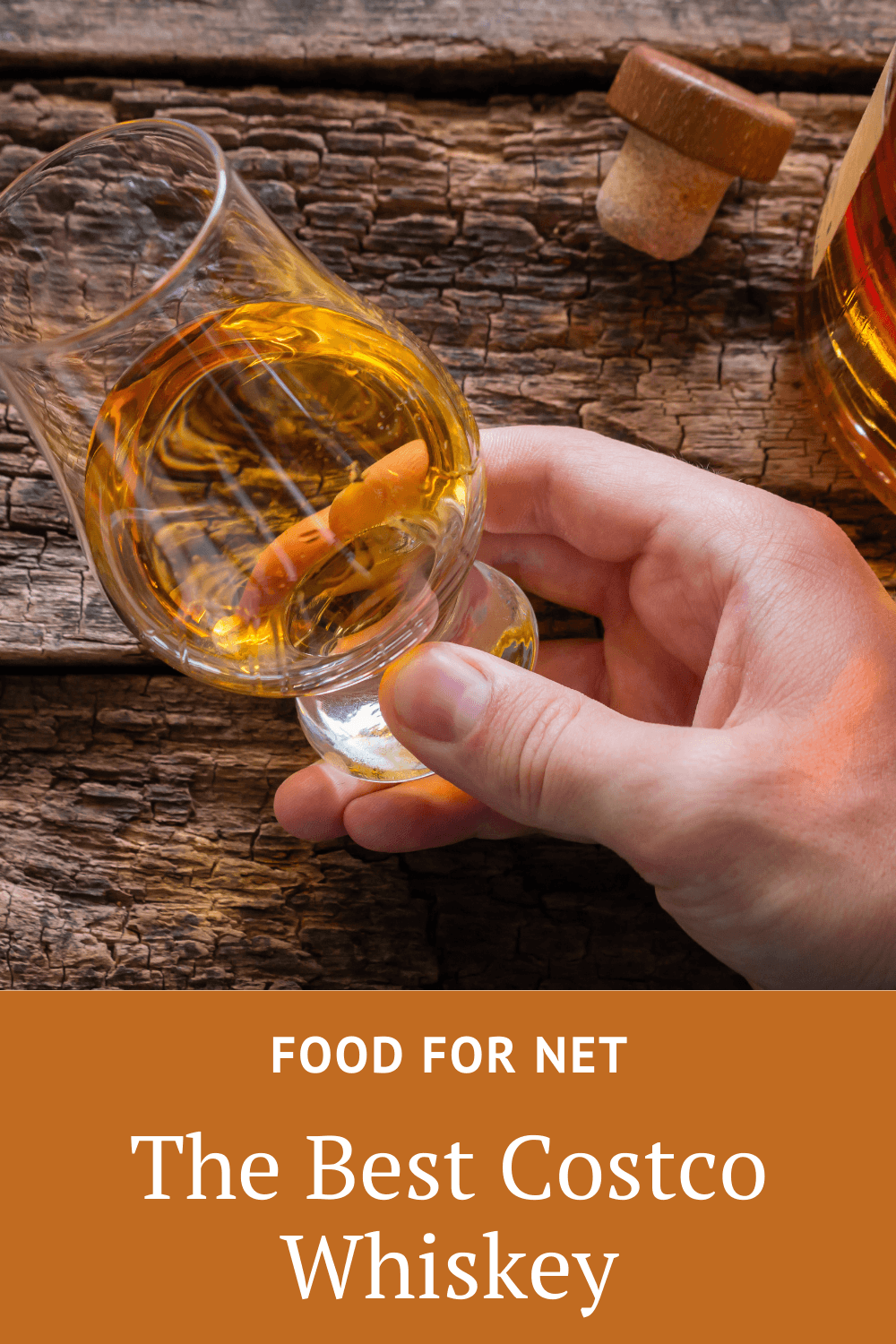 Costco is known for many things – buying in bulk, great deals, a huge variety of products, a crazy parking lot, and sometimes – long lines! Whether you need groceries, clothes, or some new gadgets, Costco is a great go-to. Lately, they're trying to become a similar staple in the liquor space, as well. With something to offer in almost every category of spirit, they're slowly becoming more recognized as a good source of good booze! 
Whiskey is a particularly difficult space as the depth and complexity of a well-made, well-aged whiskey is a whole other ball game. They're doing fairly well, though. With some whiskey blended in Scotland and others following the Canadian rules for whisky, they've got a great variety for you to pick from if nothing else. 
Many wonder, though, where does the best Costco whiskey come from? They have a lot of it now but we don't see them fermenting and distilling it all themselves. Costco puts their own Kirkland label on their alcohol products, but these actually come from some pretty reputable distilleries. Their Scotch is distilled by Alexander Murray or Macallan Distillery, while their bourbon and rum come from Jim Beam. These names are well-known for the quality of their own labels, so this should give you a considerable amount of automatic trust in the Kirkland brand. 
Additionally, their vodka is made with the same water as Grey Goose and their tequila comes from the same place as Cielo Tequila. There is no doubt that the wholesale giant knows what they're doing – they're not spirit experts, so they've turned to those who are. 
The best part of these expressions is that they offer the quality you're looking for without the huge price tag. You can make some solid cocktails with these bottles and most of them are great for sipping, too! You can also follow most of these with a whiskey chaser, if you feel like it.
The Best Costco Whiskey
1. Kirkland Signature Blended Scotch Whiskey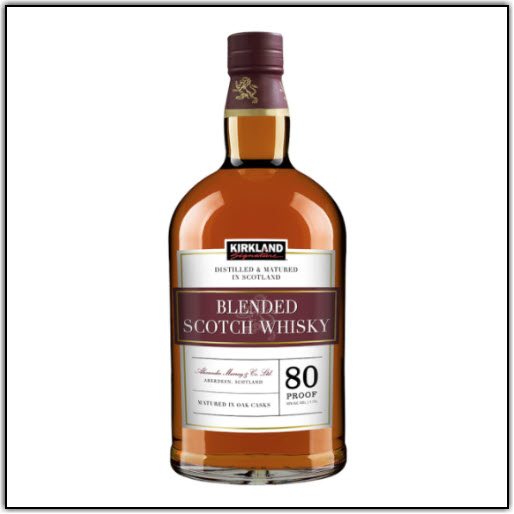 Kirkland Signature Blended Scotch is arguably the most popular of the Scotch brands available through Costco. It's blended and aged in Scotland where they really know how to make a good whiskey. It has a range of flavors on its profile with fantastic depth and complexity for a Scotch you can grab at the local wholesale grocery store. 
The nose is thick and rich with notes of toffee, mashed grain, and cereal with a hint of smoke. On the palate, you'll find notes of cedar, resin, and mild peat smoke with softer notes of honey and vanilla. It's the perfect balance between warm and sweet with a touch of spice on the finish. It's a fantastic blend for whiskey-based cocktails of all kinds as it adds some depth and complexity while sticking to classic, versatile flavor notes. 
2. Kirkland 24 Year Blended Scotch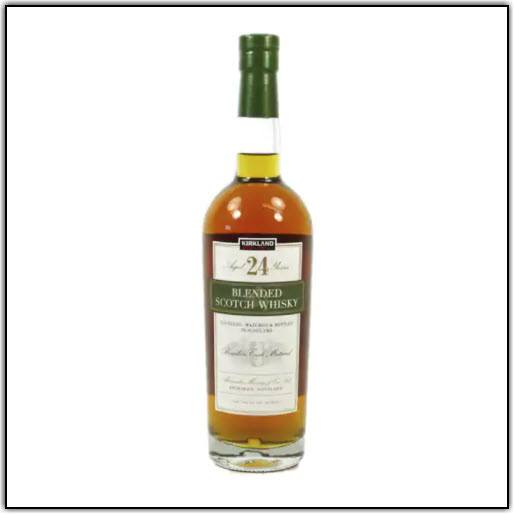 Kirkland 24 Year is a well-aged expression with a profile to prove it. It's rich and versatile – perfect for sipping if you want a slow and relaxing experience and great for making a tasty, good-quality cocktail. 
The aroma is toasty with notes of mocha, dried fruit, caramelized nuts, and leather. The palate offers a bright and silky mouthfeel with notes of chocolate, biscuits, and malt to start. Mid-palate brings notes of cherries, apples, citrus, and honey with the malty chocolate flavors still holding on in the background with a touch of spice.
The lingering, grassy, floral finish offers notes of light citrus, biscuits, and wood. It's well-balanced and each flavor is well-defined. Add a little water to bring out even more intensity from the flavor notes. 
3. Kirkland Signature Canadian Whisky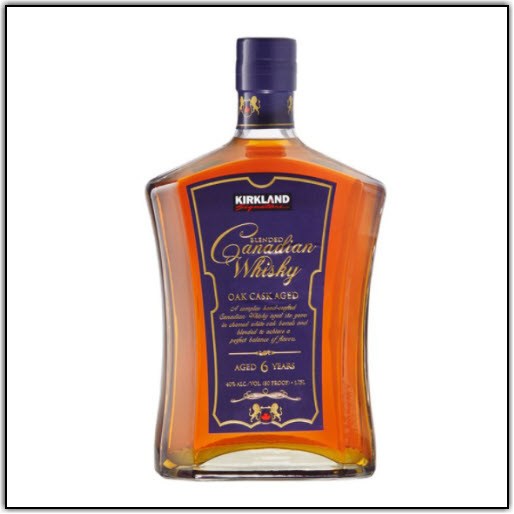 Kirkland Signature Canadian Whisky is certainly a unique expression that really tests limits and pushes boundaries. It's aged for six years and is made from 95% corn with 2% barley and 2% rye. While these are the typical ingredients in a whiskey, the proportions are a little irregular, and that's what makes this whisky so distinct. 
The last 1% of the mash bill is said to be sherry. It's unknown whether this is a wine or not, but it's an interesting thing to add when there's already so much corn. This promises to be something nice and sweet, perhaps something a wine enthusiast might enjoy if they want to change it up a little. Either way, it's an enjoyable expression to drink neat or on the rocks, in addition to any sweet, sultry cocktail you might create with it. 
The aroma is sweet and balanced, the perfect lead-in to a velvety smooth palate with rich, deep flavors of vanilla, followed by honey, toffee, and toasted oak. The finish does well to balance the sweetness with a touch of spice and nuttiness. 
4. Kirkland 12-Year Scotch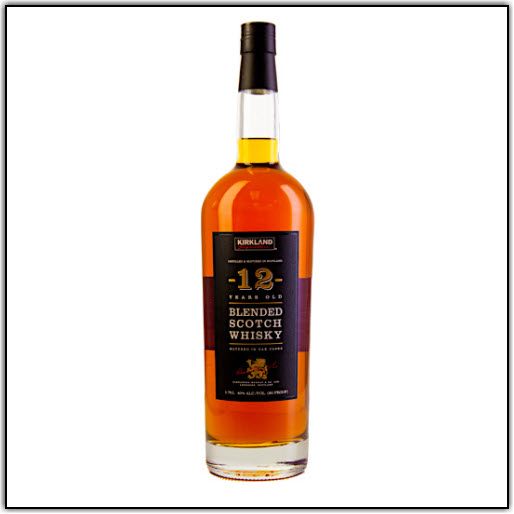 Kirkland 12-Year is another in Costco's collection of blended Scotch whiskies. It's a good middle ground in terms of age statement, which gives it a reasonable price point as well – old enough to have some depth, but not so old that it breaks the bank. 
In the bottle, it's a bright and lovely amber color with notes of baked peaches and kasha on the nose with subtle hints of bubblegum. These flavors carry onto the palate with the addition of honey, toasted black bread, and pears. It has a wonderfully smooth texture which makes it a good choice for sipping, and it has the flavor complexity to do well in a cocktail. 
5. Kirkland Small Batch Bourbon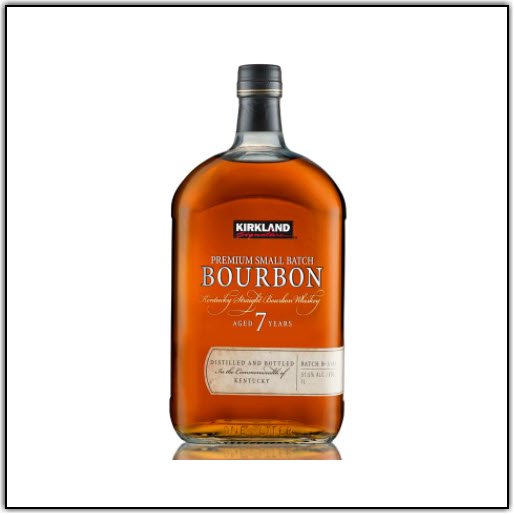 Kirkland's Small Batch Bourbon is a little ambiguous as it comes without an age statement, meaning it must be at least four years old, but its exact time spent in barrels is unknown. This expression is known to be distilled by Barton exclusively for Costco. 
The nose is sweet and creamy with notes of banana bread, butter, raisins, oatmeal, and sweet fruit. It's light-bodied on the palate and also quite consistent. Other notable flavors include fruit punch, cherries, oats, and peanuts with a little warming spice in the background from cinnamon. 
The finish is short-medium with lingering notes of cherry and a lovely combination of oak, molasses, and brown butter. If you're sipping, add a little water to sweeten the palate somewhat.
Basic Whiskey Cocktails 
Costco has a solid range of whiskey, and the expressions listed above are some of the most versatile choices. Whether you want a nice sipper or some quality cocktails, this list has something for you. Because of the price point, they're pretty solid choices for basic and beginner cocktails, too. Start with these recipes and see how you do!
Hot Toddy
This popular drink takes whiskey back to when it was widely used for medicinal purposes. This combination of ingredients is thought to help you feel better when you're a little sick, but it's still a warm, delicious drink even if you're feeling fine – especially if you want something with a little kick! 
Ingredients: 
¼ lemon
2 ounces whiskey
1 tbsp honey 
To make, simply squeeze the lemon out into the bottom of our glass and then leave the lemon inside. Add the honey and whiskey and top it off with a little hot water. Lemon and honey are household staples so there's a good chance you've already got these ingredients on hand! Scotch is a popular choice for this drink, or Canadian whisky is also recommended. 
Ginger Highball
This is an easy take on the old fashioned whiskey highball. It was a drink made popular among Brits in the early 20th century, but this modern version is a little more approachable while consisting of easily accessible ingredients. This one can be made with pretty much any whiskey, it mostly comes down to preference. Different bottles will add different nuances, so try it with a whiskey you know you like first!
Ingredients: 
2 ounces whiskey 
2 lemon slices
2-3 ounces of ginger ale 
Instructions:
Add lemon slices and ice to a tall glass. For nice presentation, layer them. 
Pour in the whiskey. 
Top with desired amount of ginger ale. 
This is a nice one, too, because you can tailor the strength of it. Simply add more or less ginger ale based on your taste and strength preferences. 
Winter Whiskey Sour
This is a fun cocktail that puts a small and easy twist on the classic whiskey sour, making it perfect for the cold weather, and an additional touch of flair makes it extra festive! 
Ingredients: 
½ tbsp fresh lemon juice
½ tbsp fresh orange juice
¼ tbsp sugar syrup 
Orange slice
1 ounce whiskey (bourbon is best) 
Optional (to decorate): 
Instructions: 
If decorating, start by brushing the honey around the rim of the glass, and sprinkle the gold glitter on the honey and anywhere else on the glass you want. 
Fill the glass with crushed ice. 
Add the bourbon, lemon juice, orange juice, and syrup to a shaker and shake well. 
Strain into your glass.
Garnish with an orange slice.
Video: Costco Islay Single Malt Review
Video: Costco Bourbon
Related Content