The spirit industry is flooded with whiskey these days. There are hundreds of distilleries creating whiskey, and many have more than one expression. This gives you thousands of bottles to choose from with flavors ranging from sweet, warm, spicy, dry, earthy, floral, and more. There's something out there for everyone and determining the best can be somewhat subjective.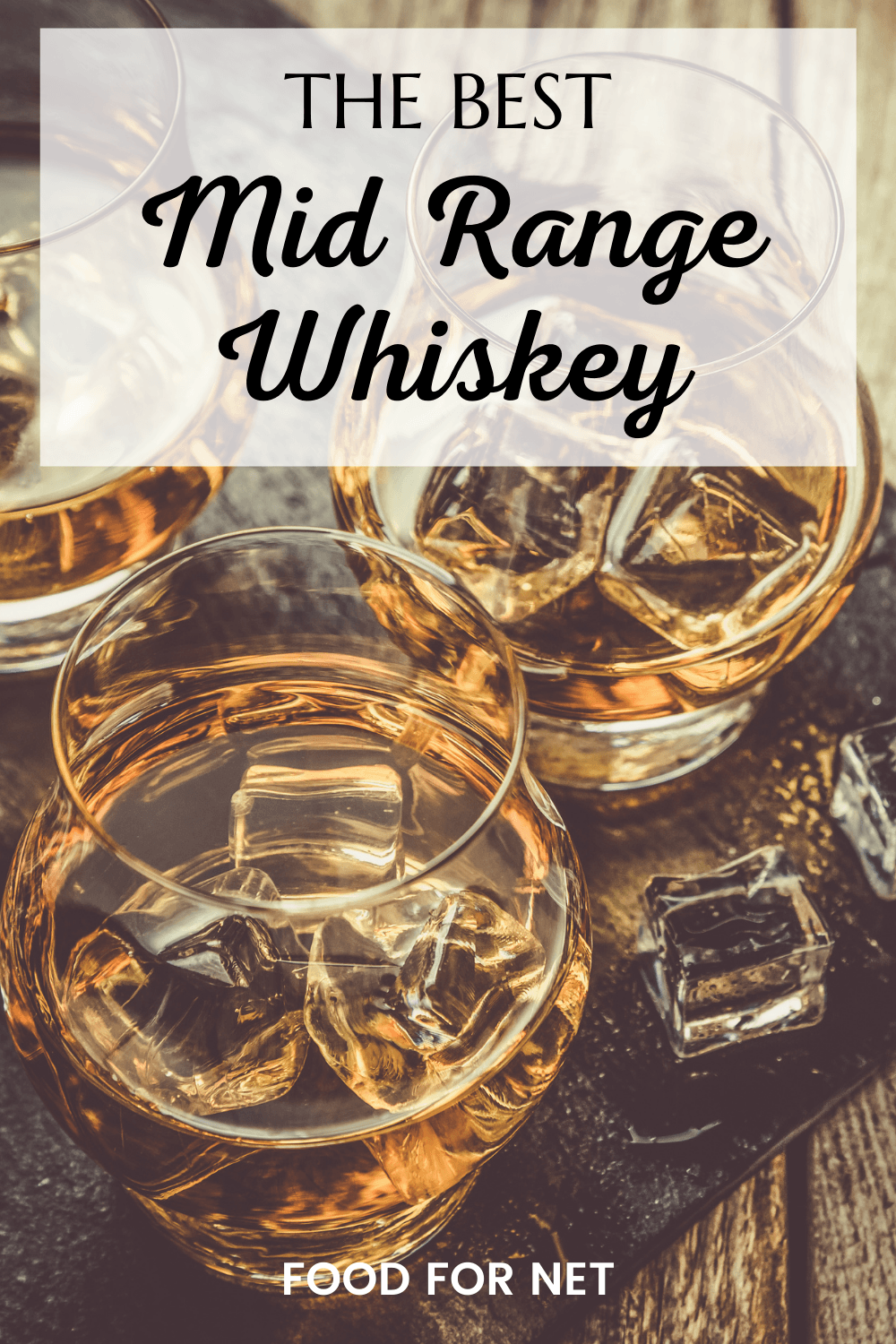 That said, many distilleries stand out due to their illustrious history and decades of experience. Others come as a result of pure determination to create something amazing. Sometimes, nothing beats the tried and trusted classics, and sometimes the unknown surprises you. 
Either way, the best mid range whiskey is among the most versatile of spirits. Expressions at this level are often suitable for sipping and enjoying on the rocks, as their time spent in barrels has worked out the kinks and removed the harsh flavors of alcohol. But – they're not so old and expensive that you can't use them in a cocktail! They might not be your go-to for shots and drinking games, but they work to elevate a cocktail, adding depth and flavor, without breaking the bank. 
The Best Mid-Range Whiskey
1. Four Roses Single Barrel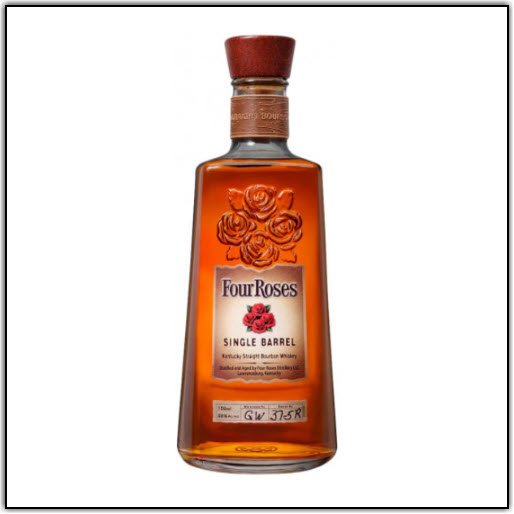 Four Roses Single Barrel is an incredible whiskey at an incredible price. It won the Gold Medal at the San Francisco World Spirit's Competition in 2012 and has continued impressing customers and judges alike ever since. 
The distillery was built in 1910 and was made to resemble the beautiful and classic California wineries. The distillery itself is now a historic site and was one of the very few distilleries that were allowed to maintain operation during prohibition, creating spirits for medicinal purposes. 
After prohibition, though, Four Roses soon became home to the best-selling bourbon in the United States. The distillery has changed hands a few times over the years, but each new owner continues to carry on the legacy that is Four Roses and its bourbon. 
Their attention to detail is incredible, right down to only aging in a one-story warehouse. Many distilleries build up so as to create more space and therefore more whiskey, but that does mean barrels are aging in different altitudes. Four Roses want all their whiskey to age in the same environment, to ensure maximum consistency between bottles and batches. 
On the nose, this one offers cherries and plums, leading into a warmer palate of cinnamon, nutmeg, and maple syrup. It's well-balanced, perfectly warm, a little sweet, and just right for sipping. 
2. Eagle Rare 10 Year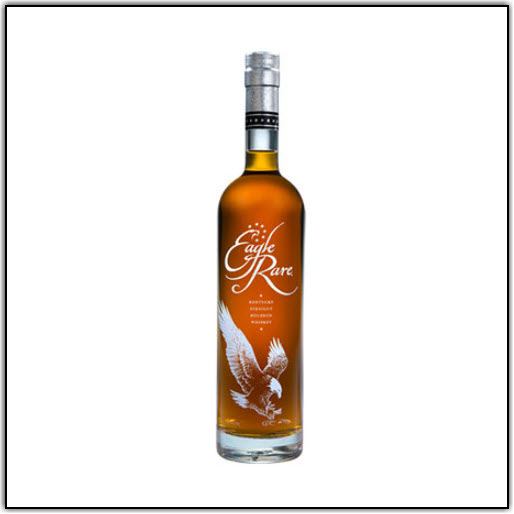 Eagle Rare 10-Year-Old Kentucky Whiskey is a single barrel effort that was named "Best Bourbon" at the 2012 International Wine and Spirits Competition. It also scored a whopping 96 points from Wine Enthusiast and 95 from Robert Parker. Its many accolades are well-deserved after it spends ten years aging. 
Not only does it spend a decade building up flavor, but it does so under the intense heat of the bright Kentucky sun. After ten years in new American oak casks, the bourbon not only has a delectable flavor but it's a beautiful golden honey color in the bottle. 
You're greeted with notes of fresh tobacco, bananas, and toast, followed by notes of chocolate, melons, almonds, dried fruits, and raisins on the palate, with subtle vanilla in the background. The finish is long and strong, with savory notes of corn and roasted nuts.
3.  Michter's US*1 Single Barrel Straight Rye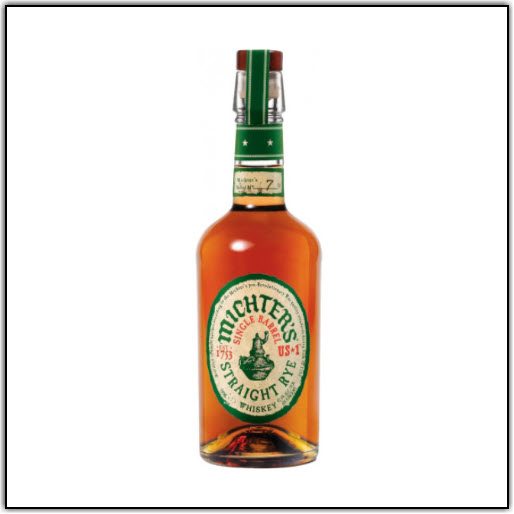 Michter's is one of the United States' oldest whiskey brands, and their years and years of experience shine through in every expression. Their Single Barrel Straight Rye is a unique bottle that falls right in the middle of the pack. With a mash bill consisting mainly of rye, it produces a bold, unique, and highly versatile profile. 
They ensure the flavor is strong by shearing the grains before fermentation so that they absorb more flavor. Once distilled, they are aged in charred American oak barrels in a heat-cycled warehouse. This creates an environment that forces the wood to contract and expand with the changing temperature, thus causing more interaction with the whiskey which adds even more flavor. Finally, every bottle is filled and sealed by hand. It's a unique and brilliant process that comes from many generations of experience and innovation. 
On the nose, this expression is spicy and filled with notes of rye bread, dark fruit, and vanilla. The palate offers notes of baked goods, citrus, caramel, and cinnamon. The finish is warm and sweet with more notes of caramel. 
4. Sazerac Straight Rye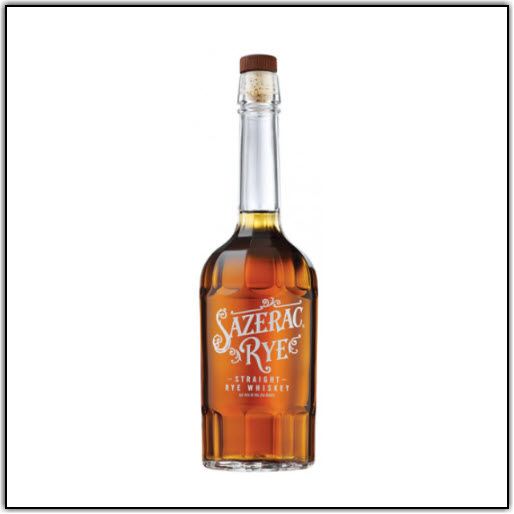 Wine Enthusiast has called Sazerac Straight Rye a "best buy" after awarding it with an impressive 95 points. It began many years ago in 1838 when Antoine Peychaud opened a pharmacy in the French quarter of New Orleans. He was a knowledgeable apothecary and the store did quite well, but he also had a love for mixing. He frequently invited friends over after hours and mixed up drinks for them, crafted from absinthe, brandy, and a collection of bitters.
The drink he made soon became legend and word spread like wildfire. 
By 1850, his drink was being served in bars, called "coffee houses" back then, and the brandy used was called Sazerac de Forge et Fils. The drink was named the Sazerac after its signature ingredient. However, an unfortunate epidemic forced establishments to switch to rye whiskey instead of brandy, but the drink was enjoyed just the same. 
It's this story that inspired the Sazerac Straight Rye, and the spirit is the perfect rye to use in the famous Sazerac cocktail! It's also a fantastic expression on its own, however, or used in other cocktails. 
The aroma is rich with notes of cinnamon, malt, rye, black pepper, and cloves. The palate is a little sweeter, with notes of chewy caramel, candied citrus, and vanilla with a hint of spicy rye. Notes of rye carry through to the finish where you'll also find a touch of dried fruits. 
5. Old Forester Kentucky Straight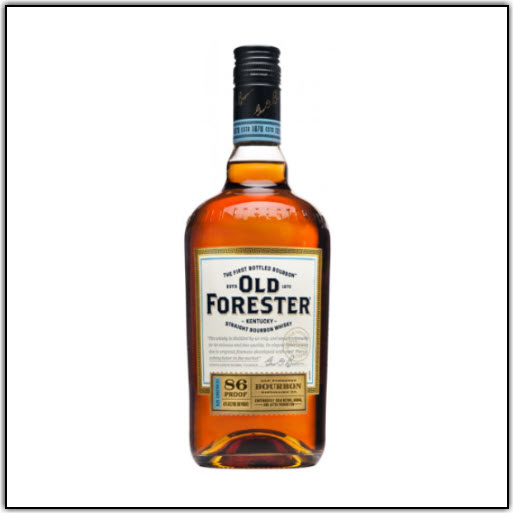 Old Forester goes back many many years, and their Kentucky Straight Bourbon is said to be the very first every bottled bourbon. Not only does this mean you're drinking a legendary recipe, but it's one that earned an impressive 95 points when it participated in the 2015 Ultimate Spirits Challenge. 
Many distilleries were producing whiskey in the late 19th century, but too many of them weren't aging it at all. Instead, they would add syrups and juices to sweeten it and add flavor, and use tobacco or even acid to give it the desired amber color. While this did the trick, it wasn't healthy and it certainly wasn't providing quality flavors. 
It was 1870 when Gavin Brown saw this gap and decided the industry needed a truly good quality whiskey. He saved some money and eventually opened a distillery with his brother – and the rest is history. Old Forester was even one of the distilleries allowed to operate during prohibition, so they were lucky in never having to close and lapse in business. 
This bourbon experiences an extra-long fermentation process and a double distillation to create a profile that's deep, complex, and beautifully flavorful. On the nose, you have sharp and sweet notes of vanilla, mint, tobacco, and some underlying oak. The palate is spicier, with a touch of caramel that quickly leads into cereal and toast. Long and dry, the finish brings more oak and light citrus with orange peel, pears, and bitter apple. 
The Classic Sazerac Cocktail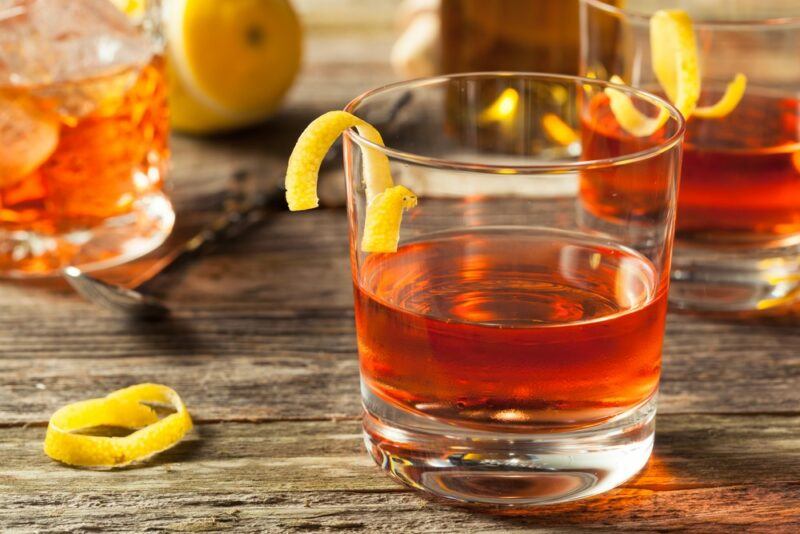 Considered one of the first "true" whiskey cocktails, this stiff, complex classic has deep roots in New Orleans and is so popular that it inspired an entire brand of top-notch whiskey. It remains a favorite in New Orleans, but its notoriety has undoubtedly spread. There are a few variations on the drink out there, but nothing hits quite the same as the classic recipe: 
Ingredients: 
2.5 ounces rye whiskey 
2 dashes Peychaud's bitters
1 dash angostura bitters
Absinthe 
1 tbs of sugar, or a sugar cube
Instructions: 
In a glass, muddle the sugar with a few drops of water. 
Add ice.
Pour in the whiskey, Peychaud's bitters, and angostura bitters. Stir until well-combined. 
Add a few drops of absinthe into a second chilled glass and roll them around until the inside is well-coated, then pour out the excess. 
Strain the mixture from the first glass into the absinthe-coated second glass. Garnish with a lemon wedge or twist, and enjoy! 
Sazerac's own rye, is, of course, the top choice for this cocktail, but that doesn't mean you can't go off-script. Good-quality rye is always recommended as you want a smooth texture and rich flavors. Have fun with it but remember to sip slowly – it's a strong one!