Cocktails are often sweet or creamy, making them ideal choices for dessert or any time where you want to feel a little decadent. But, what if you want something a bit more savory instead? There are a few angles that you can take here, including vegetable juice cocktails.
These cocktails are exactly what the name suggests. They use some type of vegetable juice as a main ingredient. The vegetable juice helps to provide a savory profile, perhaps giving the cocktail a bit more body too.
Many of these cocktails aren't common in bars. You'll need to make them at home if you hope to try them out for yourself. Still, they're delicious and are worth the hassle. I haven't listed the cocktails themselves, but rather a list of the best vegetable juices to consider, and some examples of cocktails using the ingredient, including links to recipes and a video.
If you're looking for other non-sweet alcoholic drinks, you could try cocktails with hot sauce as well. Some of these are delicious, while others are downright bizarre, but it's fun to try most of them at least once.
You might also think about the sour family of cocktails, like whiskey sours. These simple cocktails combine some type of base spirit, with a sweetener and a sour addition, like lemon juice or lime juice. They're delicious and go down a treat.
The Vegetable Juices That Feature In Cocktails
Cucumber Juice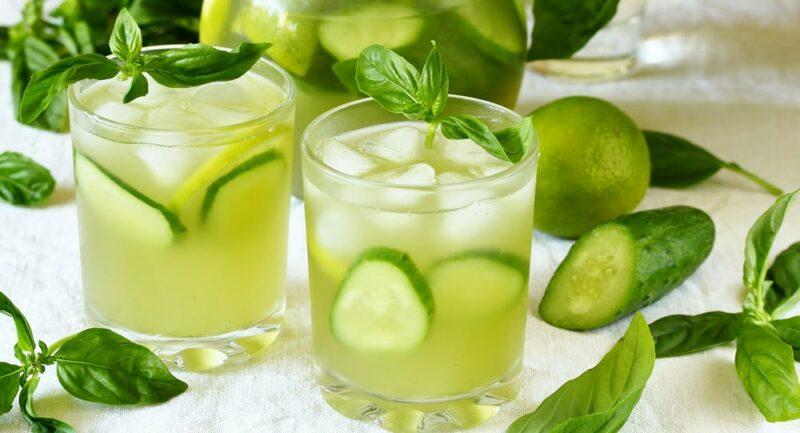 Cucumber juice is surprisingly popular in cocktails, partly because the botanicals in gin are a perfect complement to the vegetal flavor of cucumber. This is also why cucumber is often used as a garnish when you're making a gin and tonic.
The idea might seem a little complicated because you can't juice a cucumber like you can an orange. However, most water heavy vegetables can be made into juice. With cucumber, the trick is to completely peel the cucumber, cut off both ends (and discard them), then cut the remaining flesh into chunks.
You can then blend the cucumber chunks to create a pulpy mixture. Straining this will give you cucumber juice that you can use in your cocktails. You don't get a large amount of juice from each cucumber, but this doesn't matter, as most cocktails only use a small amount of cucumber juice.
Cucumber gimlets are one style to try. Like traditional gimlets, these rely on gin, lime juice, and simple syrup. To make a cucumber version, you just add cucumber juice before you shake the ingredients together.
To vary this recipe still further, why not add some mint leaves too? This will give you a refreshing summer drink that isn't too sweet.
Another type of cucumber cocktail combines vodka and tonic water with cucumber juice, lime juice, simple syrup, and mint leaves. This gives you another refreshing drink, one that might taste even better if you swapped the vodka out for some gin.
Many traditional gin cocktails can be made better by adding a little cucumber juice. You never know until you try.
Beet Juice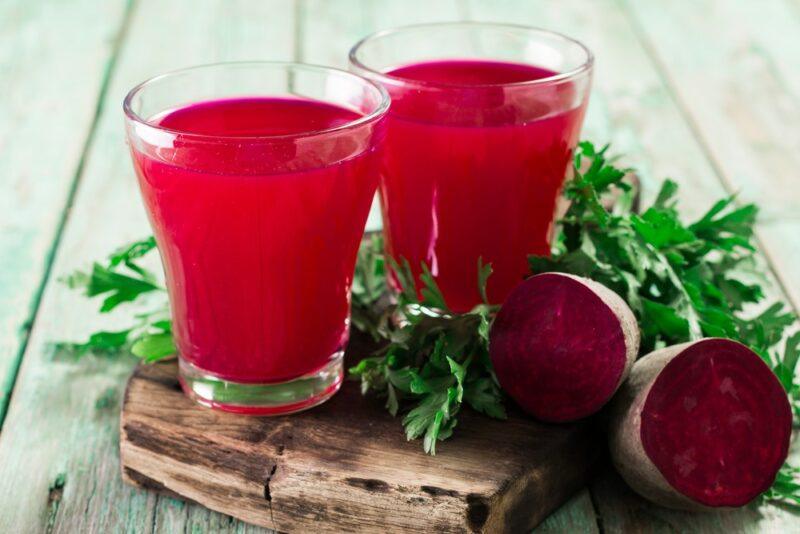 Beet juice is a powerful source of antioxidants and also adds a bright red color to your cocktails, making them look stunning. This Savory Gin Cocktail is a classic example. It uses gin, bitters, Cynar, and beet juice to create a strong savory flavor that stands out in the glass.
The recipe's author mentions that she doesn't have a juicer, so she simply buys 100% beet juice from her local store. This approach can work well, as long as the product isn't made from concentrate and doesn't include artificial additives.
Beet powder can work surprisingly well too, once it has been mixed in with water. This approach is perfect if you only occasionally want to add beets to your cocktails.
Another recipe to try is this Ginger Beet Martini. The cocktail isn't a martini in a traditional sense, as there is no vermouth included in the recipe. Still, the combination of ginger, beets, and apples makes the cocktail much more flavor-packed than a standard martini.
Also, you don't need to rely on red beets. There are also golden beets. These have a bright yellow color and a slightly different flavor profile.
Some cocktails, like this Golden Beet and Rosemary cocktail, work well with either type of beet juice. For others, golden beets might be a better choice, as these have a less intense flavor and won't overwhelm your other ingredients.
Tomato Juice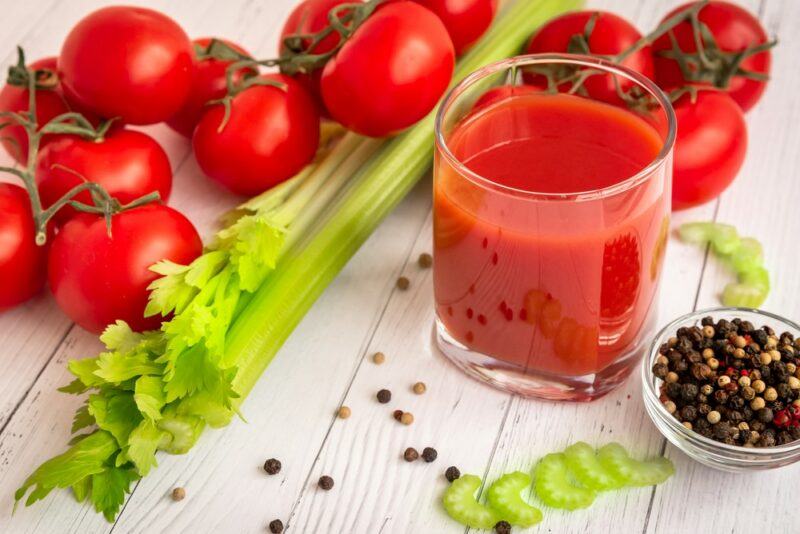 When we talk about tomato juice cocktails, the bloody Mary must spring to mind. It's easily the most famous tomato juice cocktail and can be the reason that many bars stock tomato juice to begin with.
Including the bloody Mary on this list is cheating slightly, as tomatoes are technically a type of fruit rather than a vegetable. Still, the cocktail is far too classic to ever be ignored.
The cocktail uses vodka as the spirit of choice, along with ingredients like tomato juice, hot sauce, Worcestershire sauce, lemon juice, salt, and pepper. Any type of non-flavored vodka goes well in the cocktail, but some choices are better than others.
Let's not forget about the bloody Mary variations either. Many of these cocktails still rely on tomato juice, but they have their own twists to make them special.
The bloody Maria, for example, uses tequila instead of vodka, while the red snapper uses gin instead. Swapping vodka out for a different spirit changes the flavor profile of the cocktail, creating an even more interesting drink.
There's also the Caesar, sometimes called the bloody Caesar, which adds clam broth to the traditional bloody Mary ingredients. You could easily make your own variation too, starting with tomato juice and your favorite spirit.
V8 Vegetable Juice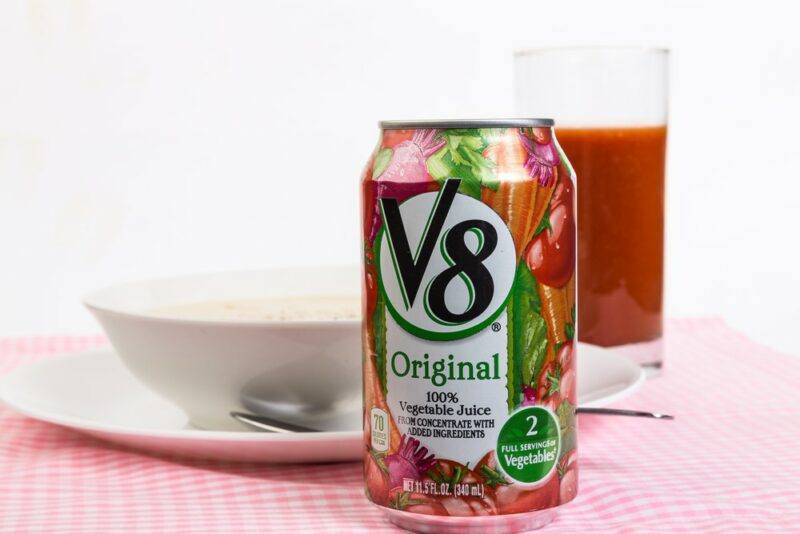 The traditional version of V8 contains eight different vegetables, with tomato juice being the base ingredient. As such, V8 juice can be easily used to make a bloody Mary instead of tomato juice. You can make the cocktail even more interesting by picking up the Spicy Hot version of V8.
You could also make any of the bloody Mary variations by using V8 juice instead of tomato juice. Doing so simply gives your drink a more complex flavor profile.
Many people have made their own V8 cocktails, like the Bloody Nightmare, which uses V8, vodka, Worcestershire sauce, and a variety of spicy ingredients. There's also the Spicy Mango Bloody Mary. This one uses some of the traditional bloody Mary ingredients, along with a few unexpected additions.
Other cocktails rely on the fruit and vegetable V8 products instead. For example, the cocktail Hoyt's Delight can be made with V8 Splash juice and includes lime juice, multiple Bacardi products, and Southern Comfort.
Carrot Juice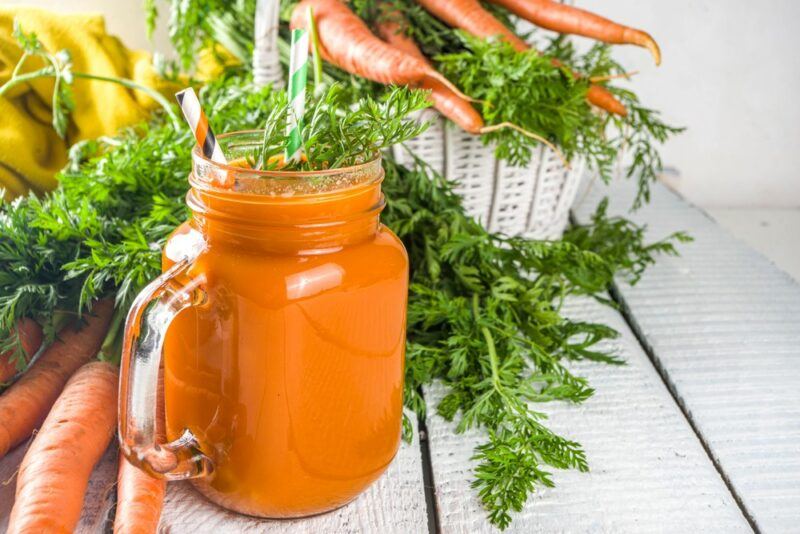 Carrot juice isn't often seen in cocktails, yet it's a surprisingly powerful ingredient. It has the same type of strong flavor that you find with orange juice and even offers a little sweetness. Of course, carrot juice isn't as sweet as orange juice and the flavor profile is distinctive, so you'll use the two types of juice in different cocktails.
You'll often use ginger in a carrot juice cocktail. Those two flavors work together exceptionally well. Turmeric sometimes features too, along with a variety of other ingredients.
One of the easiest approaches is to look for a carrot-based vegetable juice recipe and just add vodka or gin to it. Alternatively, you could look for specialized carrot juice cocktails, like this Jamaican Carrot Juice, which uses rum as the spirit of choice.
You might be surprised at just how many different carrot juice cocktails there are.
While carrot juice cocktails are often predictable, there are some unusual drinks out there too. This Blueberry Mojito Pitcher is one example. The alcoholic drink is excellent for serving a large crowd as it uses three bottles of sparkling wine and four bottles of dry white wine as the base of the recipe (that's a lot of booze!).
The ingredients list is extensive, featuring 24 different ingredients. Carrot juice is just one of these, so the flavor of carrot doesn't dominate in the final drink.
Kale Juice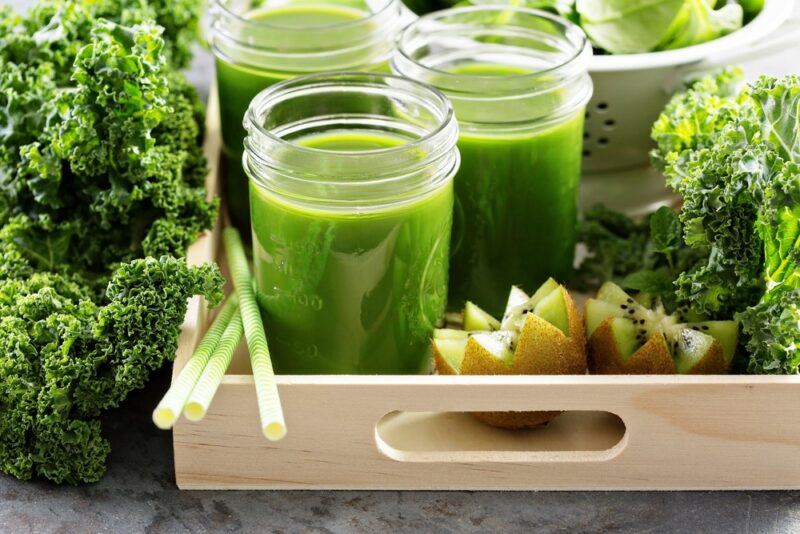 You won't often see kale juice in grocery stores, as you need a lot of kale to get even a little juice. Still, if you have a juicer and enough patience, you can easily make the kale juice you need for cocktails.
Plus, kale juice has a strong flavor, so you won't need a large amount of the stuff for most cocktails.
Kale doesn't feature in cocktails as often as cucumber juice, tomato juice, or even beet juice. Still, there are some interesting recipes to try, like a Kale Collins or a Kale Ginger Daiquiri.
You might even think of these as healthy cocktails. After all, you're getting the various phytonutrients from kale in your cocktail. Not too bad, right? There's no doubt that the drink will be healthier than one that heavily relies on sugar or cream.
Parsnip Juice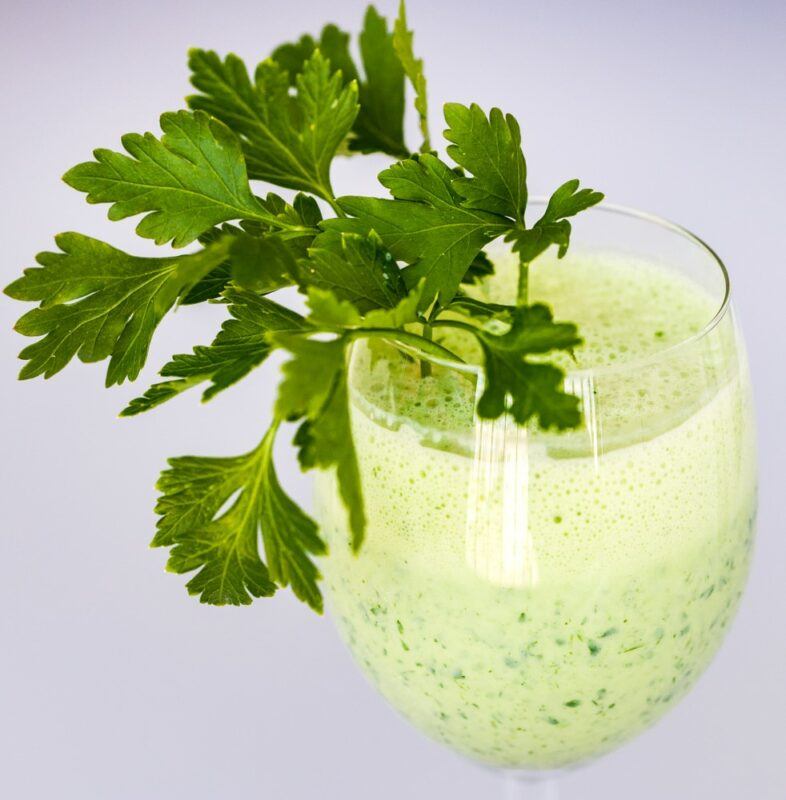 Did you know that you can use parsnip juice in cocktails? The idea is strange indeed, yet some creative minds have developed parsnip-flavored drinks.
One comes from the Niche bar in Missouri and features parsnips, dill, rum, and ginger. The cocktail is described as tasting a little like a pina colada, although it's hard to know how true that claim is.
You'll need to do some experimenting if you're using parsnip juice in your cocktails at home, as the flavor profile is different than most other ingredients. You'll find that it works well in some drinks and not at all in others.
Parsley Juice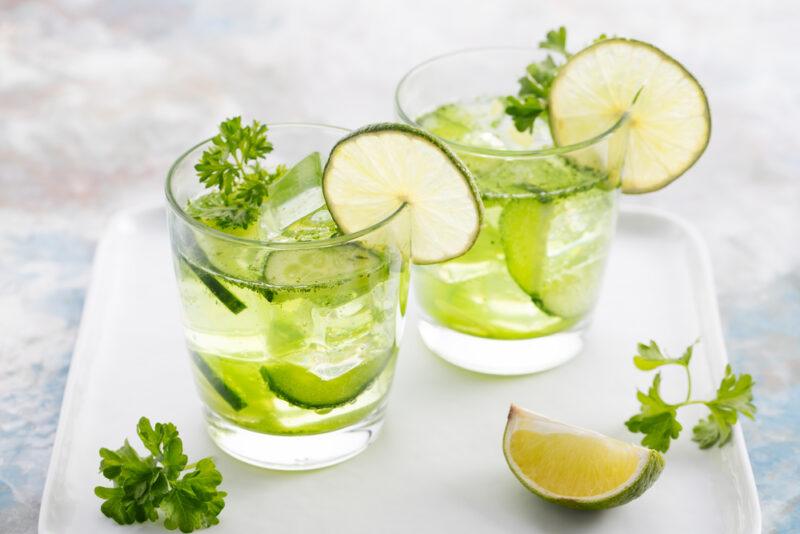 Parsley juice is sometimes promoted as a health tonic, so why not include the ingredient in a cocktail too? Once again, the simplest option is to take a regular parsley juice recipe and add some alcohol to it. Vodka works well here, as it is almost flavorless anyway.
Of course, some parsley juice recipes will combine better with alcohol than others.
While you can find some parsley juice cocktail recipes, there aren't that many to choose from. Instead, cocktails will often muddle parsley leaves. Doing so gives you the full flavor of parsley without much extra effort.
Celery Juice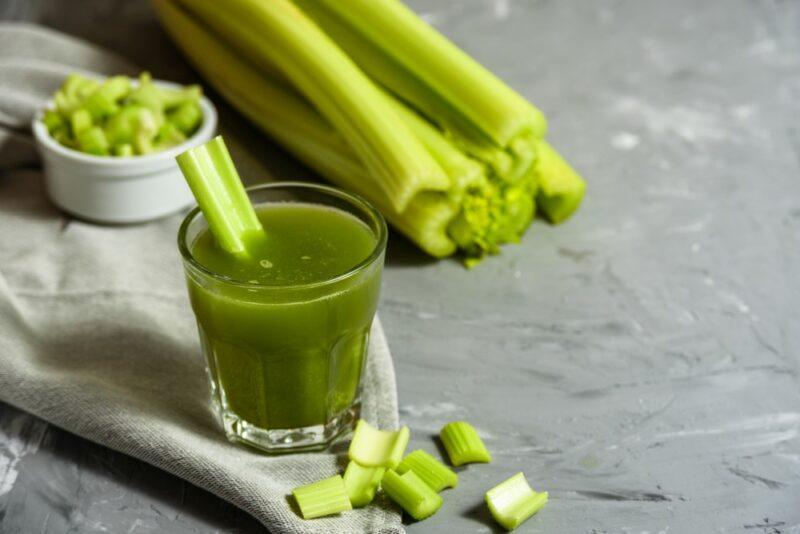 Celery juice has become a trendy cocktail ingredient. It's often combined with gin, giving you a delicious combination of vegetal flavors and gin botanicals. Other fresh and healthy ingredients might be added too, such as ginger and spinach.
This Celery Juice Cocktail is a fantastic place to begin. It combines a variety of delicious ingredients, without overdoing it with any of them. It's also an excellent summer choice, as the cocktail ends up having a low ABV.
One word of warning though – celery juice cocktails can get complex. It's not unusual to see ones that have a dozen or so different ingredients. Some of these may not be normal liquor cabinet fare either, like agave syrup and cucumber gin. Still, there's nothing wrong with a complicated ingredients list if it gives you a delicious cocktail.
Related Content