It's hard to believe that Easter is coming up already. Seems like we only just got through Christmas and New Years'. Still, there's no time like the present to think about Easter drinks. After all, you want something a little unusual, don't you? Serving the same types of drinks at every occasion tends to get boring.
So, with this list, we'll help you keep things interesting. Our focus is on alcoholic Easter drinks, including plenty of cocktails. Cocktails are fantastic, as you can easily tweak the colors and flavors to get something that you love.
And, if you don't have all of the ingredients on hand, don't stress too much. You can easily experiment with other combinations. Most cocktails were created through experimenting anyway, so you're in good company.
The ideas in this list are just a starting point too. There are many other types of cocktails to play around with, including fruit-based cocktails and summer drinks.
Easter Drinks
Sangria Lemonade

Sangria is a popular party drink, mainly because you can prepare a large amount at once. But, the rich flavors of traditional sangria aren't always what you need. Sometimes it's better to have a lighter drink. This is where sangria lemonade comes in.
The most significant difference is that you're using white wine rather than red wine. Lemonade is the other main ingredient, along with some fruit. Berries and oranges are fantastic additions, as they provide plenty of color and a little extra flavor.
To increase the alcohol content further, try adding in some type of spirit. White rum is a good option, as it won't change the color of your drink and adds to the flavor profile. Or, you could turn to vodka. The clear spirit is always an easy way to increase a drink's alcohol by volume (ABV) without changing the flavor.
Some people tweak this idea even further by including sweet tea. The tea dramatically changes the color and flavor profile of the drink. This drink is just as delicious and refreshing as the lemonade version, as long as you happen to enjoy sweet tea.
Mimosa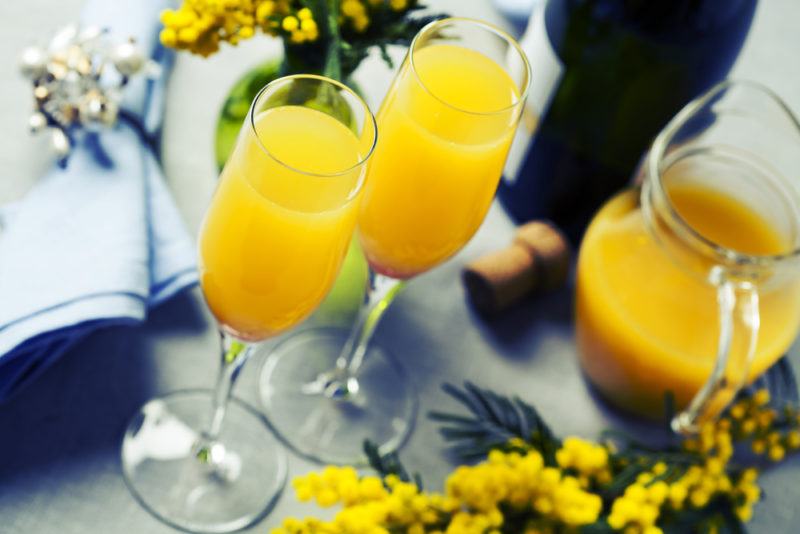 The classic mimosa is perfectly suited to most occasions. It is, after all, a tasty and refreshing drink that's easy to make and isn't too alcoholic.
You just need two ingredients – the orange juice and some type of sparkling white wine. A 50/50 split of the two components is common, but you can tweak the ratio to meet your needs. Perhaps you'd use more orange juice during a daytime event and more wine if you're serving the cocktails in the evening.
The most important thing is to use freshly squeezed orange juice. Mimosas made from bottled stuff instead don't taste nearly as good.
You don't need to stick to classic mimosas either. You can easily change up the recipe.
One trick is to change the type of juice. Cranberry juice and grapefruit juice are two popular alternatives (giving you drinks called poinsettia and megmosa, respectively). Using peach puree, on the other hand, gives you a bellini. Beyond these, you can use any type of juice that you can imagine.
Alternatively, you might add in some fresh fruit or an extra ingredient. For example, a sunrise mimosa includes grenadine syrup, which makes the drink look a little like a tequila sunrise. You can also make a mimosa sangria. This is simply a mimosa with pieces of fruit dropped into it.
Elderflower Cocktail

Easter drinks tend to be refreshing and often have a relatively low amount of alcohol. Such features make sense, as you're often serving the cocktails during the day rather than in the evening.
An elderflower cocktail is one example of this trend.
Most such drinks use elderflower liqueur as the main ingredient. You'll also want white wine and a little soda water, or some type of sparkling white wine. The elderflower liqueur provides most of the flavor, while the sparkling wine or soda water creates a sparkling drink.
You could make this with elderflower cordial too. That approach basically gives you a flavored white wine spritzer.
Try throwing some fresh herbs into the cocktail too. This acts as a garnish, while also adding some extra flavor.
Easter Bunny

First things first… the name Easter bunny is used by a few different cocktails. One comes from The Spruce Eats and is a sweet drink. The main ingredient by volume is crème de cacao. Vodka is there too, along with a little cherry brandy (or cherry liqueur) and chocolate syrup.
The bottom part of the drink is made from a mix of the crème de cacao and the vodka, while the brandy and chocolate syrup are floated on top.
Another version of the Easter bunny is similar to a chocolate martini instead. So, you can use ingredients like vodka, white chocolate liqueur, cream, and syrup.
There's even a shot version that uses vanilla vodka, Bailey's Irish cream, heavy cream, and simple syrup (plus some muddled strawberries). A fun trick is to use a hollow Easter bunny as a shot glass.
Gin and Tonic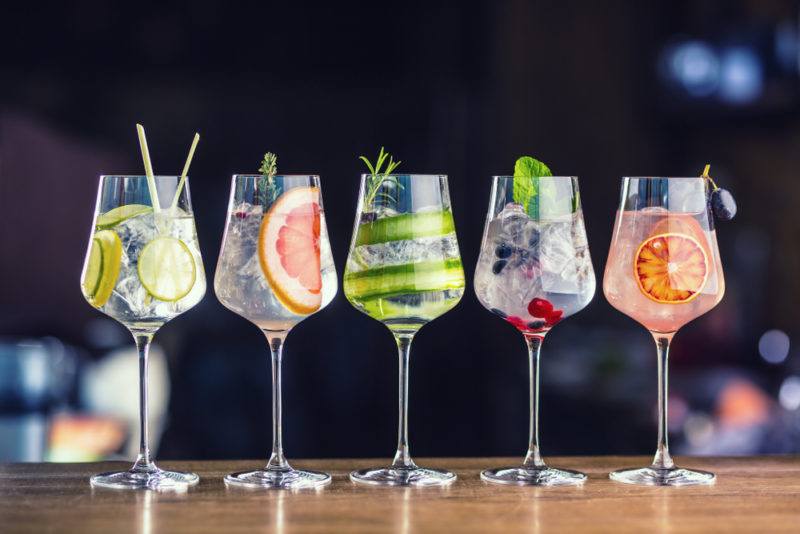 It's hard to go wrong with a gin and tonic. The classic cocktail is both refreshing and easy to make. After all, you just need gin and some tonic water.
This is another drink that's very easy to customize. We highlighted 22 gin and tonic variations in a previous post. Some are simple, like adding an infused simple syrup or changing the type of tonic water you use. Others are more complex.
Even if you keep the recipe simple, it's easy to impress people with a gin and tonic. Just get a little creative with the garnishes, and you're on to a winner.
Spiked Homemade Lemonade

Here's an easy trick for making delicious cocktails. Start off by making a non-alcoholic drink that you enjoy, like homemade strawberry lemonade or homemade limeade, then add a shot or two of vodka.
The vodka adds an alcoholic kick to the drink. But, vodka is almost flavorless, so you're not changing the flavor profile of your drink at all. This makes it easy to make your drink taste just like you want it to.
Spiking lemonade like this great when you're serving drinks at a party too. You can easily make a pitcher of the base drink and then add alcohol to the drinks of the guests that want it. Or, try making a pitcher of spiked lemonade and a non-alcoholic pitcher. Just don't mix them up!
Moscow Mule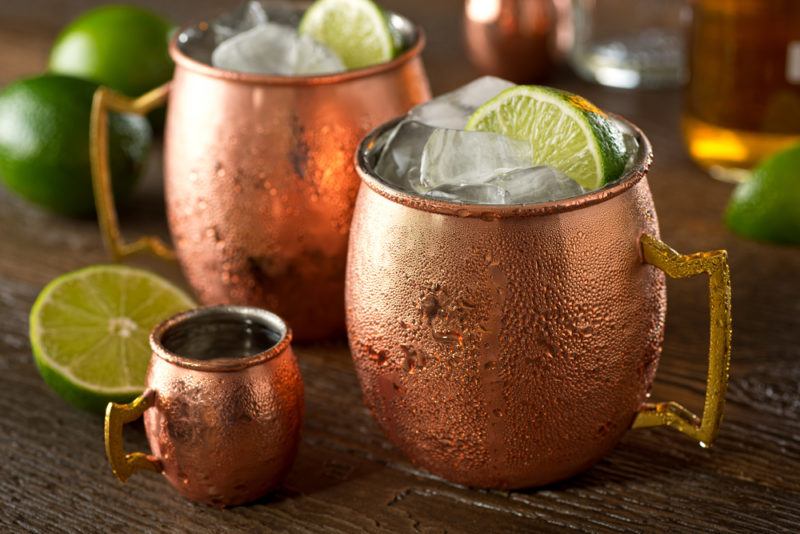 The Moscow mule is a classic cocktail. It's also a popular one that's easy to make. All you need is ginger beer, vodka, and lime juice.
The drink is traditionally served in copper mugs. These make it look refined and help to keep the liquid cool. Still, it doesn't matter if you don't have the mugs on hand. The drink will taste just as good in a regular glass.
Because there are just three ingredients, it's easy to prepare a pitcher of the cocktail and serve it at a party.
Not a vodka fan? Don't worry, you can try a variation of the drink – like a Mexican mule (which uses tequila), a Kentucky mule (which uses bourbon), or a gin buck (which uses gin). Or, why not tweak the ingredients? Adding some fruit juice, fruit syrup and/or fresh fruit can elevate the cocktail.
April Rain

If you want something more intense and refined, consider the April rain cocktail. It's a martini variation, which makes it a strong drink.
All you're doing is making a vodka martini with a little lime juice added in. The juice gives the drink a slight green tinge and looks even better if you use a lime twist as the garnish.
You could make this as a perfect martini, which would mean using equal measures of vodka and vermouth in the cocktail. Or, if you prefer a drier martini, use more vodka and less vermouth.
Aperol Spritz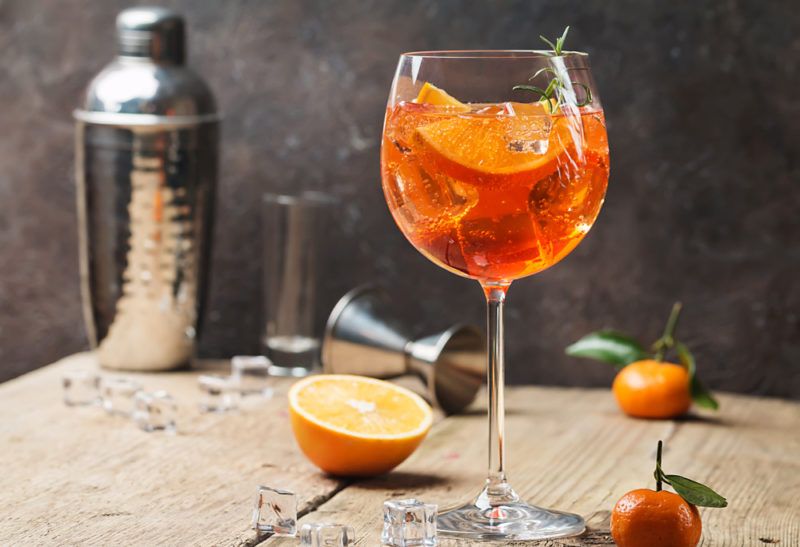 This is probably the most famous type of spritz cocktail. Most versions just use two ingredients – Aperol and prosecco. Aperol and prosecco are both Italian products, which is a key reason that they're combined. But, you can swap out for a different type of sparkling white wine.
To make the drink even better, try serving it over ice with a splash of soda water.
While the cocktail typically uses equal measures of prosecco and Aperol, you can change the ratio. Try using more white wine if you want a milder drink, as Aperol has a distinctive bitterness.
Finally, pay attention to the white wine that you choose. There are only two main ingredients, so your wine will influence the taste of the cocktail. A low-quality sparkling wine or a sweet one could create a less desirable drink.
Mojito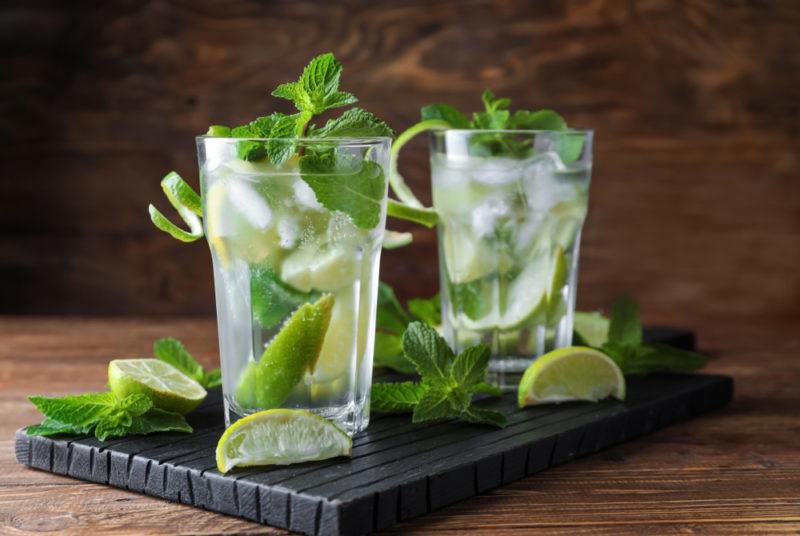 A mojito is a classic cocktail, one that relies on rum, mint, and lime. You'll normally use white rum to make it, but you could switch this out for a dark rum instead. Doing so would give you a more complex flavor.
The combination of mint and lime means that this is a refreshing drink. It's perfect for a warm day. While mojitos are often strong, you could easily make a less intense version by adding soda water and decreasing rum.
Blue Curacao Cocktails

Blue curacao is, surprisingly, an orange-flavored liquor. The ABV is often low, at around 20% to 25%. However, you'll sometimes see stronger versions, including ones that go up to 40%.
Blue curacao has one serious advantage – its color. The spirit makes the most amazing looking cocktails. It's also easy to make light blue cocktails with the liquor, which should perfectly match your Easter theme.
The simplest way to do this is by mixing vodka, blue curacao, and lemonade. Doing so gives you the blue lagoon cocktail, which is sweet and easy to enjoy.
You could also make a low ABV cocktail by mixing blue curacao with lemonade. This could be ideal if you're drinking early in the day and don't want too much alcohol.
Sex on the Beach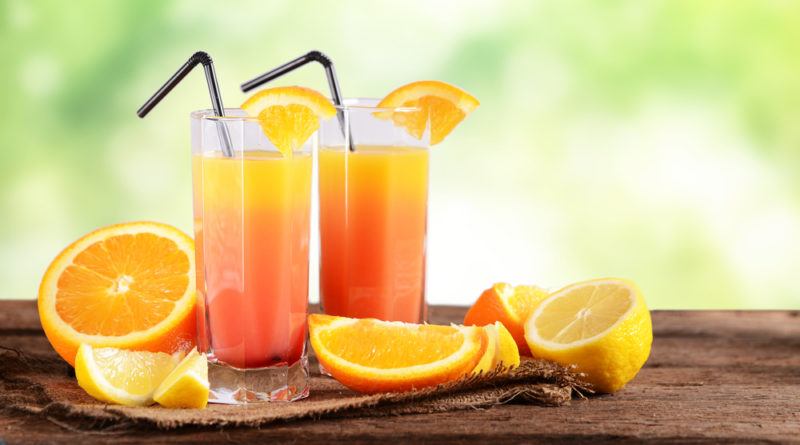 With a name like sex on the beach, this cocktail mightn't sound like the ideal Easter choice. Still, if you can get past the name, then it's a delicious cocktail that looks great in the glass too.
The basic version relies on four key ingredients: vodka, peach schnapps, cranberry juice, and orange juice. You'll get the best drink if you use freshly squeezed orange juice and high-quality cranberry juice (not cranberry drink!). However, the cocktail is surprisingly good with budget ingredients too.
If it's a warm day, why not make a frozen version instead? You're still using the same ingredients, except that it's best to add some frozen peaches in too.
The peaches enhance the flavor of the peach schnapps and mean that you're not diluting your drink too much. If you don't have frozen peaches on hand, you can sub for another type of frozen fruit or even skip the fruit and rely on ice.
Sparkling Wine

Let's be honest, while cocktails are fun, sometimes they're a bit too complicated. Perhaps you don't want to be mixing drinks, especially if you're already cooking food or trying to host an event.
If this is the case, why not simply serve some sparkling wine?
The bubbles make the wine refreshing and easy to enjoy. Sparkling wine is also fantastic because it pairs well with so many types of food.
Red Wine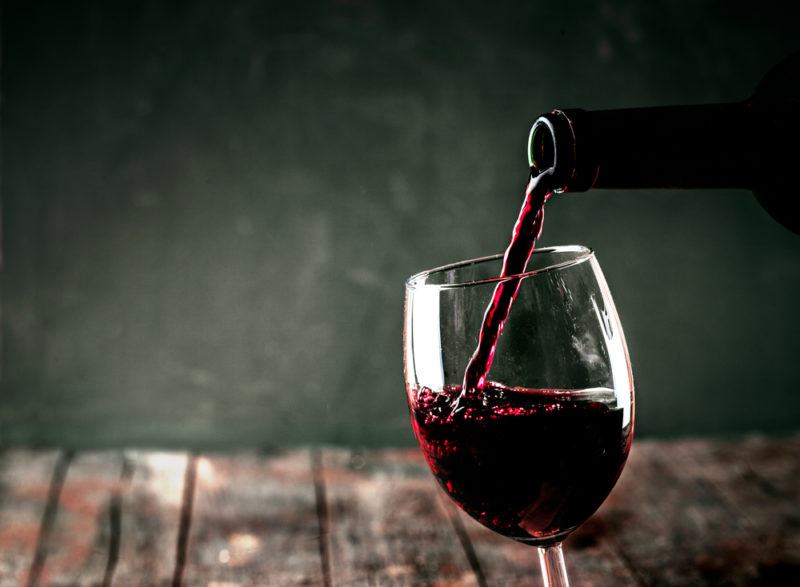 While we're on the topic of wine, red wine is another option. This is one that you'd probably be serving during an Easter dinner, rather than in the middle of the day. Still, a light red like a pinot noir can be surprisingly good even when the weather is warm.
Red wine is fitting for Easter too, as it has a long religious history. Churches have often used the wine to illustrate the blood of Christ. That tradition is becoming less popular these days (partly because red wine stains easily), but red wine still works well during an Easter dinner.
Paloma

It's hard to go past the paloma when you're looking for an easy cocktail. There are just three ingredients here – tequila, grapefruit soda, and lime juice. We love this cocktail as an Easter choice, as it has fantastic pastel colors.
The ingredients aren't too difficult to find either. Grapefruit soda is the only one that you might have problems with, although this is common in many Mexican stores. If you get stuck, try substituting it for grapefruit juice and soda water.
Wine Spritzers

Here's another simple choice. A basic wine spritzer just uses two ingredients – wine and sparkling water. You'll often be using soda water, which has no flavor or sweetness of its own. Doing so gives you a diluted bubbly glass of wine. This is the perfect drink for a hot day when you don't want too much alcohol in your system.
You can vary the ratio of wine to soda water based on your preferences. A 50-50 split often works well. Or, if you want something stronger, go for three-quarters wine and a quarter soda water.
While most spritzers use white wine, you can make a similar drink with red wine or rose instead.
You can also change the type of soda or add other ingredients to make the spritzer more interesting. Why not drop some pieces of fresh fruit in the drink or use a little fruit juice? I've even seen spritzers made with tonic water instead of soda water. The tonic water dramatically changes the flavor and could be ideal if you're using a cheap bottle of wine.
Iced Tea Cocktails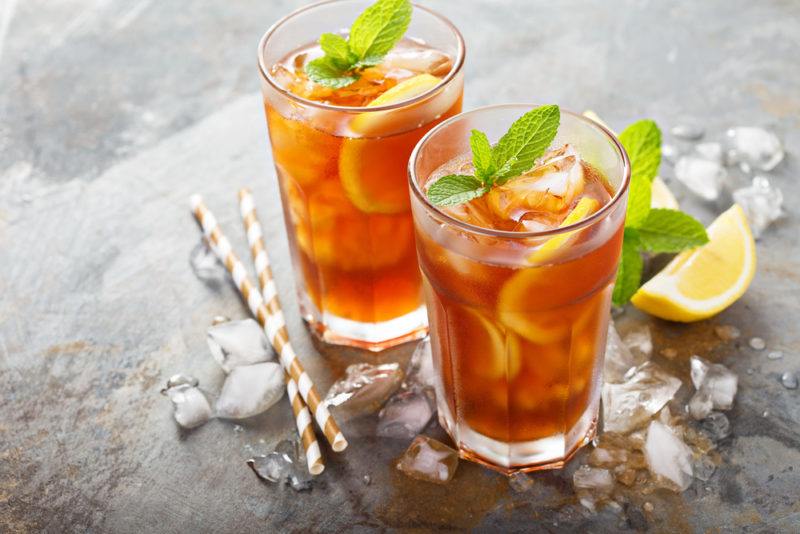 Iced tea is always popular in warm weather. Why not take the idea one step further and make an iced tea cocktail?
The simplest way would be to first make the iced tea and then spike it with a spirit. You could also make a John Daly cocktail, which combines iced tea, lemonade, and vodka. There are more complicated iced tea cocktails that you can try too.
Regardless of the recipe you focus on, it's always better to make the iced tea yourself rather than buying bottled iced tea from the store. Bottled iced tea tends to be full of sugar and additives. Homemade iced tea is always going to taste better.
Eggnog

Eggnog might be a traditional winter drink, but some companies have been bringing it back for Easter too. You'll sometimes see marshmallow versions sold in local stores.
Why not make eggnog yourself instead? If you do so, try using fewer spices than you would at Christmas. After all, the weather is much warmer around Easter time.
While eggnog hasn't fully caught on as an Easter drink, the idea makes sense. After all, Easter has a strong focus on eggs anyway, so why not serve an egg-based beverage as well?
You can choose whether to make an alcoholic version of eggnog or a non-alcoholic one. Both approaches are delicious and could fit into almost any celebration.
Fruity Martinis

There are countless martini variations that aren't really martinis at all. Most skip the vermouth altogether and just use vodka and some flavoring ingredients.
For example, you can make a raspberry martini by using raspberry vodka, simple syrup, lime juice, and fresh raspberries. The finished drink is served in a martini glass and is often garnished with fresh fruit.
This gives you a cocktail that looks much like a martini but is often less intense and easier to drink. A simple Google search will provide you with plenty of recipes to try. You could also make up your own versions. You might even use gin rather than vodka sometimes. Gin has a more distinctive flavor, which can pair well with savory ingredients, like cucumber.
Strawberry Daiquiri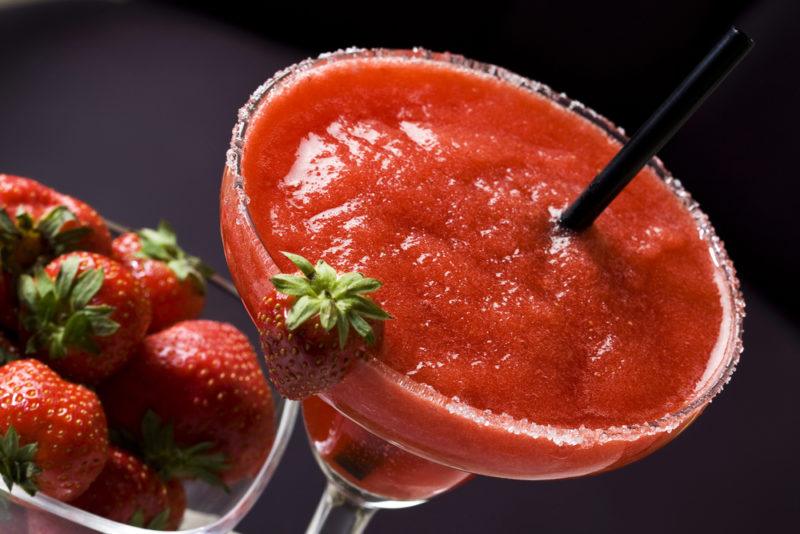 A regular daiquiri is delicious when the weather is warm, but a strawberry daiquiri is even better again. The cocktail relies on rum, lime juice, simple syrup, and strawberries.
If you muddle the strawberries with the lime juice and simple syrup, shake the ingredients all together, and then strain into a cocktail glass, you get a similar texture as a traditional daiquiri.
However, many people make a frozen version instead, which ends up having a slushie-like texture. This approach is less traditional, yet is perfect when the weather is warm.