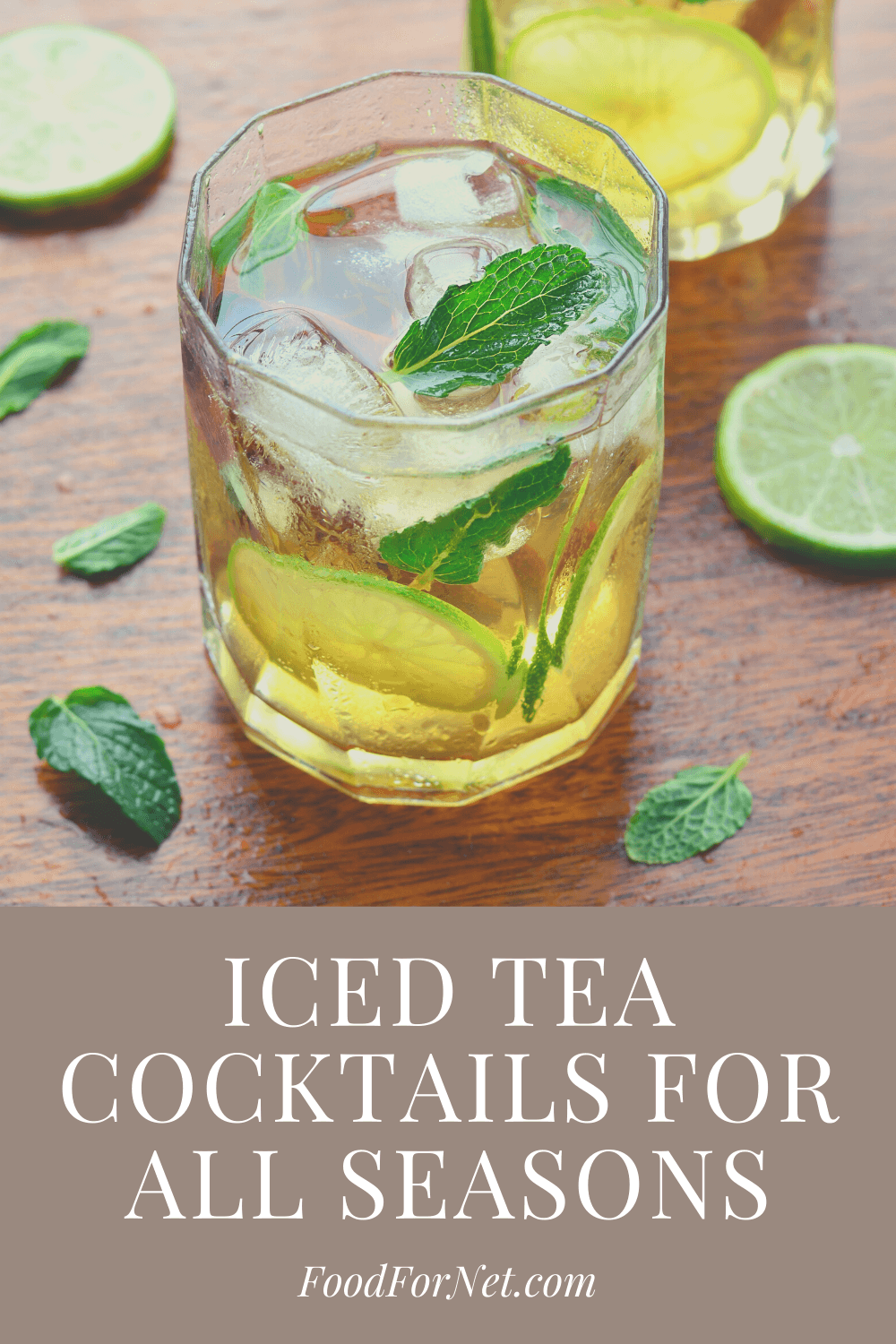 Iced tea is a popular drink, so why not enjoy an alcoholic version instead? Iced tea cocktails can be one of the best summer drink choices, as they are refreshing and cooling. There are many different flavors to try out too, including the ones that we're highlighting in this list.
One of the best things is that the cocktails can easily be customized. Even just changing the type of tea that you use can have dramatic effects on the overall drink, giving you an entirely different flavor profile. How can you not love that?
You don't just need to stick to regular tea either. Most of these cocktails can be made using herbal teas too.
Regardless of the cocktail that you choose, the brewing step is important. With most iced tea cocktails you'll need to brew the tea using a hot brewing technique first and then cool it down. Placing the tea in the freezer for a short time is the fastest way to cool it down. If you've got more time, you can leave the tea in the fridge for a while.
You'll find these cocktails perfect for any time that you want to make drinks for a crowd. You can even prepare the cocktails in advance, which makes the whole process easier still.
P.S. You can make these cocktails using cold brew tea instead of iced tea. Doing so would taste just as good, if not better.
Iced Tea Cocktails
Hollingsworth Iced Tea Cocktail
Gin And Mint Tea Cocktail
John Daly
Bourbon Strawberry Iced Tea
Long Island Iced Tea
Bourbon Tea
Ginger Green Tea
Royal Tea
Tea Tini
Green Tea Mojito
Pink Iced Gin
Spiked Tea
Hollingsworth Iced Tea Cocktail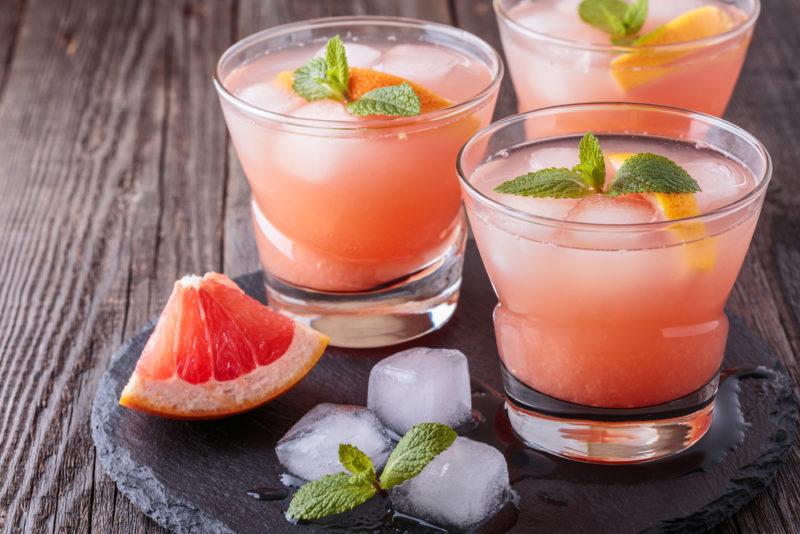 This iced tea cocktail just relies on four ingredients: gin, earl gray tea, lemon juice, and crème de peche. The cocktail ends up being fairly low in alcohol, making it a refreshing drink that can be enjoyed at any point during the day.
The crème de peche is the most interesting part of the cocktail. It is a type of peach liqueur and the peach flavor adds interesting depth to the cocktail.
Gin And Mint Tea Cocktail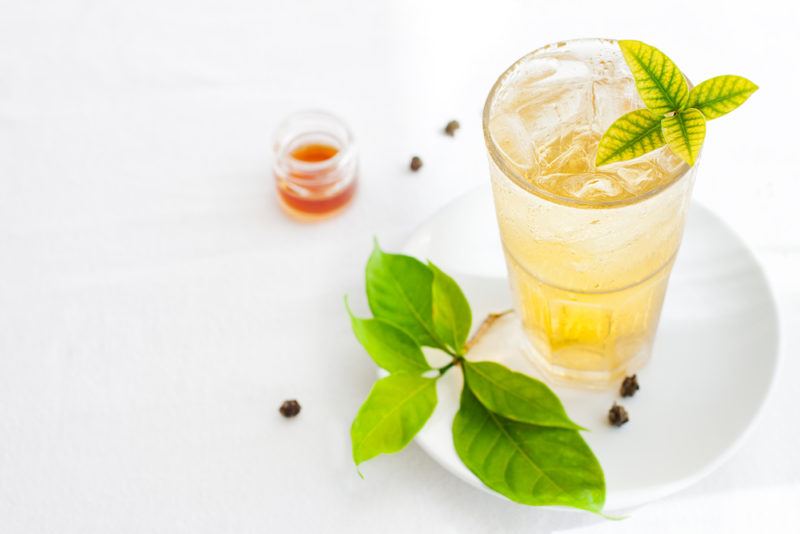 The recipe for this cocktail comes from Bon Appétit. It's more complex than the previous example, but is still worth trying out.
While this is called a gin and mint tea cocktail, green tea is the tea being used. The recipe creator suggests relying on gunpowder green tea, if possible, as this provides the best flavor.
The mint flavor is from the chopped mint that is included in the recipe. Other featured ingredients are ginger, orange zest, lemon juice, and sugar – along with the gin. The finished cocktail is a refreshing choice that highlights the botanicals in the gin.
John Daly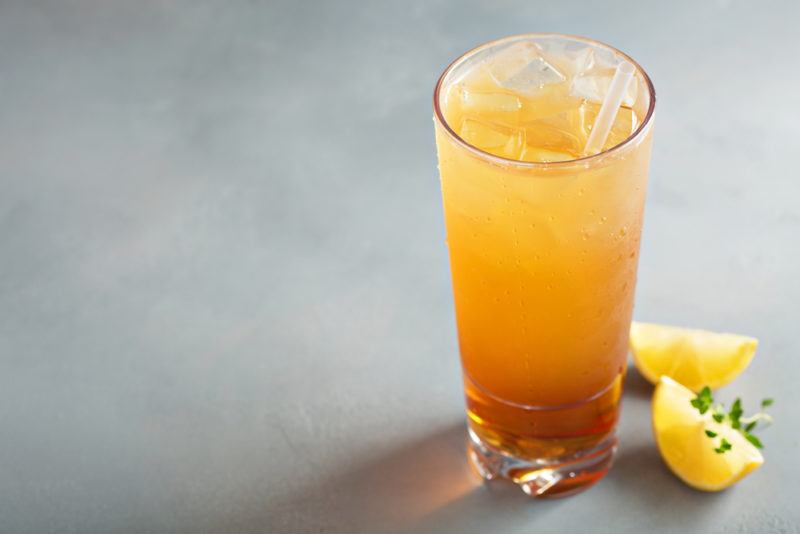 The John Daly is one of the simplest iced tea cocktails, as it just relies on iced tea, vodka, and lemonade. It is basically an alcoholic twist on the Arnold Palmer. Interestingly, both drinks are named after American golfers.
There is also a Southern-Style John Daly, which uses bourbon and mint, rather than vodka. This variation has a greater depth of flavor than the traditional John Daly, which can make it more appealing.
Bourbon Strawberry Iced Tea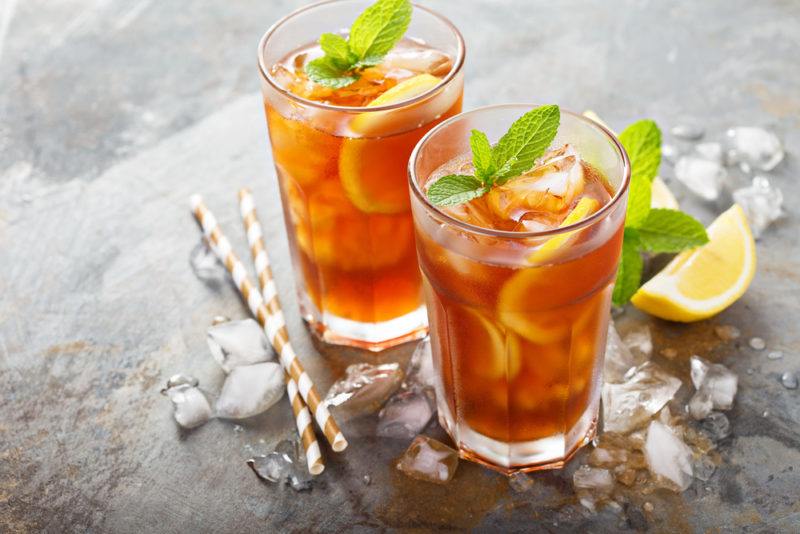 This iced tea recipe highlights the flavor of strawberries, giving vibrant flavor notes that other iced tea cocktails are often missing. Lemon juice and simple syrup are included, along with bourbon and the iced tea.
The ingredients help to create an interesting flavor balance. You also end up with a mellow drink that is easy to enjoy, especially as the ABV is on the low side.
Long Island Iced Tea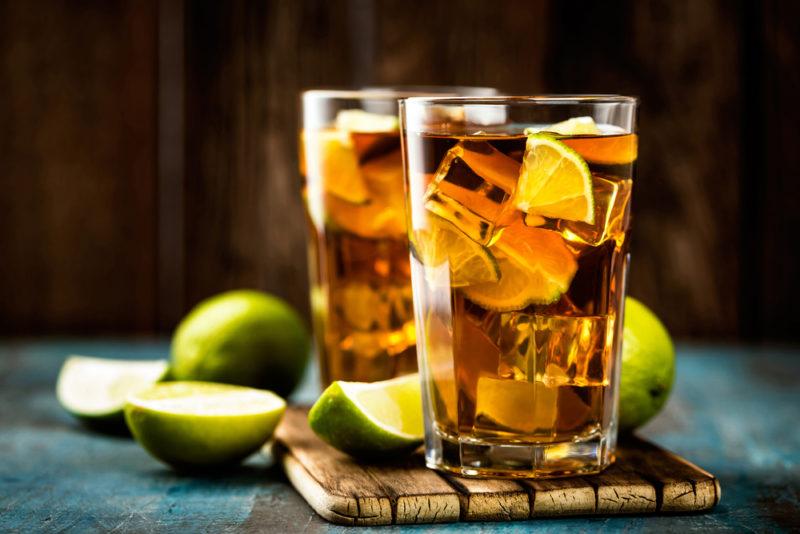 The long island iced tea makes its way onto this list purely because of its name. The cocktail does, after all, sound like it should contain iced tea.
In reality though, the cocktail gets its name from it's appearance rather than its ingredients. Most versions of the cocktail don't include any tea whatsoever.
The cocktail is still an interesting one to try out, partly because it contains so many different types of alcohol. Key spirits include gin, tequila, vodka, and rum. Triple sec is often included as well. A little cola is used in the cocktail too, along with lemon juice or a sour mix.
This cocktail is often considered a girly drink, yet it is actually a potent cocktail. It can end up with an alcohol concentration of around 22%, which is higher than most other highballs. Plus, because this is a highball cocktail, you're getting a decent amount of drink in a serving.
You could theoretically include tea in a Long Island iced tea and some recipes probably do. Honestly though, there is more than enough going on with this cocktail already. If you want tea in your cocktail, sticking to one of the other recipes is likely to give you a much nicer drink.
Bourbon Tea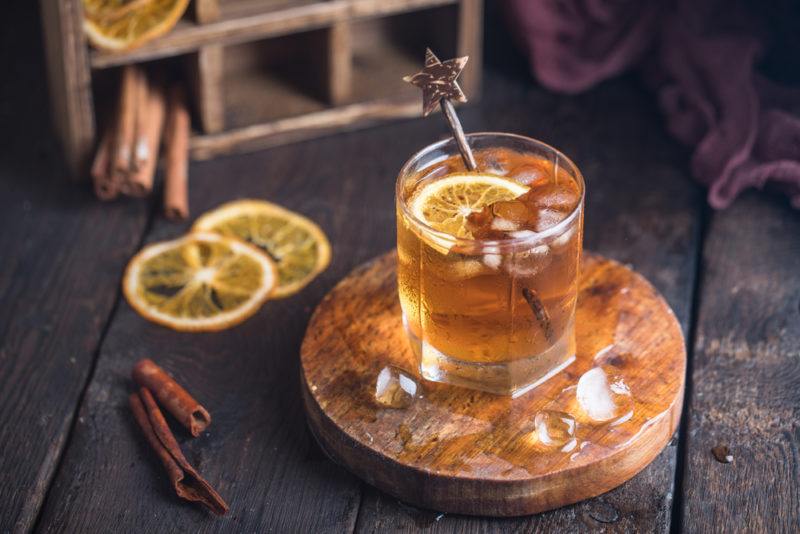 This cocktail is simpler than many other options and there are only a few ingredients to worry about. You're basically just making regular iced tea, spiking it with bourbon, and then adding some limoncello.
Limoncello is a lemon liqueur that is sometimes used in cocktails. While it isn't a common choice in spiked iced tea, this liqueur helps to raise the drink to an entirely new level. The lemon flavor should also complement whatever type of tea you use to make the drink.
Ginger Green Tea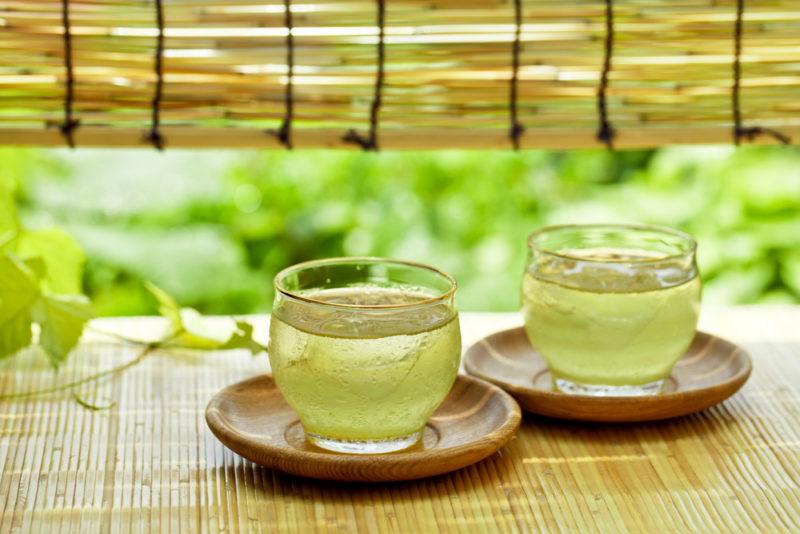 Here's another interesting variation. This cocktail uses brandy as the spirit of choice, along with green tea, ginger, and mint leaves. Simple syrup is recommended as the sweetener, but you could switch this to another sweetener if you like.
The combination of ginger, mint, and green tea is a surprisingly good one. If you keep the amount of sweetener low, then you'll end up with a refreshing cocktail that is very easy to enjoy.
Royal Tea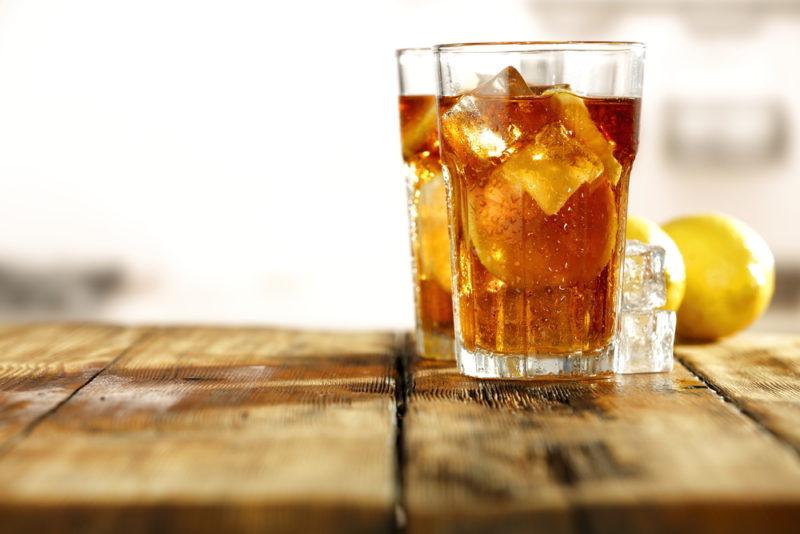 This tea cocktail relies on a combination of gin and earl grey tea. A little lemon juice and some sweetener is used too – and that's about it.
The use of gin and earl grey tea creates a different flavor profile than other iced tea cocktails, which isn't a bad thing at all. The botanicals in the gin end up being a perfect complement to the earl gray tea and you're not getting too much intensity in the drink either.
Tea Tini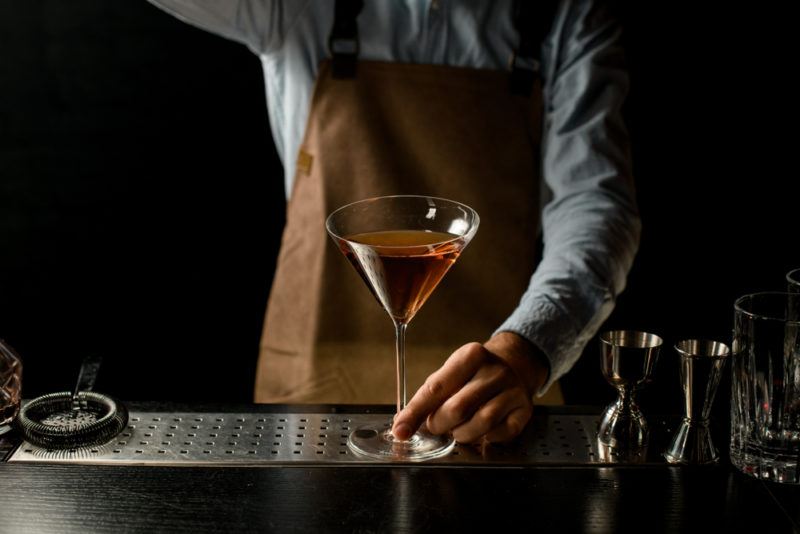 While the name suggests that this cocktail is a martini, it isn't really, as there is no vermouth in sight. Instead, the cocktail relies on vodka, sweetener, lemon juice, and tea.
So far, the drink sounds like some of the other entries on this list. The main difference is the quantities. You're using much less of each ingredient, as this cocktail is being served in a martini glass. The ratios are different too.
For example, if you follow this recipe, then you actually end up using more vodka than you do tea in your cocktail. Your drink still tastes like tea, but tea is just one of the flavors, rather than overwhelming the entire drink.
Because the spirit of choice is vodka, the tea you use will strongly influence the final drink. Try using herbal tea for something completely different. You can also use black tea and add some herbs in as the tea steeps. Doing so would change the flavor profile again.
Green Tea Mojito

This cocktail takes its inspiration from the classic mojito and relies on white rum, lime juice, and mint much like the classic version. The main difference is that you're also including cold green tea in the cocktail.
The green tea provides a little extra something to the cocktail. As usual, the precise flavor profile will vary depending on the recipe that you follow – and there are plenty of different ones to choose from.
Pink Gin Iced Tea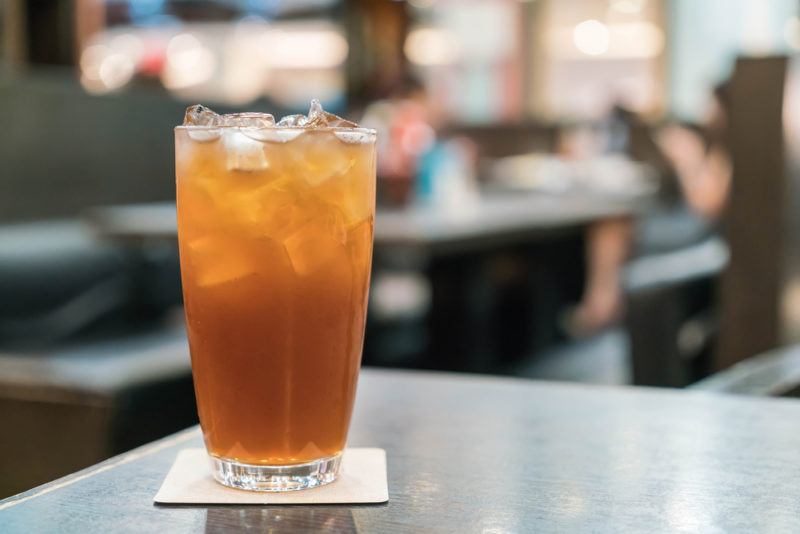 No surprises here, this cocktail relies on pink gin. The flavors in the gin combine especially well with elderflower cordial, pink grapefruit juice, and chamomile tea. You end up with a fruity and herbal cocktail.
Some versions of the cocktail also some spiced rum. The rum adds extra flavor complexity to the drink, while increasing the alcohol content as well.
This cocktail can be especially good because there aren't many cocktails that rely on pink gin. The flavor profile of the gin is different enough that you often can't just use pink gin instead of regular gin in a recipe. So, if find a delicious cocktail that uses pink gin, why not give it a try?
Spiked Tea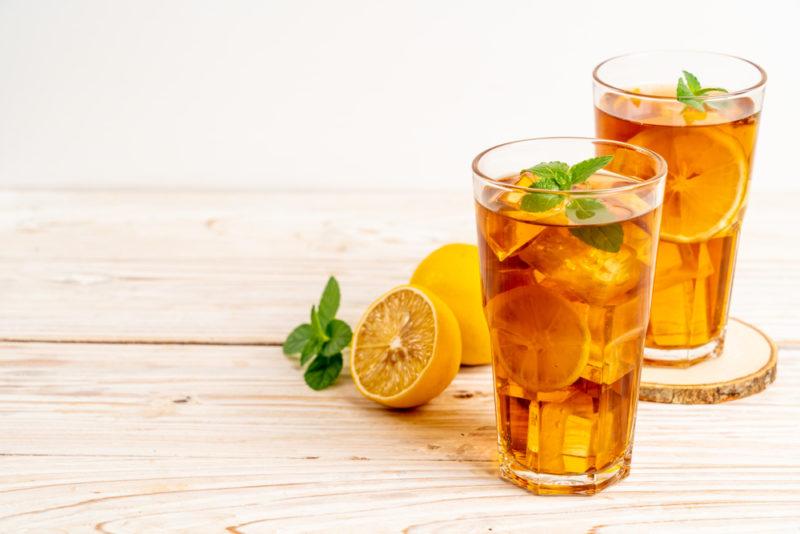 In practice, you don't need a specific recipe to create a delicious iced tea cocktail. You can often get a delicious drink by simply adding a spirit into an iced tea you already make.
This approach can sometimes work best, as you are focusing on a recipe that you already know and love. It might take some experimentation to get the finished drink exactly right, but honestly, the experimenting is part of the fun.
For example, if you're focusing on an herbal tea, think about the flavors that might complement it. You could include suitable fresh fruit in the drink, such as sliced strawberries or you might add in a liquid, like grapefruit juice or elderflower cordial.
If all else fails, you could always just add vodka into your iced tea. Vodka's flavorless nature means that it won't change the flavor of your iced tea much at all.