As the weather starts to get cooler, it's time to start looking for warming drinks, along with all of those seasonal flavors that we love, like apple, cinnamon, and pumpkin spice. Thankfully, there are plenty of delicious fall drinks to choose from.
Some of these drinks are the classics that you see time and time again, like the pumpkin spice latte. That one is trotted out every single year. While some of us are well and truly over pumpkin spice lattes, other people still order them regularly. And, why not? Nothing says fall quite like that combination of flavors.
In this post, however, we're not focusing on just any old type of drink. We're interested in the alcoholic ones, including cocktails and some spiked drinks. These drinks would be perfect for serving at a party or enjoying on your own at the end of a day.
Some of the cocktails we've chosen are hot, making them ideal for cool evenings, while others are cold instead. There are even some sparkling wine cocktails in the mix. You could even bring these drinks along to your next fall picnic.
Delicious Fall Drinks (with pictures!)
Pumpkin Spice Martini

If you love pumpkin spice lattes, then a pumpkin spice martini should be just perfect. You're getting all of the same flavors, along with some booze to keep things interesting.
There are plenty of versions of this recipe and most rely on vodka as the spirit of choice. You could stick with plain vodka or mix things up a bit with vanilla vodka instead.
The other ingredients are often what you'd expect, including pumpkin pie spice, pumpkin puree, and perhaps a little maple syrup. You don't need much else.
Or, if you want a creamier drink, try using pumpkin flavored Irish cream liqueur instead of the vodka. This changes the flavor profile too, but don't worry, the ingredients all work well with each other.
Pumpkin Spice White Russian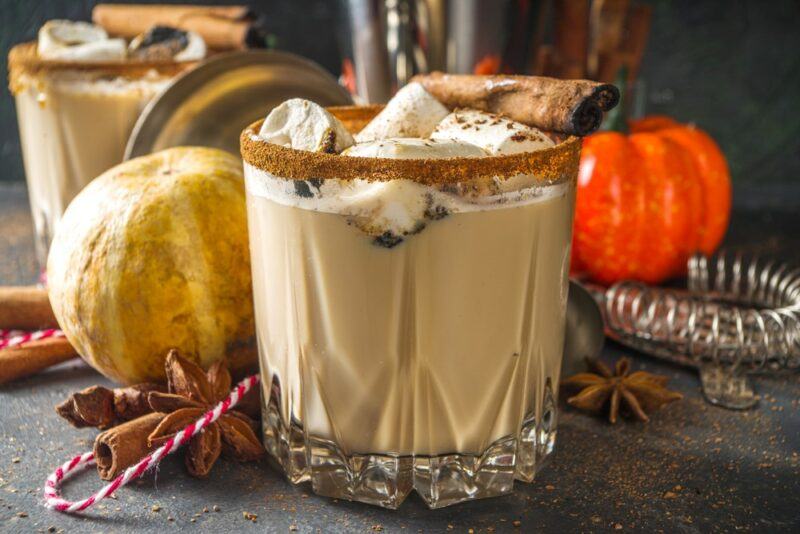 This cocktail shows that seasonal drinks don't need to be complicated. You start off with the regular white Russian ingredients of coffee liqueur, vodka, and heavy cream.
The cocktail can be made as normal, with one difference – you mix in some pumpkin pie spice as well. The spice provides the flavor that you're looking for and perfectly complements the creaminess of the drink.
You can take things one step further by crumbling some ginger cookies and using these to rim the glass.
Some recipes also swap the cream out for pumpkin spice creamer. This adds even more pumpkin flavor. You could do this instead of the pumpkin pie spice – or include both in the same cocktail.
Apple Cider Mimosa

Okay, so this cocktail isn't technically a mimosa, as it doesn't use orange juice. But, apple cider mimosa is as good of a name as any, so let's stick with it.
As you can probably guess, there are two main ingredients – apple cider and sparkling white wine. You don't need to splurge out for champagne, any dry sparkling wine should work perfectly.
Combining apple cider and champagne like this is excellent, as the champagne gives you bubbles and an alcoholic hit. Plus, the dryness of the wine should nicely balance out the sweetness of the apple cider.
You can take the drink one step further by adding some brandy. The brandy increases the alcohol content and is a perfect counterpoint for the flavors of the sparkling wine and apple cider.
Mulled Wine

Mulled wine doesn't need any tweaking at all. It's already a cocktail that works perfectly in the fall or the winter. It's also a fantastic choice for parties, as you can prepare it in bulk.
The basic ingredients for the cocktail are simple, just wine, spices, some orange slices, and perhaps some sweetener, like brown sugar. Some recipes add a spirit in too, like brandy, which gives the cocktail a bit of extra kick.
To make life even easier, try making the mulled wine in a slow cooker. Doing so only takes an hour or two and keeps the wine at exactly the temperature you want – no risk of it boiling because you're not paying close attention.
Most people use red wine as the base for this cocktail, but you can make mulled wine using white wine or even rosé wine. Just make sure to avoid acidic white wines, as these don't taste good once they've been warmed.
Caramel Apple Martini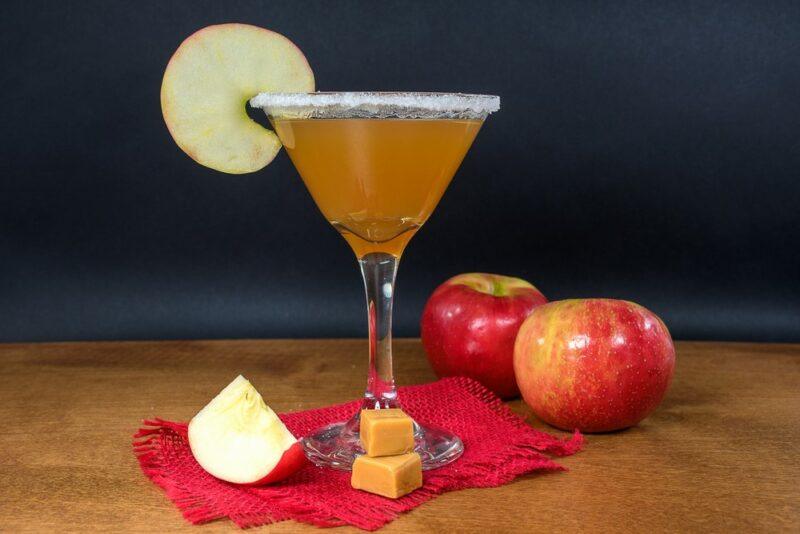 This delicious cocktail is also incredibly easy to make. You just need two ingredients: apple cider and caramel vodka. They're combined in a 3:2 ratio, then served in a martini glass.
To make the cocktail fancier, try using sugar on the rim of the martini glass. Some versions even use a combination of white and gold sugar, which looks just amazing.
In theory, you could make this cocktail using regular vodka and caramel sauce, but the caramel sauce would be tricky to work with, as it's thicker and heavier than the other ingredients. It's better to just stick with the caramel vodka. Besides, you're not likely to run out of drinks that you can use the vodka in.
Fall Sangria

Sangria is normally heavy on the red wine, with some fruit and sugar to balance things out (don't forget the brandy!). You can, however, make a fall version by swapping some of the ingredients around.
Start off by getting rid of the red wine entirely. A combination of apple cider and ginger brandy gives you a fantastic balance of flavors. Using pears and apples as the main types of fruit works well too.
There's plenty of room for variation. You could even use hard apple cider to increase the alcohol content further. Don't pass on the ginger brandy though, as that is what makes the drink taste so good.
Apple Cider Hot Toddy

A hot toddy is a classic cocktail, one that often relies on honey, spices, and whiskey. It's pretty seasonal on its own, but you can make it even more perfect for fall by using apple cider instead of water.
Because you get plenty of sweetness from the cider, you can skip the honey altogether in this drink.
If you find the cocktail too sweet for your tastes, try using a 50/50 split of apple cider and hot water. That will still give you the apple cider flavor, without creating a cloyingly sweet drink.
Apple Cranberry Moscow Mule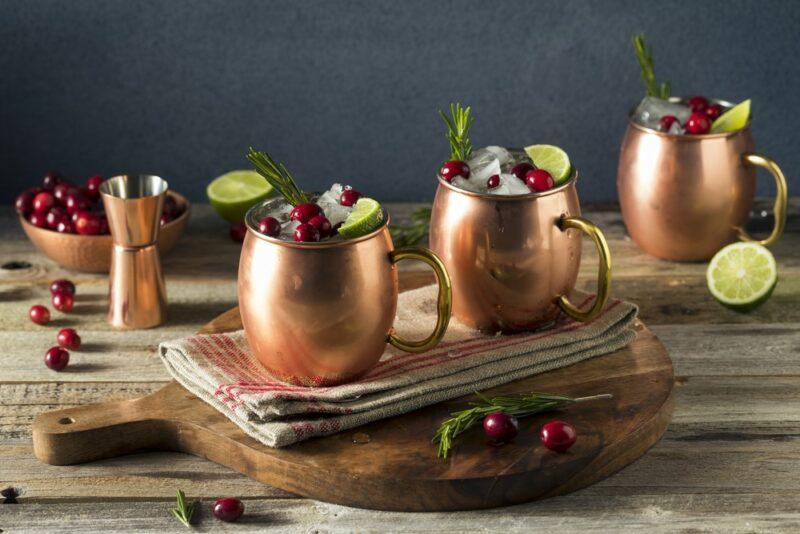 Moscow mules are traditionally a simple cocktail, as you're just combining ginger beer, vodka, and lime juice. That simplicity gives you plenty of room to experiment.
An apple cranberry Moscow mule is exactly what the name suggests. It still uses vodka and ginger beer, but also adds in cranberry juice and apple juice.
You can use regular apple juice, but the cocktail is even better if you choose sparkling apple juice instead. This way you're getting some bubbles in the drink too, which makes the whole drink more vibrant.
You don't need to stick to vodka as the spirit of choice either. Some versions of the Moscow mule swap the vodka out for gin or even tequila. You can do the same here. Either of those spirits should complement the apple and cranberry flavors nicely.
Spiked Pumpkin Spice Latte

Pumpkin spice lattes are already the darling drink of the fall, so why not make an alcoholic version instead? The simplest approach would be to take a regular pumpkin spice latte and add a shot of liqueur in. Whiskey would do the trick nicely or perhaps rum.
Another option is to use flavored ingredients. A pumpkin spice latte with cinnamon whiskey and vanilla vodka, for example, would be excellent, as both of those flavors compliment the ingredients in your latte.
You could also try using Kahlua to increase the creaminess and coffee flavor of your drink.
Spiked Chai Latte

If you're bored with pumpkin spice lattes, why not spike a chai latte instead? This drink offers the flavors of chai tea but contains more milk and less water. As such, a chai latte ends up being the perfect choice on a chilly fall evening.
Dark spirits complement this hot drink the best, particularly anything that's already spiced. Cinnamon whiskey, for example, could be ideal. Spiced rum is another easy option.
Mulled Gin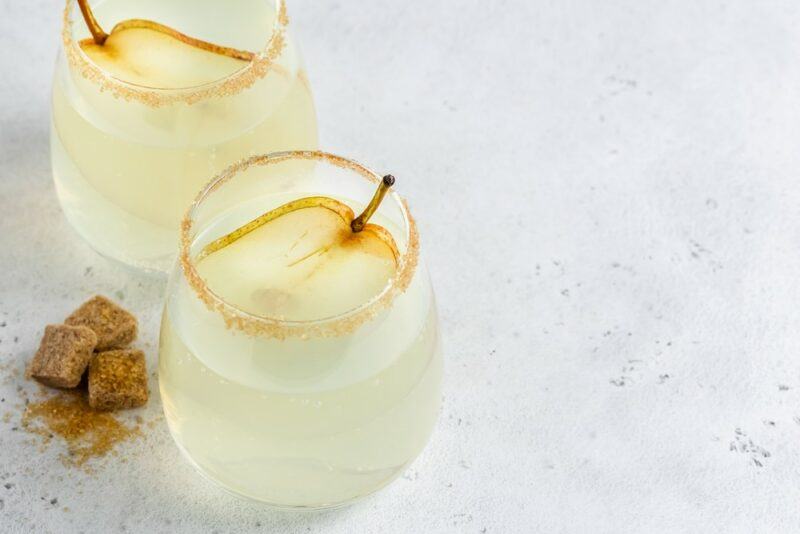 Mulled gin is a delicious treat that often gets overlooked. Just like mulled wine, this is a hot cocktail, where you're infusing the gin with various spices.
Many versions also add some apple cider in, which gives you some sweetness and a delightful seasonal flavor. If the drink still isn't sweet enough, you could also add some honey, maple syrup, or brown sugar.
Or, for something even more interesting, you could try pear mulled gin, like in the image. Adding a brown sugar rim balances the drink out perfectly.
Cranberry Mimosa

While this cocktail screams Christmas, it does make a delightful fall drink as well. It's also a simple one, as you're really just using cranberry juice and sparkling wine. Some versions add a little lime juice in too, which brightens up the flavor.
Because there are so few ingredients, the quality is critically important. Look for sparkling wine that is good enough to enjoy on its own. Also make sure that you're using cranberry juice, not something that's marketed as cranberry drink instead (the fewer additives, the better).
Vanilla Chai Old Fashioned

This cocktail takes more work than most, but it's well worth every second of effort that you put in.
The most important part is the chai simple syrup. This uses chai tea bags, along with maple syrup, and vanilla extract. The combination of ingredients gives you a sweet and spicy syrup that is easy to use.
The rest of the cocktail should be familiar. It relies on bourbon, lemon juice, bitters, and a little sparkling water. The sparkling water helps to keep it vibrant, but you could skip it if you wanted.
Most of the effort comes from making the simple syrup, which is good news, as you can prepare it ahead of time.
Cider Sidecar

The classic sidecar cocktail relies on cognac, orange liqueur, and lemon juice. It's a simple and delicious cocktail that many people love.
A cider cocktail follows the regular sidecar recipe, with just one difference – you're also including apple cider. The apple cider makes this a sweeter and taller drink than it would be otherwise, giving you an excellent balance of flavors.
The extra sweetness is ideal if you find the original sidecar too intense. Even if you don't, it's always nice to change things up every once in a while.
Cinnamon Maple Whiskey Sour

There's plenty to love about this whiskey sour cocktail, including the fact that it's simple, along with the delicious flavor profile.
The cocktail isn't even that different than a regular whiskey sour. The main change is that you're using maple syrup to sweeten the drink, rather than sugar. The maple syrup adds in a more complex flavor, one that works perfectly with the bourbon.
You can also mix in a little ground cinnamon, which makes the drink even more seasonal.
Alternatively, you could play around with using cinnamon whiskey instead of bourbon. How well this works would depend on the exact cinnamon whiskey you use. Still, you should at least get an interesting drink each time.
Mulled Apple Cider

The term mulled simply refers to the spice mixture that you see used in drinks like mulled wine. Most of the time you add the spices to your liquid and heat them up together, then strain before the drink is served.
Mulled wine might be the most common use of these spices, but you can add them to other drinks too, including apple cider. Doing so makes the cider taste even better. The spices also help to knock down some of the sweetness of the cider.
Mulled apple cider isn't alcoholic in itself, but you can easily add alcohol to it. Bourbon is an easy choice here, although you could try spiced rum or brandy as well. Tequila is a surprisingly good addition too.
The best approach is to heat the apple cider on its own first and take it off the heat before you add the alcohol. This way there's no risk that you'll burn off any of the alcohol.
Cider Mulled Wine

This cocktail takes mulling to the next level, as you're using apple cider and white wine as ingredients. A dry white wine will work best here.
You'll need mulling spices too, along with a sliced orange. You could use sliced apples too, as these will complement the apple cider nicely.
While the apple cider does provide some sweetness, you may need to add some honey or maple syrup as well to get the sweetness where you want it.
Cider And Maple Old Fashioned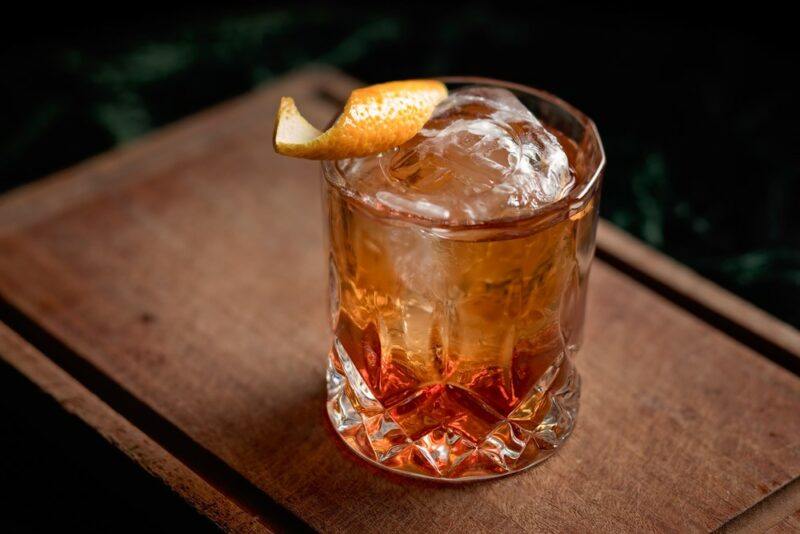 Here's another cocktail that takes the traditional old fashioned recipe and mixes it up. This time maple syrup and apple cider are added as extra ingredients, giving you a drink that's perfect for the fall.
It's an easy cocktail to prepare too, as you just throw the various ingredients into a cocktail shaker together. What could be simpler?
Vanilla Pear Cocktail

Apple tends to dominate fall cocktails, but you can use other fruit instead – like pear. This cocktail is an easy way to do so, as you're mostly just relying on pear nectar and vodka, along with some vanilla pear simple syrup for added sweetness.
The simple syrup is similar to regular simple syrup (which involves water and sugar), but you're also including boiling pears and a vanilla bean with the other ingredients. This infuses the syrup with even more flavors.
To create a spiced version, try including some ginger slices when preparing the simple syrup. Doing so gives makes the cocktail even more interesting again.
Apple Cider Margarita

Everything you need to know about this cocktail can be guessed from the name alone. It's a margarita, which means you're using tequila as the main type of spirit.
Unlike a normal margarita though, you're adding apple cider as an ingredient. The cider changes the drink dramatically, making it sweeter and much more like fall. Don't worry though, the tequila and citrus still shine through.
Because this drink is sweeter than a regular margarita, the traditional salt rim won't work well. Try using a brown sugar rim instead. That choice just adds to the fall flavors in the drink.
Apple And Gin Autumn Cocktail

To round our list off, let's look at this little beauty from No Spoon Necessary. It looks like a complicated cocktail at first, as there are various optional garnishes, like apple matchsticks, and you need to make honey simple syrup first.
Still, once you get down to it, the cocktail doesn't take that long to prepare. It also tastes amazing, as it combines gin, apple cider, lime juice, cinnamon, and honey. Doesn't that ingredient selection sound exactly like fall?