Tropical drinks tend to be fruity, relying heavily on flavors like pineapple, orange, and coconut. They're often delicious, especially when they're not cloyingly sweet. The trick is to choose your cocktail well – and know what you're signing up for before you order. That's where this list of tropical mixed drinks comes into play.
We're featuring more than 20 different tropical drinks. Some of them are mild, perfect for the middle of the day when you're on vacation.
Others are much stronger. In fact, a few of these cocktails are among the strongest mixed drinks you can order. These are cocktails to be cautious with, as they can easily put you under the table.
Tropical drinks aren't always what you might expect either. Many do rely on the classic combinations, like pineapple, coconut, and rum. But, others mix things up a bit, sometimes giving you more complex drinks with slight tropical undertones. There really is something for everyone.
P.S. Many of these drinks can be ordered at a bar, along with plenty of other fruity drinks.
Tropical Mixed Drinks (With Pictures!)
Pineapple Moscow Mule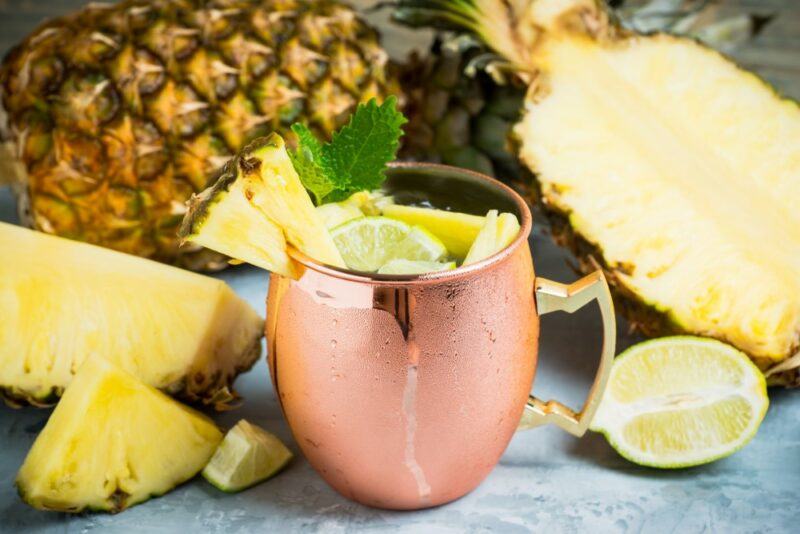 Traditionally served in a copper mug, the mule family of drinks is always a reliable choice. The original version is simplicity itself, containing just three ingredients – ginger beer, vodka, and a little lime juice.
You can easily make this a tropical drink by adding some pineapple juice in there too. Doing so makes the flavors more complex, without giving you an excessively sweet drink.
You could even take this one step further and use pineapple vodka, which would increase the depth of flavor. This isn't essential though, pineapple juice on its own still tastes terrific.
Or, to make things more complex, try grilling pineapple chunks, then muddling these into your drink. Doing so gives you richer flavors and a hit of smokiness.
Zombie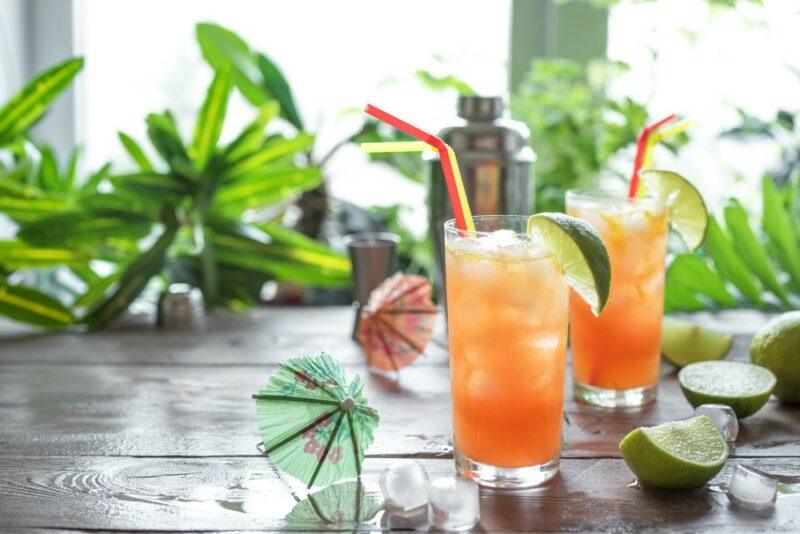 This cocktail is deceptive. It's a classic tropical choice, so it has a familiar sweetness. The vibrant fruitiness also makes it go down very easily.
How easy it is to drink could be a problem, as this is a powerful cocktail. It traditionally includes three different types of rum (one of which is overproof) and apricot brandy. That's a lot of alcohol for a tropical drink.
There are plenty of variations though, including ones that cut down on the rum or use triple sec instead of the apricot brandy.
The fruit juices can include orange juice, pineapple juice, and lime juice. There's room for tweaking here too. Some of the best versions even add passionfruit puree.
Barracuda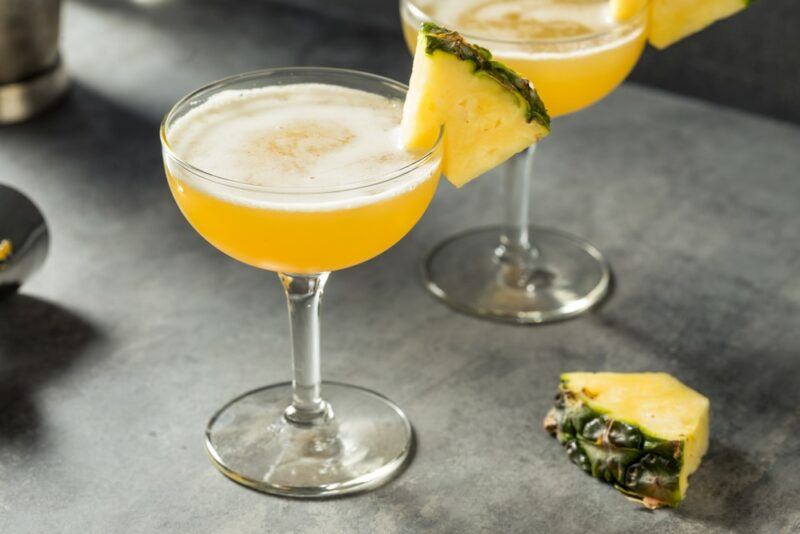 Pineapple is a common theme in tropical drinks and shines through in this cocktail. You've also got rum and Galliano, plus lime juice for sourness.
This is also a bubbly cocktail, as it's topped up by sparkling white wine (brut champagne or prosecco are particularly good choices).
The quality of ingredients makes a huge difference with this cocktail. Store-bought pineapple juice often makes the cocktail excessively sweet, while freshly squeezed juice gives you just the right flavor balance.
Hawaiian Mimosa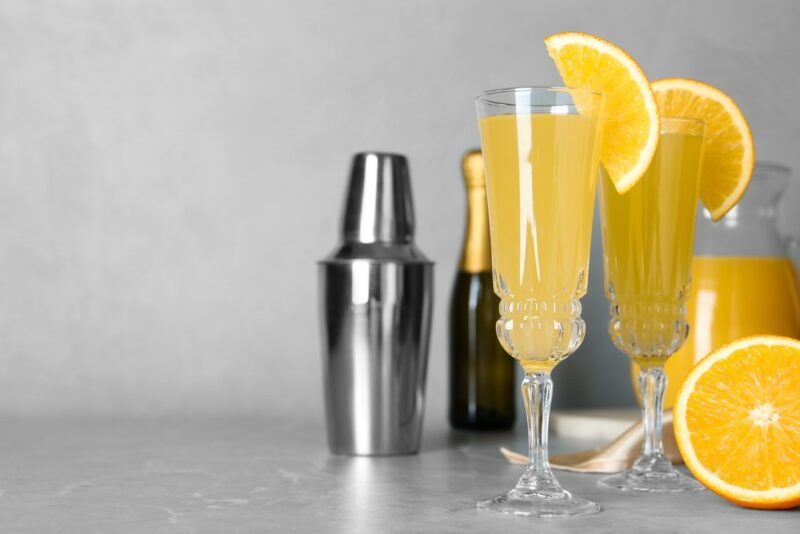 Regular mimosas are simply sparkling wine and orange juice. A Hawaiian mimosa simply adds some tropical flavors into the mix.
The simplest version is to use pineapple juice instead of orange juice. You could also experiment with tropical juice mixes, like pineapple mango juice.
Another version combines coconut rum, pineapple juice, and sparkling wine. The rum adds extra flavor and also increases the cocktail's ABV.
Baja Tiki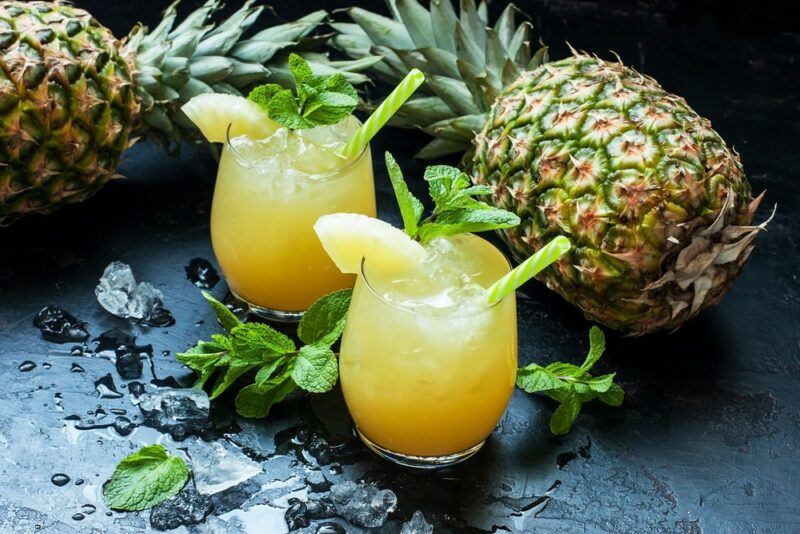 This rum cocktail is crisper than most, partly due to the combination of tequila and lime juice. There's also rum and triple sec in there, making this a potent choice.
Pineapple juice, maraschino liqueur, and orgeat syrup are also used to provide extra depth. It's the perfect choice for anyone sick of excessively sweet drinks.
Hypnotic Breeze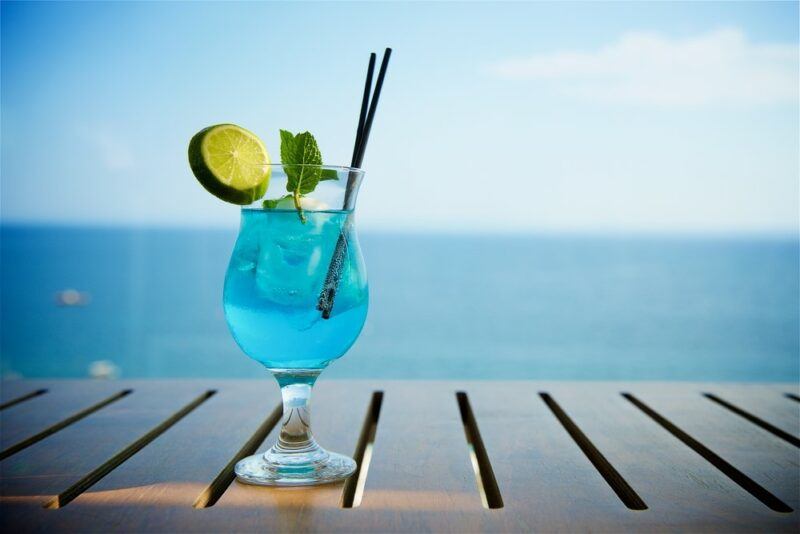 This modern cocktail is unusual, as it relies on a blue liqueur called Hpnotiq. Hpnotiq has mango and passionfruit flavors, making it an easy choice for a tropical drink.
The rest of the ingredients are simple – white rum, lime juice, pineapple juice, and simple syrup. The cocktail tastes delicious and has more subtle flavors than most tropical cocktails.
Tropical Dream #2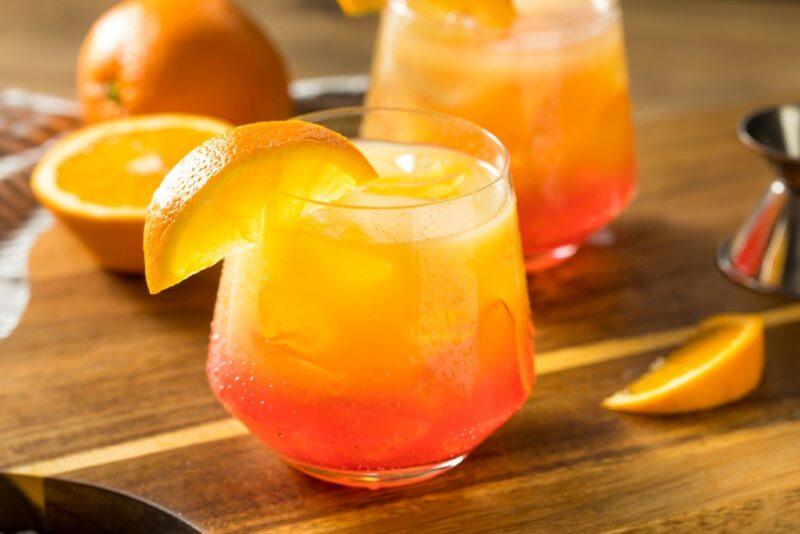 The tropical dream #2 looks much like a traditional tequila sunrise. The colors come from the use of orange juice and grenadine.
Don't be fooled though. While some ingredients are the same, this is a very different beast than the tequila sunrise.
For one thing, there's no tequila. The cocktail relies on mango rum, coconut rum, vanilla vodka, and banana schnapps instead. Impressive, right? Four alcoholic ingredients, all with their own distinct flavors.
Pineapple juice rounds out the cocktail, giving it an even more distinct tropical flavor.
Blue Hawaiian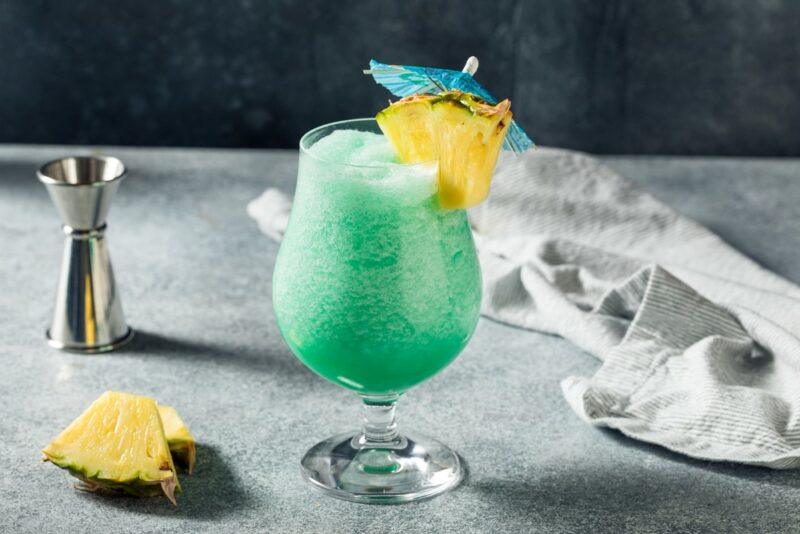 This famous cocktail gets its bright color from blue curacao. It also calls for cream of coconut, pineapple juice, and light rum.
The flavors work together well, largely because blue curacao has an orange flavor. You can experiment with the type of rum as well. Coconut rum is particularly good and perfectly complements the other flavors of the cocktail.
Blue Hawaii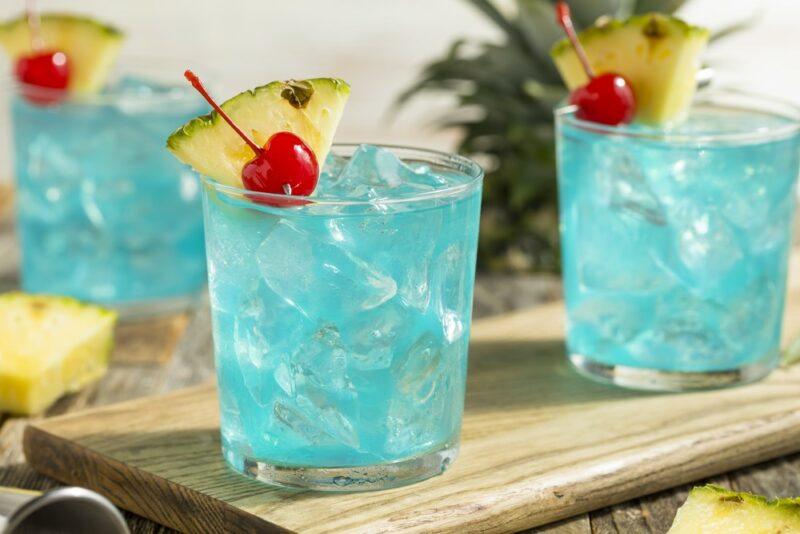 While the blue Hawaii sounds and looks much like the blue Hawaiian cocktail, there is a difference. Notably, the blue Hawaii uses a sweet and sour mix, while the blue Hawaiian has cream of coconut instead.
This difference in ingredients makes the blue Hawaiian less creamy and tarter than the blue Hawaii. Either one is a delicious tropical treat.
Blue Lagoon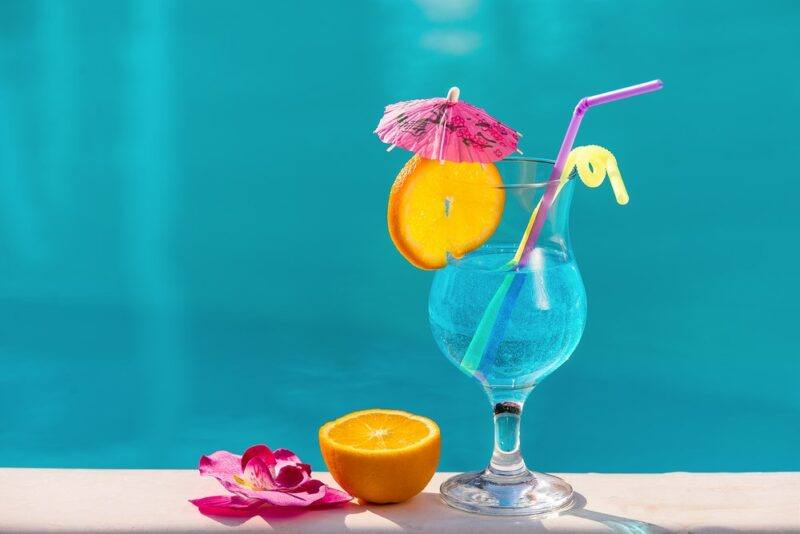 The blue lagoon is another famous blue cocktail. Like the previous two, the blue color comes from blue curacao.
This time, though, the cocktail has a vodka base. Other ingredients include lemonade and lime juice.
It's not an incredibly strong drink, but the lemonade makes it go down a treat. It's important to be careful with easy to drink cocktails like this, you can quickly end up drinking more than you intended to.
Three Dots And A Dash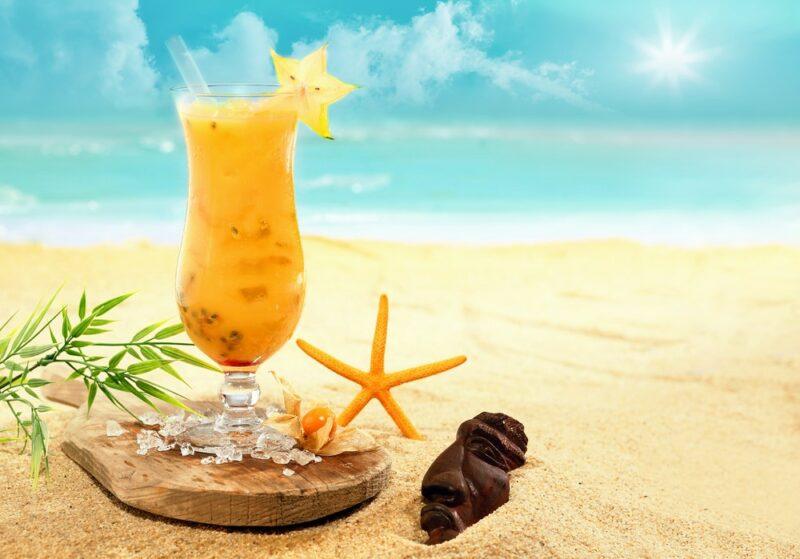 This cocktail gets its name from the Morse code signal for victory. It's one of the most complicated tropical cocktails out there, as you have two types of fruit juice, two types of liqueur, two types of rum, plus honey syrup and angostura bitters.
Thankfully, the drink is easy to make. You simply blend all the ingredients with crushed ice, then dump the cocktail into a glass or tiki mug.
Chi Chi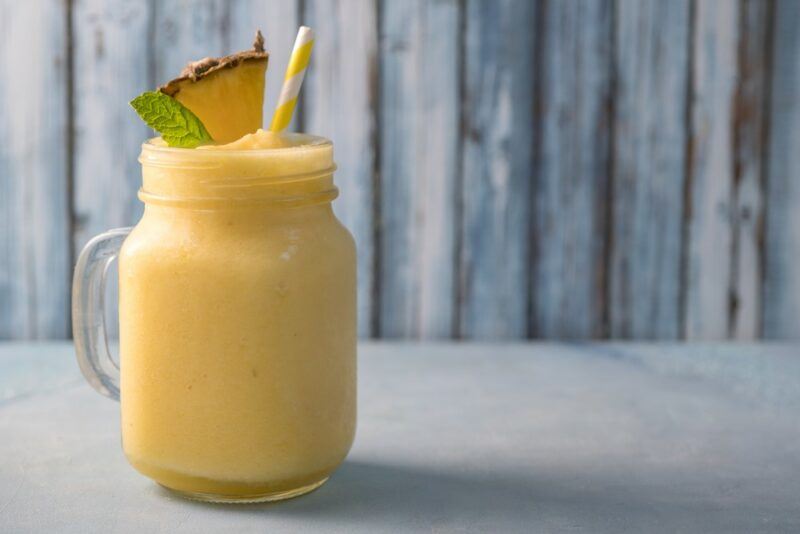 This delicious slushy cocktail is a breeze to make. You're simply blending together vodka, pineapple juice, cream of coconut, and plenty of ice.
It's normally a relatively low ABV drink, as you're using a decent amount of pineapple juice. However, it would be easy to make this stronger by splashing in a bit more vodka.
You could also experiment with pineapple vodka to make the flavors even more intense (or perhaps citrus vodka).
Fog Cutter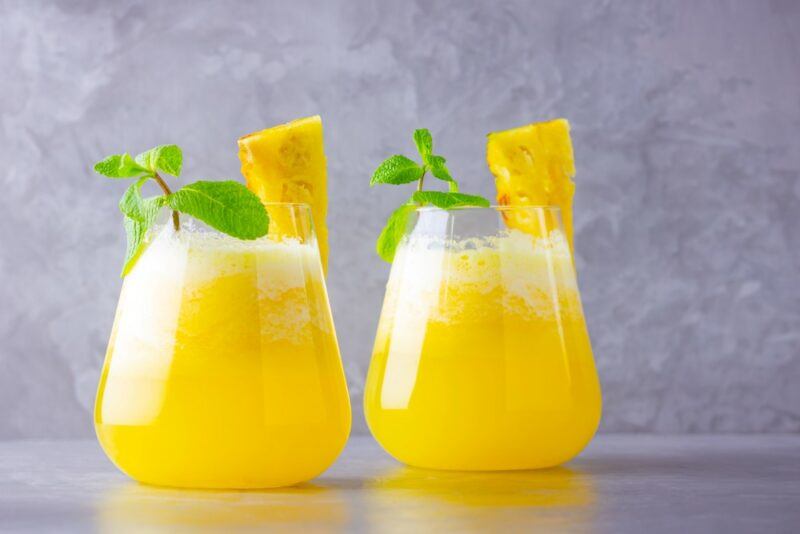 The fog cutter relies on pineapple juice too, but it's much more complex than the previous cocktail. In fact, you've got orange juice, pineapple juice, and lime juice in the same drink.
Then there are the spirits. Aged rum dominates the recipes, but there's some bourbon and gin in there as well. Honey syrup and orgeat syrup tie the whole thing off to give you a complex boozy cocktail that goes down effortlessly.
Mai Tai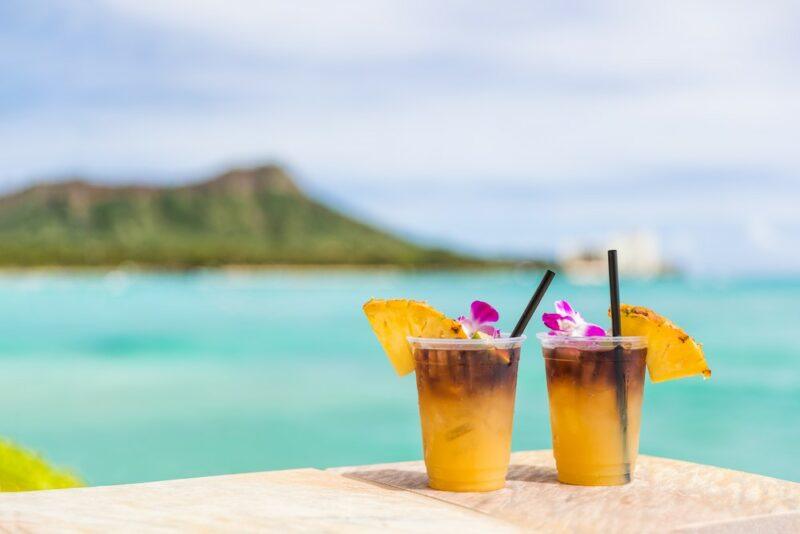 We can't forget the mai tai, as it is such a classic tropical cocktail. It also sidesteps expectations, as it is strong and tart, without all that much sweetness.
The rich flavor comes from the use of three different types of rum, plus triple sec, lime juice, and almond liqueur.
Some recipes add pineapple juice and simple syrup. This creates a sweeter cocktail, one that's easier to drink. There are other variations too, including mai tais made with sour mix.
The different versions make ordering mai tais a little tricky. You never quite know what you're going to get.
Hurricane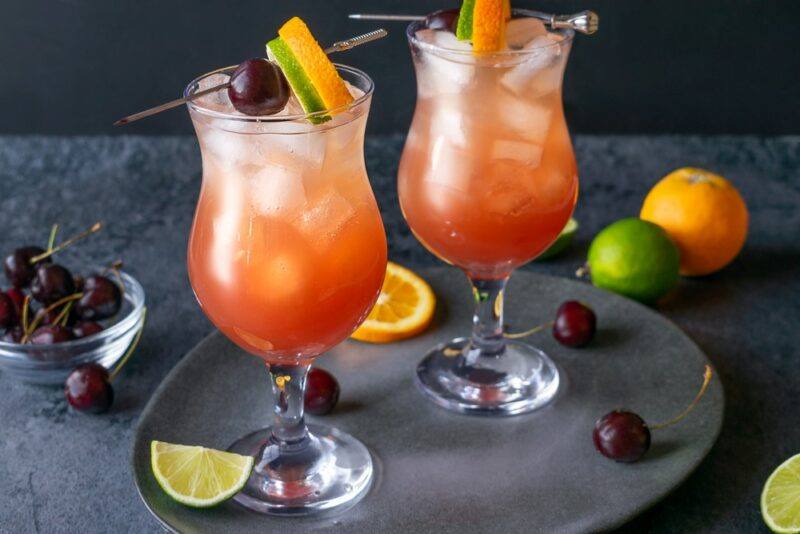 The hurricane is famous. So famous that the glass it is traditionally served in is now known as a hurricane glass.
It's a rum-based cocktail, one that may have been developed because there was plenty of rum, which provided the perfect chance to experiment.
The cocktail uses both light and dark rum, along with fruit juice, simple syrup, and grenadine. The most distinctive ingredient is passionfruit puree. This adds an extra flavor rarely found in tropical cocktails.
Coconut Margarita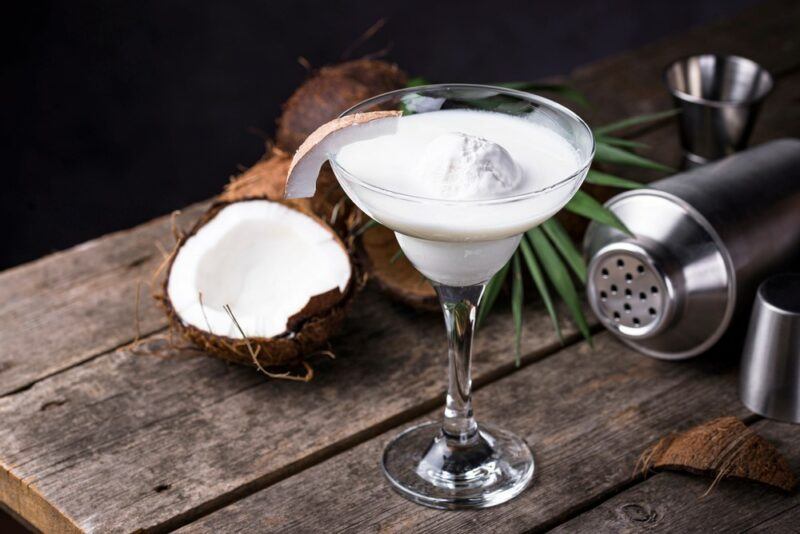 If you love margaritas, why not make a tropical version? Doing so is surprisingly simple.
You just need to drop the orange liqueur from the original recipe, then add coconut cream and possibly coconut milk instead. Shredded coconut and a wedge of lime are fantastic as a garnish.
To make this cocktail even better, why not blend it with ice? This gives you a slushy drink that's perfect in the summer heat.
Pina Colada

Fruity and decadent, the pina colada continues to be a vacation favorite. The traditional recipe just relies on pineapple juice, white rum, and coconut cream (sometimes coconut milk) – creating a rich drink.
The cocktail is sometimes poured over ice, while other times it is blended with ice instead.
If the original version doesn't appeal to you, there are plenty of variations. For example, some recipes include both white rum and dark rum, which ups the alcohol content of your drink and makes it more complex.
Drunk In The August Sun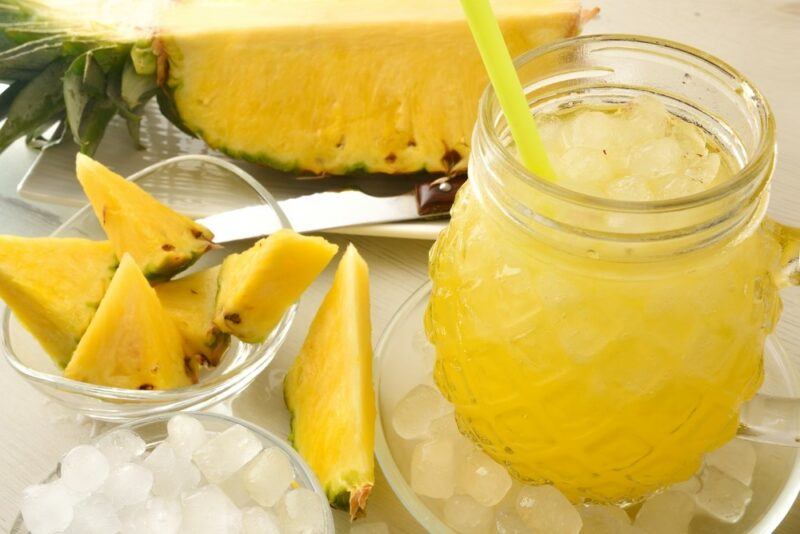 This cocktail offers some of the same flavors as a pina colada, but it's a more intense drink – as it includes overproof rum, falernum liqueur, and fino sherry.
Those three ingredients make this a cocktail that you won't soon forget. It also tends to be a less rich cocktail than the pina colada, which can be a good thing.
Jet Pilot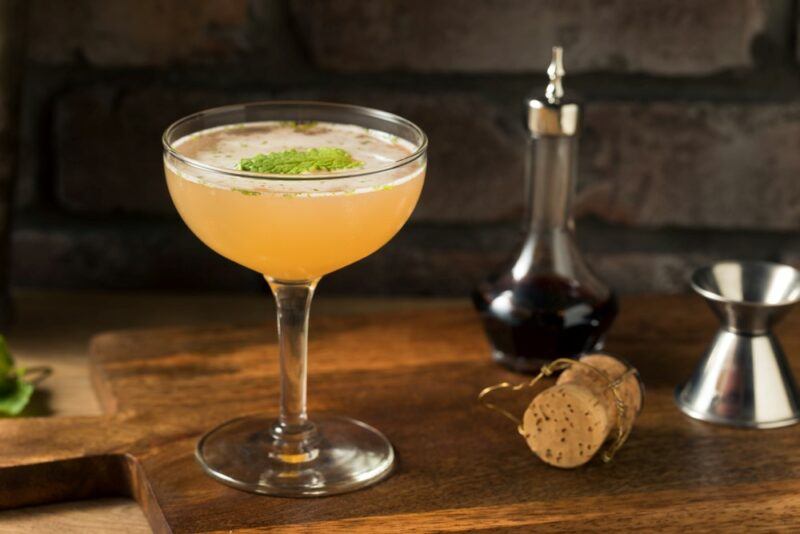 This cocktail avoids the traditional tropical flavors of coconut and pineapple. Instead, it features pink grapefruit juice and lime, balanced by plenty of rum, some cinnamon, bitters, and absinthe.
The flavors aren't as strongly tropical as most other entries on this list, but that's not a bad thing. After all, you need to change things up every once in a while.
Jungle Bird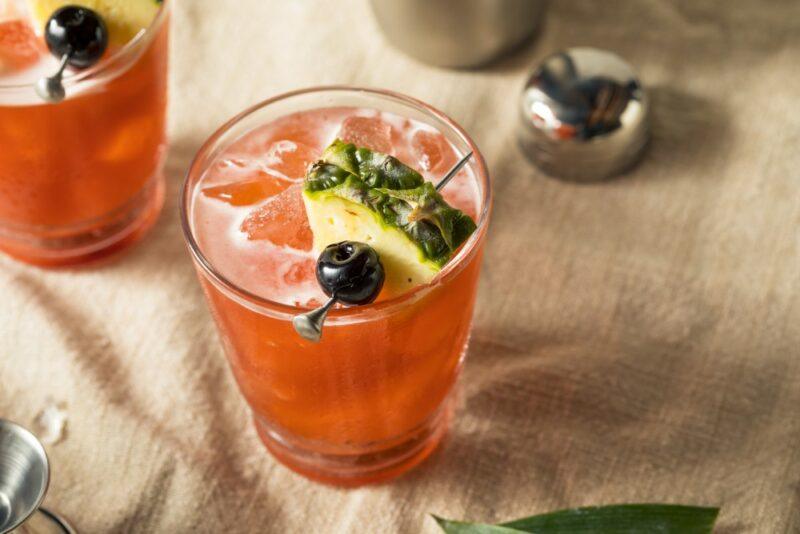 This fun cocktail combines dark rum with Italian red bitter liqueur, then adds pineapple juice, lime juice, and sugar syrup.
You end up with a bright red bittersweet cocktail with distinct rum flavors. It's a fantastic antidote for all the excessively sweet or creamy tropical cocktails.
Midori Pina Colada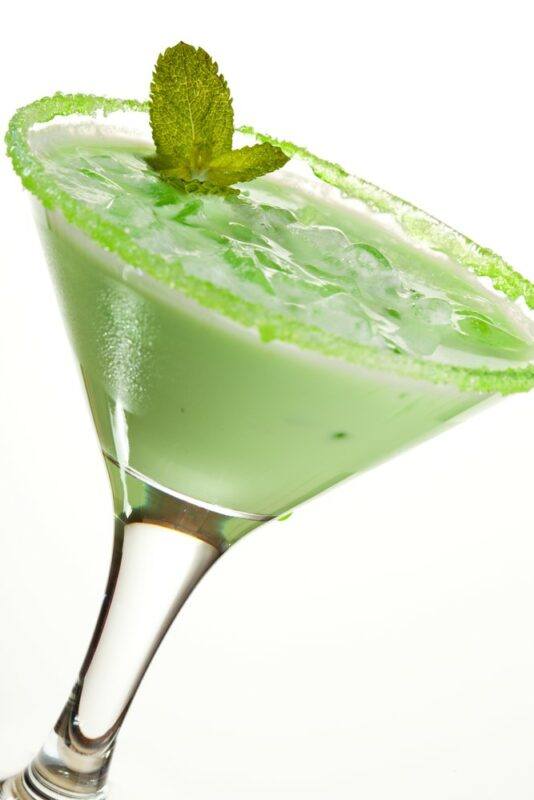 If you're bored of regular pina coladas, what about a Midori pina colada? This really is just a pina colada with Midori added.
Don't back away just yet. The Midori works surprisingly well, creating a more exciting flavor in your cocktail, while also increasing the ABV.
Painkiller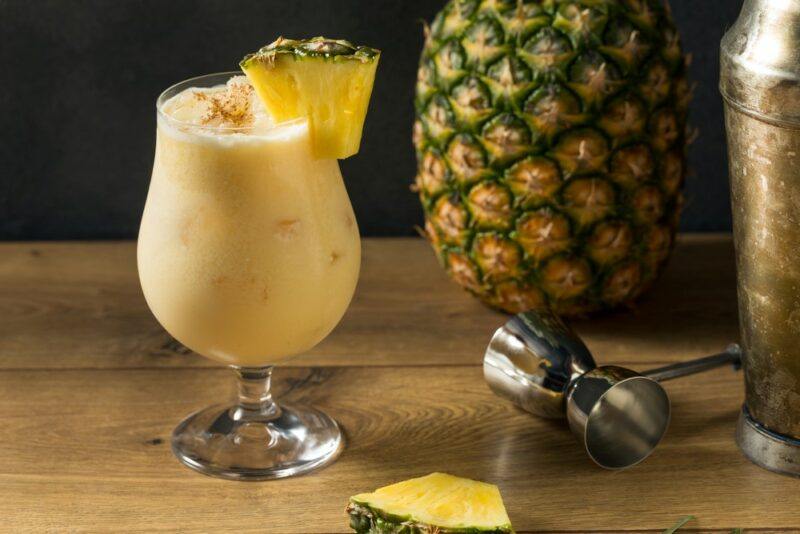 Ah the painkiller. This cocktail is often served in a coconut, making it even more enjoyable.
It uses all the classic tropical ingredients, including rum, pineapple juice, orange juice, and cream of coconut.
The drink is actually trademarked by Pusser's Rum, so technically a version made with any other rum can't be called a painkiller. That doesn't stop people from mixing things up, though.
Tia Mia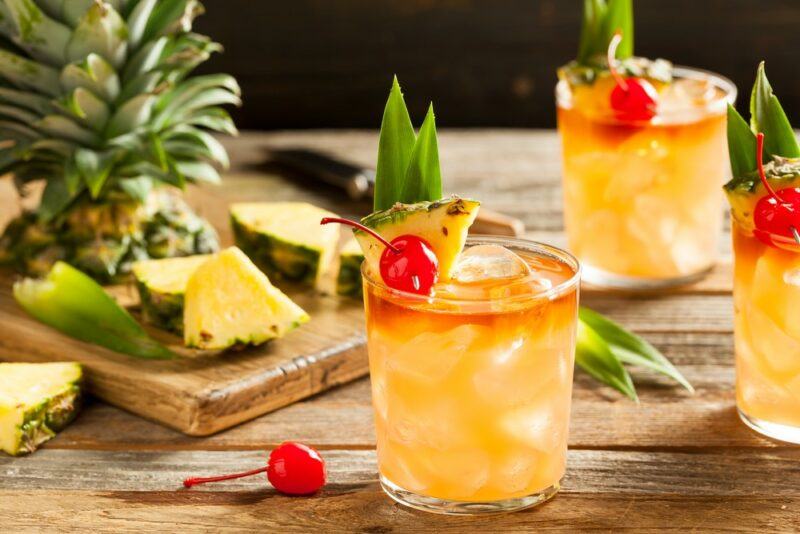 This cocktail is a riff on the traditional mai tai. It still includes rum, but also adds some mezcal in for good measure. The mezcal works surprisingly well with the other ingredients.
You can take this one step further by replacing the rum with tequila. You then end up with a tequila and mezcal mai tai, which is also known as a Mexican mai tai. Tasty, right?
Tropical Bay Breeze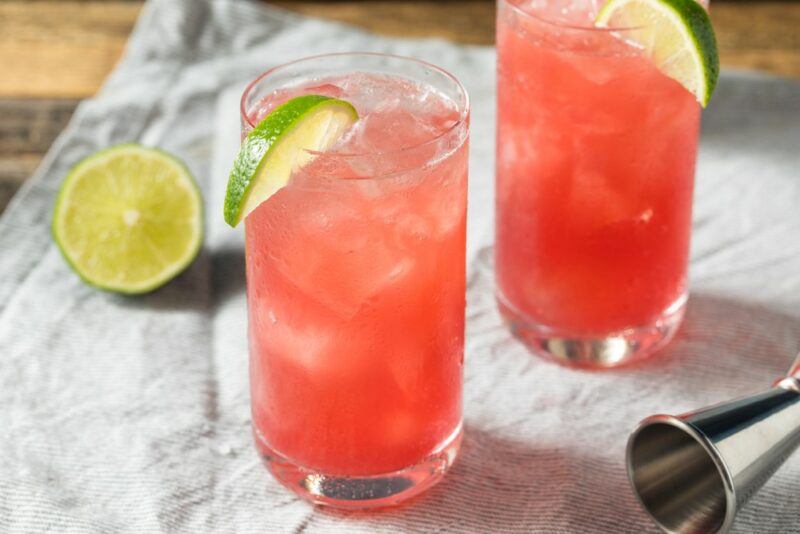 This cocktail combines pineapple juice and cranberry juice with malibu rum and a little grenadine. The combination gives you a rich red color and fruity flavor.
It's a sweet drink, so look for cranberry juice that doesn't have too much added sugar.
If the drink is too sweet, you could try a sea breeze cocktail instead. This one combines vodka, grapefruit juice, and cranberry juice. The grapefruit juice adds some much-needed tartness.
Sex On The Beach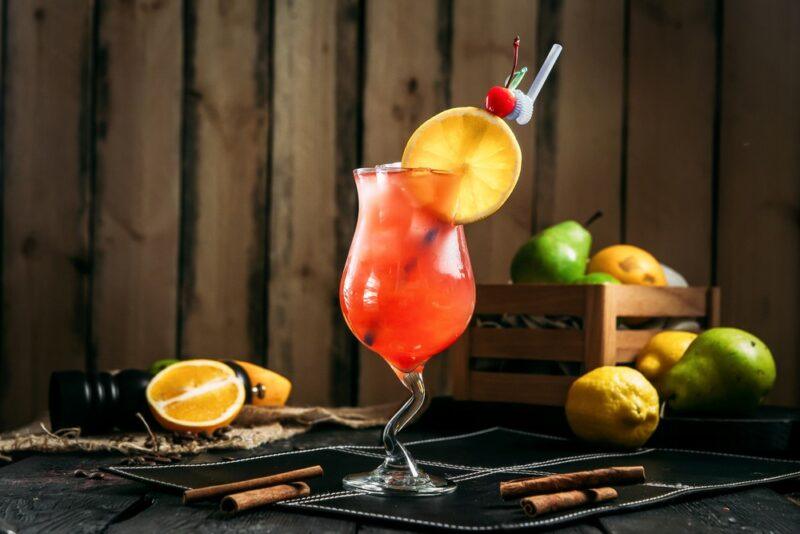 This cocktail's popularity mostly comes from its name and appearance, rather than the flavor. Still, it's a fun tropical drink to try and is perfect for serving at parties.
The official version relies on equal measures of cranberry juice, orange juice, and vodka, with some peach schnapps added. Crème de cassis is sometimes used as well, providing a more complex flavor.
Using fresh orange juice makes a huge difference. Seriously, orange juice cocktails never taste the same with bottled juice. If you don't want to squeeze your own juice, then look for high quality orange juice.
Hula Dancer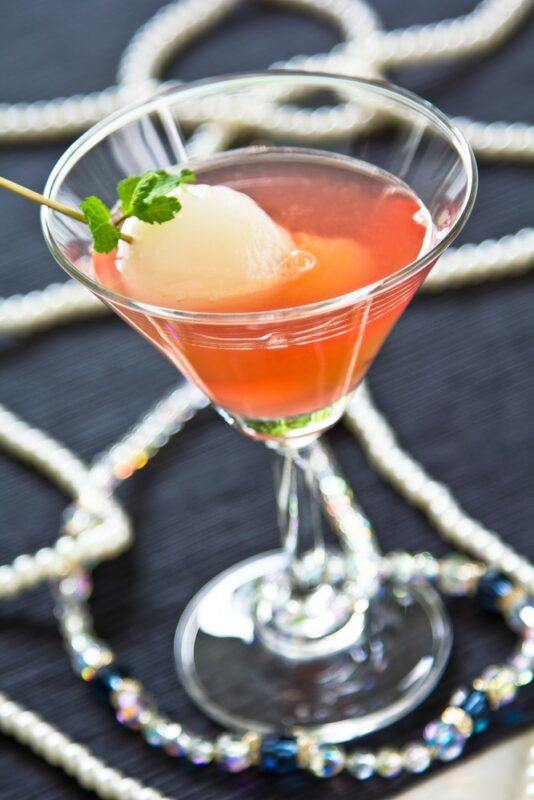 Here's an unusual cocktail to experiment with. It relies on pineapple vodka, pineapple juice, vanilla rum, and lychee puree. A little grenadine and lemon juice help to tie the whole thing off.
Lychee is particularly unexpected, yet somehow the different flavors all come together well.
Melon Ball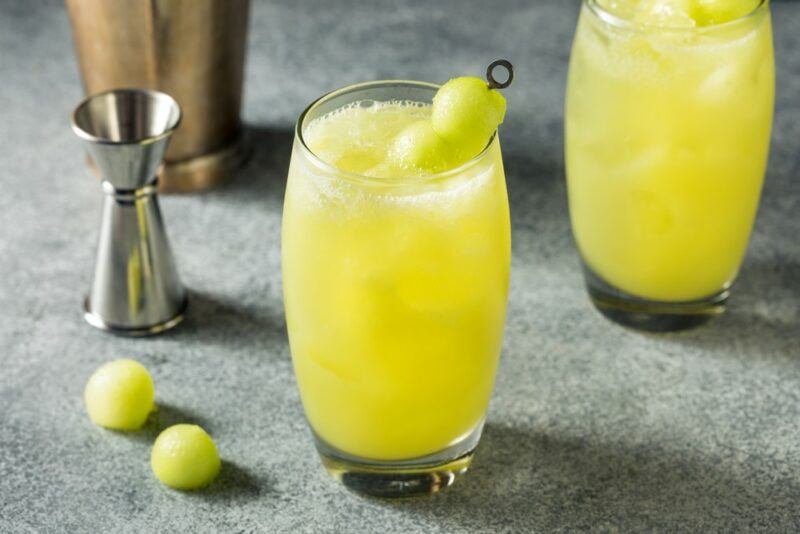 This bright cocktail has become famous. It simply relies on Midori, vodka, and orange juice.
Not surprisingly, melon balls are used for the garnish. If you're going to call a drink melon ball, how could the garnish be anything else?
These aren't the traditional tropical flavors, but they're close enough. Besides, the bright green color makes this a fun drink for parties.
Pineapple Margarita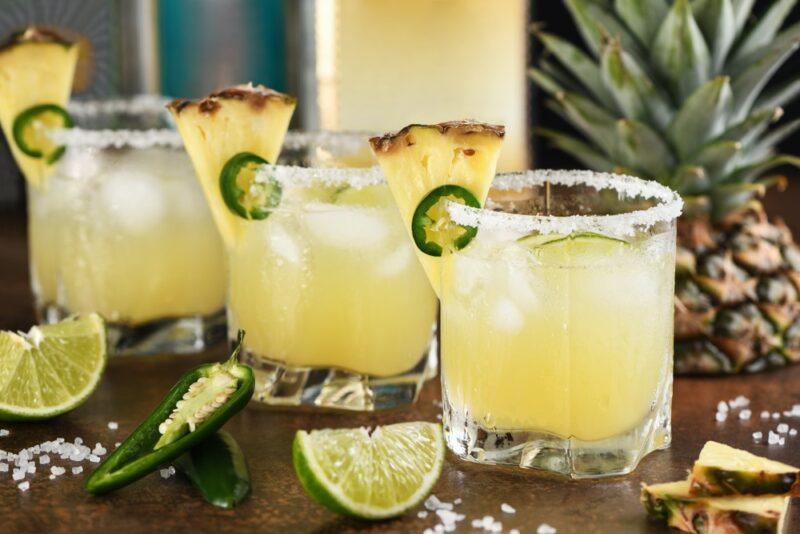 We talked about a coconut margarita earlier. So, what about a pineapple one?
The idea is exactly what you'd expect – you're taking a regular margarita and adding pineapple juice. Most versions still include some lime juice, as this provides a fantastic contrast to the pineapple.
Tequila Sunrise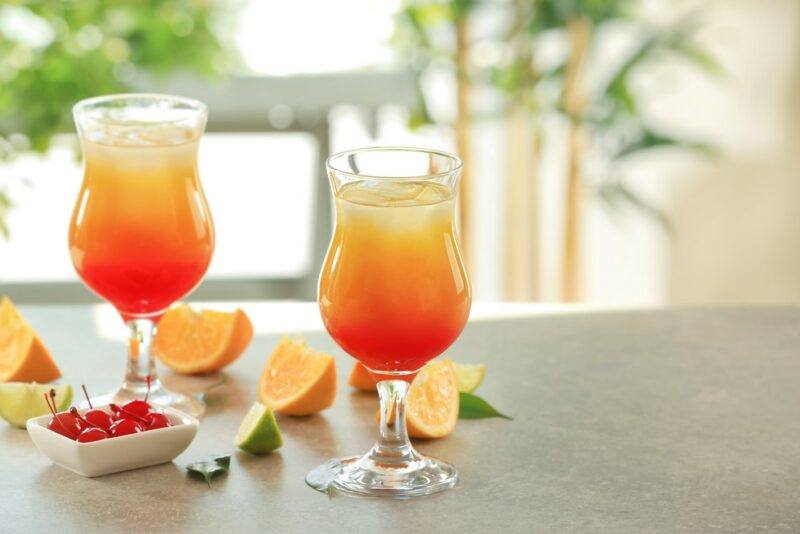 We've left the tequila sunrise for last, simply because it's such an overdone drink. It's the go-to during countless tropical vacations, perhaps because it looks so good in the glass.
It's a surprisingly easy cocktail to make too, as it just relies on tequila, orange juice, and grenadine syrup. Despite this, tequila sunrises aren't always that good and are often cloyingly sweet.
Using freshly squeezed orange juice can help, as this has a tartness that you don't often find with the bottled stuff. You could also try increasing the tequila content to balance the juice a little better.