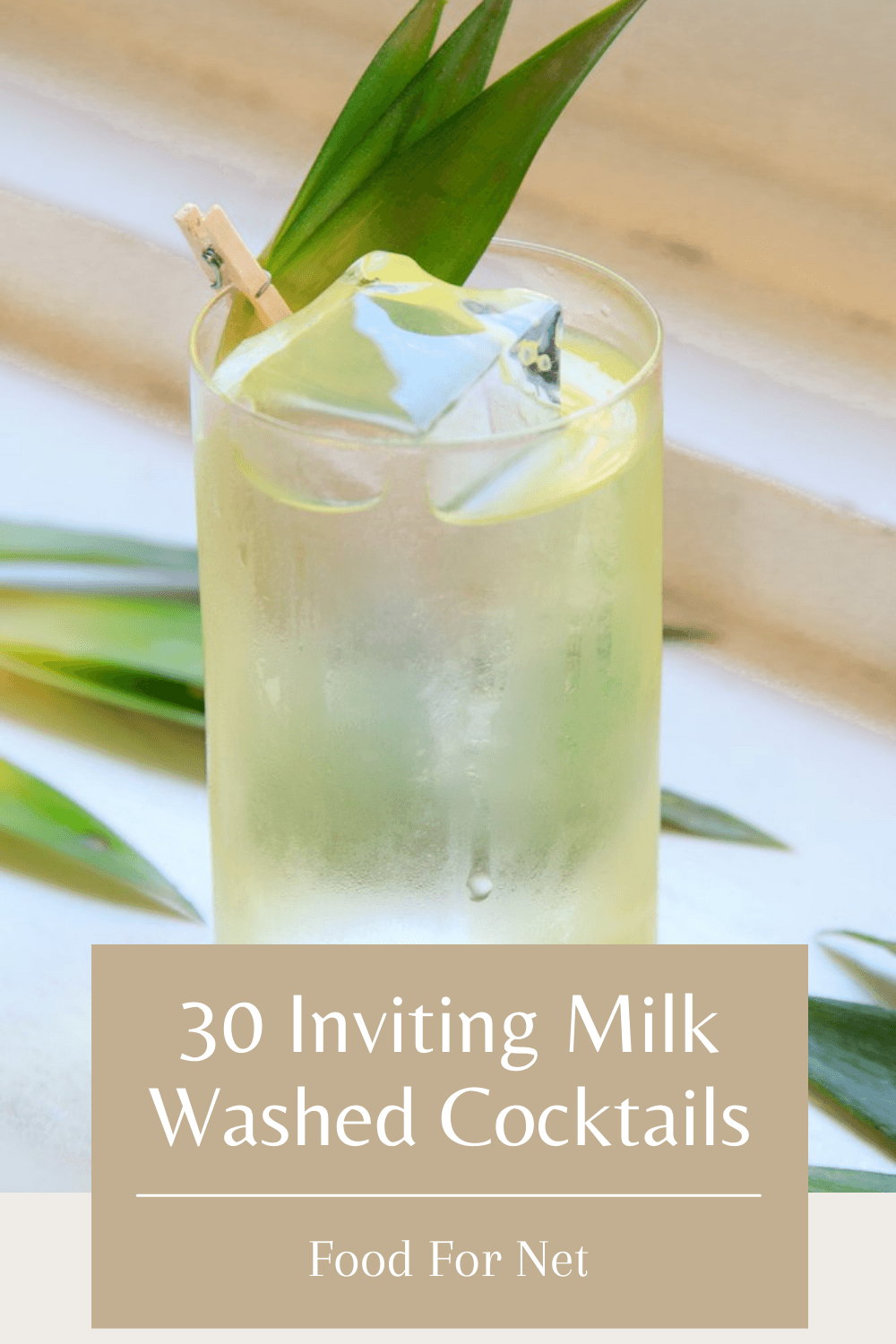 Milk washing is a strange idea. You're basically adding milk to a spirit or a whole cocktail, intentionally curdling it, then straining the curds to give you a clear liquid that still contains whey. Milk washed cocktails as they are called, can be surprisingly delicious. Plus, the whey changes the texture and helps the drink to froth when shaken.
Despite the unusual approach, milk washed cocktails aren't a new idea at all. The technique dates back to at least 1711, possibly even earlier, with the classic English clarified milk punch. Since then, clarifying or milk washing cocktails has gone in and out of favor. Right now, it's all the rage.
Milk washed cocktails tend to be clear and they don't taste like milk at all. Instead, the other ingredients shine through. You can even have a completely clear cocktail that tastes almost exactly like a pina colada. Impressive, right?
Milk washing isn't just about creating clear cocktails. The process also removes some of the flavor compounds from spirits and other ingredients, making them mellower and helping contrasting elements to meld together.
There are a few things to consider, though.
First, like regular milk cocktails, these cocktails do contain dairy, making them off-limits for vegans. Plant-based milk doesn't behave in the same way, so it's tough to make clarified cocktails without dairy.
Also, lactose doesn't get removed during the clarification process. But, you can buy lactose free milk, where the lactose has been broken down by enzymes. This still behaves like regular milk, so it can be used to make lactose free clarified cocktails.
Finally, don't use expensive spirits for these cocktails, as the milk washing process strips away some of the nuances of your spirit. In fact, clarified cocktails are a great way to use up cheap spirits.
Milk Washed Cocktails (With Pictures!)
Clarified Milk Punch

Clarified milk punch is a slightly unhelpful term, as most cocktails on this list could be described in this way. That's why you'll see the phrase come up again and again.
Still, the classic clarified milk punch is worth talking about.
Most of the time, this uses some type of black tea, lemon juice, rum, and sugar. Spices are normally included too. This could be as simple as cinnamon or perhaps some star anise. Other versions rely on allspice, cloves, coriander, or other spices, which bolster the flavor even further.
You can make it even boozier if you like, such as by including two types of rum or perhaps adding cognac as well. After clarification, you end up with a clear spiced rum cocktail, one that would be delicious in the evening as a calming nightcap.
There are plenty of ways to experiment with the recipe, as you'll see from some of the other cocktails in this list.
Clarified White Russian

While the white Russian is famous, the drink never looks particularly good. The combination of vodka, Kahlua, and cream can easily look like contaminated water, rather than a delicious cocktail.
Swapping the cream for milk and clarifying the drink gets around this problem, giving you the traditional flavors while improving the drink's appearance. Some versions tweak the other ingredients, like using tequila rather than vodka as the base spirit.
Using milk rather than cream also creates a lighter cocktail. This is another useful feature, as the cream in a regular white Russian can sometimes be too much.
Earl Gray And Lemon Clarified Milk Punch

This milk punch follows traditional approaches, as it relies on earl gray tea and fresh lemon juice. However, there aren't any spices here, which helps the tea and lemon to dominate the drink.
As for alcohol, a mix of rum and vodka works well. The rum helps to flavor the cocktail further, while the vodka increases the alcohol content.
Tea Time

This cocktail twists things a little, as you're milk washing vodka, rather than milk washing an entire cocktail.
You start by infusing vodka with tea, then clarifying the tea infused vodka. Once you've done this, you can then build the rest of the cocktail.
Clarifying just the spirit, rather than the whole cocktail, means you don't get a clear drink. But, you have more flexibility with the flavors and textures of the cocktail.
Tropical Thunder

Here's another drink that milk washes just the spirit. This time, you're milk washing white rum, then adding it to pineapple syrup, orange juice, and a bit of saline solution.
These ingredients give you a tropical drink that's reminiscent of a daiquiri.
You could easily play around with the ingredients too. Any cocktail that works well with regular white rum should be excellent with milk washed white rum.
Milk Washed Drambuie

Not surprisingly, this cocktail uses Drambuie as the spirit of choice. Doing so gives your cocktail a distinct honey flavor and some extra sweetness.
There's also lemon juice and orange juice in the cocktail, which provide an interesting sweet-sour contrast and plenty of fruitiness.
The recipe is interesting, as it uses heavy cream rather than milk and doesn't take the traditional curdling approach. This difference means that you don't get a clear cocktail, but the cream does still impact the texture of the finished drink.
Pina Colada Milk Punch

The name tells you all you need to know about this cocktail. It's simply a milk washed pina colada. You're using all the traditional pina colada ingredients, except that you swap the coconut cream for regular milk.
To make it, you're mixing all the pina colada ingredients together, then adding these slowly to your milk. Whole milk works best for all clarified cocktails.
Adding the pina colada ingredients and stirring should make the cocktail start to curdle. It may look like a complete mess, but it's meant to. You then strain it through a cheesecloth a couple of times to get a clear cocktail with a slight yellow tinge.
The biggest issue is that you lose the coconut flavor. But, you can get around this by adding some coconut water in with the rest of the ingredients.
Milk Lady

This clarified cocktail relies on gin, with a little lemon juice and Italicus liqueur added. The Italicus liqueur plays beautifully with the botanicals of your gin.
You could build a similar cocktail using just those three ingredients. However, the milk washing steps helps to reduce some of the gin's harshness, allowing the various flavors to come into their own.
London Fog Milk Punch

The London Fog Milk Punch takes the traditional milk punch recipe and plays around with it. There are three different components – vanilla simple syrup, rum mix, and milk mix.
You end up with a clarified drink that includes spice, rum, earl gray tea, and vanilla flavors. The cocktail is somewhat labor intensive, but you can easily prepare multiple servings at once.
It could be particularly good as a Christmas cocktail, especially as it has some of the flavors of eggnog, but is also quite unique.
Tita Nita's Milk Punch

This cocktail is interesting for a few reasons. First, it contains some unusual ingredients, including lychee syrup and Aquavit. These give the cocktail a distinct flavor that you won't find elsewhere.
Also, this is a dairy free cocktail. It's made using full fat coconut milk rather than regular milk. Plant-based milks don't clarify as well as dairy milk. But, if you're going to try any, coconut milk and coconut cream are some of the best.
You do still end up with a clear cocktail, one with an interesting texture and flavor balance. So, why not try this one for yourself?
Lemon Bar Clarified Milk Punch

A lemon bar clarified milk punch is a riff on the traditional milk punch. It still uses rum, lemon juice, spices, and sugar. However, there's no black tea to be seen.
Some other ingredients are used instead, including Licor 43 liqueur. These ingredients add extra nuance to your cocktail, making it more interesting and flavorful.
However, you'll need to plan ahead for this cocktail. Some steps involve leaving ingredients to steep or set for a full day. Because of this, it's best to prepare multiple servings of the cocktail at once.
Otherwise you might find that you love it and then have to wait a couple of days before you can have another glass.
Vodka Black Tea Milk Punch

Black tea isn't common in regular cocktails, partly because of the tannin content. Milk washed cocktails are the exception to that rule.
You see, milk washing doesn't just strip away the color from your ingredients. It strips tannins too, making ingredients like black tea much less astringent without impacting their flavor profile.
This particular cocktail uses vodka and black tea, which are balanced out with lemons, oranges, and sugar syrup. The ingredients are all easy to find and complement one another well, especially after the milk washing.
Monstrous Milk Punch

This cocktail uses many traditional milk punch ingredients, including spices and earl gray tea. This time, though, whiskey is the spirit of choice.
The most notable difference is pineapple. Pineapple pieces are cooked together with the other ingredients to create a strong pineapple flavor in the finished drink. You can even use pineapple wedges as a garnish.
Pineapple Clarified Milk Punch

Speaking of pineapple, here's another cocktail that relies on the tropical fruit. There are plenty of spices here too, but this time you're using rum and brandy as the spirits.
There's a decent amount of pineapple juice and lemon juice in the mix too. These give you a sweet-sour fruity balance.
You could also experiment with other ingredients. For example, adding basil creates a nice contrast in the cocktail and offsets some of its sweetness.
Black Tea Port Milk Punch

Here's another drink that relies on black tea. It's a surprisingly simple cocktail, as there aren't any spices to worry about.
There is one interesting ingredient though – Batavia Arrack. This is a rum-like liqueur that impacts a unique flavor to the cocktail. Combining this with port gives you a delicious drink that's hard to forget.
If you made this cocktail without clarifying it, you'd get plenty of texture and astringency from the tannins, plus a very dark cocktail. The milk washing makes the color less dramatic and smooths out the flavors.
Paloma Milk Punch

Milk punches are never straightforward cocktails and always involve a decent amount of work. This Paloma Milk Punch takes things even further, as you must brew tea, infuse this into the other ingredients, then start the clarification process.
It's also another dairy free clarified milk cocktail, as it relies on hot coconut milk.
However, it must be said that this isn't really a paloma at all. You still have the traditional grapefruit juice, soda water, and tequila, but this version has plenty of extra ingredients. As such, the drink doesn't taste much like a regular paloma.
Budgie Smuggler

For the uninitiated, a budgie smuggler is Australian slang for a man's swimsuit that is tight enough to show pretty much everything. The cocktail gets the name simply because it uses Australian gin. A bit cheeky, perhaps, but the name is as unforgettable as the rest of the cocktail.
The recipe is complex, relying on passion fruit puree, Angostura bitters, carrot juice, and plenty of other ingredients. You get a decent amount of citrus notes from these ingredients, plus some other exciting flavors.
Perhaps the most interesting feature is that the milk washing involves a mixture of heavy cream and 2% milk (most milk washed cocktails rely on whole milk instead). This gives you a different texture and adds to the uniqueness of the cocktail.
Fruity Pebbles Clarified Milk Punch

This cocktail is unusual, as you're not clarifying it with regular milk. Instead, you're first soaking the milk in Fruity Pebbles cereal for an hour or two, which infuses the cereal's flavor into the milk.
You can then use the Fruity Pebbles milk to build your cocktail as you might expect.
You end up with a fruity cocktail, as the recipe includes pineapple, lime, and lemon juice, not to mention muddled strawberries.
Follow Your Nose

The Follow Your Nose cocktail follows the same pattern as the previous one. Froot Loops is the default cereal here, but you can use any type of sugary cereal that you like.
There are plenty of other ingredients too, including two types of rum, mezcal, and absinthe, not to mention plenty of spices and some tea. These ingredients give you a boozy and complex cocktail that you're certain to love.
Winter Milk Punch

While this cocktail is simpler than most, it still uses rum, bourbon, and port, plus fruit juice, bitters, and sugar. The bitters are a particularly nice touch, acting as an excellent contrast to the other flavors.
There's a decent amount of work involved, but you do make a whole punch bowl full of the cocktail. This gives you enough for a few days or for a party.
Diamond Noir

The diamond noir is interesting in a few ways. For one thing, it's served like a New York sour, complete with a red wine float.
Then there's the use of heavy cream instead of milk. This still gives you a milk wash effect, but you're getting a different texture with cream compared to milk.
Milk Washed Tommy's Margarita

This cocktail doesn't need much explanation. It's basically a Tommy's margarita that has been through milk washing.
The process gives you a clearer drink. The flavors are similarly to a regular Tommy's margarita, but they're more well-balanced.
You could serve this with the traditional salt rim or add a little saline solution to mimic the flavors of the salt rim.
El Duderino

Back at the start of this list, we talked about making a clarified white Russian. The El Duderino riffs on that idea.
It still includes milk and coffee liqueur, but that's where the similarities end. Not only does this version use tequila and mezcal instead of vodka, but it also adds oolong tea, bitters, and a few other ingredients.
The extra ingredients provide depth and nuance to the cocktail. This is a good thing, as white Russians can be a bit boring at times.
Coffee Milk Punch

This impressive cocktail makes enough for 30 drinks, making it perfect for a party. Just be sure to allow enough time to fully prep the cocktail.
White rum is the main spirit in the drink, while Benedictine and maraschino liqueur help to balance out the flavors. There are a few other ingredients to make the cocktail even better, including ground coffee.
Clarified Jungle Bird

It shouldn't surprise you that this cocktail is a clarified version of the tropical jungle bird cocktail. So, it uses rum as the basic spirit, while Campari adds to the flavor.
Pineapple juice and lime juice provide the fruity flavor the drink, while a little demerara syrup makes things a bit sweeter.
The Snowy Moon

The Snowy Moon uses an interesting balance of ingredients. You've got mezcal and vermouth, which makes it a little like a tequila martini.
These ingredients are then balanced out by bitters, lime juice, and cinnamon simple syrup. As such, you get an interesting sweet-sour flavor, plus some extra complexity.
Sex Panther

I love that this cocktail is called Sex Panther – and the ingredients are pretty spectacular too. You've got two types of rum in there, plus fruit juice, and tea.
The unusual thing, though, is the use of Mexican Coca-Cola. You're not using this as-is though. Instead, you're making a Coca-Cola reduction. The reduction gives you concentrated flavor for the Coca-Cola, without carbonation.
Disco Volante

The Disco Volante is simpler than most, but that doesn't make it any less appealing. Gin features as the spirit of choice, plus a little absinthe and a decent amount of Aperol.
These are then balanced by lemon juice and simple syrup. As such, it's a pretty spirit heavy cocktail. That's not a bad thing though. Sometimes you want something with a decent punch to it,
Coconut Milk Punch

Despite the name, this cocktail relies on coconut cream rather than coconut milk. Either way, you get a dairy free clarified cocktail that tastes amazing.
The recipe uses a combination of mezcal, rum, and sherry for the alcohol content, making this another boozy choice. There's some fruit juice in there too, plus a spice syrup.
The spice syrup takes a bit of effort to make, but it provides some much needed complexity to the drink.
Soy Milk Punch

Non-dairy clarified punches are rare, as plant-based milks don't curdle as well as dairy milk. Most punches that do take the plant-based approach rely on coconut cream, which makes this cocktail very unusual.
The cocktail looks complicated at first glance, but that's simply because it uses many herbs and spices. Once you get past these, the recipe is surprisingly simple.
There is one catch though – soy milk doesn't clarify as well as dairy milk, so the finished cocktail isn't as clear. Still, the clarification improves the texture of the drink and notably tones down the tannins in the black tea.