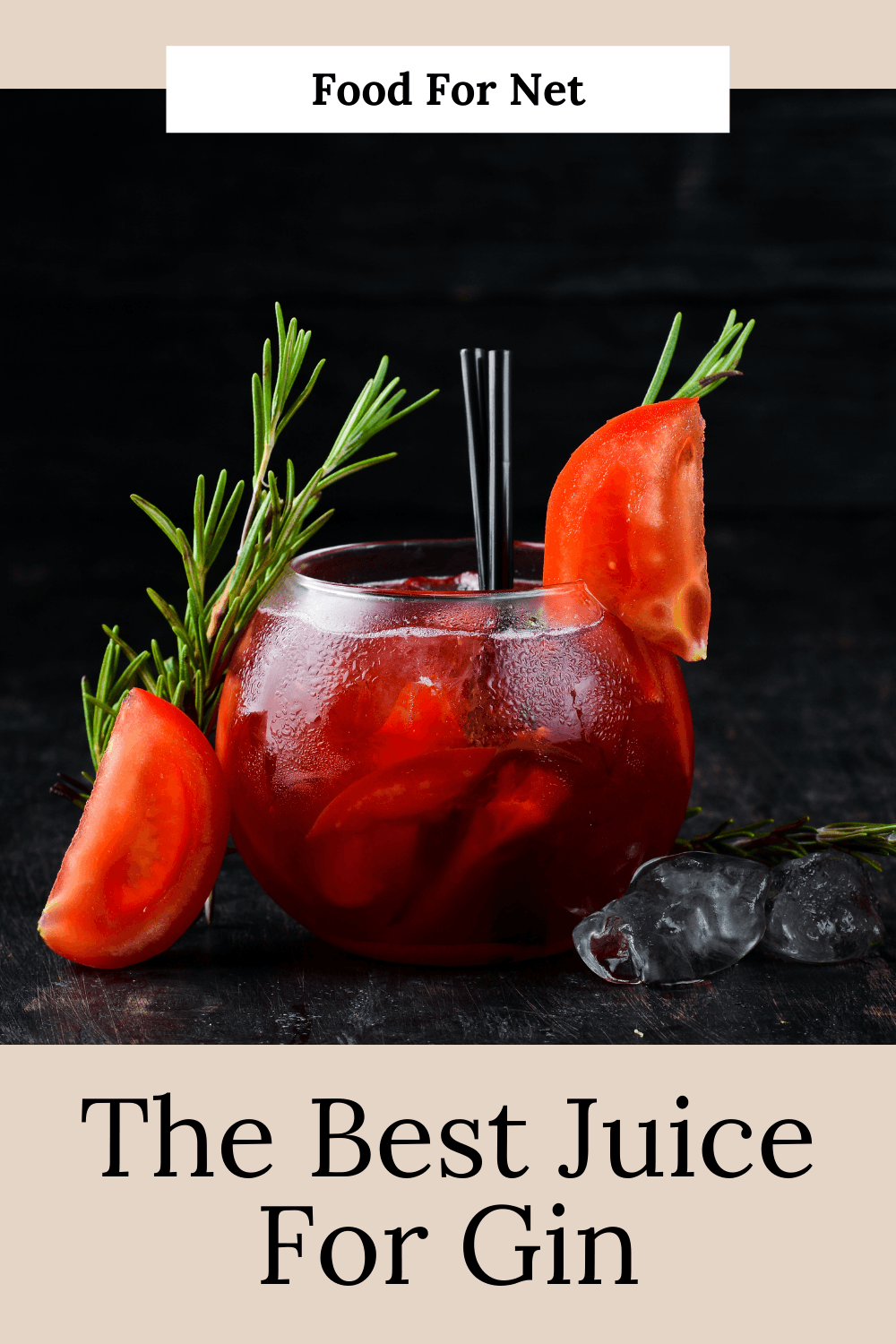 With so many different flavors coming from so many botanicals, gin is an interesting and complex spirit. There's a profile out there for everyone and it makes for some delicious cocktails, intense sipping experiences, and wonderful mixed drinks. Tonic water is, of course, a classic mixer, but it's not the only way to enjoy sipping on some gin!
If you're not a fan of tonic water, or just want to mix things up a little – try some juice instead. Fruit juice is sometimes used as an ingredient in cocktails, with gin and other spirits, but mixing gin with just some juice is a bit different. Doing so allows the flavors of the juice and the gin to work together without interference and when you have the right pairing, the resulting flavor can be incredible.
The best juice for gin is usually fruit juice, though savory juices can still work well. Citrus is almost always a good choice and it goes well with just about any dry gin or gin with its own citrus flavors. Softer gin tends to go well with sweeter juices like apple or cranberry and it makes for a wonderfully refreshing drink in the summer.
The best part about the gin and juice combination is that it's customizable. Want it sweeter? Add more juice. Want it stronger? Add more gin.
The Best Juice For Gin
1. Lemon and Lime

Lemon and lime both go undeniably well with gin, as evidenced by the countless cocktails that call for either one as an ingredient or garnish, or both. If you don't want a whole array of flavors, don't have the time to make a complicated drink, and/or just don't like tonic, simply adding some lemon and lime juice to your gin is the way to go.
You can add as much or little as you want, to taste, and freshly squeezed is always best. If this isn't possible, get the freshest and most natural juice you can find to ensure an authentic taste. You can also try making it with more lemon than lime or vice versa, or just use one of them if you'd prefer. There are plenty of options for flavor with just two ingredients!
Lemon and lime is a pretty universal option and should go well with most gins, but a classic London dry is always a good bet. All gin is juniper-based, and the flavor of juniper is well complimented by lemon and lime. Use a nice, juniper-forward London Dry Gin like Tanqueray for a delicious and refreshing cocktail every time. The gin combines four botanicals – juniper, coriander, angelica, and licorice for a fresh, herbal palate and a dry finish. For an even more intense flavor experience, try a gin with pronounced citrus notes, or even proper citrus flavoring.
2. Orange and Grapefruit

Both citrus fruits, orange and grapefruit will offer a similar structure and experience to the lemon and lime combination, but the flavors will be quite different. Orange is a potent flavor, grapefruit is light, tart, and refreshing, and they're known to go quite well together.
Sipsmith London Dry is a great mix of traditional and innovative with plenty of juniper on the palate, and it's a perfect choice to pair with some freshly squeezed orange and grapefruit juice. Other botanicals include coriander seed, angelica root, orris root, licorice root, cassia bark, ground almond, cinnamon, lemon peel, and orange peel.
It has a floral aroma with notes of citrus, juniper, and summer meadow. The palate brings notes of lemon, strawberry jam, orange zest, and juniper with a tart, lemony finish. There's just the right amount of citrus on the palate to perfectly compliment orange and grapefruit juices while adding its own sweet, fresh layers.
3. Apple Juice

While citrus juices go well with a citrus-forward gin by complementing and enhancing the flavors, a sweeter juice like apple works to balance the tart intensity of citrus flavors in gin. It creates a delicious combination on the palate and it's the perfect warm, sweet cocktail for fall.
Farmer's Small-Batch Organic Gin is a carefully-made, citrus-forward gin that would be well-balanced by sweet apple juice. The best thing about apple juice too is it can be used in a cold or warm cocktail. This opens up many possibilities, especially as the weather cools down!
Keep it cold for a basic, refreshing cocktail, or use warm apple cider for a quick, easy spiked cider. Add a dash of cinnamon or garnish with a cinnamon stick for the perfect extra kick of spicy flavor.
Farmer's Small Batch has a fresh, juniper-filled nose with notes of elderflower. The palate is citrus-forward with hints of coriander and lemongrass. These flavors are balanced by notes of sweet licorice and fresh celery.
4. Cranberry Juice

Cranberry juice takes your gin in an entirely different direction with its sweet but tart flavor. It goes well with a citrusy gin like Nikka Coffey with tart, citrusy, but well-balanced flavors of its own. There are 11 botanicals in this gin, all working together to create a complex harmony.
Four of these botanicals are different types of Japanese citrus: Kabosu, Amanatsu, Yuzu, and Shequasar. These are carefully chosen and blended so they mix well with some more classic botanicals like juniper, coriander, lemon, orange, and angelica. All of these are present on the palate in some capacity, leading into a pleasantly tangy finish with a touch of Sansho pepper.
Cranberry juice not only brings intense flavors to the table but it offers a deep, beautiful red color. It's perfect for mixing up delicious but also aesthetically pleasing drinks for a theme party, or a time when you just want to impress your friends! Add a lemon wedge garnish for the perfect finishing touch.
5. Mango

For a light, sweet, refreshing gin, try mango juice. Mango has a fairly strong flavor and does well to balance out a gin with stronger flavors of its own. Brockman's Intensely Smooth Gin is a great example with its fruity, berry-filled aromas and warm, spicy palate. Notes of cinnamon and baking spice prevail, with tart, berry fruits on the finish.
Brockman's uses only naturally-grown botanicals that are steeped in a grain spirit for a very long time. Here, they release their character, creating distinct aromas and flavors, contributing many strong notes of aroma and flavor to the gin without any artificial help or additives. The gin is then distilled in a century-old traditional copper still. This imparts intense and distinctive notes into the final result.
Though strong, mango is very sweet and refreshing and goes well with the array of flavors in this gin, while balancing the warmer, spicier notes.
Gin and Juice Cocktails

There's no doubt that your chosen juice and chosen gin make a wonderful drink on their own. You can play around with ratios and you may very well find your new favorite go-to drink that's quick, easy, and perfect for you. Once you've done that, though, there are many ways you can quickly and easily add to these drinks for a fun and more complex experience.
Try some of these additional ingredients to easily turn your gin and juice into a full-blown cocktail.
Soda Water
Soda water is easy to obtain and easy to add – start slowly and do a taste test. Add more as desired and you've got a fresh and delicious gin juice spritzer. Not only does this one ingredient change up the flavor, it adds a new level of texture and mouthfeel to the drink.
Wine
Wine is a fun one because, like gin, there are so many different flavors that range from quite dry to nice and fruity. A dash of wine in your gin and juice drink not only adds flavor and depth, but it adds more alcohol! It's a great way to strengthen the drink while enhancing the flavors at the same time.
Fresh Fruit
Take your lemon wedge garnish to the next level and add some fresh fruit directly into your drink. You can never go wrong with citrus, but fresh berries and tropical fruit also do well to add some wonderful flavor. Cranberries, blueberries, strawberries, mangos, and pineapple are all fine choices. If you don't have (or like) any of these, though, try whatever fruit you have on hand!
For enhanced flavor, squeeze some juice into the drink before adding the fruit itself, or muddle it in the glass before adding your liquid.
Everything
Lastly, if you're feeling adventurous, add all three! Choose a complimentary wine, throw in some berries, and top it all off with soda water. Some trial and error might be necessary, but you may just come up with a brand new signature drink when all of these flavors come together.