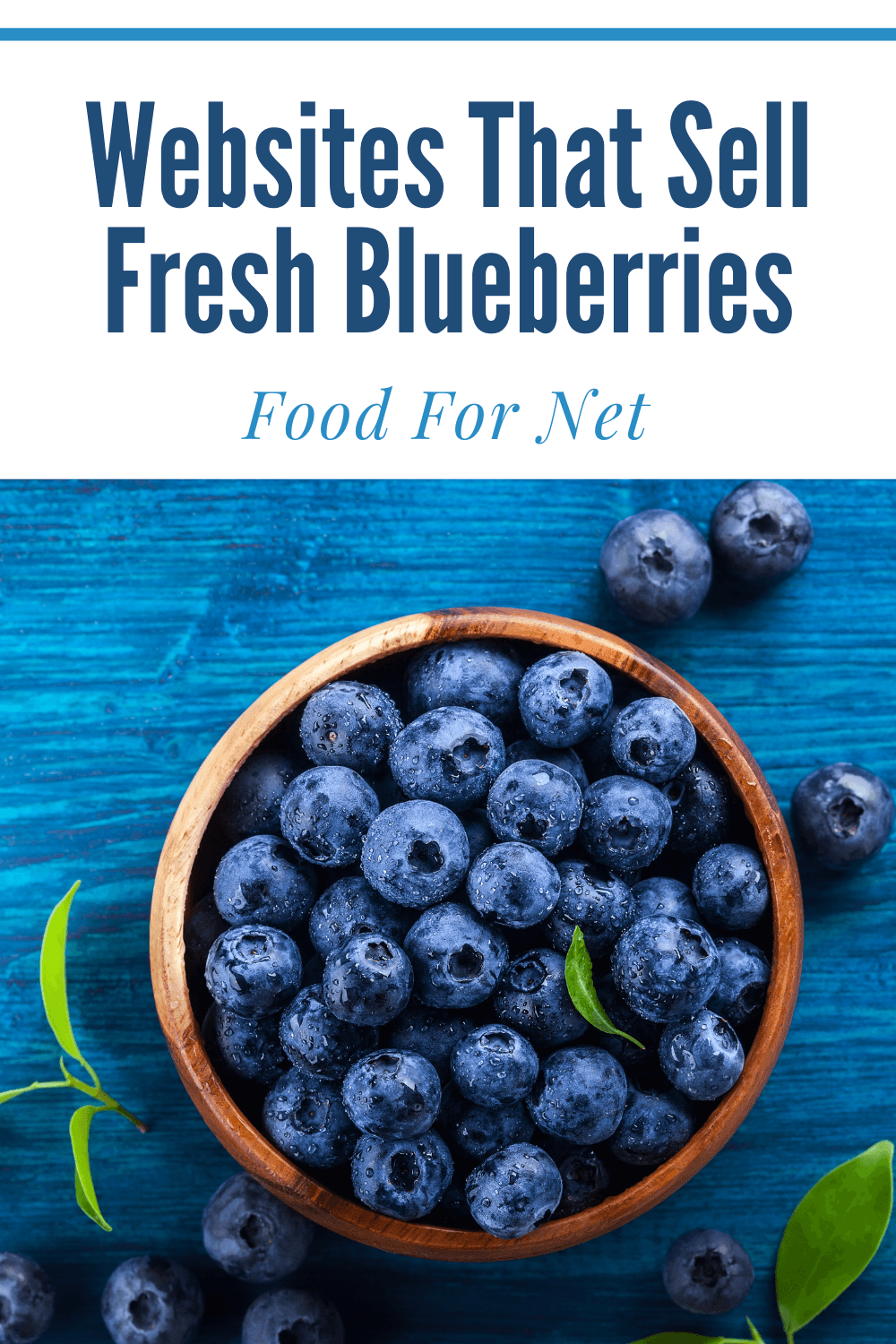 Blueberries are widely known as one of the healthiest fruits, boasting an impressively high antioxidant content. Unlike some other, less common fruits, blueberries have been studied extensively and have many proven health benefits.
This includes an ability to lower blood pressure, help prevent heart disease, support healthy brain function and improve memory, help fight urinary tract infections, and help support muscles if eaten after a tough workout.
While this list is not exhaustive, it's still impressive. The key, though, is finding good quality blueberries that aren't heavily treated with sprays and other chemicals. This is why it's beneficial to buy fresh blueberries online.
By looking for fresh blueberries for sale directly from farmers, it's much easier to find people that grow and harvest them in an organic and healthy way. Regular consumption of blueberries is so good for you, but not if you're also ingesting harmful substances at the same time.
You can follow a similar pattern with other fresh fruits and veggies too. For example, cranberries, tart cherries, and tomatoes can all be purchased online. You can buy seafood this way too.
Places to Buy Fresh Blueberries Online
Leduc Blueberries
The Blueberry Store
Dragon Berry Club
The Fruit Company
Fruit Share
Blue Hill Berry Co
Skyview Lab Blueberry Farm
1. Leduc Blueberries

Leduc Blueberries has been growing blueberries since 1955 when a couple decided to realize their dream of owning their own farm. They began with a small 20-acre blueberry operation, which quickly grew to become the 400-acre empire they have today.
They still focus on their original passion which has always been blueberries but they have since added strawberries to the roster as well. While the couple is still involved in their beloved business, it's now been taken over by their son who currently owns and operates the whole thing.
While much of the berries are sold commercially, Leduc Blueberries haven't given up on their retail store either. While their supply of fresh berries lasts, you can purchase them through their retail store which operates both locally and online. During the off-season, you can still get their homemade jams and jellies which are sold year-round.
2. The Blueberry Store

The Blueberry Store opened in 1990 for the first time but was purchased and taken over by the current owners in 2007. They already owned True Blue Farms and were excited to add this new challenge to their business. They brought a new perspective and plenty of ambition, with goals to make the company even better than it already was.
Since they were already growing and processing their own blueberries, it only made sense to have products in The Blueberry Store be made with their fruit. It's now one cohesive process, run and overseen by the same company and the same people.
Because the farm and the store are now connected, you can order both fresh blueberries online, and The Blueberry Store products, such as dried blueberries, blueberry juice, blueberry concentrate, blueberry candy, blueberry jam, and so much more. If you're local, you can visit both their retail store or the farm itself to do your shopping.
3. Dragon Berry Club

The Dragon Berry Club is a monthly service for those that like to enjoy a different unique, exotic, and healthy fruit each month. You can sign up for three, six, or twelve months at a time, all with free shipping. It's designed more as something to give as a gift, but of course, nothing is stopping you from ordering it for yourself!
Each month, you'll receive a four-pound shipment of that month's fruit, along with details and other information about the fruit, storage instructions, and serving suggestions. The entire year of fruit is laid out on the website so you can know what to expect. Premium, jumbo, Oregon blueberries are delivered in June. Other fruits include dragon fruit, rambutan, specialty grapes, rose apples, Japanese pears, and more.
They have been offering their service since 2004 and since then have perfect their selection, packing, and shipping process to ensure you're getting the finest, freshest, best-quality fruit available.
4. The Fruit Company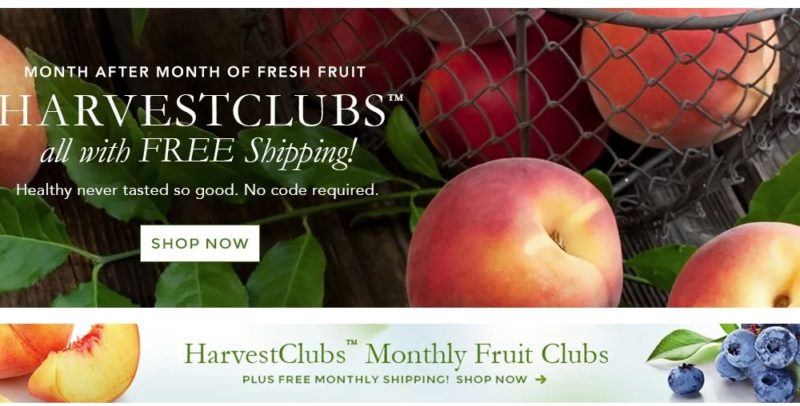 The Fruit Company began in 1940 when founder Roy Webster sought to bring his vision to life. He set out to grow the finest fruit possible. After years of hard work and dedication, Roy brought his dream to life. Today, the company ships baskets of amazing, fresh, delicious fruit all over the nation.
They do have a store full of one-time fruit baskets, nut collections, and other occasion-specific gifts, but their specialty is their monthly fruit clubs. These subscriptions are for real fruit lovers, and there are many options to pick from. Their basic subscription offers a monthly shipment of traditional fruits, such as apples, cherries, blueberries, etc.
Or, If you're feeling a little more adventurous you can try their exotic box, which contains rarer fruits like star fruit and pomegranates. If you want a little of both you can select their medley box, and for those who want only organic, they have an organic box as well.
Each box has four possible sizes and you can purchase them in sets of three, six, or twelve months.
5. Fruit Share

Fruit Share works with multiple farmers to get their fresh fruit directly to customers in the fastest, most efficient, and most sustainable way possible. They know that fresh, farm-to-table fruit is the best fruit. But, they also know that some farmers may not have the option to personally ship their fruit everywhere.
This is where Fruit Share comes in. They work closely and directly with farmers to get their fruit to the doors of their customers while being as transparent as possible. When you purchase from Fruit Share, they tell you exactly where your fruit is coming from and provide all the necessary health and nutrition information.
Even when the farm you order from is far away, they're dedicated to shipping you in a way that's eco-friendly and sustainable. They ship their fruit in monthly boxes, which you can subscribe to or order one-by-one as you please. Each box will contain a variety of fresh, seasonal fruit. They come in three sizes to suit everyone from individuals to large families.
6. Blue Hill Berry Co

Blue Hill Berry Co focuses on producing high-quality organic blueberries. They began their operation in 1996 and currently have about 100 acres, all of which are certified organic. The farm was founded by a couple who truly love blueberries, and love what they do!
They do the work themselves throughout the year and hire local help during their harvest season. They harvest in the summer, which gives plenty of teenagers and students the perfect summer job while they're not in school.
You can order their fresh and organic blueberries from their website while they are in stock. Depending on the quality and the yield of their harvest, they may also offer a supply of frozen and powdered blueberries. If/when they do run out of stock, they happily redirect customers to other local farms who still have some for sale.
7. Skyview Lab Blueberry Farm

Skyview Lab Blueberry Farm is a family-owned and operated business, currently in their fifth generation. Their mission is simple: to offer the best spray-free blueberries to its customers each year. Their farm is located on a mountain in Jennerstown, Pennsylvania.
For 52 years and counting, they have kept things easy and simple. They offer blueberries in four quantities: one, four, eight, and sixteen pints. Single pints are available only if you're local and picking up on the farm, and the rest are only available shipped.
Once they run out of stock for the year – that's it! So, if you like their blueberries you'll want to get in quickly once the harvest is done. They don't offer any frozen or dried blueberries nor do they make any other products with them.
Things to Consider When Buying Fresh Blueberries Online

Blueberries are a healthy and versatile fruit, but it's also pretty easy to get a bad batch, especially when you buy fresh blueberries online. Therefore, it's important to think about a few things when looking for fresh blueberries for sale.
Options
While ordering blueberries fresh is often the best way to go, most farms run out of their fresh stock after a while and it can become harder to get them at certain times of the year. When and if this happens, it's good to have backup options like frozen blueberries, or even a powder supplement if you're eating them for the nutrients.
Other Blueberry Products
Blueberries are extremely versatile and can be made into many other things. If you're a real blueberry enthusiast, you may want to look for a farm that also offers things like jams, jellies, sauces, and spreads as well so you can get it all in one place. Some places even make blueberry coffee!
Quality Control
While quality control is important with any products, blueberries are small and it quickly becomes easy for some sub-par berries to slip into the stock selected for packaging and shipping. Few things are as disappointing as opening your package of blueberries only to find that many of them are no good.
Make sure the company you select has rigorous quality control methods in place to you can feel confident you're getting only the best quality blueberries with each order.