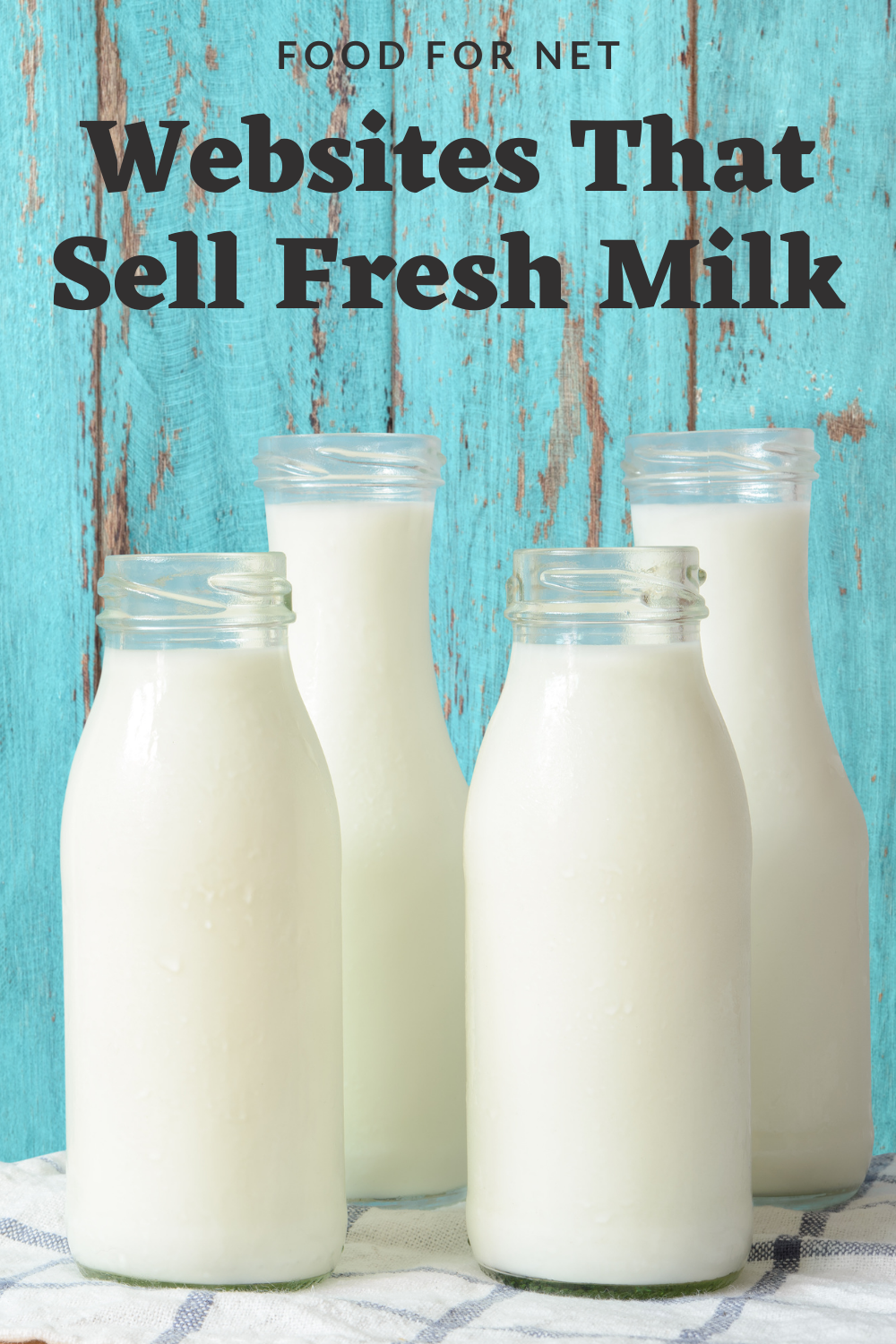 No one can deny that milk is universal and many are adamant that the product is essential, especially when you're young. The problem with milk is that it's often so over-processed that by the time it's in your glass, it's lost its nutritional value.
When consumed fresh and unprocessed, milk does have an impressive list of health benefits, but many people are missing out simply because they aren't aware that not all milk is made equal. It matters how it's processed but it also matters how the cow is fed and treated. A healthy, grass-fed cow will produce much healthier milk than one fed an exclusive grain diet and given extra hormones.
When done right, milk is an excellent source of many things, including calcium, vitamin D, vitamin B12, selenium, phosphorus, potassium, and more.
In addition to convenience, the health benefits are a great reason to buy fresh milk online. You can find fresh cream too, along with other products, like bread.
Going online gives you many more options and you often have access to local companies that are much more transparent with their methods. Once you've found a sustainable, natural provider, many offer fresh milk delivery weekly or however regularly you need it.
Where to Buy Fresh Milk Online
Dutch Meadows Farm
Raw Farm USA
Hudson Milk
Shatto Home Delivery
1. Dutch Meadows Farm

Dutch Meadows Farm has been owned by its current family for three generations. They are passionate about high-quality, safe, and healthy products and have been practicing exclusively organic farming for more than 20 years.
In addition to their farm and its products, they've partnered with several other small, local, sustainable family farms that are just as passionate as they are. They tolerate no pesticides, chemicals, or growth hormones. Everyone treats their livestock well, keeps them outside as much as possible, allowing them to live quality lives in a good environment.
They offer a wide variety of products, including grass-fed beef, pasture-raised chicken, wild-caught fish, raw honey, butter, cream, raw milk cheese, fermented vegetables, maple syrup, free-range eggs, organic raw milk, and raw goat milk.
You can shop for yourself or buy wholesale. Their products are also available in select retail stores, the locations of which are listed on the website.
You can enter your zip code on the website to see what delivery options are available in your area. If you're outside of their default delivery area, you can still get in touch and they'll make a call on a case-by-case basis as to whether they can deliver or not.
2. Raw Farm USA

Raw Farm USA is a family farm that is passionate about high-quality raw dairy products. Their goal is to produce products that improve their customer's health while sustaining their environment and their animals well.
While raw milk and other raw dairy products have become highly stigmatized, Raw Farm USA is out to change the narrative and remind people that this was how milk was originally made. Everything has become highly processed and very artificial to look better and last longer on the shelf, but that doesn't mean it's any better for us. Raw Far, USA has spent 20 years perfecting their process to ensure they produce pure, safe, healthy, high-quality raw dairy products for customers across the United States.
They are on a mission to bring raw dairy back to the shelves and normalize it once again. Part of this is providing education, which they do on their website. They have plenty of basic information for anyone wanting to learn a little bit more about raw products and how they're not dangerous when produced correctly. For more in-depth knowledge and research, their blog has specific articles about the health benefits of their different products.
Currently, they're only shipping to locations within the United States.
3. Hudson Milk

Hudson Milk first opened in 1993. The founders had a vision to bring back the milkman and connect people to healthy, locally sourced food, while remaining sustainable and helping the environment.
They started small but slowly began partnering with more and more farmers and producers in the area and beyond. Today, they've grown into something much larger and the new owners are just as passionate about the vision and the system as the founders were.
Even though they've become much larger, they remain dedicated to quality and sustainability, thoroughly vetting all partners to ensure customers are only getting the best.
When it comes to milk, they plenty of options available. You can get 1%, 2%, whole milk, fat-free milk, and even chocolate milk. They also have a variety of cream products and some eggnog to choose from.
While their selection of milk and cream is fantastic, they have so much else to shop for as well. You can do all your grocery shopping here, confident that the food is all locally sourced and good for you. And then, it's delivered right to your door. They offer delivery throughout the United States, though you must enter your zip code on the website for more specific information on your location.
Other categories of food include fruits, vegetables, meat, poultry, butter, cheese, coffee, bread, baked goods, drinks, eggs, and pantry staples. You can also get what they call "meal solutions" which are pre-made soup or seasoning kits to make life a little easier when preparing a meal.
4. Shatto Home Delivery

Shatto Home Delivery began as a simple milk delivery service with the desire to bring back the classic milkman. They focused on providing the best and freshest milk they could find from high-quality local farms. They began by delivering to a small area in Kansas City and have grown from there. They still offer personal home delivery to those in this area, but shipping is available throughout the United States.
Though they offer many different categories of food now, dairy has always been their focus. They offer a variety of milk, cream, eggs, butter, and cheese. You can mix and match with individual items, or get a weekly staples bundle. This includes half a gallon of your choice of milk – 1%, 2%, whole, or skim – a dozen eggs, one package of bacon, and a small loaf of bread. These are great for a week of breakfasts, or to complement any meal you plan throughout the week.
If you need a little more than this, you can do a larger grocery shop and have it delivered just the same. They also offer fruits, vegetables, bread, meat, coffee, snacks, prepared meals, and more – even dog food and treats. They also have a section for those with gluten intolerances that show you all their gluten-free products in one place for easier shopping.
Things to Consider When Buying Fresh Milk Online

Just when we thought the days of the milkman were gone, some companies have decided to go full circle and offer home delivery once again. There are many benefits when you buy fresh milk online, and regular delivery means you don't even have to think about it. But, there are some things you should consider before you sign yourself up because not all services are the same.
Delivery Schedule
Each company handles delivery differently so make sure you see how each one does it before deciding if it's right for you. If you live very local to a particular farm, they may offer personal home delivery which can be fast and flexible. If you're ordering from farther away, you must take shipping into consideration.
It's also important to note which days they deliver on as some companies limit home deliveries to certain days of the week. If you think you may ever need an emergency resupply or if you want to place an extra order, some places will be more accommodating than others.
Bottle Service
Next, find out what, if anything, they do with your empty bottles. More and more companies are delivering milk in glass bottles again as there are many benefits to this. But, this means you're always left with a lot of bottles.
It may be up to you to dispose of them, but some places offer to take the empty ones back when they deliver your next batch, provided they're rinsed out first. Not only is this convenient for you, but it's more sustainable and economical. Either the company will recycle them properly every time, or sanitize and reuse the bottles which saves everyone money.
Variety and Quality
Milk may seem straightforward, but it's really not. Firstly, there are so many ways you can get it – skim, whole, raw, etc. It can also be very healthy or it can be over-processed and filled with artificial ingredients that are no good for you.
Even when ordering from a local farm or a trusted service, do some due diligence on the company and make sure what you're getting is truly fresh and high quality. Also, consider the variety they have. Can you get the milk any way you want it, or do they only offer it one way?
It's also worth looking at their other products like butter, cheese, and cream. If their milk is good, these things will likely be of good quality and freshness as well and it's nice to get it all in one place.