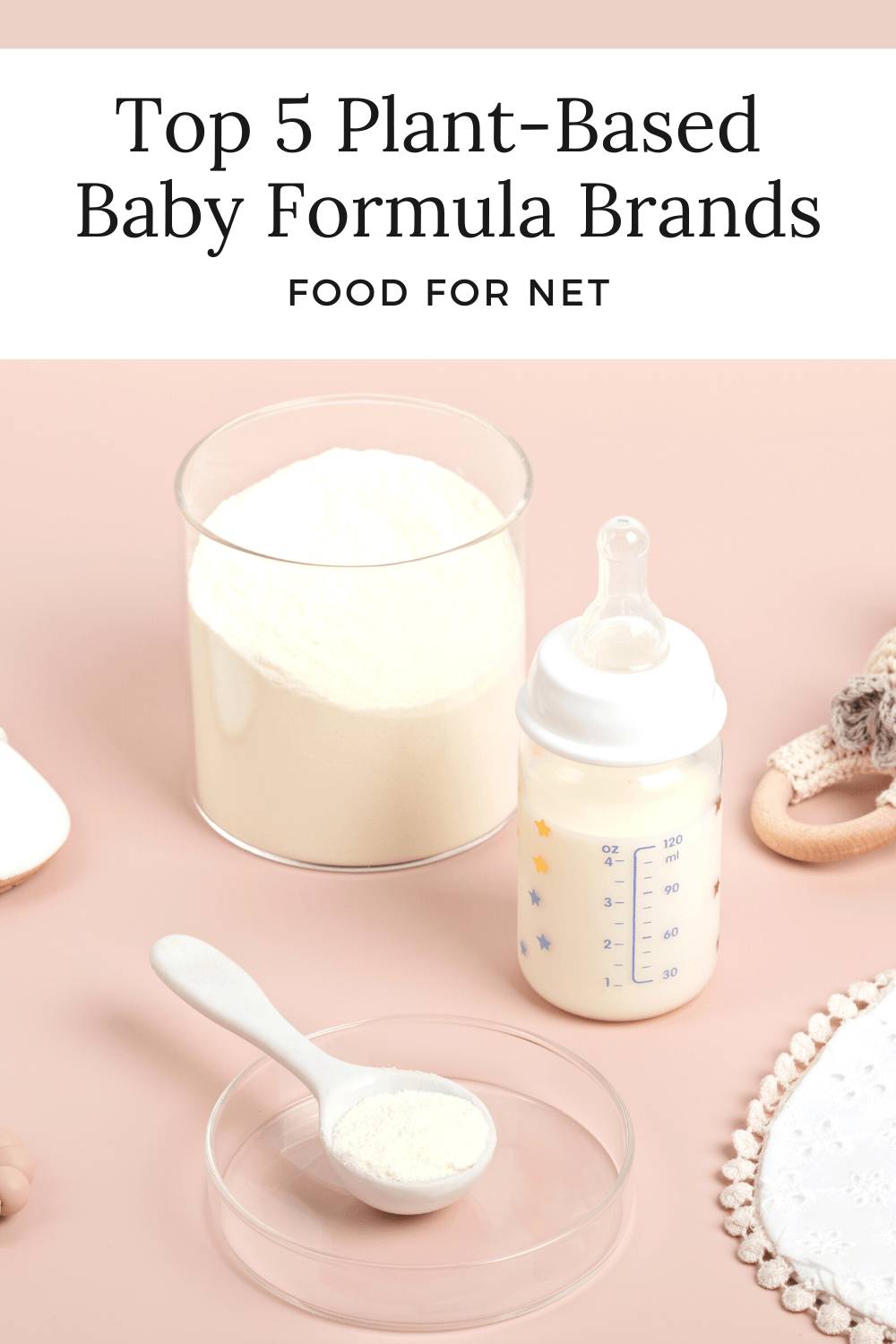 Baby formula is an essential part of the lives of many parents and babies. Whether you're planning on breastfeeding exclusively or know you'll use lots of formula, it's always good to have a backup plan. Things don't always go as planned and you need to ensure your baby always has food.
Whether you're using formula every day or once in a while, you must use a quality product so that your baby not only gets the proper nutrition but is only ingesting safe things. Unfortunately, not all baby formula is made the same – some are cheaply made with all kinds of fillers and artificial ingredients. If you're looking for the healthiest option, you may consider using plant-based baby formula.
Even if you don't exclusively follow a vegan diet, vegan baby formula is natural, safe, healthy, and it's often more eco-friendly, too. These formulas are made with wholesome, quality ingredients that provide nutrients and energy for your baby and leave them feeling full and satisfied. Your baby's health and nutrition are not things you want to mess around with. The following brands are doing it right. They've created simple, clean, and fully vegan baby formulas that your baby will love and you can feel good about.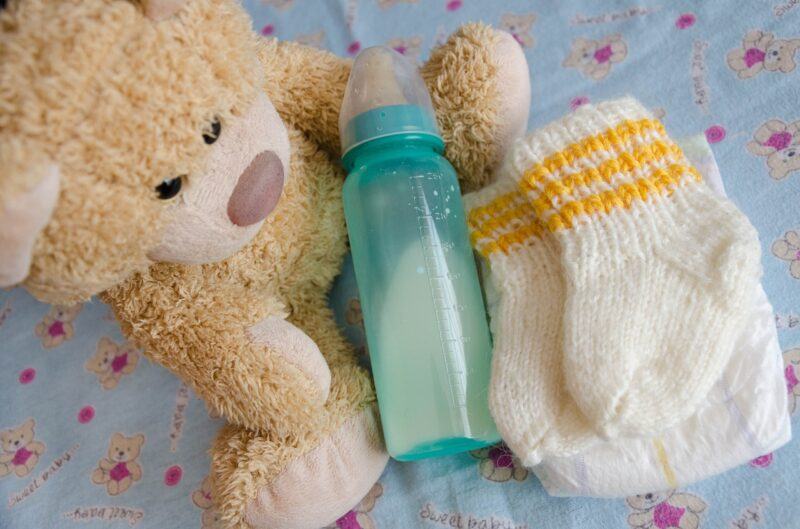 The Best Plant-Based Baby Formula Brands
1. Else Nutrition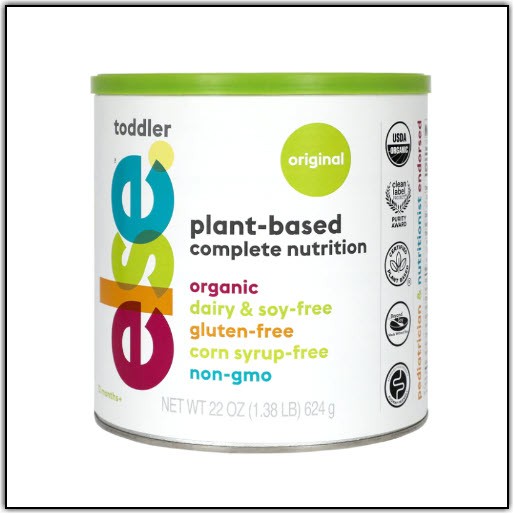 Else Nutrition provides one of the cleanest, most wholesome dairy-free formulas out there. It's made with whole plants and is designed to help and support the growth and development of young kids. The three main ingredients are almonds, tapioca, and buckwheat – all things that are found in nature and are packed with protein, vitamins, minerals, healthy fats, and more.
In addition to all the good that's in there, they've also left out all dairy, soy, gluten, palm oil, corn syrup, and GMOs. They promise all of the good and none of the bad.
Their formula is focused on toddlers who are transitioning out of the baby stage and starting to grow. Beyond that, they also have plant-powered complete nutrition shakes meant for even older kids. These are for young kids who are eating a proper, solid diet. It supplements their nutrition with healthy, wholesome ingredients that provide a good balance of protein, healthy fats, healthy carbs, and plenty of vitamins and minerals. The shakes also taste great with vanilla, chocolate, banana, and mango as flavor options.
2. Earth's Best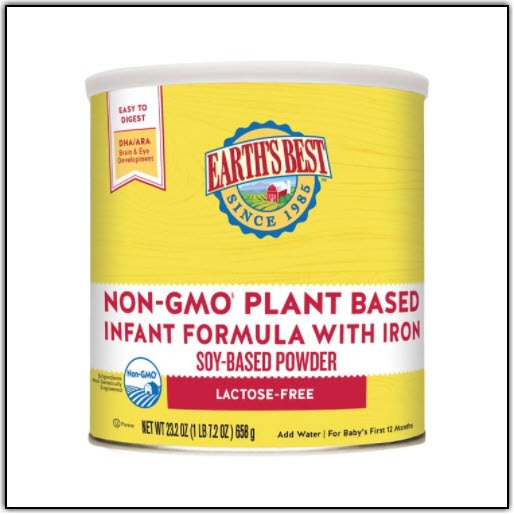 Earth's Best is a plant-based, non-GMO formula designed for infants. It's made with high-quality ingredients that provide the perfect balance of protein, vitamins, minerals, and carbs. It also contains omega-3 DHA and omega-6 ARA which are special essential fatty acids found in breast milk. They support a baby's brain and eye development specifically.
This makes this formula particularly good for those who can't have breast milk for whatever reason – whether your baby has congenital lactase deficiency or for any other issue. It's gentle, easy to digest, and meets all FDA requirements for infant nutrition.
If you like Earth's Best's commitment to health, safety, and quality, you can get plenty of other things for your baby through them as well. They've got a great selection of diapers, wipes, toothpaste, and healthy foods for toddlers.
3. Nestle Good Start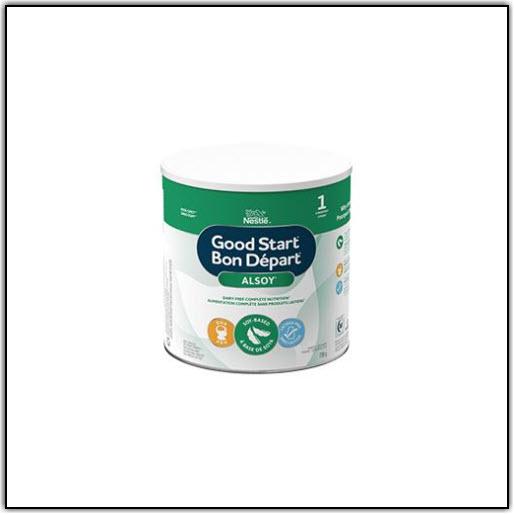 Nestle is a brand many have come to know, love, and trust. They have products for those of all ages and from all walks of life, including babies! Their Good Start baby formula is the perfect solution for families and babies who are avoiding lactose and dairy products for any reason.
It's a soy-based formula meant for babies 0-12 months and is very gentle and easy to digest. It also contains an expert-recommended amount of DHA, a nutrient found in breast milk that greatly contributes to the health and development of young babies. The non-GMO formula is also kosher and halal certified, allowing for use by a diverse group.
Nestle has a few other products in this "Good Start" line that aim to help you feed and nourish your children to the best of your ability despite the circumstances. This includes several different, more specific types of formula such as one meant to soothe, an organic option, and more.
4. Nature's One Pea Protein Formula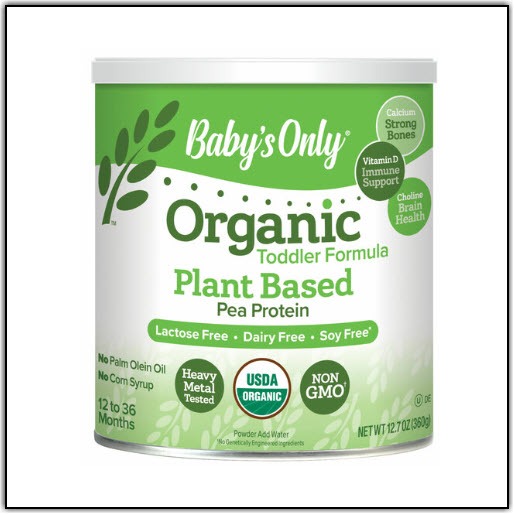 Nature's One Pea Protein Formula provides a plant-based and perfectly-balanced option for your baby while avoiding all dairy or other animal by-products. It's fully plant-based as well as non-GMO, organic, and kosher. It also focuses on providing adequate calcium and vitamin D for bone strength and immune support – something that is often missing when you forego dairy. The best part is that you can get these things without the issues and potential side effects that also come with dairy.
This formula also includes organic choline and lutein to support eye and brain health as your baby continues to grow and develop. It's also the only pea-protein formula on the market. Pea protein is one of the healthiest and cleanest forms of protein and is popular among those who prefer a plant-based diet.
Nature's One has a large collection of products for babies, toddlers, kids, and even moms with their prenatal nutritional shake. You can count on them to provide quality nutrition for your kids at every stage of their development.
5. Sprout Organic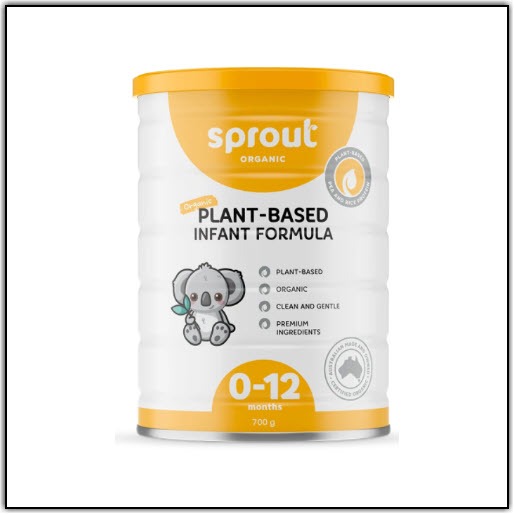 Sprout Organic is a plant-based and organic option for those that need or want a high-quality and nutritious formula for their 0 to12-month-old baby. Sprout Organic is made with whole, organic plants that provide a natural and healthy source of antioxidants and protein.
In addition to being incredibly clean and nutritious, they've created a very gentle formula that's easy on your baby's small and sensitive stomach. They use ingredients like rice starch, organic oils, pea protein, and plenty of vitamins and minerals.
Just as premium and clean as their infant formula is their toddler drink. Made with the same commitment to quality and healthy, wholesome ingredients, this drink is the perfect next step once your baby reaches a year old. In addition to plenty of vitamins, minerals, and protein, this formula also contains probiotics to help with gut health. It's also made with a delicious chocolate flavor, making it easier than ever to convince even the pickiest eaters to have it.
The Pros and Cons of Formula Feeding
We all know that parenting is a huge commitment, a long journey, and a huge, constant string of decisions. It's important for everyone to remember that no two situations are alike, no two circumstances are the same, and there's no shame in making decisions that are best for your family and your situation.
That said, you should always be making informed decisions. One of the biggest decisions some parents make is whether to breastfeed, formula feed, or some kind of mix. There are many great formula brands listed here, coming from companies that work hard to provide quality, balanced, healthy nutrition for your child.
That's not to say formula feeding doesn't come with some drawbacks. If you're considering using formula in your baby's diet, familiarize yourself with the pros and cons first. The following list is not necessarily exhaustive but it'll give you a good idea:
Pros:
You can control your supply. You can buy as much as you need and won't have to worry about running out.
You can share the responsibility. If your baby is drinking formula, anyone can feed them! It's not only up to mom every time, partners and other friends or family can all take a turn.
No need to monitor your diet for the sake of the baby. Breastfeeding mothers must watch what they eat carefully because their diet impacts their milk.
You maintain full use and control of your body. Breastfeeding requires physical sacrifices and much discomfort that can be very hard on the body.
Less of a time commitment. Breastfeeding is time-consuming and frequent. Babies fed formula don't usually need to eat as often.
You know exactly how much your baby is taking in. Breastfeeding can make it difficult to know how much your baby is getting each session. With formula, you know exactly how much they're getting at all times.
No matter what, your baby is nourished. At the end of the day, as long as you're using a quality, balanced product, your baby is fed and nourished. That's what's most important.
Cons:
It's expensive and isn't something everyone can afford! Formula costs money whereas breastfeeding is free, which is a big deal considering how much money it costs to care for your baby in general.
Your baby may miss out on certain health benefits. There are certain health benefits and nutrients that come with breastfeeding that you just can't replicate in formula, no matter how hard you try.
More cleaning and doing dishes. Although using formula requires less actual feeding time, you will be doing more cleaning and creating more dishes!
Formula can be harder to digest. Formula is often a bit tougher to digest than breast milk. This isn't always a bad thing, but there is a chance of discomfort and/or extra gas in more sensitive tummies.