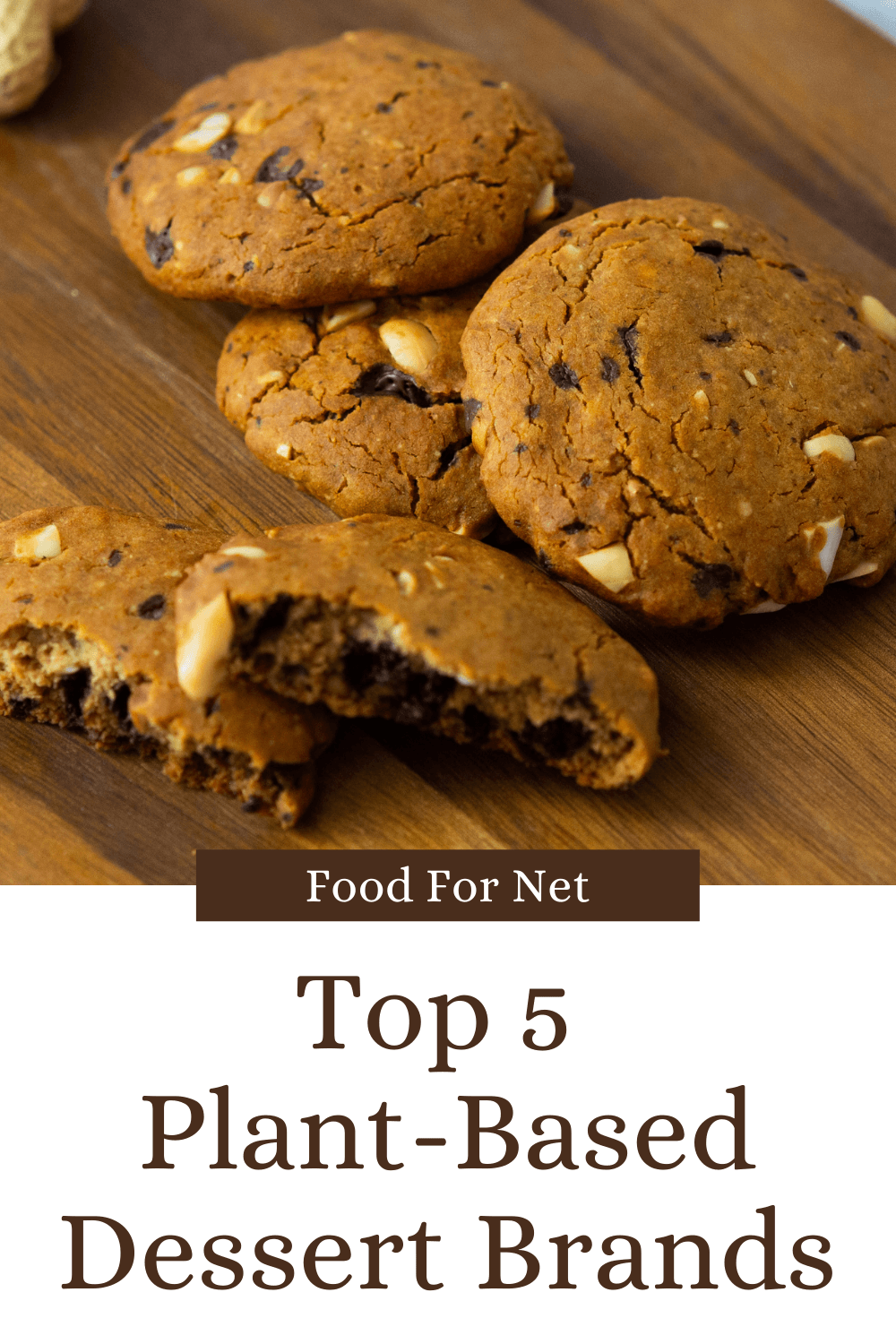 Dessert is such a broad term – for some, it's a simple scoop of ice cream while for others it's a decadent piece of cheesecake or a soft, warm, cinnamon bun – to name just a few things. Or, perhaps you don't have a favorite dessert and you like to mix it up every day. 
Desserts are versatile in that they can be sweet and full of sugar, or they can actually be healthy and wholesome if you want! With a few tricks and the right ingredients, healthy desserts are plentiful out there. What if you want to take it a step further, though, and enjoy healthy plant-based dessert? Contrary to what you may think, this is rather easy to achieve as well. 
There are plenty of vegan dessert recipes out there that will delight the tastebuds as much as anything else, but sometimes you just don't have the time or energy to make your own! That's okay, too, as there are plenty of pre-made plant-based desserts out there for you to enjoy guilt-free!
From dairy-free and vegan ice cream to baked goods and other yummy treats, don't underestimate the power of plants to give you something healthy and delicious to finish off your meal. Why not add a few of these treats to a dessert charcuterie board?
The Best Plant-Based Dessert Brands
1. Sweets Earth Cashew Cookies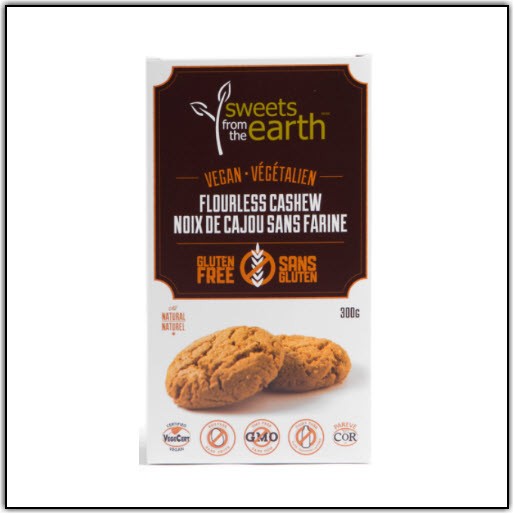 Sweets Earth Cashew Cookies are sweet and soft with a delicious melt-in-your-mouth texture that just can't be beaten. The cookies are dairy-free, gluten-free, non-GMO, vegan, and have no cholesterol or refined sugar. They're also certified kosher. What all this means is that you can enjoy these delectable cookies on just about any diet. 
Cashew butter is the main ingredient, made from cashews and sunflower oil. They also contain organic cane juice, organic tofu, baking soda, and sea salt. That's it – super simple! Each cookie offers two grams of protein, 100 calories, and very low fat and sodium. They're the perfect midday treat or after-dinner dessert when you want to satisfy that sweet tooth without pumping your body full of sugar and other artificial ingredients. 
Sweet Earth is a family-run company that's passionate about the plant-based lifestyle and they want to make it as easy as possible for you. They do this with their entire collection of original products all made 100 percent vegan, plant-based, kosher, and wholesome. They also have a whole line of products that are nut-free if this is something you need or want. 
2. Made Good Vanilla Crispy Squares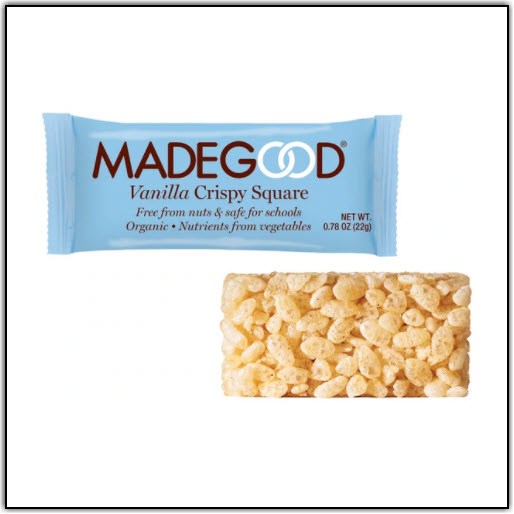 Made Good Vanilla Crispy Squares are a much healthier version of the classic Rice Krispie treat that everyone has come to know and love. It's a favorite among kids and adults alike, everyone falls in love with sweet, simple flavors and the decadent, gooey textures. But, the regular ones, while pretty minimal on the ingredients, are still full of sugar and are certainly not vegan. 
These ones are not only vegan and entirely plant-based but they're organic and gluten-free. They're made with more wholesome ingredients like organic crisp rice, organic cane sugar, organic vanilla flavor, tapioca flour, and a variety of vegetable extracts including spinach, broccoli, beets, and more. 
Not only are these things far less harmful than the original version, they actually offer some nutritional value. Each crispy square has one gram of protein as well as nutrients like vitamin D, A, E, B, and C, potassium, and thiamin. They're also very low in fat and contain no cholesterol whatsoever. 
3. Daiya Salted Caramel Plant-Based Frozen Dessert Bar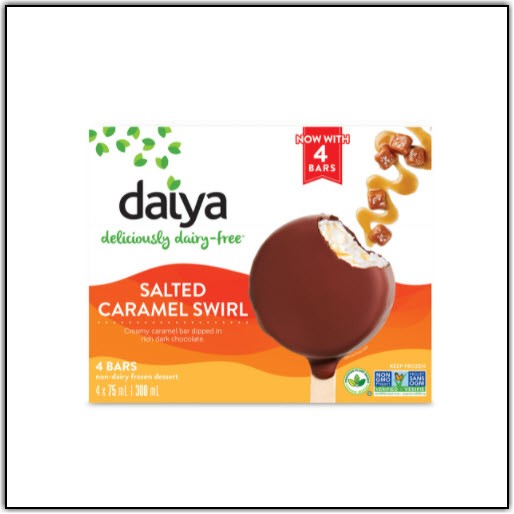 The Daiya Salted Caramel Frozen Dessert Bar is the perfect solution for those that like to kick their treat cravings with some ice cream. Although these bars aren't actually ice cream, their plant-based goodness sure does a great job at replicating both the taste and texture for you in a much healthier way. 
Their "ice cream" is made from water, coconut cream, cane sugar, tapioca syrup, and a plant-based caramel swirl. Other ingredients include coconut oil, faba bean protein, vegan natural flavors, and the plant-based chocolate coating which is made from dark chocolate, cane sugar, cocoa butter, and vanilla extract. It contains absolutely no dairy, soy, gluten, eggs, or peanuts. 
The salted caramel swirl is a popular choice but it's not their only one, they also have a classic vanilla bean option and a chocolate fudge crunch. The caramel swirl bar contains about 180 calories which is pretty good for a dessert, and it offers a small amount of potassium, calcium, iron, and fiber. 
4. Sweet Lorens Plant-Based Cookie Dough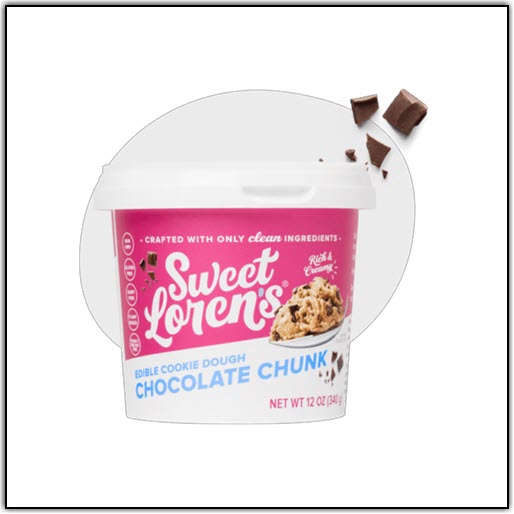 Everyone has heard the old, tired warning about eating raw cookie dough and how it can, potentially, be harmful. Very few people actually heed the warning, though, and eat it anyway because it's just so good. With Sweet Lorens Plant-Based Cooke Dough, though, you can indulge in the forbidden treat as much as you want, guilt-free! 
Sweet Lorens have created a delicious treat that mimics the texture and flavor of real cookie dough using healthy, wholesome, plant-based ingredients. This means you get the experience you want without any of the risks, and no detriment to your health or diet. The ingredients include oat flour, cane sugar, filtered water, sunflower oil, sea salt, natural vanilla flavor, plant-based chocolate chunks, and a few more. 
5. Enjoy Life Double Chocolate Brownie Cookies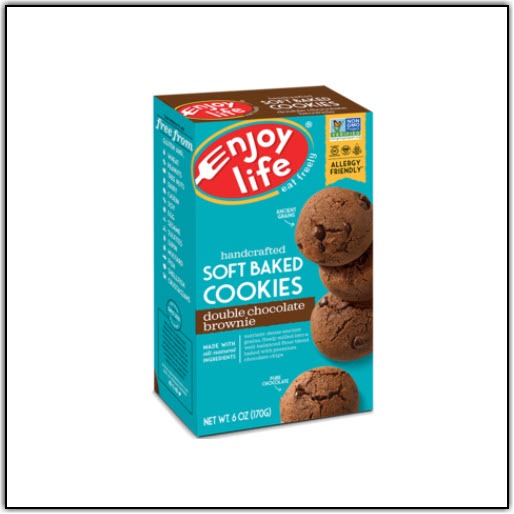 Enjoy the best of both worlds with Enjoy Life's Double Chocolate Brownie Cookies! With the best qualities of both desserts rolled into one, you'll hardly be able to stop yourself from eating the whole box of these plant-based delights. 
With ingredients like buckwheat flour, date paste, fruit juices, and sorghum, these sweet treats may be just as healthy as your meal! This means you can indulge guilt-free while even doing your body some good. Each cookie/brownie contains 70 calories, no cholesterol, one gram of fiber, and even a little potassium while being low in fat and sodium. 
They're also free from all tree nuts, peanuts, wheat, and soy, which is good news for those with any associated allergies. They're also gluten-free which is good for everyone. If this form of treat isn't for you, they've also got a variety of others to choose from such as chewy bars, chocolate bars, and other yummy snacks and treats. 
Vegan Dessert Recipes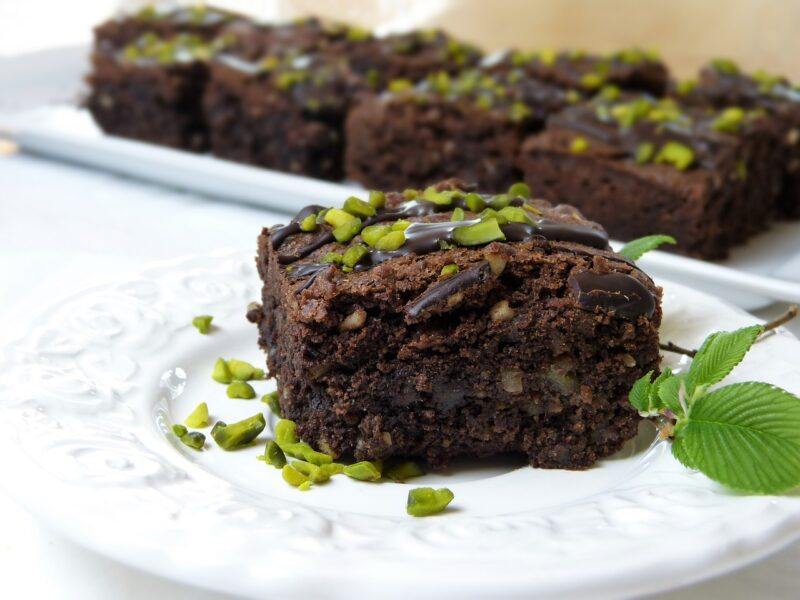 The world of vegan desserts is vast, especially when you consider store-bought and ones you can make yourself. From diving into the complications of homemade ice cream to making vegan baked goods, it can be hard to know where to start! Everyone has different preferences, of course, but here are a couple of easy, fairly universal recipes to get you started: 
Peanut Butter Chocolate Chip Cookie Bars
Peanut butter and chocolate chips are widely enjoyed by many, but if they aren't your thing, after all, it's easy enough to omit either from this simple vegan recipe! The ingredients include basic, wholesome, easy to come by things like melted coconut oil, maple syrup, almond flour, vanilla extract, and of course peanut butter and chocolate chips. 
The best part about this recipe is the easy process – it doesn't even require baking! The bars just need 30 minutes minimum in the freezer, or leave them in the fridge overnight. Either way, the ingredients are easy and the effort is minimal. You can also customize the bars a little by using different nut butter. Almond or cashew butter would also make delicious bars, and almonds have lots of protein if you're looking for a protein boost! '
Banana Cream Pie 
This yummy, fluffy pie recipe is perfect for when you want to go a step further than a simple bar or cookie, but still don't want to overcomplicate things. This pie actually has fewer ingredients than some bars and cookies, coming in at only ten, most of which you probably already have in your home. 
In addition to bananas, you'll need rolled oats, almonds, coconut sugar, sea salt, coconut cream, and just a few others. These minimal ingredients work together, some doing double duty, to create four parts: the crust, the filling, the coconut whip, and the topping. 
This one does require some baking time, but the methods overall are pretty easy to follow and the desired results aren't difficult to achieve. As long as you follow the steps in the correct order, you'll have a light, fluffy, perfectly textured pie in no time. 
Lastly, while the pie does contain sugary ingredients as well as some straight-up sugar, it's pretty healthy as desserts go, in addition to being vegan. It has about 369 calories per serving, along with five grams of protein and four grams of fiber. It has no cholesterol, and of course, you get the nutrition that comes with bananas and almonds!