Tacos are a common family favorite and a staple at parties everywhere. They're present at many restaurants from cheap fast food spots to higher-end restaurants offering more expensive options like fancy fish tacos. Because the filling can be just about anything, there's a taco for just about anyone!
One major barrier, though, is that the main ingredient is often meat! Vegetarian/meatless tacos certainly exist and are easy to make, but there's that classic element missing. Some people don't mind this but many prefer the authentic experience. Although it may take a little extra effort and/or searching, plant-based taco meat, when done well, is the perfect vegan alternative! There are several brands listed here that are delicious, healthy, and good quality, but there are plenty of ways to make taco "meat" at home, too.
Lentils and beans can make an interesting substitute, and quinoa taco meat is an easy-to-make at-home alternative that mimics the texture quite well. Making it at home also means you have full control over what goes in the recipe, allowing you to make the healthiest possible version. It also means you can season it however you'd like and create the perfect, most personalized experience with your desired flavors.
The Best Plant-Based Taco Brands
1. Very Good Taco Stuffer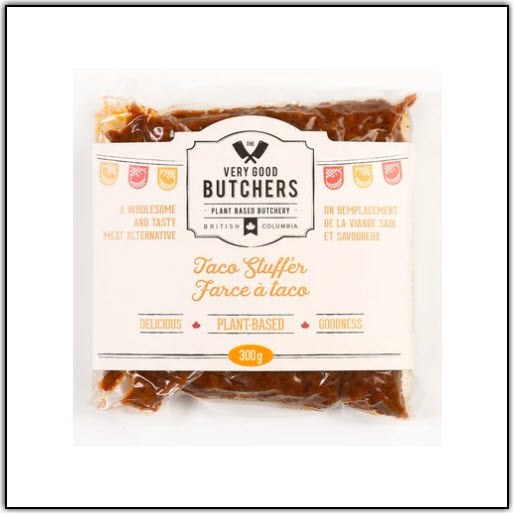 The Very Good Butchers is a vegan, plant-based meat replacement company who only butchers beans, as they say. They're dedicated to creating healthy, wholesome, and good quality meat replacements for all your favorite, classic meals.
Hamburgers, sausages, chicken they've got it all, even meat just for tacos! They've worked hard to replicate not only the taste but the perfect texture of taco meat. They've achieved a product that does exactly that and more. It's tasty, perfectly crumbly, and won't fall apart as you cook.
They've also done well to season it perfectly, achieving the most amazing, classic combination of spices to give you a lovely taste of Mexico and 19 grams of protein per serving.
Ingredients include water, barley, navy beans, sunflower oil, tomato paste, natural flavor, salt, herbs, and spices. The meats are "butchered" and packed to order and shipped with ice packs to keep them fresh. Once they arrive, you don't have to use the 'meat' all at once – it'll keep in the fridge for up to four weeks and even longer in the freezer without compromising quality or texture.
2. Rollin Greens Taco Meat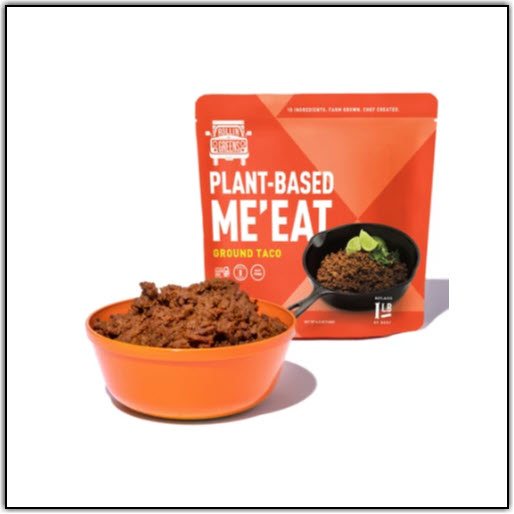 Rollin Greens Taco Meat is a superb replacement for traditional taco meat in terms of both taste and texture. They pride themselves on creating a product that is both tasty and good for both you and the planet.
The taco meat replacement is made entirely from beans and vegetables and is not only free from actual meat but it's from allergens like gluten, grain, and soy. It's even easy to prepare, always ready in just minutes, with 60 powerful grams of protein per package and 15 per recommended serving.
It's so well-seasoned and carefully crafted by expert chefs that you won't even be able to tell the difference – in fact, you might like it better than the "real thing." If you want to make your plant-based taco night into a full-fledged party they also offer things like tater tots and wings, also with amazing flavors and textures and plenty of protein to go around!
3. Plant Boss Organic Taco Meat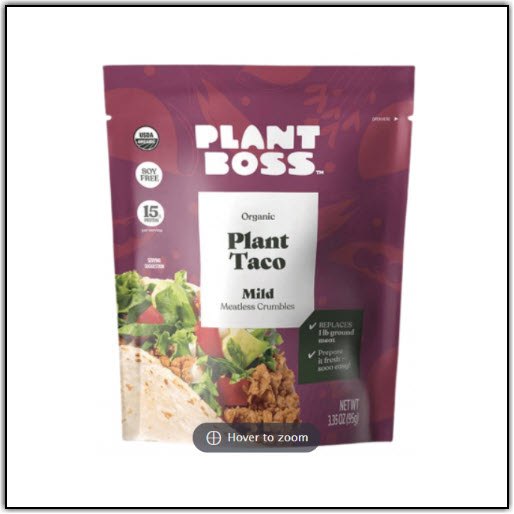 Plant Boss Organic Taco Meat perfectly achieves the taste and crumbly texture you're after, using only wholesome, vegan ingredients. They also save you time as you prep your delicious plant-based tacos, taking only a few minutes to prepare and season so you can focus on getting everything else done perfectly.
Their taco meat is also soy-free, gluten-free, non-GMO, and keto-friendly, making it accessible to many. It's perfect for tacos as well as taco salads, enchiladas, and so much more. Ingredients include things like pea protein, chili pepper, paprika, cumin – and it's all organic.
In terms of flavor and seasoning, they have a mild, classic taco flavor but you can also get an "all-purpose" flavor, unseasoned, and southwest.
4. Planet Based Taco Crumbles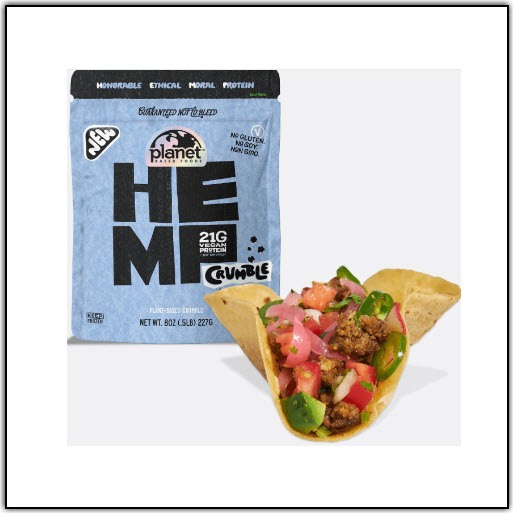 Planet Based Taco Crumbles come from a company that cares as much about the planet and the environment as they do about the health and enjoyment of their customers. Their original flavor of taco meat is nice and lightly seasoned with garlic, smoked paprika, and onion. This creates a classic but mild flavor that is highly versatile and enjoyed by most.
In addition to an impressive 21 grams of protein per serving, it's also got plenty of omegas, lots of fiber, and absolutely no gluten, soy, or GMOs.
If you like their quality, their flavor, and most importantly, their commitment to the planet, then you can get several other meat replacements for other purposes as well. Most prominent are their many flavors of burger and sausage patties. They've even got some sausages that are made to be right at home on a nice plant-based pizza!
5. Urban Accents Plant-Based Street Taco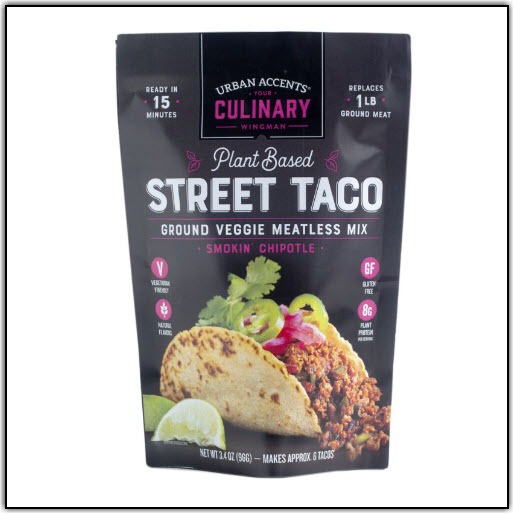 Urban Accents Plant-Based Street Taco meat is meant to replicate the classic, hearty flavor of the street meat that tastes so good, but is not so good for you. They do it in a much healthier and wonderful plant-based way. They create the classic flavors using natural ingredients like real peppers, garlic, ground vegetables, and spices. They want the meat to be good enough for tacos but also other fun things like burritos or salads.
Their taco meat offers eight grams of protein per serving which is on the low side, it's also low on calories at only 50. This is great for many meal plans and diet plans where you need to keep track of calories, or if you're just doing it to be careful or know what you're taking in.
If you're looking to mix it up, the web page has a fun recipe for a seven-layer taco-inspired dip. They also offer plenty of other products from sauces to treats, all so you can stock your plant-based shelves and cupboards with healthy goodness.
Plant-Based Taco Seasonings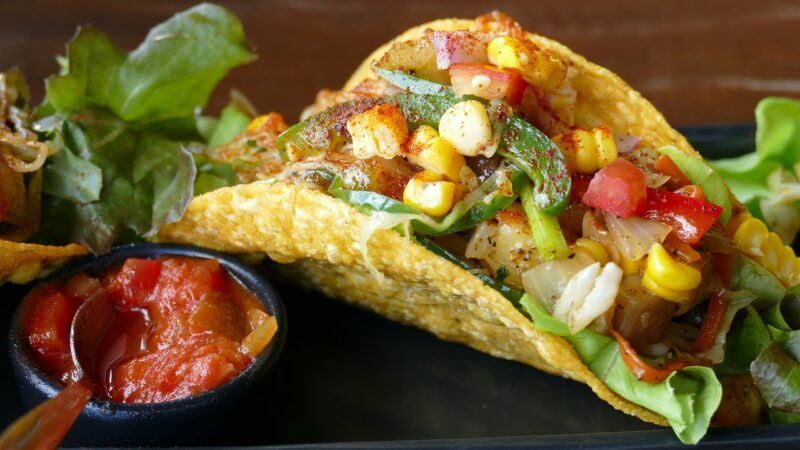 Some plant-based taco meat comes pre-flavored or seasoned, some doesn't. When it doesn't, you have to figure something out on your own! The same goes for any homemade vegan taco meat you come up with yourself. There are plenty of seasonings out there to buy, but many contain artificial preservatives and not all are guaranteed vegan.
While making your seasoning at home requires more effort, it often yields the best and most delicious results. You can also mix and match spices to create whatever flavor combinations you want! It can be fun to experiment with these things, but if you're struggling to get started, check out these recipes for a place to begin:
Mexican Inspired
This recipe is a fantastic place to start as it brings together several common spices in the right amounts to create a classic, Mexican-inspired seasoning. They don't just tell you which spices to use, however, they also offer some advice and guidance on creating personalized variations. While it may seem easy enough to throw a bunch of spices together and call it a day, there is some consideration necessary for proportions as well as spices that complement each other versus ones that don't.
They also offer information here on making the spices in bulk and how to store them long-term. It offers proportions for several different amounts – up to quadruple the original recipe.
Mild Seasoning
While the classic taco experience tends to include a little spice, this isn't for everyone. Some don't prefer it; others can't physically handle it. So, it can be a little frustrating when everything is just spicy all the time. This mild taco recipe is the perfect solution – it's easy to make at home and it won't be setting anyone's mouth on fire.
The recipe itself includes meat as it's a full start-to-finish taco recipe. You can ignore this and simply focus on the seasoning combination or use your favorite plant-based taco meat as a substitute. The recipe includes a single dash of chili powder, which effectively gives it the mild taste you're after. If you want absolutely no spice whatsoever, simply omit the chili powder and you're good to go!
Quinoa Taco Meat
If you want to go completely DIY for your taco night, try this quinoa taco meat. It's super easy, super healthy, and tastes pretty close to the "real thing" while containing no meat at all. It's also nice and flavorful even on its own, making it a delicious way to enhance your seasonings, or you can use it plain to appease an extremely picky eater.
Other than quinoa all you need is vegetable broth and water. Vegetable broth is an easy way to infuse flavor into the quinoa even before seasoning, but it's not necessary.