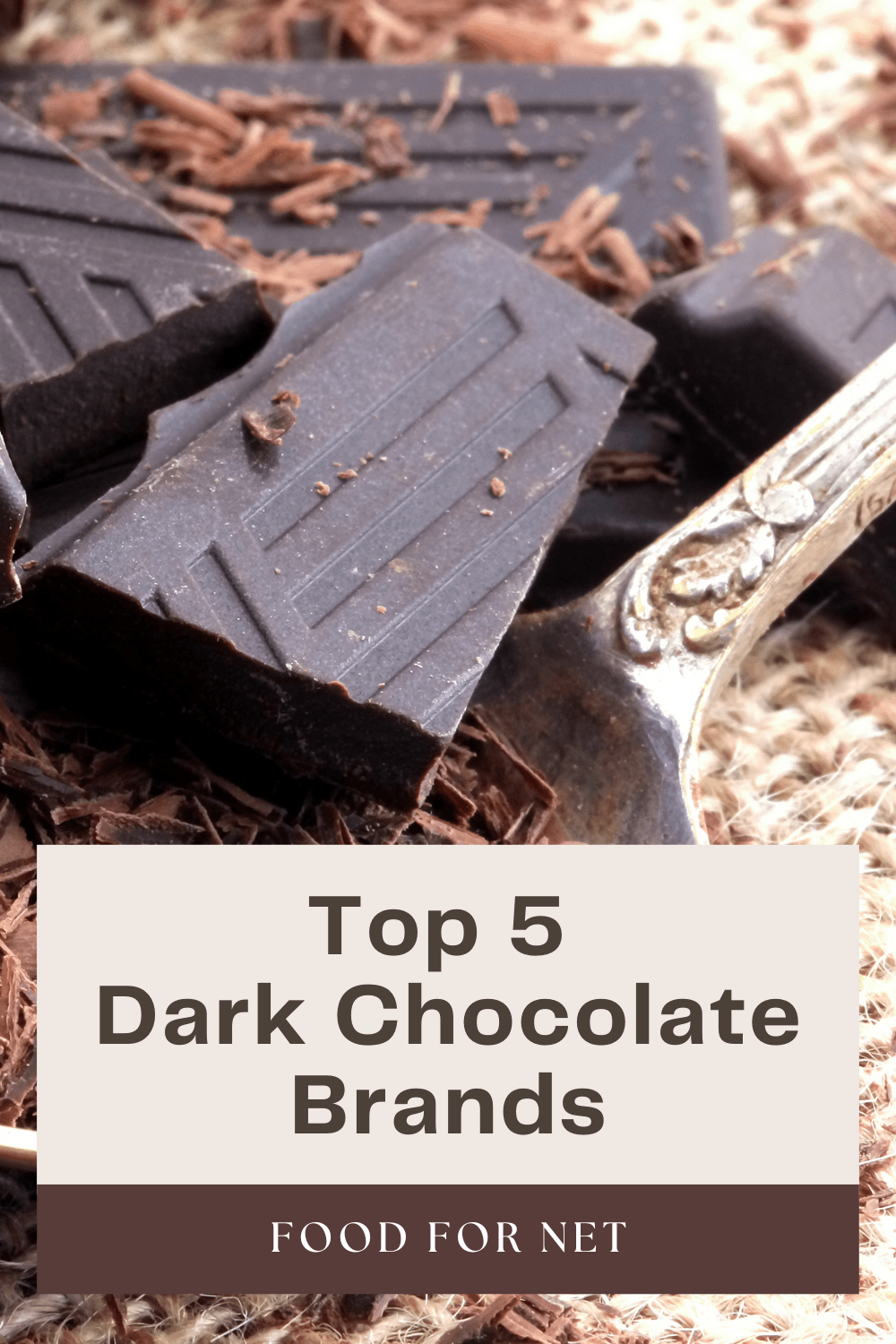 Chocolate is among the most popular sweet and sugary treats. Creamy, decadent, and oh, so delicious, it can be hard to resist! Whether you love plain milk chocolate or prefer it stuffed with nuts or candy, there's a chocolate product for just about everyone. The best dark chocolate brands know their customers and make the best product for their niche audience.
The problem of most chocolate the heavy processing it goes through and the high sugar content. Despite cocoa's origins as an antioxidant-rich plant, the processing and extra ingredients render most chocolate quite unhealthy.
Although it may not be as sugar-sweet, a good compromise for chocoholics with an uncontrollable sweet tooth is some good dark chocolate! The best dark chocolate brands source their chocolate from quality farms and unlike most candy companies, they leave more of the nutrients behind. While traditional milk chocolate should be reserved for treats and special occasions, true dark chocolate is not only tasty but comes with real health benefits!
Some studies even suggest that having a small amount of dark chocolate every day is a healthy habit to get into. There are different levels of dark chocolate, some much more bitter than others. Many people enjoy the bitter taste, while some prefer it to stay a little sweeter. Even if you need it a little sweeter to enjoy, dark chocolate in any capacity is generally still healthier than milk chocolate, especially if you get it from a good brand.
The Best Dark Chocolate Brands
1. Ghirardelli

Ghirardelli has a huge selection of chocolate, including plain chocolate, specialty chocolate bars, and even fun assorted gift ideas – like teddy bears and chocolate rabbits. Their selection of dark chocolate is just as impressive as their traditional milk chocolate.
Their plain, intense dark chocolate ranges from 60-86 percent cacao and you can get them in singles or buy the bars by the case on the website! They also have additional flavors to choose from, like chocolate that includes raspberries, cherries, hazelnuts, and more. The basic 60 percent cacao dark chocolate has 130 calories per serving – which is two squares. Each serving also has nine grams of fat, nine grams of sugar, 14 grams of carbs, and two grams of fiber. There is also one gram of protein.
They also have a sea salt collection, where your dark chocolate comes with sea salt for a unique and dynamic flavor experience. On the surface, this can seem counterintuitive, but many enjoy the combination of sweet and salty in the same bite!
The sea salt dark chocolate is 60 percent cacao. If you do choose to order chocolate from their website, they ensure that each order is shipped with cool packs to ensure maximum freshness even in the warmer summer months.
2. Chocolove

Chocolove has a simple mission – to create chocolate that tastes amazing and makes everyone involved as happy as possible. They've achieved their goal tenfold with their amazing selection of chocolate products and their consistently good quality.
They're located at the base of the Rocky Mountains, where the cold and dry mountain air helps them create only the best, most luxurious chocolate that tastes amazing and is affordable. They're as focused on sustainability as they are on quality, too. Their sourcing can be traced directly back to the farmer, where they use only non-GMO ingredients. You can also browse their selection by several lifestyle choices, such as keto, vegan, gluten-free, and no sugar added.
(If you are eating dark chocolate to support your keto diet, then you may want to also try some keto white chocolate for variety.)
Their selection of dark chocolate specifically has much to offer, with sea salt and almonds being popular additives. They also have fun flavors like caramel, peppermint, toffee, and more. The popular almonds and sea salt flavor have 150 calories per serving with 11 grams of fat, three grams of fiber, 11 grams of sugar, and two grams of protein.
3. Alter Eco

Alter Eco not only has amazing, top-quality chocolate but they are committed to the environment, making them the cleanest, greenest chocolate – their words! The chocolate is organic and the farmers they partner with work to regenerate the ecosystems and help reverse climate change. They empower their farmers to be the best they can be, which creates the best possible results in the chocolate.
Their classic dark chocolate is creamy, smooth, and perhaps some of the best tasting you've ever had. They have plenty of options to choose from, which vary in flavor and percentage. Some of the bars even go up to 100 percent cacao, which isn't as common as the 60-80 range. These aren't for everyone as the flavor will be pretty intense, but it's a nice treat for those that like it that high.
Their bestseller is the super blackout, which is 90 percent cacao. This bar has won awards in the past for how good it is. It's also gluten-free, soy-free, vegan, keto-friendly, fair-trade, contains no artificial sweeteners, and is made in recyclable packaging, to boot. Each serving is 200 calories and has 18 grams of fat, eight grams of carbs, three grams of fiber, two grams of protein, and only three grams of sugar.
4. Lindt

Lindt is an undeniable leader in the world of chocolate. They are known for their creamy and decadent pieces of bite-sized round chocolate. The regular milk chocolate is absolutely delightful, but there are plenty of others to choose from. You can get caramel, white chocolate, dark chocolate, and even coconut. Each and every bite is an experience of its own.
As famous as they are for these beautiful little inventions, they have other products to offer, too. When it comes to dark chocolate, their 70 percent Madagasgar cacao is among their most popular. They use only the finest cacao with a unique roasting and grinding process. While you'll always get the classic, sharp flavor of dark chocolate, they enhance each bar with a touch of vanilla and cream to create the most perfect dark chocolate you've ever tasted.
They suggest pairing it with coffee, tea, or red wine – but of course, you can enjoy it any way you want! Each serving of this excellent chocolate has 190 calories, 15 grams of fat, 12 grams of carbs, two grams of fiber, and two grams of protein.
5. Hu Kitchen

Hu Kitchen has a fantastic collection of dark chocolates to choose from, including flavors like hazelnut butter, vanilla crunch, cashews, and more. You can get these bars individually, in packs of 12, or even in variety packs if you want to mix it up a bit. Whatever flavor you fancy the most, their commitment to quality and flavor never wavers.
The hazelnut butter flavor is one of their best sellers, and for good reason. It's 70 percent cacao with no added sugar, no dairy, no soy, no palm oil, and no emulsifiers! It's also vegan and keto-friendly, making it accessible to a wide range of customers.
Each serving of this flavor has 200 calories, with 15 grams of fat, seven grams of sugar, 14 grams of carbs, three grams of fiber, and three grams of protein. It also has an even higher iron content than a lot of dark chocolate, at a solid 10 percent of your daily recommended intake per half a bar.
Dark Chocolate Health Benefits

So, we've determined that dark chocolate is better than sugary milk chocolate – but what are the benefits exactly? Some say it's good for your heart, and it's a known source of antioxidants. There are many benefits to enjoy, but some of the most notable include:
Full of Nutrients
Dark chocolate is full of good nutrients. A 100-gram bar of 70-87% cacao offers up to 11 grams of fiber and high levels of iron, magnesium, copper, and manganese. It also has potassium, zinc, phosphorus, and even selenium to offer. Selenium is a notable inclusion because our soil is becoming more and more devoid of selenium specifically as time passes.
All of that said, 100 grams is a lot of chocolate and not an amount you should have every day. But, it's a good reference point to keep track of the nutrients you're getting.
May Improve Brain Function
Among the many benefits is better brain function! One notable study was done on this that showed improved blood flow to the brain after eating dark chocolate high in flavanol for five consecutive days. It's also been shown to lower blood pressure.
Can Reduce the Risk of Heart Disease
Heart disease is a serious condition that you want to avoid at all costs. There is much you can do to maintain the condition of your heart and avoid the disease, much of which involves making smart lifestyle choices. However, dark chocolate has been shown to protect against the oxidation of LDL.
This means that much less cholesterol will build up in your arteries and it may also reduce the risk of plaque build-up in the arteries. Clean, healthy arteries are key and dark chocolate can contribute!
Antioxidants
As previously mentioned, dark chocolate is a fantastic source of powerful antioxidants. While this is fairly common knowledge, it's worth noting just how potent they are. Antioxidant activity in food is measured by ORAC, which stands for "oxygen radical absorbance capacity."
Unprocessed cacao beans have been among the highest-scoring foods to go through this test. Antioxidants are essential to the body and help you stay in good overall health – and indulging in some dark chocolate is arguably one of the best ways to stay stocked up!