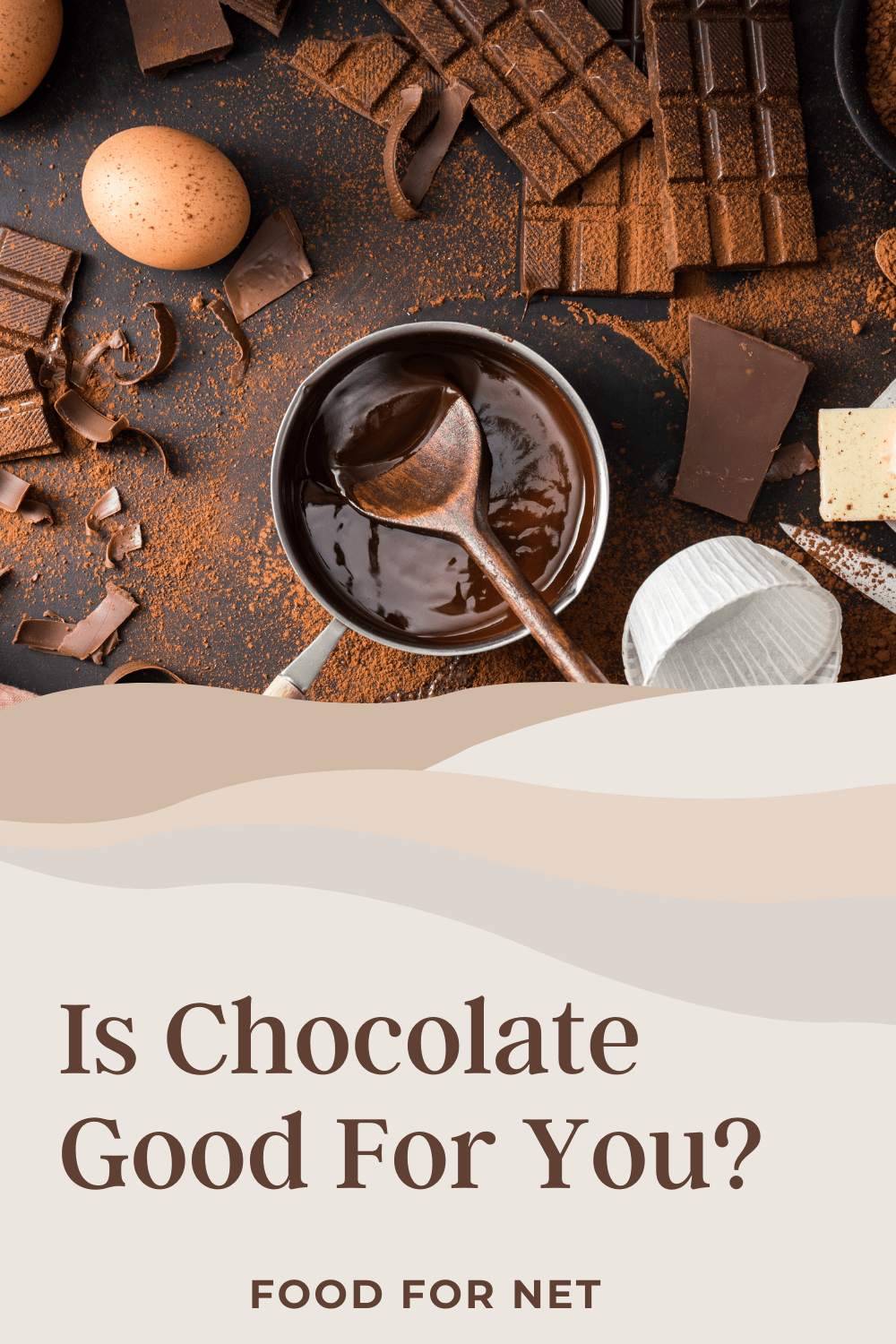 Dark chocolate has now become renowned as a superfood. There's plenty of talk about the powerful polyphenols, the way that dark chocolate might extend your life, the antioxidants, and much more. But, is dark chocolate always the star or, is chocolate good for you regardless of the type?
After all, milk chocolate contains some of the same polyphenols as dark chocolate. The concentration might be lower, but the compounds are still there.
Milk chocolate also has a long history of use as feel-good food, one that consistently helps with mood and stress. It's what many of us turn to when life feels like it's too much (which reminds me, chocolate subscription boxes are the perfect choice for all you chocolate lovers out there).
It would be wonderful if chocolate offered some health benefits too. And, in some senses, it really does. Read on to learn more about when chocolate provides benefits and what the issues are.
Is Chocolate Good For You?
Why Dark Chocolate Is So Powerful
The Benefits Of Milk Chocolate
The Problems With Milk Chocolate
Should You Eat Milk Chocolate?
What About White Chocolate?
Is Sugar-Free Chocolate Healthy?
Final Thoughts
Why Dark Chocolate Is So Powerful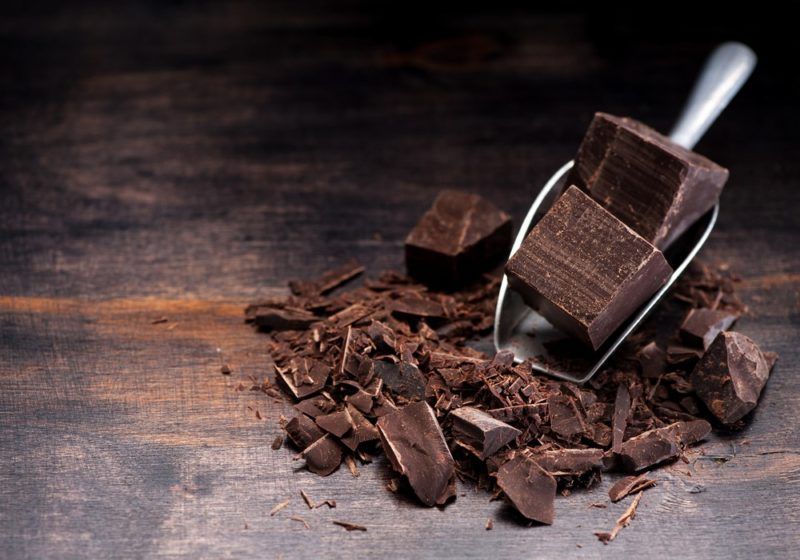 We've focused on dark chocolate in another piece, so we're only going to briefly cover it here. This type of chocolate is famous for its antioxidants, which may decrease the risk of heart disease and a variety of other health problems.
Dark chocolate may lower inflammation as well and perhaps even extend your life. That's a pretty impressive set of benefits. Plus, there's plenty of research backing up those health claims.
Dark chocolate is seen as the superior type of chocolate because it contains a decent amount of cacao and often doesn't have too much sugar. Some dark chocolate products have very little sugar indeed, especially once you get up past the 80% cocoa brands.
The catch is that dark chocolate can be intense. Most of us can't eat a lot of it in one sitting and the flavor intensity just goes up as the cocoa percentage increases.
Still, the intensity does make for excellent in-built portion control, so it isn't all bad. If you eat dark chocolate often enough, you might even start to enjoy the strong flavor.
The Benefits Of Milk Chocolate
Dark chocolate is the darling of the health world, while milk chocolate is seen as far inferior. That's not surprising, given that most chocolate benefits come from the polyphenols. Milk chocolate has a lower cocoa percentage, which means fewer polyphenols.
Plus, milk chocolate often contains more sugar – so how could it possibly be healthy?
As it turns out, milk chocolate does have a few benefits of its own.
The Calcium Content
Not surprisingly, chocolate relies on milk. This means that the chocolate ends up being a decent source of calcium. And, because milk chocolate uses more milk than the darker stuff, it's a better choice for calcium.
The benefits of calcium are well-known. The mineral plays a role in your bone strength, your heart function, your nerves, and many other areas.
There are, of course, plenty of other sources of calcium, including other dairy foods. Still, it's hard to imagine a more delicious way of getting your calcium than milk chocolate.
It May Help Your Brain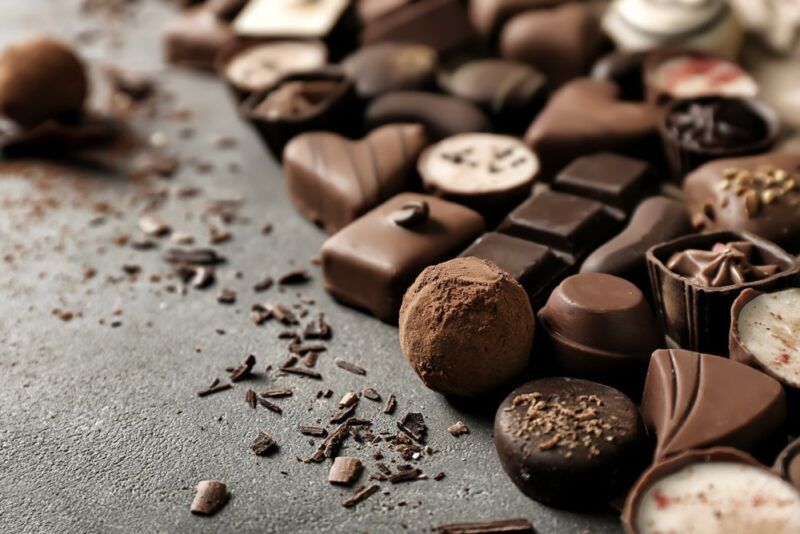 Chocolate could be relevant for your brain function too. One reason is that it can improve blood flow to the brain. The flavanols may be relevant too, even though milk chocolate isn't as flavanol rich as dark chocolate.
As you can probably guess, there isn't a ton of evidence for this effect. There haven't been many studies and most of them use a correlational design. That design means that the studies can see a relationship between chocolate consumption and cognitive improvements, but can't prove that the chocolate caused the observed effect.
Even so, the potential for benefits is there. That might be enough of a reason to keep going with your chocolate habit.
Chocolate Make Decrease Heart Disease Risk
The link between dark chocolate and decreased heart disease risk is well-known. There's much less evidence for milk chocolate. Yet, some studies do show that chocolate consumption, regardless of the type, decreases the risk of heart disease and stroke.
That study was observational, so we don't know what it was about the chocolate that helped. Even so, the research clearly shows that milk chocolate has some hidden depths.
And honestly, is this so surprising? While milk chocolate contains more milk and often more sugar than dark chocolate, it still has many of the same healthy chemicals.
It Improves Your Mood
No one will be surprised to learn that milk chocolate makes you feel better. That's part of the reason that many of us eat chocolate to begin with. There's something about the chocolate that provides a sense of comfort and even safety.
The effect partly comes from a compound called anandamide, which promotes dopamine production. And that's just one reaction. There are hundreds of different chemicals in chocolate. Some of these react with neurotransmitters in our brain, making us feel better.
We also have a cultural association between chocolate and comfort. In part then, chocolate may make us feel better because we expect it to.
Honestly though, do we need a reason? Chocolate is delicious and makes us feel good. That's all there is to it.
It Might Decrease Stress
Here's another feature that most of us already know – chocolate can make you feel less stressed. These effects are mostly linked to the polyphenols in chocolate, suggesting that dark chocolate is more powerful.
More research is needed before we can be confident that milk chocolate helps with stress too. Still, it would be shocking if milk chocolate didn't have some benefits – given that so many of us use it as a stress reliever already.
The Problems With Milk Chocolate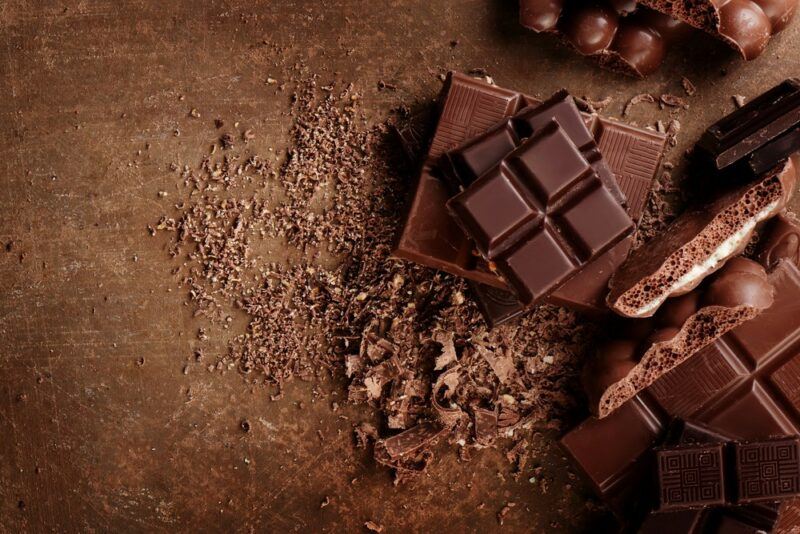 The benefits from above clearly show that milk chocolate is better than we often assume. But, don't go thinking that it's a health food just yet. There are still some pretty serious issues to watch out for.
The first is the high sugar content.
Let's not forget about the calorie content either. All types of chocolate are calorie dense. For example, a five-piece serving of Cadbury Milk Chocolate contains 140 calories. That serving also includes 17 grams of sugar and 4.5 grams of saturated fat (which is quite a lot for five small squares).
These aspects wouldn't be such a big deal if we could stop at just one or two small squares of milk chocolate. Let's be honest though, most of us can't. Chocolate has an almost addictive quality to it and it's easy to end up consuming much more than we intend to.
Milk chocolate also tends to be highly processed. It often contains various additives and flavoring ingredients, none of which are great for your health.
Should You Eat Milk Chocolate?
So, how do the benefits and problems balance out?
Well, dark chocolate is clearly the healthiest option. It offers more polyphenols and tends to be lower in sugar. If you look for a high quality brand with a high cocoa percentage, then you might not get much sugar at all.
Still, dark chocolate isn't as creamy as milk chocolate and isn't quite so emotionally satisfying. And… sometimes… you'll just want milk chocolate.
You still get some benefits either way, so why not use milk chocolate if you want to?
Regardless, you'll need to keep an eye on your portion sizes. Chocolate is calorie-dense, so it's easy to overdo it. If you find that you're easily tempted, why not portion out your chocolate ahead of time? This way you can't just reach for another few squares.
What About White Chocolate?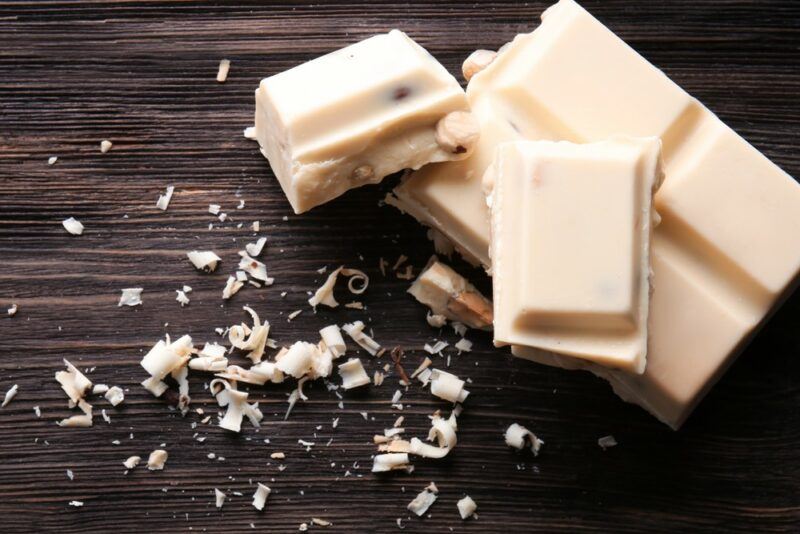 While milk chocolate has more benefits than we often assume, the same really can't be said for white chocolate.
For one thing, white chocolate isn't really chocolate at all, as it doesn't contain cocoa solids. White chocolate is made using cocoa butter lecithin, milk, sugar, and vanilla instead.
While that combination ends up tasting amazing, you're missing most of the significant compounds found in real chocolate – including the ones that provide health benefits.
Is Sugar-Free Chocolate Healthy?
Sugar-free chocolate seems like an easy way to avoid the worst features of milk chocolate, while still getting the delicious flavors and the potential benefits from the flavanols.
However, sugar-free chocolate comes with its own issues too.
One is that the chocolate can make you feel sick, especially if you eat a lot of it. This is because sugar alcohol sweeteners can ferment in your intestines, leading to stomach pain, diarrhea, and more.
Some alternative sweeteners may put your health at risk too. Artificial sweeteners are the worst culprits here, but even stevia can cause some side effects.
Finally, while sugar-free chocolate does cut out the sugar, it's still a high fat and high calorie treat. Those calories add up and can lead to weight gain.
This means that even sugar-free chocolate eaters will need to keep an eye on their portion sizes.
Final Thoughts
Let's be realistic here. Chocolate is a delicious treat that can improve our mood and may even offer health benefits. It's not, however, a healthy type of food. Even the best chocolate ends up being high in calories and saturated fat, without offering that many nutrients to balance things out.
There's no need to cut chocolate out of your diet entirely. Just don't go around seeing it as a health food just because it offers a few interesting benefits.
Frequently Asked Questions
Does Chocolate Have Caffeine?
Caffeine isn't just found in coffee. Some foods naturally contain caffeine as well, including chocolate.
Because the caffeine comes from the cocoa bean, it's present in all types of chocolate. Thankfully though, the caffeine content is often low. With milk chocolate, an ounce of the chocolate may contain around 6 mg of caffeine. That's a tiny amount of caffeine. You probably wouldn't feel any effects from it at all.
To put it in context, a cup of regular coffee contains around 95 mg of caffeine, while decaf can get up to 7 mg of caffeine.
Because the caffeine comes from cocoa, the percentage goes up with the cocoa percentage. So, an ounce of 70% or above dark chocolate can contain more than 22 mg of caffeine. This is a decent amount, although it's still much lower than a cup of coffee.
How Long Does Chocolate Last?
Chocolate has an impressive shelf life. If you keep it in a cool and dry place, an unopened block of dark chocolate should last you two years (or perhaps even more). Even opened chocolate can last for a year.
Milk and white chocolate tend to have a shorter shelf life – roughly half that of dark chocolate. Still, there are many factors at play, like the manufacturing processes and the ingredients in your chocolate, plus exactly how you're storing it.
The first issue with chocolate is that it starts to bloom. This can happen due to sugar or fat destabilization and may be caused by time, temperature, or moisture. While bloomed chocolate doesn't taste as good as chocolate in its prime, it is still edible and doesn't taste too bad.
Just watch out for mold or chocolate that has lost its smell almost completely. In those cases, it's best to simply get rid of the chocolate.
Is Chocolate Dairy Free?
White chocolate and milk chocolate both contain dairy. This is part of how they're made.
Dark chocolate is different. It relies much more heavily on cocoa solids and doesn't have added milk. Many companies avoid all milk-based ingredients to give you a truly dairy free experience.
You can actually find dairy free milk chocolate too. Some vegan companies have achieved this by using dairy free milk instead of regular milk.
However, it's still important to read ingredient labels and research the company's approaches if you want authentic dairy free chocolate. It's best to go with companies that only produce dairy free products. This way there's no risk of dairy contamination.
Is Chocolate Good For Period Cramps?
Many women turn to chocolate during their period, partly because it is comforting and provides a mood boost. But, interestingly, milk chocolate could actually make period cramps worse because of the milk solids.
Dark chocolate may be a better choice, partly because of the magnesium, which helps to reduce muscle aches and ease tired muscles. Dark chocolate also has anti-inflammatory properties that could help with pain as well.
How Much Chocolate Is Too Much?
Chocolate is delicious, but it's extremely easy to overdo it. Most recommendations suggest sticking to just an ounce or two. This is another to give you a treat, while keeping your calories at a reasonable level.
Portioning out your chocolate ahead of time can help. This way there's no temptation to simply reach for another piece.