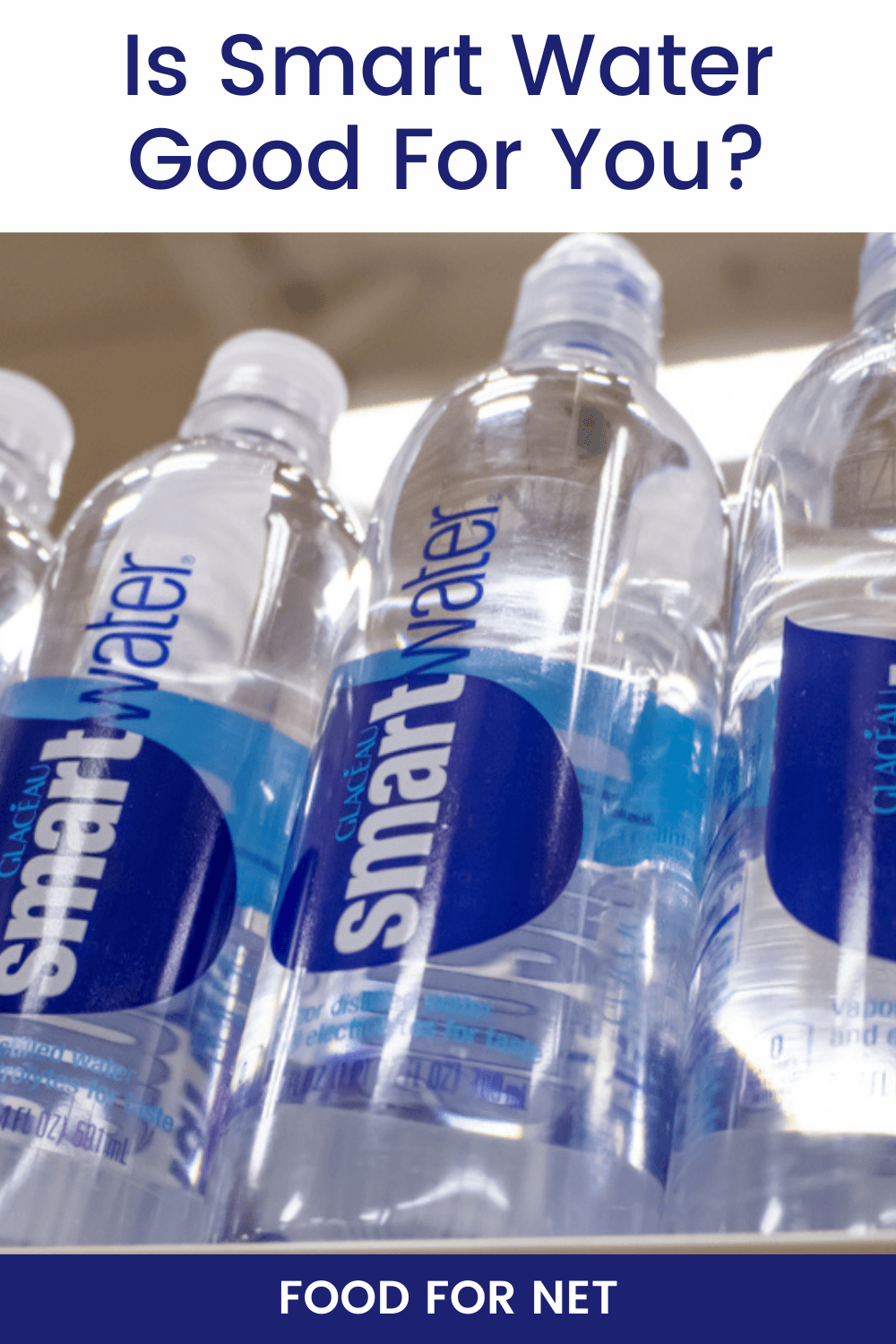 Water is essential for life. There's no denying that. Water is so important that we die from dehydration far sooner than we do from not getting enough food. But is Smart Water good for you?
Even more importantly, is drinking Smart Water better than drinking water straight from the tap or via your water filter? After all, you don't want to be constantly buying bottled water if it doesn't help you at all.
Smart Water does seem like it could be helpful, especially if you choose one of the electrolyte-containing products.
Mild dehydration is surprisingly common. Many of us simply aren't getting the water we need every day. Products like Vitaminwater, Smart Water, and even coconut water seem like a fantastic way to solve the problem, as they're seen to be even more powerful than water on its own.
To find out, we're going to take a deep dive into the original Smart Water product, followed by their other offerings, including flavor-infused, antioxidant, and alkaline water.
Is Smart Water Good For You?
What Is Smart Water?
Why Talk About Smart Water And Health?
The Good Features Of Smart Water
Where Smart Water Fails
Types of Smart Water
Final Thoughts
What Is Smart Water?

Smart Water is basically distilled bottled water, with some electrolytes added. The distillation process removes impurities from the water, while the electrolytes improve the flavor and may provide some health benefits too (we'll talk more about those electrolytes later).
Smart Water was originally produced by Energy Brands, Inc., which is more commonly known as Glacéau. You'll still sometimes see the name Glacéau on some Smart Water bottles, but Energy Brands, Inc. doesn't own the company anymore.
Instead, Coca-Cola bought them out back in 2007, to the tune of $4.1 billion – an impressive figure for bottled water.
This change in ownership doesn't necessarily mean much for Smart Water itself. Still, Coca-Cola isn't known for creating healthy products. They tend to focus more on profit and marketing than on promoting the health of their customers. This could mean that the quality of Smart Water decreases over time.
Why Talk About Smart Water And Health?
The original question for this post was – is Smart Water good for you?
The simple answer is yes. After all, we're just talking about bottled water with a few additions – and we all know that water promotes health. Water is particularly good if you're drinking it instead of sugary or highly processed drinks.
That much is obvious.
Today we want to take things further. We're going to look at whether Smart Water lives up to its marketing, the specific benefits that it offers, and how it compares to other products (including plain water!).
The Good Features Of Smart Water
What The Marketing Claims
Smart Water is marketed as being pure, crisp, refreshing, and hydrating – all terms that sound amazing. The bottle is 100% recyclable, minimizing the environmental impact. There is nothing added beyond the water itself and electrolytes.
The FAQs page even goes as far as to say that the water is free from sugar, sodium, gluten, fluoride, artificial flavors, artificial coloring, GMOs, and the 'big eight' allergens. Finally, the pH of the water is 'purely balanced' (whatever that means).
These claims are all accurate and are good news for your health. Of course, most of them are true for other types of water too, so they're not as exciting as they sound.
It's Purer Than Tap Water
The main feature of Smart Water is that it's distilled. Distilling water involves a process of evaporation, condensation, and precipitation, which removes more contaminants than most other processes, including filtering.
Purifying water like this can be useful, as it helps you avoid both organic and inorganic contaminants in water. You're also avoiding anything that might be added to tap water, including chloride.
Now, tap water can be good for you, but it isn't always. Sometimes it gets contaminated by lead in the pipes, by agricultural pollution, or by other things. While there are systems in place to keep water safe and identify possible contamination early, these aren't as effective as they could be.
Sometimes contamination gets missed. Sometimes the levels of pollution in your water are considered safe, even if they're much higher than you're happy with. For all these reasons, alternatives to tap water can be helpful.
The Taste

Distilled water normally tastes flat and unappealing, as minerals and electrolytes are lost during the distillation process and these are what make your water taste interesting.
Smart Water gets around the problem by adding small amounts of electrolytes. As such, you end up with very pure water that still tastes good. That's pretty impressive really.
Some of the products are also flavored, like Cucumber Lime and Watermelon Mint. These often taste good, without requiring much extra sugar.
Few Additives
Aside from the electrolytes, Smart Water doesn't use any additives at all. This is much better than products like Gatorade or Powerade, which are packed with sugar, food dyes, and added flavors.
Flavored versions of Smart Water have a few extra ingredients, including natural flavors. However, the additives are kept to a minimum.
You Get The Benefits Of Water
Most importantly, Smart Water gives you all the benefits of water with no concerning ingredients. By drinking water and staying hydrated, you promote good digestion, help to cushion your joints, reduce the risk of constipation, improve your heart health, and experience many other benefits.
Getting enough water may even help you to lose weight and feel more energized. Dehydration, on the other hand, can make it difficult to concentrate or function well. Long-term dehydration has many more severe health effects. This is true even if the dehydration is mild.
Where Smart Water Fails
The Marketing
The way Coca-Cola describes Smart Water makes it sound absolutely amazing, like it's this powerful type of water that's going to offer you countless health benefits.
In practice, though, we're simply talking about distilled water that has some electrolytes added to it. You'll see most of the same benefits by simply drinking distilled water. Even filtered water or tap water isn't incredibly different.
The water is also meant to have a 'purely balanced pH', as Coca-Cola carefully monitors pH levels. Interestingly though, they never talk about why doing so is useful or even what pH they're trying to reach with regular Smart Water.
The Price

Bottled water is always expensive, sometimes averaging around 300 times the price of water from the tap. Smart Water is on the upper end of the bottled water market, so it's even more expensive again.
Some of that price comes from the distillation process, which is more involved than simply filtering water. Even so, Coca-Cola earns a lot of money from the sale of Smart Water, so part of the price is their profit margin.
Smart Water might be worth the price if it was much better than regular water. But honestly, it's not. In fact, distilling water mightn't even be the healthiest approach, as doing so strips the water of its natural minerals.
If you're in an area where tap water is low quality, then bottled water makes more sense. Still… there are cheaper brands. You could also just buy a water filter.
The Amount Of Electrolytes
Smart Water contains has added calcium, magnesium, and potassium as electrolytes (in the form of calcium chloride, magnesium chloride, and potassium bicarbonate). Electrolytes are important in our body and their levels can become out of balance if we're losing a lot of water through sweat, diarrhea, or some other way.
At first glance, Smart Water seems like a healthy way to replenish these electrolytes. The water even avoids all the controversial additives found in products like Gatorade.
However, a line in Smart Water's marketing shows that this isn't the case. They state that their electrolytes are added for taste.
In fact, an 8 oz. serving of Smart Water, only provides around 2.5 mg of potassium and calcium, along with 3.75 mg of magnesium. For that same serving size, Gatorade gives you 30 mg of potassium. Indeed, it's common to find 30 mg or more of each electrolyte in a serving of an electrolyte drink.
While the electrolytes in Smart Water do still help with how the water tastes, they won't improve your electrolyte balance in the way that a specialized electrolyte drink will.
Does this matter? That depends on whether you need electrolytes or not.
If you're sweating heavily, then electrolyte-rich drinks could be powerful and Smart Water isn't going to be a useful choice. However, if you don't need electrolytes (and many of us don't), then Smart Water is better than an electrolyte-rich drink.
Plastic Bottles
The final problem is that you're buying your water in plastic bottles. The bottles are recyclable, sure, but energy is still used to make the bottles and then to recycle them. Plus, many people just throw the bottles out without taking the effort to recycle them – so there's plenty of waste, which isn't good for the environment at all.
Plastic bottles have health implications too, as chemicals may leach from the bottles into your water. The bottles are BPA-free, which reduces the risk of any problems, but even so, it's always best to avoid plastic bottles for water whenever you can.
Types Of Smart Water
The Original Smart Water

This is the most common product in the Smart Water range. This is the one you'll see most often in grocery stores. The plain version just consists of distilled water, plus calcium chloride, magnesium chloride, and potassium bicarbonate.
There are also flavored versions: Cucumber lime, pineapple kiwi, strawberry blackberry, and passionfruit mango. The only difference between these and the original Smart Water is the addition of natural flavors. The water itself is still distilled and completely sugar free.
While the flavors are surprisingly strong, many people love them. That said, your own preferences will have an impact. For example, some people find that the cucumber lime water tastes too much like cucumber and the lime is barely there at all. Others have no complaints at all.
Because the only additional ingredient here is natural flavors, the flavored water is healthier than many others in the field. That said, the term natural flavors doesn't tell you much about what the company actually adds in. In practice, natural flavors might be just as concerning as artificial ones.
Smart Water+
There are four versions Smart Water+: Clarity, Renew, Support, and Tranquility. They use natural flavors as well, but the approach is a little different.
In particular, Clarity uses ginseng and green tea extracts, Renew uses dandelion and lemon extracts, Support uses black currant and blueberry extracts, and Tranquility uses ashwagandha and tangerine extracts. The drinks end up having an unusual flavor profile, while the herbal ingredients could provide extra health benefits.
Still, reviews are mixed on the flavors and you're still not going to see tremendous benefits. You'd improve your health more by drinking regular water and having a cup of green tea every now and again. After all, there isn't likely to be much of each extract in the water.
Smart Water Alkaline With Antioxidant
This product is ionized to give you a pH of 9.5 (pure water has a pH of around 7, while tap water tends to be around 7.5). A pH of 9 makes the water alkaline and is meant to make it better for you.
Whether this is true or not is incredibly debatable. Much of the challenge is that our bodies naturally regulate our pH levels, so changing the pH of our food and drink doesn't do much more than change the pH of our urine.
We've covered the debate about alkaline water in more depth elsewhere. You can check that post out if you want to learn more. Regardless, the product is simply the regular version of Smart Water with a different pH and is only relevant if you're interested in drinking alkaline water.
Oddly, Coca-Cola doesn't explain why this water has antioxidant in the name. The ingredients list isn't much help either, as it just includes water, electrolytes, and sodium selenate.
The sodium selenate is likely to be the antioxidant, as it can have this effect in some situations. However, it's an odd choice. Besides, most antioxidant-focused products use multiple types of antioxidants rather than just one.
The potential benefits are easy to see, as antioxidants decrease the risk of oxidative damage and might help to protect you from disease.
Still… antioxidants aren't exactly rare. They're found in most plant-based foods, particularly the natural ones that haven't been processed. Natural foods also contain a wider variety of antioxidants than anything heavily processed. That's important, as the health effects of antioxidants vary depending on the type that you choose.
With so many sources of antioxidants, you shouldn't ever need more from your drinking water.
Smart Water Antioxidant
There's also Smart Water Antioxidant. This time selenium is used as an antioxidant and the pH is similar to regular water.
The same issue exists here too, as selenium is still just one type of antioxidant. Besides, most of us are already getting all the selenium we need from our diet. If you're not, then selenium rich foods are the answer, rather than Smart Water Antioxidant.
Is Smart Water Worth The Price?

For the most part, Smart Water is indeed good for you. The products are all mostly water, after all, so they'll give you the same benefits that you see from drinking a regular glass of water.
The problem is that there aren't many extra benefits. The antioxidants and electrolytes aren't enough to influence your health much at all, while the impact of alkaline water is incredibly debatable.
All you're left with is the lack of contaminants.
This is an important feature, but it's hardly unique to Smart Water. Most bottled water should be free of contaminants (that's part of the point of selling bottled water to begin with). You can also remove contaminants yourself by installing a water filter at home.
Plus, in many parts of the country, your regular tap water is of high quality and will be just fine for keeping you healthy.
Smart Water Versus Vitaminwater
Smart Water might seem similar to Vitaminwater, which we talked about in another post. Both products bear the Glacéau name and are meant to be healthier versions of regular water.
But, while Smart Water is basically regular water with some minor tweaks, Vitaminwater is quite different. For one thing, most versions are flavored, with a flavor selection that includes acai blueberry pomegranate, tropical mango, dragonfruit, kiwi strawberry, and tropical citrus.
There are vitamins added too, often including vitamin C and plenty of B vitamins. Some versions have extras too, like antioxidants, electrolytes, taurine, l-theanine, or even chamomile.
The approach isn't all good though, as the drinks use more additives than Smart Water, including ones for coloring, flavor, and sweetness. Such ingredients are all considered safe, but they're hardly the best choice for your health.
Smart Water is easily the healthier option of the two. It doesn't have the same concerning additives and contains barely any calories. The extra vitamins, antioxidants, and the like in Vitaminwater aren't that powerful anyway. You'll see more benefits by simply including a few more fruits and vegetables in your diet.
Final Thoughts
Smart Water must be extremely well-marketed, as the product is very popular and highly profitable for Coca-Cola yet isn't that special at all. We're just talking about distilled water with tiny amounts of electrolytes added back in. That's it.
You'll get just as many benefits for a much lower price by focusing on filtered water instead. This way you don't need to keep buying plastic bottles full of water. Plus, you can choose your water filters based on the tap water in your area. Doing so helps you maximize the benefits while keeping your costs low.
Frequently Asked Questions
Is Smart Water Distilled?
Yes. This is one of the selling points of Smart Water, especially as the product is vapor distilled, which helps to keep it incredibly pure.
Does Smart Water Have Electrolytes?
Staying hydrated is essential for keeping your kidneys healthy, as this means your body is producing enough urine and regularly flushing out bacteria. Smart Water achieves this goal just as effectively as other types of water, making it good for your kidneys, rather than harmful.
Is Smart Water BPA Free?
Yes. Smart Water bottles are BPA free. The company has confirmed this.
Where Does Smart Water Come From?
The source of Smart Water depends on where you live. In the United States, it starts as spring water from Northern Connecticut that is distilled and has electrolytes added.
But, regardless of location, we're just talking about regular water that has been through basic distilling processes. Smart Water really isn't that exciting.
Is Smart Water Bad For Your Kidneys?
Staying hydrated is essential for keeping your kidneys healthy, as this means your body is producing enough urine and regularly flushing out bacteria. Smart Water achieves this goal just as effectively as other types of water, making it good for your kidneys, rather than harmful.