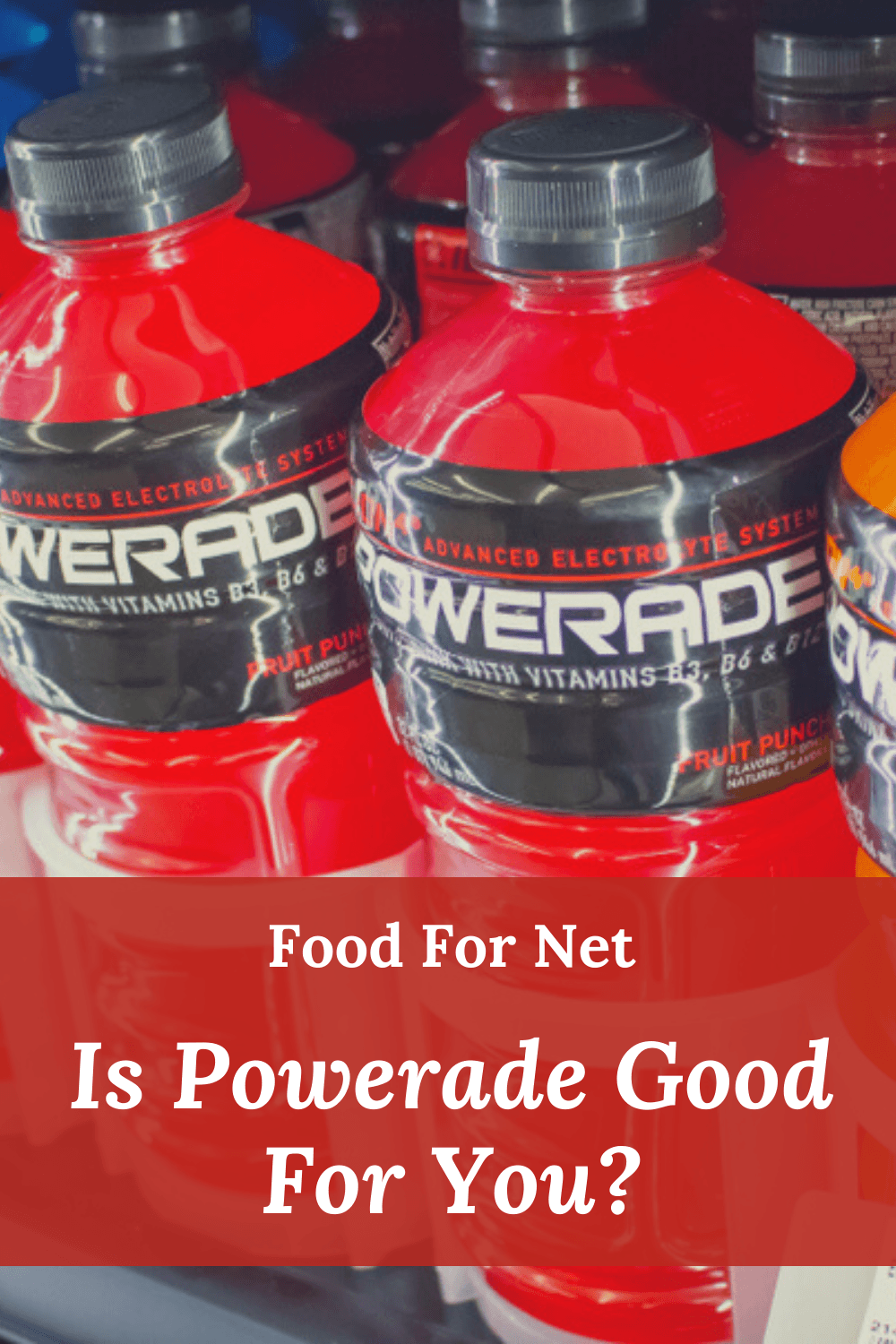 Powerade is a popular sports drink, designed to give you energy and hydration when you're exercising hard. It even sounds like a healthy choice, as the drink gives you electrolytes, vitamins, and plenty of water. So, is Powerade good for you or is that whole idea just marketing hype?
The answer to this question partly depends on who you are. Despite the sports drink marketing, it isn't just athletes that drink Powerade. Many of us use it when we've been for a short run or even just as a tasty drink on a hot afternoon.
Using Powerade in that way isn't the best idea. As you'll see in this post, Powerade is formulated for athletes and isn't nearly as helpful when you're using it as a standard drink.
Plus, like Vitaminwater and Gatorade, Powerade is a manufactured product that uses additives to give it the desired flavor, color, vitamins, and minerals. Not surprisingly, this type of drink isn't nearly as powerful as getting nutrients and electrolytes from natural foods and drinks instead.
Is Powerade Good For You?
Powerade Products
The Benefits Of Powerade
The Health Risks Of Powerade
Should You Drink Powerade?
Alternatives To Powerade
Final Thoughts
Powerade Products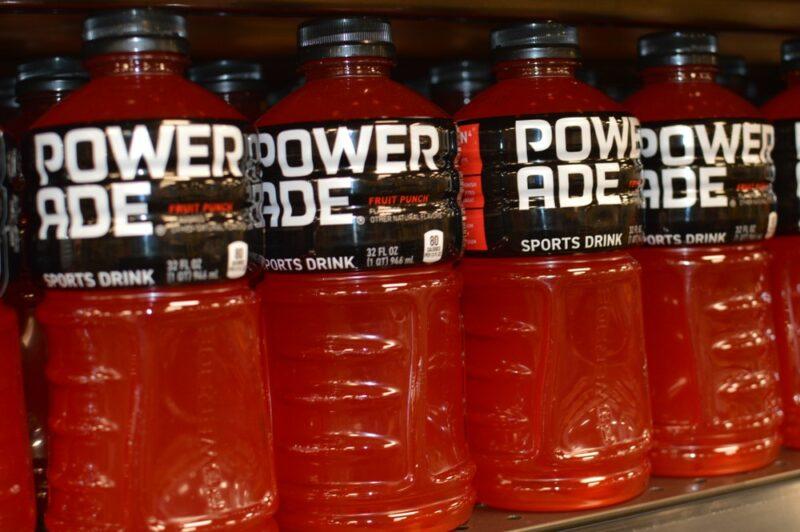 There are now quite a few different Powerade ranges, each with their own features and a selection of flavors. In this post, we're mostly focusing on the original Powerade range, but we'll touch on the others too, so let's look at what they are.
Powerade
This is the original product. It's marketed as a sports drink and tends to be brightly colored. There are plenty of flavors to choose from, including Mountain Berry Blast, Fruit Punch, Lemon Lime, White Cherry, and Citrus Passionfruit.
Most of these don't taste like fruit at all, which isn't too surprising, as the drinks use 'natural flavors'.
The ingredients list starts with water followed by high fructose corn syrup, citric acid, and electrolytes. There are four electrolytes featured: sodium, calcium, magnesium, and potassium. These make up Powerade's ION4 Advanced Electrolyte System.
Beyond this are vitamins B3, B6, and B12, along with additives to give the drink the desired color and flavor. Let's not forget about the sugar either. A 12 fl oz serving of Mountain Berry Blast contains 21 grams of added sugars and it's easy to drink more than that at a time.
Powerade Zero Sugar
The Zero Sugar range is similar to the regular Powerade products, except that these are sugar free. Flavors include Watermelon Berry, Citrus Peach, Fruit Punch, and Strawberry, so there are no surprises here.
The lack of sugar makes these drinks entirely calorie-free. The sweetness comes from acesulfame K and sucralose instead, which are both artificial sweeteners.
Powerade Ultra
Powerade Ultra is promoted as the next level of the zero sugar Powerade. It still has the same electrolytes and artificial sweeteners, but has some extra items in the mix too, including BCAAs (branched chain amino acids), more electrolytes, and some extra B vitamins.
BCAAs are thought to help with muscle development, so they could be perfect for athletes. Still, getting these in a hydration product seems strange. They're more common in protein powders, along with meat, fish, and poultry.
Powerade Power Water
The Power Water products have some of the same features as some of the other options, including B vitamins and electrolytes. This is another zero sugar product, so it relies on artificial sweeteners for sweetness.
Honestly, there isn't much difference between this and the other Powerade products. The most noticeable one is that Power Water skips the coloring, so it's clear rather than brightly colored.
The flavors are a little lighter than with regular Powerade, but should still be familiar. Still, don't be fooled, Power Water is as processed as the other Powerade products.
Freezer Bars
Finally, there are Powerade Sports Freezer Bars. These are basically frozen versions of regular Powerade, so they use high fructose corn syrup, along with electrolytes, B vitamins, flavors, and colors.
The Benefits Of Powerade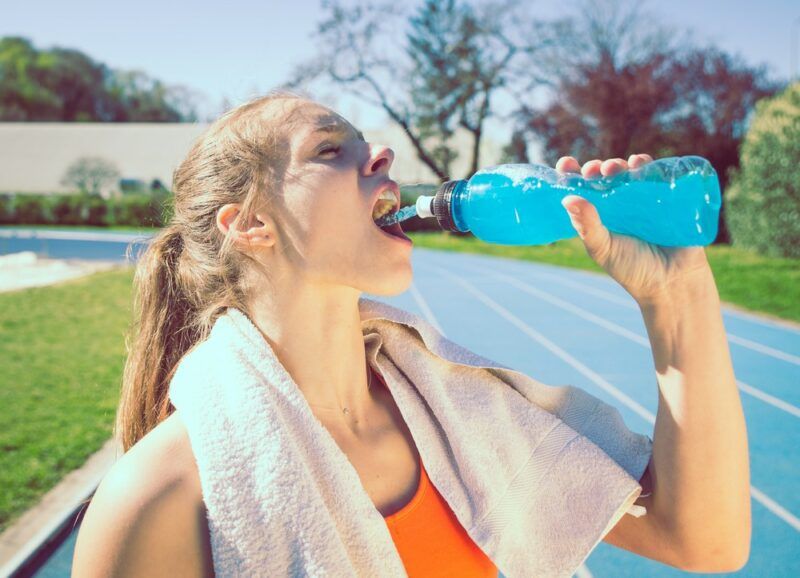 Promotes Hydration
The first benefit of Powerade is also the most obvious – the drink helps you to stay hydrated. No surprises here, as Powerade's marketing often focuses on hydration.
Getting enough water really is crucial – there's no doubt about that. Our cells need water to function well. Even being a little dehydrated can have negative effects throughout your body, including decreased energy and a higher risk of some health problems, like kidney stones.
The electrolytes in Powerade may make it better at hydration than pure water. Still, in most cases, you don't need any more hydration than water provides. .
Balances Your Electrolytes
Of course, the hydration effect isn't enough of a reason to drink Powerade regularly. Thankfully, the electrolytes in Powerade help in another way too.
When you exercise, you lose water and electrolytes through sweat. Having a drink of water replenishes the water part of that equation, but water doesn't help with your electrolytes at all.
So, if you exercise regularly and sweat a lot, then the electrolytes in Powerade can help to keep you healthy. The effect is important, as electrolytes help to balance your blood pH levels and water in your body.
Having an electrolyte imbalance can lead to many side effects, including muscle fatigue and dehydration. Severe electrolyte imbalances can even be dangerous, putting you at risk for heart failure and other health issues.
Because of this, people who exercise heavily really do need to take in extra electrolytes.
A Source Of Energy
Powerade provides you with energy, in the form of carbohydrates. Carbohydrates, or carbs for short, are our body's preferred source of energy. Simple carbs, like the sugar found in Powerade, are digested fast, so the energy increase is almost immediate.
This effect is important if you're exercising intensely, as you can deplete your glucose stores. Having a drink like Powerade on hand is an easy and fast way to bring those glucose stores back where you need them to be, so you can keep going without compromising your performance.
And, if you're in the middle of intense exercise, you won't be able to stop to eat. You need something that you can consume quickly. Powerade easily meets that goal.
Vitamins And Minerals
Powerade does provide you with some nutrients as well, including the B vitamins, calcium, magnesium, and potassium. These nutrients are all important, as they play different roles throughout your body.
Getting these in Powerade helps reduce the risk of deficiency, especially for vitamin B12, which is mostly found in animal-based foods.
The Health Risks Of Powerade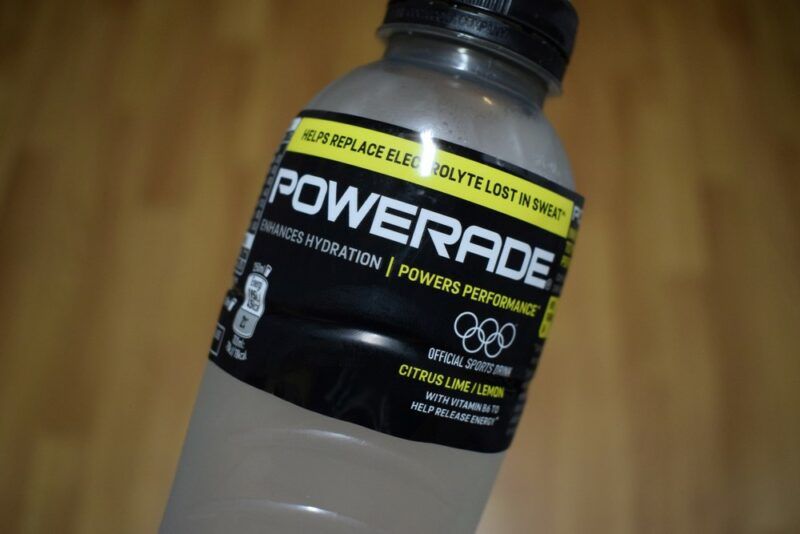 While Powerade has some advantages, the list of problems with the drink is surprisingly long. Some of these apply to everyone who drinks Powerade, while others are only relevant to people who aren't exercising heavily.
The Sugar
Sugar is easily one of the biggest issues with Powerade. You get a shocking 21 grams of sugar in a 12 fl oz serving. Many people would easily drink twice this serving size, or more, in a day.
To put it in context, 21 grams of sugar is more than 40% of your daily recommended sugar intake. Most of us consume too much sugar anyway, so adding more isn't a good idea.
The problems with sugar can't be overstated. It has many negative effects throughout your body, like increasing your disease risk, leading to weight gain, and even causing fatigue. Sugar has also been linked to inflammation, which has its own range of impacts throughout our body.
Sugar leads to high blood sugar levels too. This is another problematic effect, one that's been linked to many health issues.
Artificial Sweeteners
You can avoid the issue of sugar by focusing on one of the sugar free Powerade products, but doing so just gives you a different set of issues. These products rely on artificial sweeteners, including sucralose and acesulfame K.
Artificial sweeteners get their name from the chemical processes used in their extraction and production. They're also heavily debated, with theories linking them to increase risk of cancer, damage to your gut health, and other negative effects.
The evidence for such negative claims isn't strong. After all, artificial sweeteners are still used in food and are legally considered safe. Still, there's enough potential for problems that many people avoid artificial sweeteners entirely.
Besides that, while artificial sweeteners are similar to sugar, they don't have quite the same effect in the body.
Some people find that their 'sweet tooth' gets stronger after they consume artificial sweeteners. This can lead to cravings and snacking later on, which might then lead to weight gain.
Artificial Food Dyes
Some Powerade products rely on artificial food dyes, including Red 40, Yellow 6, and Blue 1. Like artificial sweeteners, there's much debate about whether these are safe.
For example, the Red 40 dye is produced from petroleum. It might play a role in migraines and mental illness among children, along with other potential side effects.
These concerns are serious, especially as artificial food dyes are now a common part of modern diets.
Even if the risk of side effects with such food dyes is low, why risk it? There are plenty of natural ingredients that can be used to color food instead.
The Sodium Content
Sodium itself isn't a bad thing. We need some sodium to make sure our bodies function well. Sodium is also logical in a sports drink because you lose sodium when you sweat and you don't get any of that sodium back from water.
But, drinks with added sodium can easily be a problem too. Many people are already consuming too much sodium and the last thing they need is more. Some people even need to cut down on sodium to protect their hearts.
The only reason to use drinks with added sodium is if you're losing a decent amount of sodium. That normally happens through intense exercise. We're not talking about a yoga class or a brisk walk either. You won't need to top up your sodium levels unless your exercise regularly leaves you out of breath and sweating heavily.
Even then, you might not need as much extra sodium as you expect.
Electrolyte Imbalances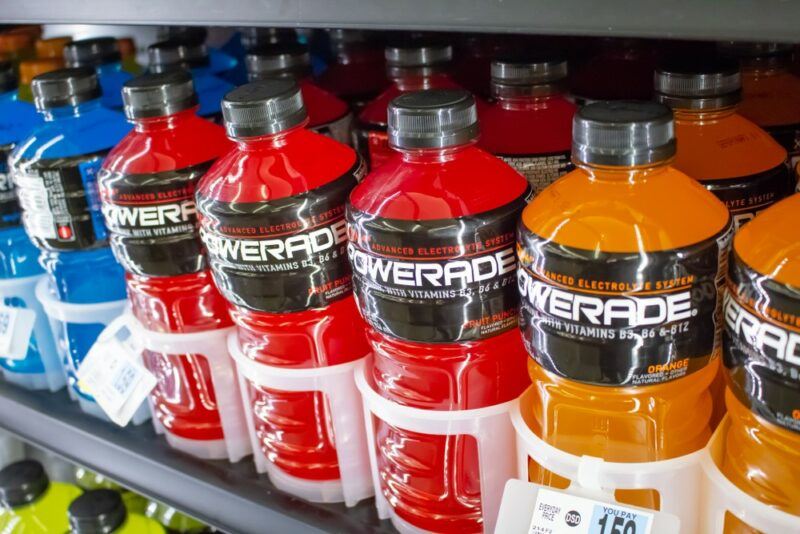 The electrolytes in Powerade are a good thing, right? Well, they are if you have lost some electrolytes during exercise and need to replenish them. But, if you're not exercising enough, the electrolytes could do more harm than good.
By relying on Powerade often, you might end up with too much of the electrolytes in your bloodstream.
Excessive sodium is a common problem, which can lead to dizziness and even vomiting, while increasing your risk of heart problems too. High levels of magnesium, on the other hand, might lead to damage to your muscles and brain.
In practice, consuming too many electrolytes can be as bad as not getting enough – and products like Powerade make it easy to overdo it.
Genetic Modification
Powerade isn't a GMO-free drink. Instead, some of the ingredients come from genetically engineered crops. What this means for health is difficult to know.
On one hand, GMOs went through extensive testing before they became a part of the human food chain. They continue to be tested and monitored even now. Plus, there are multiple stages of processing in place, so you're not eating the GMO crops directly.
On the other hand, our knowledge of GMOs is limited in some ways. We don't know the long-term effects of GMOs. There may also be interactions between GMOs and specific health conditions or dietary profiles that we don't yet understand.
Because of these unknowns, many people prefer to avoid GMOs whenever possible.
In fact, GMOs, artificial sweeteners, and artificial colors are all in the same boat. They're all probably safe, but there's a chance that they're not, particularly if consumed in high quantities.
The question is, why risk it? Why rely on products like Powerade when there are many more natural alternatives to choose from?
Should You Drink Powerade?
Powerade is marketed as a sports drink and, in that context, it might be helpful. The combination of electrolytes, sugar, and water can help athletes to rehydrate quickly, while also providing them with energy and keeping their electrolytes well-balanced.
Even the sugar and calories in Powerade might not be bad for high performance athletes, as they are burning calories as part of their exercise.
The biggest problem comes when people treat sports drinks as just another beverage. Unless you're exercising heavily, you're not going to need the extra electrolytes in Powerade. They might even be dangerous if you drink Powerade too often.
The sugar and artificial ingredients won't do you any favors either.
Also, if you're going to use Powerade, pay close attention to the amount that you drink and the frequency. Be careful with the ingredients label too, as this can be a little misleading.
For example, the 28 fl oz. version of the blue Powerade contains 80 calories per serving and 21 grams of added sugar. But, that isn't the total for the whole bottle, as there are 2.5 servings in the bottle.
Alternatives To Powerade
While Powerade has some benefits for athletes, it still isn't a great choice. The drink is packed with either sugar or artificial sweeteners, not to mention other artificial ingredients, dyes, and even GMOs.
It ends up being a highly processed drink that has more risks than benefits.
So, why not look for a different beverage instead? There are many healthier options, including some that still contain electrolytes and have fewer concerning ingredients.
Coconut water is the simplest place to begin, as it contains some electrolytes and a little sugar. Unlike Powerade, coconut water is a very natural product. The sugar content is lower than Powerade, which could be helpful.
You could also make your own 'sports drink'. For example, Samantha from Five Heart Home offers a recipe for a homemade Gatorade alternative, one that relies on natural ingredients to give you a tasty electrolyte drink.
Alternatively, try looking for sports drinks that are minimally processed and don't rely on artificial ingredients.
If you don't need electrolytes (and most of us don't), then try looking for a low-calorie drink that isn't heavily processed. Lemon water is an easy choice here. You could make infused water too. Both options give you flavor-filled water without any artificial ingredients.
Final Thoughts

While Powerade has some advantages for athletes, it's still a highly processed drink that relies on some concerning ingredients. Some versions are high in sugar, while others use artificial sweeteners instead, neither of which are great for your health.
Powerade is even worse for non-athletes, as the electrolytes may do more harm than good if you're not losing electrolytes through sweat.
Besides, there are plenty of other ways to stay hydrated. Powerade's few benefits simply aren't worth all the risks that come with the drink.
Frequently Asked Questions
Does Powerade Have Caffeine?
Most Powerade products contain no caffeine at all, making them excellent for anyone who's sensitive to caffeine.
This is true for most sports drinks. It's unusual for any of them to contain caffeine. And, if they do, the products will be clearly marketed as containing caffeine.
Is Powerade Good For Dehydration?
Powerade can help you recover from dehydration, particularly because the electrolytes can replace any that have been lost in sweat. This is why drinks like Powerade are particularly relevant after intense exercise.
However, Powerade and similar products don't actually hydrate you any better than plain water.
They're not even ideal if you do need extra electrolytes. You'll often get more benefits by turning to a specially formulated oral hydration solution, as these tend to be much lower in sugar and additives.
Is Powerade An Energy Drink?
Powerade avoids caffeine and stimulants, so it isn't considered an energy drink. However, you may get an initial energy rush from the sugar in some Powerade drinks.
There are also B vitamins, which are often found in energy drinks too. These can help with your energy levels, but only if you actually need more B vitamins (if you already get enough, consuming more B vitamins won't help your energy at all).
Is Powerade Safe During Pregnancy?
Sports drinks like Powerade are safe during pregnancy. They can even be helpful, particularly if you're losing electrolytes from exercise or morning sickness.
The flavor of Gatorade can also be helpful if you're struggling to drink plain water.
However, you still need to be careful, as Gatorade has some serious limitations. One is that most products are either high in sugar or in alternative sweeteners. Neither pattern is ideal. There are also additives in Gatorade, including artificial colors.
Because of this, other drinks may be more powerful for pregnant women, including specially designed oral rehydration solutions.
Is Powerade Acidic?
Powerade is certainly acidic, with the red version coming in at around pH 2.7. This is similar to many types of soda and can easily be an issue for your tooth enamel. The acidity could also trigger or worsen acid reflux symptoms.