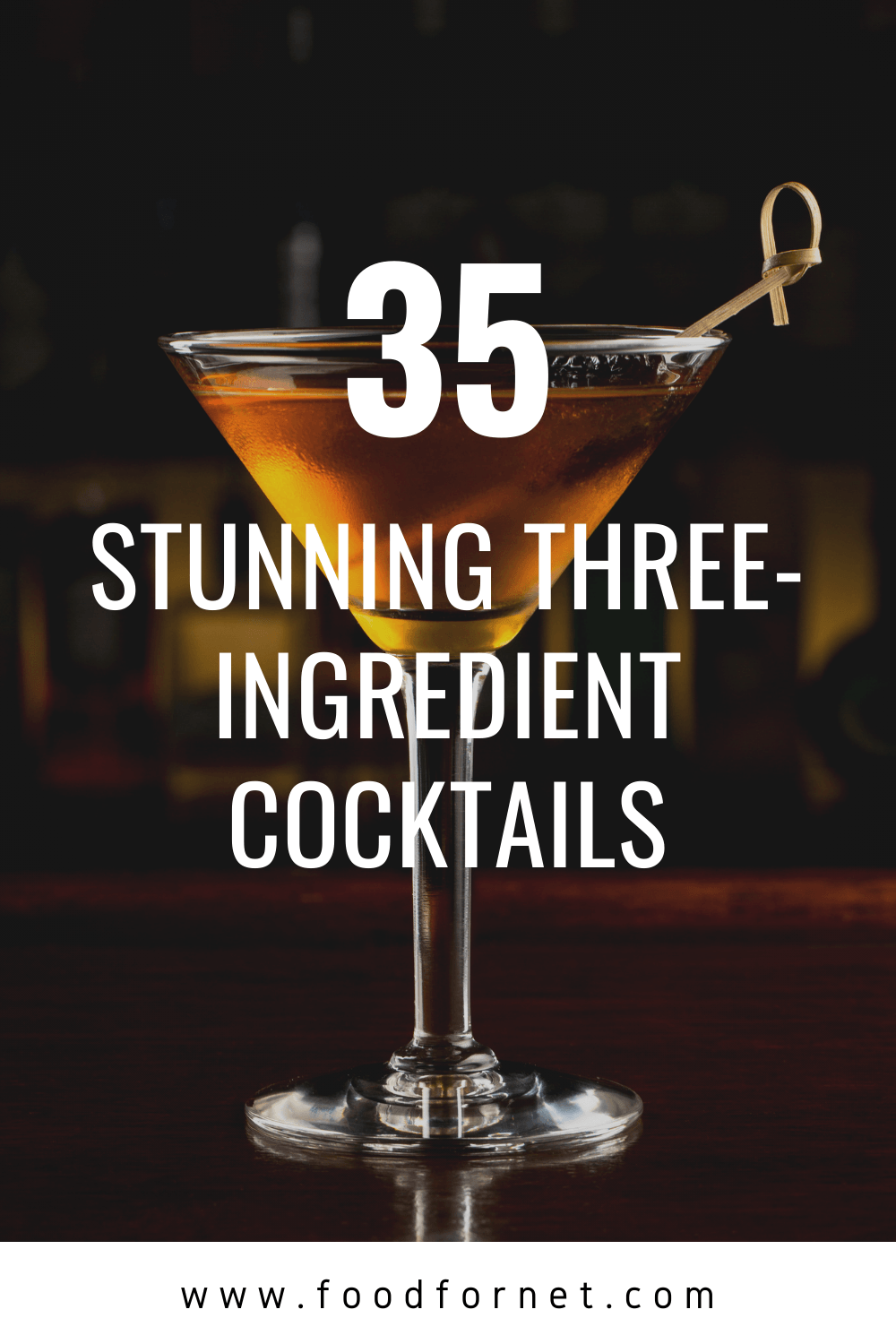 As we've said in the past, cocktails are delicious and they don't need to be complicated. Some of the best tasting cocktails only involve a handful of ingredients. We've covered two-ingredient cocktails in a previous list. This time we're taking the idea one step further and looking at three-ingredient cocktails.
In some ways, three-ingredient cocktails are the ultimate choice. With so few ingredients to worry about, there's a good chance that you already have most of what you need on hand. Even if you don't, many of the ingredients are easy to source and can be used for multiple cocktails.
Plus, the use of three ingredients provides some complexity to the finished cocktail. Some of the time you'll be using multiple sources of alcohol to achieve this goal, while other times you may be using multiple mixers or adding flavor in a different way.
Regardless of the specific recipe, there are many more flavor opportunities with three-ingredient cocktails than with two-ingredient ones.
Of course, there are far too many such cocktails to cover in a single list, so we're focusing on our favorites. Many of these are classic cocktails, some of which haven't changed very much since they were first developed. Others are new cocktails or variations on old themes.
We're including various base spirits too, such as whiskey, tequila, vodka, and even champagne.
Three Ingredient Cocktails
Negroni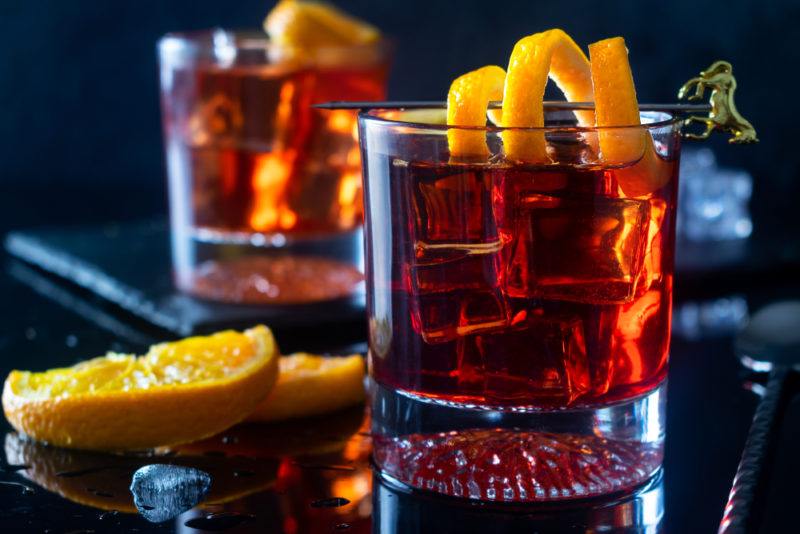 The negroni is an incredibly classic cocktail, but many people don't realize how easy it is to prepare. The cocktail uses equal parts of three ingredients – gin, Campari, and sweet vermouth. If you have access to it, sweet red vermouth is the best choice for the cocktail. If not, any other type of sweet vermouth will be fine.
The drink tends to be bitter, although the vermouth adds just enough sweetness to balance things out. It is also a complex cocktail, with a variety of flavors for you to appreciate.
There are no mixers present, so a negroni tends to be a strong drink. It's a classic one to order at the bar. Many bars will also serve their own variations on the negroni.
Negroni Sbagliato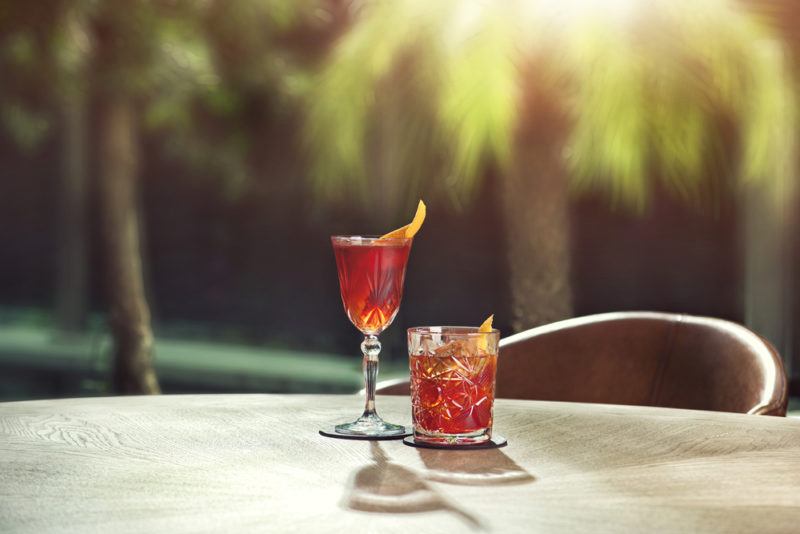 Speaking on negroni variations, a negroni sbagliato is exactly that. The word sbagliato is Italian and can be translated as mistaken or perhaps bungled, suggesting that the original creator was trying to make a classic negroni and got the recipe wrong.
Like the negroni itself, the cocktail relies on sweet vermouth and Campari. Sweet red vermouth could be used, although many recipes call for any type of sweet vermouth.
The difference between a negroni sbagliato and a regular negroni, is that the sbagliato uses sparkling white wine instead of gin as the third ingredient. This addition completely changes the drink, giving it a bubbly quality that is never found in a traditional negroni and a unique balance of flavors.
Manhattan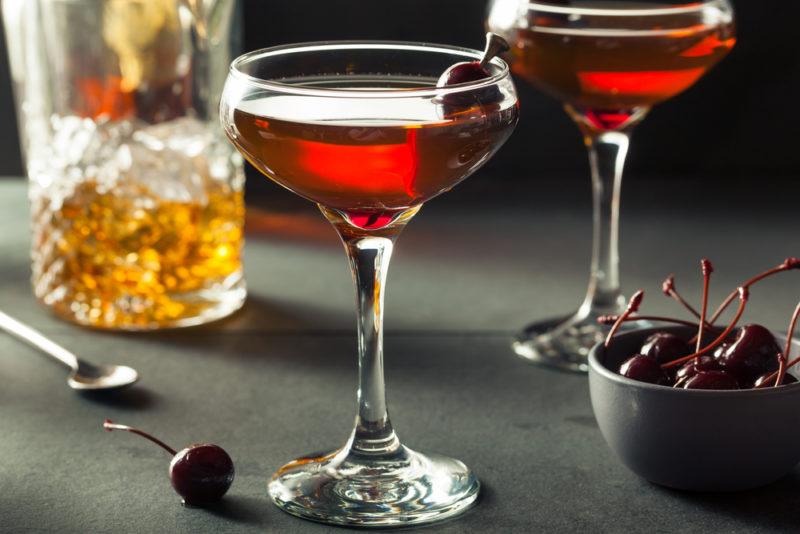 A Manhattan is another classic cocktail that is simple to prepare. It relies on sweet vermouth and, as with a negroni, sweet red vermouth is the ideal choice.
However, the other ingredients are different, as a Manhattan relies on rye whiskey and angostura bitters as the other key ingredients. Rye whiskey makes up the bulk of the cocktail and is the main part of the flavor profile too, while the bitters and the vermouth help to balance the drink out a little.
Woo Woo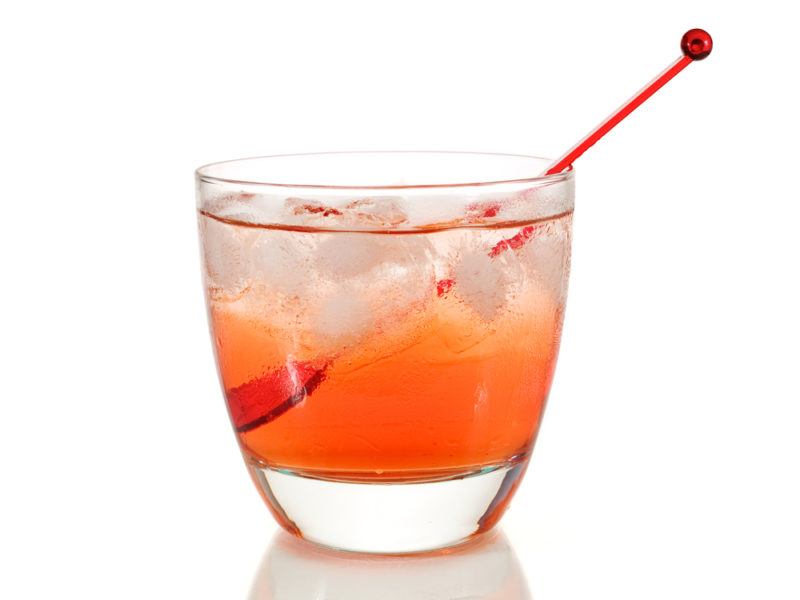 The woo woo has a fun name and the cocktail is pretty fun too. In some senses, it is like a variation on the cosmopolitan, as cranberry and vodka are two of the ingredients.
The final ingredient is peach schnapps, which adds some depth of flavor and makes the cocktail more interesting. You end up with a fruity cocktail that is easy to make.
Another cool thing is that you can serve this cocktail in a variety of ways. On the rocks or straight up in a cocktail glass are the most common approaches. However, you can also have woo woo shots. The cocktail works well at parties too, as you can scale the recipe up and serve it as a fruit punch.
Harvey Wallbanger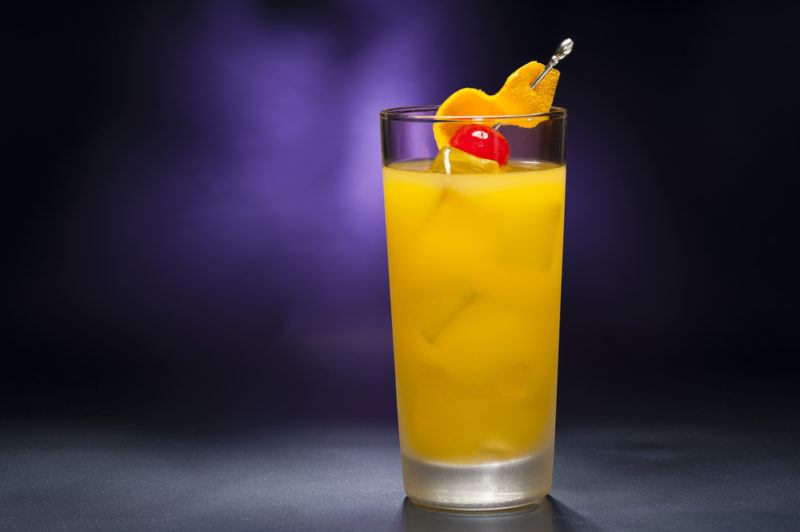 The classic Harvey Wallbanger cocktail is a variation on a screwdriver, one that has a little more complexity. Like a screwdriver, this cocktail relies on vodka and orange juice.
The two ingredients are mixed together in a glass with ice. Then, and this is the point of difference, a small amount of Galliano is added. While the Galliano doesn't affect the color of the drink much, it makes the flavor profile much more interesting.
Tequila Sunrise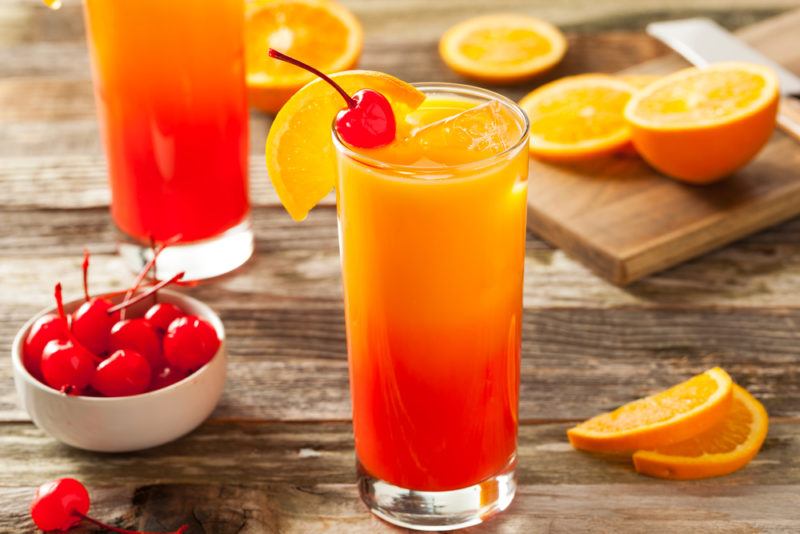 Here's another orange juice cocktail. This famous drink uses orange juice and blanco tequila as the main ingredients, along with a little grenadine.
The grenadine is particularly interesting, as this addition creates the two-tone color that you see with this exciting drink. Plus, the grenadine provides extra flavor, making the drink more interesting than it would be otherwise.
When you're making an orange juice cocktail, it's always best to rely on freshly squeezed orange juice. If you can't squeeze the orange juice yourself, look for a product that has been minimally processed.
White Russian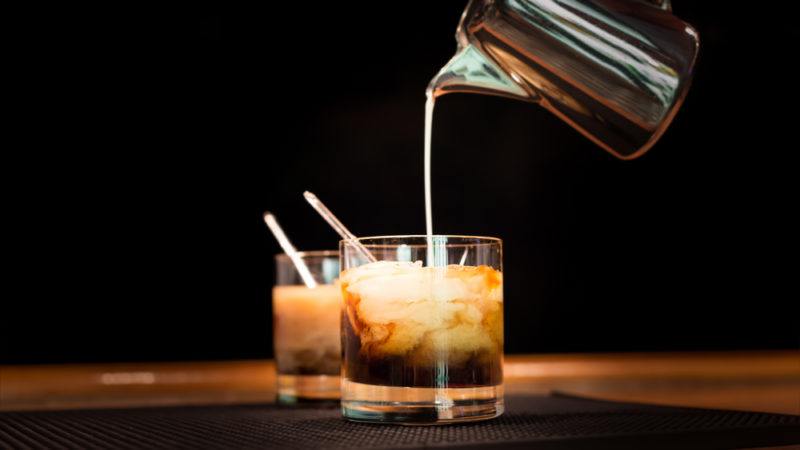 A black Russian cocktail just combines vodka and coffee liqueur, with Kahlua often being the liqueur of choice. A white Russian is a variation on that theme, where cream or whole milk is added as well.
This addition creates a mellower drink, one that can be considered a simple dessert cocktail.
Old Fashioned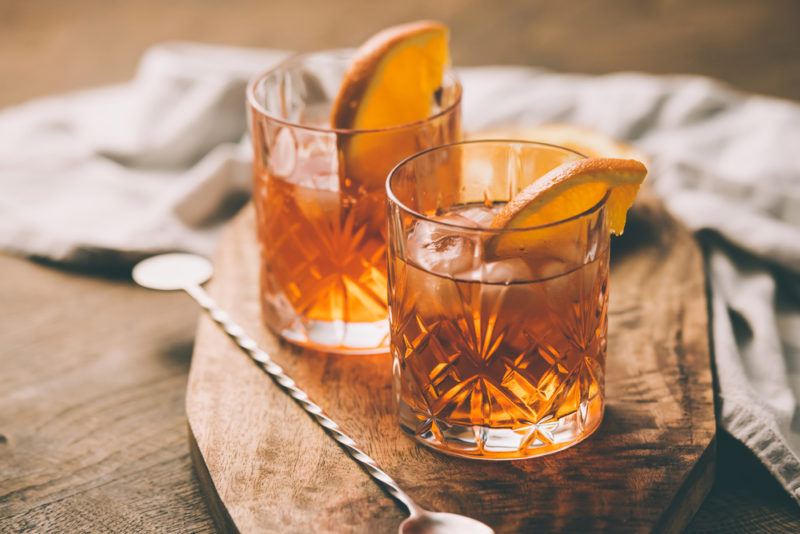 In some ways, an old fashioned is simply a way to make sipping bourbon a little easier. The cocktail starts out with a sugar cube that has been soaked with Angostura bitters and then muddled, to give a mixture of bitters and sugar. Bourbon is then added to the cocktail glass along with ice – and that's it.
The end result is more concentrated than most cocktails, but is less intense than drinking a shot of bourbon on its own.
Mint Julep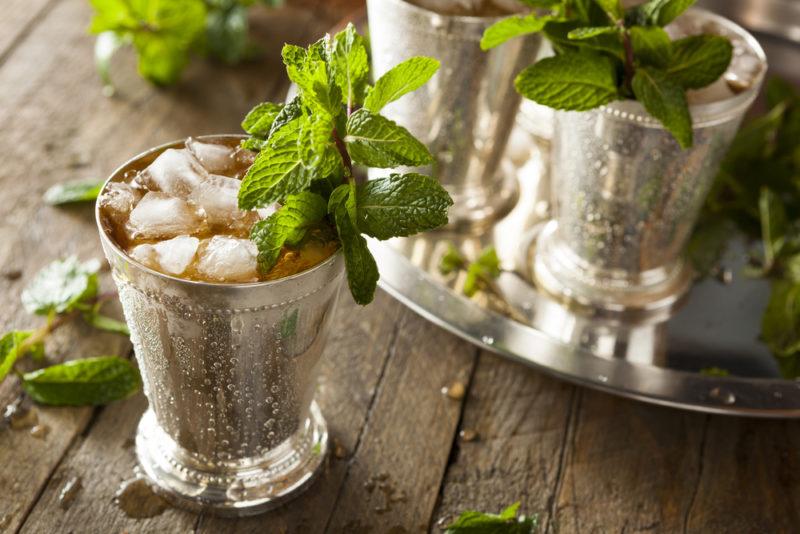 The mint julep is the official drink of the Kentucky Derby, but ordering the drink at the event is never cheap. Thankfully, you can make the cocktail at home too. All you need is bourbon, mint leaves, simple syrup, and crushed ice.
Simple syrup is generally something you'll make at home from sugar and water. The process can seem a little frustrating at first, but it quickly becomes second nature if you're making cocktails regularly.
For the mint julep, you'll be muddling the mint leaves and the simple syrup together, then adding the crushed ice and bourbon. After stirring it all together, your cocktail is good to go.
Aperol Spritz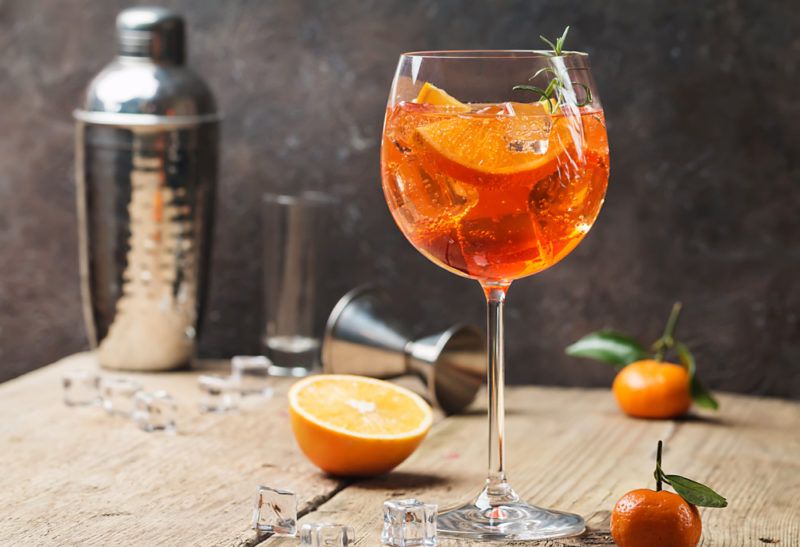 Like many spritzers, the Aperol spritz is a bubbly and refreshing drink. Not surprisingly, the cocktail uses Aperol as the main ingredient, which is what provides the cocktail's distinctive color and flavor.
A little soda water is added too, while Prosecco makes up roughly half of the drink. As with similar cocktails, Prosecco isn't essential. You can use another type of sparkling white wine if you would prefer – and many people do.
Moscow Mule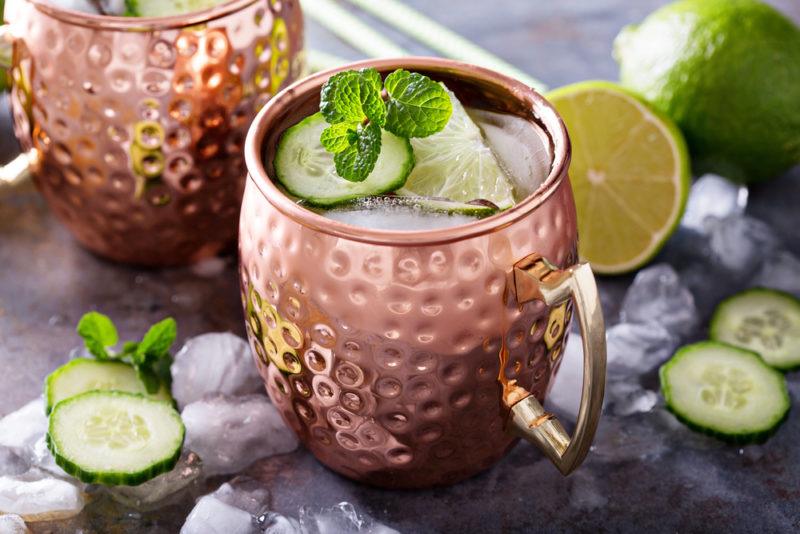 A Moscow mule combines vodka, ginger beer, and lime juice. The cocktail is traditionally served in a copper or a pewter mug. The mug helps to keep the drink colder for longer, which is important, as the cocktail tastes much better when it is icy cold.
While ingredient ratios vary, a Moscow mule often ends up containing roughly two parts of ginger beer to every one part of vodka. This balance creates a refreshing drink that isn't too strong.
Margarita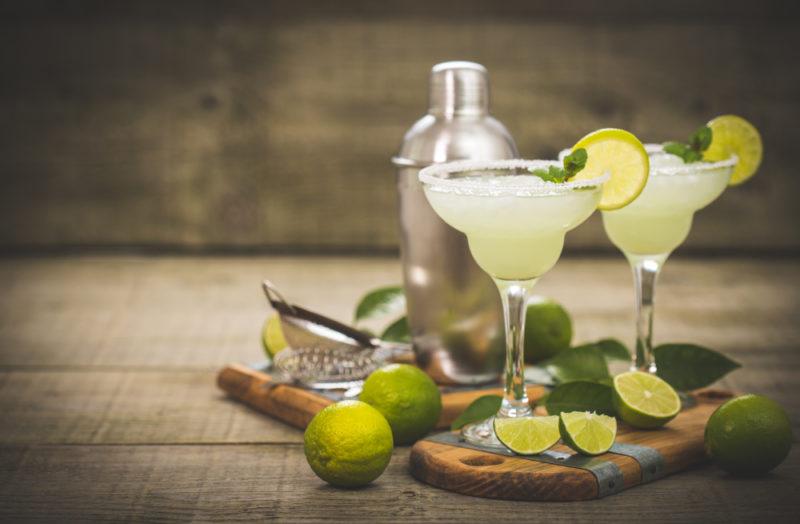 Margaritas sometimes look complicated, but the classic version of the cocktail just involves blanco tequila, Cointreau, and lime juice, often in a 2:1:1 ratio. The cocktail is traditionally shaken and served in a glass with a salted rim.
The most common variation is a frozen margarita, which can be as simple as blending the ingredients together with ice to create a slushie-like texture.
There are other variations too, including ones that rely on margarita mixes and others that add in extra sweeteners. Some of these create excessively sweet drinks, ones that almost entirely obscure the traditional flavor of a margarita.
Sidecar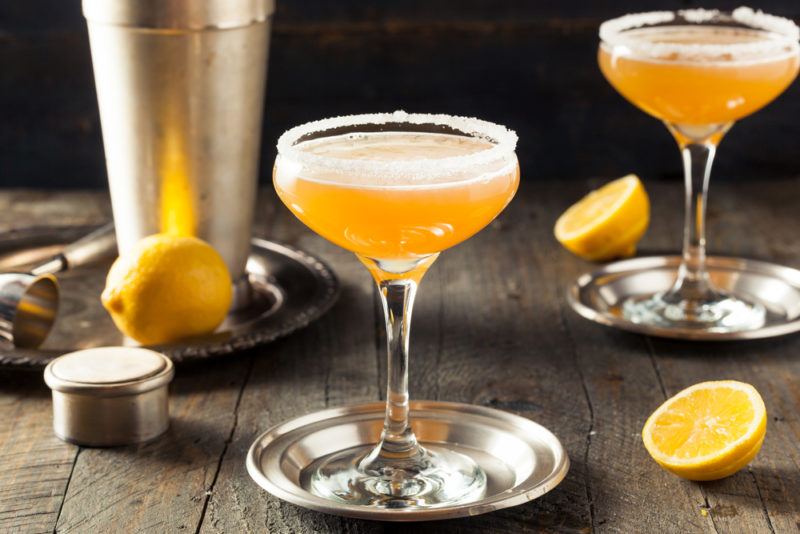 The sidecar is a classic drink with a long history. It uses cognac as the main alcohol of choice, with Cointreau and lemon juice as other ingredients.
While the combination of ingredients might seem simple, the sidecar ends up having a delicious balance of flavors.
A sidecar is traditionally served in a cocktail glass with a sugared rim. This presentation along with the color of the drink makes it an easy cocktail to impress friends and family with.
Daiquiri

Daiquiri is one of those cocktails that are served in countless ways and many of those are excessively sweet. However, the classic version of the cocktail has a fantastic balance of flavors. With just three ingredients, it's easy to prepare too.
All you need is light rum, simple syrup, and lime juice, in a 2:1:1 ratio. The simple syrup and lime juice play off one another well, while also contrasting the flavor of the rum. You'll want light rum for this cocktail and you can choose whichever brand you enjoy the most.
Vesper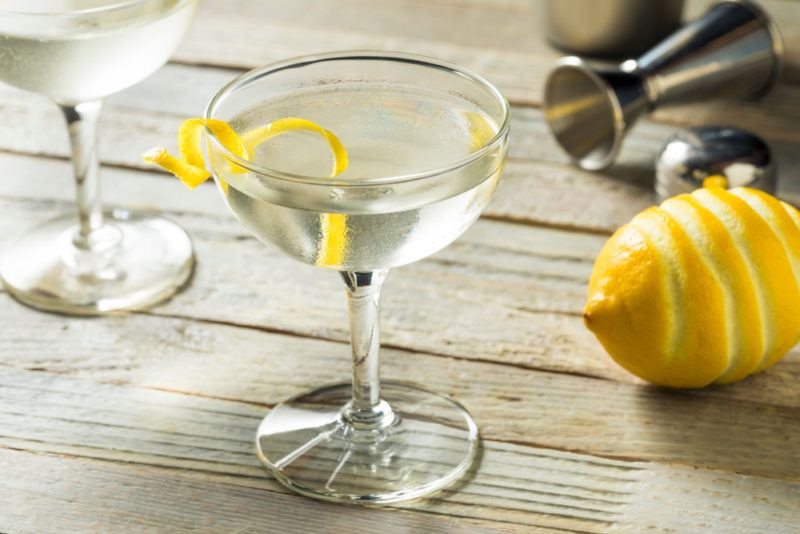 Most martinis use two ingredients, generally either vodka or gin, and vermouth. The Vesper martini is different. The cocktail was developed by Ian Fleming in the original Bond novel Casino Royale. It is notable because it uses both gin and vodka.
The initial version of the drink called for Kina Lillet, which is a type of dry vermouth that has since been discontinued. Lillet Blanc can be used instead to create a similar, if not quite identical, outcome.
If you're not too concerned about exact brands, then any type of dry vermouth could be used with the martini.
Obituary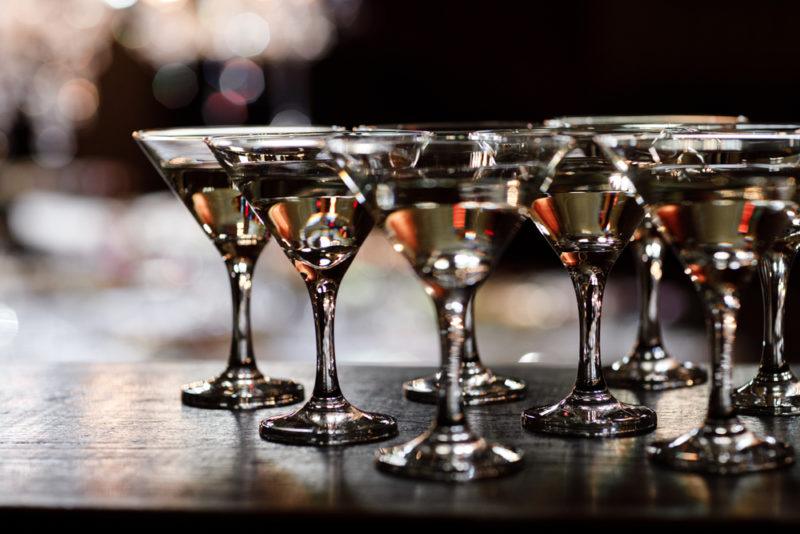 The obituary cocktail is largely a gin martini, except that a little absinthe has been added as well. This single extra ingredient has a massive effect on the finished drink. You're not just getting an anise flavor from the absinthe. There is also a delightful interplay between the absinthe and the aromatics in vermouth and gin.
If you aren't able to use absinthe, pastis is a viable alternative. This type of spirit provides the same anise flavor that you find with absinthe.
Americano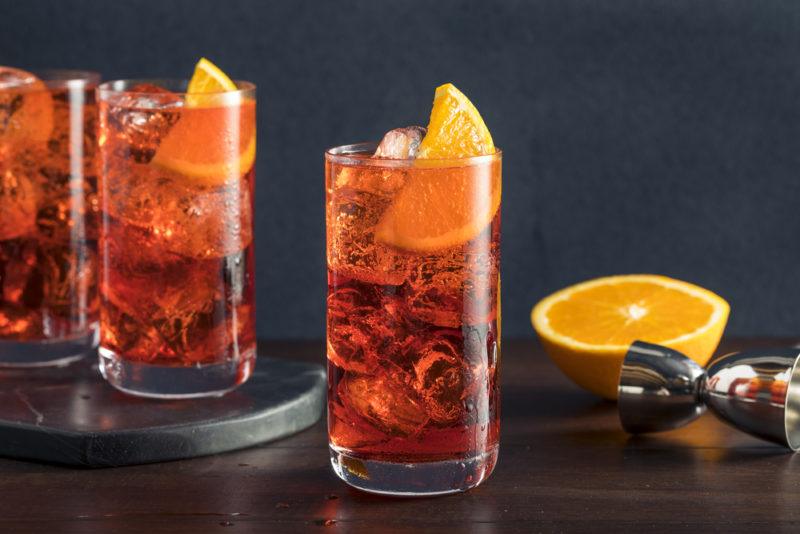 The Americano cocktail has nothing to do with the coffee of the same name. It doesn't even include coffee. However, the cocktail does have a surprisingly bitter flavor profile. Some people love it, while others prefer fruitier cocktails.
The Americano is a casual cousin of the negroni. It has some of the same ingredients and even looks similar in a glass. The difference is that an Americano uses soda water instead of gin.
This single switch dramatically changes the cocktail. Using soda water gives you a low ABV drink that is more refreshing than it is alcoholic.
You can bring the drink up a notch by carefully choosing the soda water that you rely on. Artisan soda water brands are likely to create a better cocktail, especially if they include some extra flavors.
Old Pal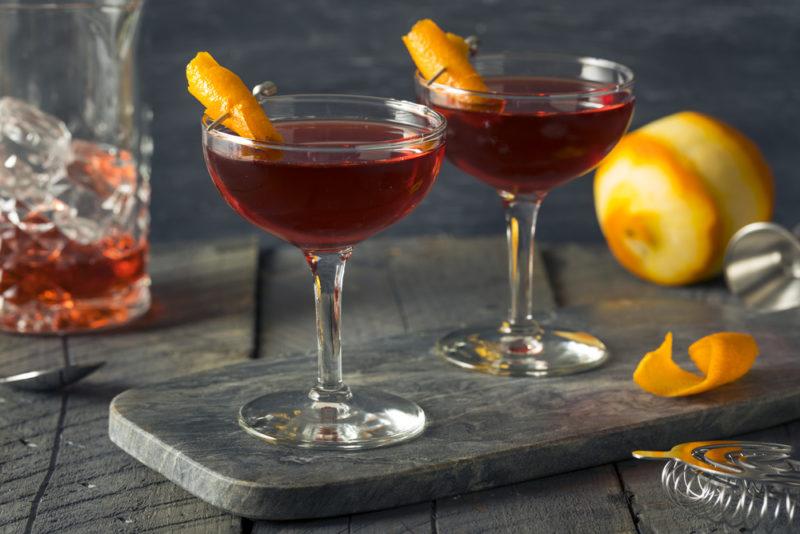 The old pal cocktail is basically a lighter approach to a boulevardier – although the APV of this cocktail is still high.
To make the cocktail, you use equal measures of rye whiskey, dry vermouth, and Campari. These are stirred together with ice in a mixing glass, strained, and then served.
Boulevardier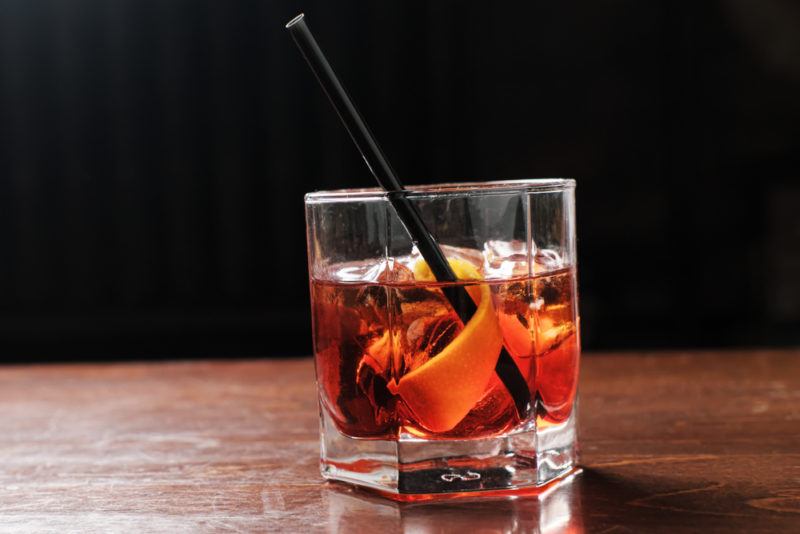 While we're on the topic, a boulevardier also ends up being a three-ingredient cocktail. Once again, the cocktail relies on equal quantities of the three ingredients. This time those ingredients are whiskey (bourbon or rye), Campari, and sweet vermouth.
The differences between this and the old pal can be as simple as the type of vermouth, but even just this one change can have a strong impact on the flavor profile. In both cases, the specific products you choose will strongly influence the finished drink, so choose wisely.
Rum Flip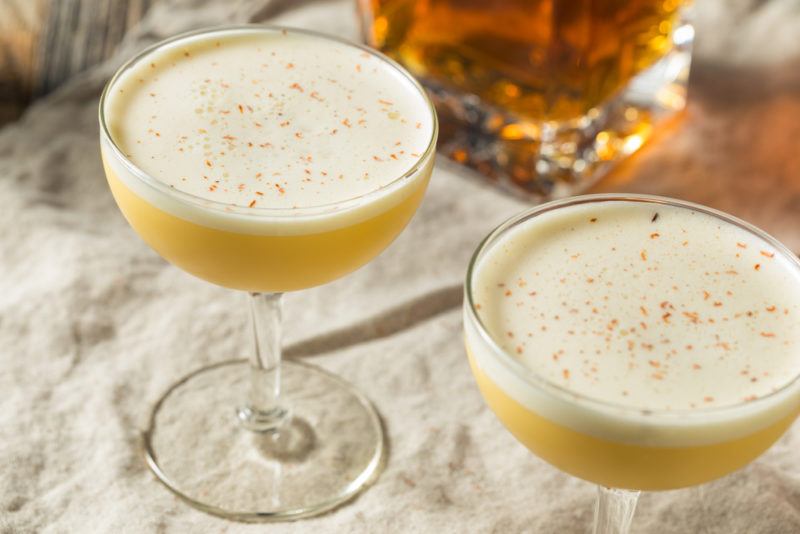 The three ingredients in rum flip are a little unusual. There is rum, of course, along with ground nutmeg and a whole egg (not just the egg white).
Because you're using an egg, the cocktail takes a little effort to prepare. You first need to shake the egg and the rum together in a cocktail shaker. Then you add some ice in and shake again. Using two steps like this is essential for creating the texture of the drink.
The nutmeg is generally sprinkled on top of the cocktail, although some recipes add it into the mix instead. For a more complex flavor profile, you could try using extra spices as well, like cinnamon.
Rob Roy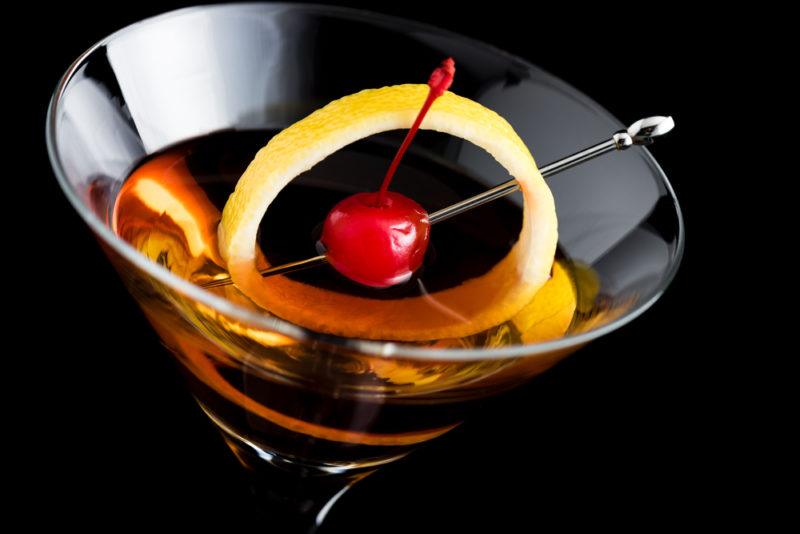 A Rob Roy cocktail uses Scotch whisky as the main ingredient. Sweet vermouth is included too, along with a few dashes of Angostura bitters.
You don't need an amazing Scotch whisky for this cocktail, as sweet vermouth and Angostura bitters both have significant flavors of their own. The nuances of a single malt Scotch, for example, would be lost in the drink.
As an added bonus, the recipe is flexible. You can change the ratios of the ingredients, the garnish, and even the bitters that you use. Swapping the Angostura bitters out for orange bitters instead is one example of this pattern.
Gold Rush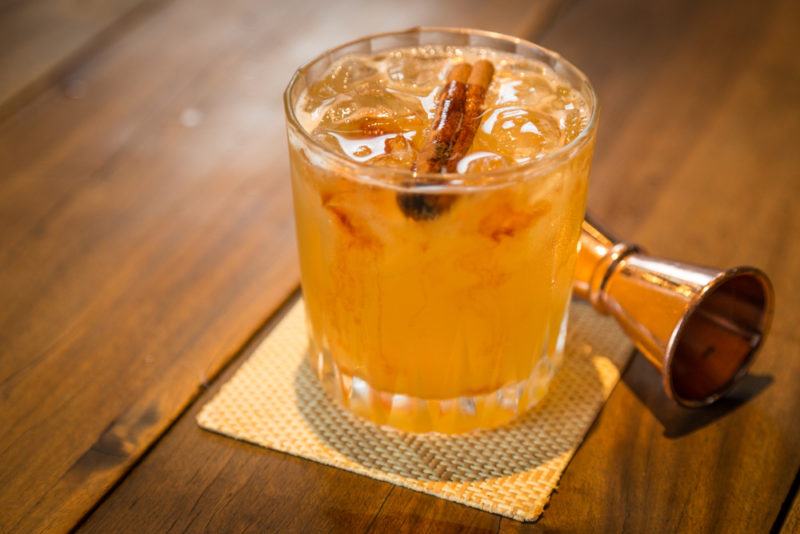 The gold rush is a modern cocktail, one that relies on bourbon, lemon juice, and honey syrup as the main ingredients. It is a little like a bee's knees cocktail, although that one has a different base spirit.
Honey syrup is generally something that you make yourself. The idea is the same as a simple syrup, except that you're using honey rather than sugar.
Matador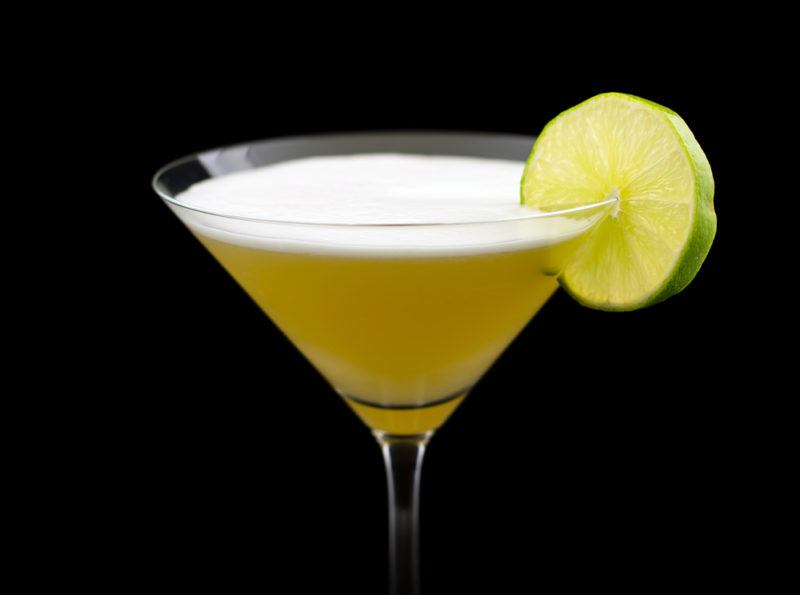 If you want a refreshing cocktail, then the matador is a good choice. One version of the recipe relies on gold tequila, pineapple juice, and lime juice.
Some variations are more complex, such as one that also includes simple syrup and angostura bitters, and another that uses triple sec. Each ingredient combination will have its own balance of flavors. You may need to experiment to find the version you like the most.
Japanese Cocktail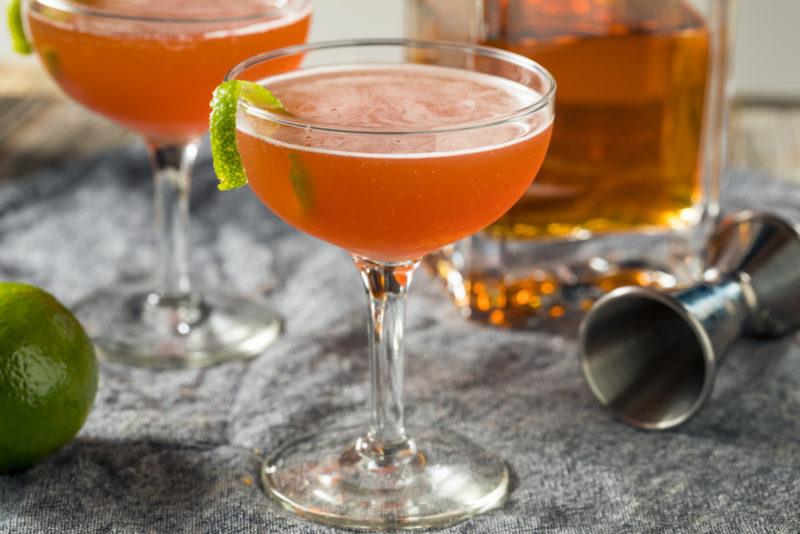 This cognac cocktail ironically relies almost entirely on French ingredients. Cognac is the main ingredient by volume. A little orgeat is present too, which is a sweet almond syrup. A few dashes of Angostura bitters helps to balance out the flavor profile.
Blushing Betty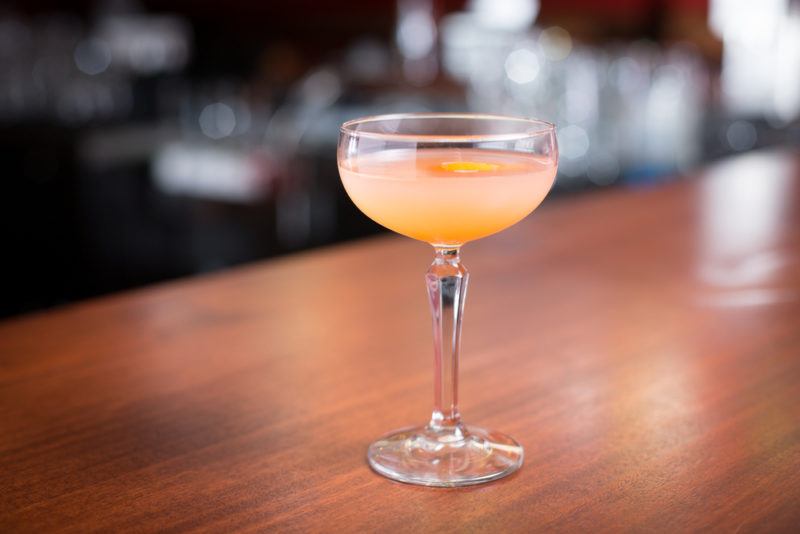 Here's a refreshing cocktail that is easy to prepare too. It uses bourbon, along with simple syrup and pink grapefruit juice. The simple syrup and pink grapefruit juice create a refreshing sweet-sour flavor profile.
The flavor of bourbon perfectly complements the flavor of the other ingredients.
Great Gatsby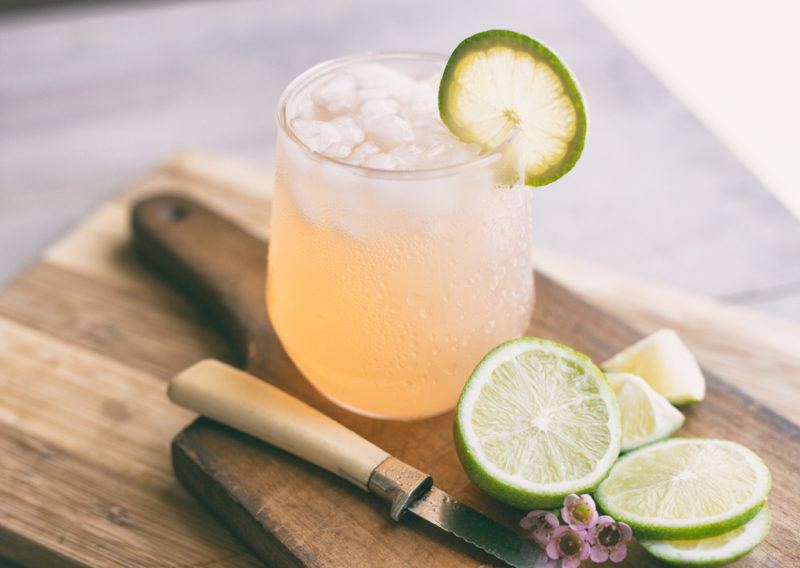 It's easy to see where the Great Gatsby cocktail got its name from. The drink is a fairly modern one, which doesn't stop it from being delicious.
The three ingredients this time are vodka, Lillet Blanc, and grapefruit juice. You'll generally be using equal parts of Lillet Blanc and vodka, along with two or more parts of grapefruit juice.
With this combination of ingredients, quality matters. Try to use freshly squeezed grapefruit juice whenever possible and avoid bottom-of-the-shelf vodka.
Brandy Alexander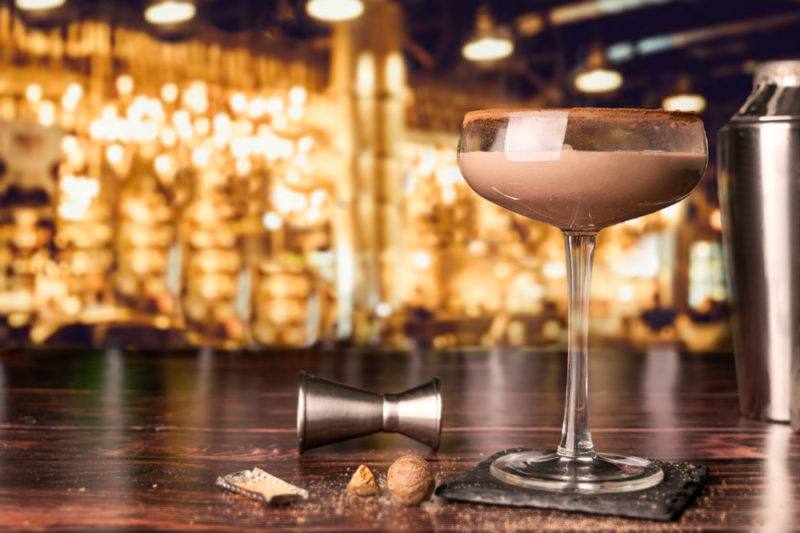 A brandy Alexander is a dessert cocktail that simply can't be missed. It uses cognac, dark crème de cacao, and cream as the three ingredients. If you have some nutmeg on hand, this makes an ideal garnish.
Equal parts of all three ingredients is the approach most often used with this cocktail. You might also choose to increase the cognac content a little to create a more intense drink.
Vintage Champagne Cocktail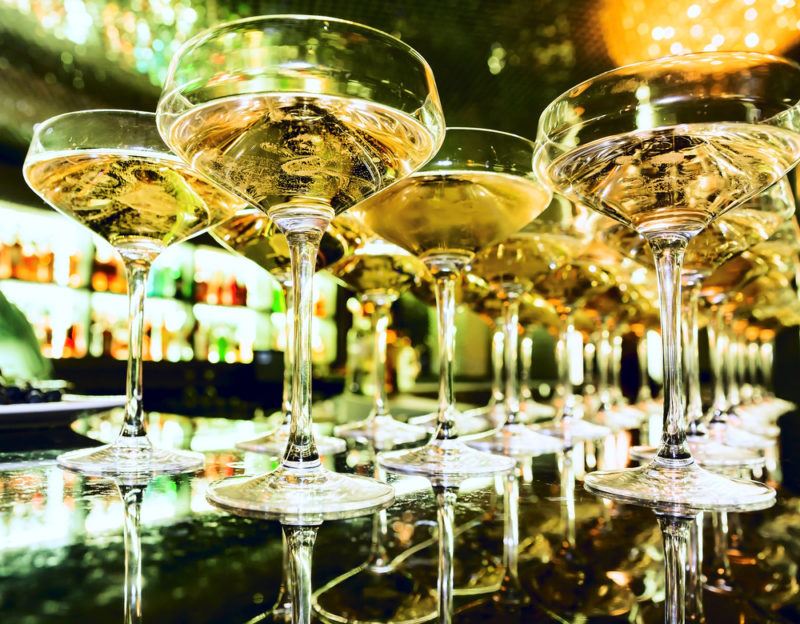 Champagne isn't that common as a cocktail ingredient. It's mostly consumed on its own.
Despite this, champagne can be used in some interesting cocktails. The other ingredients help to balance out the flavors of the champagne, creating a more interesting and nuanced drink. Making cocktails is also a great way to make a bottle of champagne last longer.
This three-ingredient cocktail is a modern one and is easy to prepare. The ingredients are brandy, champagne, and orange liqueur. You can use triple sec, Cointreau, or grand mariner as the liqueur of choice. They all work well.
As is often the case, you can swap the champagne for prosecco or even regular sparkling white wine. The cocktail won't taste quite as good with a lower quality wine, but it is still worth trying.
Champagne Cocktail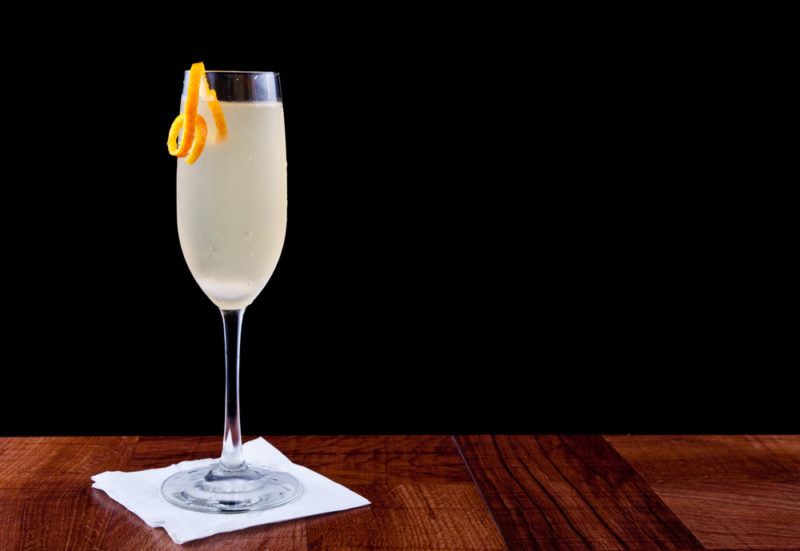 This classic drink does simply go by the name champagne cocktail. The name fits too, as the two other ingredients only slightly change the flavor of the champagne. Your bubbly still remains the dominant part of the drink, making this an ideal cocktail for high-quality champagne.
To make a champagne cocktail, you first place a sugar cube in the bottom of your champagne flute, then dash some bitters over top. The glass is then filled with champagne and drunk as-is – no mixing involved.
Bee's Knees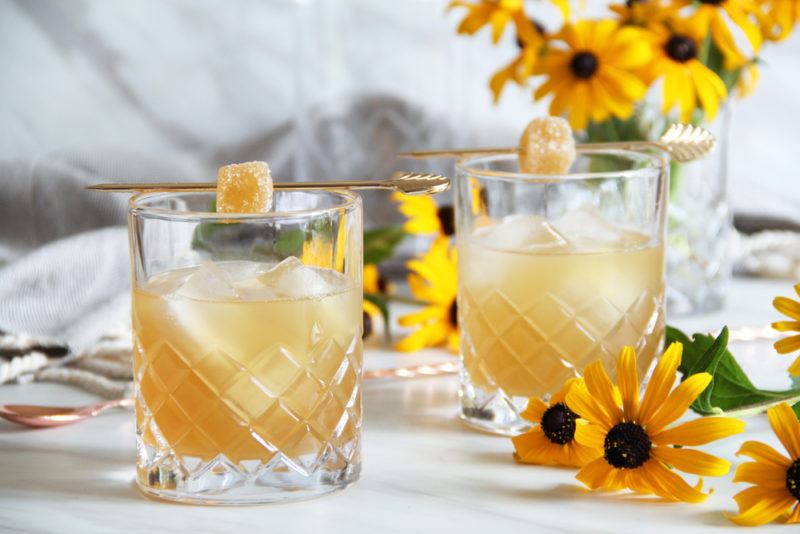 It's easy to see why this cocktail is called Bee's Knees, as it uses honey syrup as one of the three main ingredients. The recipe also includes gin and fresh lemon juice. You end up with an interesting sweet and sour balance in the drink that is simply exceptional.
While the drink is mostly easy to make, you will need to prepare the honey syrup first. The idea is the same as simple syrup, except this time you're heating together equal proportions of honey and water.
This cocktail is easy to tweak, as the honey and the gin both play strong roles in how the drink ends up tasting. Different types of gin have their own balance of botanicals, while each type of honey has a distinct flavor. You could experiment with different types of gin and honey until you find a combination that you love.
Gimlet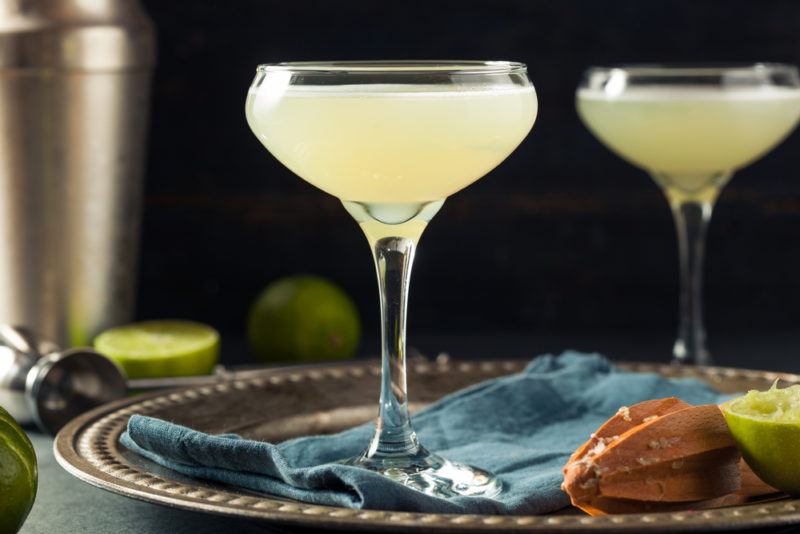 If you love gin but are getting sick of the classic gin and tonic, then a gimlet is the way to go. The gimlet mostly consists of gin, with around half an ounce of fresh lime juice and the same of simple syrup.
The lime juice and simple syrup contrast one another nicely, giving a classic sweet and sour flavor combination. Their flavors aren't too strong either, so the nuances of your gin will have the chance to shine through. This is perfect if you're using craft gin to make your cocktail.
Dirty Martini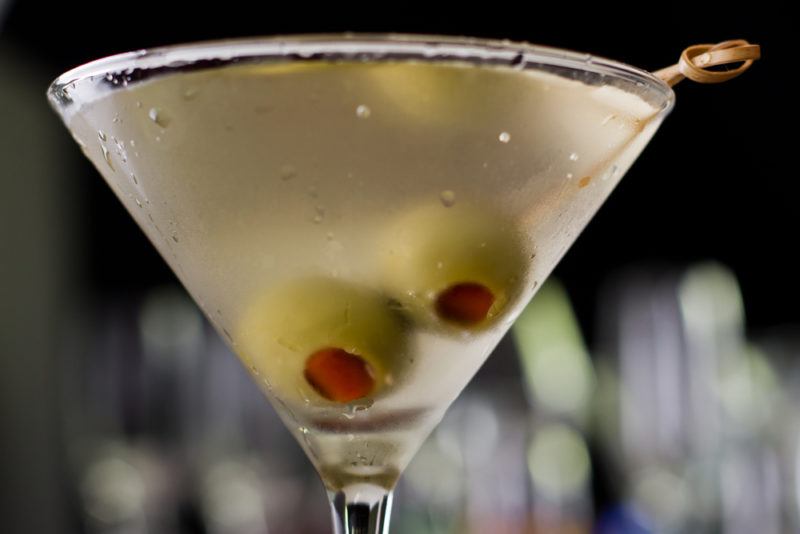 The classic martini is a two-ingredient drink. It relies on gin or vodka, along with dry vermouth. The ratio of spirit to vermouth can be varied and many people have their own preferences for the perfect drink.
A dirty martini is a slight variation on the theme. This cocktail includes a little olive juice as a third ingredient. An olive is often included in the drink as well. The olive juice adds some well-needed complexity to the flavor profile.
Kir Royale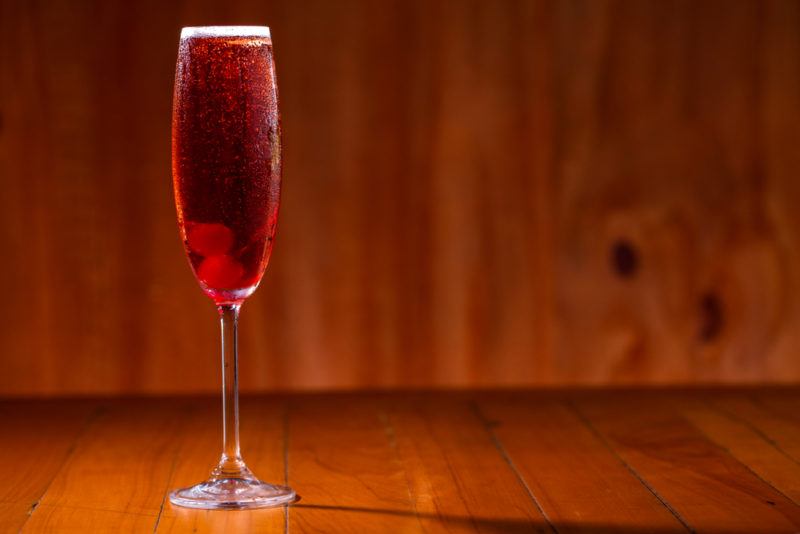 A kir royale cocktail can be made with three ingredients. Crème de cassis, orange zest, and champagne is one approach that works well. Chambord is often chosen as the crème de cassis for the recipe.
Some versions of the cocktail drop out the orange zest and add in fresh raspberries or blackberries instead. These can be muddled in the bottom of the glass to release their juice.
Other versions of this drink skip out the fruit and just use the cassis liqueur and wine.
This drink is called a kir royale because it includes champagne. You can swap the champagne out for a different type of sparkling white wine, but the resulting cocktail is just called kir, rather than kir royale.
Revolver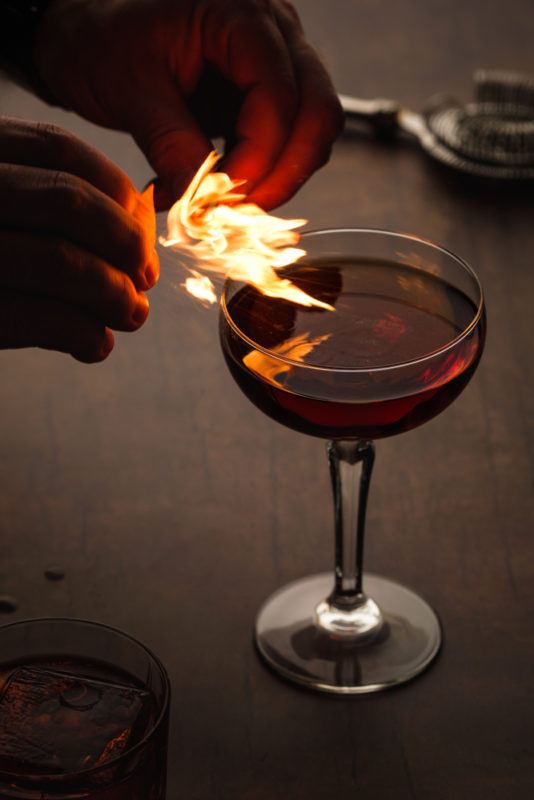 The revolver might not sound too attractive to begin with, as the ingredients are bourbon, coffee liqueur, and orange bitters. Still, the flavors do complement each other well, especially if you use Bulleit bourbon, which was the bourbon that this cocktail was originally designed for.
There's another interesting feature too – the garnish. This cocktail is served with a flamed orange twist. You could skip the garnish if you wanted, but honestly, the flaming twist is the main thing that makes this cocktail so special.
Gin Buck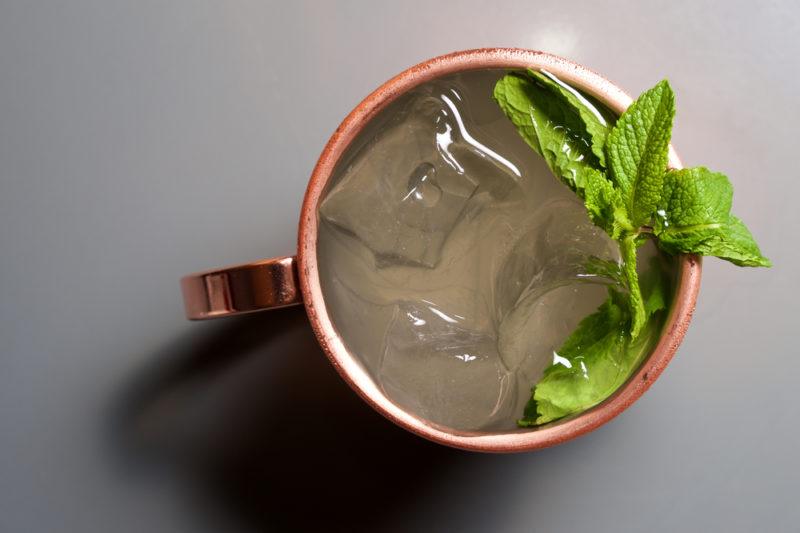 Like the gimlet, a gin buck is a simple gin cocktail. It is sometimes made with just two ingredients – ginger ale and gin. Most of the time, however, lemon or lime juice is added to the cocktail as well.
Citrus is a natural choice, as the flavors of lemon or lime complement ginger ale and gin well. This is also a way to add another dimension to the drink.
This cocktail is also popular because it doesn't rely on any unusual ingredients. You only have one spirit, one soda, and one type of juice to worry about – and they're all ingredients that are found in countless cocktails.
Gin Rickey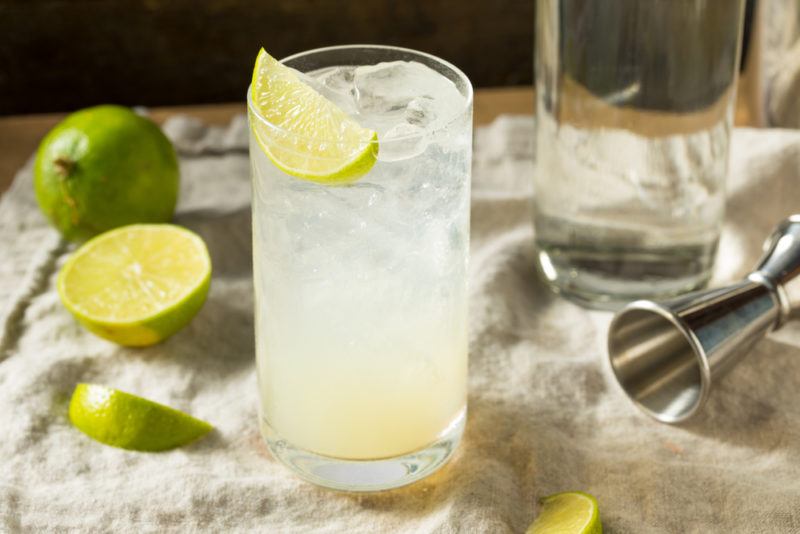 Here's another easy gin cocktail to try. The gin rickey uses club soda, lime juice, and gin, which creates a notably tart drink.
Because the gin and the lime are the only flavor-containing ingredients, the gin you choose will strongly sway the flavor of the cocktail. The cocktail can be a fun way to experiment with the botanicals of different gins and to really get a sense of how individual products differ from each other.
Green Ghost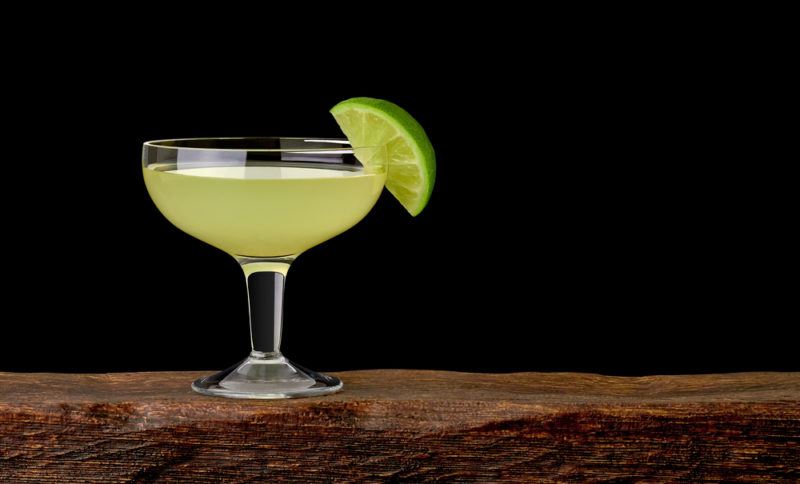 This cocktail looks good and tastes even better. Like the previous examples, the recipe relies on gin and lime juice. But, this one is served in a cocktail glass and uses green chartreuse as the third ingredient.
The green chartreuse is what provides the lovely green color of the cocktail. This also pairs perfectly with the flavors of lime and gin.