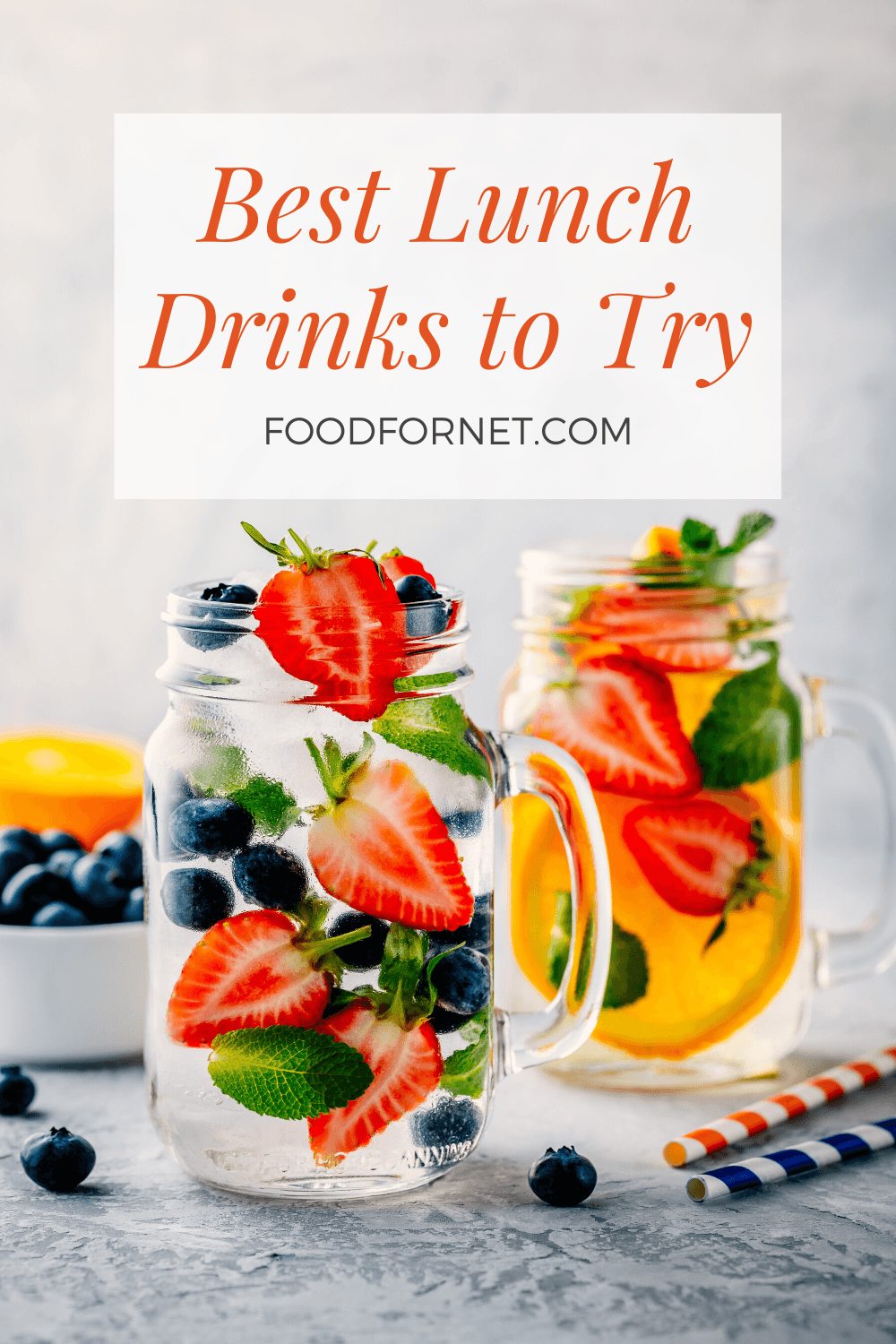 With so many options out there, knowing what to drink and when is no easy feat. We've talked about the topic in the past, when we looked at drinks for the morning and for the evening, but what about the best drinks to drink at lunch?
In some ways, this is the hardest time of day to think about. Your drinks in the morning should improve energy without giving you a sugar or caffeine crash, while evening drinks need to be calming to some degree. That much is clear.
But lunch? The best drink is going to depend on what you're doing with your day and your overall goals. Some people might need more energy, while others may be looking for a way to decrease the stress of a busy workday that is nowhere near completed.
So, in this list, we're covering a variety of options and explaining the advantages of each one. All of the drinks are healthy – giving you the chance to pick and choose based on your needs.
Best Lunch Drinks
Water
Seltzer
Flavored Seltzer
Smoothie
Fresh Juice
Lemon Water
Infused Water
Coconut Water
Tomato Juice
Green Tea
Peppermint Tea
Kombucha
Turmeric Latte
Milk
Plant-Based Milks
Coffee
Bone Broth
Water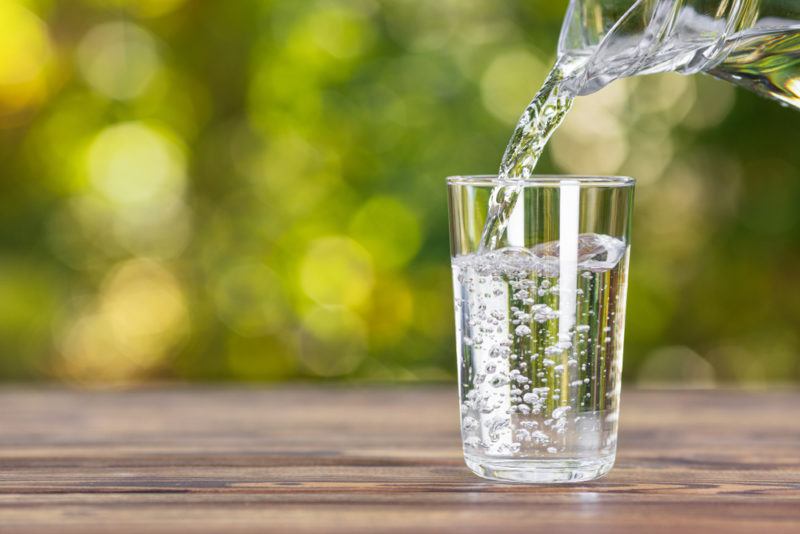 Water remains one of the healthiest things that you can drink. It is refreshing and hydrating, while containing almost no calories.
Many people don't realize just how important staying hydrated is. Even mild dehydration can affect your energy levels and concentration. This type of dehydration is surprisingly difficult to spot too.
Some people recommend drinking a certain amount of water per day and drinking before your thirsty. Others suggest that you should only drink when you're thirsty.
Either way, it's clear that if you're thirsty getting something to drink is important – and water remains one of the best choices.
Seltzer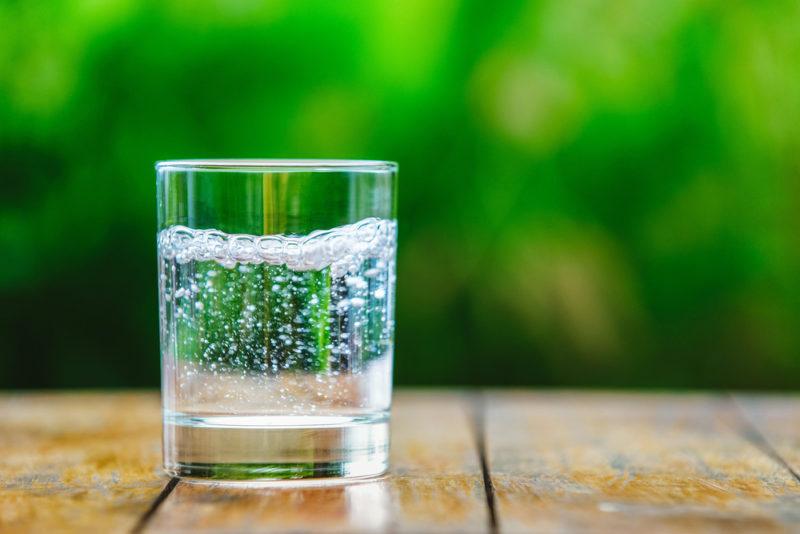 Seltzer is, quite simply, sparking water. This isn't a bad thing at all. The carbonation can make the drink more refreshing and enjoyable than water on its own.
You can also turn to soda water (also called club soda). The two are similar, except that soda water has added minerals to improve the flavor. Seltzer, on the other hand, largely tastes like water.
Flavored Seltzer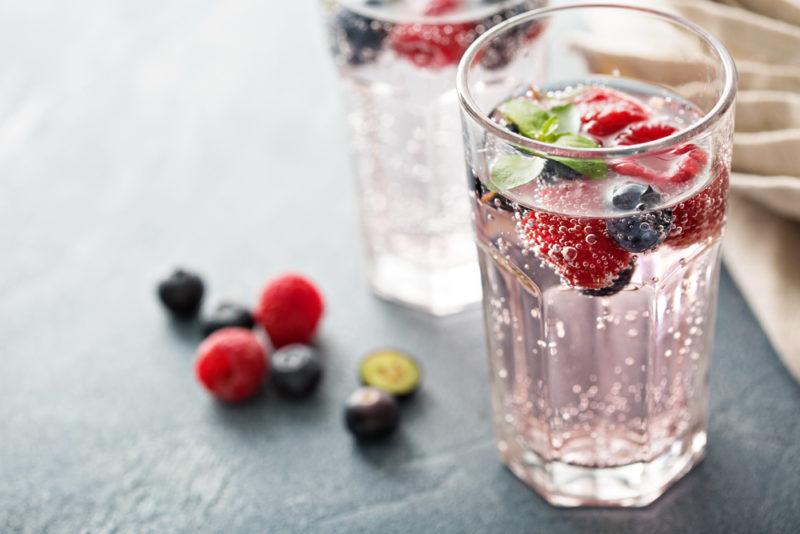 You can take the previous idea one step further too and add a little fruit juice to your seltzer or soda water. If you keep the amount of fruit juice low, then you still end up with a healthy drink, which happens to taste better than plain water.
One trick is to focus on juice that is fairly tart and doesn't have many added ingredients. For example, tart cherry juice, pomegranate juice, cranberry juice, and grape juice are all powerful sources of antioxidants. Just be sure to choose a brand that doesn't add too much to the drink.
Smoothie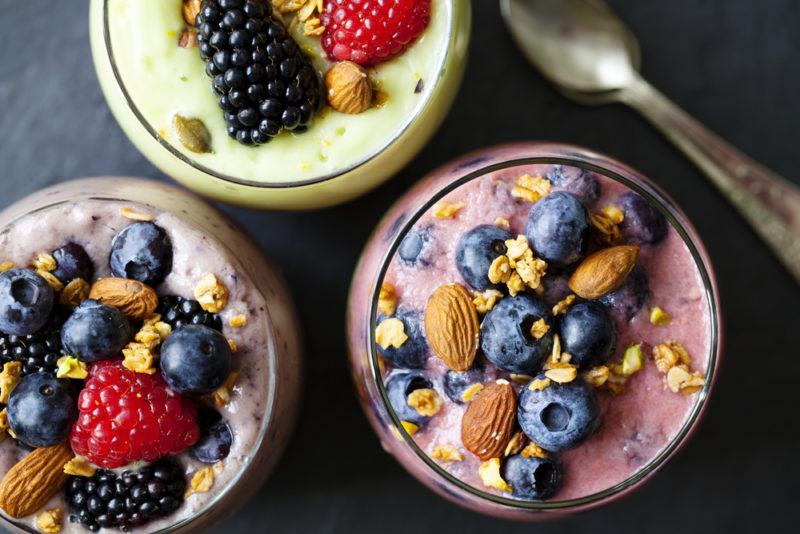 Smoothies are an easy way to boost your nutrient intake. You're getting nutrients from many different ingredients in a single drink. As an added bonus, most smoothies taste good too.
The trick is to plan your smoothie well. Some smoothie recipes are packed full of nutrition, while others simply load up on fat or sugar instead.
Think about your goals too. A protein rich smoothie might be ideal if you're not having much lunch or if you're having the smoothie instead of lunch.
But, if you're also eating a meal, your smoothie should be much lighter. You might skip most of the protein-based ingredients entirely and instead use a plant-based milk and plenty of greens.
Fresh Juice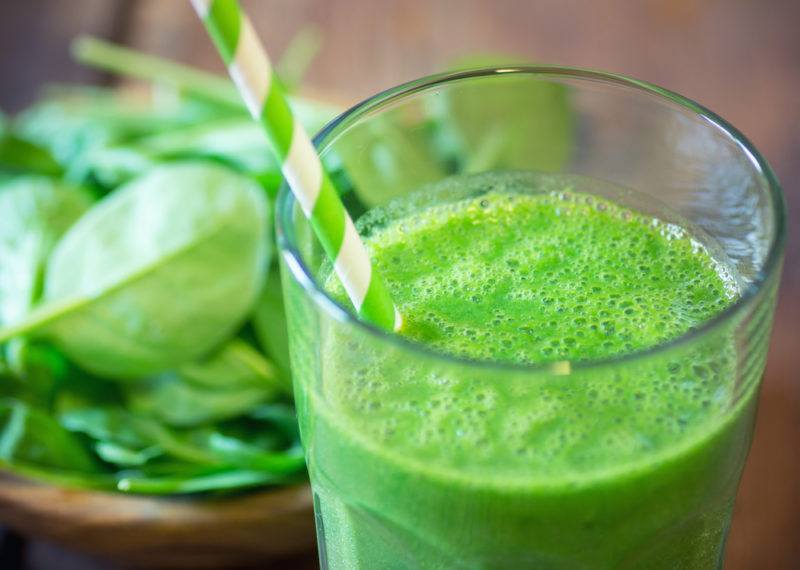 The right type of juice can be a healthy choice, giving you various plant-based nutrients and an energy boost at the same time. But, let's be clear, we're not talking about a glass of orange juice here. Even when freshly squeezed, fruit juice tends to be high in sugar and low in nutrients.
Instead, we're mostly looking at green juices. These tend to involve juice from multiple vegetables, with spinach and kale often being key ingredients. You might see some spices added into the drinks too, like ginger.
You do also need to include some ingredients that contain a decent amount of liquid, as kale and spinach certainly don't). Cucumber is a common choice.
Some recipes call for green apple juice as well or something similar. Using some type of fruit juice helps to balance the flavor profile of the drink, preventing it from becoming too bitter. Just keep an eye on quantities. Your green juice isn't going to be all that healthy if it is full of sugar.
Lemon Water

If you're trying to stay hydrated while keeping your calorie intake down, plain water isn't your only option. Lemon water is another popular choice.
The idea is incredibly simple. You're just adding a little lemon juice to your water. The lemon juice provides some nutrients and also flavors your water.
Despite all the hype around lemon water and its benefits, the flavor of the drink might be the biggest advantage. Many people struggle to drink plain water. Even just a little bit of flavoring can make all the difference in the world.
Infused Water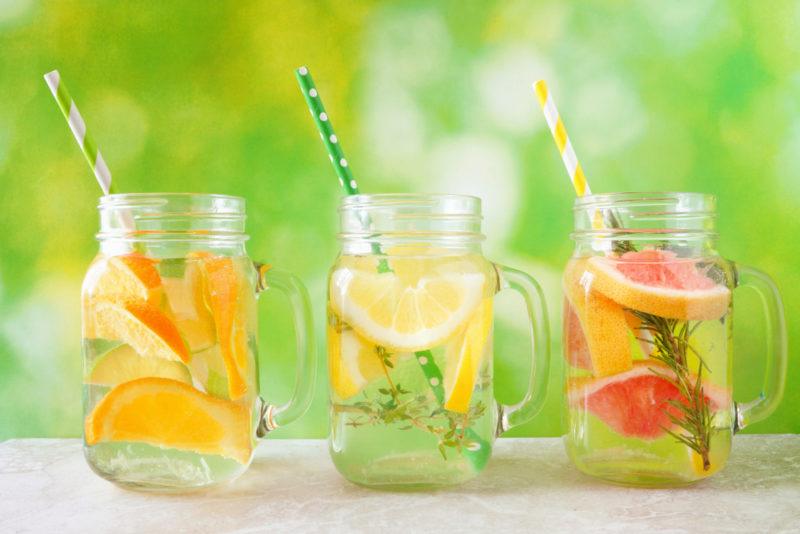 Infused water is another way to make your water taste better. You're simply adding various fruits, vegetables and/or herbs to your water and then allowing it to sit.
An easy way to do this is to fill a pitcher with water and whatever ingredients you want to use. Then, leave it to sit in the fridge overnight.
Some people fill drink bottles instead. You can find bottles that are specifically designed for infused water or just use regular ones. The vessel you use doesn't matter too much, as long as you give your drink enough time to infuse.
Many sites list infused water combinations to get you started, ranging from the simple to the complex. Of course, using a recipe isn't essential. You can play around with ingredients yourself. After you've tried a few combinations, you should start to get a sense of the flavors that you enjoy.
Coconut Water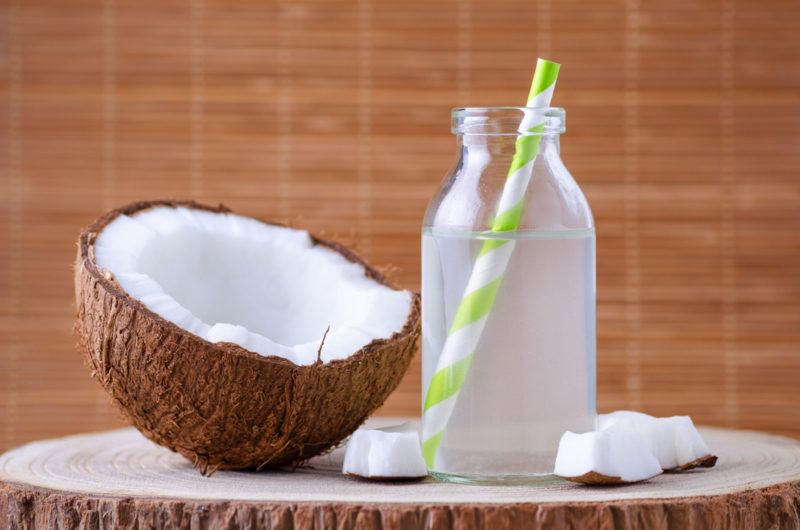 Coconut water is another hydrating choice. It's sometimes thought to be even more hydrating than water, as you're getting electrolytes too. The water also happens to be refreshing and could naturally increase your energy.
Coconut water does have a distinct flavor. Some people love it, while others don't.
If you don't like the taste of coconut, then honestly, just give coconut water a miss. With so many healthy drinks to choose from, there's no need to force yourself to drink something that you don't enjoy.
Tomato Juice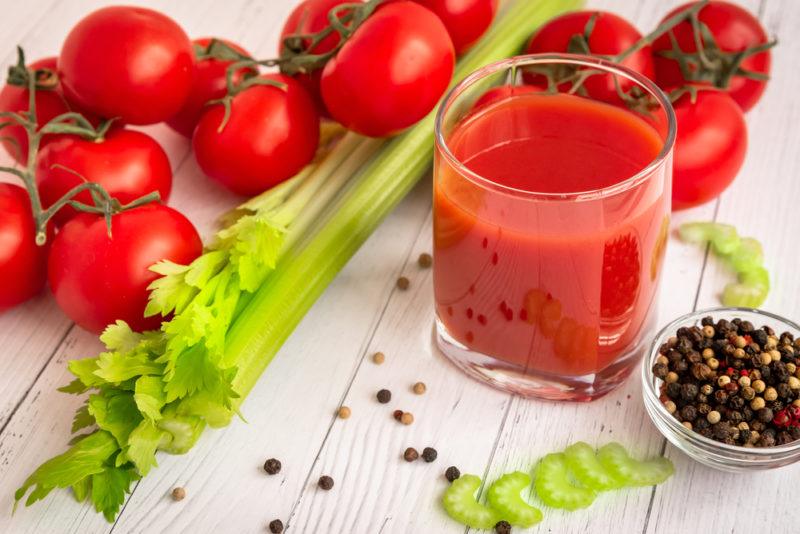 Tomato juice is another interesting choice – if you enjoy the flavor that is. Tomatoes contain the antioxidant lycopene, which may have interesting benefits throughout your body.
It is also a relatively uncommon antioxidant. You won't find high levels of lycopene from many other sources.
Besides, tomato juice can be refreshing. It's a nice change from more processed options too, especially if you make the tomato juice yourself, rather than buying a bottled version.
Green Tea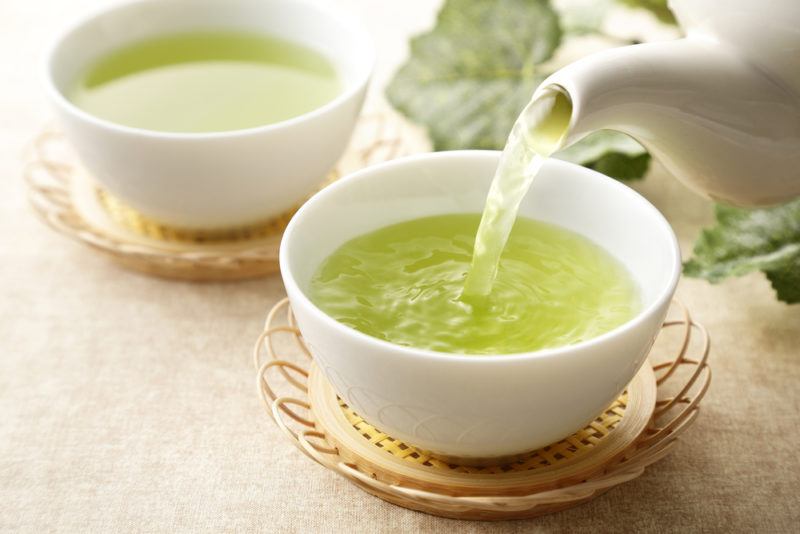 While all tea is good for you, green tea has some powerful advantages. Research has even linked the tea to a decreased risk of some diseases.
Some authors suggest that the best time to drink green tea is in the morning, early at night, or a few hours before or after a meal. Drinking the tea during a meal, on the other hand, may not have quite as many benefits.
So, why are we including green tea on a list for drinks to have at lunchtime? We're including it because you're still going to get many benefits from the tea, even if you're not drinking it at the so-called optimal time.
And honestly, precisely when you drink your green tea isn't going to have a large impact anyway. Whether or not you drink green tea regularly is much more relevant.
Peppermint Tea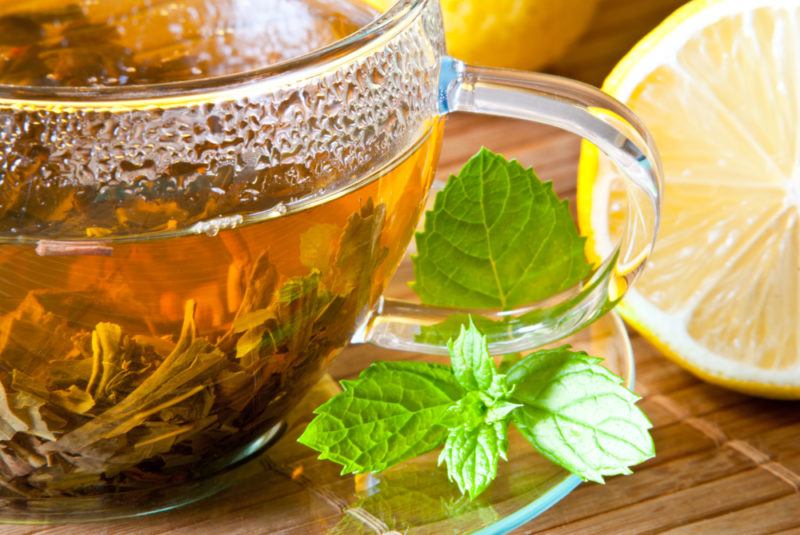 Herbal teas are, in general, great choices at any time of the day. Most of them are caffeine-free and you are drinking mostly water, so the beverage ends up being hydrating too.
Each type of tea offers is own combination of fragrance, beneficial compounds, and flavor. Peppermint tea is interesting because mint can help to de-stress you, while also improving your focus.
The focus aspect is very relevant on a workday, as the tea may help you to get back into the zone and focus on the tasks at hand. Peppermint could help with digestion too, which is ideal after a heavy lunch.
Kombucha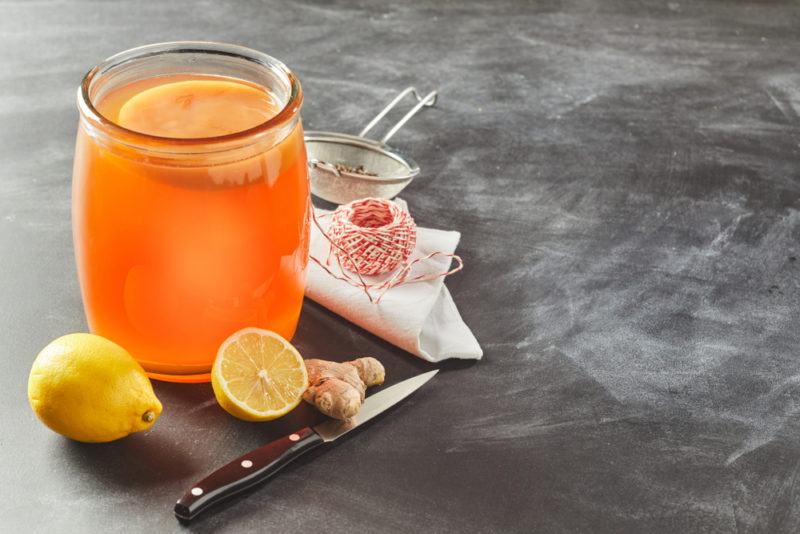 It's hard to go wrong with fermented drinks, especially the non-alcoholic ones. Kombucha stands out from the pack as it is incredibly popular. You can now easily find kombucha at many grocery stores or learn to make it yourself.
Kombucha is naturally low in caffeine and doesn't contain too much sugar either (most of the sugar that is added initially is used as food for the bacteria).
You can make kombucha yourself at home or purchase it from a store. The drink can be flavored in many different ways and many people love how it tastes.
Turmeric Latte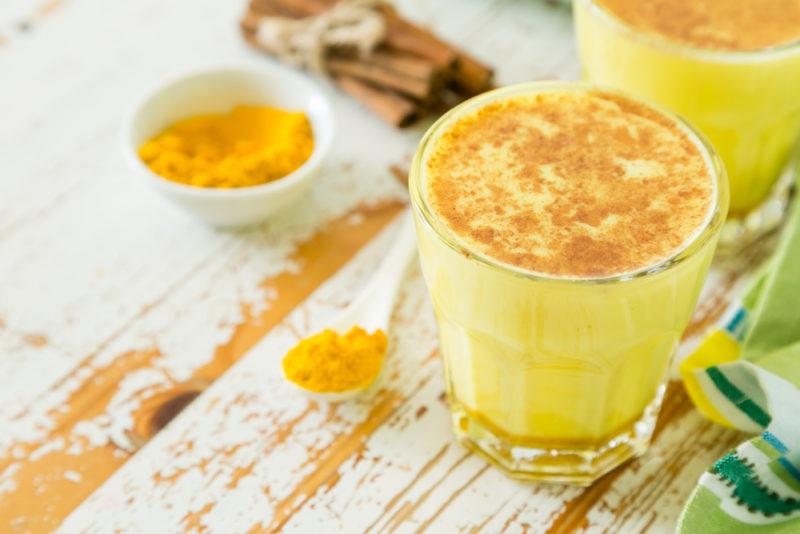 Even if you've never tried a turmeric latte before, you've probably heard about this drink. It has become exceptionally popular in recent years, largely because of the health benefits of turmeric. Plus, a turmeric latte is one of the easiest ways to get turmeric into your diet.
So, what exactly is a turmeric latte?
There is no single definition of the drink, as recipes vary dramatically. Still, there are some similarities. Most turmeric lattes are milky drinks that rely on plant-based milk, rather than dairy milk.
There might be other spices present too, like ginger, cinnamon, and black pepper. The black pepper is critical, as the piperine in black pepper helps your body to absorb the healthy compounds in turmeric.
Milk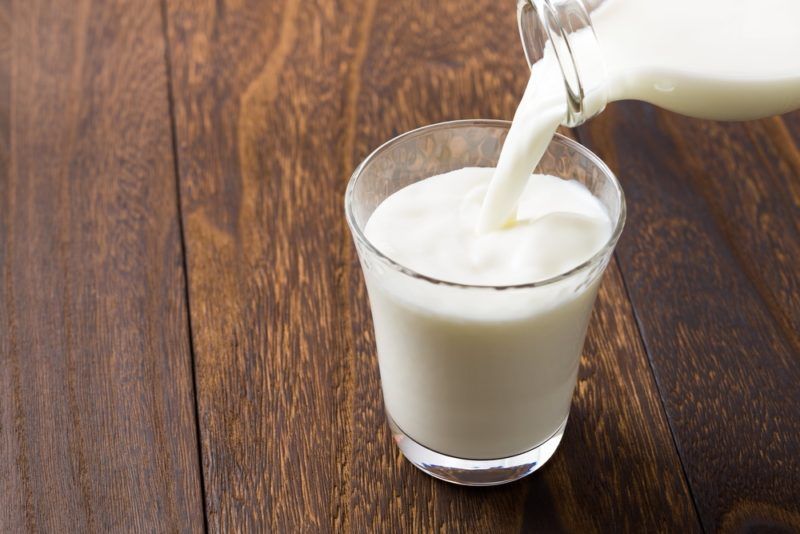 Simply drinking a glass of milk does still have advantages. In many ways, milk is a well-balanced drink, giving you protein, carbs, and fat, along with some important nutrients. This combination helps to keep you satisfied and reduces cravings.
1% milk is often recommended, as it is low in fat. However, there are debates about the impact of fat versus carbs on your body. Some authors suggest that full fat milk might be as good for you, as long as you are already healthy.
This means that the best choice will depend on your diet and lifestyle.
Plant-Based Milks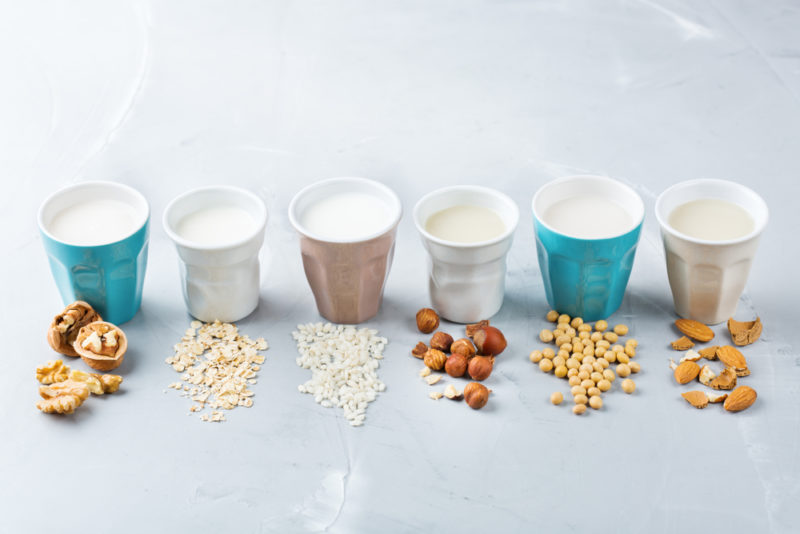 If dairy isn't your thing, how about a glass of a plant-based milk? There is a variety of these to choose from, including soy milk, coconut milk, almond milk, and hemp milk.
Some options will be delicious as-is, while others may need an extra ingredient or two. Most of the ingredients that you add to regular milk, like cocoa powder, work well with plant-based milk too.
Coffee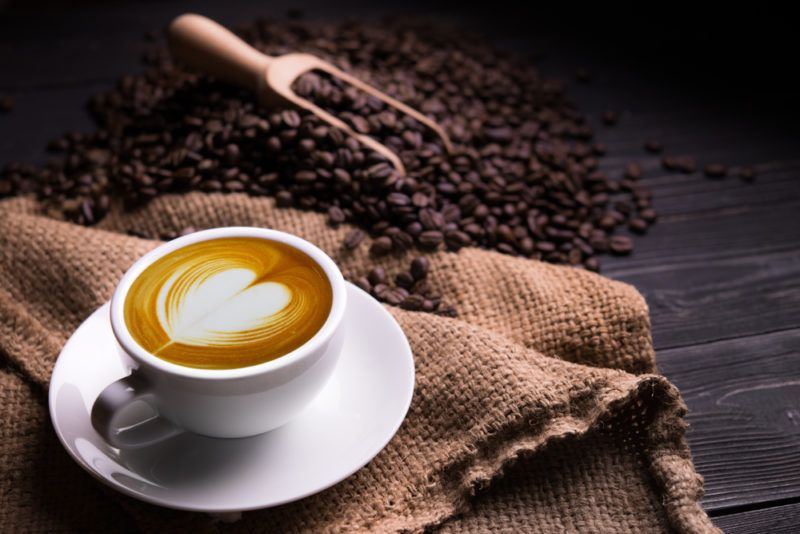 Many of us drink multiple cups of coffee throughout the day, partly because we enjoy it and partly for the caffeine. While the habit is often viewed as a bad one, studies into coffee and caffeine suggest that there may be health benefits.
Indeed, some research even links regular coffee consumption to a longer life. That's an impressive outcome, to say the least.
Having a cup of coffee at lunchtime might be an ideal choice for many people. There's often a natural lull in energy at this time and the coffee can help to keep you on track.
Still, your decisions around coffee are important and it's best to not overdo it. If you find yourself knocking back one coffee after another simply to stay alert, then you're probably drinking far too much coffee.
The alertness coffee offers isn't sustainable anyway. A healthy diet, enough sleep, and some exercise are all much more relevant for long-term outcomes.
Bone Broth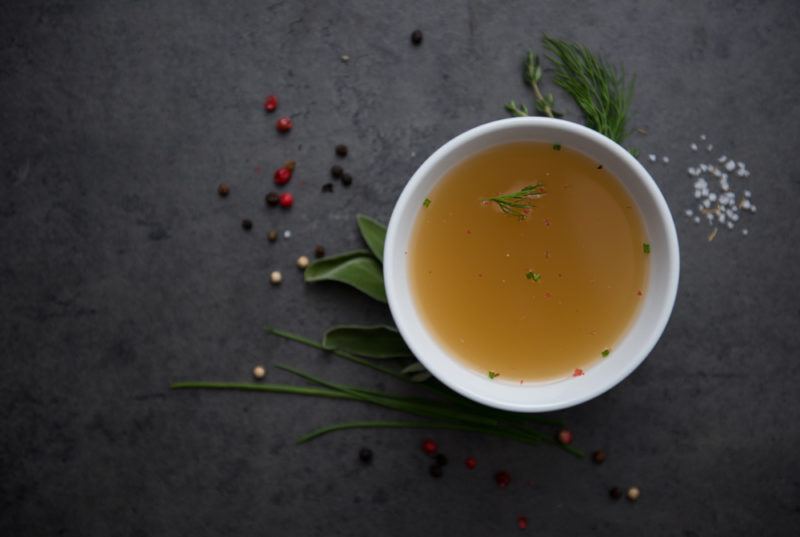 Bone broth is another drink that's become suddenly popular. Just like with a turmeric latte, bone broth is thought to provide an array of health benefits. Bone broth is interesting, as it contains compounds from bones and animal connective tissues.
These compounds may be especially relevant for joint health and digestion.
While you can drink bone broth at any time, the nutritional content makes it a particularly good choice at lunchtime. A cup of bone broth is just as warming as coffee or tea, but you get many more nutrients for the same amount of liquid.