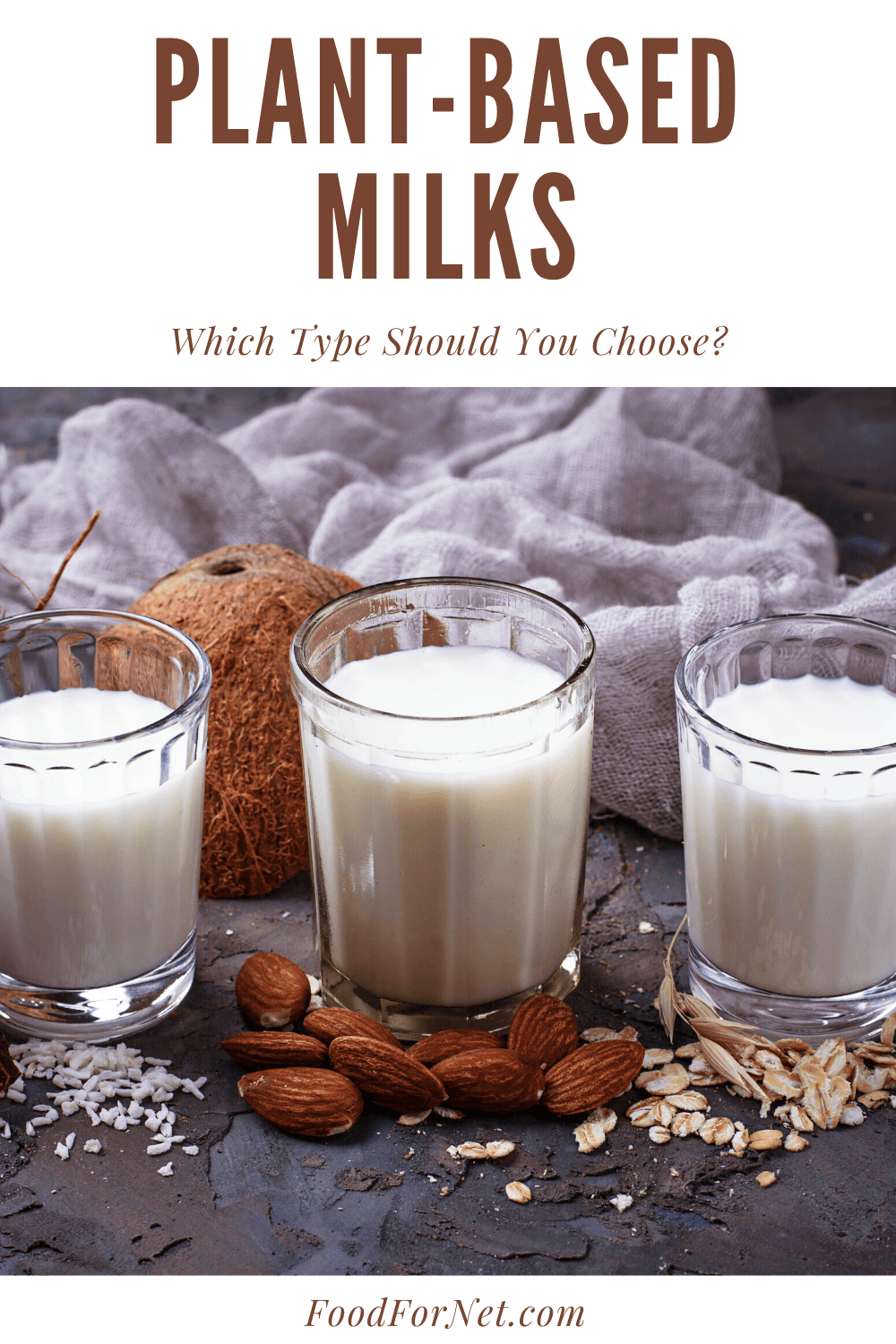 Plant-based milks have become famous for many reasons. Some people turn to plant-based milks because they are following vegan diets, while others are simply concerned about the impact that dairy has on our bodies. And indeed, with some theories suggesting that dairy contributes to inflammation, it's easy to see why some people are making the switch.
The problem is, what do you switch to? Grocery store shelves are full of different types of plant-based milks and even more options can be found online.
Each type of milk is distinct, with its own advantages and disadvantages. Some provide more nutrients, for example, while others are low in calories, making them useful for dieters. Then there are the plant-based milks that can trigger allergies, including coconut milk.
As we've done with protein powders, this list delves into the different types of plant-based milk. In it, we show you the options and talk about what they each have to offer. These vegan milks pair well with plant-based eggs and meat for a delicious and healthy breakfast!
Plant-Based Milks
Soy Milk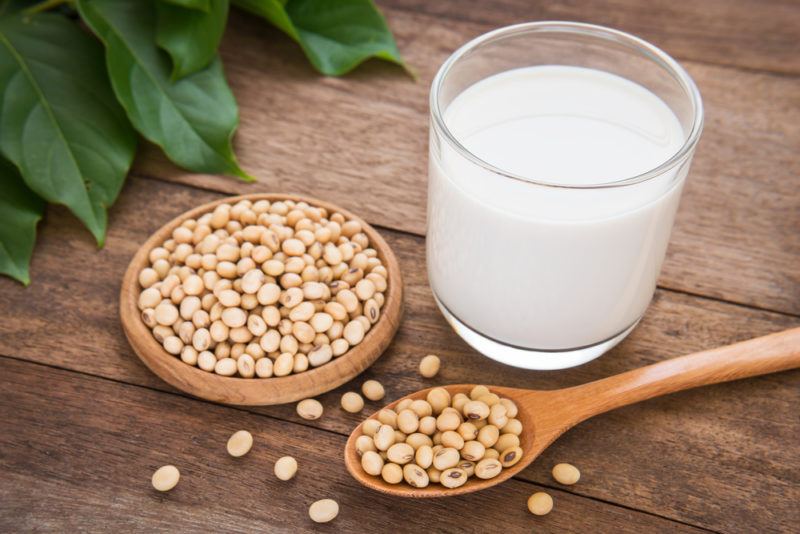 Soy milk is one of the longest-standing milk alternatives. While it is considered healthy by many, soy is also highly controversial.
There are two potential problems with soy. The first is that some of the compounds are thought to influence hormones in humans and even increase the risk of cancer. Some claims even suggest that soy is filled with antinutrients and toxins.
Studies have generally failed to find any health issues linked to soy. Realistically, there's a higher chance that soy will promote health, as it contains many desirable nutrients.
The second issue is GMO soy. Most of the soy produced in the United States is genetically modified, that's true. But, GMO soy is mostly used for animal feed. You won't usually find GMO corn in soy milk.
Besides, high-quality soy milk brands often avoid GMO soy entirely and have GMO-free certification to prove that this is the case. This makes the GMO angle pretty much redundant.
Soy milk does also have some advantages. For one thing, it tends to be inexpensive, so it is an attractive choice if you're on a budget.
Many companies fortify their soy milk too. This makes it an even better source of nutrients. Vitamin B12 and calcium are both common fortification choices. Vitamin B12 is especially important, as vegans often struggle to get enough vitamin B12 in their diet.
Whether soy milk is a good idea or not largely depends on your own values.
You can also think about how much soy you already have in your diet. If you're using soy as a key source of vegan protein, then you're already consuming a decent amount of soy. In this case, a different plant-based milk might be a better choice. If you don't have much soy in your diet right now, then soy milk is probably just fine.
Coconut Milk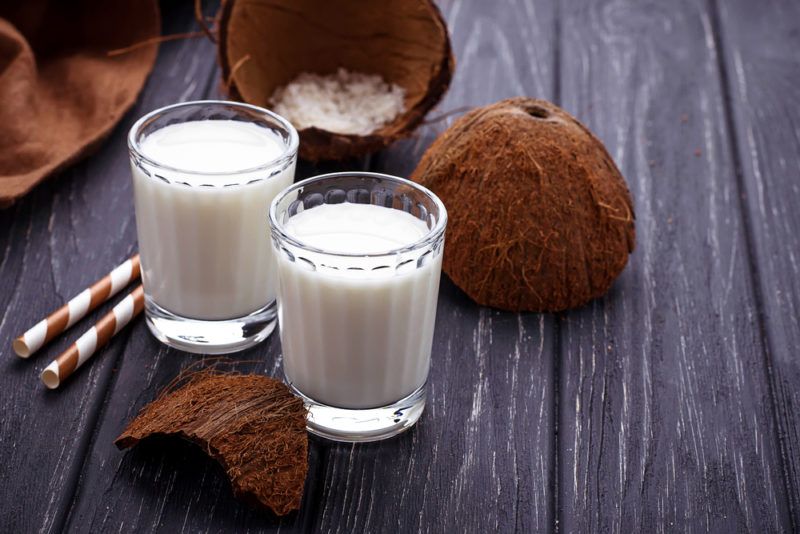 Coconut milk is made by blending the flesh of coconuts with water and then filtering the resulting liquid. Not surprisingly, coconut milk is easy to make at home. However, with so many products out there, many people buy coconut milk instead.
Coconut milk might be a little confusing, as you it is purchased in a can or in a carton. Both approaches tend to rely on the same ingredients, but canned coconut milk is generally more concentrated. On the other hand, coconut milk in the carton tends to be more watery and lower in fat. This version may contain more fillers too.
The differences are generally because canned coconut milk is used for cooking, while coconut milk in the carton is used as a milk alternative. Coconut milk in the carton doesn't have the right flavor or consistency to be used in most recipes.
You can, however, drink canned coconut milk. This type of coconut milk is high in fat and is thick, so it will work well in some situations and not in others. If you're not happy with the texture, you could always dilute the coconut milk until you get exactly what you need.
Almond Milk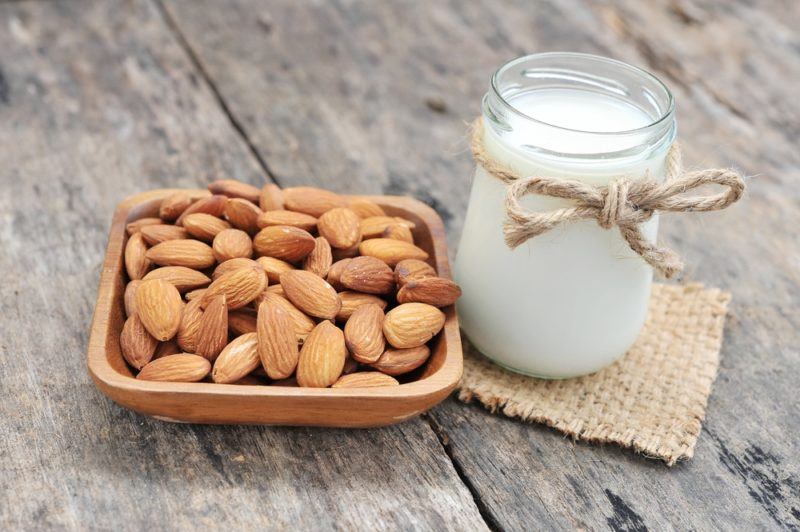 Almond milk sounds amazing initially, as almonds contain so many nutrients. They're a good source of protein and healthy fats too. Almond milk, on the other hand, not so much.
In fact, commercially produced almond milk tends to be mostly water. Many brands only contain around 2% almonds. That's not enough to provide many nutrients at all.
You can get around the issue by making almond milk yourself. The almond milk will still be mostly water. Even so, you'll be getting more almonds than with a commercial product, and increasing your nutrient intake by doing so.
That being said, the wateriness of almond milk isn't entirely a bad thing. This does mean that almond milk is much lower in calories and in fat than dairy milk and many other plant-based milks. It could be a perfect choice if you want a little more flavor than just using water.
Cashew Milk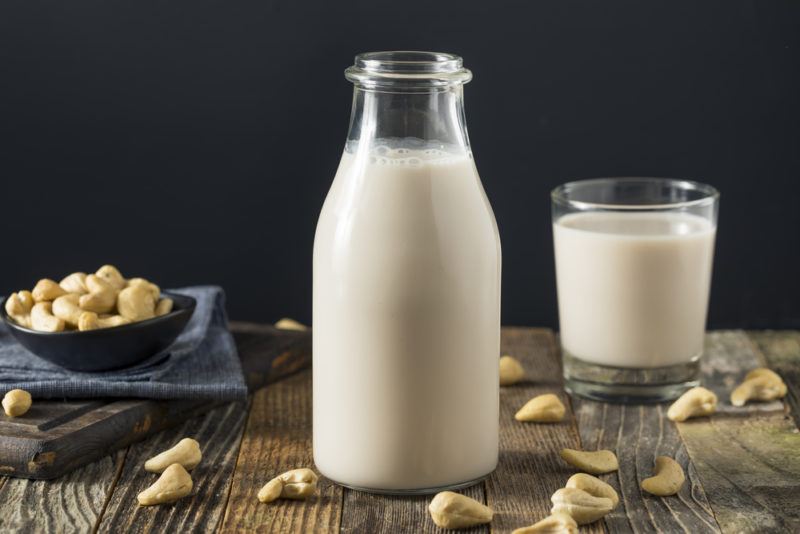 Cashew milk isn't as common as almond milk and tends to be more expensive. It is created by soaking almonds in water, blending them to create a paste and then straining the finished product. This milk still consists mostly of water and tends to be a little lower in calories than almond milk.
The milk is creamy, making it an excellent choice for smoothies. Not surprisingly, there is a subtle nutty flavor too.
If you're planning to make your own nut milk, cashew milk is a great first choice as cashews are softer than many other nuts. This makes them much easier to blend. You can even use the milk as-is without straining it. Doing so would give you more nutrients from the nuts, which is an added bonus.
Other Nut Milks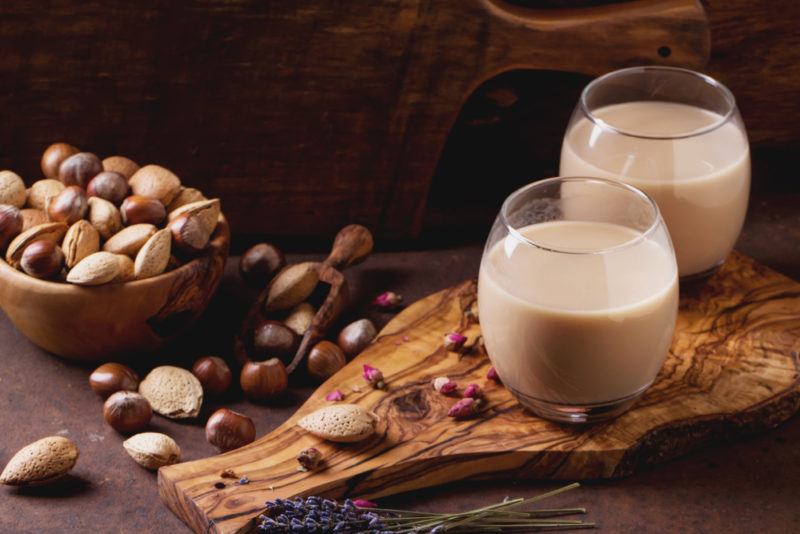 There are less common nut milks too, like pistachio, hazelnut, and macadamia nut milk. These are all made in the same way that almond milk is. So, the nuts are blended together with water, then the liquid is strained.
Once again, commercial nut milks will tend to be high in water and have relatively few nutrients from the nuts themselves. Some may be fortified with nutrients like calcium or vitamin B12, while others will be left as-is.
You can get more nutrients by making the milk at home yourself, but the liquid will still end up being fairly low in fat, calories, and carbs.
There are also some brands, like Silk, that combine multiple types of nut into a single plant-based milk. Products that contain almonds and cashews are the most common example, although there are others out there too.
Hemp Milk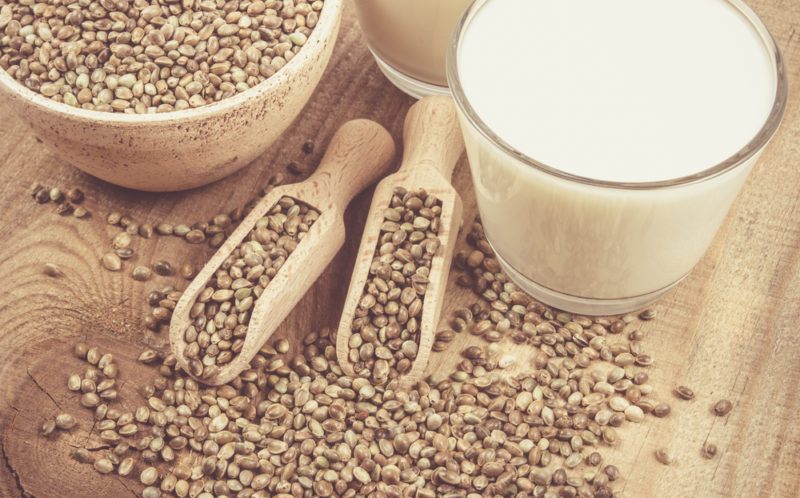 Hemp milk is created from hemp seeds. These seeds provide various desirable compounds, including ALAs. In fact, hemp is one of the few complete plant-based protein sources, giving you all of your essential amino acids in one place.
Hemp milk is also unusual in that it naturally contains calcium. Calcium isn't a common nutrient in plants, which is why other plant-based milks are often fortified with calcium.
The presence of calcium may be good news if you don't like the idea of fortified foods. But, you will need to choose your hemp milk brand carefully.
Many companies use flavoring agents and thickeners to give the milk a desired taste and texture. While less modified versions of hemp milk do exist, you may need to do some digging around to find them.
Hemp milk has an appealing nutty flavor. It can be used in many ways, like as a smoothie addition or in baking. Some people use hemp milk in coffee too, while others feel that hemp milk and coffee don't' combine well at all.
Oat Milk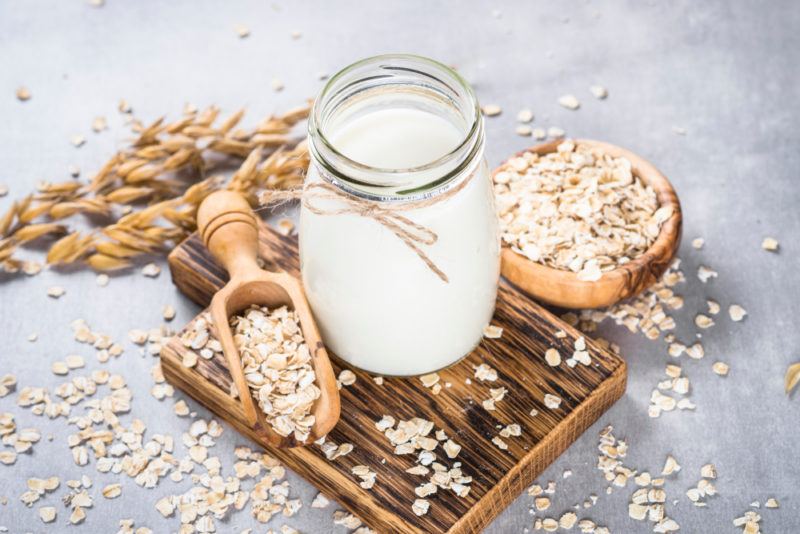 Oat milk is made by soaking oats in water and then blending them. This creates a creamy plant-based milk that retains the nutrient balance and flavor of oats.
This tends to be a good choice if you're looking for something filling, as oat milk contains a decent amount of fiber and protein.
Oat milk has more calories than most other plant milks, with a calorie content that is close to that of dairy milk. This could be an issue in some contexts, but the calorie content still isn't particularly high. Besides, there are also cases where you need to increase the calories in your diet and oat milk is a good way to do so.
The one other limitation is that oat milk is often not gluten-free. Oats themselves don't contain gluten, but they're often made using machinery that also processes wheat.
If you're sensitive to gluten, you'll need to look for oat milk where the label explicitly says that it is gluten free.
Quinoa Milk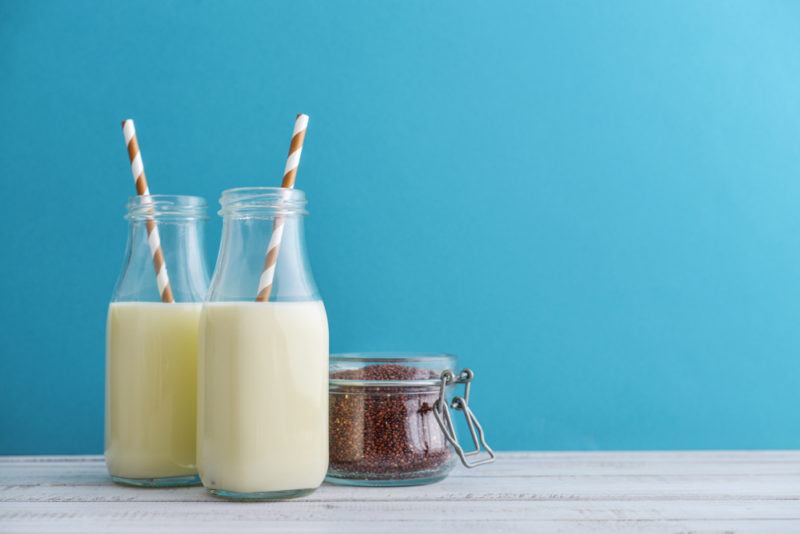 Quinoa is a popular pseudocereal that is also called an ancient grain. The idea of using quinoa to create a milk alternative, on the other hand, is only beginning to catch on.
Right now, most versions of quinoa milk are the ones that people make at home. This recipe from The Daily Meal is one example of the process. You're making the milk in much the same way as nut milk, except that you're cooking the quinoa first.
The milk creation process does mean that you're not getting much quinoa in the finished product, making the milk relatively low in nutrients too. Any commercial brands are likely to rely on sweeteners and thickeners too, so watch out for that.
Flax Milk

Flax milk (or flaxseed milk) is another option that people are making at home, in the same way that nut milk is created. There are some flax milk products too, such as the ones from Good Karma.
This type of milk is free from all major allergens, which is a good reason to try it. Flaxseeds are also rich in plant-based omega-3 fatty acids. Of course, you won't get that many nutrients from flaxseeds themselves in flax milk, especially if you buy the commercial version.
Once again, watch out for additives in any products that you buy. The version from Good Karma, for example, includes sunflower lecithin, natural flavors, and xanthan gum, along with other ingredients.
Rice Milk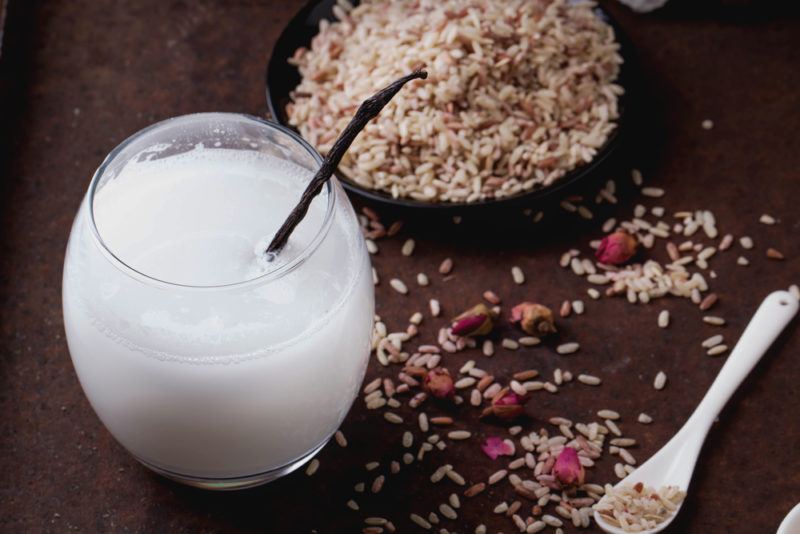 Rice milk is a classic milk alternative, although it has been becoming less popular in recent years.
One big advantage is that rice milk doesn't trigger many allergies, making it suitable for people with soy, nut, or dairy allergies. This also makes rice milk a versatile choice if you're preparing food for a group of people.
Most of the calories in rice milk come from carbs. The carb content is useful for people who are active, especially if they're drinking the milk before exercise. On the other hand, rice milk is a no-go for many people on low carb or keto diets.
The high carb content also makes rice milk higher in calories than many of the other options. Whether this is an issue or not will depend on the situation.
Pea Milk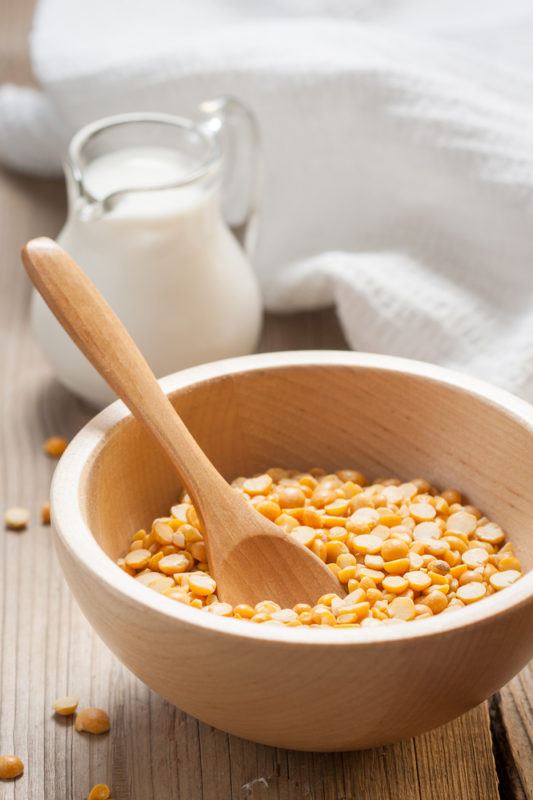 Pea milk is harder to find than most other options, but thankfully this plant-based milk is becoming more popular. Pea milk tends to contain more protein than nut-based milks. This can help you to stay full for longer.
The milk is made from yellow peas, the same type that are used to create protein powder. Indeed, the process of making pea milk does involve separating out pea protein, purifying it, and then blending the protein with other ingredients.
Ripple is the most common brand producing this type of plant-based milk. Other brands are likely to get in on the action if pea milk starts to become popular.
Because this milk relies on pea protein rather than peas themselves means that the finished drink doesn't taste like peas at all.
Related Content