If you're not familiar with them, subscription boxes are a relatively new retail trend. They simply involve the recurring delivery of products. In many cases, customers are getting boxes each month, but there are plenty of other variations too, including vegan subscription boxes.
The marketing trend kicked off in 2010, with the launch of the Birch box (a beauty product box). Ever since then, numerous companies have used the style and it's incredible!
One reason for the success of subscription boxes is that the products can often be worth double or triple what the box cost. This more than makes up for any items in the box that aren't appealing.
There is also a surprise element. In most cases, the products in a subscription box vary from one month to the next, so customers never know what to expect. It's like getting a gift to unwrap every month. Subscription boxes tend to be based around a specific theme, with items chosen for a reason. They're a fun way to try out new products, ones that you wouldn't have ever purchased for yourself.
My #1 choice for vegan subscription boxes I've listed below is Urthbox. They delivery an excellent variety of snacks, and ship all over the country. With 20+ boxes to choose from, I haven't tried them all, but I like that Urthbox has the extra large pack because it gets me enough snacks for the month rather than having to ration them out.
As the name suggests, all vegan subscription boxes offer products that don't incorporate any animal-derived products. They come in many different styles and we're highlighting some of the most interesting in this list.
We're mostly focusing on vegan subscription boxes that contain at least some food-based products. There are others out there that contain beauty items only, but that's a topic for another time. Check out the list below to see the current subscription boxes available and what they have to offer.
Best Vegan Snack Subscription Boxes
UrthBox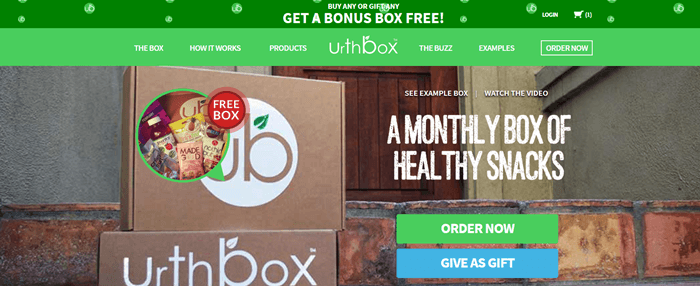 UrthBox is one of the most popular vegan subscription boxes available. It offers a range of healthy snacks and drinks, which are all GMO-free, natural, and organic. The items aren't samples either. Instead, they are full-sized. Each box can contain up to 30 different products, with a value of up to $100.
UrthBox has four different boxes to choose from: Gluten-free, weight loss, classic and vegan. Only the last of these has vegan components. But, don't worry, they're still fantastic. There are also four different sizes to choose from. Mini has 6+ snacks for $19.99/month, Small has 12+ snacks for $29.99/month, Medium has 18+ snacks for $39.99/month and Large has 25+ snacks for $49.99/month.
The boxes can be ordered on a 1-month, 3-month or 6-month subscription. Members also earn loyalty points for their purchases, which can be redeemed for discounts. You can sometimes find various bonuses, such as Groupon discounts or a free box when you make your initial order.
RawBox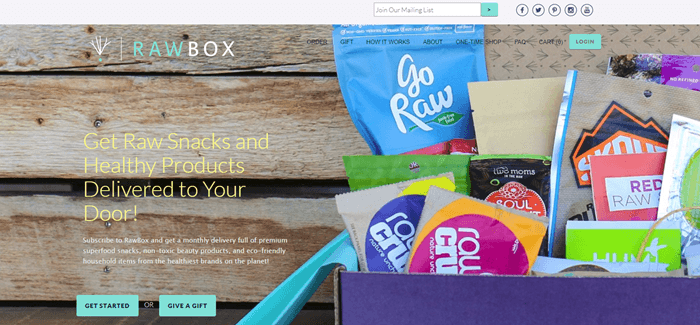 RawBox contains raw snacks, household items, and beauty products. Within any box, most of the products will be snacks, but you'll have a few other types of items as well.
Each box comes with 10 to 12 products for only $40, while the actual value of the products comes to between $40 and $80. The snacks are also plant-based, gluten-free, wheat-free and GMO-free. RawBox mentions that not all of the snacks are 100% raw, but most should be.
This box can be enjoyed by anyone, including vegans, vegetarians, celiacs, raw Foodists, and health enthusiasts. New boxes ship every two months, and you may get special offers and discounts!
Some of the products in the box can include:
Cranberry crisps
Trail mix
Coconut jerky
Peruvian chocolate organic energy bar
Plaine shampoo
Moondami natural breath mist
Pineapple-kale-banana smoothie powder
The quality and array of products are tailored to meet your expectations and exceed them. The snacks also appeal to anyone who is trying to avoid soy, gluten or refined sugar. They taste great too. The other types of products are also worth trying, such as their shampoos and special rosemary-mint-vanilla conditioner.
Core Gains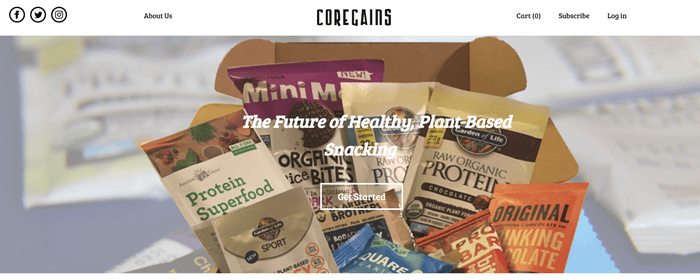 Core Gains is designed for people who love to work out and eat lean, this box helps you get your daily portion of proteins. It contains tons of vegan supplements, protein powders, and snacks to support your fitness goals. The box makes a thoughtful gift for the plant-based athlete or gym rat. Of course, you might just order one for yourself instead.
Some examples of products from the box include:
Organic dark chocolate rice bites
Chocolate-coated coconut protein bar
Raw, organic rice protein powder
Energy + focus supplement in blackberry
Protein superfood powder with fruits and veggies
Vanilla protein powder
The company breaks the products down into three types: plant-based supplements, vegan protein bars, and healthy natural snacks. The box is a perfect way to try out some new snacks. You'll typically get a good range of products, including some from well-known brands and others from less common choices. It's a great way to expand your horizons and find some new favorites.
You can get this subscription box for $19.99 per month and can order on a 1, 3, or 6 month subscription. The box also has a little weightlifting cat printed to help motivate you towards your fitness goals.
Louisville Vegan Jerky of the Month Club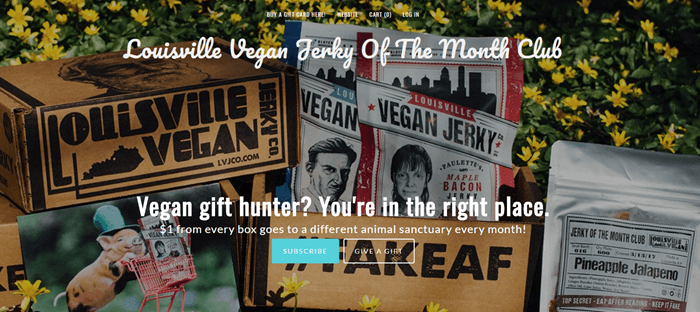 Louisville Vegan Jerky of the Month Club is a monthly subscription box with the best gluten-free vegan jerky for people who are tired of being asked what meat they miss the most. Each box comes with at least three bags of jerky from the Louisville Vegan Jerky Company. For $19.99 per month, you get to enjoy delicious jerky with flavors such as Smoked Black Pepper, Sriracha Maple, and Pineapple Jalapeno.
The most appealing thing about this box is the inventiveness behind the jerky flavors, giving you variety that you probably didn't realize existed. It's also an easy way to make sure you always have vegan jerky in the house. Because, let's face it, good vegan snacks are harder to find than they should be.
Love Goodly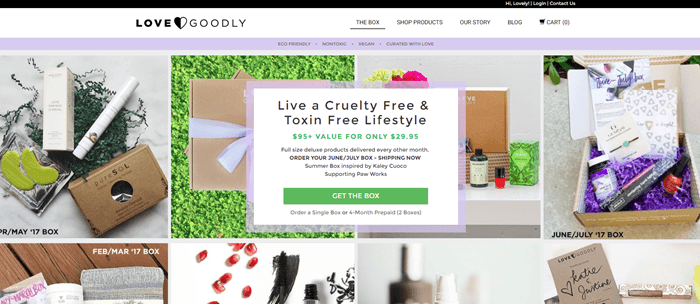 Love Goodly contains full-sized, vegan and nontoxic beauty, eco-lifestyle, skin care, and wellness products. There are two boxes – regular and VIP. The regular box costs $29.95 and has an estimated value of at least $80. The VIP box costs $47.95 and always contains an extra full-sized product that is valued at more than $35. The total value of the VIP box is always more than $115.
These are some of the types of products that you can find in the regular box:
Moondani natural breath mist
Mindful Skincare Nourishing Blueberry face mask (with vitamin C, E, B3)
Mr. B's Necessities calming aromatherapy oil
Belle Pierre blushes in Autumn Blush
The site also has images of previous boxes, so you can get an idea of what to expect. As a general rule, the boxes aren't as packed as ones from other companies. But, that's simply because you're getting some full-sized products. Plus, you're often getting at least one product worth $25 or above.
Both boxes are bi-monthly, so you'll get one every two months. They tend to get good reviews and customers are pleased with the selection.
A Kind Mama Bakery


A Kind Mama Bakery is a vegan bakery and they also offer two subscription boxes – the Mixed Box and the Mixed Brownie Box. It is a fantastic subscription service for the sweet-toothed vegan.
The Mixed Box contains:
Two brownies
Two cookies
Eight doughnuts
The Mixed Brownie Box contains:
Two peanut butter brownies
Two Oreo brownies,
Two marshmallow brownies
For both boxes, you can order for 6 months at £15.99/month or for 12 months at £13.00/month. Most people would find the mixed box more appealing, as it offers a wider variety of snacks. The sweet treats are all made in a bakery too, so you're not getting anything mass produced.
But, there's a catch. The bakery is located in Manchester, England. The site doesn't provide details on shipping locations but they probably won't ship to the United States.
Vegan Tuck Box


The Vegan Tuck Box seems to have closed its doors and didn't tell anyone. Multiple complaints on their instagram account!
SnackSack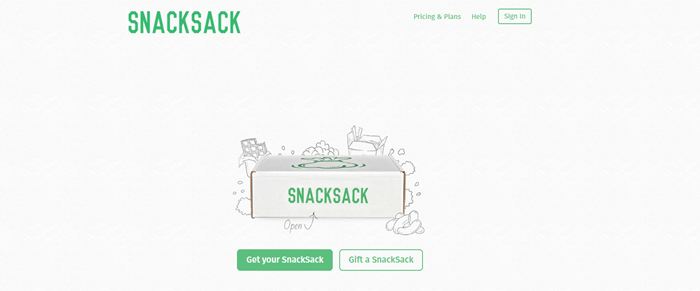 As the name suggests, SnackSack box is designed like a sack of full vegan healthy snacks. The snacks do still come in a box, but you also get a sack that you can put them in for easy portability.
There are three different types to choose from: Vegan, Gluten Free or Classic. The Classic and Gluten Free versions normally contain some vegan snacks, along with other types. But, only the Vegan SnackSack is guaranteed to have vegan foods and nothing else.
Each box has 12 or more items, which can include:
Dried mango
Black bean chips
Veggie and fruit sticks
Sea salt popcorn
Double-chocolate brownie batter bar
Snap pea crisps
Banana nut bread bar
Sriracha seaweed snacks
Trail mix
The SnackSack has so much stuff packed to capacity with high-quality and varied snacks at a very affordable price. For $22.33 – $24 per month, you get a whole shipment of snacks sent to your home.
The exact price depends on whether you order month-to-month or take one of their longer-term plans (3, 6, or, 12 months). Whether you are new to veganism or a more committed convert, a good vegan box should make it easier to eat a plant-based diet. To top it all off, you get to enjoy a lifetime of the 15 % discount when you use code BUZZ15.
Quantum Energy Squares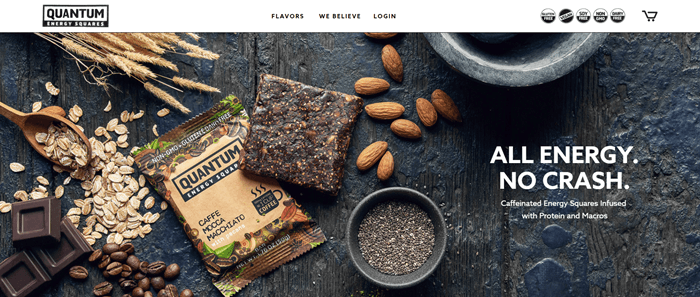 Quantum Energy Squares just produces one specific product – bars that are designed to provide balanced and sustainable energy. The product is similar to a protein bar, except that they are larger and are also caffeinated. Each bar contains roughly as much caffeine as a cup of coffee. They currently have two main flavors: Caffe Mocca Macchiato with Pecans and Dark Chocolate Cherry with Almonds.
The company also produces a subscription box. This is a little different than the other examples on the list. Each box simply contains 9 squares and costs $24.95 per month. That's 20% less than buying them individually. You can also purchase 2 or 3 boxes at a time for a deeper discount.
The style means that your box is just going to contain the energy squares, nothing more. There's no surprise, especially as the company only has two flavors. But, this can still be a good way to get vegan snacks regularly. And, as long as you like the bars, you know that you'll enjoy everything in the box each month.
Vegan Cuts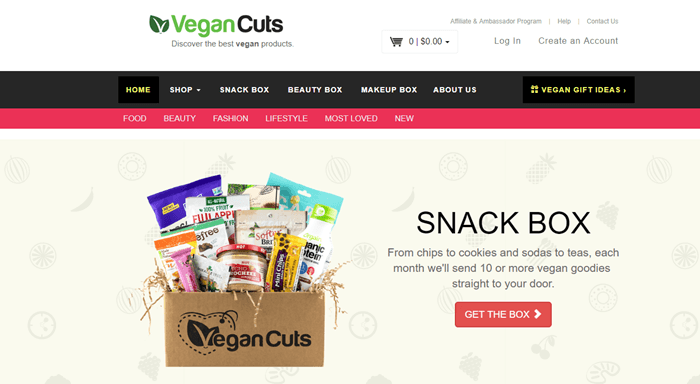 Vegan Cuts offers three different vegan subscription boxes. One focuses entirely on snacks, one on beauty, and the other just on makeup. The first two are monthly boxes, while the last is quarterly.
In each case, the style is similar to other companies. So, you'll get a selection of different products in each box, from various brands. The products will always be vegan – and the site has images of previous boxes to show you what to expect.
The Vegan Cuts Snack Box offers 10 or more vegan snacks each month. These can include teas, sodas, chips, cookies, and many other types. Some of the products are full sized, while others are samples. Examples of what you might find include:
Pretzel No No's
Ultima Replenisher Electrolyte Powder
Keep Healthy Chocolate Covered Cherries
Beanitos White Bean Chips
NuttZo To-Go Nut Butter
I Heart Keenwah Chocolate Puffs
Fawen Drinkable Soup
Ordering options include month-to-month, 6-month or 12-month. The longer periods mean that you need to prepay, but you end up paying less per month. Overall, the price ranges from $18.50/box to $22.95/box, depending on which one you choose.
Use code FOODFORNET for $5 off your first box!
All Around Vegan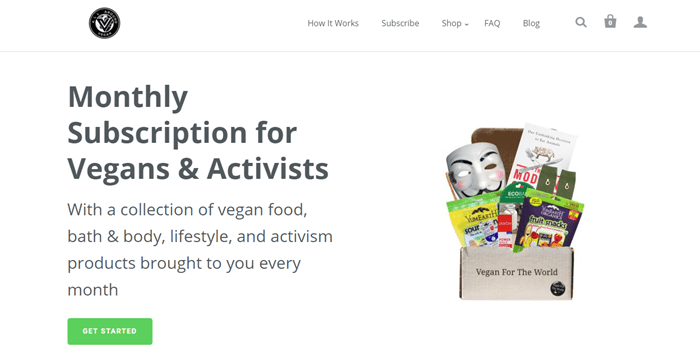 All Around Vegan subscription boxes contain products from four distinct categories: food, lifestyle, activism, and body. The activism category is the most unusual and can include things like books, coffee mugs, tote bags and posters, all with vegan-focused messages.
The other products are more predictable and are similar to other companies. For example, snack products can include YumEarth Sour Beans and I Heart Keenwah Chocolate Puffs. Boxes cost between $31.95 and $34.95 each, depending on whether you choose 6 month prepay, 3 month prepay or month-to-month.
Reviews are generally positive, with many people loving the activism component. However, this does mean that you get fewer snacks and body care items than other boxes. If you're not enthusiastic about the activism products, you may want to choose a different box.
American Gluten Free Vegan Snack Box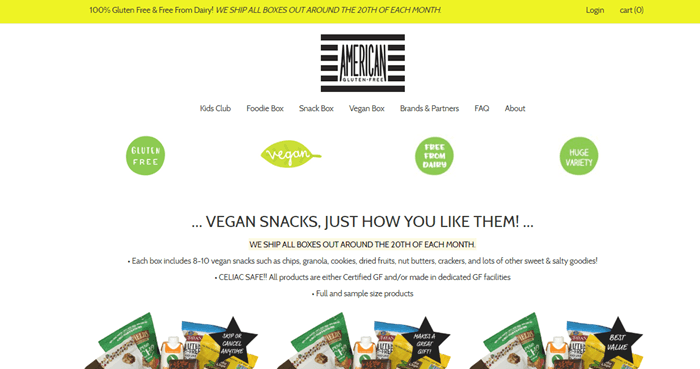 As the name suggests, the American Gluten Free Vegan Snack Box is perfect for anyone who is avoiding gluten and is vegan. All of the products are created in dedicated gluten-free facilities or have been gluten-free certified. So, there's no risk of cross contamination.
The boxes contain between 8 and 10 vegan snacks each week. Some of these are sample sized, while others are full products. There is typically a combination of savory and sweet products, giving you plenty of variety each time. Examples of snacks include:
Betty Louis Strawberry Fruit Bar
BRAMI Snacking Lupini Beans
The boxes can be ordered month-to-month, through 3 month pre-pay or through 6 month pre-pay. The price per month ranges from $23 to $24.95. All subscription options automatically renew (watch out for that!). But, you can skip a box or cancel whenever you want to.
Graze


Graze operates differently than other services, as the boxes are personalized to individuals. When you sign up, you tell them the types of snacks that you like, out of more than 100 different options. This includes specifying that you want vegan snacks only, along with any other preferences (like your favorite flavors).
Each month you're sent a box that contains 8 snacks, chosen based on your preferences. The company continues to develop new snacks over time, so you're always going to find interesting options.
One fascinating aspect is the style. Graze doesn't provide branded products that you'll recognize. Instead, you get little containers of snacks that they've put together. These are often mixes, which might contain nuts, chocolate, dried fruit, or other similar ingredients.
Snacks can also be ordered individually on the site. This is a great way to see the type of treats that you can expect. The boxes receive very good reviews and many people love the personalization. Finally, the boxes are inexpensive. The regular price is $13.99 per box and you get them every two weeks.
Vegan Bitch Box


If you didn't already guess, the Vegan Bitch Box is themed around 'that time of the month'. The monthly box contains a selection of vegan chocolates, such as Spanish Fly Single Origin Truffles and Twigs L'Orange. The products all come from the company Bitchfix Chocolate, who is responsible for the box.
The subscription costs $42 per month and 10% of that purchase is donated to help neuter and spay dogs. The box can be purchased month-to-month, as well as on a 3-month or 6-month subscription. But, the price is the same regardless of the option.
The box may not have as much variety as other options. But, it seems like a perfect choice for anyone that loves vegan chocolate.
Rosehive Superfoods Box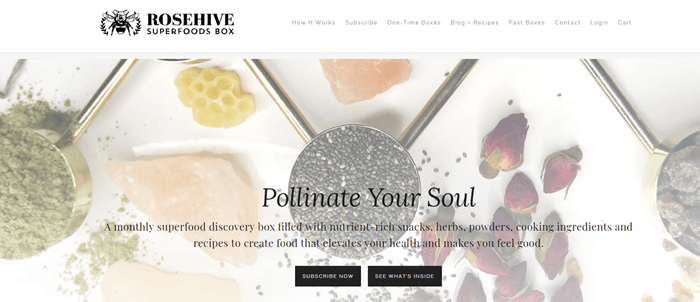 The Rosehive Superfoods Box is closed!
It doesn't look like a vegan choice at first glance, as they don't focus on this angle in their marketing. But, rest assured, all of the products are vegan. The overall style is also interesting.
For one thing, the boxes are themed each month, with the products reflecting that theme. Plus, the products always fall into specific categories. Members get:
1 superfood snack
1 superfood powder
1 herb
1 cooking ingredient
1 drink
1 recipe card
A few surprises
The recipe card allows people to cook something using some of the products that come in the box. It's a great way to learn more about unusual ingredients and how to take advantage of them. The style should also mean you get more interesting items than other boxes, along with higher quality products.
The boxes cost $34.95/month, if you order them month-to-month. There is also a 3-month membership, which discounts the box to $33.33/month. If you don't want a subscription, you can purchase a one-time box for $36.95. That option would make a good gift.
The Vegan Box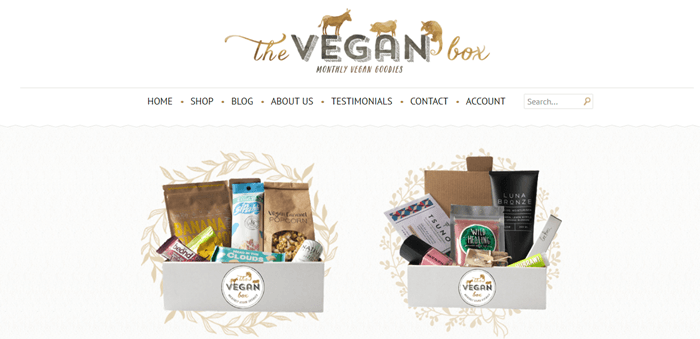 There are actually two different boxes from The Vegan Box. One is a beauty box, which is shipped out every two months. This contains skincare items, valued at more than $70. It costs $49.95 per box.
The other option is a snack box. This contains between 5 and 8 snacks. There can sometimes be other items, like lifestyle and skincare products. The snacks come in a combination of sizes. So, some will be just samples, while others will be full sized. There is also a gluten-free option, for anyone sensitive to gluten.
The snacks box costs $26.95 per month and can only be ordered month-to-month. However, the company is based in Australia. You can have the boxes shipped internationally, which increases the shipping cost and how long it takes to get the box. But, on the plus side, this should mean that you get some snacks you wouldn't find in the United States.
Healthy Surprise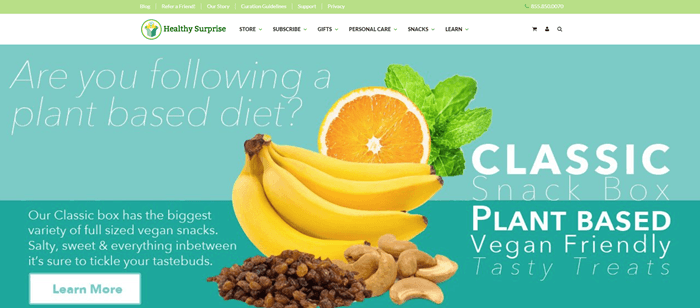 Healthy Surprise maintains a strong focus on making sure the snacks they provide are good for you. This includes focusing on food that has been produced in the United States and is free from gluten, soy, corn, artificial flavors, high fructose corn syrup, dairy, MSG, and many other undesirable components.
They offer three snack boxes to choose from: the Classic Box (15 snacks), the Big Box (21 snacks) and the Paleo Box (17 snacks). The first two only contain vegan snacks, so they're the ones you'll be looking for. In contrast, the Paleo box is for paleo dieters and will contain some non-vegan products. All of the snacks are full-sized, you don't find any samples in the mix.
The Classic Box subscription costs $42.49/box, while the Big Box subscription costs $69.74/box. This is more than many of the other companies, but you are getting a large number of snacks per box. You can also to get the subscription delivered every 30, 60, or 90 days.
Animal Place's Snack Club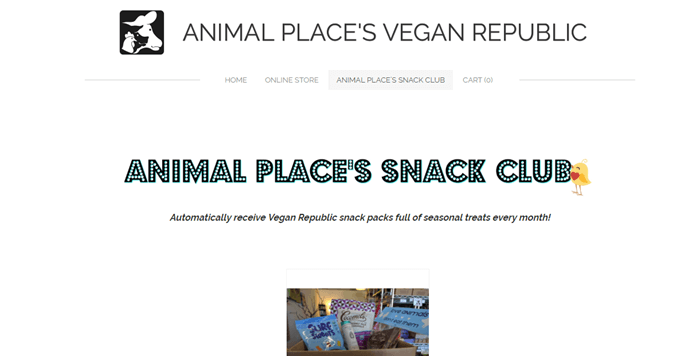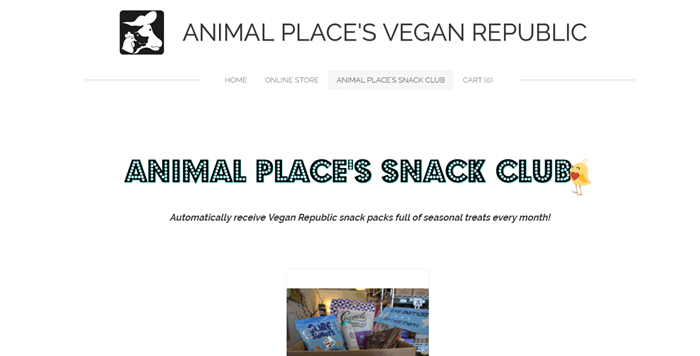 This snack box comes from Animal Place's Vegan Republic, which is a vegan specialty store in Northern California. Their profits are used to support Animal Place sanctuary, which focuses on rescued farm animals.
The monthly boxes focus on a combination of holiday and seasonal snacks. They give an example of fruity sweets in summer and chocolate in the winter. Some previous products include:
Surf Sweets Organic Fruity Bears
BRAMBI Snacking Lupini Beans
Bump City Bakery Sticky Ginger Cookie
Vegi Bacon Bits + Dips
Tasty Brand Organic Sandwich Cookies
Because this is a smaller company, the boxes look a little less professional than some of the other options on the list. They also seem a little smaller. However, a subscription just costs $25/month, so the selection is reasonable for how much you're paying.
Num-Nums Munch Box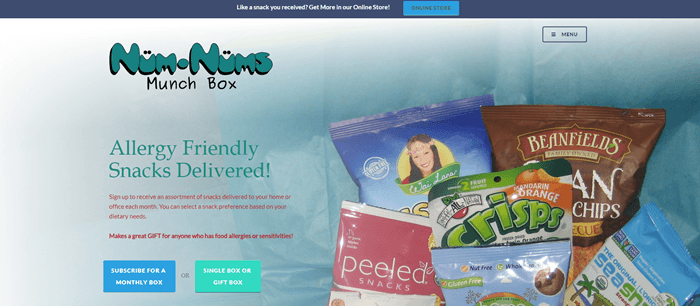 Num-Nums Munch Box is promoted as being an allergy-conscious snack service. As part of this, they offer multiple boxes. Their selection includes a Dairy Free Box, a Gluten Free Box, a Top 8 Allergen Free Box, and a Vegan Box.
You can also request a Custom Box, which may be relevant for people with multiple allergies. But, the company mentions that most of their products are free from the top 8 allergens, so the snack selection remains similar regardless of the box.
There are three different sizes to choose from: mini (5 snacks), single (10 – 12 snacks) and double (20 – 24 snacks). They're priced at $8.99, $19.99 and $39.99/month, respectively. The monthly price decreases significantly if you prepay for 3 or 6 months.
The company doesn't give many details about the snacks included. But, they do mention relying on brands like Libre Naturals, Seasnax, Enjoy Life, and Zego.
VegOut City Box


Closed! The VegOut City Box follows an interesting style. Each month, the box features vegan products that come from a different city. The box typically includes a combination of beauty products, vegan snacks, gifts, and swag. The focus on different cities should mean you get some unusual items, ones that aren't included in other subscription boxes.
For example, some items in their San Francisco box included:
Hey Boo Coconut Sea Salt Caramels
Timeless Coffee
676 Candles Co. Pure Soy Candle
The monthly subscription costs $39.99 per month, when paying month-to-month. There don't appear to be any longer-term plans. It is also possible to buy some boxes individually for $50 from the company's online store, along with a limited number of products.
Simply Happy Kindred


Simply Happy Kindred takes a step beyond other brands. Not only are the products vegan, but they're also organic, cruelty-free and artisan-crafted. This means that you're getting products that you won't see in other places, such as beautiful journals and unique jewelry pieces. Some items are even specifically designed for the box.
The overall theme is that the boxes are designed to promote personal growth and self-discovery. There are two different styles to choose from. The first is the Empower Deluxe Box. This contains between 5 and 7 individual products along with a mini magazine. The box costs $49.99/month when ordered month-to-month. You save 5% if you prepay for a longer duration.
The second box is the Journey Mini Box. This one contains 3 – 4 products and the mini magazine. The box costs $35.99/month and has the same 5% discount for prepaying.
The items from the company look amazing. The main limitation is the boxes are pretty expensive and you're not getting many items in them.
Related Content