Following a vegan diet may be better for the environment, for your health, and for animals, but this eating approach comes with its challenges. One is that you need to find alternatives for meat, ideally options that are minimally processed and contain beneficial nutrients. Thankfully, there are many vegan meat alternatives to choose from.
Some of these options are relatively unprocessed, like jackfruit flesh, eggplants, and mushrooms. These can be fantastic options, but they don't have the same nutrient profile as meat and often can't be used in exactly the same way.
Other products have gone through a decent amount of processing. Some of these end up looking much like meat. They might even have a similar taste or texture.
Of course, the best meat substitute will depend on what you're looking for. Sometimes you might want a high-protein product that can easily be used instead of meat. Other times, a different nutrient balance could be just fine.
The meat substitutes in this list cover a range of styles, so you're certain to find at least one option that meets your needs. While you're at it, why not check out our lists of vegan protein sources, including plant-based eggs for more ideas.
Vegan Meat Substitutes
Seitan
Jackfruit
Mushrooms
Beyond Meat
Gardein
Sweet Earth
Amy's Organic Black Bean Veggie Burger
Eggplant
Cauliflower
Beans
Falafel
Quorn
Soy-Based Meat Substitutes
Homemade Meat Substitutes
Seitan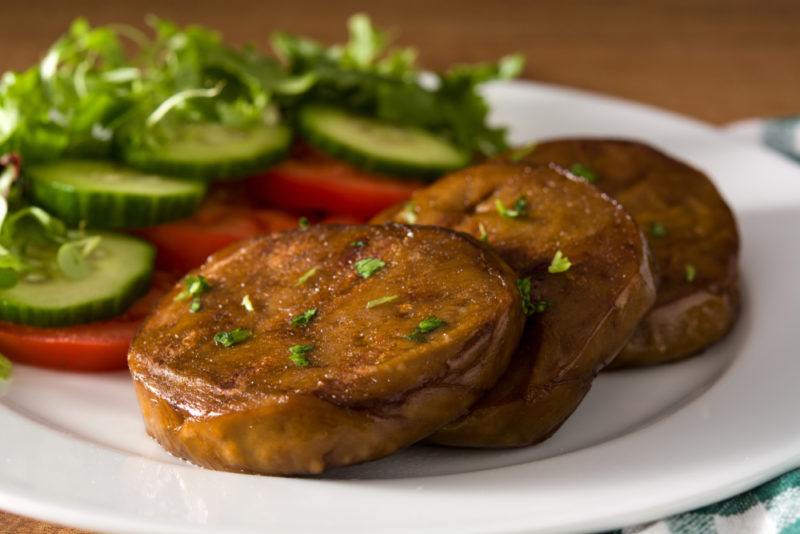 Seitan is a popular vegan meat alternative. You'll often see it used in restaurants in the place of chicken, as the texture is very similar. It's also versatile, making it an easy choice if you're avoiding soy products.
Of course, seitan has its limits. One problem is that it's based on wheat, so it contains gluten. Many people are actively avoiding gluten and wouldn't be able to eat seitan at all.
Seitan is also heavily processed. While it should be fine to have some processed foods in your diet, it's best to use whole foods as your main source of nutrients. As such, it's best to rely on seitan every so often, rather than using it as your primary meat replacement.
Jackfruit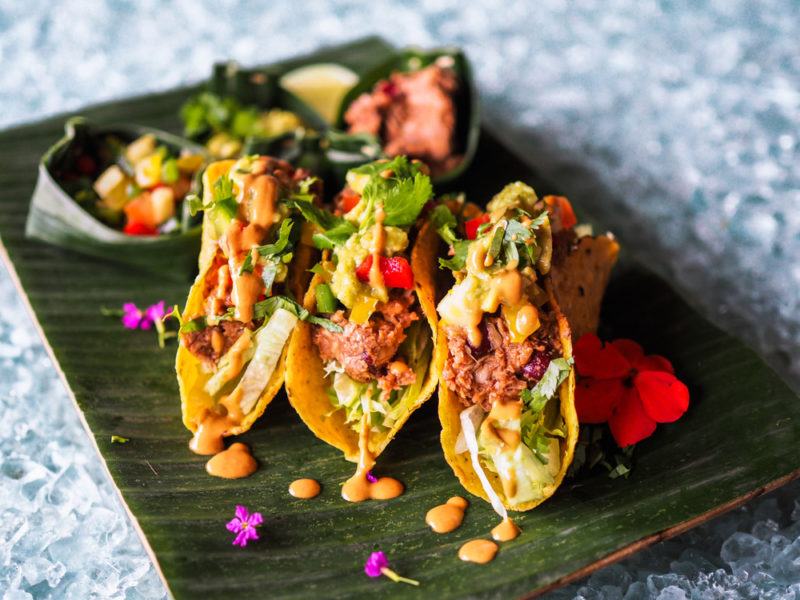 Have you ever thought about using fruit instead of meat? The idea might be odd, but jackfruit can be used in exactly that way.
One reason is that the tropical fruit has a sticky and fleshy interior. The texture means that you can use jackfruit flesh as a replacement for pulled pork in tacos or similar dishes.
Because it is a type of fruit, jackfruit does have a mild sweet flavor. However, this sweetness isn't noticeable in many dishes, especially if you choose your ingredients carefully.
Jackfruit has the advantage of being less processed than many other meat alternatives.
However, it's limited too, as jackfruit doesn't provide you with much protein. So, it's a good meat alternative in terms of texture, but not in terms of nutrients. Whether this distinction matters will depend on the other parts of your diet.
Mushrooms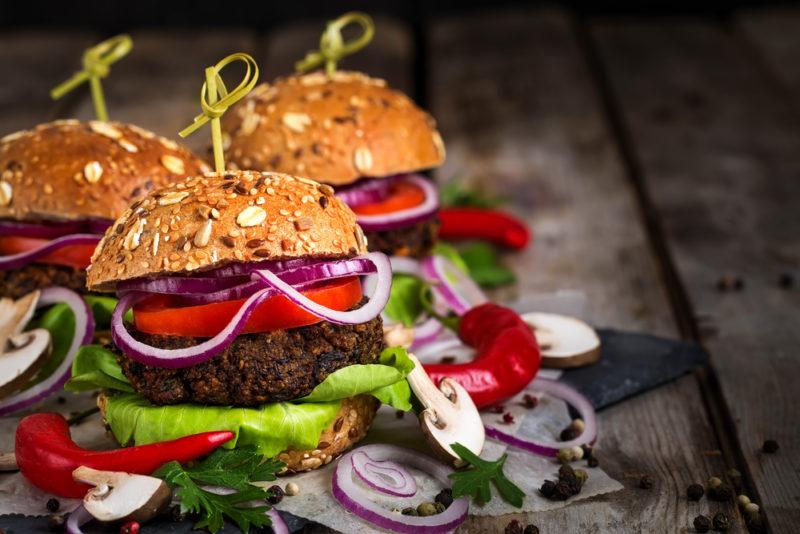 Mushrooms work well if you want your meal to taste like it has meat. After all, mushrooms have an earthy umami flavor that you don't get with products like tofu, seitan, and jackfruit.
Mushrooms can also have a distinct meaty texture. You can even create mushroom burger patties. Some are made entirely from mushrooms, while others use a selection of ingredients, like seeds, spices, and beans. The extra ingredients help to create a more meat-like texture and balance of nutrients.
You can see an example of this style at The Spruce Eats. Their version is vegan and gluten free, yet still looks like regular burger patty.
Beyond Meat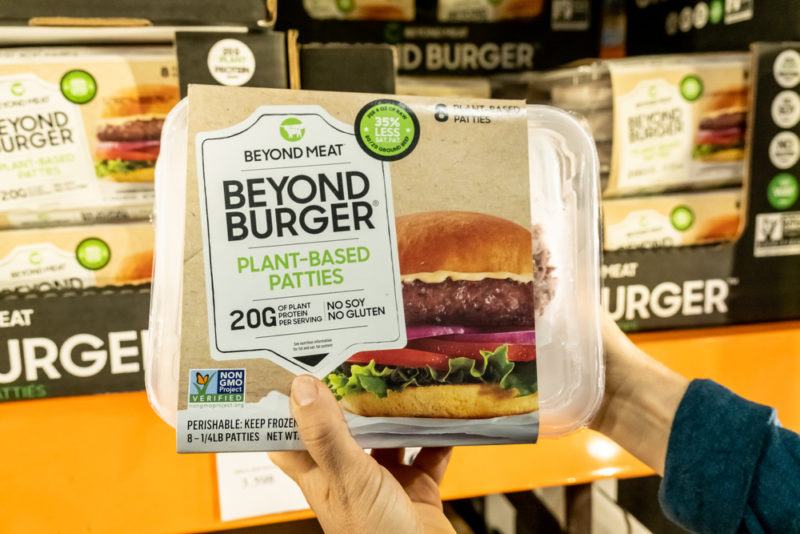 Beyond Meat is a seriously impressive company. They aimed to create healthy plant-based meat alternatives and have been highly successful with that goal.
One of the company's biggest advantages is that they don't rely heavily on additives, fillers, and artificial ingredients. Instead, they avoid all synthetic additives and focus on options like beet juice extract and apple extract for colors and flavors instead.
The products also tend to be soy free and gluten free. Many are low in carbs too.
Honestly, you'd be hard-pressed to find a meat alternative that is less processed than the Beyond Meat products and is still similar to real meat.
While the product range isn't huge, there are a decent number of options, including meatballs, sausages, burgers, and beef. The main limitation is that the company doesn't offer any poultry or fish alternatives – just products that mimic red meat (they did have chicken strips initially, but these have now been discontinued).
Gardein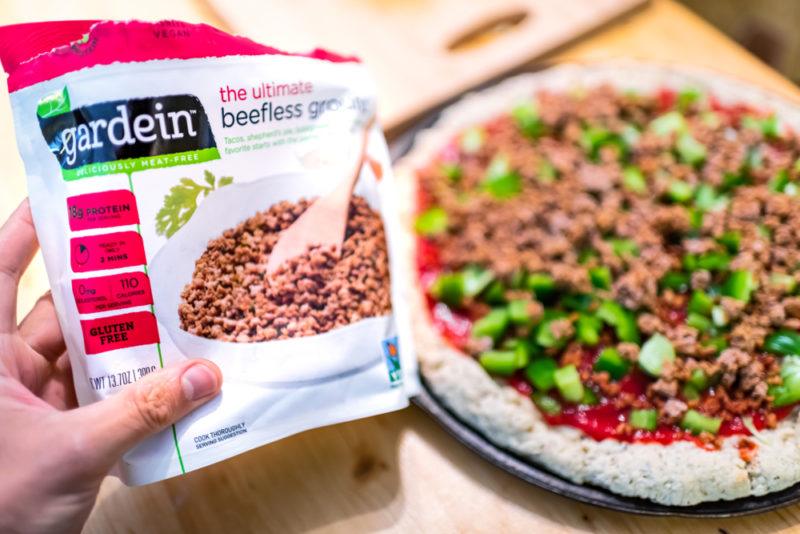 Gardein is one of many brands that offers plant-based meat. They have plenty of these to choose from and the products often get stunning reviews. Some reviewers even say that the meat alternatives are popular among non-vegans, which is an impressive feat.
Their selection is extensive and you can find vegan versions of most meat-based favorites, including chicken nuggets, a holiday roast, burger patties, chicken strips, and more. Some of the products are also gluten free, although most of them aren't.
The big limitation is that Gardein's products are all very processed. Seriously. Their ingredient labels are huge. While there are some healthy ingredients on the list, like ancient grains, there are also many less appealing ones, like sugar, natural flavors, coloring, and soy protein isolate.
The heavy amount of processing means that these products are best every so often, rather than as your main source of protein.
Sweet Earth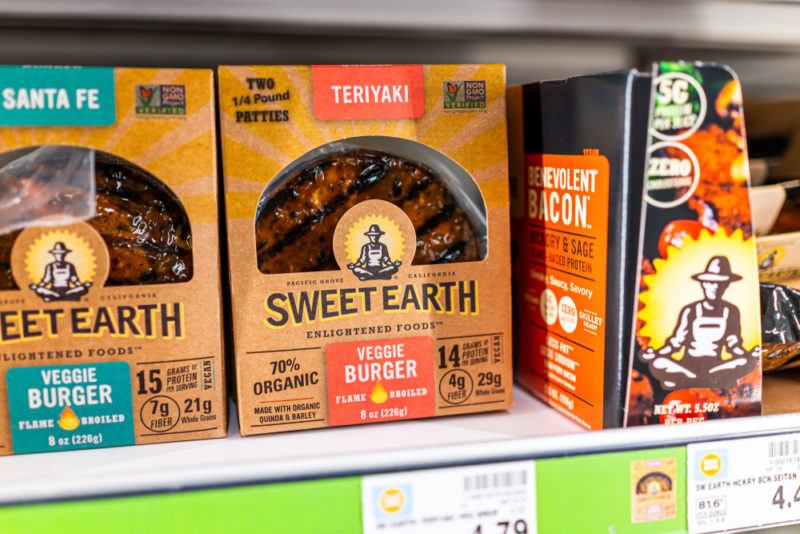 Sweet Earth focuses on flavor-forward plant-based products and has won a few awards along the way. Most of their products are vegan-friendly, but a dozen or so are suitable for vegetarians and not vegans, so be sure to double check first.
Their meat alternatives include a variety of burger patties, some chicken strips, lunch meat alternatives, plant-based bacon, and plenty of meals. The ingredients vary depending on the product, but some use soy as the main source of protein and include wheat.
If you want to avoid soy, check out their Mediterranean Veggie Burger. This relies on beans and mushrooms, while excluding soy entirely. However, the burger does include wheat and it's produced in the same facility that makes the soy versions, so bear that in mind when you're deciding.
Amy's Organic Black Bean Veggie Burger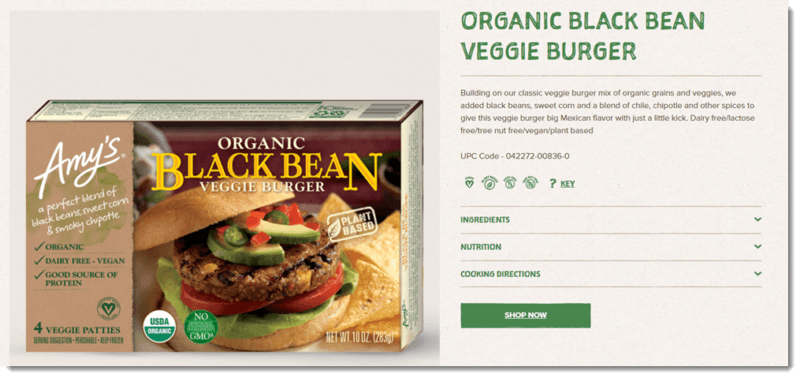 Amy's offers a variety of healthy meals, with an emphasis on organic and plant-based products. One of their most well-known products is this Organic Black Bean Veggie Burger.
This is a vegan product that entirely relies on plants for protein. Mushrooms, black beans, tofu, and wheat are all included, along with plenty of vegetables and spices. The company focuses on whole food ingredients as much as possible, so you won't find many additives.
While the burgers are free from tree nuts, they aren't gluten free and do contain soy.
The company produces some other vegan meat alternatives too. These are all burger patties and include their Summer Harvest Veggie Burger, All American Veggie Burger, and Quarter Pound Veggie Burger. Each of them uses a different combination of ingredients. For example, the All American one relies on bulgur wheat and vegetables, while the Summer Harvest Veggie Burger focuses on quinoa.
However, you may have trouble finding some of the products, as Amy's has scaled down production during the COVID-19 pandemic to help keep their workers safe.
Eggplant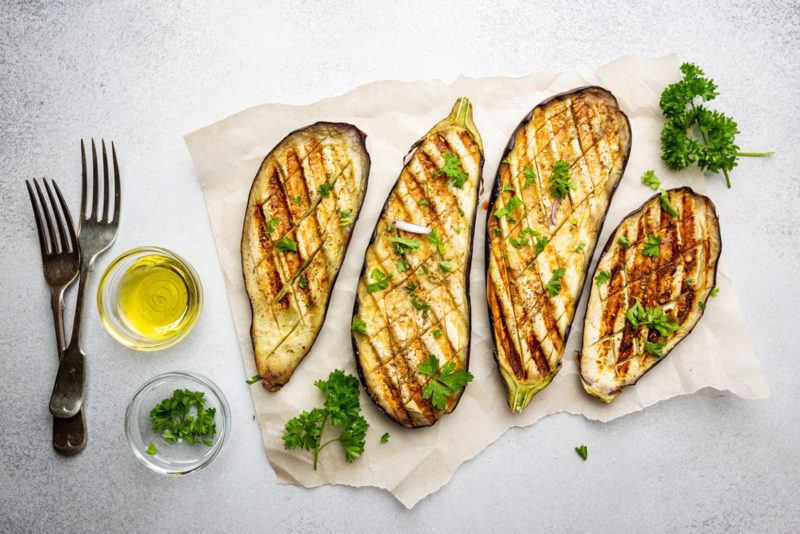 If you're wanting to skip the processed options, why not try eggplant instead? The vegetable works surprisingly well as a meat alternative, partly because it has a meaty texture anyway. It even has a savory flavor that tastes a little like meat. How's that for fantastic?
The trick is to cook it well. The site Have a Plant offers some fantastic tips and tricks for how you can use eggplant as an alternative to meat.
Cauliflower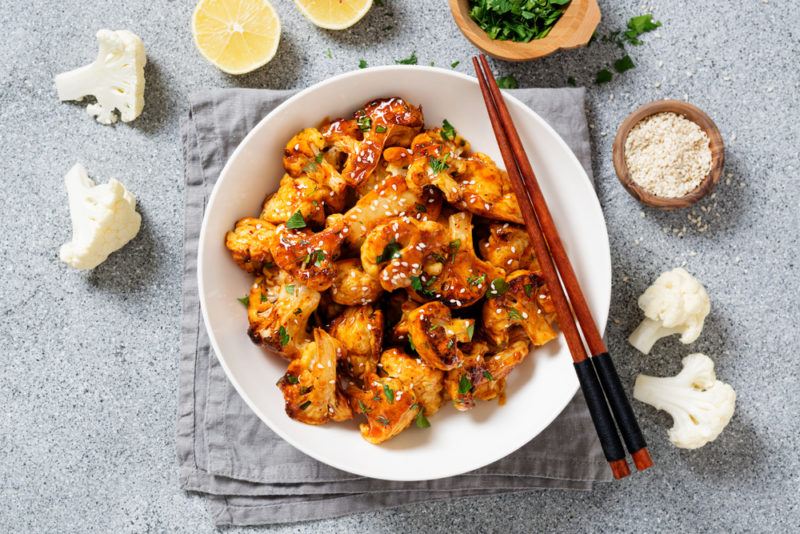 Cauliflower might sound like a strange meat substitute. Still, it can work well as an alternative to chicken wings.
In particular, cauliflower buffalo wings are generally mixed with a vegan buffalo sauce and baked. The sauce provides the cauliflower with the same flavor that you get with buffalo wings, but there is no meat to worry about.
While the texture isn't exactly the same as using real chicken wings, the cauliflower version is surprisingly delicious. Besides, this version contains much less cholesterol and fat than you get with chicken wings. How's that for a win?
Beans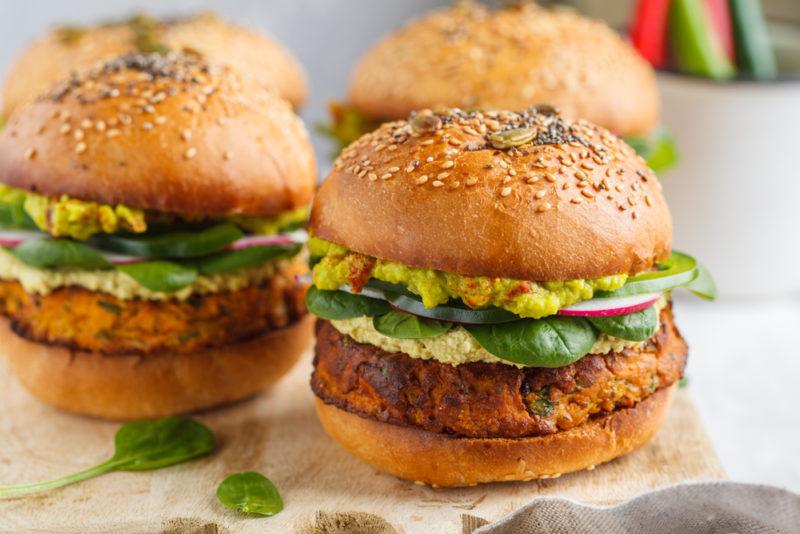 Beans aren't normally used to directly replace meat, as their taste and texture are notably different. Still, beans are a perfect source of vegan protein, so they shouldn't be underestimated.
You'll see beans, particularly black beans, used as an ingredient in many vegan meat products. You might even use them as a base for your own vegan meat patty.
Or, if you want a simpler approach, you can easily throw beans in a soup or stew instead of meat. Doing so is a perfect way to increase your protein intake and give you a more satisfying meal. The flavor of beans helps here too, as beans often have an earthy undertone that's like meat.
On a side note, the liquid from canned beans is an excellent egg substitute.
Falafel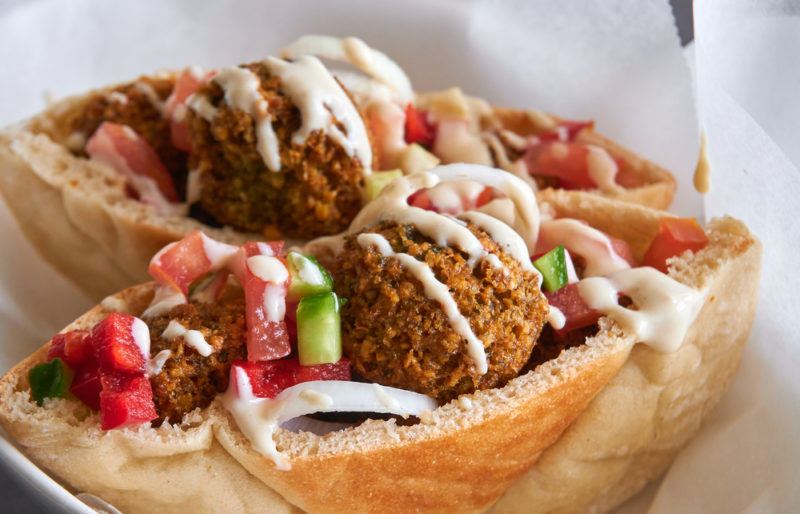 Falafel is a Middle Eastern food that is traditionally made using chickpeas. Unlike many other ball-shaped products, falafel doesn't use egg as a binder to help the snack to keep its shape. So, falafel ends up being an easy vegan choice.
You'll often see falafel used instead of meat in pita pockets and similar dishes.
Falafel has a fantastic nutrient balance too, including a decent amount of fiber and protein. Despite this, falafel is a snack to be careful with, as it is deep fried. This process increases the amount of fat and calories, and isn't so good for your health.
Thankfully, if you're making falafel at home, you can create a baked version instead. Doing so gives you a healthier product that still tastes just as good.
Quorn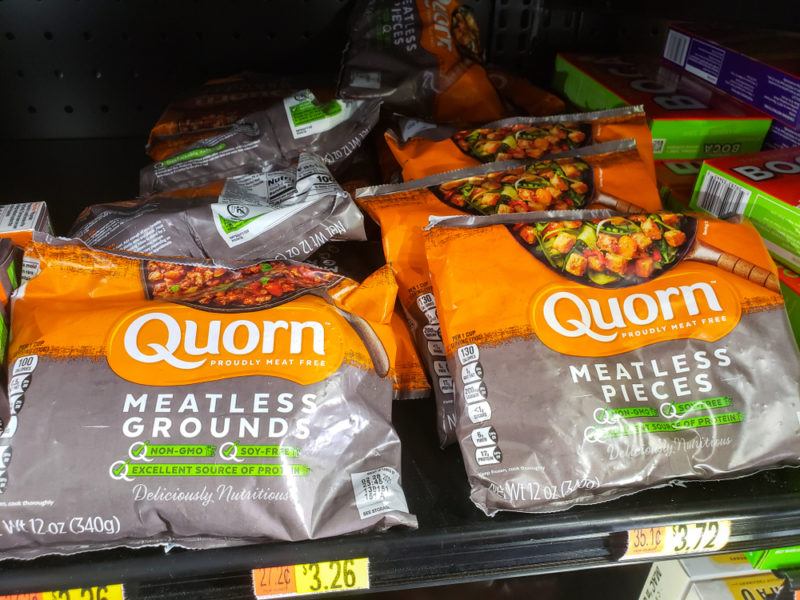 Quorn is an interesting choice. The company doesn't rely on conventional ingredients at all. Instead, the products are made using mycoprotein. This is a type of soil fungus. Mycoprotein is considered safe for human consumption, although there are some reports of undesirable reactions.
While the company mostly sells its products in the U.K., some can be found in the U.S. and other countries as well.
Be sure to check the product labels carefully with Quorn. There are some vegan products, including Meatless Fillets, Meatless Spicy Patties, and Meatless Buffalo Dippers. However, many other products use eggs as a binder, so they're not suitable for vegans.
And, annoyingly, while Quorn has a small selection of gluten free products, none of these are vegan friendly.
Soy-Based Meat Substitutes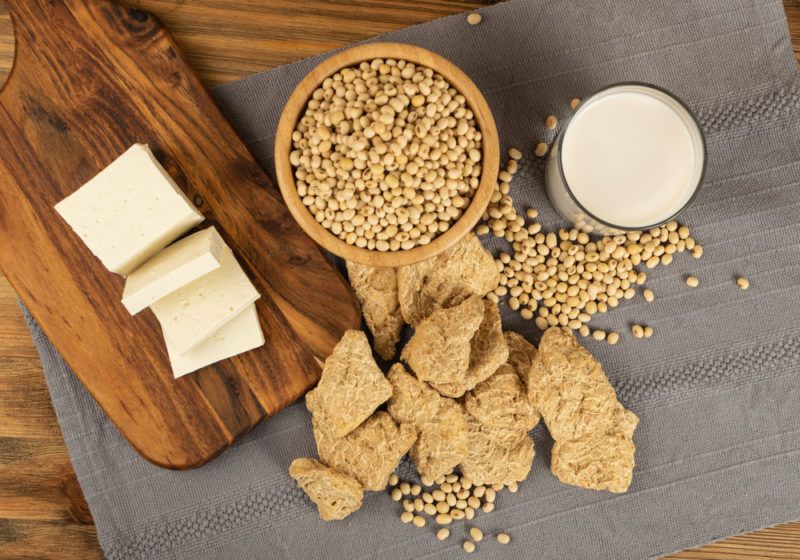 It's impossible to talk about vegan meat substitutes without mentioning soy. Soybeans are an easy plant-based source of protein and they're used in many meat substitutes.
Some of the previous examples included soy as an ingredient. Other products, including the ones in this section, use soybeans as the main source of protein.
As you probably know, soybeans are controversial. There's a ton of debate about whether soy is good or bad for you. Right now, the evidence that soy will harm you is slim. However, there are many unknown factors, especially as the government and the soy industry fund some of the research.
One of the biggest concerns is that soy contains phytoestrogens. These could have weak estrogen-like effects in the body and might influence health because of this. Soy also contains antinutrients and is often genetically modified. Plus, many soy products are heavily processed.
Still, soy is a good source of protein and offers plenty of nutrients.
The best approach might be to use soy, but only in moderation. Make sure that you use plenty of non-soy meat substitutes. Besides, varied diets tend to be much healthier than those with a limited selection of foods.
Tofu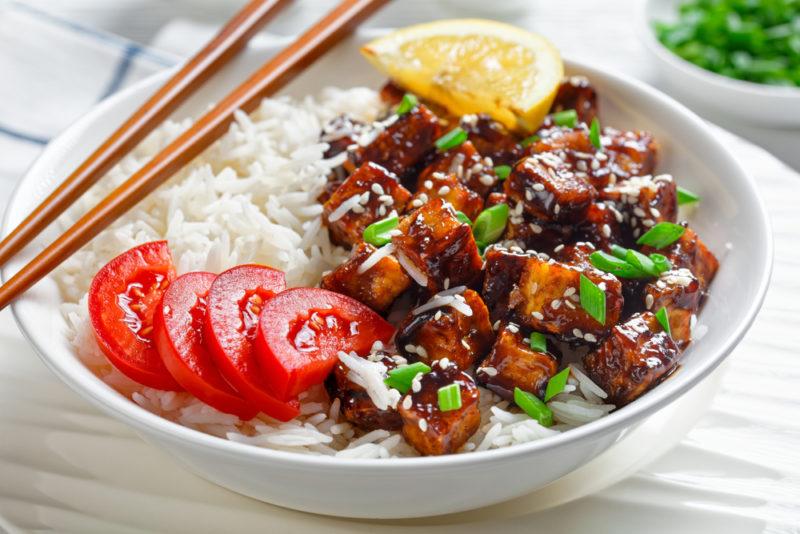 If you're comfortable with eating soy, then tofu is a classic meat alternative. It's a white block that's made from coagulated soy milk. You can easily use tofu instead of beef, pork, or chicken in countless recipes.
Tofu doesn't have much flavor of its own. It takes on the flavor of your other ingredients instead. This is a useful feature in a meat substitute, as there is no tofu flavor for you to try and mask.
If you're new to tofu, give yourself time to experiment and learn how to cook it well. Many people don't like tofu simply because of the recipes they've been using. When you use tofu well, it can taste delicious.
Tempeh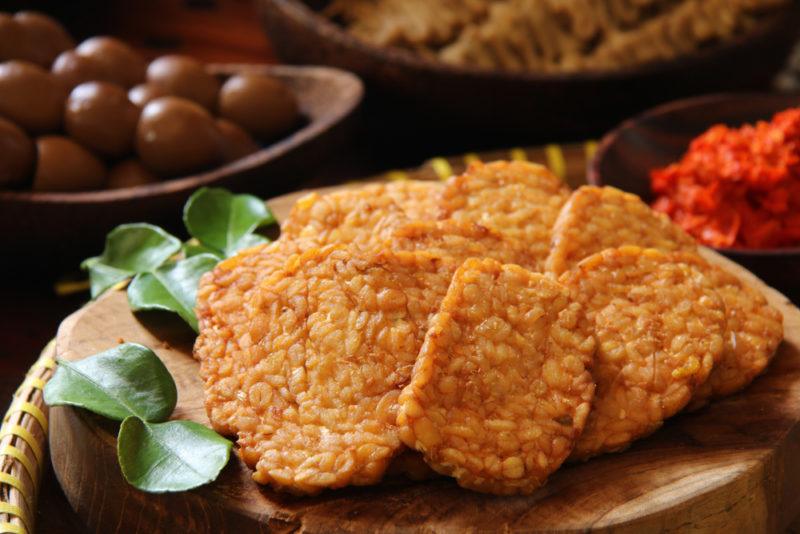 Tempeh mightn't be as well-known as tofu, but it's arguably more powerful. Unlike tofu, tempeh relies on fermented soybeans. This gives it a different nutrient profile than tofu and means that tempeh is a source of probiotics.
Plus, tempeh is less processed than tofu, which can be an advantage.
Another cool feature is that tempeh can be molded into different shapes. This means that you can use it as an alternative to meatballs, as an ingredient in tacos, or in many other ways.
Tofurky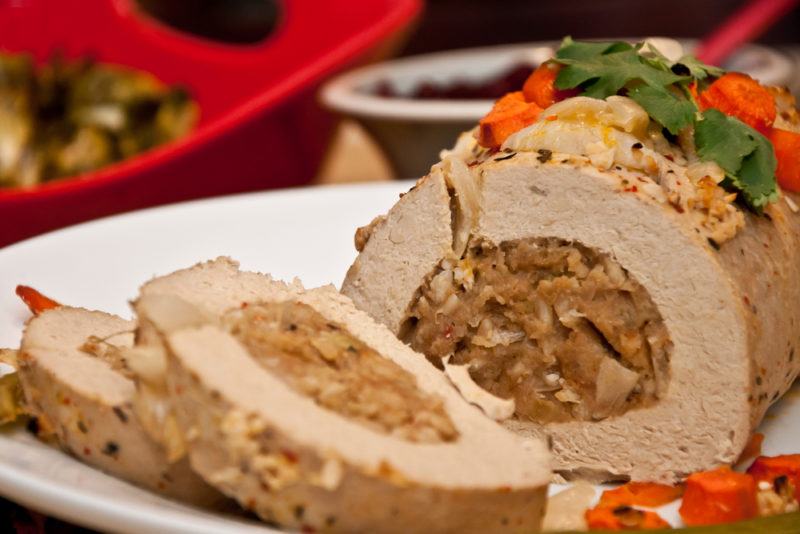 Tofurky is one of the big players in the vegan meat industry. They now have an extensive range that includes burgers, sausages, grounds, chick'n, roasts, and more.
It goes without saying that the products are vegan friendly. They're also designed to mimic real meat as closely as possible. This means that you can use Tofurky patties in a regular burger or grill the sausages during a BBQ.
The ingredients vary depending on the product, but most of them are soy-based (which shouldn't be too surprising given the brand name is Tofurky). Wheat is often included too, so the products aren't gluten free.
While the brand is well-known, there is concern about the amount of processing. For example, the Lightly Seasoned Plant-Based Chick'n uses titanium dioxide for color, calcium lactate, natural smoke flavor, gum arabic, natural flavors, sugar, and some other ingredients to create the desired color and flavor.
This approach doesn't necessarily make Tofurky unhealthy, but still, it's more processed than it needs to be. Once again, heavily processed products work best as something you eat every so often, rather than as a go-to source of protein.
Boca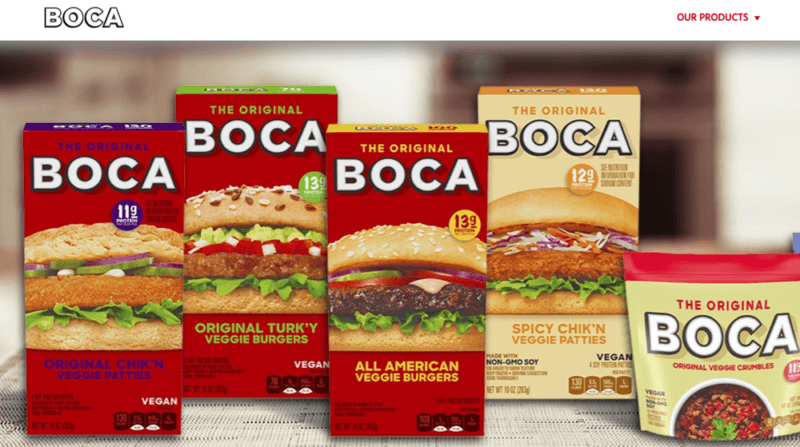 Boca is exceptionally well-known for their plant-based products. Although, in fairness, that reputation may be mostly because Boca is sold in so many places – rather than it being a particular favorite.
Boca is a brand to be careful with, as the products aren't all vegan-friendly. Some of them, like their All American Veggie Burgers, use cheese or other animal-based ingredients.
Thankfully, there are some vegan products as well. The main options are Boca Original Vegan Veggie Patties and Boca Non-GMO Soy Original Vegan Veggie Burgers. Both use soy as the main ingredient and include wheat gluten as well.
The main difference between the two is that the non-GMO patties use non-GMO soy, while the others don't. This means you should get a similar flavor and texture regardless of the type that you choose. Still, if you're worried about GMOs, the non-GMO soy option could be worth the price.
MorningStar Farms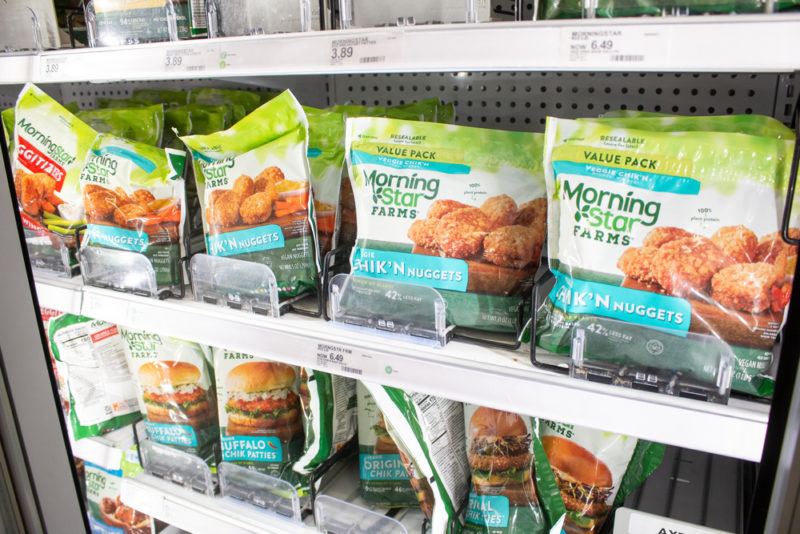 MorningStar Farms is another well-known company that focuses on vegetarian food and has a few vegan options. Once again, the products heavily rely on soy. You don't need to worry about GMOs though, as MorningStar Farms uses non-GMO soy.
The company also avoids all artificial flavors and colors. Plus, the products follow different themes. For example, the Meat Lovers Vegan Burgers contain 27 grams of protein in a patty. This is ideal for anyone struggling to get enough protein in their diet.
In contrast, the Veggie Lovers Vegan Burgers focus on veggies instead. These only contain 9 grams of protein per serving and are nutritionally dense.
Homemade Meat Substitutes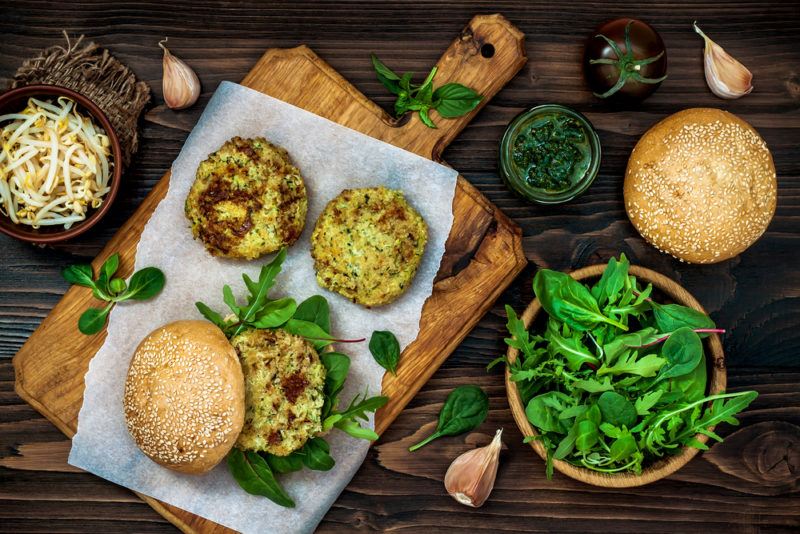 While you can find plenty of meat substitutes at the store, making them yourself is a much more powerful idea. This way you get to choose the recipe that suits you the best. You might do so by focusing on the specific texture that you're looking for. Or, perhaps you're interested in the nutrient profile or the ingredients instead.
Regardless, there are plenty of different recipes. You can find many through food blogs or just by using a vegan cookbook.
You can even find recipes for highly restrictive diets, like keto vegan meat alternatives or ones that are keto-friendly, vegan-friendly, and gluten free.
You don't need to use the recipe as written either. Most recipes can be easily tweaked to fit in with your needs. This gives you plenty of opportunities to experiment and find your own favorites.