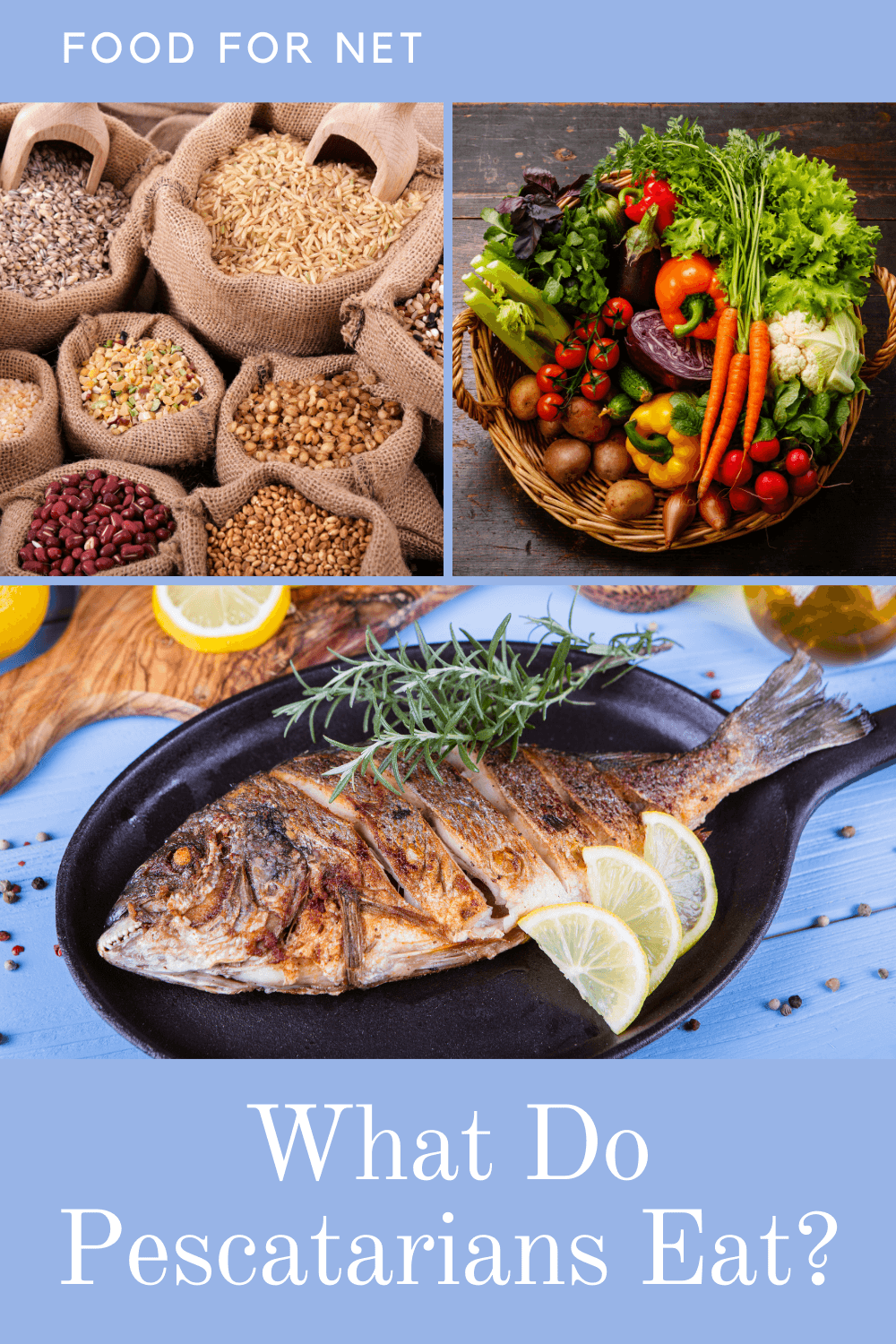 A pescatarian diet is an unusual form of vegetarianism. Like other vegetarian diets, most of your energy comes from plant-based foods, including fruit, vegetables, and legumes. However, pescatarian food also includes an interesting addition – fish.
The approach might sound a little strange at first. After all, fish need to be killed to eat them and there are still some ethical problems surrounding the fishing industry, like overfishing.
However, a pescatarian diet is often a health decision before anything else. You end up with a heavily plant-based diet and all the benefits that come from that. At the same time, you're getting omega-3 fatty acids and various important compounds from fish (including vitamin B12 in some cases).
You could say that a pescatarian diet is a way to get all the health benefits of a vegetarian diet, while avoiding most of the disadvantages. Besides, many people aren't that fond of meat and will comfortably give it up. Avoiding fish and shellfish might be much less enjoyable.
If you're not that familiar with fish, why not use a fish cookbook to get you started? Fish of the month clubs can be helpful too, as the company does all the work of sourcing and selecting the fish for you.
Pescatarian Foods
Fish
Shellfish
Algae and Seaweed
Legumes
Nuts
Seeds
Eggs
Mushrooms
Whole Grains
Vegetables
Fruits
Dairy
Processed Foods
Meat Alternatives
Fish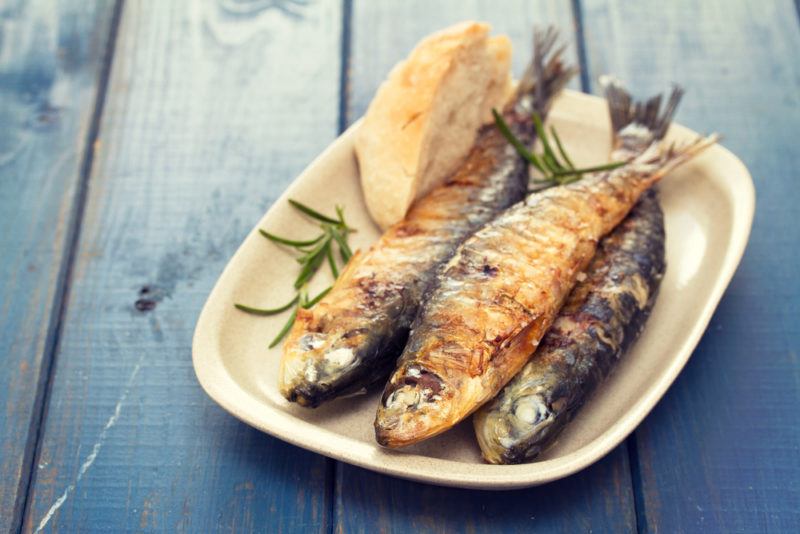 Let's start with the most obvious item – fish. Many pescatarians use fish as their primary source of protein. This is hardly surprising, as fish is why you'd follow a pescatarian diet to begin with.
The benefits are easy to see. Fish contains many important nutrients, provides you with omega-3 fatty acids, and is delicious. There is even some vitamin B12 in fish, with tuna, salmon, and sardines being fantastic choices. The B12 is highly relevant, as vegetarians can easily end up deficient in the vitamin.
If you focus on white fish, like cod, you're also getting a lean source of protein.
However, as you can probably guess, different types of fish have different advantages. Oily fish, like salmon, sardines, tuna, and herring are all powerful sources of omega-3 fatty acids. Leaner species of fish contain fewer omega-3 fatty acids.
There are also the mercury levels to think about. Fish accumulates mercury and the amount depends on the type of fish. High mercury fish include swordfish, mackerel, tuna, ocean perch, and grouper.
Other types of fish are much lower in mercury, including herrings, salmon, tilapia, and trout. Low mercury fish is your best choice, especially if you're eating fish regularly.
Shellfish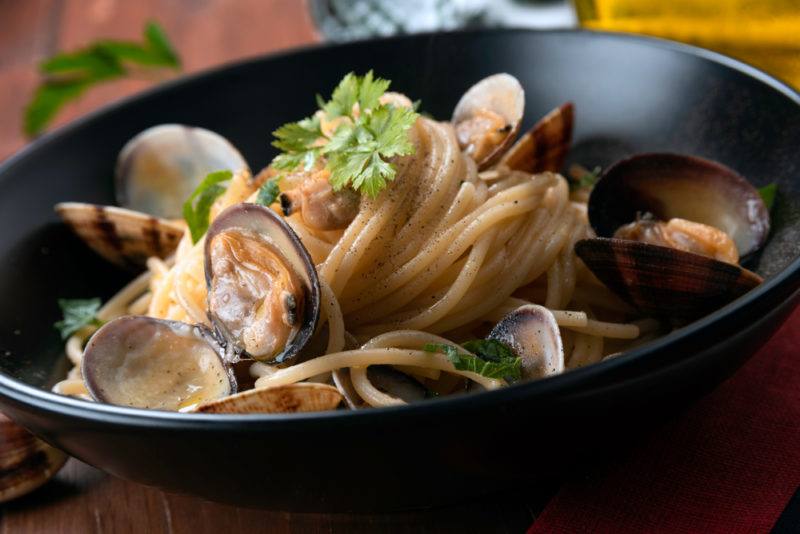 A pescatarian diet is sometimes defined as being a vegetarian diet with fish. But, most pescatarians don't stop with fish. They include other types of seafood as well, like shrimp, crab, squid, oysters, and the like.
The use of shellfish works well, as just focusing on fish could get boring.
Shellfish have plenty of benefits too. Just like fish, they're high quality sources of protein. They're not short in nutrients either.
The nutrient balance can vary quite strongly. For example, clams are an amazing source of iron, while other types of shellfish contain much less iron. Oysters are one of the most powerful options for zinc, with six oysters giving you close to 300% of your daily zinc intake. You get some zinc with other types of shellfish too, although the amounts aren't nearly as impressive.
There are also some concerns about shellfish safety. Focusing on quality suppliers can help with many of the problems. Variety helps too. This way you're never eating a large amount of anything that's contaminated or concerning. Plus, a varied diet gives you access to the broadest array of nutrients.
So, don't just focus on one or two types of fish and shellfish. Look for a wide range instead.
Algae and Seaweed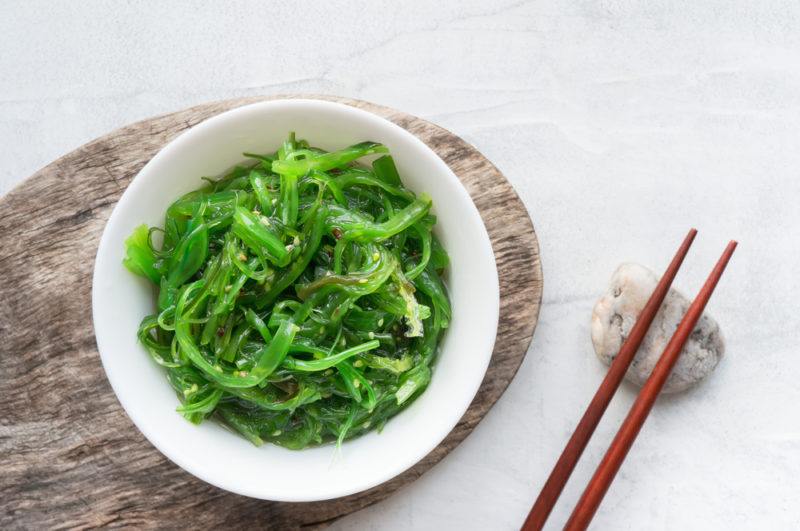 Fish and shellfish aren't the only nutritious foods that come from the sea. Seaweed and algae are important too.
Both seaweed and algae contain a variety of important nutrients. They're a source of omega-3 fatty acids too, including EPA omega-3s, which you don't normally find in plants.
You will need to pay close attention to where the products come from. Look for reliable companies, ones who regularly use third-party testing. Doing so is crucial, as seaweed and algae can become contaminated, just like any food from the ocean.
Legumes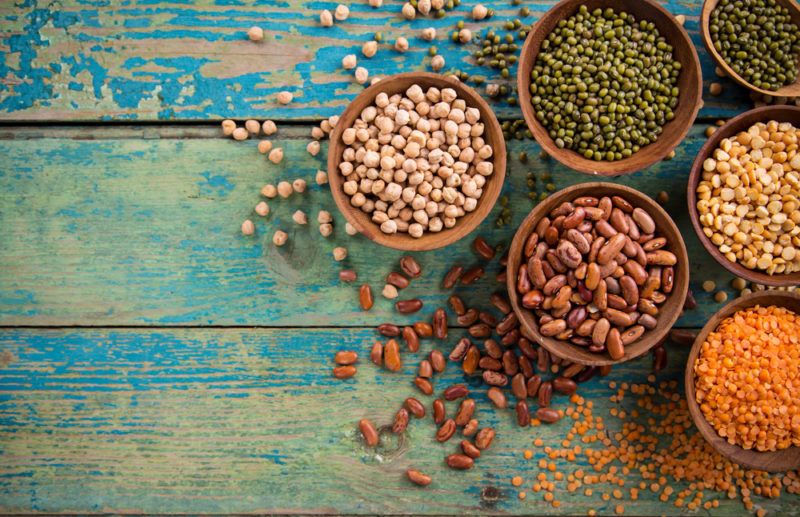 Seafood might be the main source of protein on a pescatarian diet, but you shouldn't rely on it too heavily. Most recommendations focus on either two or three servings of seafood a week.
You might be able to have more if you exclusively focus on low mercury seafood. Even then, you shouldn't be having seafood every night of the week. This limitation means that you need to turn to other sources of protein too, particularly vegan protein.
Legumes are one of the most powerful options here. This broad category includes all the beans, peas, and chickpeas. They're all rich in protein and contain plenty of nutrients as well. You'll find some antioxidants too, along with various plant-based compounds.
Legumes have some other advantages too. They tend to be inexpensive and have a decent shelf life. This makes them a practical choice. Besides, the link between plant-based foods and health is well-established. Legumes are a key part of the equation.
As you may know, there is some controversy surrounding legumes.
Soybeans bear the brunt of this. There are concerns about antinutrients in soybeans, the potential for genetic modification, and the phytoestrogens that are present. All these areas could have negative impacts on health.
Do they? Well, that's hard to say. There isn't much solid evidence about health problems from soy. Many people eat soy regularly without apparent issue, with supports the idea that soy is safe. Still, if you're worried, you could always cut down your soy intake. Focus on a different protein source instead.
There's less concern about other legumes, although most do still contain antinutrients and they're high in carbs too.
The antinutrients mean that your body might not absorb as many nutrients from a legume as you might expect. But, you're still getting a decent amount of nutrients – more than enough to make legumes worth the effort.
Nuts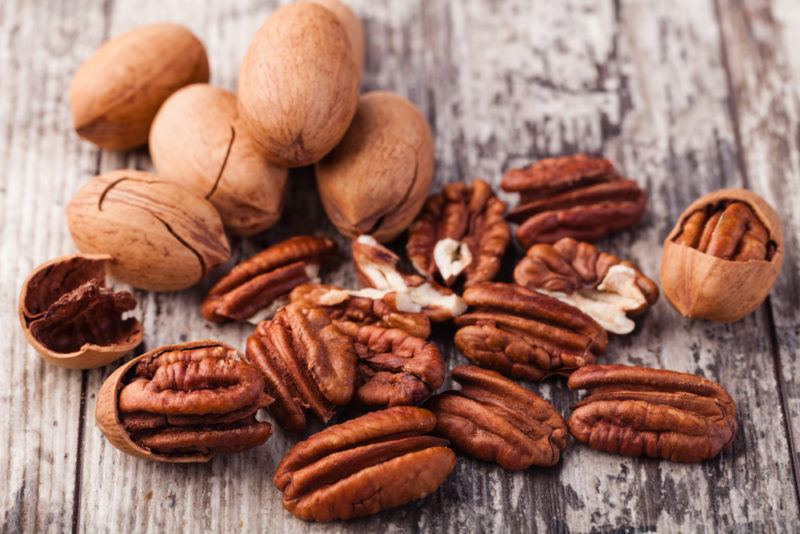 Let's not forget about nuts as a source of nutrients. They're important, actually, as nuts provide you with healthy fats. Plant-based foods often don't contain all that much fat, so you need to plan a little to ensure you get the fat that you need.
After all, fat isn't something to be avoided at all costs. Our bodies use fat in many places and our brains are made up mostly of fat. So then, fat is important and nuts are one of the easiest sources of healthy fat that you'll find.
The best way to use nuts is to focus on variety. Don't just include one or two types of nuts in your diet. Have many different ones instead. Varied diets are always powerful. They give you access to the widest range of nutrients and plant-based compounds.
Besides, there are many nuts to choose from (including unfamiliar types). Each type has its own advantages. For example, almonds are often seen as the healthiest nut. They contain plenty of important nutrients, including vitamin E and magnesium.
Walnuts have been linked to improvements in cholesterol and may help with brain health too. Some of their benefits come from the high amounts of alpha lipoic acid present. Alpha lipoic acid, or ALA, is a plant-based omega-3 fatty acid and can still offer benefits even if you're eating fish regularly.
Seeds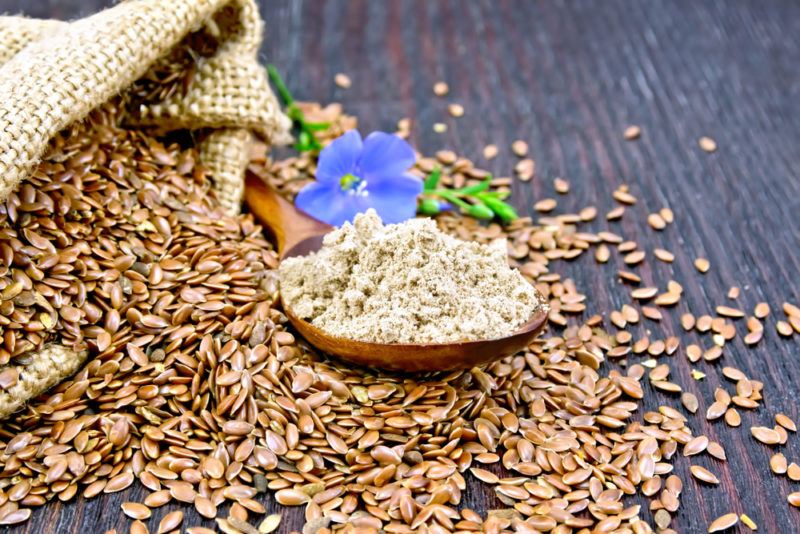 Seeds are just as important as nuts. Like nuts, they're easy to use and contain plenty of nutrients.
Chia seeds and flaxseeds are two important ones if you need more ALAs in your diet. They're both simple to use too, especially as you can buy ground flaxseeds and mix them into your food.
There's no need to grind chia seeds, as they're already tiny. They have almost no flavor either, so it's easy to sprinkle them on top of meals.
There's just one thing to watch out for here. If you soak chia seeds in liquid, they become gelatinous. Because of this feature, they're sometimes used to make chia seed pudding or as an ingredient in overnight oats. Still, the gelatinous nature might not be what you want all the time.
Don't forget about options like sunflower seeds and pumpkin seeds either. These can be the ideal snack, especially when they have been roasted and seasoned.
Eggs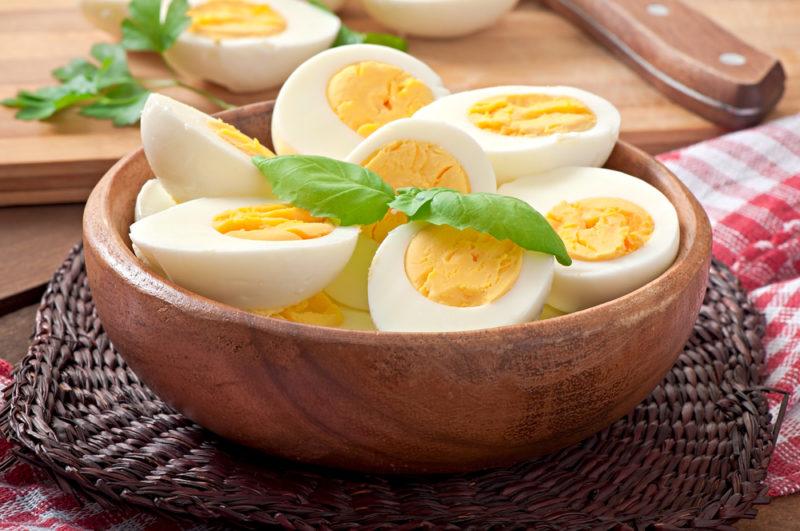 A pescatarian is basically someone who adds fish to a vegetarian diet. This can mean that pescatarians end up eating dairy and eggs too, as some vegetarian diets do that (like lacto-vegetarians, ovo-vegetarians, and lacto-ovo-vegetarians).
Following a lacto-ovo version of a pescatarian diet is one of the most flexible options out there. You're largely avoiding meat and poultry, along with foods that use these as ingredients. But, you still have access to eggs, dairy, shellfish, and fish.
It's easy to see why you'd want to include eggs. These small delights are a complete source of protein and are packed with nutrition.
They're often cheaper than fish too and are easy to prepare. These features are important when you're considering your daily meals. Food shouldn't be stressful, right?
Mushrooms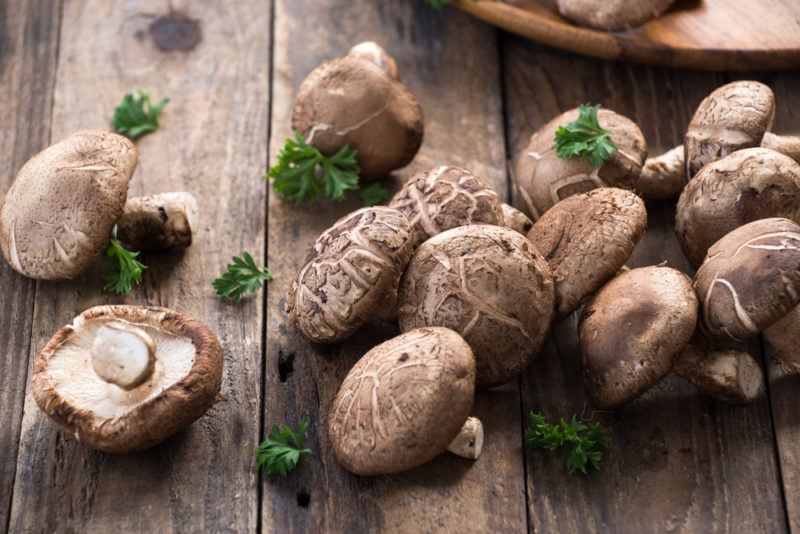 Did you know that mushrooms are a vegetarian-friendly food? Seriously, they even fit onto a vegan diet. The main reason is that mushrooms aren't animals. They're fungi instead and don't have a central nervous system.
They can also be grown without the use of any animal by-products and without environmental damage. This is ideal if you're following a pescatarian diet for environmental reasons.
Like all the foods on this list, mushrooms have their share of benefits. One is that they might help to boost your immune system and fight off infection.
The low calorie content of mushrooms is appealing too, making them a delicious choice for anyone working on weight loss. Then there are the nutrients. Mushrooms offer B vitamins and selenium, along with plenty of other compounds.
Some of the benefits vary depending on the type of mushroom you choose. Don't be afraid to experiment. You could even join a mushroom of the month club and try out some unusual types that way.
Whole Grains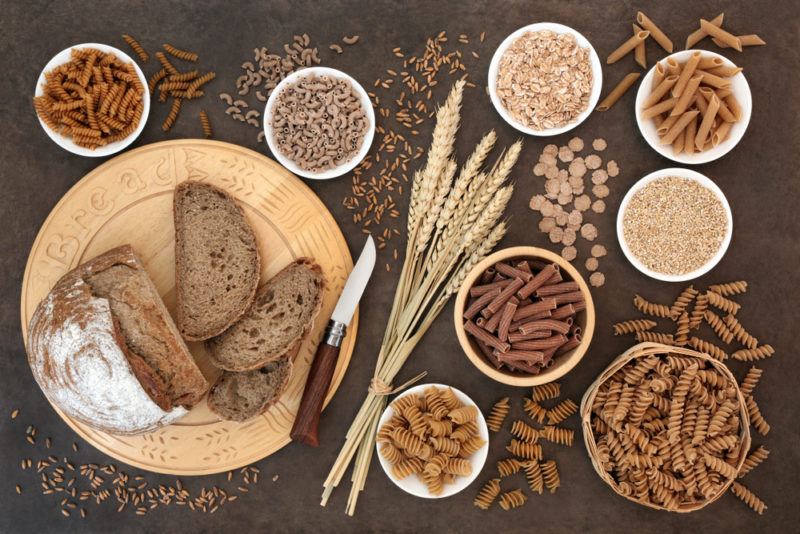 Whole grains are exactly what the name suggests. They're cases where you're eating the entirety of a grain, rather than part of it.
The distinction is important, as some products just rely on part of the grain. For example, refined white flour relies on wheat germ and excludes the bran and endosperm. That approach means that white flour loses many of the nutrients that you find with the full wheat grain, including much of the fiber.
Eating whole grains gives you a much better balance of nutrients.
Recommending whole grains might sound a little strange, given the modern idea that carbs are bad. But, while simple carbs like those in white flour are linked to health problems, whole grains offer many more benefits. A diet rich in whole grains has been linked to a variety of health advantages.
Getting whole grains in your diet could even help to decrease the risk of problems like strokes, cancer, diabetes, and obesity.
Thankfully, there are plenty to choose from. Whole grains even include options like popcorn and oatmeal, not to mention brown rice, wheat, corn, and rye.
You're not limited to 'true' grains either. There's also a collection of pseudograins, including quinoa, chia seeds, and amaranth. These have similar properties to grains and are often used in the same way. The main difference is that grains come from grasses, while pseudograins are seeds from other types of plants.
If you're buying whole grain foods, look for products that keep the grains complete and don't use too many additives. You still get the same nutrients if the grains are ground instead, but grinding changes digestion speed and can lead to spikes in your blood sugar levels.
Vegetables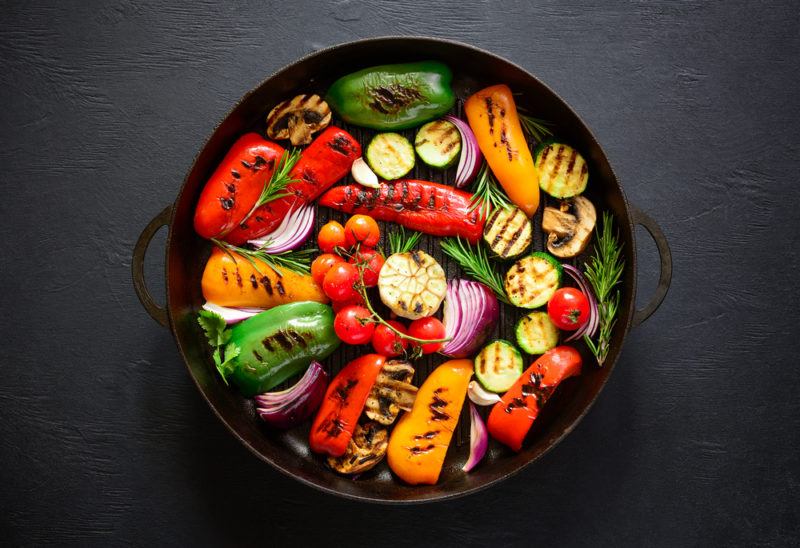 How have we gone so long without talking about vegetables?
Seriously, vegetables are one of the hallmarks of a vegetarian diet. They're also powerful, as vegetables provide a broad array of nutrients and plant-based compounds. Plus, there are countless different vegetables for you to enjoy.
As with the other categories, it's crucial to focus on variety. Vegetables differ in so many ways, including their nutrient profile, their taste, texture, color, calorie content, and much more. Including a broad selection in your diet helps ensure that your body gets everything you need.
Because vegetables are nutrient-dense and low in calories, you don't need to worry too much about the amount of each type. But, there are exceptions to that idea.
Watch out for vegetables that are high in oxalates, particularly spinach. Oxalates may increase your risk of a kidney stone, especially if you have a history of the stones.
Some other vegetables are debatable too, like nightshade vegetables and ones that are carb-rich, such as potatoes. It's often best to begin by talking to your doctor or a nutritionist. Doing so can help you work out which foods are important for your personal health needs.
Fruits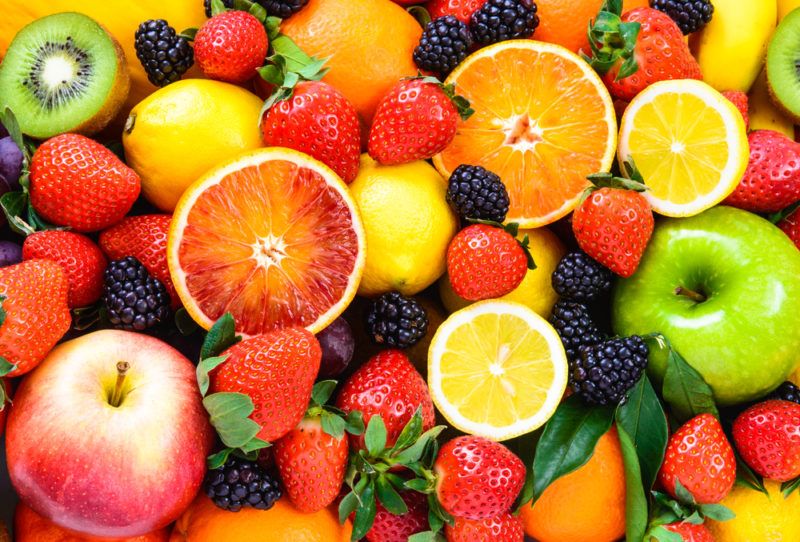 With all the concerns about sugar these days, it's easy to ignore fruit. However, you shouldn't cut all fruit out of your diet. Fruit remains an important source of nutrients. That's not all. It also contains many potent plant-based compounds.
Take blueberries as an example. They're well-known for their antioxidant content. They also contain anthocyanins. These are the pigment molecules that provide the red, purple, and blue color that you see in many fruits and vegetables.
Getting plenty of antioxidants has been linked to improved health outcomes – as long as you're getting them from food rather than from supplements. Anthocyanins specifically may be even more powerful.
And, that's just one example. Many fruits are packed with important plant-based molecules and nutrients.
Once again, it's best to include a variety of fruits in your diet. This way you're getting the full spectrum of plant-based compounds.
However, you still will need to pay attention to how much fruit you eat and how often. After all, too much sugar isn't good for you, even if that sugar comes from a natural source.
Dairy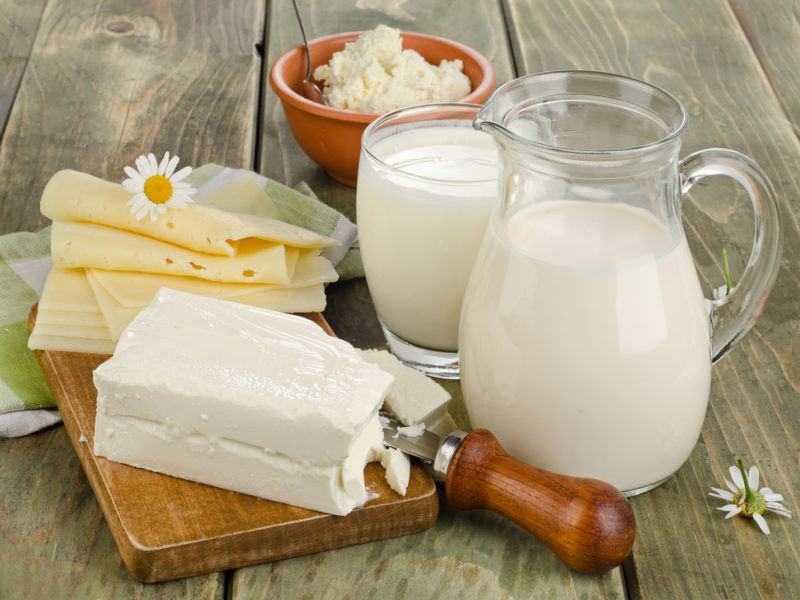 Dairy is another option that you might or might not include on a pescatarian diet. If you choose to, then you get access to all the important nutrients in dairy foods, like calcium, riboflavin, magnesium, and vitamin B12.
Plus, dairy is a source of high quality protein. You're getting all of your essential amino acids in one place. This means all the amino acids that your body needs and can't produce itself.
Some of the nutrients in dairy, like vitamin B12, are vital, as they're hard to find in plant-based foods. In fact, including fish, dairy, and eggs in your diet is an amazing way to get most of the benefits of a vegetarian diet, while avoiding the serious limitations.
Besides, there are plenty of dairy products to choose from, including milk, yogurt, and cheese. Dairy products are often used as ingredients in cooking, to provide many of the textures and flavors that you love. Keeping dairy in your diet also gives you more flexibility. This can be perfect if you enjoy eating out with friends and socializing, as you won't need to be too stressed about your food.
Processed Foods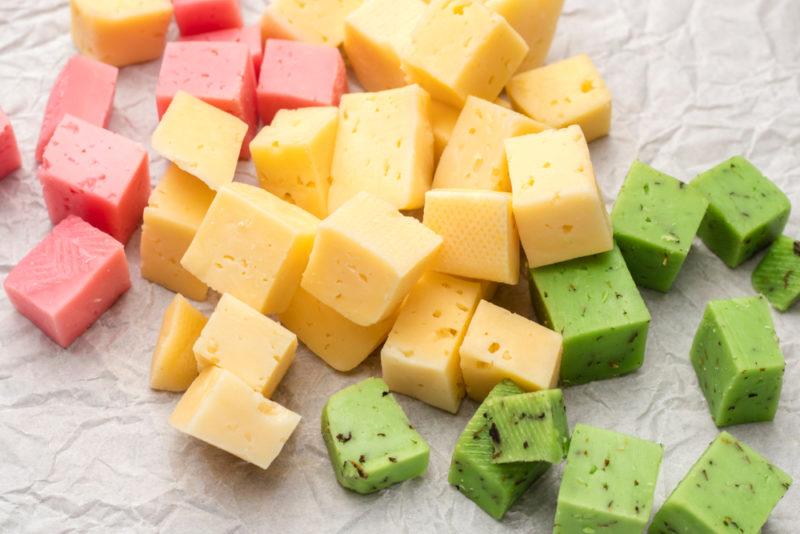 Like any diet type, pescatarian eating can be varied. This means that while many people focus on whole foods and end up with something similar to a Mediterranean diet, others rely more heavily on processed alternatives and pre-prepared meals.
After all, there are plenty of vegetarian and vegan foods in the grocery store these days. Many of these are designed to replace regular foods, including options like soy-based meat replacements and vegan cheese.
Some products might be a good addition to your diet. Anything pre-prepared can make cooking easier, as it cuts down on the number of steps that you need to take.
The trick is to choose your products well. Some processed foods are fairly healthy, while others are worse than a candy bar. Look for products that have a short ingredients list and don't rely on additives.
Also remember that natural doesn't always mean healthy. For example, some products rely on natural sweeteners like dates or honey. These are less processed than high fructose corn syrup and may be a little better for the body. Still, sugar is sugar. You can't just choose a different type of sugar and say that it is healthy.
Meat Alternatives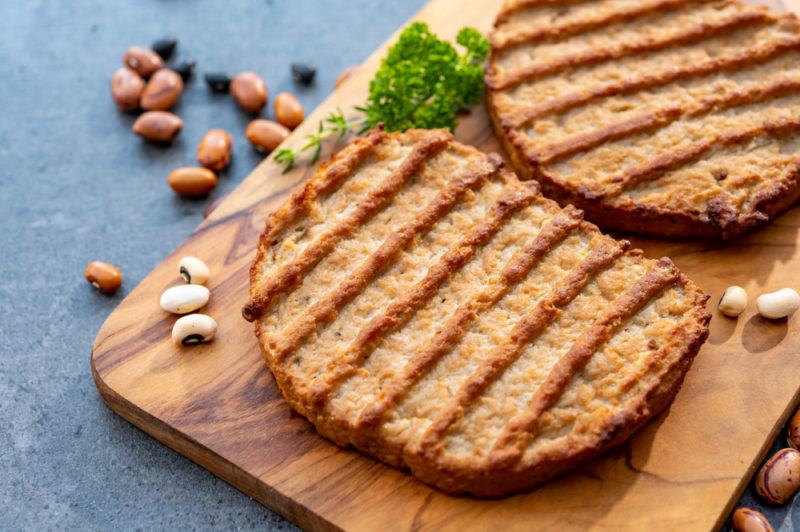 We should also talk about meat alternatives. These are prepared products that are designed to replace meat. Vegan sausages and veggie burger patties are both examples.
The products can be made in many ways. Some rely on soybeans as the main ingredient, while others use lentils, seitan, jackfruit, or something else.
Meat alternatives can be fantastic. They're often an easy way to turn a meat-heavy dish into a pescatarian-friendly one. For example, with the right preparation and sauce, jackfruit flesh can be surprisingly similar to pulled pork. You could use the jackfruit in tacos or as part of a burger.
The trick is to choose your products well.
Some meat alternatives are heavily processed. They may rely on many ingredients and additives to create the exact right color and texture. Take vegetarian burger patties as an example. Some of these really do look like they're made of beef. This isn't too surprising, as their ingredients list often includes thickeners, natural colors, and natural flavors.
It's generally best to focus on less processed options whenever you can. Doing so much take more effort, but you do get a healthier product at the end of the day.