Let's face it, root vegetables aren't exciting. They grow underground and often look pretty boring. There aren't even that many types to choose from. Or, at least, that's what it seems like. As it turns out, there are plenty of unusual root vegetables out there too, ones that are just as versatile and healthy as the classic ones.
So, why turn to root vegetables anyway? As you can probably guess, this group of vegetables is packed with nutrients and antioxidants. The brightly colored ones, like carrots and beets, contain powerful pigment molecules too, ones that may provide many extra health benefits.
Root vegetables are fairly high in carbs. This might be a problem if you're following a low carb diet. But, for everyone else, carbs shouldn't be a big deal. They're even helpful, as they offer a fast boost of energy.
Honestly, as long as you watch your portions, root vegetables are an excellent part of your diet. You can even grow many of the vegetables on this list at home in your own garden.
There are plenty of other interesting and unexpected foods out there too, including exotic fruits, unusual meats, and countless types of nuts. Why not try a few? It's always good to add variety to your meals.
Don't forget about other weird vegetables too. There are plenty that don't fall into the category of root veggies.
Weird And Unusual Root Vegetables (With Pictures!)
Celery Root

This vegetable also goes by the name celeriac, knob celery, and a few others. Interestingly, it's not actually the root of the classic celery that we eat regularly. It's a separate vegetable entirely, although the two are related.
Unlike celery itself, celeriac is grown for its root rather than for its stems. Most of the time, it's a light tan and round vegetable that's somewhat knobby. It's not particularly attractive, which is true for many other root vegetables as well.
You're looking at a mild and slightly sweet root vegetable that can be used in many recipes. You can even peel celery root, boil it, and then mash it just like potatoes. Roasting celery root works well too. You can then use raw slices of celery root in salads and other dishes.
Jerusalem Artichokes

Jerusalem artichokes are another vegetable that goes by many names. You'll see it called sunchokes, sunroots, or even earth apple. The plant itself is a type of sunflower, although it's the roots we're interested in here.
Once again, you're looking at a roughly round root vegetable that certainly isn't pretty. This is a great root vegetable to grow at home, as you end up with plenty of edible tubers from a single plant.
Jerusalem artichokes aren't as unusual as some of the other vegetables on this list, so they're an excellent place to begin. In fact, there are already a ton of delicious recipes for Jerusalem artichokes out there, making it easy to try the artichokes yourself.
Russian Giant Scorzonera
The Russian giant scorzonera looks a little like a carrot, with extra long black roots and light colored flesh. It's an easy vegetable to grow, as long as you live in the right climate.
Despite the name, the vegetable actually has history in the United States, featuring in the gardens of early American colonists. The sweet flavor makes this an excellent root vegetable to cook with. It even tastes good just peeled and sauteed in butter, although it can be used in more complex recipes too.
The flavor profile is interesting. There's a slight nuttiness, along with a flavor that is reminiscent of asparagus and artichokes. Even the young leaves of the plant can be eaten. They're particularly good in a salad.
Oca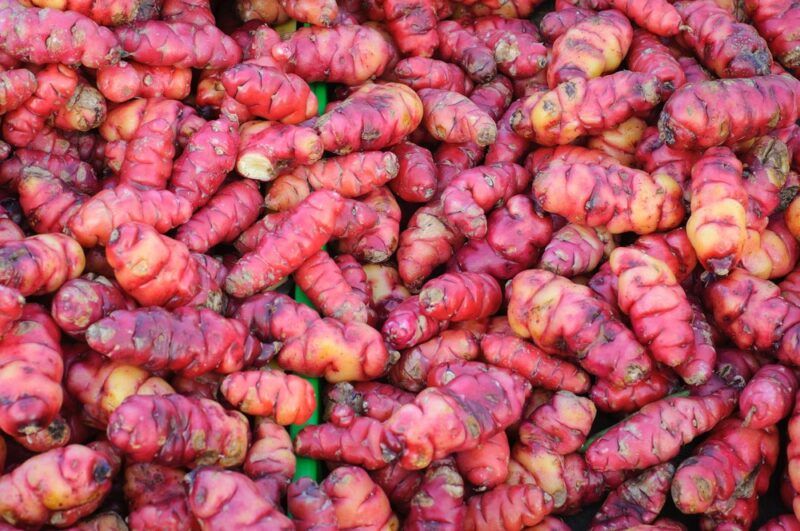 The oca is a fascinating little vegetable. It's commonly grown in New Zealand, where it's known as a yam (despite not being a true yam). Oca is often grown in the Andes as well, although it's much rarer elsewhere.
The small root vegetable comes in a variety of colors, such as purple, red, yellow, and orange. The flavor is distinctive and varies depending on the color of the oca and the time of harvest. Most of the time, though, you're getting a combination of both sweet and savory notes, with a distinct tanginess.
The easiest way to cook them is to simply cover them in oil and roast them. They pair well with other types of roast vegetables and can even be cooked at the same time.
Jicama

Jicama is a Mexican root vegetable, sometimes known as the Mexican turnip. It's becoming more common in the United States these days, so you may even be able to find it in farmer's markets and some local stores.
The root is somewhat round with light brown skin and a stark white interior. It looks a lot like a potato but doesn't taste like one at all. Instead, the flavor is similar to an apple, just with less sweetness.
Jicama can grow to some impressive sizes. A few even reach 50 pounds. Large isn't necessarily best though, as the smaller jicama roots tend to taste the best.
There's one big catch though – only the flesh of jicama is edible. The stem and even the skin of jicama aren't safe at all. So, you need to carefully peel and cook jicama before you use it.
Kohlrabi

The name kohlrabi translates to cabbage-turnip, which is surprisingly apt for this vegetable – as kohlrabi tastes like a combination of cabbage and turnip and has a similar texture as well. The biggest difference is that kohlrabi is a bit sweeter than either vegetable.
Kohlrabi is surprisingly easy to work with too, as you can treat it much like a turnip. You can serve the vegetable raw, either in thin slices or grated as part of a salad. There are plenty of options for cooking it too, like steaming or mashing kohlrabi.
There are multiple varieties of kohlrabi currently on the market. Many have a light green or yellow color, while a few have purple skin instead. However, that purple coloring is only superficial. The color of the edible part is the same as with all other varieties.
Skirret
Skirret is a hardy root vegetable that was once popular in Scotland and went by the name crummock. It has a fairly delicate flavor and can be roasted, boiled, or baked. The roots can even be eaten raw.
Skirret fell out of popularity once potatoes were introduced, but it's worth a second look, especially if you want a change from regular old potatoes.
Some effort is required though, as the roots can be somewhat fibrous. If this is the case, it's best to remove the inner core before you cook the root, as this is the toughest part of the root.
Like many of the root vegetables on this list, skirret can be easily roasted and included along with other roast veggies.
Daikon

Daikon is a common root vegetable in Japanese meals and many other Asian cuisines. It's a white and crunchy tuber that adds a distinct flavor and texture to the meal.
Daikon may already be familiar, as it comes from the same family as radishes and is becoming more well-used in plenty of different recipes. It's easy to use too, as you can simply treat it like a regular radish.
There's another benefit too – daikon isn't very starchy. This makes it useful for diabetics. You can even use daikon in low carb and keto recipes, like serving daikon fries instead of French fries.
Rutabaga

Then there's rutabaga, which also goes by the name sweet and Swedish turnip. The vegetable is a hybrid between a wild cabbage and a turnip. And, to be honest, a rutabaga does largely look like a large ugly turnip.
Rutabagas tend to be surprisingly sweet and mild. They get richer and more savory once they're cooked, while still retaining some of their sweetness.
The vegetable isn't complicated to work with. You can actually just cube the flesh, boil it, and mash rutabaga, just like you would with potatoes. You can also make spiralized noodles using rutabaga (so, the same idea as zoodles) or use the root vegetable in plenty of other ways.
Lotus Root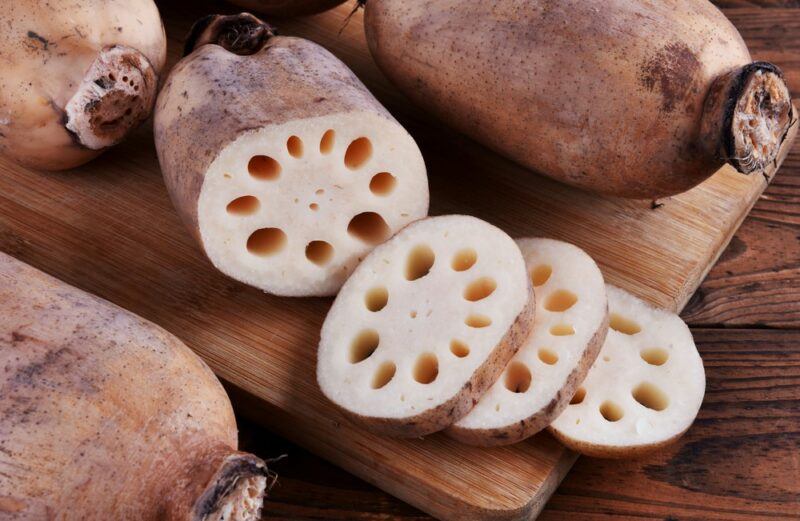 Lotus root is an accurate name for this vegetable, as it is literally the root of the lotus flower. Most of us only focus on the flower, without realizing that the root itself can be eaten as well.
Lotus root is distinctive, with its white color and holes throughout. The distinctiveness isn't surprising though, as this root vegetable actually grows underwater, rather than underground.
What's more, lotus root may have a variety of health benefits, like helping with immunity, indigestion, and inflammation. However, it's important to start slowly with the root and make sure you don't get any side effects from it.
Chinese Artichoke

Don't these little root vegetables look strange? They seem a little like worms or grubs at first glance, yet actually come from a fast growing type of plant.
Despite the name, the plant isn't an artichoke at all. It's more closely related to mint, of all things! The little tubers are a decent source of fiber and nutrients, while also being fast to cook.
As for flavor, these vegetables taste much like water chestnuts, with a noticeable nutty flavor. They're easy to prepare too. You can boil them, steam them, bake them, or do pretty much anything else. They're even edible raw.
Cassava

Cassava is actually a very common root crop in many parts of the world, acting as one of the main sources of carbohydrates in developing countries. The root's popularity partly comes from the fact that it is drought resistant, so it will survive in environments where many other vegetables won't.
Care needs to be taken when preparing cassava, as it contains some antinutrients. Improper preparation can even leave dangerous levels of cyanide in the cassava. This is particularly true in the bitter varieties of cassava, although these should be rare in the United States.
Hinona Kabu Turnips
These little beauties are a heirloom variety of turnip, with thin white roots, topped with a band of purple. Sometimes the purple can bleed further down the root, although there is normally still plenty of white.
They offer a fairly mild spicy sweet flavor balance, with some earthly and grassy notes. The flavor is best described as similar to a turnip, with a hint of radish flavor.
There's no shortage of ways to use these turnips, including adding them to stew or curries. The root can also be roasted, sauteed, or even eaten raw.
Salsify

Salsify is a long and thin root vegetable that you'll sometimes find at farmer's markets. It looks a little like a large carrot, but actually comes from the dandelion family instead.
This root vegetable has gone through phases of popularity. It was once incredibly popular and seen in many gardens. Then, it all but vanished and has only recently started to regain its foothold.
The most notable thing about salsify is the flavor, as the root actually tastes much like an oyster. This is why it also goes by the name oyster root.
Black Salsify

A similar root vegetable is black salsify, which also goes by the name scorzonera. The black coloring is only present on the outside though. The interior of the vegetable remains white.
This variety also has an oyster-like flavor. Well… more accurately it's a subtle oyster-like flavor, one that's easily missed if you're not paying attention.
Both varieties are cultivated in a similar way to parsnip, although the black salsify version reaches maturity earlier and the plants need to be spaced further apart.
Ollucos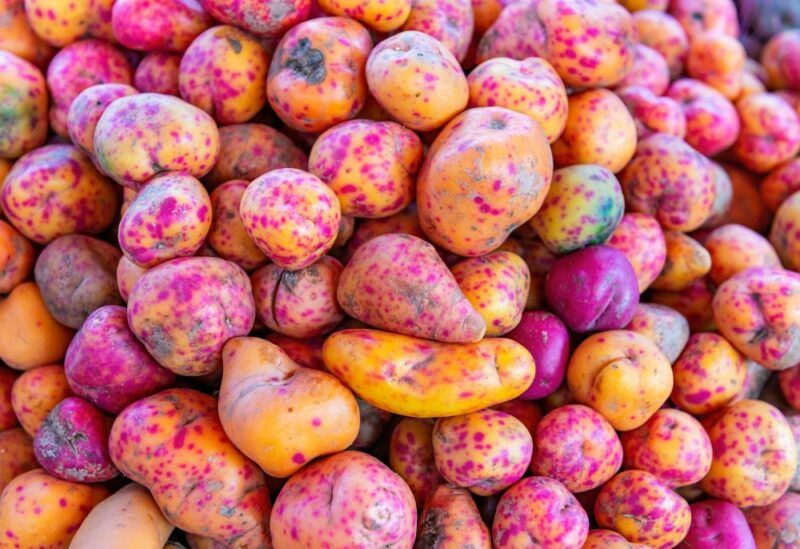 Ollucos look like bright potatoes, but they're actually quite a different vegetable. The most immediately noticeable difference is the texture, as ollucos tend to be much more watery. This means that you can't easily fry or bake them or use them as a potato replacement in many dishes.
Despite this, ollucos are easy to use, as the skin is entirely edible. You simply need to scrub them and cut them into strips or rounds, to be included in recipes like soups and stews.
Dandelion Root

Dandelions themselves aren't unusual – at all. You probably have some growing somewhere on your property already. But, the little flowers have a delicious secret under the ground, their roots.
Dandelion roots actually taste much like a parsnip. You can even prepare the roots exactly as you would prepare parsnips too, which makes them very easy to use.
The size of the root varies. Look for dandelions growing in loose and disturbed soil (like in a garden bed). These dandelions should have the largest roots.
Cattail

Cattails are pretty common too and, again, most of us don't think of eating them. Yet, many parts of the cattail plant are edible, including the root.
Cattail roots tend to be starchy, which is why they're often dried out and used to make flour. You can treat them like other root vegetables too, such as boiling them or baking them.
While the roots can be harvested year round, they're best if you harvest them in the fall or in winter. Harvesting them takes a bit of work, as you need to dig into the muddy water, then cut the roots into usable pieces. Still, it's worth going through the process at least once to experience the root vegetable for yourself.
Parsley Root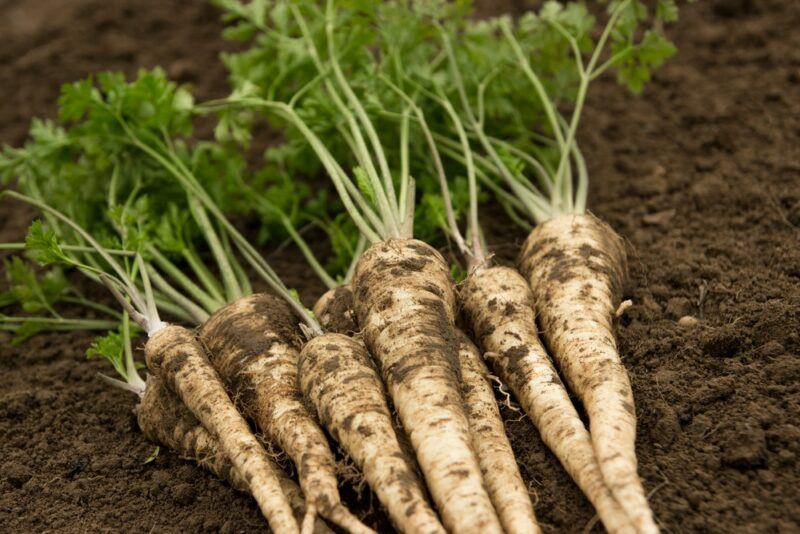 Parsley is more than just a herb. The entire plant is actually edible, including the white roots. These roots are actually a little like parsnip, with a similar white color and tapered shape.
The taste is distinct though, with flavors that are reminiscent of parsley, carrots, and celeriac. The root vegetable works well in many recipes, particularly stews and soups. You can roast it and serve it with other roasted root vegetables too. Or, you could even serve the root raw.
Mashua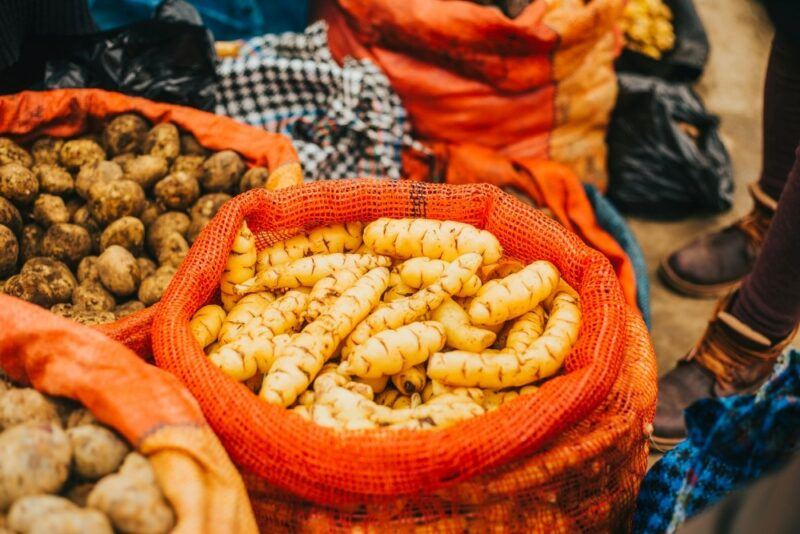 Mashua comes from the Andes and is often cultivated with the oca and potatoes. While mashua is still fairly uncommon elsewhere, it's a vegetable with a lot to offer, including plenty of nutrients and calories.
Nashua tubas also look stunning, as they come in many different colors. If you're in the United States, maritime climates are the best places to grow the tuber. However, it's still uncommon and may be difficult to find.
Root Chervil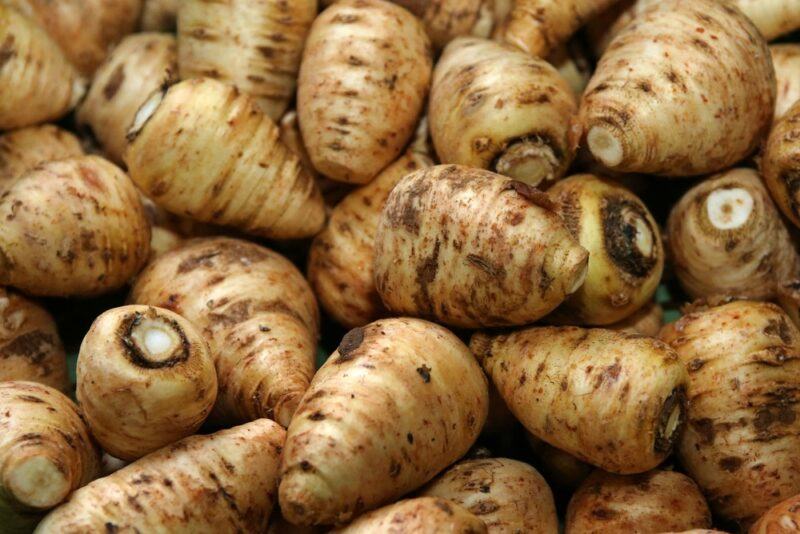 Like many vegetables, root chervil has been through waves of popularity. It's not the easiest root vegetable to grow, but is still feasible if you find good instructions to follow.
The vegetable produces relatively small roots, much smaller than you see with parsnips or carrots. This can be disappointing if you're looking for a good yield. Still, there's something rewarding about growing unusual vegetables in your garden, so why not give this one a try?