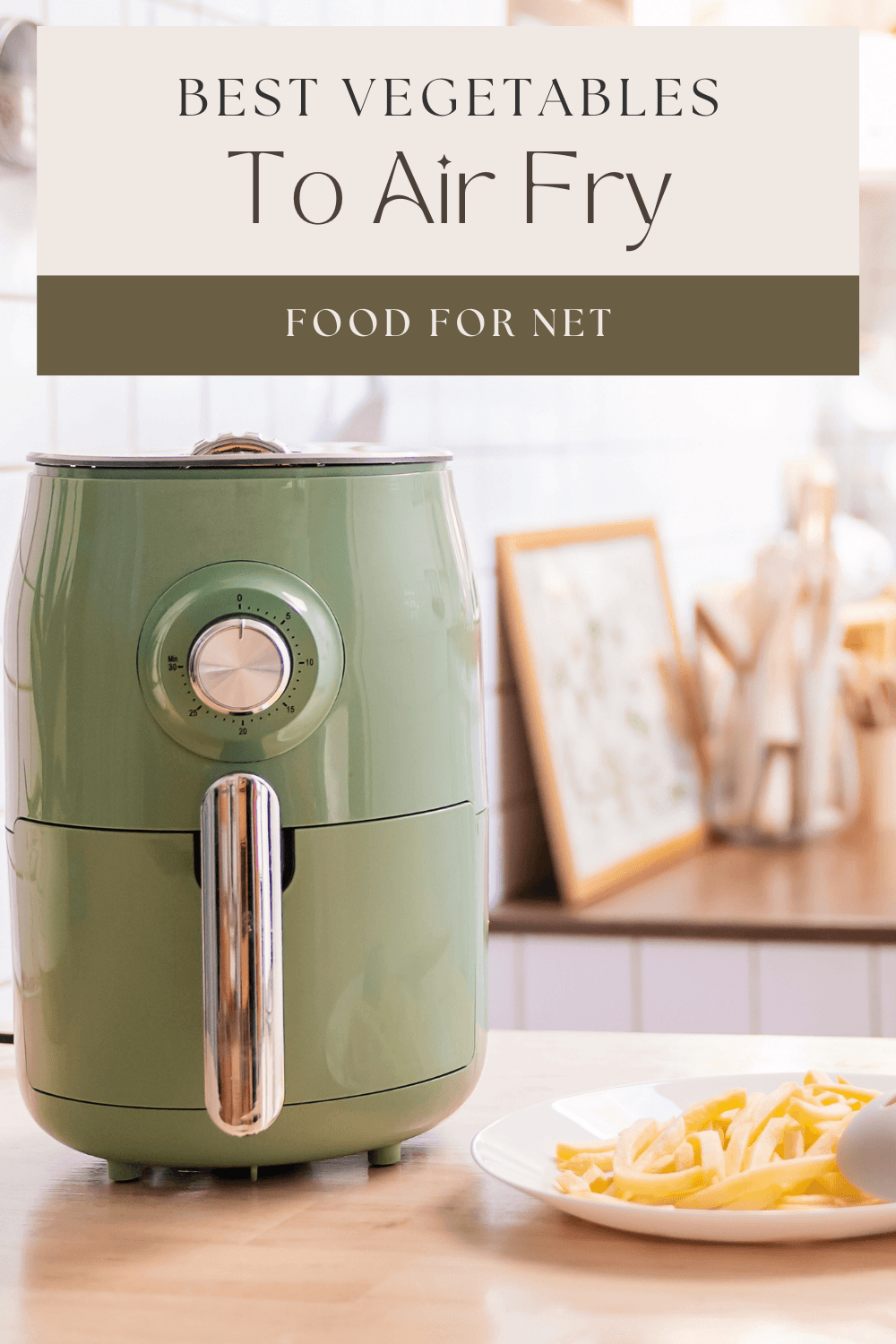 Air fryers are becoming increasingly popular. Despite the name, this tool doesn't actually fry your food. However, an air fryer does give you a similar texture to fried food, using hot air and barely any oil. That's why using vegetables to air fry is a good way to get more veggies into your diet, without too much cooking oil.
You can make some amazing dishes using the air fryer, including chicken wings, French fries, and more. While air fried versions aren't quite the same as deep fried ones, they are much healthier. Today, we're looking at the best vegetables to air fry.
After all, vegetables are incredibly important. They're packed full of nutrients and fiber. Sometimes you might be focusing on raw vegetables or perhaps cooked vegetables as part of your meal. Other times, air frying your vegetables could be exactly what you need.
So then, which vegetables can you air fry and how do they turn out?
P.S. The vegetables on this list aren't your only option for air frying. Plenty of unusual vegetables can be cooked in the air fryer as well.
Best Vegetables To Air Fry (With Pictures!)
Asparagus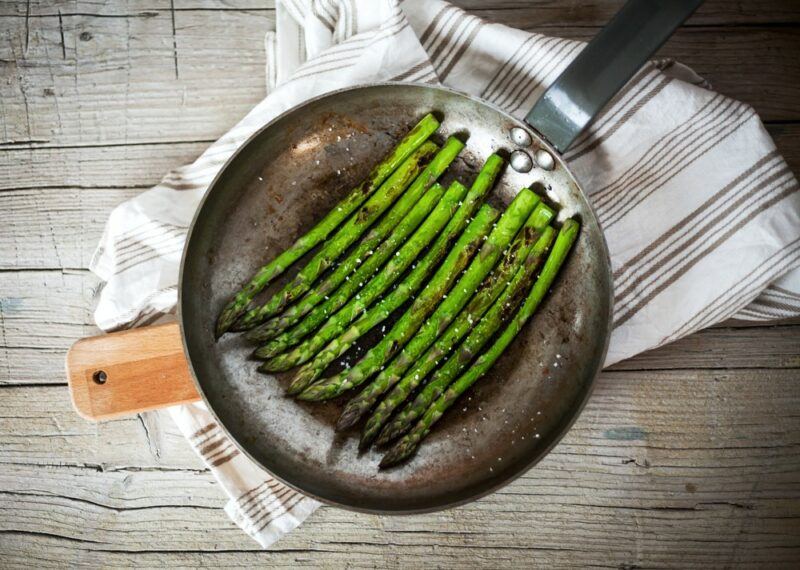 Asparagus is an easy vegetable to fry, as it only takes around seven minutes in the air fryer. In contrast, roasting asparagus in the oven often takes around 20 minutes.
You can also season the asparagus before you use it, like by adding some salt and pepper. You can even cook bacon in the air fryer at the same time as the asparagus – as bacon and asparagus taste amazing together.
Bell Peppers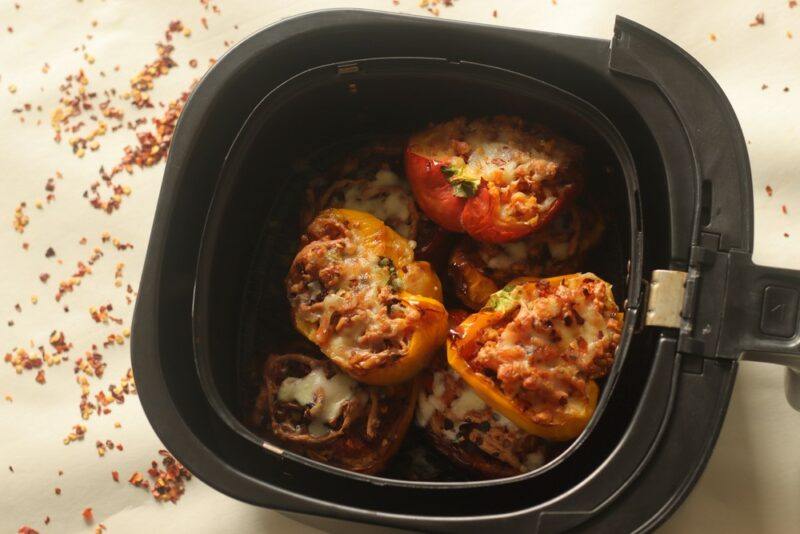 There are a few ways to cook bell peppers in the air fryer. One is to chop them up into large pieces. They then take around 13 minutes at 400°F.
You can chop the bell peppers up smaller too and even cook onions at the same time. This will take even less time. Then, you can use the cooked peppers in many different dishes.
You can even make stuffed peppers in the air fryer. For example, in this recipe, the peppers can be stuffed with any type of ground meat, along with rice, various add-ins, sauces, cheese, and seasonings.
Tomato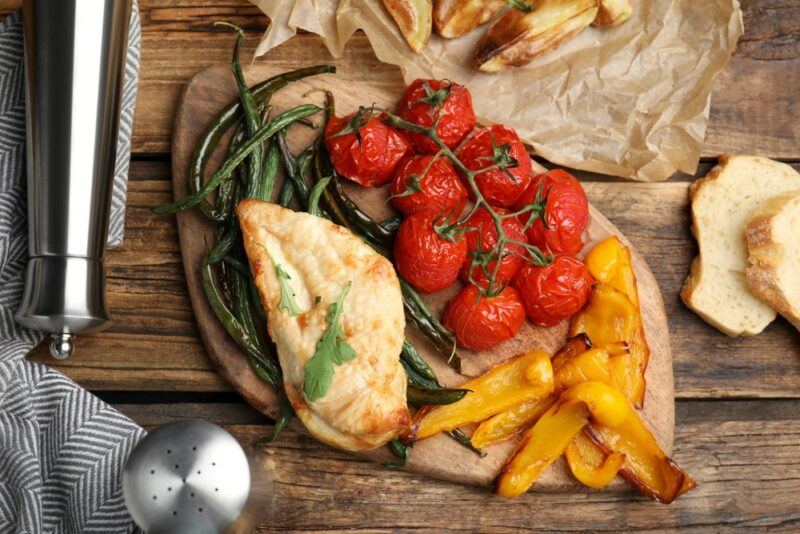 I know, I know. Tomatoes are botanically a fruit. But, we use them like a vegetable, so they've earned their place on this list.
Tomatoes work surprisingly well in an air fryer. The best approach is to cut your tomatoes in half and then place the tomatoes in the air fryer with the skin down. Placing them like this is important, as otherwise the tomato juices are likely to leak out.
If you're using cherry tomatoes, then you can use the tomatoes whole, without bothering to cut them.
Don't forget about seasoning, either. Ingredients like garlic, olive oil, salt, and pepper can make the world of difference to your finished tomato.
It's even possible to make fried green tomatoes in the air fryer. These are just as crisp and delicious as regular fried green tomatoes. They're also much better for you.
Broccoli

Cooking broccoli in the air fryer gives you a delicious and crisp snack, one that you could easily eat on its own or as part of your dinner.
Broccoli is also fast to cook in the air fryer. It often takes around six to eight minutes of cooking (the exact time varies depending on how big your pieces are and the temperature you're using).
Broccoli is also a powerful ingredient for your health. They contain plenty of nutrients and antioxidants. There are also plant-based compounds like indole-3-carbinol, which may offer even more benefits health benefits.
Cauliflower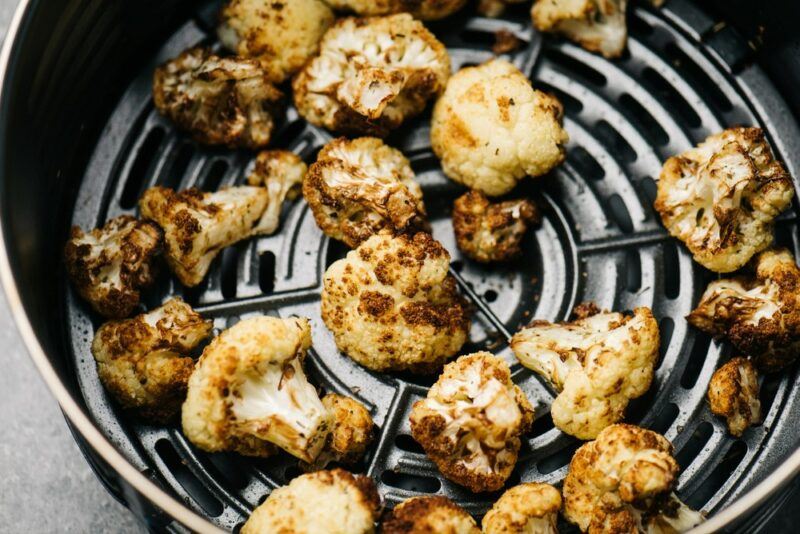 Cauliflower and broccoli are both cruciferous vegetables. Such vegetables are rich in nutrients and also contain some interesting compounds that may promote health in other ways.
These days, cauliflower is most famous for how it can be used to make cauliflower rice. But, did you know that you can air fry the vegetable as well?
Cauliflower is actually a fantastic air fryer ingredient, as it only takes 15 minutes or so to prepare. This is perfect if you're trying to make dinner in a hurry or if you want some cauliflower as a snack.
Remember that you don't need to stick with plain cauliflower. Even a little seasoning can make the vegetable much more exciting.
Radishes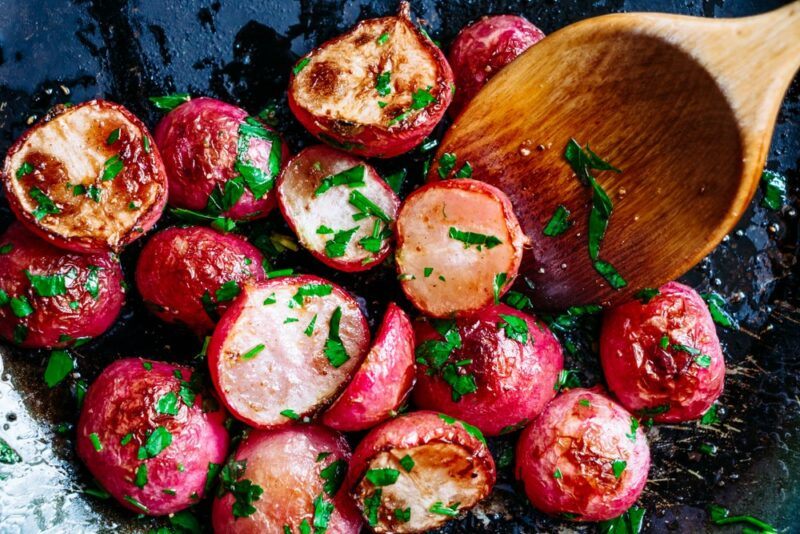 What about radishes? They're normally included raw in salads, but you can roast them too, as well as many other root vegetables.
Roasting radishes drops down some of their peppery kick and gives them a slight sweetness. They have a mild flavor, so adding some seasonings makes them even better.
Roasted radishes have another advantage too – they're much lower in carbs than roasted potatoes. They're a perfect substitute if you're trying to cut down your carb intake.
Radishes are also a fast cook in the air fryer. They take less than 10 minutes to fully cook, making them an easy choice on a busy work night.
Brussels Sprouts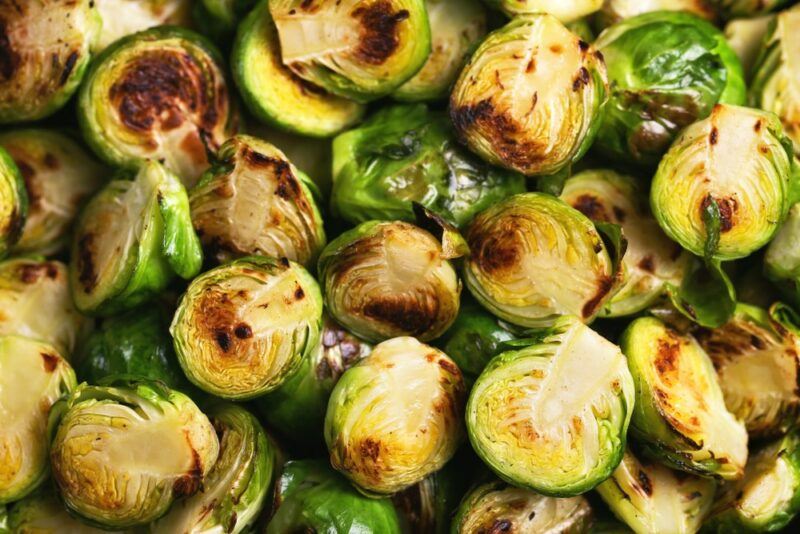 Few foods garner strong reactions in the way that brussels sprouts do. They have a bitterness and pungency to them that's hard to ignore.
Plus, many of us grew up on poorly prepared brussels sprouts. Such meals often heightened the bad features of the vegetable and minimized the good ones.
An air fryer is one way to make your brussels sprouts turn out much better. You get a decent amount of crispiness from the process, with minimal effort.
You're going to need some type of flavoring though. Some recipes rely on balsamic vinegar or red wine vinegar. You could also using parmesan cheese, which adds a delicious nuance to the sprouts.
Even when cooked well, brussels sprouts aren't for everyone. Still, it's unfair to write this little vegetable off without trying it properly at least once.
Carrots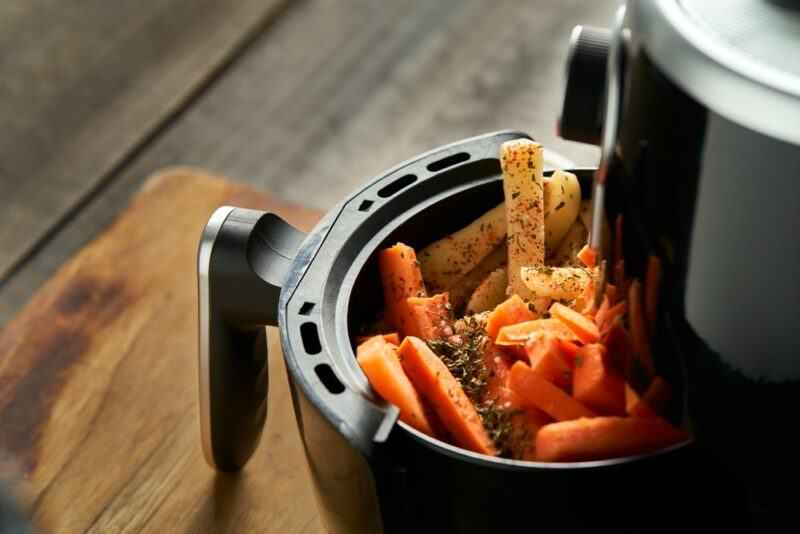 Air fryer carrots are surprisingly amazing. You can easily make them as a snack or serve them alongside your dinner.
There's plenty of flexibility with flavor as well. Most recipes focus on making savory carrots, but you can easily make a sweet version instead.
Either way, you're getting a delicious vegetable that's full of nutrients and beta carotene.
Potatoes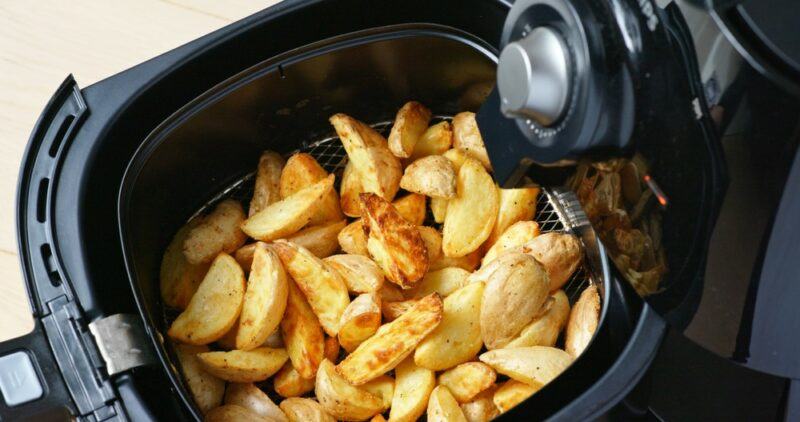 The air fryer is amazing when it comes to potatoes. You can use it to make most of your favorite potato dishes, ones that would normally require a decent amount of oil.
This includes air fryer roasted potatoes, French fries, baked potatoes, potato wedges, and even scalloped potatoes. That's not even counting all of the more complex recipes that use potatoes as an ingredient.
Honestly, air fryers are way more versatile than they first seem. You can create entire meals in an air fryer with surprisingly little effort.
Sweet Potatoes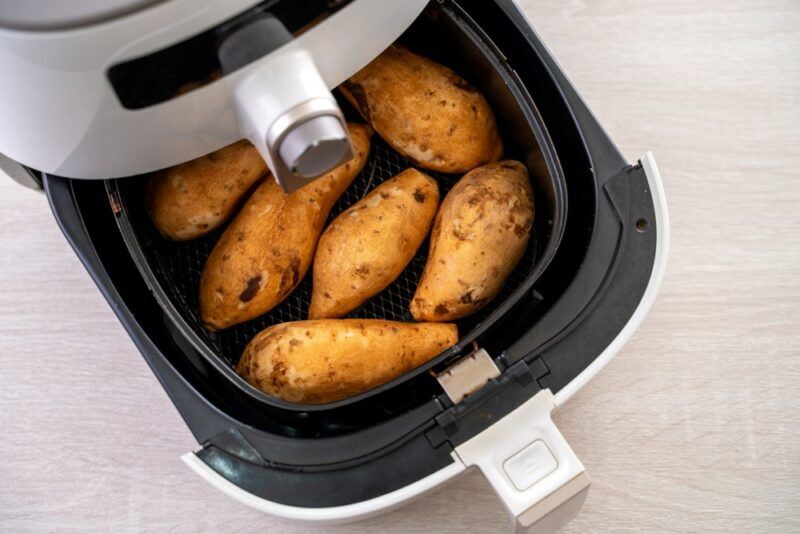 We already talked about potatoes, so it's hardly surprising that you can air fry sweet potatoes. They take somewhere between 30 and 45 minutes to cook. That's longer than many other vegetables, but faster than cooking them in the oven.
Of course, the cooking time varies depending on how you prepare the potatoes. Whole baked potatoes are going to be take longer than sweet potatoes that have been cut into cubes.
You can even make sweet potato fries. These are healthier than the deep fried versions from the store and the orange color is much more interesting than light gold potato fries.
Beets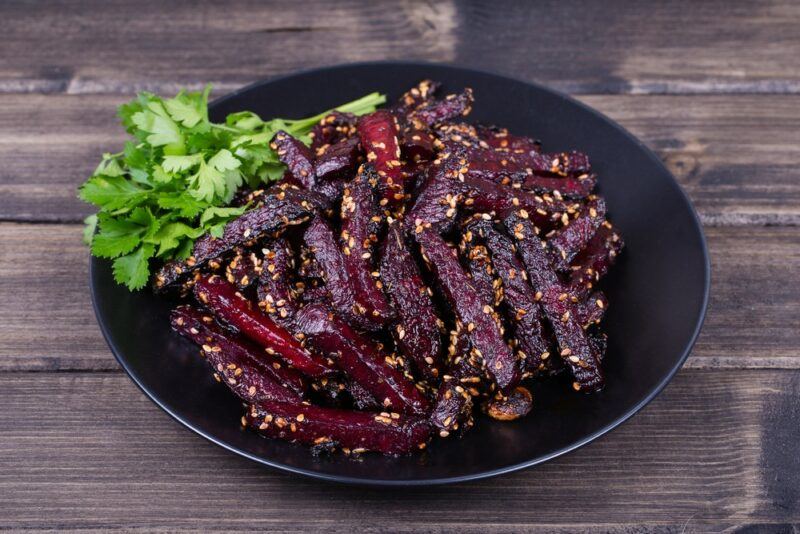 Beets aren't air fried as often as the other entries on this list, but why not? After all, beets and beet juice are rich in nitrates, which can help to lower blood pressure and improve blood flow.
Air fried beets are also incredibly versatile. You can eat them on their own, use them as a side dish, include them in salads, or add them to a recipe.
They're pretty fast to cook too, taking less than 20 minutes from start to finish. Adding some seasonings makes the beets even better, but this isn't essential. Even plain beets taste pretty amazing.
Green Beans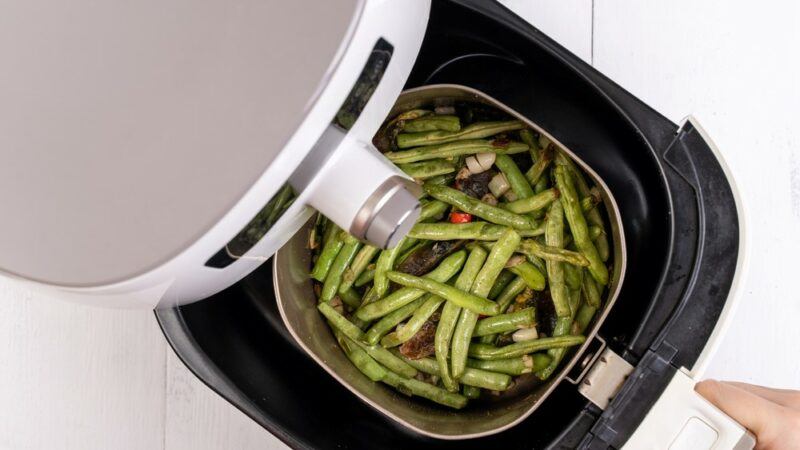 Yes, you really can air fry green beans. They're actually an excellent choice, as they're delicious, packed with nutrients, and cook quickly in the air fryer.
In fact, many green been recipes take less than 10 minutes in the air fryer. What could be better when you need an ingredient or a side dish in a hurry?
The best thing is the texture. Green beans often get rubbery after cooking, but the air fryer adds some crispness to the beans, making them much better.
Pumpkin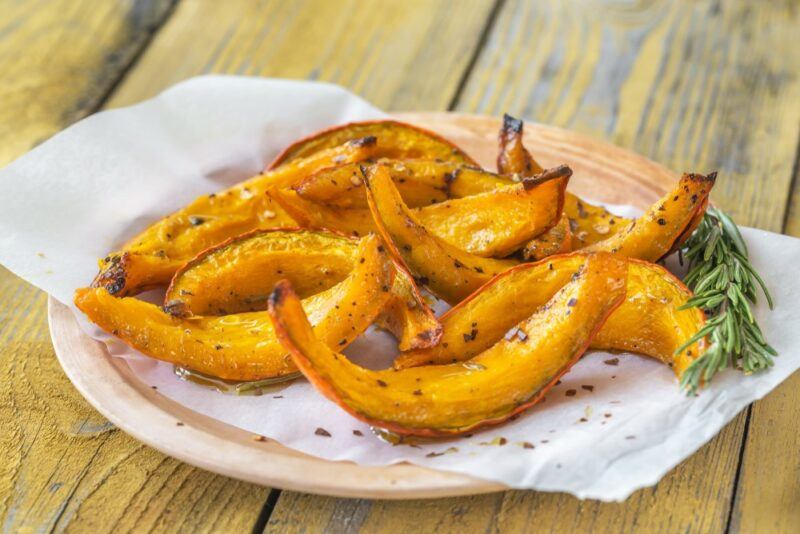 Pretty much any veggie you roast is going to work well in the air fryer. Pumpkin is no exception.
Most people choose to cut the pumpkin into chunks first. This way the pumpkin cooks quickly and evenly. It'll often be done in 20 minutes or less.
Cooking pumpkin halves is possible too. Doing so takes longer, but could be useful if you're planning to make stuffed pumpkin or use the cooked pumpkin as a bowl for your meal.
Jalapenos

Jalapenos are fun in the air fryer. You can cook them as-is or try to mimic some of your favorite oil fried snacks. For example, some recipes involve coating jalapeno slices with breadcrumbs, then cooking them in the air fryer.
Or, why not prepare jalapeno poppers in the air fryer? Doing so is one of the easiest ways to make this party treat, giving you the exact texture you're looking for without any fuss. Any style of jalapeno poppers can be made in this way, including those wrapped in bacon.
If the cheese in the jalapenos doesn't work for you, try these dairy free air fryer recipes.
Onions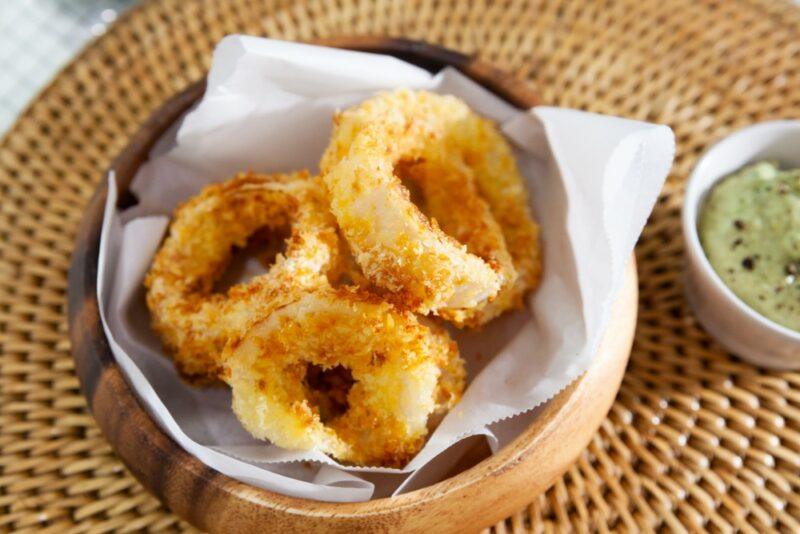 When air frying onions, the cooking time matters. If you keep this short, you end up with tender sauteed onions. Keep them in for longer and you get caramelized or even crispy onions.
Which type you're going for will depend on how you plan to use the onions. You might use crispy onions to add some crunch and flavor to a finished meal, while sauteed onions might be served as a side dish instead.
You can also make an air fryer version of deep fried onion rings. These would be incredibly popular at a party – and much healthier than how such onions rings are normally made.
Pickles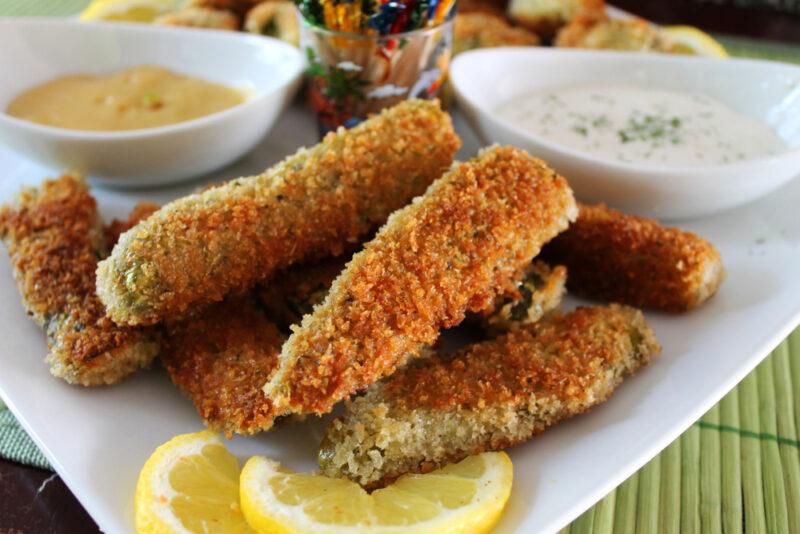 Want to make pickles even tastier? Why not cook them in the air fryer?
Many recipes involve coating your pickles with breadcrumbs and air frying them, giving you a crispy and delicious treat. Most of the time you'll be slicing your pickles into rounds before frying them, but you can also slice them the other way and have long thin spears of pickle instead.
Butternut Squash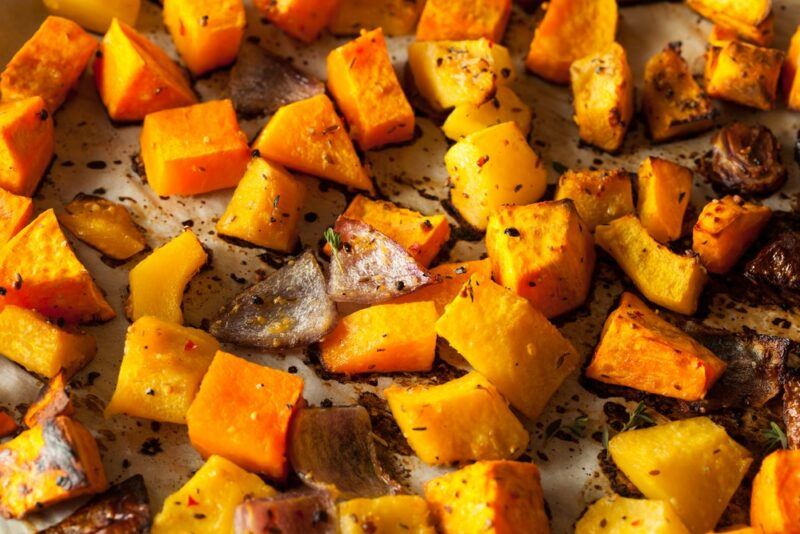 We've already talked about pumpkin, so it shouldn't be surprising that butternut squash works well in the air fryer too. Again, you can cook whole butternut squash halves or cut your squash into smaller pieces.
Don't be afraid to experiment with seasonings either. Seriously. Additions like garlic powder, black pepper, smoked paprika, or Italian seasoning can make your butternut squash taste much better.
You can even try sweet versions, like a recipe that uses brown sugar and cinnamon to bump up the flavor.
Other Winter Squashes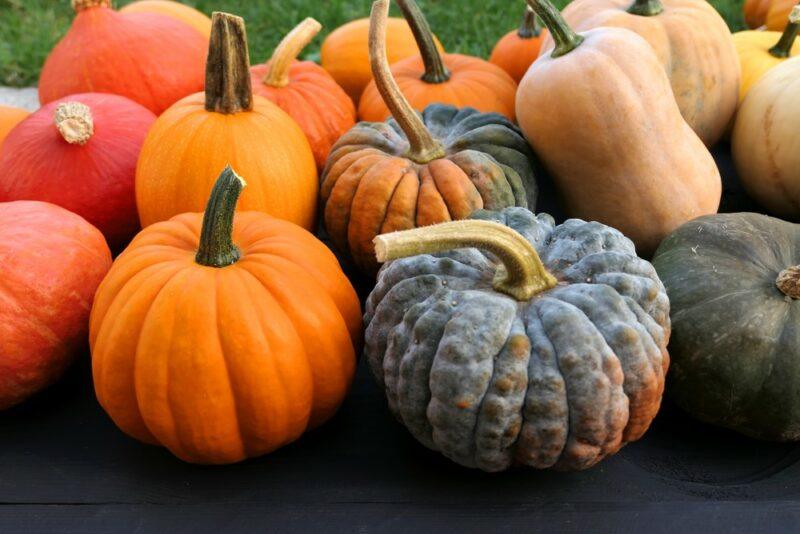 Any other winter squash is going to work just as well in the air fryer.
Spaghetti squash is a particularly interesting one, as you can use it to make spaghetti squash noodles, which are a low carb alternative to pasta.
There are two approaches you can take here. The first is to cook the spaghetti squash halves in the air fryer. You'll then be able to tease out noodles from the flesh of the cooked squash.
Alternatively, you might prepare the noodles first, using another method, then finish them off in the air fryer. Doing so gives your noodles a fantastic texture and means that you entirely avoid mushy noodles.
Frozen Vegetables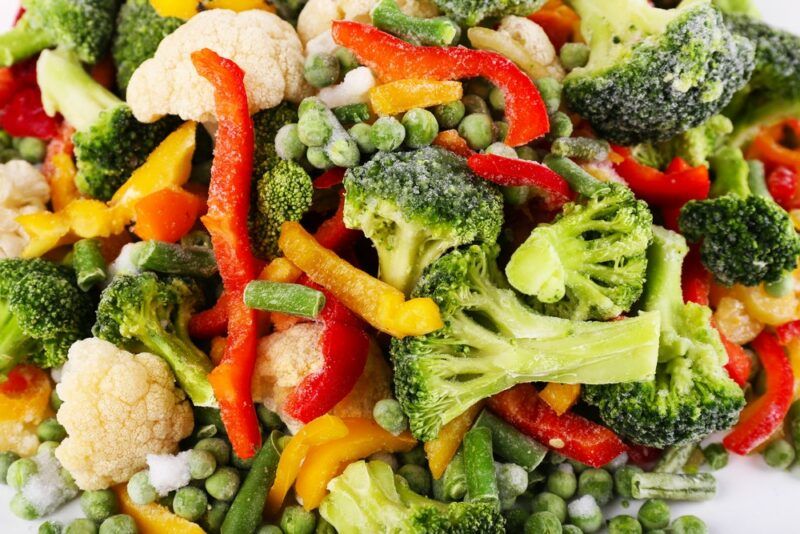 Here's something interesting – you can cook frozen vegetables in the air fryer. This is a power move, as frozen vegetables are just as nutritious as fresh ones and they're much more convenient.
You don't even need to thaw the vegetables first. Using them frozen actually gives you better results, as the hot air dries the vegetables as they thaw, stopping them from getting mushy.
You'll also need to spread the vegetables out in the air fryer. This is true for anything you cook, as the air needs space to circulate.
As for what you can cook, well, any vegetable you can normally include in an air fryer can be cooked from frozen just as easily as fresh. You'll just need to add on a few extra minutes to the cooking time.
Mushrooms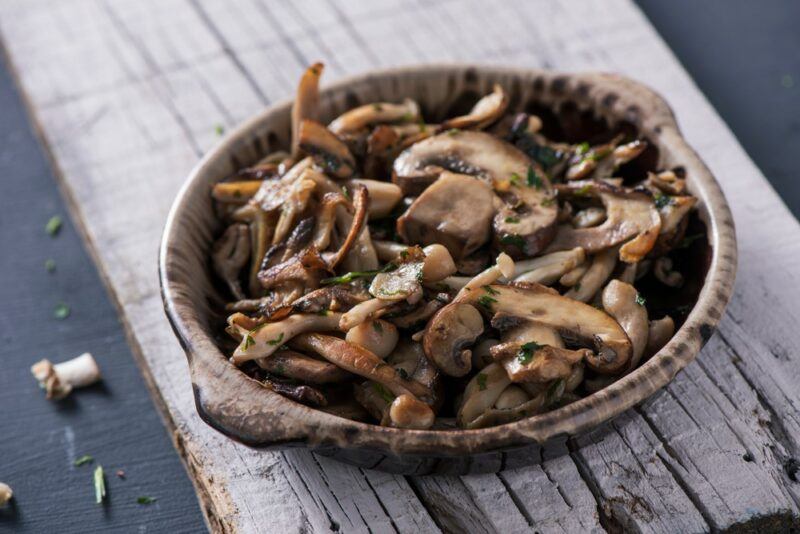 Okay, okay. Mushrooms aren't technically vegetables, but they're close enough, especially as we use them in much the same way.
There are plenty of air frying options here. The first is simply cooking the mushrooms straight. They take around 10 to 12 minutes and you'll just need to stir them once during this time. You can add some herbs and spices for seasoning or just leave them plain (garlic butter is an exceptional addition).
Crumbed air fryer mushrooms are a treat too. These have a similar texture to deep fried mushrooms, but they're much better for you.
It's even possible to make stuffed mushrooms using the air fryer. Many recipes allow you to stuff the raw mushrooms first, then cook the entire thing in the air fryer. What could be simpler? This makes them great for breakfast.
Kale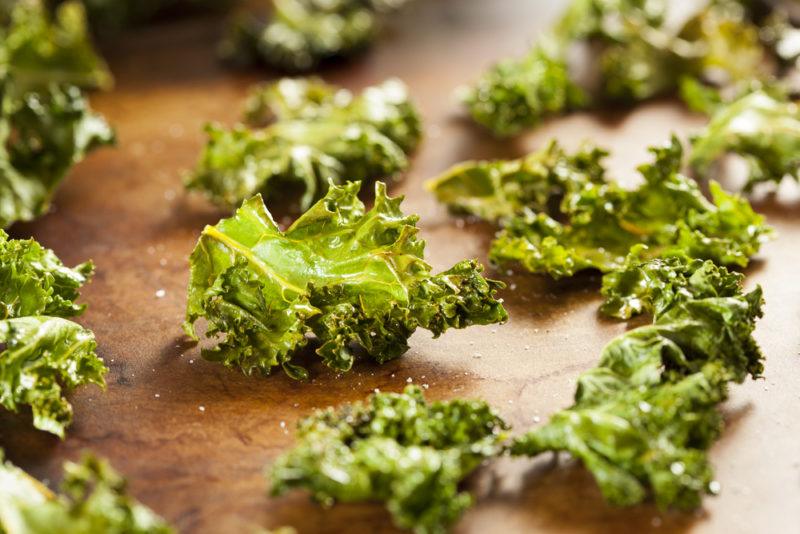 While kale isn't an obvious choice for your air fryer, it's completely perfect if you want to make homemade kale chips. They only take around five minutes to cook and not that long to prepare either.
They're fantastic if you love kale, as you're getting a crunchy chip that's full of nutrients and antioxidants, but contains barely any calories. Plus, when you make kale chips at home, you get to choose your own flavoring ingredients.