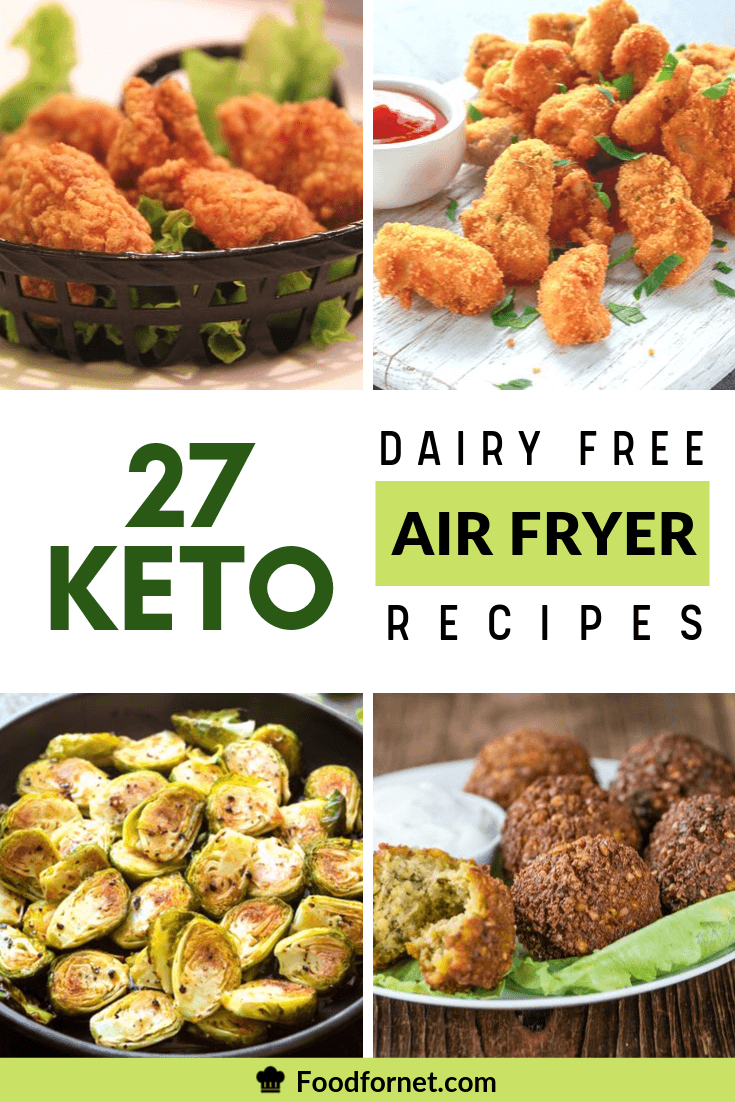 An air fryer is an amazing tool. It allows you to get a similar taste and texture to deep frying, without having to rely on a ton of oil.
You end up with much healthier food and that's only one advantage. In fact, an air fryer even works well for people who don't mind deep frying their food. This is because an air fryer can be used in creative ways to create many different recipes, including dinners, snacks, and even breakfast foods. You can also find large family sized air fryers, allowing you to feed your whole family in one go.
You'll even find that some of the best keto recipes can only be made in an air fryer. In other cases, your food will simply turn out better in an air cooker.
For this list, we're not just focusing on any air fryer foods. We're specifically focusing on keto dairy free air fryer recipes. These recipes are perfect for a wide range of people, including those who are avoiding dairy and regular keto dieters.
Take a look for yourself. You're certain to find some new favorites in the selection.
Keto Dairy Free Air Fryer Recipes
PS. Try these keto dairy free cake recipes.
PS. If you're interested in keto recipes for an event, you could also check out our list of keto recipes for parties.
Air Fryer Fried Chicken
This recipe from wholesomeyum.com is one of the best ways to have fried chicken on a keto diet. It is just as crispy as chicken made with regular breading, while still being very low in carbs.
The air fryer means that the chicken ends up being moist on the inside, while the outside remains crispy. It's an easy recipe to prepare as well, which is another reason to give it a try.
Air Fryer Radish Chips
These radish chips come from the site mamashire.com. They're a fantastic choice for a keto snack, especially as they are a little unusual.
The recipe isn't complicated, relying simply on the radish slices, along with various spices to create a great balance of flavors. This isn't a bad thing. The simplest recipes are often the best.
Zucchini Fries
Here's a good recipe if you're missing fries on a keto diet. As the name suggests, the recipe relies on zucchini as the main ingredient.
Like many of the recipes on the list, the real power comes from the various spices. These help to make to make the fries much more interesting. You can find all the details at paleoishkrista.com.
Keto Coconut Shrimp
This recipe comes from flavcity.com and is a fantastic way to enjoy shrimp. The use of coconut flakes creates an appealing flavor combination, while also ensuring that you end up with a crispy crust.
The recipe is a little more complex than many of the other items on this list, but it is well-worth the effort. This is true for most complex recipes, as they create more compelling flavor combinations.
Air Fryer Cauliflower
Sarah from sustainablecooks.com offers this great recipe to try out. It offers a tasty way to eat cauliflower that's a little different than normal.
The cauliflower could easily be used as a side to a more complex meal. As Sarah mentions, you could even just make the cauliflower and enjoy it as a snack.
The Best Air Fried Chicken Drumsticks
Here's another recipe for air fried chicken. The dish comes from Courtney at sweetcsdesigns.com.
It's a good recipe to try if you're new to the air fryer, as Courtney provides plenty of detail about how to make the drumsticks and how to use the air fryer effectively.
Chicken Nuggets
This recipe from wonkywonderful.com is another way to make chicken in the air fryer. The chicken nuggets are much healthier than a fast food version, but they're just as tasty.
The recipe is also well suited for many different audiences. It is paleo, keto and Whole30 compliant, along with being gluten free, grain free and dairy free.
Green Beans With Bacon
This green beans dish comes from Sammie at twosleevers.com. The inclusion of bacon along with the beans is such a fantastic idea.
The bacon helps to make the green beans much more interesting than they would be otherwise. As Sammie mentions, the bacon adds in a burst of flavor.
Vegan French 'Toast'
Making toast in an air fryer might seem like an odd idea, but this recipe from vegannie.com shows that it can be done. The toast ends up being a healthy breakfast choice. It is even high in protein.
This makes it a satisfying breakfast that will keep you full for hours. The one thing to mention is that air fryers are all slightly different than each other. As such, you might need to adjust the cooking time.
Fried Chicken In An Air Fryer Or Oven
One of the best things about this recipe is its versatility. The dish comes from Lisa at lowcarbyum.com. She includes information for making the chicken in an air fryer or in an oven.
You could try out both styles and see which one works better for you. The recipe is also exceptionally low in carbs, with just one gram of carbs per serving.
Whole30 Buffalo Chicken Tenders
Nicole from casadecrews.com offers another type of chicken that you can make with an air fryer. As the name suggests, these chicken tenders take advantage of buffalo flavoring.
There are some fantastic herbs and spices included in the mix. They also work well for anyone who loves moist and tender chicken.
Vegan Falafel
Here's a different style of air fryer recipe to try. It comes from Liz at meatfreeketo.com and is a vegan recipe as well. Liz mentions that she had made a low carb falafel recipe once before, but it was not low enough in carbs.
This version decreases the carb content even further, creating falafel that you can easily eat on a keto diet. The falafel is best eaten when warm and can be reheated in the air fryer if needed.
Clean Eating Air Fryer Herbed Brussels Sprouts
While many people don't like brussels sprouts, the problem with them often comes from the way that they are cooked. That issue is what makes this recipe from thegraciouspantry.com so interesting.
Tiffany cooks the brussels sprouts in the air fryer, using various herbs to make them taste good. This cooking approach gives the brussels sprouts a crispy outside and an al dente inner.
You can also be certain that the vegetables are cooked, rather than guessing a little if you're steaming them. This is true for most types of air fried vegetables.
Air Fryer Keto Fried Chicken
As you might have noticed, fried chicken is an especially common keto recipe in an air fryer. This seems to be partly because fried chicken is so popular. After all, it tends to be a crowd pleaser and always disappears quickly at parties.
This particular version of fried chicken comes from the site thismomsmenu.com. Each serving contains just one gram of carbs. There are plenty of herbs included to give the chicken a knockout flavor.
Air Fryer Fish Sticks
This recipe comes from kalynskitchen.com and allows you to make fish sticks in the air fryer. The simplicity of the recipe makes it an ideal choice when you are busy or stressed. In fact, the fish sticks cook in just ten minutes.
They're also much healthier than the processed varieties that you find at the grocery store. Kalyn recommends tartar sauce for serving, which is the one part of the recipe that may not be dairy free.
However, you can easily use your favorite dairy free tartar sauce instead of the one that she suggests.
Jalapeno Coins
These jalapeno rounds seem like such a fun idea for a keto snack or appetizer. They're a less common way to use the air fryer too, which is always appealing. The recipe is as simple as they come, with just a handful of ingredients for coating and seasoning the rounds.
You end up with a tasty and easy snack that doesn't require any preplanning. The full recipe can be found at homeinhighheels.com.
Air Fryer Brussels Sprouts
Here's another recipe for making brussels sprouts in the air fryer. This one comes from jenniferbanz.com. This time the emphasis isn't on creating a fantastic flavor but on making sure that the brussels sprouts are perfectly cooked every time.
After all, you can easily find your own combination of herbs and spices to make the veggies taste perfect. Jennifer's instructions include precise details about temperature and information about why a higher temperature will not work well.
She also provides suggestions about how you can cook the brussel sprouts with bacon. Sounds good to me!
Herb-Marinated Chicken Thighs
I love the decision to marinate the chicken used in this recipe. The process creates a very different outcome than most other air fryer chicken recipes.
You also end up with chicken that is absolutely brimming with flavor. While you could change up the spice combination, the choices that Kalyn makes should work exceptionally well. You can find all of the details at kalynskitchen.com.
Buffalo Cauliflower Bites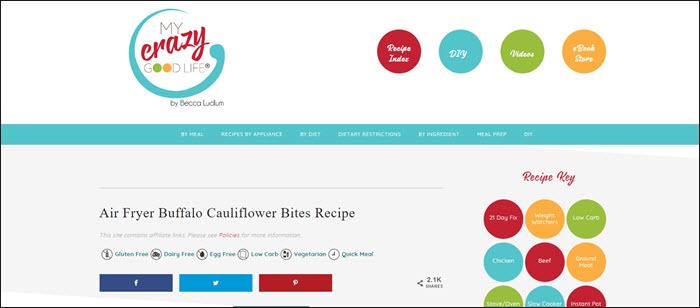 These bites make the perfect appetizer or snack for keto dieters. The air fryer is an effective way to make cauliflower taste more interesting and the cauliflower pieces are amazing as appetizer or snack food.
The advantages of the recipe (from mycrazygoodlife.com) don't stop there either. The cauliflower is also AIP friendly, low in calories and perfect for many different diets.
For example, Becca tags the dish as being good for Weight Watchers and for 21 Day Fix, which are both weight loss programs.
Crispy Air Fryer Fish Sticks
Here's another recipe for making your own healthy fish sticks. This version comes from Carolyn at alldayidreamaboutfood.com. The recipe is very easy to follow and contains instructions for a simple dipping sauce as well.
The one thing to mention is pork rind panko. This is a key ingredient, one that makes its way onto various keto recipes. The ingredient is fantastic, just be sure to check the ingredients label, as some companies add in things like MSG.
Extra Crisp Jicama Fries
This recipe from gnom-gnom.com is a fun keto alternative to regular fries. Jicama is an unusual choice for making fries, but the vegetable works surprisingly well.
They are a great choice in the air frier too, as they crisp up very well without much hassle at all.
While the recipe keeps the flavoring on the fries simple, you don't have to. It would be easy to add in herbs or spices to create an interesting flavor kick.
Air Fryer Hamburgers
For a slightly unusual approach, check out this recipe from mariamindbodyhealth.com. It doesn't just provide you with the instructions for making a keto side in the air fryer. Instead, the recipe covers your entire meal.
Some parts are made in the air fryer, others aren't. The idea is a powerful one. It saves you having to figure out the rest of your meal. It would also be easy to vary the recipe based on your own preferences.
You could even include a keto hamburger bun, rather than having a bunless burger.
Baked Chicken Nuggets
This recipe, from foodfaithfitness.com, is another reminder of how well chicken works in the air fryer. Seriously, the air fryer is a surprisingly good way to make sure you get tender and moist chicken every time.
I love the way the chicken nuggets look. They're much more interesting than frozen nuggets that you might find at the grocery store.
The recipe also includes an amazing dip. Even if you're not interested in the chicken nuggets themselves, the dip is worth trying for yourself.
Roasted Broccoli
Broccoli is another type of veggie that you can prepare in the air fryer. The style is a fantastic way to make a keto side, as it keeps your carbs to a minimum.
This is also a fast and easy recipe. You're only adding basic seasonings to the broccoli, along with what is needed to air fry the veggie.
This process allows the natural flavors of broccoli to shine through. Of course, you could easily add in your own flavorings if you want the broccoli to stand out more. Check out the full recipe at domesticsuperhero.com.
Super Crispy Air Fryer Tofu
Bintu offers a fantastic way to make tofu consistently taste amazing. This is such a powerful idea.
Tofu can be tricky to get right, especially if you're just getting used to it as an ingredient. Tofu isn't limited to a vegan or vegetarian diet either. It is also just useful as an alternative protein source.
You can find all the details needed at recipesfromapantry.com.
Air Fryer Pork Ribs
Here's an unusual air fryer recipe – pork ribs. You're actually making both the asparagus and the pork ribs in the air fryer, so you end up with almost a full meal that requires very little effort.
There are plenty of seasonings included, so you know that the ribs and asparagus will taste simply amazing. The details can all be found at houseofhotard.com. You could also choose to make just the asparagus or just the pork ribs if you don't want both items.
Air Fryer Salmon & Asparagus
While we're on the topic of asparagus, here's a second recipe that uses the veggie. This one comes from eatthegains.com. With it, you're cooking asparagus and salmon together in the air fryer.
The process allows you to create a full meal within roughly 15 minutes. It's a great recipe for busy nights. The recipe doesn't rely on any unusual ingredients either. You might already have most of what you need at home.