Most smoothie recipes are bursting with vibrant flavors, like berries or chocolate. This style has its place, but it isn't always what you want. Sometimes the more subtle drinks simply taste better.
Alternatively, you might want a smoothie that isn't as sweet. That's where these keto vanilla smoothie recipes come into play.
While many smoothies use vanilla extract or vanilla-flavored ingredients, this list is only focusing on cases where vanilla is a key flavor. After all, the vanilla isn't nearly as interesting when you can barely taste it in the final recipe.
Keto Vanilla Smoothie Recipes
PS. For a wider variety of keto smoothies, check out our lists of coconut milk smoothie recipes and almond milk smoothie recipes.
PPS. You could also consider keto matcha smoothies. Matcha is an unusual ingredient, one that is meant to offer health benefits.
Fat-Burning Vanilla Smoothie
This recipe comes from Martina at ketodietapp.com, but it is actually hosted at tasteaholics.com. The smoothie is powerful as a fat bomb, as it offers around 64 grams of fat per serving.
That's very impressive, especially as each serving only contains four net grams of carbs. The combination of vanilla and eggs in the recipe means that the flavor should be a little bit similar to eggnog. You're getting nutritional benefits from the eggs too, which is an added bonus.
Vanilla Ice Cream Keto Coffee Smoothie
This smoothie includes coffee, making it the perfect way to kick start your morning. Jessica from forgetsugarfriday.com developed the recipe and makes it using Death Wish coffee.
That coffee is especially high in caffeine content, more than any other option that you'll come across. You can use another brand, but you'd need to use more cubes of frozen coffee or settle for less caffeine.
Strawberry Vanilla Smoothie
Strawberry and vanilla combine together well, as you can see in this recipe from ibreatheimhungry.com. While strawberry will be the strongest and most noticeable flavor, you should be able to taste the vanilla as well.
This is also a good recipe for many diets, partly because it only contains four ingredients. It ends up being dairy free, vegan, paleo and Whole30 compliant.
Exogenous Ketone Vanilla Bean Smoothie
This recipe comes from perfectketo.com and uses two of the signature products from the brand. One of these is MCT oil powder and the other is their exogenous ketone base.
Both can help you on a keto diet, by making it easier to get into ketosis or to remain there. The products are also the source of the vanilla flavor in the recipe, so you can't really skip them.
Keto Vanilla Shake
Rown from tastefulketo.com offers this recipe. Most of the ingredients are common in smoothies, so you won't need to source anything unusual. This time there is just one vanilla-containing ingredient, which is the vanilla extract.
While this may not create a very strong vanilla flavor, the other ingredients don't have overwhelming flavors. As a result, the shake will end up tasting like vanilla and almonds. That's a pretty nice combination.
Vanilla Marshmallow Smoothie
Here's another recipe to try out. This time it comes from the site ketogenicdietmenuplan.com. The choice of ingredients is a little different than normal, especially as the smoothie contains some chia seeds.
You're also using a scraped vanilla bean rather than vanilla extract. Using a vanilla bean will mean a bit more work, but it should result in a stronger vanilla flavor as well.
Vanilla Almond Protein Shake
This recipe comes from Yuri at yurielkaim.com. It contains a variety of ingredients and most of them don't have a very strong flavor. This means that the taste of the vanilla should continue to shine through.
One interesting aspect is the inclusion of cauliflower. This veggie should add in some nutritional benefits. It is sometimes included to make the smoothie creamier, but that may not be the case with this recipe, as the avocado will serve a similar role.
Almond Vanilla Protein Shake
Here's a relatively simple shake to try. It comes from the site lowcarbalpha.com and just uses a handful of ingredients.
The balance of flavors has been carefully chosen so that you can taste the vanilla, along with a bit of cinnamon and cocoa. The end result should be fantastic and doesn't involve any difficult to find ingredients.
Sunflower Butter And Cocoa Smoothie
The most interesting aspect of this smoothie is the nuanced flavor profile. Sunflower butter isn't nearly as strong as peanut butter, so it doesn't contribute much to the final taste of the drink.
There is some cocoa included, but not enough to have a dramatic impact. The balance of ingredients means that the vanilla flavor should be evident in the finished drink. You can find the details that you need from Mellissa at ibreatheimhungry.com.
Skinny Vanilla Protein Milkshake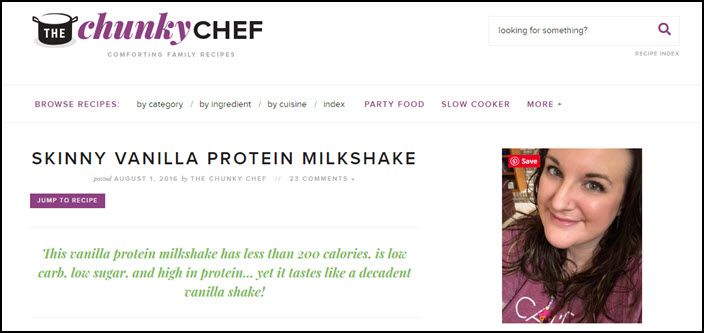 Amanda mentions that while this shake tastes very decadent, it is actually a very healthy drink. It also is also particularly rich in vanilla flavor, as three of the ingredients contain vanilla.
One of these is vanilla bean paste, which is an amazing choice on its own. You could use vanilla extract instead if you don't happen to have the paste on hand. The recipe comes from thechunkychef.com and you can find full details on that site.
Coconut Vanilla Bean Shaken Hibiscus Iced Tea Latte
Here's an unusual type of shake to consider. It comes from the site tasty-yummies.com and is suitable for keto, vegan and paleo dieters. The recipe relies on hibiscus tea to provide the flavor and color to the finished drink.
The vanilla adds to this flavor nicely, creating a well-balanced smoothie. Beth serves the smoothie over ice, which makes it similar to an iced tea latte. You could also blend the ice in to create a drink that is more smoothie-like.
Paleo Keto Vanilla "Milkshake" Smoothie
Here's an interesting recipe to consider. It comes from the site christinaricewellness.com and uses cauliflower as a hidden vegetable. Cauliflower isn't only included for its nutritional benefits. The vegetable should also help to make your drink creamier too.
There are also some interesting optional additions to the smoothie, such as frozen spinach and various toppings. The spinach will make your shake green, but you should still be able to taste the vanilla.
Blueberry Smoothie
While blueberry is the main flavor in this recipe, vanilla does play a significant role as well. In fact, there are only five ingredients (one of which is optional), so it's easy to see how the vanilla would shine through.
You could increase the vanilla flavor even more by using vanilla protein powder instead of unflavored protein powder. All of the details can be found on the site fatforweightloss.com.au.
Vanilla Cinnamon Chai Protein Shake
The use of chai tea in this recipe is a fantastic idea. You end up with a complex and nuanced flavor from the various spices in the tea, along with the vanilla and some extra cinnamon.
This drink would be especially good in the summer when it is too warm to drink hot chai tea. The recipe has just three net grams of carbs, which is another appealing factor. You can find the instructions at livbreatheketo.com.
Vanilla Spice Milkshake
This recipe comes from the site ketoonadime.com. It's another option that uses spices to create a nice balance of flavor. The difference between this and the previous example is that Kelly isn't using tea bags. She's adding in the spices directly.
This should create stronger flavors and a creamier drink. Kelly does mention that you can serve the drink over ice, but you could also blend the ice into the mix, to create a smoothie-like texture.
Turmeric Smoothie
Here's another recipe that takes advantage of spices. It comes from ditchthecarbs.com. As the name suggests, turmeric is the main spice that is used, so the flavor of turmeric stands out more than any other.
Even so, vanilla is included in the recipe and should complement the other ingredients nicely. You could play around with the quantities of the various spices to create a flavor balance that appeals to you.