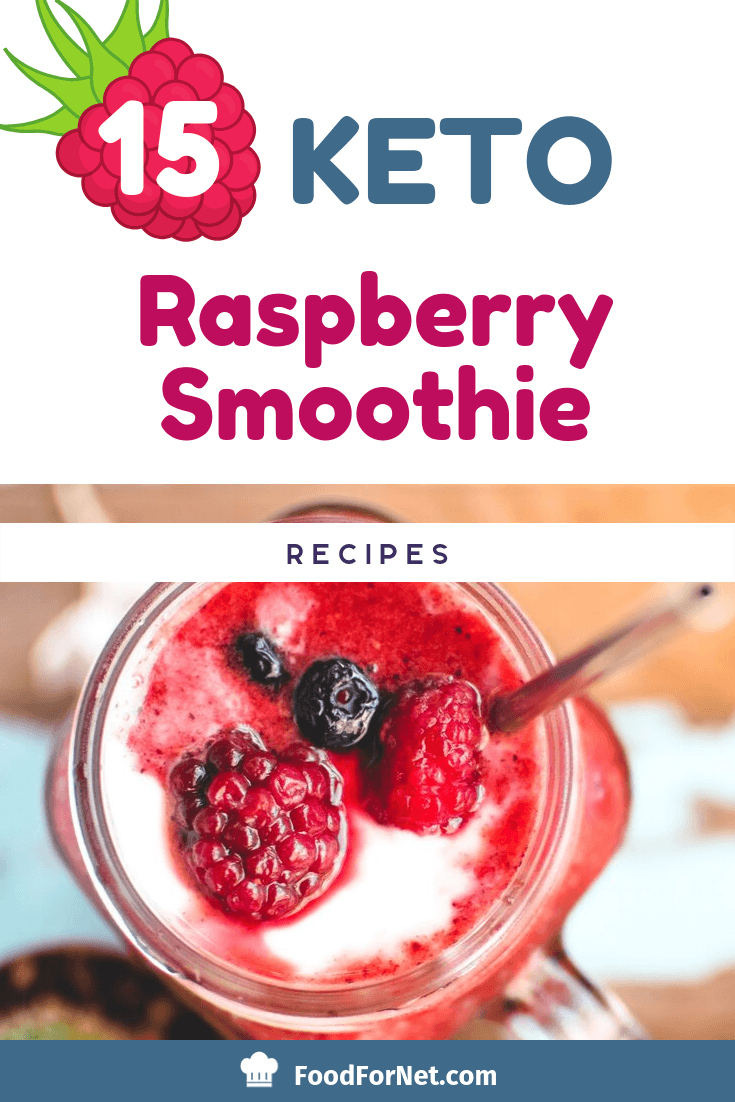 It's hardly surprising that smoothies are popular. They're a fast and easy way to get nutrients – and you can easily tweak the flavor profile to match your preferences.
There are also plenty of different types of smoothies to choose from, regardless of the diet that you're following and your ingredient preferences.
Smoothies are even viable on a keto diet. After all, many smoothie ingredients are high in fat, not carbs. The trick is to find a good recipe, one that carefully chooses its ingredients. We're focusing on such recipes in this list.
Because there are so many different smoothie recipes out there, we're just looking at keto raspberry smoothie recipes. The smoothies are all a great way to get that refreshing raspberry flavor while still keeping your carb intake low.
Keto Raspberry Smoothie Recipes
PS. You can also check out our blueberry smoothies and strawberry smoothies. Many recipes will also work if you simply swap the berry of choice.
PPS. We also have a list of keto vegan smoothies – perfect for anyone who is following a dairy free or vegan diet.
Raspberry And Chocolate Cheesecake Smoothie
This first smoothie choice comes from ketodietapp.com and it has a wonderful flavor combination. I mean seriously, raspberry chocolate cheesecake? What's not to love? The smoothie is also very popular, getting an average of 4.6 stars on the site's rating system. The inclusion of cream cheese helps to make the smoothie creamy. You can swap this out for creamed coconut milk if you prefer.
Raspberry Cheesecake Smoothie
Here's a particularly low carb choice to try out. The recipe comes from wickedstuffed.com and includes just four grams of net carbs per serving. This smoothie would also be perfect as a meal replacement, as it contains 25 grams of protein per serving. It is another recipe that uses cream cheese to add in texture and creaminess.
Raspberry Lemonade Smoothie
Raspberry lemonade is a common drink, but you don't often find the flavor in a smoothie. This recipe from alldayidreamaboutfood.com gives you the chance to try a raspberry lemonade smoothie for yourself. The combination of ingredients works exceptionally well, giving you a bright and vibrant smoothie that you're certain to love.
Chocolate Raspberry Spinach Green Smoothie
There's something wonderful about the combination of chocolate and raspberry, making this a great recipe to try. An even better aspect is that this smoothie includes spinach in the mix. This addition works well because you won't be able to taste the spinach at all. It's the perfect choice for people who don't like the flavor of a conventional green smoothie. You can find the smoothie recipe at ketovale.com.
Raspberry Avocado Smoothie
This recipe from lowcarbyum.com offers a different flavor combination for you to try. One of the most interesting parts is the avocado. Avocados are often added into keto smoothies for creaminess, but you normally can't taste them. This recipe is a little different, as the other ingredients don't have such strong flavors. This means you should be able to taste the avocado, along with the raspberries, in the finished drink.
Chocolate Berry Truffle Smoothie
Here's an amazing smoothie to try out. The recipe comes from theketoqueens.com and is perfect for anyone who enjoys thick smoothies. The smoothie also makes a great fat bomb, as it is low in carbs and protein, while still being high in fat. One thing to mention is that the recipe uses a cup of mixed berries. You could use all raspberries as the berries or a combination of fruits.
Milkshake Smoothie With Raspberries
This recipe comes from savorytooth.com and is simpler than many of the other recipes on this list. It ends up being similar to a raspberry milkshake, which is simply fantastic. The shake is also particularly low in carbs, with only two grams of net carbs per serving. This is another recipe that works as a fat bomb and it has 15 grams of fat per serving.
Raspberry Cheesecake Shake
Here's a recipe from stepawayfromthecarbs.com. It might not look impressive, but this won't influence the final flavor. Like many smoothies, this one uses cream cheese to create a cheesecake-like flavor. There is even a crumb topping to finish the whole thing off nicely. The smoothie contains five net grams of carbs per serving. That total includes the smoothie and the topping.
Raspberry Keto Protein Shake
Abbie from appetiteforenergy.com offers this raspberry smoothie recipe. It is more carb heavy than most of the other options, with seven net grams of carbs per serving. Still, don't skip over it too quickly. The carb content is still viable for a keto diet and the smoothie is substantial. It has 29 grams of protein per serving, along with 47 grams of fat. You could easily have it instead of a meal.
Crunchy Raspberry Smoothie
The most notable thing about this smoothie recipe is the fact that it is crunchy. This makes it an very interesting option for anyone who is a little bored of smoothies. It is a surprisingly simple recipe too, with just four ingredients. The recipe also has a richer raspberry flavor than many of the smoothies, as it includes a full cup of raspberries. The recipe can be found at 5minutelife.me.
Low Carb Raspberry Smoothie Bowl
Smoothie bowls are a fun alternative to conventional smoothies. This particular version comes from blog.bulletproof.com and you can adapt it if you want to. The smoothie is very high in fat, with almost 50 grams of fat per serving. There is one limitation – the carb content is relatively high. There are 9.6 net grams of carbs per serving. This is more than most other keto smoothies.
Raspberry Protein Shake
Here's another recipe to consider. It comes from the site resolutioneats.com. The smoothie contains 25 grams of protein per serving and only two net grams of carbs. This makes it an easy way to get more protein into your diet without compromising your ability to stay in ketosis.
Avocado And Raspberry Smoothie
This smoothie bowl comes from ketolibrary.com. It only has five main ingredients, making it an easy smoothie bowl to put together. Emma also includes a short list of toppings to make the bowl look just as amazing as the image. The recipe is especially good for increasing your healthy fat intake, as there are 45 grams of fat per serving.
Chocolate Raspberry Keto Smoothie
Doesn't this smoothie just look amazing? I love the bright color. The toppings just add to the whole appearance. There aren't any nutrition details included with the recipe, so you'll need to calculate these yourself. It's also worth mentioning that the recipe does contain honey as an ingredient. This isn't unheard of on a keto diet, but some people prefer to avoid any form of sugar. The information for this recipe can be found at oliversmarket.com.
Matcha Raspberry Smoothie
Matcha is a healthy ingredient, one that is thought to offer many benefits to health and wellbeing. This recipe from stephaniedemontigny.com combines raspberry and matcha in a delightful way. The smoothie is a particularly good source of fat, with 62 grams per serving. It also just has six grams of net carbs.
Keto Berry Smoothie
This particular recipe works with any combination of berries that you like. You could make it with just raspberries or use a combination of berries like the version in the image. Either way, the smoothie is simple to make and doesn't use a large number of ingredients. It is also a good choice for a fat bomb, with 22 grams of fat per serving. That's not as high as some other options, but could be good if you need a snack rather than a full meal. You can find the recipe details at fatforweightloss.com.
Raspberry and Vanilla Smoothie
Raspberry and vanilla combine well with each other, as this recipe from yummyinspirations.net shows. You don't just get the recipe itself either. Jolene talks about various adaptations that she makes when creating the recipe. Changes like these are a good way to make a smoothie suit your needs. If that wasn't exciting enough, check out the color of the smoothie. Doesn't it just look amazing?
Raspberry Cheesecake Smoothie
This recipe from ketosmarts.com follows the cheesecake smoothie idea. It has five net grams of carbs per serving, along with 18 grams of fat. This is a nice balance of nutrients, especially for a smoothie that is also going to taste very good. There are also details about various optional ingredients that can change the nutrition profile or flavor of the finished smoothie.
Raspberry Breakfast Pudding Bowl
While this recipe is called a pudding bowl, it has all the characteristics of a smoothie bowl. It is also paleo and vegan friendly, making it a flexible breakfast choice. Each serving of the pudding is half a cup in size and contains a little less than six grams of net carbs. The total fat content is around 34 grams. The protein content is naturally low, but you can add in some protein powder to increase this if you want to. The recipe itself comes from Leanne at healthfulpursuit.com.
Raspberry Protein Smoothie
This pretty smoothie is from ketohh.com. The drink looks like all the rest on this list, but Karen does use low carb muesli as an ingredient, which isn't a common smoothie choice. She gives a selection of ingredients that you can add instead if you would rather. The end result would be very filling, especially if you include protein powder in the mix as well.
Paleo Raspberry Smoothie
This final recipe comes from tessathedomesticdiva.com. As the name suggests, the smoothie is paleo friendly. It includes a hidden vegetable too, making the smoothie a great way to get extra nutrients into your diet. The exact carb content will depend on how you choose to sweeten the smoothie. Tessa lists various options for doing so and you can choose based on your needs.