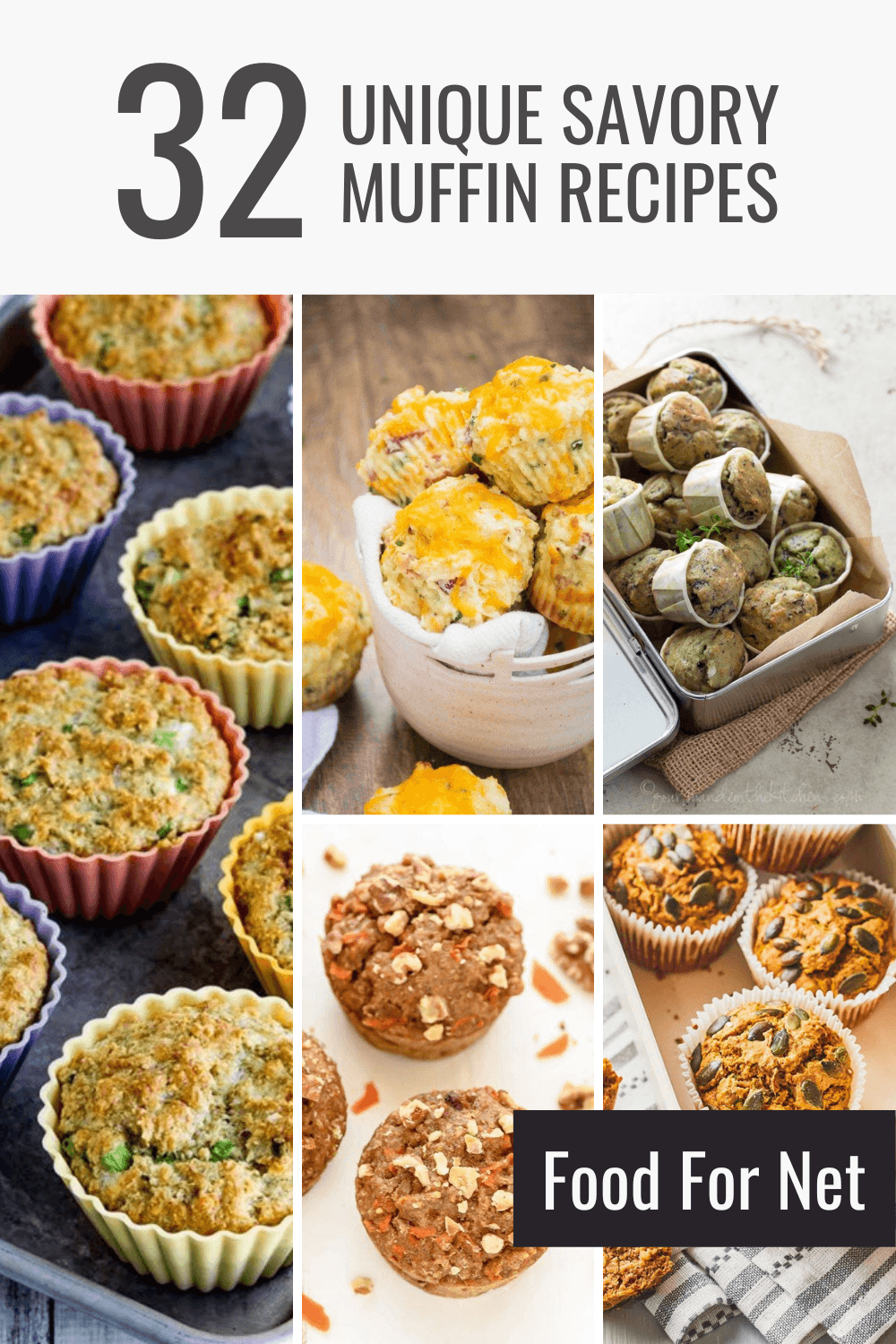 It's easy to think of muffins as something sweet and a treat. But, that's not always true. Savory muffins have always had a place in our diet, especially as snacks or as part of a lunch.
In general though, savory muffins do tend to be less common and less popular than their sweet cousins. To me, that seems like a bit of a pity, because there really are so many options with savory muffins.
With this list, I was specifically looking for recipes that were a little bit unusual just because it's always fun to have a idea to work with and share. To be honest, I was shocked with the variety of different types of muffins out there, including taste combinations that I hadn't even thought of previously.
I don't think I have a single favorite from the list, but I did find that both the simple and the complex recipes were appealing for different reasons. If you've ever made savory muffins, feel free to let me know in the comments what your favorite flavor combination was.
And for those of you who like baking new stuff all the time, a baking subscription box is a fun way to think outside of your normal routine, or it makes a great gift for your friends and family!
Savory Muffin Recipes
Sausage and Kale Cornbread Muffins
These muffins from mountainmamacooks.com are a great example of how unique savory muffins can be. The use of sausage would make this recipe a particularly good choice for early in the morning, while the kale gives the whole thing a fresh component. Kelley notes that these are basically a muffin form of a breakfast casserole and I'm inclined to agree.
Ham, Cheese and Spinach Muffins
When it comes to savory muffins, the combination of ham, cheese and spinach is one of the more common ones.
After all, the flavors do combine together very well. Another cool thing about this type of muffin is that they are easy to make. That's probably why the recipe is featured at learnwithplayathome.com, as Debs focuses on food that kids can help to create.
Pumpkin and Sundried Tomato Muffins
Pumpkin recipes are always a great choice for the fall, and I love the way that the pumpkin is paired with sundried tomatoes, which would give the recipe just a little bit of a bite.
You can find the recipe at themerrymakersisters.com if you want to give it a try, and the authors also talk about alternatives to sundried tomatoes if you don't like those.
Quinoa, Feta, Capsicum and Corn Muffins
Quinoa has become a popular alternative grain, and I always love seeing it used in recipes like these muffins from fussfreecooking.com.
The recipe itself is one that I particularly admire, because it makes use of so many different components. Recipes like that tend to work very well because you are left with a complex and appealing flavor.
'Accidental' Vegan Carrot Muffins
Emma from baketheneat.com calls these accidental vegan muffins because she was making a different recipe then left out the eggs by mistake. It's always funny how kitchen mistakes can end up making great recipes and Emma tweaked this mistake a little bit more to get a pretty appealing recipe that has a great texture.
Spinach Muffins with Onions and Ricotta
My first thought with these muffins from atastylovestory.com is that I love the way they look, especially with the pumpkin seeds for decoration.
The recipe itself is also pretty cool, because it's a twist on the common combination of spinach and cheese. Josephine also notes that the muffins freeze well, so it would be easy to make a batch and set it aside for another time.
Savory Breakfast Muffins
I wasn't sure what to call this entry into the list, as the post at veggierunners.com is a recipe that makes two different types of muffins. You can actually see that in the image too.
The top line of muffins are toasted seeds and cheddar, while the bottom line is black olives and Italian cheese. Personally, I think both types of muffins look great, but you could always choose to make one or the other.
Spinach and Cheese Cornbread Muffins
This recipe is another twist on the combination of spinach and cheese, with the cheese this time being goat cheese. The recipe is hosted over at amyshealthybaking.com and I'm very taken by the decision to use cornbread muffins.
The color of the cornbread contrasts really well with the spinach, which makes the muffins stand out.
Pesto Pine Nut Parmesan Muffins
I've always found pesto to be a particularly appealing flavor, and the way that foodlustpeoplelove.com combines it with pine nuts in these muffins seems pretty much perfect. The recipe is also for mini muffins, so these would be a great option for a quick snack or for an appetizer.
Baked Potato Muffins
The idea of baked potato muffins might sound a bit surprising, but that doesn't mean you should ignore them. In fact, these muffins from portandfin.com look fantastic and they're a pretty cool idea too.
You'll have to check out the recipe for all the details, but these are far more than muffins that happen to look or taste like loaded potatoes.
Kale, Chili and Buckwheat Muffins
These little muffins from thelittleloaf.com are a great way to get extra vegetables in your diet, and kale itself contains all sorts of nutrients, making it particularly appealing.
The use of chili in this recipe is pretty cool and it's a great way to impart a slightly different flavor. I imagine that these muffins would go perfect warm with butter, or whatever spread you fancy.
Bacon and Cheese Muffins with Honey Butter
I love this particular savory muffin recipe for its overall flavoring and also because of the honey butter. The recipe comes from cookingandbeer.com and it is actually a bit more complex than just bacon and cheese muffins.
That's a good thing though, because the flavors in these muffins work together really well and are a perfect complement to the honey butter.
Olive Thyme Mini Muffins
With savory muffins there are a lot of flavors that you see repeated over and over again, like ham and cheese or bacon and cheese. But, these muffins from gourmandeinthekitchen.com are a complete deviation from this approach, relying largely on olive and thyme flavors.
Personally, I think the flavor combination sounds absolutely perfect and it matches well with the size of the mini muffins.
Butternut Squash, Spinach and Feta Muffins
Here is another muffing that fits in perfectly with the season. I found the recipe over at everylastbite.com and loved it immediately.
One of the best things about this recipe is that it uses different flavors than you'd expect. So, the muffins would be a bit of a surprise for anyone biting into them, but that would be a good surprise because it really is a good recipe.
Polenta and Semi-Dried Tomato Chili Cheese Muffins
This batch of muffins from angieisagirl.wordpress.com manages to be both cheesy and spicy, which is a fun combination of flavors.
The recipe itself is surprisingly simple, and it would be a very easy one for just about anyone to follow. I love the way they look and they would also be quite a surprise to anyone who just expected a simple cheesy muffin.
Kale and Rhubarb Muffins
The inclusion of rhubarb in this muffin recipe from delectable-victuals.blogspot.co.nz is unusual, and it does mean the muffin would be a bit sweeter than most other items on this list.
I had to include it though, because the choice of flavors is just too good to ignore, especially if you have a lot of rhubarb at hand. Like other savory muffins, these ones would work well as a snack or breakfast, and taste best when they are warm.
Summer Squash Muffins
It's hard to go past these tiny yellow squash muffins from spicysouthernkitchen.com. These rely on yellow squash, but the flavor of the squash is masked under the cheese. As such, these are fantastic muffins for picky kids (even better than zucchini muffins, as there are no giveaway green flecks).
The ingredients list is pretty short and focuses on common kitchen ingredients. You probably have all you need on hand already, so why not try these tasty treats for yourself?
Savory Muffins With Kale And Chives
These muffins come from attainable-sustainable.net and they certainly rely on healthy ingredients. You've even got kale in the mix. But, don't worry, the muffins do still taste good.
Here's another interesting thing – these are vegan muffins. This is perfect if you're planning to bring them to a shared event or perhaps a bake sale. That said, if you're not vegan, you could easily mix in some cheese. Doing so would add a bit of protein and make the muffins taste even better.
Vegan Butternut Squash Muffins
Speaking of vegan recipes, check out these butternut squash muffins from holycowvegan.net. The muffins are actually much more filling and interesting than you might expect, as they use tofu as one of their ingredients.
I won't spoil the rest of the ingredients list for you, except to say that (obviously), there's plenty of squash present. The squash gives the muffins their color and much of their flavor.
Savory Keto Muffins With Ham And Cheese
These muffins come from thefoodieaffair.com. They're unusual because they're keto friendly. To achieve this, they avoid conventional flour entirely and stick with a low carb baking mix instead.
The muffins are higher in fat than most savory muffins, which isn't always a bad thing. After all, regular muffins are often carb loaded with little protein or fat. It's great to see a recipe that changes the ratios.
Egg Muffins With Peppers, Kale, And Cheddar
Speaking of low carb muffins, here's a recipe from thevintagemixer.com. As the name suggests, there are plenty of eggs in the mix (although there is still a little flour too).
Egg muffins are an exceptional choice for breakfast, as their protein content makes them filling. These ones also have cheese, peppers, and kale. Those extra ingredients provide more flavor, along with extra nutrients.
Sweet Potato & Herb Savory Muffins
Using sweet potatoes in this recipe is an excellent idea. The root vegetable provides a touch of sweetness, without taking away from the overall savory tones of the recipe.
And, as Natalie from feastingonfruit.com highlights, the texture is pretty exciting too. This is partly because the muffins use both oat flour and cornmeal, which provides them with more coarseness than most muffins. Then you have the topping of hemp seeds which adds extra texture.
Healthy Vegan Savory Muffins
These muffins come from forkfulofplants.com and they have a lot going for them. Not only are they delicious and healthy, but they're also gluten free and vegan friendly.
Some of the ingredients will be familiar, like grated carrot and zucchini, which often show up in savory muffins. However, there are still some surprises in the flavor profile, ones that make the muffins even more exciting.
Like most items on this list, you could use the muffins in plenty of different ways. They might be delicious as a grab-and-go savory breakfast, as a snack, or as part of your lunch.
Savory Maple Corn Muffins
Check out these amazing savory maple corn muffins from thewoksoflife.com. They're a delicious riff on regular cornbread muffins, with more flavors than normal and a few surprising ingredients.
The inclusion of bacon works particularly well. Not only does this provide a flavor contrast, but it adds to the texture of the muffins as well, making them even more stunning than normal. Seriously, once you've tried these, you'll never go back to regular cornbread muffins.
Keto Cheesy Herb Muffins
Mellissa from ibreatheimhungry.com offers these simple and delicious keto treats. The most amazing thing is that the texture and flavor do get surprisingly close to regular muffins. That's always impressive for keto products, as it's tough to mimic the texture of muffins without wheat flour.
There are a few unusual ingredients in the mix, but only if you've never tried keto baking before. If you're a keto dieter already, then the ingredients should all be very familiar.
Low Carb High Fiber Savory Muffins
Here's another low carb muffin recipe. These little beauties come from kalynskitchen.com and are special because they're also high in fiber. The fiber content is important, as it's easy to not get enough fiber when you're following a keto diet.
Despite a fairly simple ingredients list, these savory muffins are delicious. They rely on well-chosen flavoring ingredients, plus cottage cheese for protein and texture.
Gluten Free Savory Muffins
There's nothing unusual about these gluten free muffins from glutenfreeonashoestring.com, but they're still exciting. If nothing else, it's nice to see a gluten free recipe that's easy to prepare and tastes amazing.
You could also add some of the savory ingredients that we've featured in other recipes, like chives, kale, or bacon. Smoked paprika would work a treat too.
Savory Muffins With Cheddar & Eggs
These Savory Muffins with Cheddar & Eggs come from fannetasticfood.com and they're some of the most unusual muffins on the list. When else do you include a whole egg in the middle of a muffin?
Interestingly, these muffins are also gluten free. That makes them perfect for anyone with gluten intolerance or for a shared event. There are plenty of images and instructions, so you can follow along even if you're new to gluten free baking.
Carrot Quinoa Muffins
What do you think of these muffins? They come from wellplated.com and they're certainly healthy. Not only do they contain plenty of nutrients from the carrots, but you've also got quinoa in the mix.
Quinoa is worth talking about. This little pseudograin is often called a superfood, as it's packed with protein and nutrients.
While the muffins are healthy, they're also tasty. Other ingredients make sure that the muffins are still moist, have a good texture, and contain just enough sweetness to make them enjoyable.
Savory Quinoa Muffins
Here's another recipe for quinoa-based muffins. They come from Rachel at rachelcooks.com and are very popular among her readers. Using quinoa is a fantastic way to make the muffins more filling. This means these muffins could work well as part of your lunch or even as a quick breakfast on the go.
Of course, these aren't just quinoa muffins. There are some other ingredients in the mix, including a few unexpected ones. I won't spoil the surprise though. Why not check the recipe out to see what it offers?
Carrot, Beetroot, and Ginger Savory Muffins
Here's another recipe that includes carrots. This one comes from sprinkleofgreen.com and features some interesting ingredients, such as beetroot, chili flakes, and ginger.
Not surprisingly, the flavor profile here is different from most other muffins. The texture is unusual too, but this isn't a reason to avoid the muffins. They should be delicious. Besides, it's always nice to try something new.
Speaking of unusual, there's this recipe from powerhungry.com. These are paleo muffins, which means they're entirely free from grains and gluten.
Regular wheat flour isn't needed anyway. These muffins rely on almond flour instead and end up with a fantastic flavor and texture. The macro balance is excellent too, as each muffin contains more than 6 grams of protein and only around 3.5 net grams of carbs.
Quinoa Egg Muffins
Here's one final quinoa option. This recipe comes from slenderkitchen.com and ups the game by adding egg to the mix as well. The egg makes the muffins even more filling than they'd be otherwise.
There are some other ingredients present too, including broccoli, which provides plenty of nutrients. That said, this is a fairly simple recipe and is easier to make than most others on this list.
Are Savory Muffins Healthy?
Savory muffins tend to be healthier than sweet ones. No surprises there, as there's normally much less sugar. Let's face it, sweet muffins are often little more than cakes.
Some savory muffins are incredibly healthy, particularly when they use plenty of greens and perhaps alternative flours. Others are less healthy. For example, they may rely on refined white flour, cheese, and ham. So, if you're looking for healthy muffins, you'll need to choose the recipe carefully.
Are There Any Savory Keto Muffins?
Yes. We've mentioned a few savory keto recipes on the list and that's just scratching the surface. There are plenty of other such recipes out there. Honestly, we could have written a list of just savory keto muffins and it would be at least as long as this one.
Related Content