Offset vertical smokers have a different shape than other smokers, but at the end of the day, they do the same job. In fact, they tend to offer much more space than cabinet smokers (i.e. gas smokers or electric smokers) do.
The long, vertical shape of these smokers will give chefs more room to cook without taking up the entire patio or deck.  They have the perfect build to accommodate large, wide slabs of meat.
If the #1 reason to go vertical is to save space, the #2 reason is temperature control. Many people have found that vertical smokers let you control the heat easier. #3 is that you can fit more meat per square inch of device in a vertical smoker.

No matter what type of outdoor cooker you are, there's an offset vertical smoker for you. It just takes some research. This list will give you an idea of the capacity, price and durability that the best offset vertical smokers offer.
However, there doesn't seem to be a lot of availability, specifically in the "offset" category, so if these options aren't enough, you should check out these vertical propane smokers and vertical electric smokers.
Update 2020. Smokers are really selling out these days because of supply chain issues. This whole list went to pot in the last few weeks. Currently updating.
What I'm seeing a lot of is that there are small manufactures within the USA that haven't quite got their search engine optimization and ecommerce going super well. They are hard to find.
Many of the big box sites like Home Depot, Amazon, and Walmart still have their products listed in Google, but they are either sold out or no longer manufactured.
If you need a smoker now, the DynaGlow from Amazon may be your best bet to get it fast and cheap, since most of these American-made products are $2,000+ USD! Of course, that's the price you pay for American made, quality goods.

Dyna-Glo DGO1176BDC-D Vertical Offset…
Vertical design lends itself to naturally rising heat, achieving greater efficiency and improved smoke flavor. Offset design keeps direct heat away from the food, allowing for slow cooking.
Six height-adjustable cooking grates accommodate various sizes of food. 784 square Inch of total smoking area; 1176 square inches of total cooking space with 25-pounds capacity per grate.
Porcelain-enameled steel charcoal chamber is designed to keep briquettes stacked tightly for improved burn efficiency.
Charcoal & ash management system with the charcoal chamber, grate, and sliding, removable steel ash pan. Designed to handle large amounts of ash for hours of maintenance-free cooking.
Smoke stack features an adjustable flue for additional flavor and temperature control.
The vertical offset charcoal smoker just isn't that popular. You may want to consider the vertical gas/electric linked above, or an offset barrel smoker.
Or, you could just get a freakin' Traeger because you know you want one.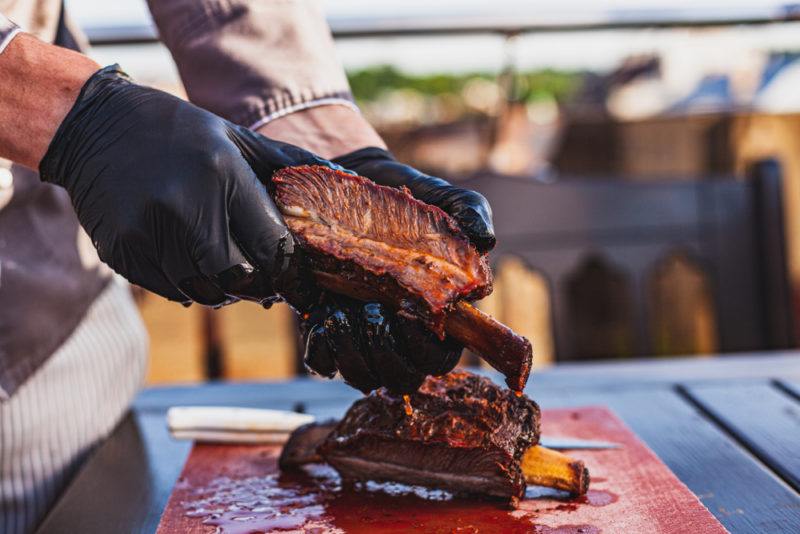 3 Offset Vertical Smokers
Dyna-Glo DGO1176BDC-D Vertical Offset Smoker
Lone Star Grillz 24″ Offset Vertical Smoker
The Marfa Vertical Offset Smoker
1. Dyna-Glo DGO1176BDC-D Vertical Offset Smoker

Some people complain that vertical smokers don't offer as much cooking space as horizontal smokers. These people have never seen the Dyna-Glo DGO1176BDC-D. With 1,176 square inches of total cooking space, this vertical offset smoker gives you more than enough room to cook meats of any size.
Some claim that this Dyna-Glo unit can smoke up to 150 pounds of food at once. Not bad at all if you have a big family, lots of friends, maybe even your own private army.
The firebox's heavy duty, porcelain-enameled steel does a great job of keeping heat inside for a full smoke flavor. The smoker has a durable steel body with a powder-coat finish, which ensures that it'll last for a long time. Its easy-to-read temperature gauge lets you monitor the heat of the smoker from beginning to end.
It also has a grease management system that collects condensation and drippings from the primary chamber. This means that you won't need to wipe down the entire unit when you're done.
Positives
Plenty of cooking space

Made with durable steel

Easy-to-read temperature gauge

Wide version available
Very inexpensive for the quality of smoker
Can fit six vertical racks
Negatives
Requires some modifications to work "perfectly" according to multiple reviewers

Tall version doesn't hold even temperature as well as short, wide version
2. Lone Star Grillz 24″ Offset Vertical Smoker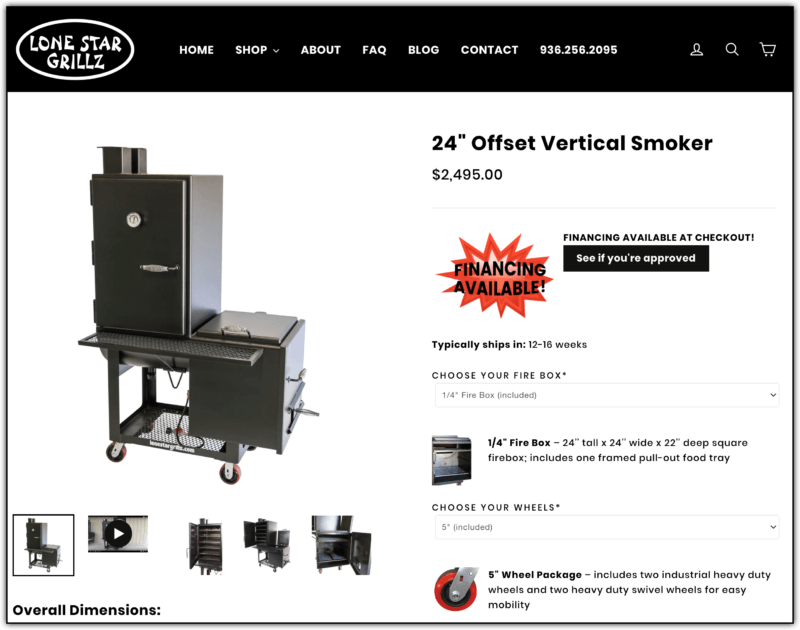 Positives
Hand crafted in Texas, USA by a small business
Firebox options including large size, and/or insulated (extra cost)
Massive amount of smoking space available
On wheels for easy movement
Negatives
Price. It's not the most expensive offset vertical smoker you could buy, but it's up there
3. The Marfa Vertical Offset Smoker

Positives
American made in Texas
Advertised as the "last smoker you'll ever have to buy"
Includes gas-assist propane burner
Seems like they can delivery anywhere in the USA
Negatives
Not many reviews online
Not active on social media since 2019
If you get it delivered, expect big delivery costs
Buying Guide for Offset Vertical Smokers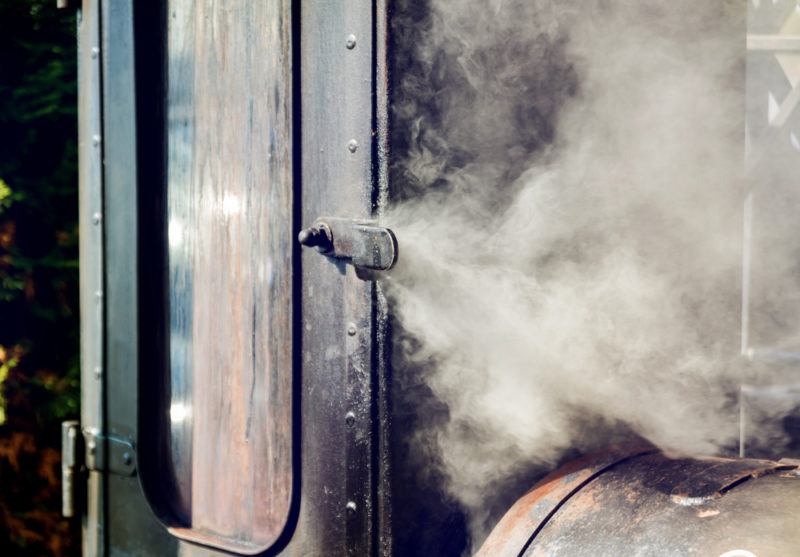 No matter what you plan to do with an offset vertical smoker, the most important feature to consider is durability. When looking at a smoker, evaluate the overall construction of the unit.
Many times, high-quality smokers are made with thick, heavy steel. More often than not, lower-priced smokers are made from a thin, comparatively weak material, but you'd be surprised at the bargains you can find these days.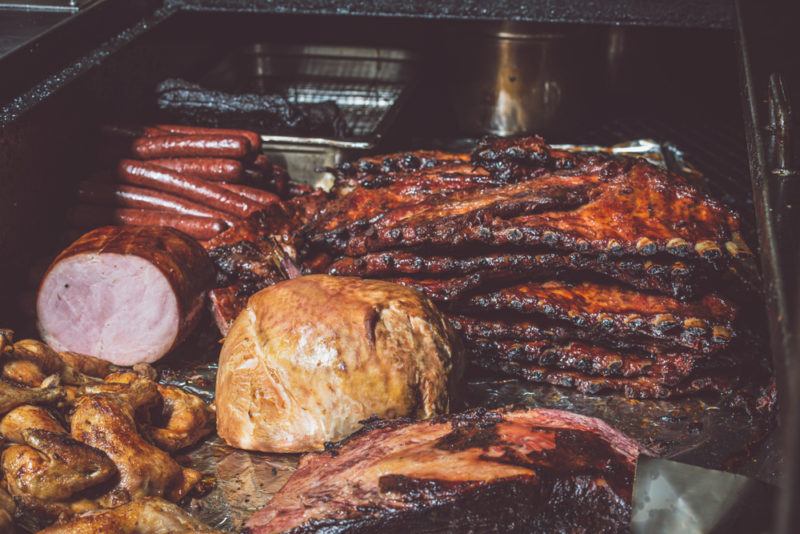 Next, consider how many people you need to cook for. Do you typically cook for large groups of people? This makes a big difference when choosing a particular smoker. Most if not all of the offset vertical smokers on this list have wheels, so those who prefer a more mobile cooking unit will be in luck.
As always, price is another important factor. How can you get the most value while paying the lowest possible price? The Dyna-Glo Offset Vertical Smoker will give you the most value for your money. Other units on the list above are a bit more expensive, but they deliver excellent results.
About Offset Vertical Smokers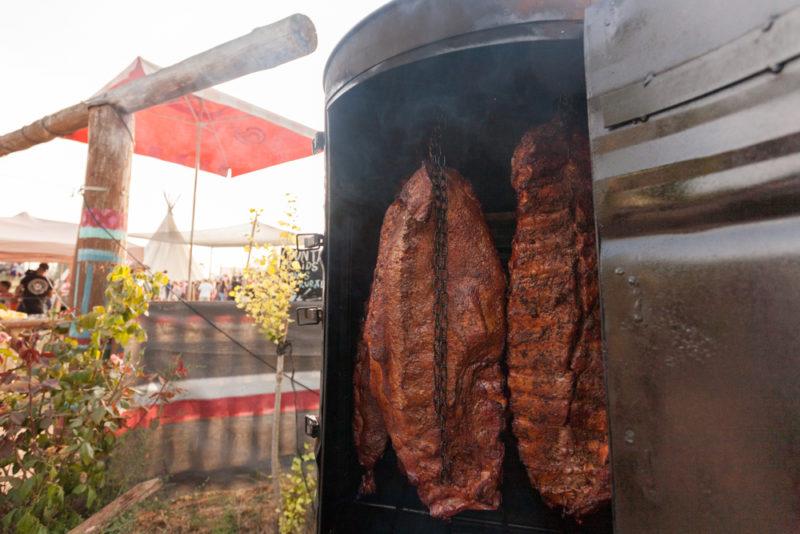 Thanks to their tall, narrow shape, offset vertical smokers allow you to stack several cuts of meat on shelves. They can actually give you more space within the cooking chamber than a horizontal smoker would.
Like horizontal offset smokers, the vertical type consists of two units: A firebox and a vertical unit with cooking grates. These grates are usually very easy to clean and strong enough to hold the heaviest of meats.
The firebox holds the fuel source for smoker and slowly transfers heat over to the main unit. Some smokers come with a temperature gauge to help you monitor the level of heat.
The average temperature range for this type of smoker is 220-250 degrees Fahrenheit. This can make cooking a little tricky: An extremely high heat will dry out your meat while a cooler temperature will increase the cooking time considerably.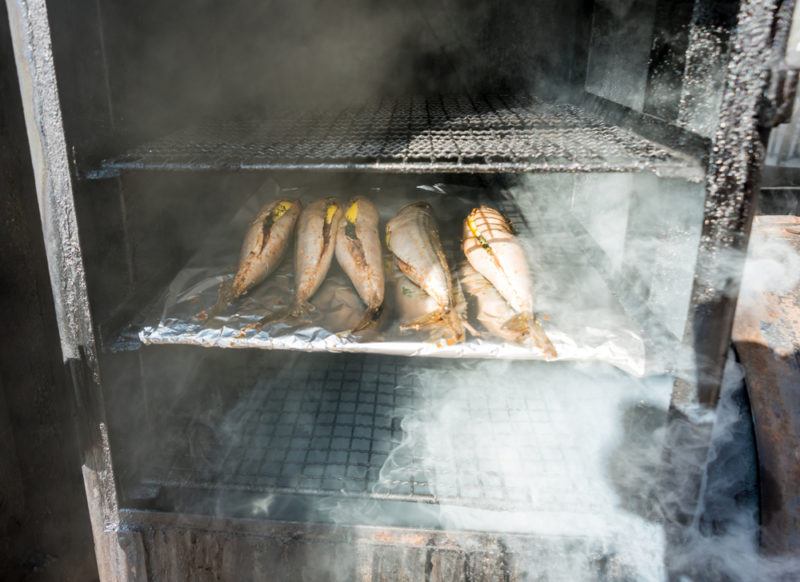 Offset vertical smoker work like giant, charcoal-fueled ovens. You don't flip and press on your food like you would on a grill. Instead, you just put meat in the unit and let it smoke. Since the heat comes from one side of the smoker, you'll need to rotate your meat occasionally to ensure that everything cooks properly.
Offset vertical smokers aren't like a digitally controlled pellet smoker. It can be very difficult to keep these units at a consistent temperature from start to finish. People often overlook the chimney of the offset vertical smoker. This feature helps control the airflow, which affects the overall temperature. Expect to stay closer to this smoker than you would with other types of grills.
Another common issue with offset vertical smokers is smoke leaking from the front door. This can slow the cooking process down and weaken the wood-smoked flavor. There isn't a proven method for keeping smoke within the cooking unit, but buying a smoker made with thick steel helps.