Offset vertical smokers are different than other smokers in terms of shape, but at the end of the day they fulfill the same task at hand. Offset vertical smokers tend to offer much more space as opposed to cabinet smokers, like gas smokers or electric smokers. Smokers in general essentially serve as an outdoor oven, and the vertical shape offered with these smokers will give the chef more room to cook, without taking up the entire patio or deck.  Some of the best smoked meats are large and wide, and offset vertical smokers have the perfect build to accommodate these foods.
Why go vertical? The #1 reason is for saving space, as I mentioned above. They have a smaller footprint. The #2 reason is temperature control. Many people have commented online that vertical smokers are simply easier to control the heat.
Horizontal smokers tend to be more comfortable to work with, since they are at waist level for loading pellets and putting meat on/taking meat off the grill. Horizontal smokers reportedly have even more space that vertical smokers, but I think it depends on how big your device is. Multiple levels mean you can stack in your vertical smoker, while in a horizontal one you only have one level to smoke on.
No matter what type of outdoor cooker you are, there is an offset vertical smoker for you, it just takes some research! With this list of the top 5 best offset vertical smokers, you'll acknowledge a variety of cooking units with the same shape, mostly differing in capacity, price, and durability. This is my preferred style of smoker, other than smoker/grill combos which means you can save money by buying just one device.
Top 5 Offset Vertical Smokers
Dyna-Glo DGO1176BDC-D Vertical Offset Smoker
Brinkmann Heavy-Gauge Vertical Smoker
Char-Broil 152020202 Oklahoma Joe's Bandera Smoker
Dyna-Glo Signature Series DGSS1382VCS-D
RiverGrille Rustler Vertical Smoker
1. Dyna-Glo DGO1176BDC-D Vertical Offset Smoker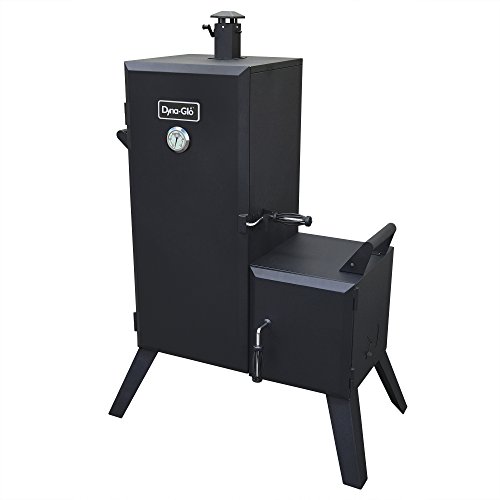 Many have criticized vertical smokers, claiming they don't offer enough space as a horizontal smoker does. This is simply not the case with the Dyna-Glo DGO1176BDC-D vertical offset smoker. The design of this vertical offset smoker surprisingly offers 1,176 square inches of total cooking space so that you have enough room to cook meats of any size. It has been said that this Dyna-Glo vertical offset smoker can smoke up to 150 pounds of food at once, so if you have a big group of family and friends, this smoker will be the most efficient option.
The firebox is made with a heavy duty, porcelain-enameled steel that will do a great job of keeping heat within the unit for a full smoke flavor. The entire smoker has a durable steel body with a powder-coat finish that will keep it going for a long period of time. Keeping track of the temperature is important when using a smoker. An easy to read temperature gauge will let you monitor the smoker temperature from beginning to end. There is also a grease management system that basically collects condensation and drippings from the primary chamber, so you won't have to wipe down the entire unit when you're finished up.
Positives
Plenty of cooking space

Made with durable steel

Easy to read temperature gauge

Easy to move thanks to carrying handles
Negatives
Narrow shape isn't best for specific foods
2. Brinkmann Heavy-Gauge Vertical Smoker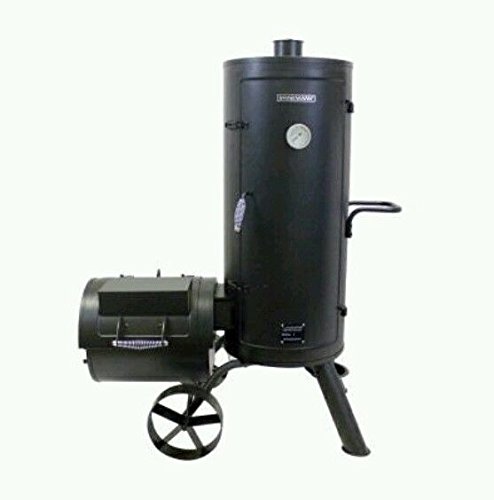 Looking for a long lasting vertical smoker? Brinkmann provides a tough vertical smoker with this unit. Made with a heavy-duty steel construction, the Brinkmann Heavy-Gauge vertical smoker is made to last for an extended period of time, and will keep high temperatures within the smoker rather than leaking out. The chrome plated steel cooking grates will stay strong in keeping thick cuts of meat leveled for a nice thorough cook. Cleaning afterwards won't be a problem either because it's unlikely that you'll have to scrub anything. Unlike other types of vertical smokers, this smoker from Brinkmann has hanging hooks that you can use for an easier smoking setup.
Portability is fair with this unit, as there are two large wheels attached to the bottom. All you have to do is grab the handle and take the vertical smoker with you! Now to the downsides. The only consistent issue that has been found with the Brinkmann Heavy-Gauge vertical smoker is that has an extremely high price, likely the highest on this list. The durability of this smoker is likely a fair justification of why the price is so high. If you're looking for something long lasting, take a chance with this vertical smoker. It has the potential to smoke your food; providing great flavor.
Positives
Fair cooking space

Durable construction

Hanging hooks used for smoking
Negatives
3. Char-Broil 152020202 Oklahoma Joe's Bandera Smoker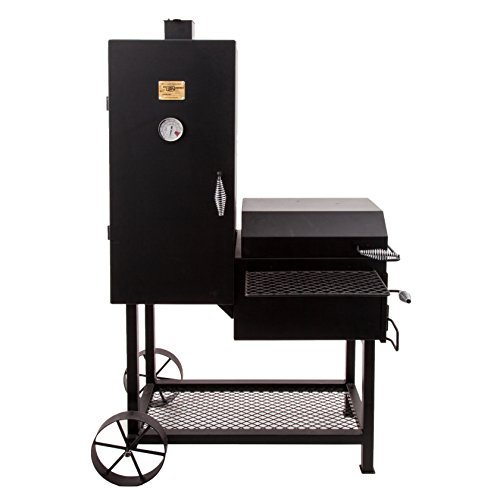 With a lot of room to smoke your favorite rack of ribs, and extra storage space on the bottom of the smoker, how can you not take a look at the Oklahoma Joe's Bandera Smoker from Char-Broil?! With 254 square inches in the grill chamber, and 738 square inches in the smoker, you'll have almost 1,000 square inches available to you. This will help you cook cuts at a variety of sizes; whether it's a full rack of ribs or a thick cut pork shoulder. With two meat hanging hooks and a rib rack set, this vertical smoker will help prepare you for any time of meat. Let's not forget the storage space on the bottom, as well as a small tray in front of the firebox smoker. These platforms will help with storage, as you can now put seasonings, food, drinks, and bags of wood or charcoal on them without taking up too much space.
You'll be in luck if you like to move your smoker or grill often. The two big wheels parallel to each other on the bottom of the smoker make it much easier to move to smoker compared to actually picking the unit up and moving it. These smokers are made with thick, heavy steel to keep the heat inside, so picking them up is an unrealistic assumption. Similar to the Brinkmann vertical smoker, the Char-Broil Bandera smoker has a high price that leads consumers to question if it's even worth it.
Positives
Extra storage space

Reasonable cooking room
Negatives
4. Dyna-Glo Signature Series DGSS1382VCS-D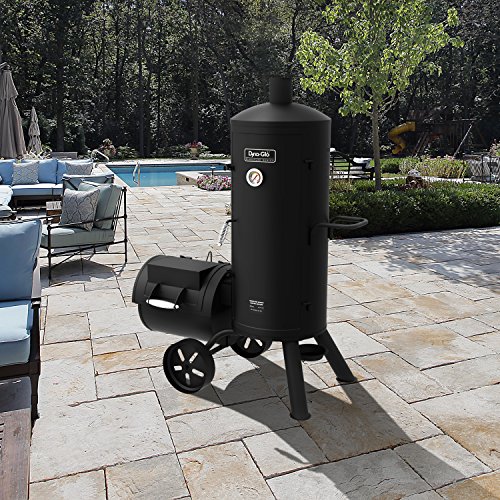 Another Dyna-Glo model, you can expect to get the most out of this signature series offset vertical smoker. In addition to the 284 square inches in offset grill cooking space, the Dyna-Glo Signature Series offset vertical smoker has a total of 1,382 square inches of cooking space, which can fit most cuts of meat, although the smoker itself looks limited in space due to a narrow build. The heat resistant handles on the firebox lid and the vertical smoker will allow you to open the smoker for whatever reason without burning your hands. With 5 chrome-plated steel cooking grates you'll be able to wipe down the smoker when it needs cleaning and not have to struggle. These 5 cooking grates will hold any type of meat no matter how heavy it is, so prepare yourself for smoked excellence!
Don't worry about feeling stranded at a family reunion or barbecue at the park with the Dyna-Glo Signature Series vertical offset charcoal smoker. Large wheels underneath the firebox will help you go from one place to another with ease; simply grab the handle and pull your way towards the next cookout. Since this Dyna-Glo smoker is made with a heavy steel, it only makes sense to have reliable means of mobility.
Positives
Made with heavy steel

Has easy to clean cooking grates
Negatives
5. RiverGrille Rustler Vertical Smoker
#5 the RiverGrille Rustler looks very similar to other offset vertical smokers, but with reasonable storage space and fair cooking room, it brings its own unique features to the table. One characteristic of this vertical smoker that definitely stands out amongst its competitors is its durability. The heavy duty steel construction of the RiverGrille Rustler will help it last long for years to come as you use it frequently. The RiverGrille Rustler has carrying handles that will allow you move it quickly; working with the wheels at the bottom. For the griller who needs to go from location to location, this feature will reduce some stress.
If you like to hang certain cuts of meat, such as sausages, you'll be content with this vertical smoker. On top of that, there is 1,642 square inches of total cooking area that will help you smoke virtually any type of meat, from a turkey to a rack of ribs. The height adjustable cooking grates will help in this process, as they let you figure out how much room you'll need for whatever you're smoking. If you have a lot of food or accessories, don't worry, you won't run out of room. The bottom shelf will provide you with extra storage for basically anything, from food to seasonings to drinks. While the RiverGrille Rustler vertical smoker is #5 on the list, it is no less than the other 4 smokers.
Positives
Large cooking capacity

Durable construction
Negatives
Buying Guide for Offset Vertical Smokers
Time to take a look at what features of the offset vertical smoker works best for each type of person.
No matter what type of goal you have while looking for an offset vertical smoker, the most consistent feature you should consider is durability. When looking at a smoker, make sure to evaluate the overall construction of the unit. A majority of the time, high quality smokers are made with a thick heavy steel meant to provide a solid smoking foundation. More often than not, the lower-priced smokers are made with a thin, cheap material, but you'd be surprised at the bargains you can find these days. The RiverGrille Rustler, as well as both Dyna-Glo smokers will give you a sense of durability due to being made with high quality steel.
Next, you need to figure out the type of situation you're usually in. What we mean by that is: are you typically cooking for large groups of people? Or are you usually on the move and willing to grill wherever you go? This makes a big difference when choosing an offset vertical smoker. Most, if not all of the offset vertical smokers on this list have wheels, so those who prefer a more mobile cooking unit will be in luck. Smaller smokers are evidently easier to move compared to larger units, which are better equipped to handle large crowds, especially since vertical smokers tend to be narrow by nature; eliminating space that would be compensated on a horizontal smoker.
As always, price is also something very important to consider regardless of your budget size. After all, almost everyone is looking for the best deal out there. How can you get the most value while paying the lowest possible price? The Dyna-Glo Offset Vertical Smoker at #1 will give you the most based on what you pay for it. Compared to the other 4 vertical smokers, this Dyna-Glo smoker has the lowest price, while refusing the sacrifice quality in result.
About Offset Vertical Smokers
Believe it or not, there are quite a few differences when looking at a vertical smoker compared to a horizontal device. Thanks to its tall, narrow shape, vertical smokes will allow you to organize your cuts of meat one shelf after another. This actually opens up more space within the cooking chamber compared to a wide smoker. In the end, the more you know about offset vertical smokers, the better off you'll be when using one for your rack of ribs or roasted chicken.
Just like horizontal offset smokers, the vertical type consists of two units: a firebox and a vertical unit that has cooking grates within it. These grates are usually very easy to clean, and have enough strength to hold even the heaviest of meats. If you don't know by now, the firebox is meant to hold the fuel source, such as charcoal, while it slowly transfers over to the main unit. Sometimes there is a temperature gauge to help you monitor the heat coming from the firebox, although you shouldn't expect each unit to come with one. If you're wondering what the average temperature range is for these types of smokers, you can expect anywhere from 220-250 degrees fahrenheit. This gets tricky, as an extremely high heat will certainly dry out your meat, and a significantly low temperature will increase the cooking time tremendously.
When you think about the concept of the offset vertical smoker, these cooking machines work as giant ovens that are indirectly fueled by charcoal. With that being said, there isn't much you can do with the food while it's cooking. Unlike grilling, where you can flip and press on the food in the open, meat cooked in a smoker will be isolated within the unit, although you can rotate your meats from one section to another depending on what type of vertical smoker you have. In actuality, it's important to rotate your food, especially when considering the shape of the smoker. Since the heat is coming from one side, you'll have to bring over the meat furthest away so that it can cook evenly with everything else.
Some important issues to keep in mind. Offset vertical smokers aren't like a digitally controlled pellet smoker. It is extremely difficult to keep these units at a consistent temperature from start to finish. The chimney is often an overlooked part of the offset vertical smoker. This feature helps control the airflow, which affects the overall temperature. Don't be surprised if you have to stay closer to the offset vertical smoker compared to other types of grills.
Another issue that is found common with offset vertical smokers is smoke leaking from the front door of the smoker. By losing smoke from the unit, the cooking process will be slowed down, and you'll potentially lose the wood-smoked flavor that you're trying to obtain. While there isn't necessarily a proven method to keeping smoke within the cooking unit, you can make sure that the smoker you're buying is made with thick steel. This will help insulate the interior of the smoker and close out any unwarranted openings.