For most of us, pizza isn't a particularly common camping food. Instead, we often stick to dishes that area easy to prepare, especially as tools and resources tend to be limited. However, having pizza while camping is actually a realistic goal and can be great fun.
There are various ways to do this, including making pizza on a campfire and relying on Dutch oven pizza recipes. But, another interesting option is using propane pizza ovens. This type of pizza oven is extremely portable, letting you make your own pizzas wherever you go. This means you could easily use the oven in your backyard most of the time and then take it with you when you go camping.
At the same time, the pizza ovens can truly produce some amazing outcomes. So, why not try out the idea and take your camp dinners to the next level?
Cuisinart Outdoor Pizza Oven
As a brand, Cuisinart seems to be everywhere, especially as I've found myself reviewing Cuisinart slow cookers in the past. But, even though the company doesn't specialize in pizza ovens, they have done a good job with this model.
The pizza oven itself is designed to sit on a countertop, although it could just as easily be placed on a picnic table or a tailgate. You can also buy a variation with a folding stand, so you don't have to find a place to put the pizza oven. Doing so could be great in many situations, as long as the ground is even enough.
As for the pizza oven itself, it seems to perform well and even has a warming drawer. It also comes with the various tools you need, including a pizza peel, making it easy to get going. Reviews also suggest that it works well and can be a fun way to make your own pizza.
Pizzacraft Pronto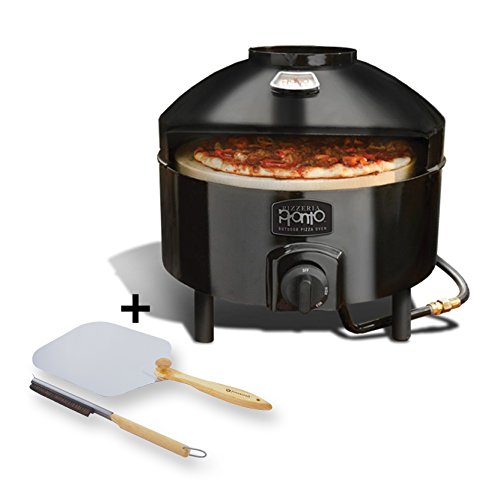 The Pizzacraft Pronto is one of two propane pizza ovens that Pizzacraft offers. It's my favorite of the two, mostly because the product is more efficient and also because it simply feels like it is more resilient and better designed. The pizza oven was also made with portability in mind, so it's easy to move wherever and whenever you need to.
The pizza oven uses a round pizza stone, which will let you cook pizzas of around 12 inches. This is the standard size for propane pizza ovens and it's large enough for most events. Plus, it only takes 5 minutes or so to cook a pizza, so it's easy to just put another one on when the first is finished.
Like most of the options on this list, the pizza oven will also run off a full 20 lb propane tank or a disposable 1 lb one. On the 1 lb tank, it will run for around 2 hours, which is more than enough for most situations.
= = > Get The Pizzacraft Pronto Here
Pizzacraft PizzaQue

There are many similarities between this model and the previous one, especially as they are both roughly the same in size. The biggest difference between then is basic design, which results in slightly varied cooking times and also visual appearance. In this case, the pizza oven takes an additional 5 minutes to preheat and another minute or so per pizza.
The differences in time and appearance aren't large, so you could actually go with either option. For tailgating, many people may find themselves preferring the PizzaQue model, simply because it is considerably less expensive. However, although the pizza oven does work with a 1 lb propane tank, you have to buy that separately.
= = > Get The Pizzacraft PizzaQue Here
Mr. Pizza Pizza Oven (And Grill)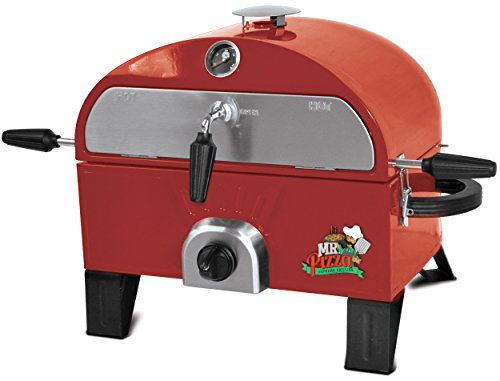 This pizza oven is relatively obscure but it makes an especially powerful choice for anybody camping. The key reason is that the product has two functions. The first of these is as a pizza oven, using the door in the front. The second function is as a grill and the entire top half flips open to allow this.
The style would work well for anybody who wants to be able to grill while camping but doesn't want to take a full-fledged barbecue along for the ride. The one catch is that aren't many reviews to turn to for the pizza oven, so it's hard to know how it performs in practice. Still, even with that limitation, the pizza oven is an interesting alternative and is worth considering.
= = > Get The Mr. Pizza Pizza Oven Here
Camp Chef Pizza Oven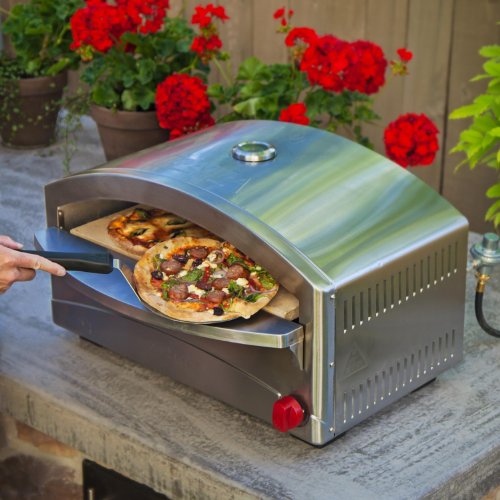 Camp Chef is a fairly cool brand, as the company is all about cooking the best food possible while you're camping. This particular product is their main entry into the world of pizza ovens and it is fairly similar idea and style to some of the earlier models on this list.
The oven is large enough to cook two 10-inch pizzas at the same time or one 12-inch pizza. You could also get a little creative with sizing and cook oval pizzas as well, which would let you cook two relatively large pizzas at the same time. By doing so, you could also cook more at a time in this pizza oven than in most other options.
However, beyond this aspect, the pizza oven functions in roughly the same was as the others. So, it will run off a 1 lb propane bottle and also off a standard propane bottle, depending on what your preference is. Likewise, it takes around 15 minutes to preheat and gets fairly hot.
= = > Get The Camp Chef Pizza Oven Here
Camp Chef Pizza Oven Accessory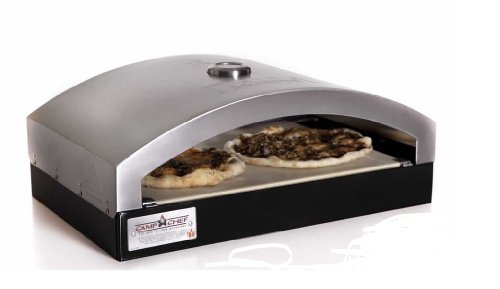 There is also one slightly different option out there, which also comes from the Camp Chef brand. In this case, the product isn't an independent propane pizza oven. Instead, it's an accessory.
The idea here is to convert a gas grill (from Camp Chef) into a pizza oven. Doing so means that you end up having a grill to use, along with a pizza oven. That's great for flexibility, especially if you like a range of food when you're out camping.
Of course, the catch is that you do have to buy the propane barbecue separately. The accessory is also fairly specific, so it won't work on many other portable grill setups. On the plus side, buying the grill and the accessory is relatively inexpensive and costs less than some of the independent pizza ovens.
The end result is that this pizza oven accessory can be a great choice in some situations but not in others. In particular, it might work well if you want to cook on the grill anyway or if you're camping relatively close to your vehicle. However, if you're looking for something extremely portable, this isn't going to be the best bet, especially as there are two separate components (plus the gas bottle) to move.
= = > Get The Camp Chef Accessory Here
Making Pizza While Camping
All of these products can be perfect for having pizza while you're camping. The reliance of propane is especially useful because it's pretty easy to carry a 1 lb bottle of propane with you and many campers do anyway.
Nevertheless, there are also other styles of pizza oven to think about, especially if you're wanting to make pizza in your own backyard as well. For example, one alternative is a grill conversion, where you a turning your gas or charcoal grill into a makeshift pizza oven. If you did so with a charcoal grill, you would end up with another portable pizza option for camping, especially if you typically take a grill with you anyway.
And, of course, there are many alternative ways to cook pizza outdoors, such as making pizza on a campfire.