You should never use a propane grill indoors without proper ventilation. It could kill you. Cooking with propane creates carbon monoxide. Setting up a propane grill in your kitchen is a bad idea!
For anybody interested in cooking their own authentic pizzas at home, gas countertop pizza ovens are an amazing way to go. These ovens typically get up to 600º-700°F, giving you the chance to make high-quality artisan pizzas in the comfort of your own home. At the same time, this type of product is considerably less expensive than a wood fire alternative.
What's not to love? You get the same general functionality of a wood fire pizza oven but at a fraction of the cost. Plus, you end up with a fairly portable oven, which is great if you plan to go camping or if you simply don't want something permanent.
With a gas oven, you do miss out on the wood-fired smoky flavor, but for many, this is a secondary consideration to convenience. High quality, homemade dough, and your favorite toppings is going to make up 90% of the satisfaction you get from making pizza.
There are many different products out there that fill this role but the gas countertop pizza ovens in this post are some of the best that you can pick from. Plus, they all function well and would let you make great pizza.
Gas Countertop Pizza Ovens
Camp Chef Pizza Oven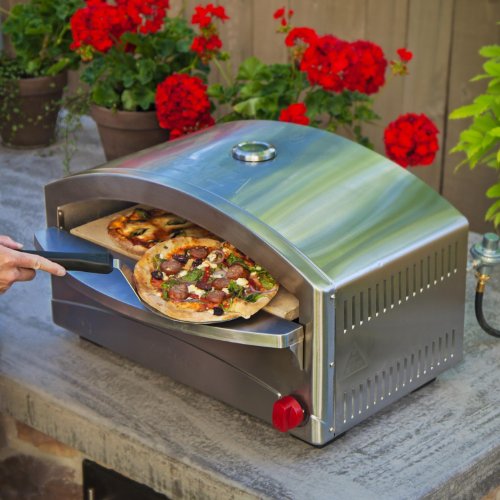 Camp Chef strongly focuses on tools for camping but this particular product is equally useful around the home. The oven takes around 15 minutes to preheat and is then ready to cook. There are also valves present, which offer you control over the flame and allow you to influence the temperature of the oven.
The overall style makes it extremely easy to use and it naturally suits a pizza peel. In terms of size, you can make up to a 12-inch pizza with it or two smaller pizzas. The domed lid would also make it possible to cook some types of artisan bread, as long as it did not rise too high.
= = > Get Camp Chef Pizza Oven Here
Pizzacraft PizzaQue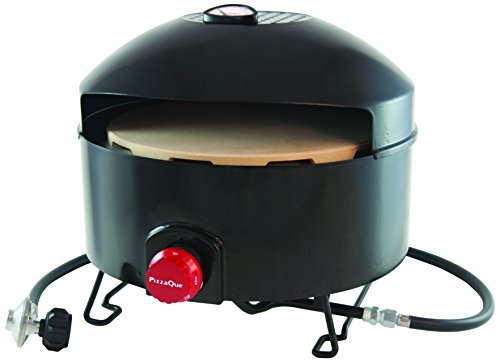 In many ways, this gas pizza oven is on the basic side. But, it does get the job done and works well. The model is specifically designed for a 20 lb propane tank and includes an adaptor for using that type of tank. You can also use a 1 lb tank with it (although you need to buy the adaptor), which can be useful if you plan to go camping.
It takes around 15 minutes to preheat the oven and the company estimates that you can cook a pizza in just 6 minutes. That timing is about right for a pizza oven, although precise cooking time will depend on the thickness of your pizza base and other related factors.
While this is a countertop product, there is also a leg kit that can be purchased. That kit allows the pizza oven to be freestanding. Honestly, the pizza oven does work better on a bench. But, the leg kit may suit some people.
The other main thing to note is that this is an inexpensive pizza oven, especially if you're not getting the leg kit. In fact, it is one of the cheapest options out there, yet is still performs extremely well.
= = > Get Pizzacraft PizzaQue Here
Pizzacraft Pizzeria Pronto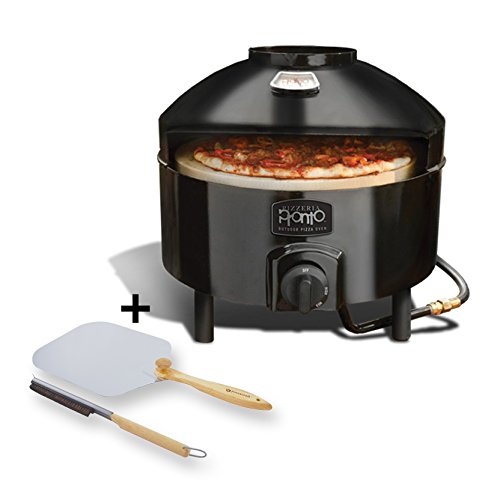 This model is basically a step up from the previous example and comes from the same brand. With this model, the style is more elegant overall and also seems to be sturdier. But, it is still roughly the same size and allows you to cook pizzas up to 12 inches in diameter.
Beyond appearance, the main difference between the two is temperature. In particular, this model preheats faster (10 minutes versus 15) and it also cooks pizza slightly faster (5 minutes versus 6). The oven can also be used again immediately, which doesn't seem to be the case with the PizzaQue.
The end result is that the Pizzeria Pronto is the faster model but is more expensive. The differences in time do make it worthwhile, especially when cooking for a crowd. But, if you're just looking for an entry-level model, then the PizzaQue would do just fine.
= = > Get PizzaCraft Pizzeria Pronto Here
Cuisinart Outdoor Pizza Oven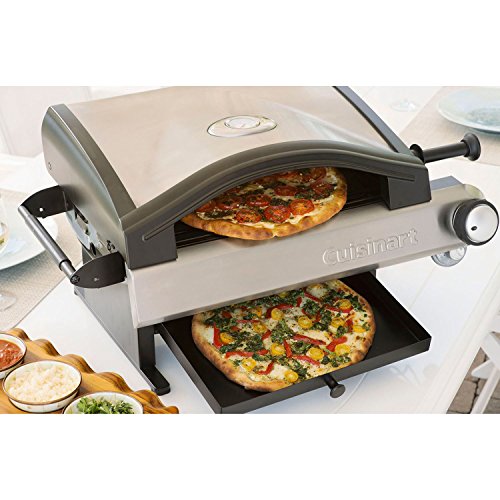 This pizza cooker is a fairly simple and small option but it is also surprisingly powerful. There are also two particularly interesting features. One is a warming drawer, which lets you keep a pizza warm while you are cooking the next one. Additionally, there is a smoke chip cup. This basically lets you smoke small pieces of wood and helps to create the wood fire flavor that is normally missing with a gas pizza oven.
The main limitation here is the temperature. Opinions vary about how hot the oven gets with claims about the maximum temperature ranging from around 500°F to 650°F. The oven also seems to be fairly sensitive to the outdoor environment. So, you may struggle to reach higher temperatures on cold or windy days.
How much of an issue this is will depend on your situation. Personally, I would rather a pizza oven that goes to 700°F or more. But, most countertop models won't do this anyway. If you don't mind the slightly lower temperature, then this model could be a good choice, especially with the smoke chip cup.
= = > Get Cuisinart Outdoor Pizza Oven Here
Mont Alpi Pizza Oven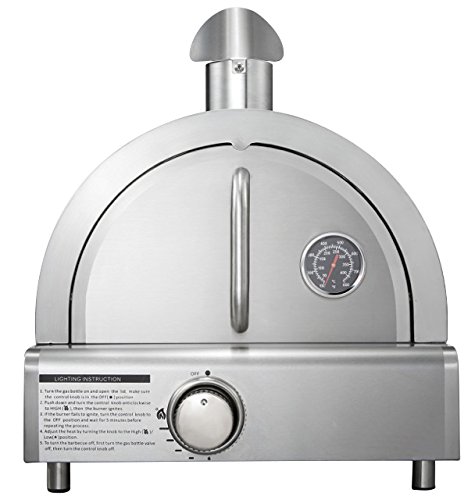 The brand here is a little more obscure and the overall design of the pizza oven is also unusual for a countertop model. However, it does only take 5 minutes to heat, which is a plus – and it also looks fairly elegant.
The physical size of this pizza oven is larger than many of the other options on this list but that doesn't mean you can cook larger pizzas. Instead, the model comes with a 12-inch pizza stone. The size of the door also means that you can't fit a larger pizza stone in there, despite the fact that the oven itself is fairly spacious.
= = > Get Mont Alpi Pizza Oven Here
Mont Alpi 3-in-1 Pizza Grill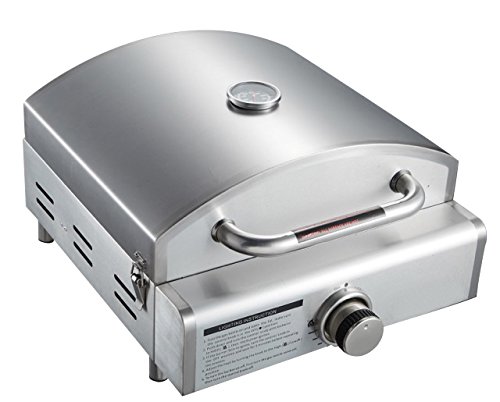 This is another tabletop option from Mont Alpi and is considerably smaller and less expensive than the first. It isn't obvious from the image but this is basically a grill that can also be used for pizzas. The key advantages of the product are that it is extremely portable and comes with a pizza stone. In fact, the whole thing is designed to be carried like a briefcase, which is fairly nifty.
Still, as a pizza oven, the product isn't all that impressive. After all, you're just working with a portable grill, so this isn't much different than using a pizza stone on your normal grill, especially as you cook with the lid up.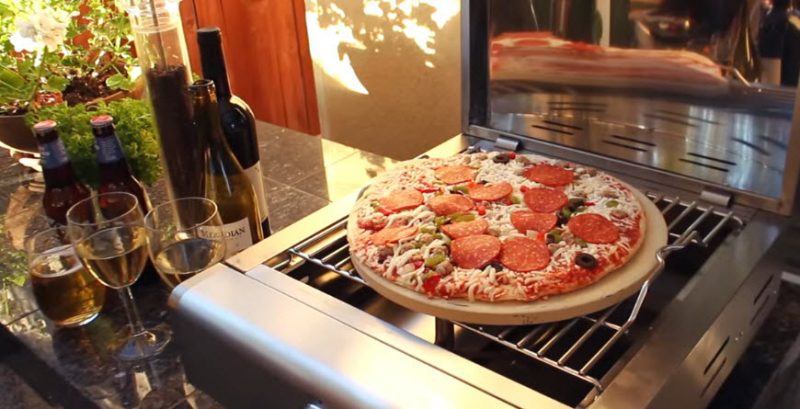 With that in mind, this product is never going to get as hot as a pizza oven should – and marketing it as a pizza oven grill is extremely misleading. So, it's a viable option if you want a portable grill for your countertop. But, for any other use, the product simply fails.
= = > Get Mont Alpi 3-in-1 Pizza Grill Here
Mr. Pizza Pizza Oven and Grill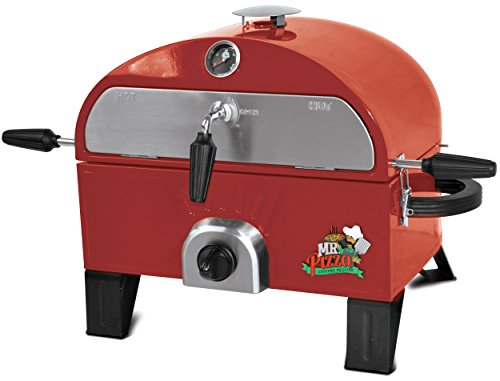 The style of this pizza oven is a little fun, even though the brand behind it isn't all that well-known. For the most part, the pizza oven works like the other options and it will cook up to a 14-inch pizza, using a standard LP gas tank as the source of energy.
There is also one fairly unique aspect about this pizza oven. In particular, it also doubles as a grill. To do so, the entire top half flips up and you do end up with a small portable grill. Being able to do this could be great for people who are short on space or who don't want a product that only does one thing.
Interestingly, the company does also offer a separate grill cart. This basically means you could have a freestanding pizza oven. Of course, that approach isn't relevant if you specifically want a countertop oven but it is an alternative worth considering.
= = > Get Mr. Pizza Pizza Oven and Grill Here
Pacific Living Outdoor Gas Oven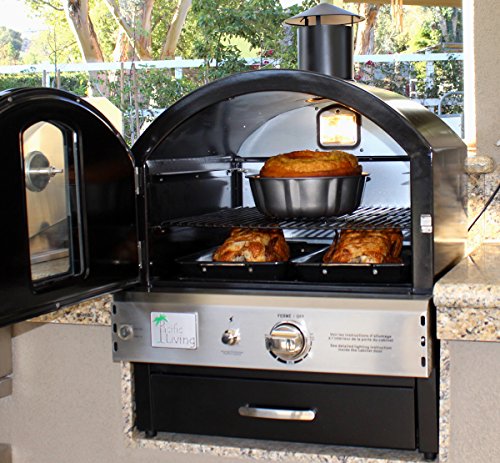 Unlike the other options on this list, the oven here isn't specifically marketed as a pizza oven. However, it is an indoor and outdoor countertop oven and it does fill the same general function. The oven is particularly interesting, as it is one of the few options on this list that actually seems to reach the 700°F temperature that you're looking for with pizza.
At the same time, it is larger than other countertop pizza ovens. With it, you have the chance to do many other types of outdoor/indoor cooking, including baking, meat and desserts. S
= = > Get Pacific Living Outdoor Gas Oven Here
Final Thoughts
All of these pizza ovens can work well and the best choice is going to depend on your budget and what you're specifically looking for. If these pizza ovens don't suit your needs an entirely different approach to consider is a grill conversion kit for your barbecue. This is a powerful style of outdoor pizza oven where you are using your own grill as a base.