There is a lot to look forward to when using a portable wood fired grill. After all, cooking with wood goes back to the stone age. Using wood to fuel your grill is also much cheaper than using gas; saving you a lot of money that can be used to restock food and beer.
At first, cooking with wood can seem as though it's only for the advanced grilling enthusiasts, but you'd be surprised with how simple it is. This old method is used by plenty of campers and also chefs at wood grill restaurants.
Cooking with wood might not provide your grill with the fastest startup time, but it makes up for that missed time with superior flavor and something relaxing to look at. What about when you want to reap the benefits of using a wood fired grill but are constantly on the move? That's where portable wood grills come in.
With these 5 portable grills, you'll be able to use wood as cooking fuel without feeling nailed down to one particular spot. You can easily transport these grills to any location and start cooking in backyard, campsite, or even at a tailgate party.
Top 5 Portable Wood Fired Grills
Cook Air Wood Fired Portable Grill
Unigear Foldable Wood Camp Burning Stove
Firebox Bushcraft Wood Burning Camp Stove Kit
Wealers Wood Burning Stove
UCO Flatpack Portable Grill
1. Cook Air Wood Fired Portable Grill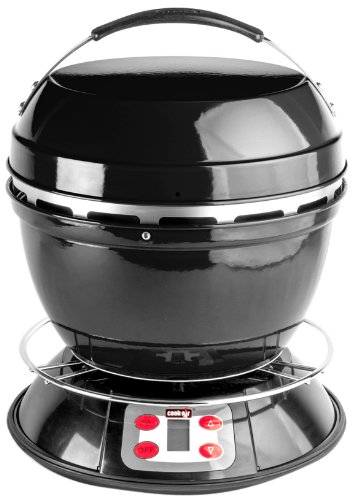 With the help of a fire starter, the Cook Air portable grill takes pieces of wood and starts up the heat source. You can also choose from 3 color options – red, black, and gray.
The startup time is quick. Within 5 minutes, this portable stove reaches an impressive 65,000 BTU's; an equivalent to 1,100 degrees. Unlike traditional wood fired grills, this grill expedites the heating process and gets right to the good stuff.
The best part about this wood fueled portable grill is that you won't have to waste time putting it together because it comes assembled. After attaching the handle, all you'll have to do is place the grill in a convenient area, grab some firewood and a lighter, and then start cooking.
For a portable stove, there will plenty of space to cook your favorite foods. With a 14-inch cooking grid, you can easily cook a mixture of hot dogs, steaks, burgers, and chicken all at once.
Those who own the Cook Air Wood Fired Portable grill typically purchase wood pucks separately to fit inside the grill, although you can chop up your own wood if you chop it down to the right size.
Positives
Comes assembled
Available in three colors
Lightweight
Starts up quickly
Negatives
Not the most durable option
2. Unigear Foldable Wood Camp Burning Stove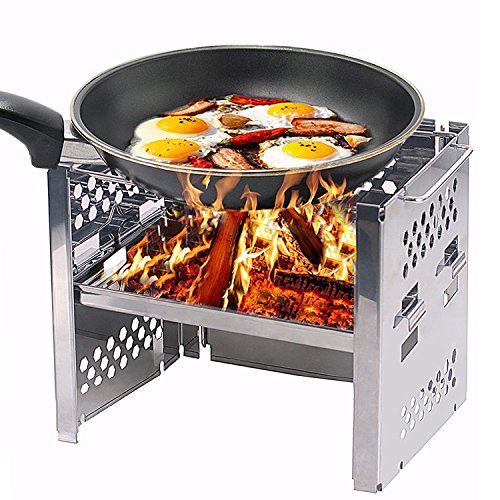 A folding stainless steel stove, this product from Unigear is great for any camper or backpacker that likes to use wood for a fire source. You will almost instantly notice the compact size of this cooking stove. When you're finished using the unit, it can easily fold flat like a notebook. It even comes with a carry bag so you can place it in a bag, backpack, or trunk. This wood burning stove is also quite affordable.
The Unigear wood burning stove will last long no matter what type of environment you decide to use it in. This grill is made with top quality stainless steel that can handle the rigors that come with portability. Buyers won't have to worry about excessive rusting or damage with this grill.
In addition to the durability, this compact wood burning stove includes a stable platform that won't wiggle while you're trying to cook your steaks. This sturdy platform helps ensure that heat is evenly distributed so that you won't have any cold sides.
These features are great for people who are looking for a quick wood burning stove that will cook your food well and give it that smoked flavor.
Positives
Easy to move
Stable cooking platform
Affordable
Negatives
Unique design may not appeal to everyone
3. Firebox Bushcraft Wood Burning Camp Stove Kit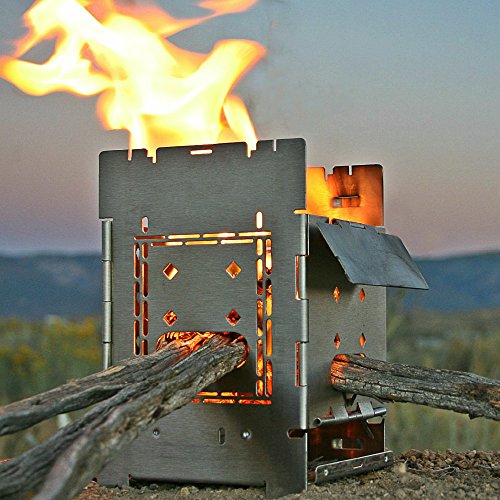 This next option offers a unique way to load wood into the stove. The Firebox Bushcraft stove kit makes it easy to insert logs and sticks and also provides the highest BTU output. Within several minutes, this stove should be hot enough to boil water.
Not everyone is an expert at using a wood burning stove. Sometimes, finding the proper setup for your wood and stove can get complicated. Firebox has several YouTube videos to help explain the necessary steps. These videos will show unique ways to arrange the wood and set the stove up efficiently.
Included with the Firebox Bushcraft stove are 4 fire sticks and a detachable ash pan. The ash pan will make it much easier to clean up the ash that accumulate and the fire sticks can be used as food skewers or even a tool to move around the burning wood.
Positives
Versatile
Durable
Easy to use
Negatives
Cleaning can be a chore
Can't adjust the cooking temperature
4. Wealers Wood Burning Stove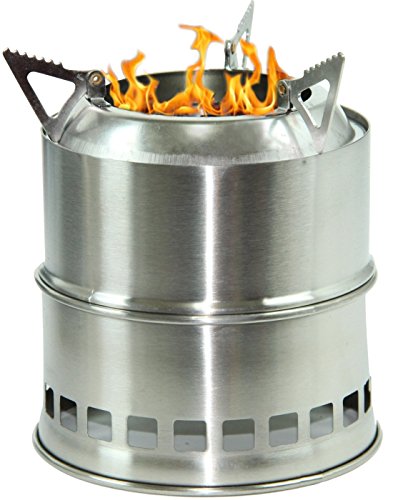 This portable wood fired grill from Wealers will be a valuable asset to anyone's grilling arsenal. The first thing you'll notice is that this grill is small, but that's a good thing when you're looking for a portable wood fired grill.
This durable stainless steel stove is extremely lightweight: coming in at 0.06 pounds! With this unbelievably low weight, you can take this wood burning stove virtually anywhere. Included is a mesh bag that can be used when you are done using the stove. All you have to do is conveniently dismantle the collapsible grill and put it away for easy storage.
This wood burning stove should last for years thanks to its resistance to all types of weather conditions. Whether it's rain, sleet, or snow, the Wealers stove is designed to hold its own in poor conditions so that it will last. The anti-skid radians applied to this stove will secure the cookware to the unit, making things easier for you.
The best part about this wood fired stove is that it prevents wind from coming in and ruining your fire. When burning wood, it's more difficult to sustain the fire opposed to other fuels like gas or charcoal, so eliminating the wind aspect will definitely be beneficial.
Positives
Collapsable for easy storage
Durable
Compact design encourages portability
Negatives
Doesn't come with setup instructions
Too small for some people
5. UCO Flatpack Portable Grill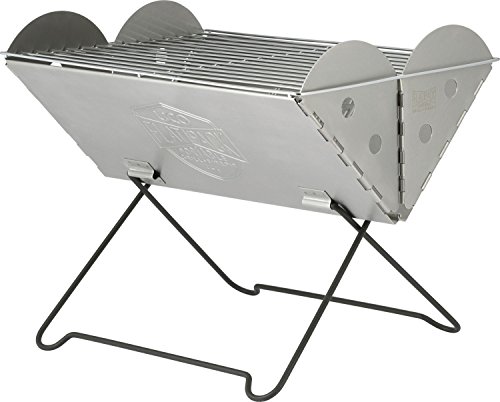 Similar to the Firebox stove, the UCO Flatpack is a portable stainless steel grill that is meant to last and easy to put away. The Flatpack comes in two sizes: regular and mini. The regular version measures 13 x 10-inches and can cook up to 6 servings, while the mini version is 9 x 6.75-inches and cook up to 3 servings.
Portability is one of the highlights of this stove. When you finish cooking, you can fold up the unit to about 1.5 inches thick. The flatpack is so small, it can fit in any small slot or backpack pocket. Setting up the grill will take less than 30 seconds, and the sides of the grill will prevent wind from getting in the fire pit and disturbing the wood from burning.
The durable stainless steel construction prevents annoying rust from coming along and eventually ruining the grill. If  grill does happen to become damaged, you can get a replacement thanks to the one year warranty provided by the manufacturer.
Positives
Easy to set up
Prevents wind from getting in
Affordable
Durable
Negatives
Seems too small for some people
Buying a Portable Wood Fired Grill
If you're going to be using wood as a fuel source, think about where you'll be when you're using the grill. If you're likely to be in an environment with inconsistent weather, your best bet is to buy grills that are made with stainless steel construction. The UCO Flatpack, Firebox Bushcraft, and the Unigear foldable stove are all made of high-quality materials. These grills are also good for someone who likes to take long hikes or camping trips, but still want to have that wood smoked flavor on their food.
Of the wood fired grills listed, the one that offers the most is the Firebox Bushcraft. You can find helpful videos that can be used to learn new ways to use the grill. The UCO has the best budget value, as it is listed at a relatively low price, yet allows you to set up the wood and start grilling. The Unigear Foldable stove is great on the run since it is easy to fold and put away.
Each stove has advantages and disadvantages. Pay attention to the overall size, including the fully constructed size and the storage size. Other features to consider include the methods used to insert wood and whether the unit is easy to clean.
About Portable Wood Fired Grills
Using wood for your grill is not a fast-paced process, but it is rewarding because of the fact that it takes time to set up and you will get some tasty food out of it. One of the biggest reasons why people like to use wood fired grills is because of the flavor it brings to their food. This taste signals the true benefits and rewards of using a portable wood fired grill.
Wood fired grills also tend to be substantially hotter than gas or charcoal. The mixture of burning wood logs gives off an overwhelming heat wave that will be extremely beneficial for grilling food. It is true that infrared and gas burners can produce a lot of heat, but they don't produce that same wood smoke flavor.
Cooking with wood grills does have its downsides. First of all, it takes significantly longer to get hot and sustain, compared to gas and charcoal grills. Wood embers are known to lose heat at a faster pace compared to traditional charcoal. While charcoal briquettes are manufactured to last for hours on end, wood burns up and requires additional logs or sticks, so you'll need a large amount of wood in order to sustain a reasonable fire.
In some cases a portable gas grill for camping would be cheaper! Gas grills are also good for all-weather conditions where wind, rain, or snow could blow out your wood or charcoal fire.
A final benefit of using a wood stove is that wood is completely natural in comparison to other cooking methods. Some people love the idea of having a heating source that is fully natural, as it will keep them away from the chemicals that arise from using gas or treated charcoal.