If you have used wood pellet smokers before, you know that cooking with wood provides a unique experience compared to other fuel methods. Though, there are going to be times where you'll want to grill instead of smoke your food. This is where smoker grill combos become useful.
There are going to be times when you can't decide whether you want your food grilled or smoked. If you run into situations like this often, it's best to consider a smoker grill combo, rather than two separate units. Wood pellet smoker grills cook food thoroughly and offer a combined flavor of wood and smoke.
Some combos have the grill and smoker placed side by side while others provide a variety of cooking setups. Choosing the right one will require a closer look at the top options. Check out the best pellet smoker grill combos…
Top 5 Best Pellet Smoker Grill Combo
Trager Lil Text Elite 22 Wood Grill & Smoker
Camp Chef Woodwind Pellet Grill w/ Smart Smoke Technology
Traeger Pro Series 34 Pellet Grill
Camp Chef PG24 Pellet Grill & Smoker
Pit Boss 71700FB Pellet Grill Combo
1. Trager Lil Tex Elite 22 Wood Grill & Smoker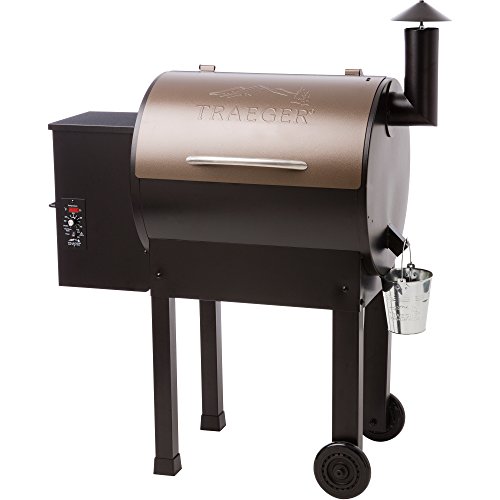 Whether you're using the grill or the smoker, the Traeger Lil Tex Elite 22 smoker/grill combo is the top choice. This combo is easy to use, with plenty of cooking space and extra features, such as a digital temperature controller. Your outdoor cooking experience will never be the same.
This is the most versatile grill and smoker combo unit on the list. With the ability to grill, smoke, roast, bake, BBQ, or braise, you can cook just about anything outdoors. It has an integrated digital elite controller that makes things easier by keeping the temperature within a 20-degree Fahrenheit range. This allows you to set the grill temperature by simply turning the dial.
You get roughly 418-square inches of cooking space, which is enough room to cook for the whole family. You can cook 4 whole chickens, 16 burgers, or 5 racks of ribs at the same time.
You can expect to pay a relatively high amount for this outdoor cooking unit, but you'll be getting your money's worth in return. Between the surplus of cooking options and easy to use temperature controls, the 6-in-1 Traeger grill/smoker combo deserves to be at the top of the list.
Positives
Easy to use temperature controls
Negatives
2. Camp Chef Woodwind Pellet Grill w/ Smart Smoke Technology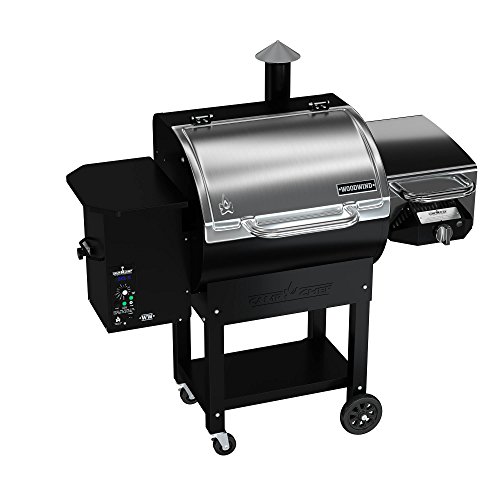 The Camp Chef Woodwind Pellet grill stands out for having Smart Smoke Technology. This advanced technology helps ensure that the heat is always consistent. An automatic auger feeds wood pellets into the grill as needed to maintain the desired temperature, while also providing just the right amount of smoke for your food. 
The digital temperature control simplifies the process of keeping the heat consistent. Simply twist the knob to adjust the temperature. It even has a digital LED display to show you the current temperature.
Just like other smoker grill combos on this list, the Camp Chef Woodwind has many uses. With this unit, you can smoke, grill, braise, barbecue, and bake some of your favorite foods; hassle-free. 
There are about 570 square inches to cook with, so make sure you have a lot of hungry people with you when you start up the grill. The primary grill platform can reach a wide range of temperatures; between 160 and 500-degrees Fahrenheit!
Cleaning the grill might seem like a chore to most people. Luckily, the Camp Chef Woodwind won't take long to clean. The Ash Clean-out system gives you a tool to get rid of the ashes. Clean up is easy and you get lots of cooking space, making this one of the better grill/smoker combos.
Positives
Patented ash clean-out system for easy cleaning
Negatives
Temperature sometimes fluctuates unwarranted
3. Traeger Pro Series 34 Pellet Grill

With 6 different cooking options, 884 square inches of cooking space, and a variety of color options, the Traeger Pro Series 34 pellet grill has it all!
Big families can take full advantage of the extra-large cooking surface of the Pro Series 34; with the ability to cook up to 55 hamburgers at 36,000 BTU's! This impressive measurement will give you the space needed to cook a variety of meats, whether it's a rack of ribs or chicken breasts.
Speaking of variety, you'll have plenty of options to choose from when you're ready to start cooking. This is a 6-in-1 unit, so you'll be able to grill, braise, bake, roast, smoke, and barbecue all in one grill.
The steel construction ensures durability, regardless of the weather or how often you use the grill. There is also a side lift bar for moving the grill into storage or to the next cookout. The all-terrain wheels are also great for portability.
Positives
Very large cooking surface
Available in bronze or blue
Easy to use Digital Pro controller
Negatives
4. Camp Chef PG24 Pellet Grill & Smoker

Another exceptional smoker grill combo from Camp Chef, you can set it and let it cook. There's no need to tend to the smoker all day while everyone else is socializing. The 570-square inch cooking surface with the removable warming rack will give you a lot of space to cook for a large gathering. It is also reasonably priced compared to other grill combos.
The PG24 pellet grill is essentially a budget version of the Woodwind smoker grill combo. While it may have a similar shape and some of the same functions, the PG24 is priced significantly lower; an appealing factor for select buyers.
Another thing people will like is the patented ash clean-out system that is found with select Camp Chef cooking units. All you'll have to do is pull a lever and the ash that has accumulated from cooking will be disposed of. 
Positives
Negatives
Temperature sometimes changes without controlling it
5. Pit Boss 71700FB Pellet Grill Combo

The Pit Boss 71700FB is your typical wood pellet smoker grill combo. The biggest difference between this smoker grill combo and others is the sizable cooking surface. The Pit Boss 71700 FB has a total cooking space of 700 square inches, so those who have large families and groups of friends to cook for should aim for this smoker grill combo.
Along with this large cooking surface comes durable cast iron grids. The grids are made with a porcelain coat that will increase their overall life expectancy. No more worrying about your grids deteriorating after frequent use, as these grids will hold up no matter what.
There are two sturdy wheels underneath the smoker grill combo that will help you move the unit when needed, as well as a platform that can be used to place things such as the wood pellet bag, seasonings, food, drinks, and more.
The Pit Boss 71700FB has a digital control burn system that is very similar to other brands. This system will burn wood pellets slowly. There is a dial underneath an LED display that will show you the temperature in real time. You can then add the natural wood pellets by opening the top lid and pouring them in.
Overall, this smoker grill combo is great for people who like to cook a wide variety of dishes and want to save money.
Positives
Efficiently digitally controlled burn system
Easy read thermometer on lid
Negatives
Buying a Pellet Smoker Grill Combo
Now it's time to figure out how to buy the right smoker grill combo. With each brand come a variety of sizes, shapes, and uses, so make sure to take your time and then pick what's best for you.
Pricing is crucial for most people. Smoker grill combos such as the Camp Chef PG24 and the Pit Boss 71700FB are budget grills that still provide excellent results despite a lower price tag. 
You should also consider the cleaning process. If you're the type of person who doesn't like to clean after cooking on the grill, consider smoker grill combos such as the Camp Chef Woodwind grill or the Traeger Lil Tex Elite 22. The Camp Chef brand has a patented ash clean-out system that will overshadow the competition, and the Lil Tex Elite 22 is a generally easy to clean product as well.  
The next consideration is the cooking surface. All 5 smoker grill combos discussed have plenty of space for cooking for the entire family. The larger size makes these grills less portable. If this is an issue, look at our list of the best portable pellet smokers.
Wood pellets are not the only fuel source for smoker grill combos. You can find comparable options by examining the best charcoal smoker grill combos. As with the combos in this list, they offer plenty of cooking space, but with a different fuel source.
About Pellet Smoker Grill Combos
Smoker grill combos provide the best of both worlds – grilling and smoking. This provides more ways to prepare food and enjoy outdoor cooking, while giving your food that signature smoky flavor.
Smoker grill combos can also save you a lot of time. Wood pellet smoker grill combos will get hot quickly and provide consistent heating. With some units, you can even control the temperature with a push of a button or turn of a dial. Within 10 to 15 minutes, you'll be ready to start cooking. Electric smoker grills also cook quickly, but some people claim they don't provide the same flavor as a natural fuel source.
Wood pellet smoker grills cannot be used indoors. Just like gas and charcoal grills, wood pellet grills create this thick smoke texture that will set off the fire alarms if it doesn't already give you carbon monoxide poisoning. This is a grave issue that shouldn't be taken lightly, so keep the wood pellet smokers outdoors.
You can tell these things are durable just by looking at them; they look like tanks. While materials vary by brand, most smoker grill combos are made with a thick metal that is meant to keep the high levels of heat within the grill and prevent rusting.
After you're done feeding the wood pellets into the opening you can sit back and watch the food cook for a reasonable amount of time. Wood pellet smoker grill combos are basically just as convenient as a gas grill, yet it provides the smoked, wood type of flavor that most of those grills are missing.