Our Picks For Top Charcoal Camping Grills
For its versatility and convenience, the best charcoal camping grill we found is the Firebox Bushcraft Camp Stove Kit. The numerous cooking options and the fact it can even be used as a heater mean campers have more benefits from this one grill than they may get from several others put together.
After use, the stove is simply folded flat which means it takes up very little space in your rucksack making it perfect for backpackers, campers, and hill walkers.
Short List Of Our Favorite Charcoal Camping Grills
Firebox Bushcraft Camp Stove Kit
Hisea Portable 8-in-1 Outdoor Stove Kit

Volcano Grills 3-Fuel Portable Camping Stove

Cuisinart CCG-190RB Portable Charcoal Grill
Lodge L410 Pre-Seasoned Sportsman's Charcoal Grill
The Hisea Portable 8-in-1 Outdoor Stove Kit is another very versatile outdoor cooker which has four different grill plates to boil, roast, grill, or fry food for those who love tent or RV camping.
It can be fueled in several ways, is easy to clean and with a carrying case and cooking gloves included is very good value for money.
The Volcano Grills 3-Fuel Portable Camping Stove is ideal for those who like to cook an entire meal all at once when outdoors. It has a large cooking surface upon which meats and veg can be cooked together.
It is extremely easy to set up and camp cooks will love the adjustable heat vent which allows them to heat up food at just the right rate.
For a charcoal camping grill that can cook as many as 7 burgers at a time, you should consider the Cuisinart CCG-190RB Portable Charcoal Grill. This has a cooking surface with a 14-inch circumference meaning more food can be cooked at once.
A chrome plated surface to provide a durable, easy to clean surface and an ash catcher underneath will please users who hate cleaning up a mess after cooking.
If longevity and durability are important to you then the Lodge L410 Pre-Seasoned Sportsman's Charcoal Grill fits the bill with its sturdy cast iron construction. This is an impressive looking grill which is very easy to use and does a great job of cooking steaks, burgers, fish and chicken.
Its weight means it might not suit being carried when backpacking but it is ideal for tailgating, patios or car camping.
#1 Firebox Bushcraft Camp Stove Kit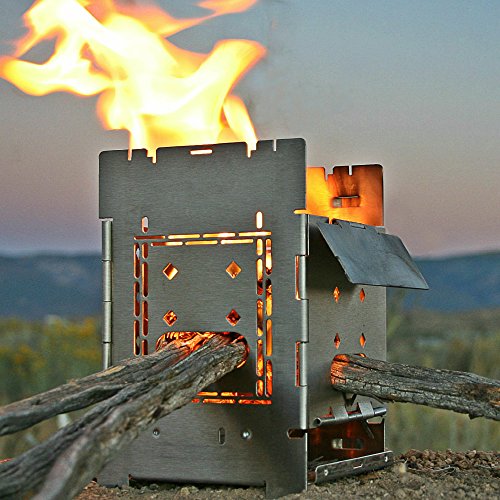 Our best charcoal camping grill is the Firebox Bushcraft Camp Stove Kit. To be honest, simply calling it a grill does it a large disservice given its versatility in offering many other features to campers when cooking outdoors.
There are many fuel choices such as gas burners, butane, gel fuel, liquid fuel, wood pellets and of course charcoal. The adjustable damper can be used to increase the heat intensity to speed up cooking times and boil water quickly.
Multiple positioning options allow the stove to be adapted for several cooking modes such as baking, grilling, and frying. This variety means you can cook delicious food ranging from fried salmon steaks to baked cookies.
The Firebox stove requires zero construction and its hinged stainless-steel design enables you to fold it flat in your rucksack, leaving more room for all the delicious food you're going to cook with it.
If it gets cold when you are camping, the stove can even double up as a portable campfire to keep you warm, as well allowing the obligatory marshmallows to be roasted.
Other useful features include the detachable ash pan to make cleaning easier and four firesticks which can act either as skewers or to position the grill plates when cooking.
This product also has several optional extras available such as carry cases, cooking accessories and additional cooking plates.
Things We Liked
Several choices of fuel
Multiple cooking options
Can be used as a heater
Folds flat to save space
Easy to clean and maintain
Things We Didn't Like
Bit of a learning curve to fully utilize
Useful accessories cost extra
#2 Hisea Portable 8-in-1 Outdoor Stove Kit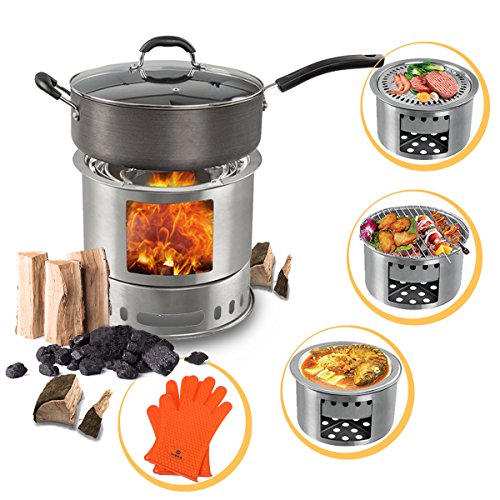 When camping, if you prefer to prepare a meal rather than just cook food then this Hisea outdoor camping stove is the answer as it gives you several cooking modes with which you can display your outdoor culinary skills.
Naturally, it can be used as a charcoal camping grill to cook steak, and burgers but it has other cooking options such as roasting potatoes, boiling vegetables, and barbecuing chicken. You can even fry cook some bacon and eggs for a delicious, hot breakfast.
You have options for fuel as the Hisea stove can also cook with solid fuel pellets, and if you ever run out of charcoal, leaves, twigs, and even pine cones may be used.
It is suitable for tent camping, RV camping, picnics and is perfect for mini-barbecues in the garden. The Hisea stove is also ideal for cooking snacks or meals when participating in other outdoor activities such as backpacking, fishing or hunting.
The stove is very simple to use, easy to wash and it also comes with a very convenient zipped carrying case. The cooking plates are all included and there is a very useful pair of oven gloves included to prevent your hands or fingers getting burned.
Things We Liked
Multiple cook modes
Four different cooking plates
Easy to clean
Cooking gloves included
Comes with convenient carry case
Things We Didn't Like
No cooking utensils
Outside surface easily scratched
#3

Volcano Grills 3-Fuel Portable Camping Stove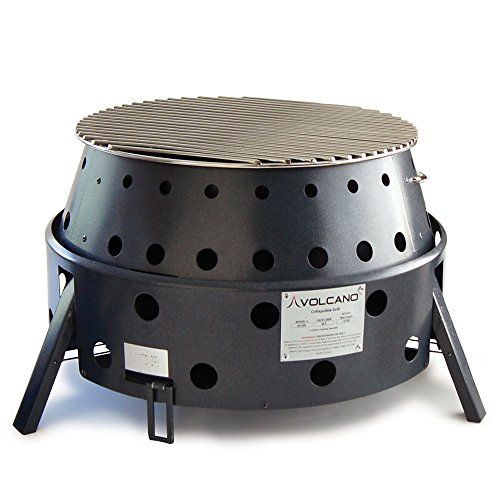 Volcano is well renowned for their range of outdoor cooking equipment and with their Volcano Grills 3-Fuel Portable Camping Stove, they have produced another exceptional product.
Before opening its carry case, you'll be forgiven for thinking its appearance looks more like a round hat box than a grill but rest easy. as contained within is a grill designed to cook a huge variety of outdoor food.
When you remove the grill from the carrier, lifting its handle and extending its legs instantly set it up, ready to cook whatever food you have on the menu.
Once you have added and lit the fuel, the Volcano grill's unique heat chamber will conduct the heat extremely efficiently and with an adjustable heat vent, you can control cooking speeds and fuel use.
Charcoal is the primary fuel which you use for cooking with the Volcano grill but it can also be fuelled using propane, and if the need arises small wood chips or sticks can also be used.
When the time comes to cook your food, the grill has a very generous 144 square inches of cooking surface which lets you prepare all your food at once instead of in installments.
There are also several optional accessories available such as a reversible skillet, skewers and a 12-inch Dutch oven to complete your outdoor cooking ensemble.
This Volcano charcoal stove is perfect for outdoor cooking when camping, on picnics or for use on your tailgate.
Things We Liked
Large cooking surface
Set up and ready instantly
Adjustable heat vent
Choice of fuel
Carry case included
Things We Didn't Like
Legs seem small for size of grill
Difficult to clean
#4 Cuisinart CCG-190RB Portable Charcoal Grill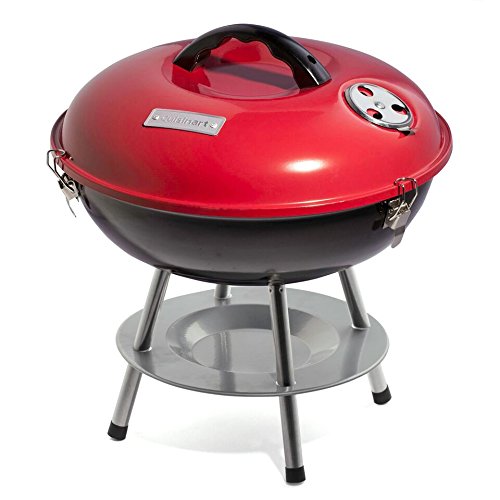 When it comes to simplicity and convenience when cooking outdoors there are few products which tick both these boxes better than the Cuisinart 14″ Portable Charcoal Grill.
This Cuisinart grill is extremely lightweight and therefore very easy to take with you camping, on picnics, or when you want to cook with your tailgate down. It can also be set up on a garden table or counter for a mini BBQ whenever you fancy eating outdoors instead of inside.
The grill is round with a 14-inch circumference and to some, might look more like a wok than a grill. The cooking area is a massive 150 square inches which gives any outdoor chef all the grill space they'll need to cook meat and vegetables with room to spare. When it's burger time you can easily get 6 or 7 burgers on the go, so everyone can eat together.
Controlling cooking speeds is simple with the dual vent which allows you to regulate the heat intensity depending on what food you are preparing. It will also let you control the speed of your charcoal fuel burn.
When you've finished cooking, there's no need to worry about any excess mess, as the grill has an ash catcher, and in any event, it is very easy to clean. A durable enamel finish will help keep it looking good for many cook outs to come.
What We Liked
Very large cooking area
Double vent to control heat intensity
Durable chrome plated finish
Ash catcher to reduce mess
Lightweight for easy transit
What We Didn't Like
Grill rack tends to move when cooking
Poor instructions
Oh, and if you're thinking of buying this style grill, the more popular brand is the Weber Smokey Joe. Personally, I like the Cuisinart brand because it's cheaper, and since I'll be lugging it around I won't worry a cheap item getting beat up. However, Weber is a more trusted name in grills, so this particular brand tends to sell more, and there are fewer complaints about the quality of materials.
It's only about a ten dollar difference, so the choice is up to you! Both are 14-inch and relatively the same style.
#5 Lodge L410 Pre-Seasoned Sportsman's Charcoal Grill
The phrase 'rugged outdoor types' normally refers to bearded hunters or weather-weary mountaineers but the term also suits the Lodge Sportsman's Charcoal Grill perfectly.
One look at this grill and you can tell from its cast iron construction and sturdy design that it should easily withstand the rigors of outdoor cooking and that it is most definitely built to last. The pre-seasoned coating on the cast iron is further evidence of Lodge's desire to make this a durable product.
Whilst the durability is welcome, the price paid for this is the grill's weight of 32 pounds which means it is not the most portable of outdoor cooking equipment. For this reason, it is more suited to tailgating, patio cooking or car camping, as carrying this grill in a rucksack for any length of time is not going to be easy.
Cooking is a simple matter of lighting your charcoal and then placing your food on the cast iron grill plate. Whether you are grilling, frying or simply boiling water for coffee you can increase or decrease the temperature by adjusting the draft door.
By flipping the grilling surface over it can sit at two different heights which are either closer or further to the hot charcoal and thus give heat variation when cooking.
For convenience, the grill has a carry handle to move it to different positions and there is also a shelf which can be used to hold any cooking utensils you are using.
What We Liked
Sturdy cast iron construction
Pre-seasoned surface
Easy to use
Adjustable heat vent
Carry handle
What We Didn't Like
Very heavy
Difficult to clean
#6
Char-Griller 2-2424 Table Top Charcoal Grill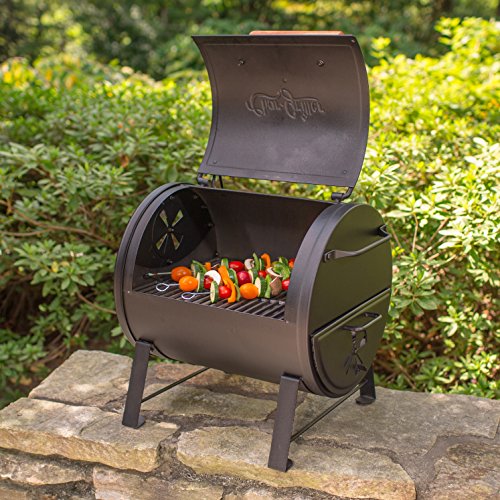 One of the most popular portable charcoal grills on Amazon, this is a beautifully designed mini grill. What we really liked about this grill is that it has a side hatch for reloading coal or wood, or just moving things around. This type of grill wouldn't be ideal for hiking through the wood, but it's small enough that you could toss it in the back of your truck or RV without a problem. It doesn't take up much space.
This grill would also be great for an apartment balcony where space is limited.
Although the listing says that it can also be used as a Texas style smoker attachment, the reviews of doing this are mixed. Yes, it works, but there were complaints about the support bolts not being long enough for some grills, and the high heat destroying the exterior paint. As a regular grill, you probably won't be running temperatures that hot, so may not have these cosmetic issues.
Anyway, once you convert it to a smoker, you can't go back to the grill, so we recommend leaving it as a mini grill!
What We Liked
small size and portability
durable
great design
side loading charcoal/wood
can be used as a firebox for smoking
What We Didn't Like
paint peels when used as a smoker
---
Buyers Guide For Charcoal Camping Grills
When trying to find and buy the best charcoal camping grill there are several variables to consider, all of which will help decide which one is right for you.
First, think about the sort of outdoor pursuits you are going to be embarking on, and how they might influence which outdoor grill is going to be the most suitable. For example, if you are a tent camping enthusiast or going on long backpacking trips, the weight and size of the grill should be as minimal as possible.
Having a large grill in your rucksack that weighs a lot not will not only wear you out quickly but also limit the amount of food and other equipment you can carry. Look for lightweight grills that are relatively small or ideally those that can be folded flat.
If you are more likely to cook outdoors when RV camping, using a tailgate or simply having steak on the patio, size and weight are not so much of an issue. Heavier grills tend to be more robust, and the advantage of larger charcoal camping grills with more generous cooking surfaces means more food can be cooked at the same time.
The next matter to think about is the sort of cooking you hope to employ and more specifically the sort of cooked food you want to eat outdoors. If you want simple foods like burgers or chicken then the easiest of charcoal stoves which can grill or fry will suffice. Alternatively, if you want to extend your options to include baking and roasting for example, then check the grill's features beforehand to see if these are possible.
Some grills come with a variety of cooking plates, which allow for food to be cooked in different ways and others can be configured to various cooking modes with the use of accessories. Despite the fact you are cooking outdoors some of the more versatile grills will enable you to cook pretty much anything that you'd normally cook indoors.
On the subject of how and what you can cook, this can be aided by being able to adjust the heat intensity up or down depending on what you are using the grill for. The adjustment can be in the form of a vent, a sliding aperture or just a simple matter of what way up the grill plate is. Most charcoal camping grills will have some means or another to make these heat adjustments so pick the one which most matches the level of control you want when cooking outdoors.
Accessories and extras vary a great deal between charcoal grills with items like carrying cases, cooking gloves, skewers, extra cooking plates and cleaning pads just a small sample of what's available. Some products come with extras included, and some don't so clarify this before purchasing especially if one of those extras is a 'must have' for you.
The Unique Experience of Cooking Outdoors With A Charcoal Grill
The experience of cooking and eating food outdoors when one is closest to nature cannot be beaten. You might argue that a prime steak cooked to perfection in the local restaurant is better but the question then is about the food itself, not the experience.
Steaks cooked on a charcoal grill aren't meant to compete with the ones the sous chef at the best steakhouse in town can prepare. What we're talking about here is being outside in the fresh air, setting up your grill, cooking your food and then enjoying it with not a waiter or a check in sight.
Of course, it's not just steaks that a charcoal grill can be used for, as there are literally hundreds of foods that can be cooked and in several different ways. Depending on the charcoal grill you purchase the options for cooking can include roasting, grilling, frying, broiling, steaming and baking.
Yes, that's right, there are charcoal camping grills that you can use to bake bread, cakes and even cookies. If you thought the smells of grilled salmon or fried bacon were sensational, just imagine the sheer delight of freshly baked bread tantalizing your sense of smell.
One element of cooking where indoor cooking equipment has the upper hand is the degree of control it gives you. Whether it's your eye level oven, electric hob or microwave, the convenience of selecting the heat level, setting the timer and then being alerted when your food is ready can at times be desirable. But big a sense of achievement or level of enjoyment does it give you compared to cooking outdoors? Not a lot!
Think of the fun grilling chicken, boiling potatoes, and steaming vegetables with hot glowing charcoal providing the heat from underneath. Imagine the anticipation of watching your food cook and at the same time experiencing all the smells and sounds as it does so.
Picture the scene as you look around at your environment and realize the great outdoors has effectively become your kitchen. And when you finally sit down to eat your freshly cooked food, savor the unique smoky flavor that it has inherited from the charcoal grill.
Thinking of more practical matters, there are other fuels that can be used for outdoor grills and in several cases, grills are able to be fueled by more than one type. Wood is an obvious one and this is very useful when the primary fuel source runs out and the grill can be fueled by twigs.
Propane and butane gas are fuels which many charcoal camping grills can also use. Their biggest advantage is they heat up very quickly compared to charcoal which can take several minutes. Many people prefer propane camping grills!
On the downside, they can never hope to recreate the flavor that charcoal can infuse in food.
The final point about charcoal camping grills is that they are not just for cooking food on trips when you pack your tent and trek off into the countryside on a camping trip. Pretty much all of them can be used for whatever outdoor activity you are participating in. Other sorts of camping such as driving to a campsite or when using an RV are perfect opportunities to use a charcoal grill to cook your meals.
Picnics and garden BBQs can be greatly enhanced when the food is cooked using charcoal grills and even if all you want is to sit on the patio with a beer and a burger, why not put your grill to good use on these occasions too. Any kind of day out such as going to a fair or a sports event can be made extra special, especially if your vehicle has a tailgate to place the charcoal grill on whilst it cooks.
Whether you are an avid camper or just enjoy the odd day trip to the country, love regular BBQs, or an occasional picnic, cooking outdoors using a charcoal grill is an experience not to be missed. Apart from the enjoyment of the actual cooking, the real reward comes when you taste your food with a flavor that no other type of grill can replicate.