Making food at home is pretty simple. You have everything at your fingertips, including your fridge, freezer, cooking appliances, and plenty of ingredients. Finding suitable food for camping takes more work.
For one thing, you just have the ingredients you brought with you. Even if you have a large car, you're not going to pack your entire pantry. And, if you're walking some of the way, you'll be limited in how much food you can carry. The trick is to find meals that you can cook that don't need an insane amount of ingredients. Ideally, you want to be using the same ingredients for a few different dishes.
You'll also be looking for food that's easy to transport. You might be lucky enough to have a small fridge that runs off your car battery, but even if you do, it's not going to have much space.
Regardless of where you're camping, whether you have refrigeration, and how long you're going for, you'll need to cook carefully. So, with this camping food list, we're taking a look at some of the best ingredients you can bring and what you can do with them.
If you're only camping overnight, then you'll have more flexibility. You could even bring picnic foods with you and avoid any cooking while you are camping.
Food For Camping
Eggs

Eggs might be on the fragile side, but they're essential for so many recipes. They're also an easy way to add protein, texture, and flavor to countless meals. You can boil them in their shells, scramble them, add them to a breakfast bake, or take one of many other approaches.
Try using scrambled eggs as an ingredient in breakfast burritos or sandwiches. You'll be surprised at how much better everything tastes.
To make life even simpler, try ditching the shells altogether. You can crack multiple eggs into a bowl before your trip, mix a little salt in, then store these in a plastic bag or container (make sure to double seal whatever you're using). You can even freeze the eggs if you don't mind waiting for them to defrost later.
Cheese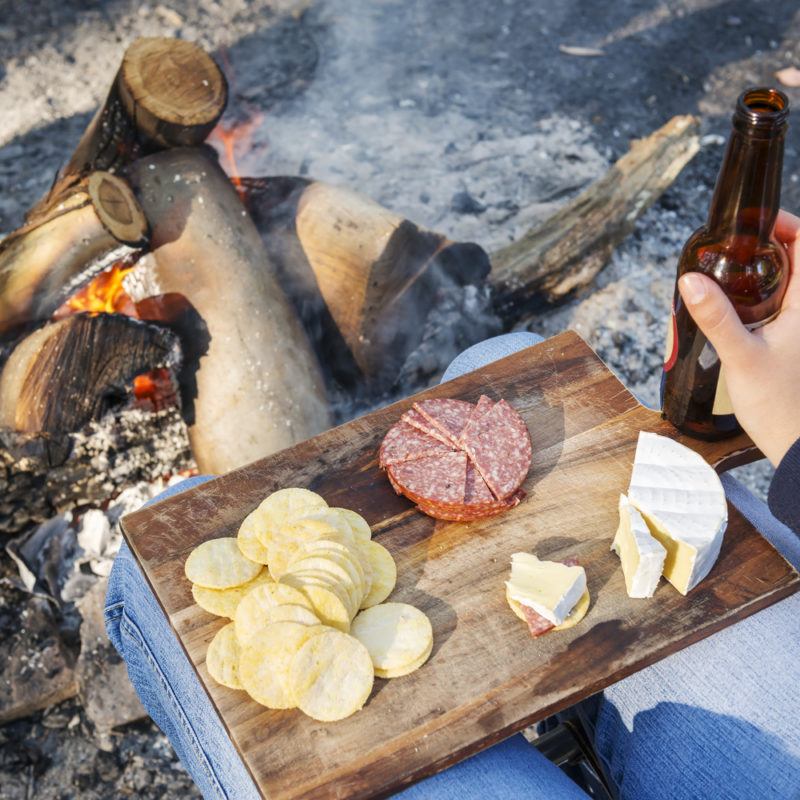 Cheese mightn't seem like a big deal, but it is another ingredient that can make a huge difference. After all, most meals taste better with a little cheese, whether this means including cheese as part of the recipe or sprinkling it over the top of the finished meal.
Plus, cheese helps to make meals taste more exciting and complex. This can be important when the dish doesn't use as many ingredients as you might have at home.
Don't forget about other types of cheese either. Soft cheese like brie and camembert are delicious when you're out camping. Aged cheese can be pretty good too.
While most types of cheese need to be kept in the fridge, some hard aged cheeses can easily be kept out for a few days. Parmesan is a classic example. Such cheeses aren't as versatile as cheddar, but they're still better than no cheese at all.
Tortillas

Tortillas are one of the easiest ways to turn a bunch of ingredients into a meal. Countless combinations taste delicious when wrapped up in a tortilla, including meat, beans, cheese, egg, and even hash browns.
Tortillas are also extremely practical for camping, They take up hardly any space and you don't need to worry about crushing them. If your tortillas are sealed in a bag with a moisture remover, they'll also last for a long time.
And, if all of that weren't enough, you can also use tortillas to mop up and eat leftovers, whether that is the last bit of your meal on a plate or leftovers in a cooking pot. This is much easier than trying to scrape food off your plate with a knife and fork.
Ground Beef

While steak is a delicious choice in any situation, including camping, ground beef is much more versatile. You can easily use it in countless meals and, as a bonus, it cooks quickly.
If you have all the ingredients with you, why not make hamburgers? The patty should be the only part that needs to be cooked, while the rest just requires some assembly.
There are plenty of other meals to try, including spaghetti and chili. Why not stuff some cooked beef into tortilla shells? Beans and cheese could be great additions too.
Chicken

Chicken is another go-to type of meat, partly because it's so versatile. Like beef, chicken provides plenty of protein and other essential nutrients. It's also a powerful way to bulk out any meal, making it much more filling.
Your options for preparing chicken are almost endless. Barbecuing may be one of the easiest ways to go when camping. This could involve threading chicken chunks onto a skewer and cooking them that way or barbecuing whole pieces of chicken.
Chicken is a fantastic addition to a soup or a stew as well, which can be an even easier way to cook the bird.
However, some care is needed. While food safety is important for any type of meat, it's crucial for chicken. It's easy to get food poisoning from chicken, which is the last thing you want if you're camping away from home. So, if you're not sure whether you can keep your chicken chilled, it's best to skip fresh chicken and focus on other ingredients instead.
Bacon

We can't talk about camping and meat without mentioning bacon. The smell of bacon cooking in the morning is heaven to many people, so why not experience that pleasure at your campsite?
Bacon cooks quickly too, which is always a good thing. And, much like eggs and cheese, bacon can make almost any meal taste that much better.
If cooking at your campsite will be difficult, try looking for precooked crumbled bacon. This way you still get the delicious flavor of bacon without much work at all.
Jerky

Fresh meat might not be a viable option if keeping food cool is difficult. You'll need to look for more stable options, like jerky. You can't include jerky in as many meals as bacon or minced beef, but you can still find uses for it.
Take the time to find good jerky. Some products taste amazing, while others are well below average. Finding delicious jerky may involve checking out some artisan suppliers, as small companies often produce better food than large ones.
Fruit

Fruit is a fantastic way to refresh your palate and provides often-needed moisture. It is also a sweet treat, one that is much healthier than a processed dessert or candy bar.
You'll need to think a little about the fruit you want to bring and how you're going to store it. Because your camping clobber often gets jostled around, you don't want any fruit that's going to bruise or get punctured easily. If you're going to bring the fruit along whole, stick to resilient options, like dried fruit, oranges, pears, and apples.
More delicate fruit can be brought along if you peel and slice it first. Some sliced peaches in juice, for example, can be delicious and will travel much better than a whole peach.
Beans

Beans can be an addition to many meals or the star of a dish in their own right. Either way, they offer a decent hit of protein, along with plenty of other nutrients.
The trick with camping is to prep and cook the beans beforehand. This way you can just reheat them in a pot over the campfire without worrying about soaking the beans or cooking them for too long.
Beans pair well with many other ingredients, like rice, potatoes, or bacon. And, of course, beans are a classic chili ingredient.
Lettuce

Lettuce isn't the most practical camping food, as it can be bruised and doesn't stay crisp and delicious for a long time. Even so, it can be an essential food on short camping trips. Few other ingredients help to balance out a meal in the way that lettuce can.
The effect is most obvious when you include lettuce in a sandwich, but lettuce also helps to bring other meals to life, including tacos and burgers. You can even make a salad by using lettuce and a few other fresh ingredients.
Lettuce has a decent moisture content, so it can help to keep you hydrated too. Of course, lettuce is low in calories, so you'll need some protein-packed ingredients as well to create a meal.
Bread

We can't leave bread off this list. Slices of bread are essential for sandwiches, French toast, or as a side to a hearty meal like chili. Don't forget hamburger buns and hotdog buns either. Hot dogs and hamburgers are both important camping meals and they're simply not the same without the proper bread.
There are other options too, like artisan loaves of bread, bread you can easily tear apart, pita bread, and bread rolls. Each type of bread has its own set of uses and advantages.
You can't bring every type of bread under the sun with you on your camping trip (nor would you want to), so look for the type(s) that will suit your planned meals the best. Think about how you're going to carry the bread too, as it's easy to squish loaves of bread.
Bringing bread with you isn't your only option. You could also try making it. Baking bread while camping isn't as difficult as it sounds. Some recipes only use a few ingredients and were written with camp cooking in mind. This Campfire Bread on a Stick recipe is one example that you can try for yourself.
Potatoes

The humble potato has a surprising number of advantages. The first is its nutritional profile. Despite their sometimes poor reputation, potatoes have a surprisingly good nutritional profile, so they can be good for you.
Potatoes are also resilient, so they'll survive the bumps of your journey to the campsite without any problem at all.
Plus, not only are potatoes easy to cook and eat, but they're also the perfect ingredient to load up with toppings. The simplest option is to serve potatoes with melted butter, but extra ingredients can make the potatoes better still. Consider grated cheese, tomatoes, salsa, or even Greek yogurt.
Serving baked potatoes isn't your only option. You can use potatoes in other ways too, such as mashing them, refrying them, or using potato chunks in a stew. With so much versatility, it's not surprising that potatoes make it onto this camping food list.
If you're not fond of regular potatoes, why not bring along sweet potatoes instead? These look and taste different than white potatoes, but you can use them in many of the same ways.
Chocolate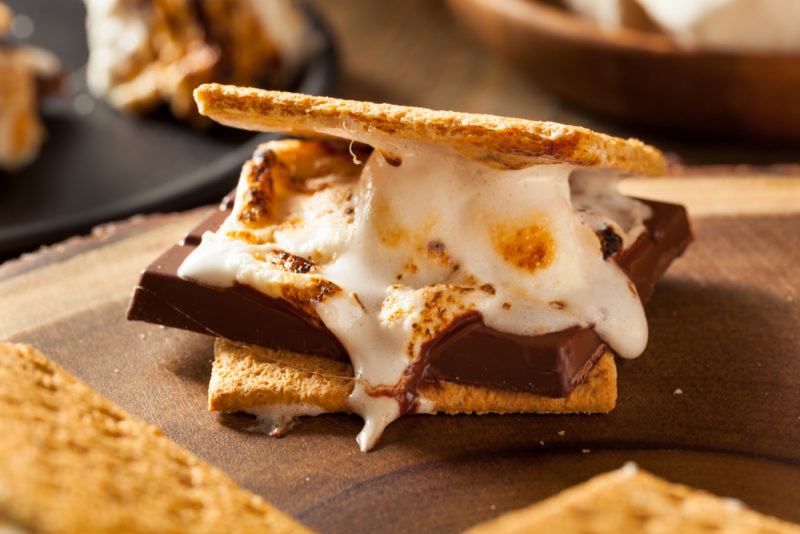 Camping foods don't all need to be savory and filling. It's worth bringing a few sweet treats for your trip as well. Chocolate is an obvious choice and not just for making s'mores.
The reason for choosing chocolate is that it is delicious and sweet on its own, while it can also be used as an ingredient. Chocolate happens to be incredibly popular, so it's a great way to make most people happy.
You could turn to dark chocolate too. This isn't as classic as milk chocolate for camping, but why not? Dark chocolate can be just as tasty as milk chocolate and you don't need as much to feel satisfied.
Oatmeal

If you need more breakfast options, why not try making oatmeal? It's an easy dish, even when prepared on a camping stove. Plus, you can add any number of toppings to it, including nuts and fruit.
Instant oatmeal packs work well too. These are pre-flavored and cook quickly. Using these makes preparing oatmeal even easier still.
Pancakes

Speaking of breakfast, how about pancakes? They're always popular and aren't that difficult to make while you're camping.
A box of pancake mix helps to make everything easier. You just need to add some liquid and you're often good to go. If you prefer to go the homemade route, why not make something similar yourself?
Don't forget something to go on the pancakes, like jam, syrup, or even a dab of butter.
Spreads

For that matter, having at least one or two spreads can make your camping experience that much more enjoyable. After all, you're probably bringing some bread anyway and spreads are the easiest thing to put on it.
Peanut butter is a crowd favorite. It's also high in protein, so it's an easy way to keep people satisfied. Other options include jam, honey, and homemade preserves. You probably don't want too many, as the jars can get heavy, so pick your favorites.
You can also find small packets of jam, honey, and butter, including some that just contain a single serving. These are ideal if you just want some spreads as a backup.
Onions

Like potatoes, onions aren't all that exciting. Still, they add depth to so many meals. Anything that uses minced beef, for example, will be perfect with onions. Chunks of onion are fantastic on shish kebabs too.
Cooking onions isn't your only option either. You can also use them raw, like in a salad. Red onions are great here, ut you can use white onions raw as well.
Chopping onions can be a tearful process, so why not get around the problem by chopping them at home before you leave for the camping trip? This way there's less hassle when it's time to cook at the campsite.
Canned Food

Canned food is resilient. It lasts for a long time and can easily survive temperature changes. This makes it an ideal camping choice if you're in a hot area or don't have many ways to keep food cool.
There are many options here, including fruit, vegetables, beans, fish, and meat. Canned meat might be your go-to if you don't have any refrigeration at all. After all, you can keep butter in the shade for a day or two, but you can't do that with chicken. Canned chicken, on the other hand, will be fine in almost any situation.
You could also look for canned meals, like soups and stews. These are already prepared and, as a bonus, they don't need to be chilled. You simply need to heat them up and then serve. What could be easier?
Crackers and Chips

Looking for some carbs? Crackers and chips are easy choices here. They can be enjoyed on their own or paired with other ingredients.
Pringles are even more perfect, as they come in a rigid tube that resists crushing. To avoid crushing with other chips, try transferring them out of their bag into a plastic container. They might lose a little freshness this way, but at least your chips aren't going to get smashed.
Nuts

It's always best to have some camp food that doesn't need to be cooked. Nuts are a classic example, as they're high in protein and are easy to snack on.
You could bring along a favorite type of nut or two, or perhaps make some homemade trail mix. Why not add some dried fruit or chocolate to the trail mix too? The fruit and chocolate provide a fast burst of energy, while the nuts offer more sustained energy.
Carrots

Carrots might seem boring and they're quite heavy, but don't leave them out of your camping kit. Like potatoes, carrots are resilient. They'll be perfectly fine even if they get knocked around in your bag.
Plus, carrots can be eaten cooked or raw, so you have plenty of different ways to use them. A simple option is just to cut them into small pieces and eat carrots as-is.
Cured Meats

Any type of cured meat can work well when you're camping. Some hard cured meats are even better as they don't need to be refrigerated. Salami and pepperoni are both examples. You can safely keep them out of the fridge without any problems.
This type of cured meat is easy to spot too. Simply look for products that aren't kept in the fridge when they're being sold.
Cheez Whiz

Okay. Cheez whiz isn't the most appealing product and it is incredibly processed. But this, Velveet,a and some other products are processed to the point that they don't need to be kept in the fridge.
So, if you're camping and you can't keep cheese cold, you could use these alternatives instead. They're better than nothing.
Energy Bars

Energy bars are another easy-to-eat food you can bring camping. You can simply snack on them on the go, which is ideal for long treks or times where you don't feel like trying to cook anything.
You can buy energy bars from the store, but why not make your own instead? Homemade energy bars tend to be healthier, as you get to control the ingredients being used. You can tweak the flavor and texture too, until you're confident that you have a snack everyone will love.
Rice

Like pasta, rice is easy to prepare and is incredibly versatile. You can use it as a part of many meals or serve it as a side. Rice-based meals can be as straightforward or as complex as you like, so they're the perfect chance to experiment with your cooking skills.
Condiments And Seasonings

While these aren't a type of food, condiments and seasonings are too important to leave off the list entirely. The right seasonings and condiments can make all the difference with your meals – helping to make them inspired and delicious.
The exact items you bring along will depend on your preferences, but some salt and at least one type of sauce is the bare minimum. Some camping writers suggest hot sauce should be your go-to sauce, as it adds a fantastic kick to your meals. Of course, you could choose BBQ sauce or tomato sauce just as easily.
Don't forget about condiments, like mustard and mayonnaise. Both work complement a variety of dishes. They could be almost essential if your meat is overcooked.
Butter And Cooking Oil

Speaking of essentials, you're going to need some type of cooking fat. Butter is perfect. Who doesn't love the smell when butter first hits the griddle? For some meals, butter will be much better than any other option.
If you're worried about keeping butter cool, try using ghee instead. Ghee is clarified butter and it's more shelf-stable than butter itself. Plus, ghee still has the same buttery flavor. If anything, it tastes more like butter than butter. Go figure.
Cooking oil can work well too. This might be easier to bring with you than butter, especially if you have limited space for things that need to be kept cool.
Vegetables

We've already mentioned carrots and lettuce, but you can bring other vegetables on your camping trip too. Anything that lasts without a problem outside of the fridge is fair game. But, your space is going to be limited, so focus on vegetables that you'll use in multiple meals.
Bell peppers are a great choice here, as they can be used in salads, sandwiches, and many meat-based dishes. They also have a fantastic freshness, even when they've been at room temperature for a day or two.
Some vegetables can be chopped beforehand and don't need to be cooled for a day or two. Carrots, cucumbers, and radishes are all excellent examples. Tomatoes are fine out of the fridge too.
Granola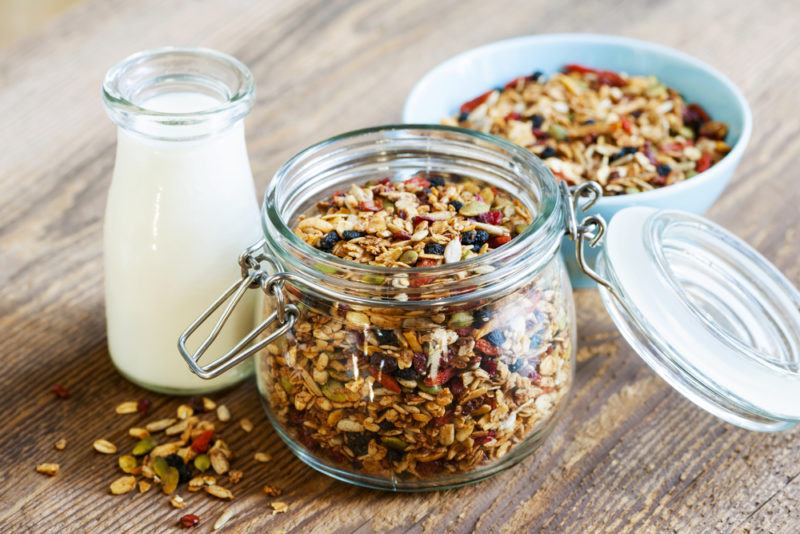 Greasy breakfasts shouldn't be your only option when out camping. Having something healthier and more fiber-packed can be just as appealing – especially if you don't want to get the frying pan out.
You can make your own granola to take with you or buy some from the grocery store. The main goal is to find a type that you enjoy.
Look for products with a decent amount of protein too. These will help to keep you full. In contrast, a highly processed cereal that's high in sugar and low in protein will give you an initial energy spike, followed by an energy crash a little later.
Baking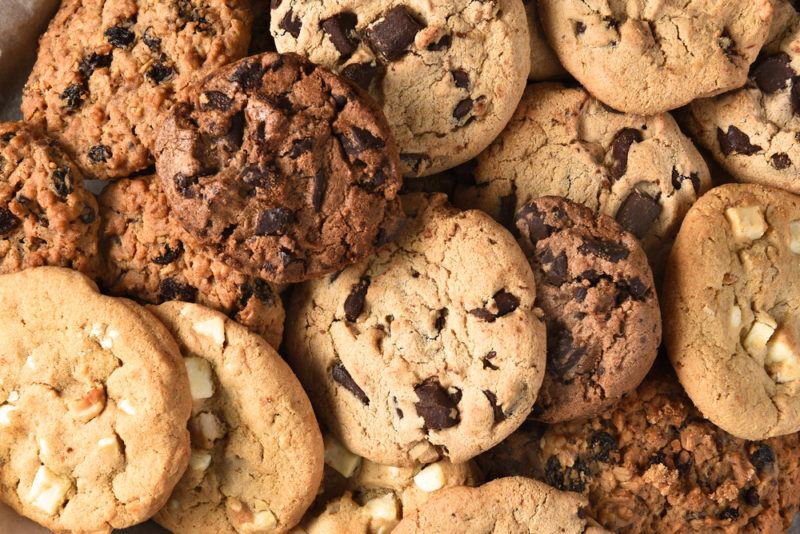 Baked food can be a perfect sweet treat for camping. There is no shortage of types to choose from. You can choose to bake your own treats or buy them from the local store.
The trick is to find food that is going to travel well. Some options, like a heavily iced cake, are too easily crushed and get messy long before it is time to enjoy them. Others are much more resilient. Cookies and brownies will both easily survive traveling, making them an ideal choice.
Pasta

Pasta is an easy crowd-pleaser and a fantastic way to bulk out a meal. All you need is to be able to boil a pot of water, then you'll be good to go. Any type of pasta will work, but spaghetti is a perfect choice. Try serving this with minced beef and a tomato-based sauce.
To make life easier, try cooking the pasta beforehand so that it can just be heated at the time. Then you could easily stir-fry the noodles or use the pasta to create a pasta salad.
You could also turn to instant noodles (okay, they're not technically pasta, but close enough). Instant noodles are fast to cook. You can throw in some vegetables and spices to bulk out the meal a little.
Pasta Sauce

If you're planning any type of pasta meal, be sure to bring the appropriate ingredients or sauces. Prepared pasta sauces are a fantastic way to make camp cooking easy. These can often be purchased in jars or cans and don't need to go in the fridge.
Making your own is an option too. This gives you more control over the ingredients. Just remember that homemade sauces contain fewer preservatives than processed versions, so they might need to be kept cool.
Marshmallows

Okay, so marshmallows aren't going to keep anyone full, but how can you go camping without them? You'll need at least a few marshmallows to toast over the fire and to make some s'mores.
Besides, you can easily buy a bag or two of marshmallows at the local store and stash them in a bag somewhere. Or, if you don't mind the effort, why not make marshmallows yourself? Homemade marshmallows always taste better than ones from the store.
Tomatoes

If you can bring them with you without damage, then fresh tomatoes are a fantastic camping choice. They add so much to meals and can be used in countless ways.
For times where fresh tomatoes don't work, you have other options at hand too. Tinned tomatoes are an easy way to go, if you don't mind the weight. You could make your own tomato paste or puree instead. Tomato puree can be easily stirred into meals and is almost as tasty as fresh tomatoes.
Coffee

Okay, so coffee isn't a type of food, but it's far too important to leave off the list. Seriously. If you have coffee most days, going camping without coffee would be incredibly unappealing. At the very least, you'll want some instant coffee and a little milk, so you can still enjoy a hot cup in the morning.
Those who are more obsessed with their coffee might want to go the extra mile and bring the tools to make real coffee.
Hiking Meals

This final option won't apply to many people, but it can be good in a pinch. We're talking about meals that have a long shelf life and don't need to be kept in the fridge. Many are dehydrated. They're popular among hikers, as the meals are lightweight and easy-to-use.
The catch is that most of these meals don't taste that good. They're designed to keep you fed and healthy, not for flavor. And, they can be expensive. It's best to keep these meals as your last resort, rather than as a go-to camping dinner.
Other Things To Consider

The best foods to bring will depend on how you're going to be cooking and what you're bringing with you. If you have a two-burner camping stove, pots and pans, and a way to keep your food cool, then you can cook most meals that you could make on your home stovetop.
If you're cooking over a fire instead, then your options will be much more limited.
No matter how you're cooking the food, planning is crucial too. Think about the meals that you're likely to eat and the ingredients that you're going to need for them. It's helpful to have multiple meals that need similar ingredients. That way you have plenty of flexibility and don't need to cart around many different types of ingredients.
Do as much prep work as you can ahead of time, like marinating meat and chopping vegetables. Tasks like this are always easier at home than they are at a campsite. Besides, the goal is to enjoy your camping experience. Having too many mundane tasks to do takes away from that pleasure.