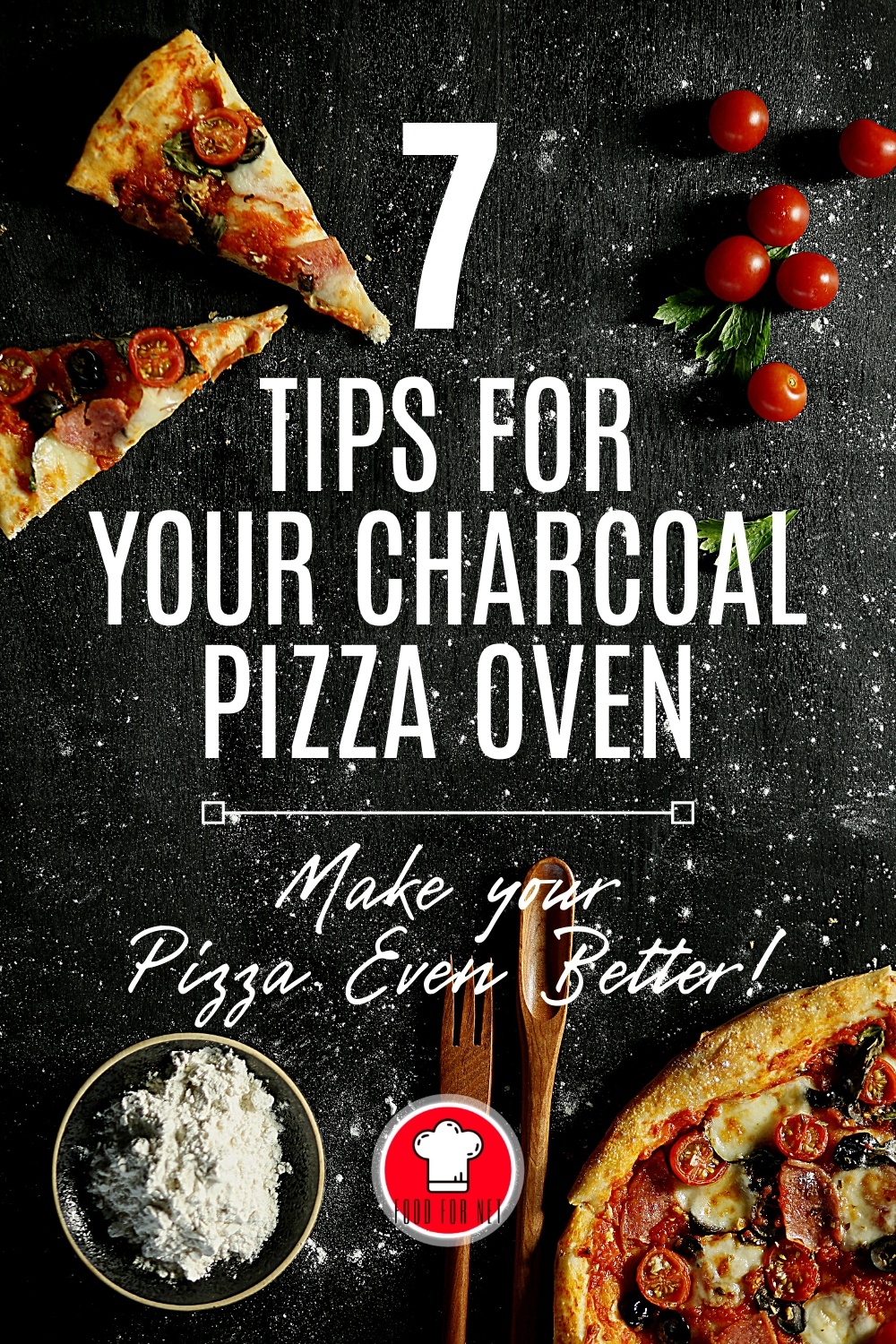 With our nationwide obsession with pizza, it's no wonder that pizza ovens have been growing in popularity. And, I'm not just talking about the wood fire ones either. Instead, there are now countless different options that let you make artisan pizza in the comfort of your own home, regardless of your budget or previous experience.
One of these ways is a charcoal pizza oven. In most cases, this type of pizza oven involves taking a charcoal barbecue and converting it into a pizza oven. Doing so isn't exceptionally difficult and there are some key products out there that make the whole idea a cinch. My personal favorite option is the Weber Grill Insert but there are other choices as well.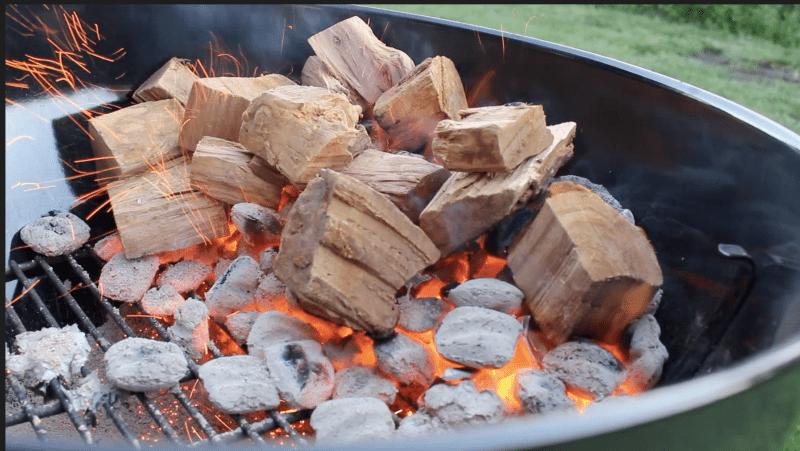 Still, getting a charcoal pizza oven is only part of the process. You may also find you need to tweak things to ensure you get the best outcome possible. After all, changing variables is a natural part of cooking and everybody has different opinions about what the ideal pizza should look like.
This post attempts to clear up some of that confusion by providing information about ways to make your charcoal pizza oven work better and to ensure that your pizza ends up exactly how you want it.
P.S. Don't forget to find some delicious side dishes to serve with your pizza.
Make Sure You Use Wood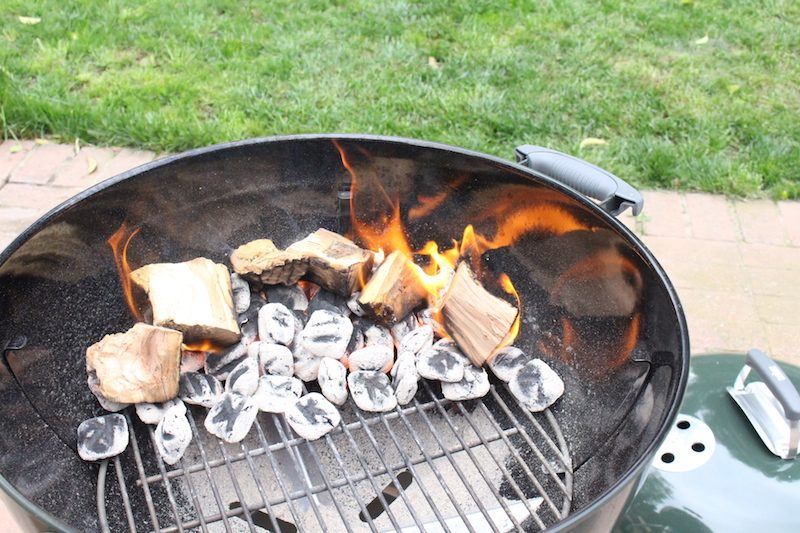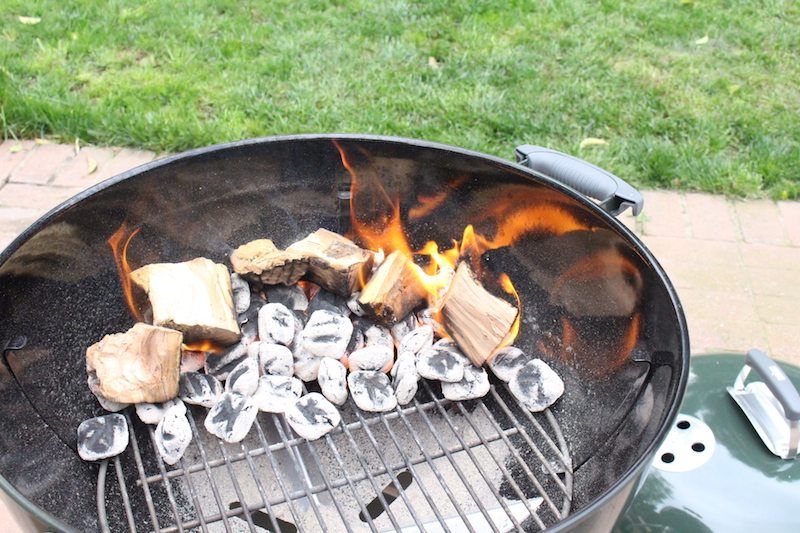 One of the most common mistakes with a charcoal pizza oven is to just use charcoal. I should know, I did this myself early on. When you use charcoal alone, the oven won't get nearly as hot – which decreases the quality of your finished pizza.
For that matter, you also need to make sure you don't run out of wood. If that happens, you'll find that the temperature of your pizza oven drops fast and that's not good news for your pizzas.
Temperature isn't the only reason for using wood. Instead, want to be using wood regardless, as this is what gives that smoky wood fire flavor that makes your pizza amazing.
With a charcoal pizza oven, you want to be working with chunks of wood, rather than chips and pellets. The latter examples simply don't burn for long enough and aren't good for making pizza. You do also need to make sure that whatever wood you get is going to fit in the grill without a problem.
Those steps may take a little trial and error. But, once you've got it worked out, you'll be able to make consistently good pizza.
Change The Type Of Wood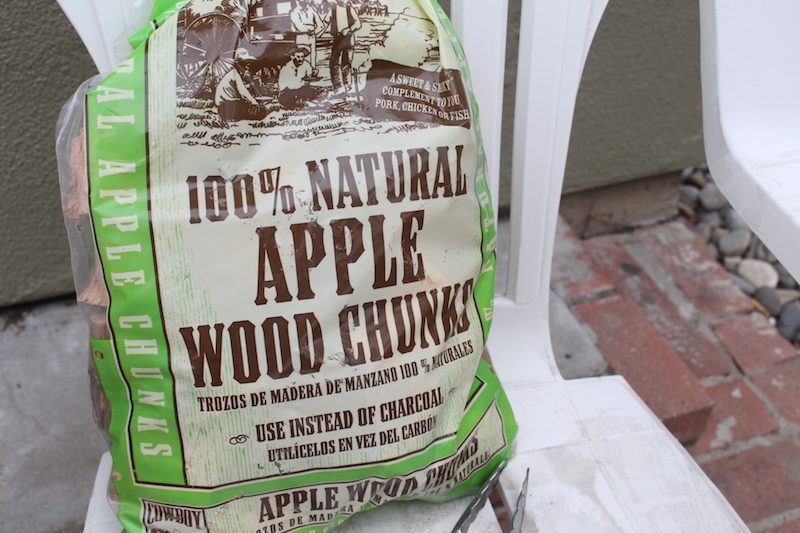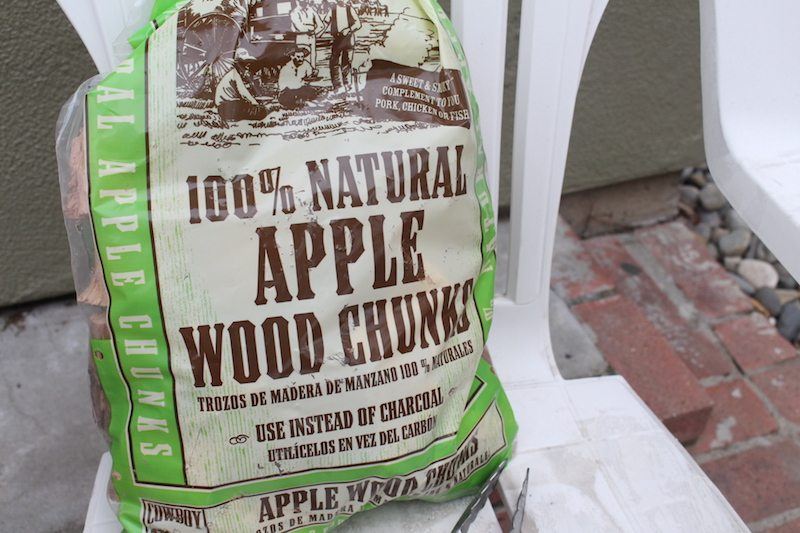 A related consideration is the type of wood you use. For one thing, the temperature that wood burns at varies on the type and some do burn hotter than others. Additionally, the type of wood affects the smoke flavor. As a result, you may find that you need to try out different types of wood until you get an option that behaves like you want it to.
Many people recommend fruitwoods for pizza ovens, such as applewood, almond, cherry and pecan. Hardwoods are also a good option, with oak being the most common, particularly because it burns hot.
Additionally, I tend to avoid options like mesquite and hickory because they can have a strong and unappealing aroma. But, everybody is different, so it's worth trying out some different types and figuring out what works best for you.
Use A Pizza Stone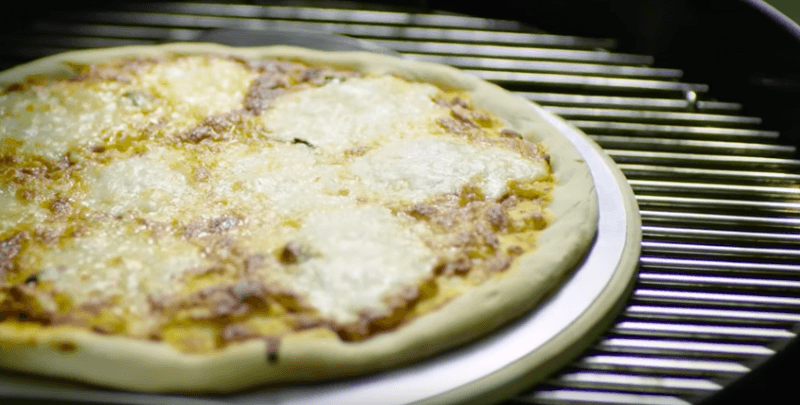 With a charcoal pizza oven, you can simply cook in the grill itself. Doing so is fairly simple, as long as you're working with a relatively thick dough. For that matter, you don't need a pizza oven at all, as you can just cook pizza on a charcoal grill directly or even a charcoal grill grate.
But, if you're looking for the best outcomes, you need to move to a pizza stone. Now, a decent pizza stone might not be cheap but they are amazing investments and absolutely essential for making high-quality pizza.
The reason is simply that they allow for a higher and more consistent temperature overall. There is also a variety of different stones out there, including a selection of pizza stones that can be used on a barbecue grill. Any of these will significantly improve the quality of your pizza. Plus, using a pizza stone is easier and more efficient than working on the grill directly.
It is also possible to use a metal pizza pan or some other type of pan on your grill. However, a pizza stone is still more effective and it's normally best to just stick with that.
Use Suitable Products And Tools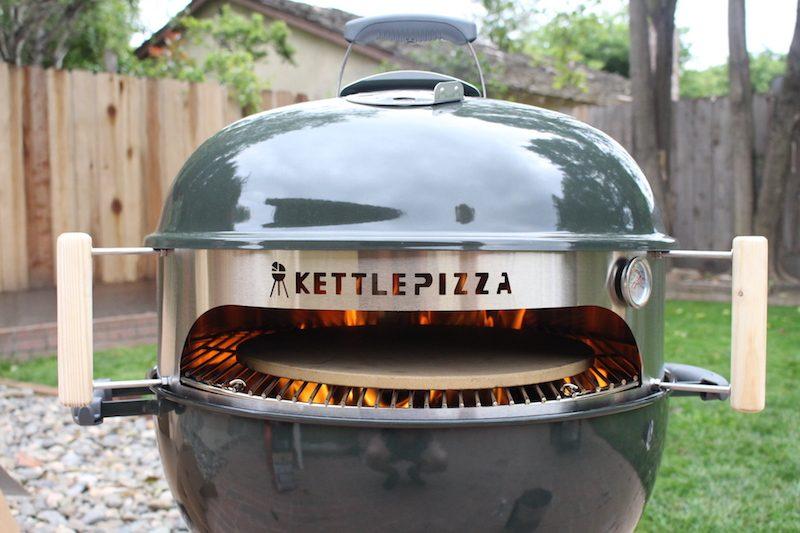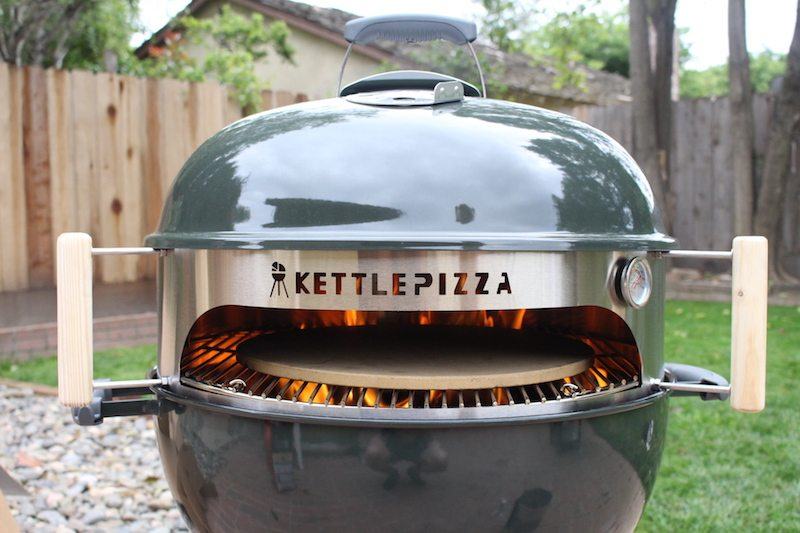 The term charcoal pizza oven is a fairly general one and it may mean different things depending on who you are. For example, you may be simply thinking of cooking pizza on a charcoal grill, without any specific tools or products. Alternatively, you might be thinking of converting a charcoal barbecue into a full pizza oven – which is the approach that I've done myself.
There are also some actual charcoal pizza ovens out there, along with homemade versions that people have put together. But, these approaches are relatively uncommon. Instead, most people tend to go for wood fire pizza ovens, unless they are specifically converting their grill.
But, regardless of the type, using the right products and tools is absolutely essential.
The most powerful way that I've seen is to use a product like the KettlePizza Weber Grill Insert. This works to convert a Weber grill into a functional pizza oven. As a result, you're able to cook pizzas without having to open the lid of the grill. Doing so helps to trap the heat and ensures your pizzas turn out well.
This is also a product I've used myself and I have a full review that talks about how it works and what you can expect. In that review, I also highlight some other alternatives to the KettlePizza insert, which offer the same general approach but also have some differences.
More than anything, the idea is to make sure whatever you're using actually works well for making pizzas. Sure, you can cook a pizza directly on a charcoal grill with the lid off. And, that pizza would still be relatively decent. But, even if you do use a pizza stone, the results are never going to be amazing.
In contrast, an option like the KettlePizza insert can make all the difference in the world.
Change The Internal Temperature
Charcoal pizza ovens are absolutely perfect for the casual user and they produce results that are much better than a conventional oven. But even then, the outcomes aren't as good as they could be. One issue is that these pizza ovens typically have a large amount of air at the top.
This setup means that hot air tends to circulate over the pizza. As a result, you get fully cooked pizza but the top never ends up as crisp as it should for traditional pizza. Techniques like using a pizza stone won't really fix this problem either, as they don't tackle the problem at hand.
Thankfully, there are ways to improve this.
Cover The Insert With Aluminum
The first solution to the problem is a fairly basic one. Here, you simply cover the top surface of whatever insert you're using with aluminum. This may not work for every insert but it does suit the KettlePizza one well.
By doing this, you're effectively cutting off the entire top part of the charcoal grill. This decreases the space in which air can circulate and helps to ensure that the top of the pizza cooks faster. Not only is the technique easy to pull off but the difference in pizza quality really is noticeable.
If nothing else, you could try this approach first. If it works, great. But, if the end result isn't good enough, you might then consider the idea below.
They also sell baking steel from KettlePizza, which is made specifically for this purpose, though you should leave the lid off. The you can cook things like steak or sides on the baking steel while your pizza cooks!
Try Using A Double Cooker Technique
There is also a second approach for addressing the problem of internal temperature. This one is can be referred to as a double cooker or a double grill technique. It has the disadvantage of being more complicated, while also requiring an extra tool.
Still, the end result is more powerful and this is the technique you would want to make your pizza oven as hot as possible.
The double cooker technique basically means that you give yourself two separate grates in your charcoal grill, rather than one. The idea itself comes from the KettlePizza Blog and is very useful for cooking food in general. With this concept, you're placing a cooking grate on top of the insert.
For the double grill outcome, that's where you stop and you can then cook on both grills, with the lid of the charcoal barbecue off. But, of course, that's not going to work for a pizza oven. Instead, you need to take the whole idea one step further.
Basically, you then place a pizza stone onto the top grill and plug all the gaps with foil. You can use any pizza stone you like but the goal is to fill as much space as possible. The ideal would be to have a round pizza stone that is the same size as the grill. But, failing that, just do as best you can and plug up those gaps.
Once you're done with all that, you put the lid back on and use your charcoal pizza oven like normal. This technique is more effective simply because you're using a pizza stone above. As a result, you're trapping in more heat and the pizza oven will get much hotter as a consequence.
The idea here may seem a little redneck and it's a bit of messing around for something that doesn't look all that much different. But, once you've tried cooking pizza this way, you'll see why the effort is worth it.
Now, the technique here was developed specifically for the Weber Grill Insert and, by extension, for Weber charcoal grills. You may well be able to apply the same concepts to other types of charcoal pizza ovens but the steps and tools could be a little different.
Use An Official Product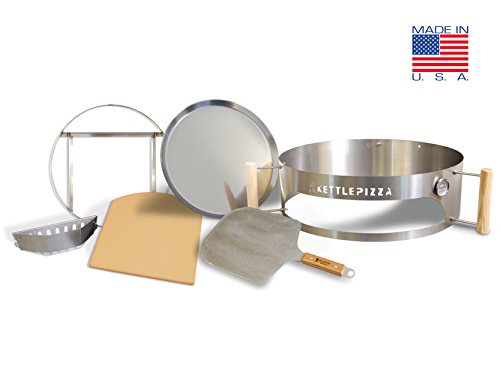 The KettlePizza company does also have a product that is designed to help reach higher temperatures for cooking pizza. The difference is that the pizza stone is a part of the grill, rather than being placed on top of it. The design should also make it more efficient to add more fuel without having to remove the entire insert.
But, that being said, the product doesn't solve the underlying problem we're talking about. So, it may let you cook at a higher temperature but the outcome won't be as good as the approach discussed above.
I have also seen a different kit on the company's site, that includes a metal piece to go above that can help to get the temperature higher (on the far left of the image).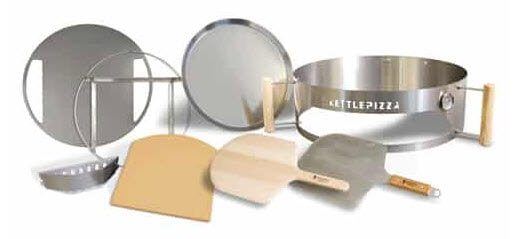 But, it doesn't seem like this would ever be as effective as using a pizza stone on the top.
Use The Right Recipe
In some cases, you may be doing everything right with your pizza oven – but your pizzas aren't turning out how you want. When this happens, the problem may be with your recipe, not with the oven itself.
There are countless different recipes for pizza dough, including many that make use of wheat flour alternatives. With this in mind, if you're having bad luck with your pizza, it's worth playing around with new recipes. This could include varying up the dough recipe you're using or simply trying out some new toppings.
Along the way, you may well find some new ideas for great pizza, while also learning more about how different approaches work in a pizza oven.
Don't Give Up
In most cases, the first pizza you cook for the night will never be the best one. Instead, it takes time for the pizza oven to reach stable hot temperatures – and you need to get used to the temperature progression as well.
This makes it important to simply keep trying and experimenting. Even if your first few attempts aren't particularly good, you'll normally find yourself making some amazing pizzas before the night is out. In fact, the best pizzas that you make are often right before the coals start to die down.
Final Thoughts
Cooking with a pizza oven always involves a learning curve. At this point, I've tried many different ways of cooking pizza but I still find that each new technique or product takes time to get right. For that matter, you will often find that you continue to learn new things, even when you think you've perfected the process.
This is particularly true when it comes to charcoal pizza ovens. All of these different tips can help you to make better pizza but you'll need to experiment to figure out which ones work the best for you.
After all, you probably have a different definition of what makes a perfect pizza than what I do (or anybody else, for that matter). So, your ideal solution is also going to look different as well.