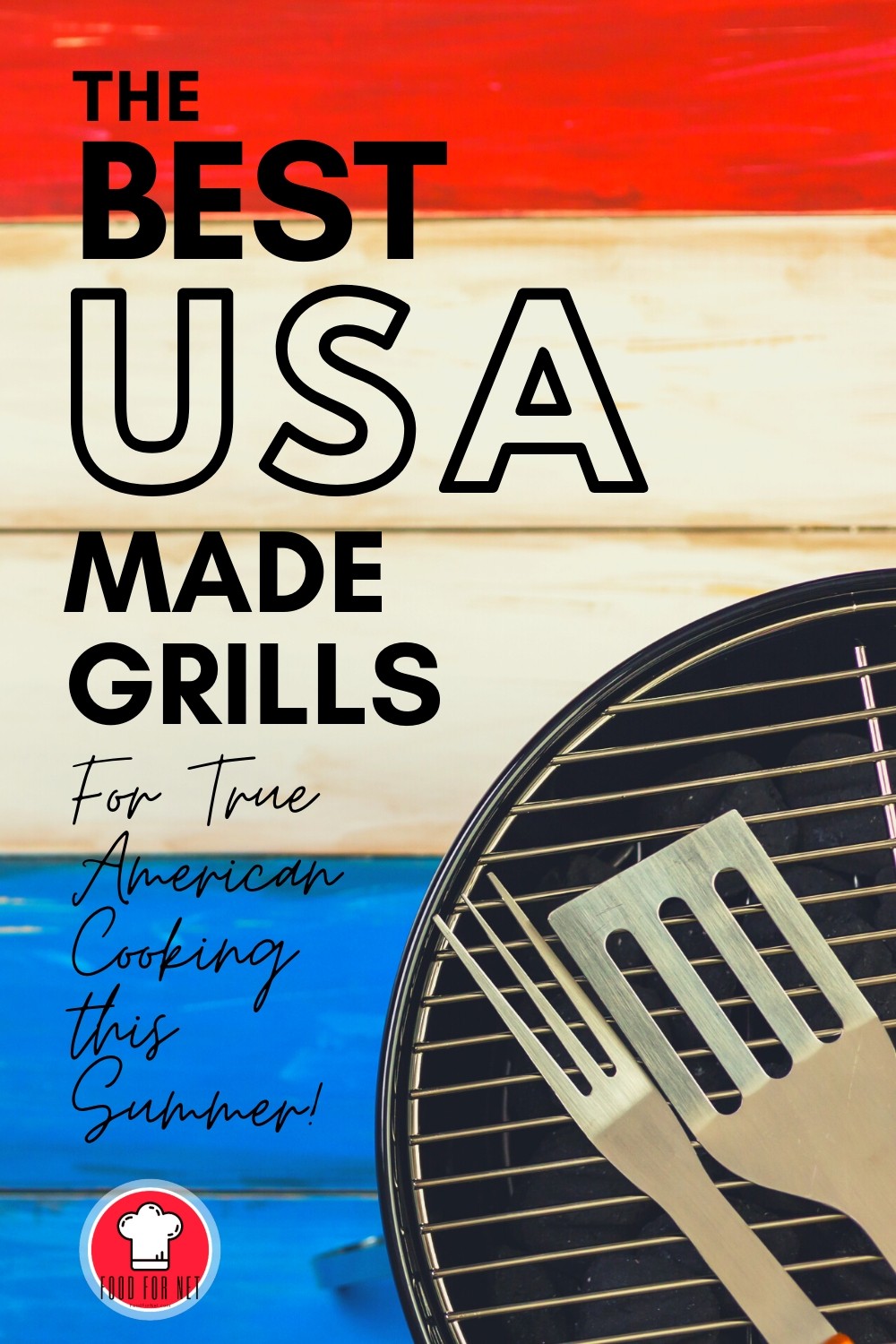 There are many reasons to consider purchasing a USA made grill for your backyard. First and foremost, it feels great to support American businesses. A close second, however, is the fact that products made in the USA are known for their superior quality. The best USA made grills will outlast those made in China.
Why pay for two grills made in China when you invest in just one made in America?
The American backyard barbecue is world famous, and that outdoor grilling flavor is an American staple. For the summer of 2023, grill with the sense of pride that comes with cooking on a product made in the USA.
Granted, there are many overseas brands that can provide a decent grill, but some of these brands rely on cheap labor and inferior materials.
You might have to shell out more money with the USA-made grills, but you're paying for unmatched quality. Surprisingly, it wasn't that easy to pick out the top 5 USA-made grills available online. There really are not that many options out there.
In fact, many grills are produced by American companies, but they are manufactured outside the country. Others have their parts made overseas, and then they are constructed here.
That's why you won't see big names like Big Green Egg, Weber, or Traeger on this list.
We tried hard to make this list accurate, and we listen to the comments. If you find one that isn't made in the USA any more, let us know!
We picked 5 of the best USA grills we could find available online, that way you don't have to wait six feet behind someone in Home Depot for 2 hours trying to buy one you need. I'll bet you the sales rep couldn't even tell you if the grill was made in the USA anyway…
There are a variety of styles below, from a stripped down basic charcoal grill to a 2-burner small backyard gas grill! Pick the one that fits your personality, your backyard size, and your grilling style.
6 Best USA Made Grills
Huntington 2-Burner Propane Gas Grill
Americana The Swinger Grill
Primo 778 XL Ceramic Smoker Charcoal Grill
American Made Grills 36-Inch Atlas
PK Grills Griller & Smoker
M Grills M80
All these are good sizes for the average backyard griller, with the Americana brand being more versatile for taking on the road, like to the park or on a camping trip.
The Huntington doesn't have great reviews, but it's the the only inexpensive American made gas grill we could find.
Our personal favorite, however, is the PK Grill & Smoker because it's a charcoal-style grill (better flavor!), plus a smoker in one grill. It's also portable, meaning it's ready for your next camping trip or tailgate party.
Do you have another USA-made grill you'd like to add to this list? Please let us know in the comment section below.
1. Huntington 2-Burner Propane Gas Grill

This grill looks like the stereotypical gas grill that you'd have in your backyard during a Fourth of July party. When starting the Huntington, all you'll have to do is push a button. No need for burning paper inside the grill or pouring excessive amounts of lighter fluid to maintain a fair temperature. The Sure-Lite push button ignition system will quickly get the grill to a high heat level.
Every area of this grill has been built with durability in mind. The oven is made of die-cast aluminum, while the control panel has a black powder coat applied to it. The powder coat helps protect against rust. On top of that, you won't have to worry about the shelves breaking down after extended use, as they are made with a high-quality weather-resistant material. This is the perfect solution if you regularly leave your grill outdoors in harsh weather.
The front handle is heat resistant, so you'll be able to check on your cooking meat no matter how overwhelmingly hot the grill becomes. No worry of burns on your hands and no more need to put on gloves every time you want to see how things are going under the lid.
Positives
Durable
Easy to start
Heat resistant handle
Mobile
Two surfaces on left/right for setting gear
Negatives
Average-sized cooking surface
2. Americana The Swinger Grill

The next option is the Americana Swinger – which has an old-school look that perfectly defines a USA-made grill. The cooking surface is about 332-square inches, so you'll have some breathing room when cooking for an average-sized group.
The surface should be able to fit a reasonable amount of meats without any difficulty. The rugged wooden side tables will also give you some more space that can be used for food preparation. Unlike some of the foreign grills, this American grill will be able to avoid burnouts with the elevated fire grates.
You can take this grill wherever you need to go thanks to its portable features. When it's time to move the grill to its next destination, you can fold the wood side tables to reduce the overall size. From there, the two wheels on the bottom will be able to help you roll the grill to your destination without straining yourself.
The adjustable air vents and tilt-away hood will allow you to check up on your food without any crazy flare-ups that could potentially hurt you. The combination of portability, ease of use, and a generous cooking space help make this one of the best USA-made grills available.
Positives
Inexpensive
Generous cooking space
Adjustable air vents
Durable side tables give users more space
Portable
Negatives
Difficult to assemble
Rusts easily
3. Primo 778 XL Ceramic Smoker Charcoal Grill

The first thing you'll notice about this grill is the ceramic exterior finish. The Primo 778 XL is made with a superior ceramic finish that boasts a protective and scratch-resistant porcelain glaze.
You get 400-square inches of space available to cook on. This alone should be plenty of space, but you can add more. Using the rack extensions, you can increase the size up to almost 680-square inches. This is perfect for large families or backyard gatherings.
One potential disadvantage is the high price of this grill. In fact, this grill has the highest price on the list, but the cost is justifiable for two main reasons. First, the ceramic material is incredibly durable. Second, the American craftsmanship typically results in a higher price.
Positives
Versatile
Plenty of cooking surface
Durable ceramic exterior
Negatives
High price
Difficult to put together
4. American Made Grills 36-Inch Atlas

With a name like American Made Grills, it would be shocking if this company didn't focus on American made products. And, indeed they do, making the grills in Huntington Beach, CA, with a strong emphasis on quality. The goal is to use materials and techniques that allow the grills to withstand the elements – and anything else you throw at them.
The American Made Grills 36-Inch Atlas is a fantastic entry from the company. It's touted as a high performance and luxury grill, and comes with no end of features. Of particular interest are the two multi position warming racks that can help keep your food warm.
There's an impressive 853 square inches of cooking surface and an output of 49,500 BTU. The entire thing relies on #304 Stainless Steel, so you can be confident that it will last.
The big catch is the price. The grill comes it at around $4,000, so it certainly isn't cheap. Still, there is a 100% non-prorated Gold Standard Lifetime Warranty. This should mean that American Made Grills takes care of any issues that arise.
Positives
A premium product
Many features and optional extras
Decent cooking surface and power
Negatives
Seriously expensive
Not very portable
5. PK Grills Griller & Smoker

This is a new addition to our list, and is a lesser-known brand as well as grill. The lack of "fame" doesn't stop it from getting awesome reviews on at grilling and smoking competitions, as well as on Amazon.
This grill is built out of cast aluminum, which has pros and cons. On the good side, it won't rust, and even the hinges are part of the cast so you won't have issues with bolts rusting after years of use like with most other grills. Even so-called "stainless steel" grills will cut corners on joint areas which is where they'll fall apart first. The downside to aluminum is that if you are smoking in the Winter, you'll lose more heat than with other materials, so you may have to do more babysitting.
Also, you might not be able to tell from the picture above, but this is a portable grill too. The grilling portion can be taken out like an "egg" style grill and placed in the back of your truck, separate from the stand. That means you could potenitally even take your grill in any SUV or sport utility vehicle for camping, or to a tailgating event!
Though this grill looks a little non-traditional, it's a favorite of mine on this list.
Positives
Griller and smoker in one
Built from heavy-duty cast aluminum
Ready to cook in 10 minutes
Used in grilling competitions
Rust-preventing hinges
Great airflow control and heat prevention
Multiple color options
Portable!
Negatives
Non-traditional look
Silver finish may need to be washed before use
6. M Grills M80

Finally, we have the M80 from M Grills Blazing Grill Works. While this American made grill isn't sold on Amazon, you can still buy it online from the company's website.
It's a beast of a grill, with an incredibly strong industrial focus. Seriously, the thing looks more like a tank than a regular grill. Appearance aside, there are plenty of desirable features to consider, including an unusual damper system that improves airflow from the coals and reduces the risk of temperature spikes (regardless of the conditions).
M Grills even boasts that their products are popular for BBQ competitions throughout the world. This should mean that the grills are reliable and function extremely well.
It's a relatively small grill, just offering 139 square inches of space. Still, the small size would be perfect in some situations, like grilling on an apartment balcony. If this grill isn't quite right, no worries, M Grills has plenty of other products, including a portable grill and some very large ones.
Positives
Highly resilient
Designed for high performance
Precision temperature control
Negatives
The unusual appearance won't suit everyone
Fairly expensive, particularly for the small size
Buying USA Made Grills
When coming to a final decision for the best USA made grills, there are a few factors to consider. The quality of your grill is one of the most important things to look for. Luckily for consumers, USA made grills are known to have excellent, long-lasting quality.
One factor to think about is the cooking surface area. Primo and Holland both have decent sized cooking area while the Americana and PK Grills have less surface area. If you plan on cooking for a large group, more space is always better.
While most USA-made grills are built with high-quality materials, rust and durability should also be a concern. The Holland Freedom grill came with a 5-year rust warranty and a lifetime warranty on the grates. PK Grills is built out of cast aluminum, including the joints, so rust won't be an issue here.
Portability may also be a concern, especially if you need to transport the grill. The Swinger grill is the most portable option on this list, but several others also include wheels on the legs to help you move the grill. PK grills have a good breakdown system for when you want to take your grill on an adventure. The cast iron will be heavier than cast aluminum though!
Watch Out For Fakes!
I don't mean they are fake grills. I mean they are not really made in the USA, as you or I would understand it. Phrases like "Designed and Supported in the U.S.A." are pretty easy to interpret, while other slogans may be more cryptic.
This is why I had to remove Weber grills from my USA-made list. They used to be made in the USA, but it seems that they are now assembled in the USA from parts made overseas. Their choice of phrasing is "Made in the U.S.A. incorporating globally sourced component parts."
The famous Big Green Egg also fits into this category, bearing the name of the United States, but actually being produced in Mexico. For an egg style Golden's Cast Iron grill alternative, try instead. It won't come cheap though, costing a whopping $1,700 for the egg with cart.
About USA Made Grills
Outdoor grilling has been a phenomenon in the United States for decades, so using a grill made in the U.S. is ideal for those who want a genuine grilling experience. One reason the USA made grills have become popular over the years is that some people want to feel as though they are supporting American businesses, but there are plenty of other reasons to think about buying American.
Let's not forget, many of these American brands back the quality of their grills with extended warranties. These warranties will help cover the replacement of parts if they rust or become damaged.
Obviously, these grills are meant to be used outdoors. The use of propane, wood, or charcoal grills indoors is a hazard that should be avoided. If you prefer to grill indoors, then we suggest you examine our list of the best ceramic grills for indoor cooking.
Now for the downside. It is very likely that you will be paying a higher price for an American grill than a foreign grill. This is a result of the quality in which your grill is made.
Grills made outside the United States, particularly in China, typically utilize cheap labor to get their products built quickly and cheaply. Many people in the U.S. are against this form of labor, so they feel as though it is better to purchase a grill made at home, even if it costs a bit more.
Overall, the lesson here reflects the old saying of "you get what you pay for." If you couldn't care less about your grill lasting a long time, then maybe these grills don't fit your agenda, but if you want the most for your money then the USA made grills will get the job done for you.
If you want to celebrate America's holidays the right way, do it with an American made grill. Not only will you be enjoying great food with friends and family, but you will also be supporting the companies that keep the economy going.