There are many types of smokers out there, each with their own advantages and disadvantages. I'm a fan of the offset vertical smokers (plus they take up less room), but the offset barrel smokers look the coolest.
Historically, offset barrel smokers were mostly used in the South, but you see them all over the country nowadays. The offset design generates heat and smoke in the "firebox", then transfers them to the section that holds the food.
This smoking method lets your food cook on indirect heat–in other words, slow cooking with smoke. Not only does this allow more smoke flavor to get in, it also ensures that your food cooks all the way and grows more and more tender. That's why smoking a brisket or rack of ribs could take all day long!
The offset barrel smoker signifies that you're a true master at the outdoor cooking niche: These cooking units are frequently used in the barbecue competition field.
The #1 offset barrel smoker I found while researching was the Traeger Pro series. I picked this product because Traeger has a great reputation and I think it's a fair price point for the high quality construction. Plus, temperature control, which is the most important part of smoking, is super easy with the Digital Pro Controller.
Sale

Traeger Grills Pro Series 34 Electric…
Never use gas or charcoal again: cooking with wood just tastes better. Traeger created the original wood-pellet grill as the ultimate way to achieve wood-fired taste
Versatile barbecue cooking: hot and fast, or low and slow, the Traeger Pro Series 34 pellet grill offers 6-in-1 versatility to grill, smoke, bake, roast, braise, and BBQ food to juicy perfection
Precision temperature control: The Digital Pro Controller rocks Advanced Grilling Logic, which maintains a +/- 15 degree F temperature control to guarantee precision grilling. 450 °F Max Temp
Sturdy and Durable: Powerful steel construction and durable powder coat finish, easy to clean porcelain grill grates and all-terrain wheels
Large cooking capacity: 884 sq. in. cooking capacity that can accomodate 8 chickens, 7 racks of ribs or 40 burgers
If you know how to operate it properly and control the temperature, it can be a valuable piece of grilling equipment. Whether you participate in barbecue competitions or just want to enjoy some well-cooked meat, these five choices will do well for you.
I've picked a variety of sizes and heating styles. Some take pellets while others take charcoal. Both types of fuel sources require a bit of babysitting, but pellets are generally easier to handle. For more efficient smoking, check out our electric and gas smokers.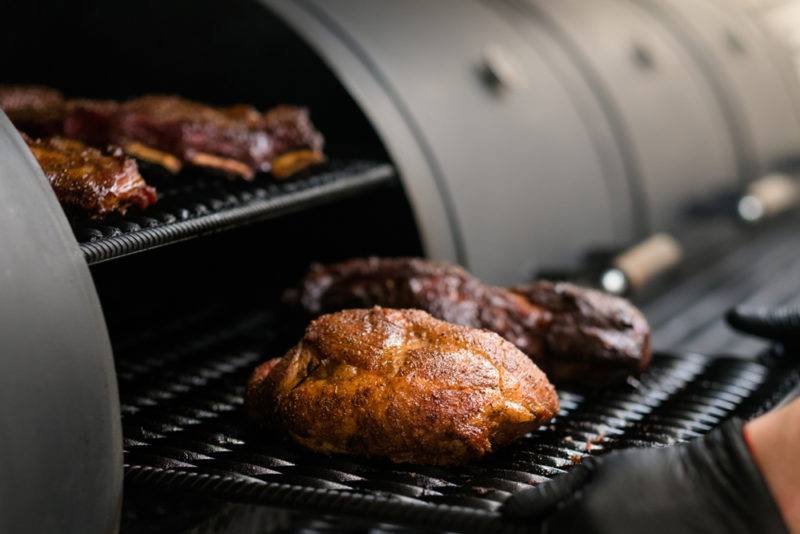 Top 5 Best Offset Barrel Smokers
Char-Griller 1224 Smokin' Pro Smoker
Char-Broil American Gourmet Offset Smoker
Ranchers XL Charcoal Grill/Smoker
Loaded Wichita From Yoder
Traeger Grills Pro Series
1. Char-Griller 1224 Smokin' Pro Smoker

The Char-Griller 1224 Smokin' Pro smoker has the looks of an ideal offset barrel smoker. From its steel construction to its wooden shelves and handles, this smoker gives you everything you need.
You can fill the offset firebox barrel with charcoal and get the smoke ready to head for the food. The side firebox and the grill barrel are made with durable, powder-coated steel that won't rust or get banged out of shape. The smoker also has cast-iron, nonstick cooking grates, which hold up well against warping and frequent use.
The Char-Griller Smokin' Pro's removable drawers make it easy add more charcoal and dump out ashes. There are two shelves, one in the front and one on the side. The Smokin' Pro gives you approximately 830 square inches of cooking space–580 sq.in. in the main grill and 250 sq.in. within the firebox.
Positives
Negatives
Assembly can get frustrating
2. Char-Broil American Gourmet Offset Smoker

If you need a "starter" smoker, then you should really look at the Char-Broil American Offset Smoker. The price points is shockingly low compared to average smokers, let alone top of the line smokers. I'm talking 1/10th the price.
Of course, the price points comes with some drawbacks, including cheaper construction material, and more importantly, a more difficult time maintaining accurate temperatures for smoking your meats.
That being said, it gets the job done, and with a little bit of care, you can still make delicious, wood-fired or coal-fire smoked meats in your backyard.
This is a perfect grill for someone who thinks they want to become the guy who always has something tasty on the grill, but doesn't want to invest an entire month's paycheck into a 4-ton massive Texas-made tank.
Positives
very low price point for smoker
great starter smoker
small size great for small outdoor areas
cart + wheels for easy moving
not too bad at holding temperature
can grill and smoke
Negatives
some complaints about low quality manufacturing
gaps mean that you'll steadily lose temperature over time
color fades over time
3. Kingsford Ranchers XL Charcoal Grill/Smoker

If you want to get an offset barrel smoker in the middle price range, then the Kingsford Ranchers XL is a great choices. Though not up there in the $2k range like custom USA-made smokers, it's still a way better quality of construction and has much more durable materials than the more inexpensive smokers on this list.
See that massive fire box? That also doubles as a wood-fired grill.
Honestly, the best thing about the Kingsford is the massive amount of space you get for the price. Since you've got two levels of smoking going on, you get a total of 1,510 inches of smoking space. That's a lot of meat.
Positives
Firebox doubles as a grill
Thick steel construction with welded joints
Good heat retention
Inexpensive for the quality of construction
Large smoking surface area (2 levels)
Negatives
Heat retention isn't perfect. Could be better (use high heat tape)
Grill grates can warp if not seasoned properly
Temperature can be different in different parts of the grill
4. Loaded Wichita From Yoder

There's no greater feeling than buying an American made smoker, and the Yoder Wichita will live up to your expectations. The look of a smoker may be just cosmetic, but even so, the large smoke stack with big wagon wheels, and the classic offset firebox really sets this smoker apart from others in terms of "cool factor".
Yoder smokers are American made, and made for competition barbecue. Even if your only competition is yourself.
Unforutnately, you can't order a Yoder online like the other smokers in this list, but I really wanted to get an American-made smoker on the list. You can still search for local dealers online though.
5. Traeger Grills Pro Series

There's a reason you know the name Traeger. They're one of the best. This is simply an awesome smoker/grill combo, and it's pretty hard to beat the quality of meat you can make on a Traeger at this price points.
Personally, one of my favorite things about Traeger grills is the pellet system. To be honest, I hate having to buy and store large amounts of charcoal and wood for my smoker, especially when I want to try different flavors of wood smoke.
Just buying a bunch of different bags of pellets makes it a lot easier and simpler, especially since I can buy them on Amazon and have them shipped to my door. Try buying a stack of cherry wood online one week, then a stack of mesquite the next. Pay those shipping rates!
Another thing that's easy about Traeger is that the temperate is controlled automatically with the controller on the side box (pellet hopper). An internal auger the releases more pellets as the temperature drops, and a heat rod + induction fan do the rest to ignite the pellets and fan the fire.
Very cool, right?
Thought Traegers are a bit more expensive than other brands of smokers, they certainly are a hell of a lot cheaper than "authentic" smokers that you buy from Texas or other parts of the USA which are known for high qualty smoked meats. Those things can run you $2,000+.
Of course, those are cool too, but Traeger grills are a nice compromise since they are a mid price point but very high quality, and great for back yard, casual smoking enthusiasts. Plus, they can take your grilling game to the next level!
Positives
Middle price point
Can grill and smoke
Easy to try new wood smoke flavors with pellets you can buy online
High quality construction material
Wood smoke flavor while grilling
Easy temperature control
Easy to use for beginners, solid smoking for pros
Negatives
More expensive than generic brands like Char-Broil or Char Griller
Buying Guide for Offset Barrel Smokers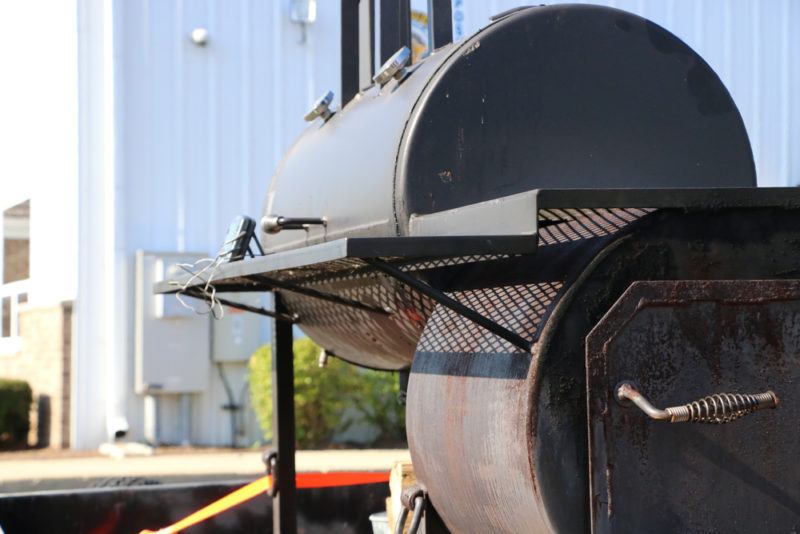 The first thing to consider when looking at an offset barrel smoker is its steel. Is it made from 1/4 heavy gauge material or something thinner? The thicker the steel, the longer it'll last.
Also, how many people do you usually cook for? This will determine how much cooking space you'll need. If you need to feed a lot of people, the Dyna-Glo Signature Series or the Smoke Hollow unit will be your best bets.
Next, check the tightness of the lids on the firebox and main chamber. Lost heat can increase the cooking time and result in uneven food quality. A tighter seal keeps the heat inside and maximizes the smoker's overall temperature.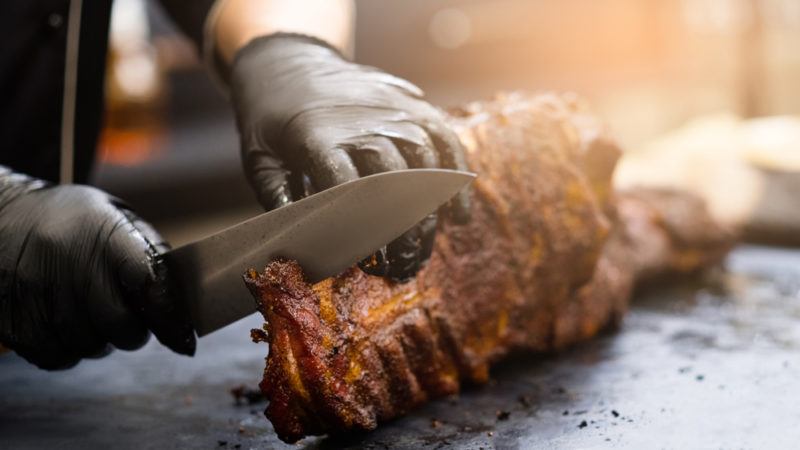 Mobility and size are two more factors to consider. Most offset barrel smokers are too heavy to pick up, so if you plan to move your unit around, you'll probably want something with wheels on the bottom. Some models have wheels with extended tread, which will come in handy on mud and uneven ground.
And as always, think about your budget. These kinds of smokers can run anywhere from a couple hundred dollars to a thousand.
About Offset Barrel Smokers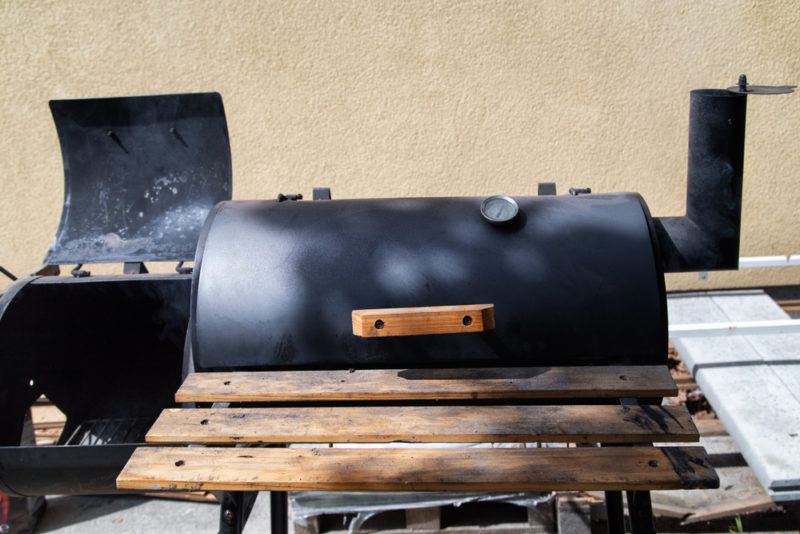 As the pictures above indicate, offset barrel smokers have a horizontal, cylindrical shape with a smoker or firebox attached on the side. They're designed so that smoke will rise from the firebox into the main chamber, giving your food that great smoky flavor.
To change the temperature and smoke flow, you need to adjust a smoker's air and exhaust vents. You'll do more work than you would with other types of smokers, but some models have temperature gauges to make it easier.
When you're cooking food, it's important to keep the lid closed as much as possible. Don't open it unless you need to rotate food on the grill and make sure that everything gets smoked properly.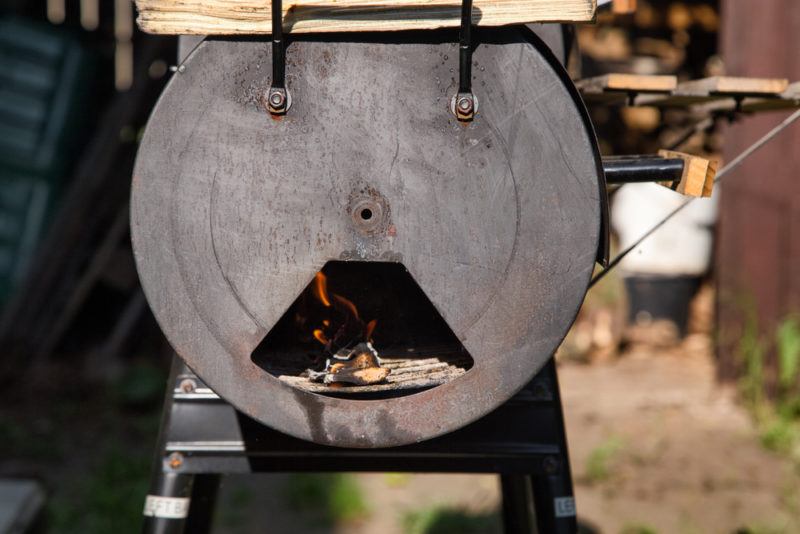 One advantage of these smokers is that they're easy to clean. You'll mainly need to wipe down the grates, which shouldn't take longer than 20-30 minutes. Getting rid of ash won't be too hard either, depending on which type you choose.
An offset barrel smoker is great for hardcore barbecue competitors or average Joes who want to grill some food on the weekend. Go over the info in this guide and pick the one that fits your budget and cooking needs the best.