There are many types of smokers out there, each with their own advantages and disadvantages. Personally, I think the offset barrel smokers look the coolest, but I'm also a fan of the offset vertical smokers (plus they take up less room). Historically, offset barrel smokers were mostly used in the south, but nowadays you see them all over the country.
The offset design is uses a heat in the "firebox", then transfers the heat and smoke from that unit to where the food is. This offset smoking method means your food cooks on indirect heat, thus slow cooking in smoke. More smoke flavor gets in, and the slow cook ensure that your food cooks all the way through but gets more and more tender over time. That's why smoking a brisket or rack of ribs could take all day long!
The offset barrel smoker is the true indication that you're a true master at the outdoor cooking niche. These cooking units have been known to be excellent in the barbecue competition field, and now you can have them in your backyard. As long as you know how to control the temperature of the smoker, and how to efficiently use it, the offset barrel smoker can be a valuable piece of a griller's arsenal. Whether you participate in barbecue competitions, or you're just looking to enjoy some well cooked meat, these five choices will do well for you.
I've picked a variety of sizes and heating styles. Some will take pellets, while others will take charcoal. Both types of fuel sources require a bit of babysitting, but pellets are generally easier to handle. For even more efficient smoking, check out our electric and gas smokers.
Top 5 Best Offset Barrel Smokers
Char-Griller 1224 Smokin' Pro Smoker
Dyna-Glo Signature Series Offset Barrel Smoker
Oklahoma Joe's Highland Offset Smoker
Char-Broil American Gourmet 300 Series Offset Smoker
Smoke Hollow Pro Offset Barrel Smoker
1. Char-Griller 1224 Smokin' Pro Smoker
The Char-Griller 1224 Smokin' Pro smoker has the looks of an ideal offset barrel smoker. From the steel construction, to the wooden shelves and handles, this smoker will give you everything you need. The offset firebox barrel can be filled with charcoal; getting the smoke ready to head for the food. The side firebox and the grill barrel are made with a powder-coated steel construction so that it doesn't deteriorate from rust. It will also be protected if it gets banged up here and there; giving you your money's worth. The nonstick cooking grates are made with cast iron and do well against warping and frequent use.
The Char-Griller Smokin' Pro has removable charcoal drawers that will allow you to add more charcoal if needed, as well as dump the ashes that are already there from burned charcoal. This makes the cleaning process much faster so that you can focus on cooking or just relaxing. The are two shelves: one in the front and one on the side. There is about 580 square inches of primary cooking surface, as well as 250 square inches of space within the firebox for smoking. Combined, you'll have 830 square inches of total cooking area that can be used for either smoking or grilling.
Positives
Negatives
Assembly can get frustrating
2. Dyna-Glo Signature Series Offset Barrel Smoker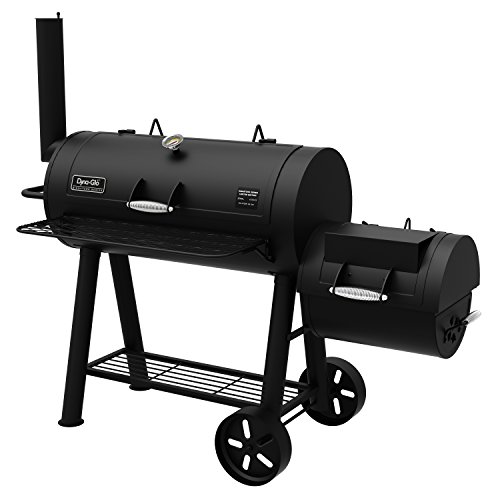 Another ideal offset barrel smoker with large cooking space, the Dyna-Glo Signature Series DGSS962CBO-D offset barrel smoker comes in at a close second on the list. You'll have about 962 square inches of total cooking space to work with: 675 square inches measured for the main cooking area and 287 square inches in the offset firebox area. The primary cooking space alone is more than enough room for thick meats such as turkey, pork shoulder, and ribs. And let's not forget the cool-touch spring lid handles that will protect your hands from getting burned.
One downside to some people will be that this Dyna-Glo smoker is too high in price. While this can be an issue for some, it's best to acknowledge why the price is on the higher side and see if it's worth it to take a chance and purchase the smoker.
It's clear that the Dyna-Glo Signature Series has a heavy-gauge steel construction. This thick steel will help keep heat inside even when the smoker reaches its temperature peak. You're basically paying for long lasting durability when you purchase the Dyna-Glo Signature Series. This smoker is expected to last long if you take care of it, so if you break down the years you have this smoker without any problems, it might be worth your while.
Positives
Has a lot of cooking room

Durable construction

Cool-touch handles protect hands from burning
Negatives
3. Oklahoma Joe's Highland Offset Smoker
Char-Broil's most popular offset barrel smoker, the Oklahoma Joe's Highland Offset Smoker delivers in both quality and performance. The main cooking chamber alone consists of over 610 square inches, so cooking high volumes of food will be as easy as it gets. You'll also have an easy access door to the firebox so you can better control the temperature; whether that be adding wood or stoking it to spread the fire throughout the rest of the fuel source. In addition, there will be multiple dampers integrated within the grill so that you can better control the heat and smoke.
You'll be very organized when using the Oklahoma Joe's Highland smoker. This smoker contains two shelves: one in front of the grill and one underneath. The upper shelf is a great accessory to have when you're ready to apply some seasoning on your meat, or if you need a place to put your beer. As for the bottom shelf, you can use it to store bags of charcoal, or other larger items, thanks to the wide open space you have available. If you're thinking about moving the smoker around, you may be in luck as well. There are two extra large wheels on the bottom that will move the heavy steel smoker like it's a feather.
Positives
A large amount of cooking room

Easy to access firebox

Plenty of storage space

Large wheels encourage mobility
Negatives
Lacks durability; made with thin steel
4. Char-Broil American Gourmet 300 Series Offset Smoker
This Char-Broil offset barrel smoker is the ideal unit for an average sized family. Low and slow is the best way to describe this product. This smoker stands out because of its all-black durable steel construction that will protect the interior from any outside objects while preventing heat leaks. The porcelain-coated grates will hold any meat and stabilize it perfectly so that it cooks evenly. You can clean them conveniently with a damp wash cloth, no need to scrub! While this smoker is strong as an ox, it is backed by Char-Broil's manufacturer's warranty just in case something breaks down by chance.
You can also take the Char-Broil American Gourmet 300 on the move if need be. There are two large treaded wheels that will help you move the smoker easily, regardless of how rugged the surface is. Whether it's cement, grass, or even mud, you'll be able to move this smoker where it needs to go. If you're concerned about temperature and don't feel like freeballing it, there is a lid-mounted temperature gauge that will display the exact temperature of the smoker. This way, you'll be 100% certain of how much heat is being applied to your food instead of guessing.
Positives
Portable

Durable

Has a lid mounted temperature gauge
Negatives
Doesn't have any storage space

Small cooking space
5. Smoke Hollow Pro Offset Barrel Smoker
Finally, the Smoke Hollow Pro Offset barrel smoker is last but not least on the list at #5. Running out of room won't be an issue with this smoker. There is 720 square inches of cooking area, which is said to be enough for about 45 burgers! That incredible amount of space will leave room for the entire neighborhood and more! It also opens up more opportunities to cook larger-sized food such as full chickens and salmon. The heat can be derived from either burning wood or charcoal, depending on what you like to use the most.
The wheels on the bottom of the smoker are extremely beneficial, especially when you consider how much this unit weighs. The Smoke Hollow Pro has dimensions of 62W, 31D, and 56 H; weighing in at 220 pounds. There is no way for the average person to carry this smoker, and even if you can, it probably won't be comfortable when taking it from one point to the next. But with the wheels at the bottom, you can tilt the smoker a certain way and pull it anywhere. The smoker is this heavy because it is made with a welded steel that has a high temperature powder coating. This will stop heat from escaping from the unit; keeping your food as warm as possible.
Positives
Made with durable thick steel

Mobile

Has a lot of cooking space
Negatives
Tough to assemble

Main door can be sealed better
Buying Guide for Offset Barrel Smokers
The general buying guide for offset smokers is pretty consistent across the board. First off, what type of steel is the smoker made out of? Is it the ¼ heavy gauge material, or something thin? This makes a big difference in how long your smoker will last.
How many people to you cook for daily? This will determine how much cooking space you'll need from your smoker. The Dyna-Glo Signature Series and the Smoke Hollow smoker both have a large amount of cooking space available in the main chamber so you can cook a lot of smaller foods or a handful of larger ones.
Next, consider how tight the lids are on your firebox and main chamber. This is crucial but lost heat could increase the cooking time and could even prevent your food from cooking to its fullest potential. Having a tight seal will keep everything inside; maximizing the overall temperature of the smoker.
Consider other options too, like mobility and storage. While these two features aren't an absolute must, they do make things extremely easier for the buyer. What does mobility consist of? Well most offset barrel smokers are very heavy due to being made with high quality steel, so picking it up is really out of the question. In order to move it around, you're going to need wheels on the bottom. A solid majority of offset barrel smokers have wheels on them, some with extended tread so that you can get through unstable terrain.
This usually goes without saying, but it's important to reiterate so that you can get a solid understanding of what you need to do prior to buying the best offset barrel smoker. Coming up with a realistic budget will narrow down the smoker you can get, so that you don't spend too much or too little. Offset barrel smokers can go anywhere from a couple of hundred dollars to over a thousand, so having an idea of how much you want to spend will be helpful.
About Offset Barrel Smokers
So now that you know what to think about before buying an offset barrel smoker, it's time to get an idea of its background. By indulging in the important information of the offset barrel smoker, you'll know what you're getting into before buying it.
Starting with the construction of the 5 smokers on the list, you'll notice that the shape of the smoker is horizontal with a smoker attached on the side at an angle. This layout is meant for the smoke to rise from the firebox and enter the main chamber to apply itself to the food, which explains the taste afterwards. You initially create a fire in the firebox with charcoal or wood, and the heat and smoke indirectly go through a hole that goes through the food and out of a chimney.
Changing the temperature and smoke flow within the smoker is manual, compared to other fuels, such as a pellet smoker. You can basically adjust the air and exhaust vents, which controls the amount of oxygen allowed into the unit. Since the more oxygen there is, the hotter the fire will be, it's up to the griller to use the vents to their advantage and get the result they are looking for. This isn't necessarily the best news for people who prefer to have a digital display show them the temperature at the turn of a knob. Luckily for some, there are a select few offset barrel smokers that do have a temperature gauge in the lid so you can easily see the smoker's current temperature.
It's important to keep the lid closed as much as possible after you throw your food in there. The reality of offset smoking is that you won't be able to create a consistent temperature if mass amounts of air enters the smoker. The only time you should consider opening the lid during cooking is if you have a lot of food on the grill. The reason being is so you can rotate the furthest cuts of meats closer towards the firebox, as well as take the food closest to the firebox and rotate it away.
Luckily, it doesn't take much to clean this type of smoker. The most thorough cleaning you'll have to do is wiping down the grates, which shouldn't take any more than 20-30 minutes. Even your most durable grates are bound to collect food residue after a while, so the sooner you rid your smoker of that, the better. Getting rid of ash is another chore, and the difficulty will depend on what brand smoker you purchase. Some smokers have an easy to access firebox which not only helps you rid of the ash but also gives you a wide open view of the burning charcoal.
The offset barrel smoker can be used for over a handful of different purposes. You could be a diligent barbecue competitor, or just the average guy who wants to smoke food in the backyard or the park. Either way, this type of smoker will take you where you need to go. After reading this guide, you can now sit back, grab a cold beer, and make an educated decision on what type of offset barrel smoker best fits your budget and other needs.