Who would've thought that you could smoke foods with electricity?
If the weather is nice, people want to go outside and fire up the grill. Smoker grill combos can be appealing at moments like those because they offer variety. These machines are shaped like a traditional smoker but have the ability to grill as well. The units we'll look at in this post depend on electricity, typically via a power outlet.
Using electricity creates a completely different experience than using wood pellets, charcoal or propane. Some outdoor grilling enthusiasts will tell you that electric smoker grills are very convenient but don't give your food an authentic smoky flavor. Don't let talk like this distract you from the benefits of using these devices. The ones we'll look at below are easy to start and don't need much minding. As long as you have a power outlet nearby, you can smoke or grill delicious food anywhere.
Top 5 Electrical Smoker Grill Combos
Southern Country Smokers 2-in-1 Electric Smoker Grill Combo
Masterbuilt 20078616 Electric Smoker Grill Combo
Masterbuilt Sportsman Digital Electric Smoker Combo
Southern Country Smokers Electric Smoker Combo
Char-Broil SmartChef Electric Smoker & Roaster
1. Southern Country Smokers 2-in-1 Electric Smoker Grill Combo

No matter what the weather's like outside, the Southern Country Smokers 2-in-1 will deliver. The 1500 watt heating element will heat up right away once you plug it into a dependable power source. You can plug the unit into a standard outlet or an extension cord.
This Southern Country Smokers unit gives you about 351 square inches of cooking room to work with. Its durable reinforced steel legs can keep it stable on a variety of surfaces. When you want to change the unit from a smoker to a grill, it has a reflector pan that redirects the heat towards the cooking surface, ensuring that your food is cooked evenly. The unit also has an interlocking hood, which keeps excess food particles or other substances from leaking out.
Positives
Good price

Fair cooking space

Heat resistant handles

Light
Negatives
Inconsistent heating element
2. Masterbuilt 20078616 Electric Smoker Grill Combo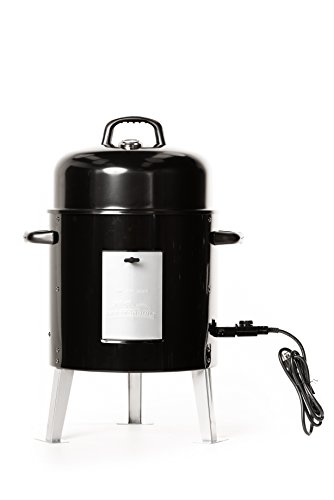 The Masterbuilt 20078616 Electric Smoker Grill Combo may provide the most value for its price. It delivers over 1,600 watts and can reach 400 degrees Fahrenheit, which should be enough to cook many types of food evenly.
The Masterbuilt combo unit gives you the 395 square inches of space on two durable, porcelain smoking racks. When you've finished grilling, you can clean the racks just by wiping them down.
The Masterbuilt 20078616 offers the lowest price on this top 5 list. You can find it for well under $100. If you're on a tight budget but looking for a reliable electric smoker grill combo, this unit might be the one for you.
Positives
Inexpensive

High watt outage

Integrated temperature gauge
Negatives
3. Southern Country 4-in-1 Dual Fuel Smoker Grill

The griller who embraces versatility will appreciate the Southern Country 4-in-1 Dual Fuel Smoker Grill. It gives you about 350 square inches of cooking surface overall, allowing you to cook about 22 hamburgers at once. The 5.5 quart water pan will ensure that your food stays moist and tender.
Although it's primarily a smoker, you can use the Southern Country 4-in-1 as a charcoal or an electric Lock N Go grill quite easily. Its vertical construction will make it easier to store. Weighing in at 23 lbs. and featuring an interlocking hood and bowl, the smoker grill is easily portable as well. This unit has a great value, considering the wide range of things that you can do with it: You can find it easily for about $120.
Positives
Can cook a fair amount of food at once

Durable construction

Lightweight

Decent price
Negatives
Assembly can get a little confusing
4. Southern Country Smokers Electric Smoker Combo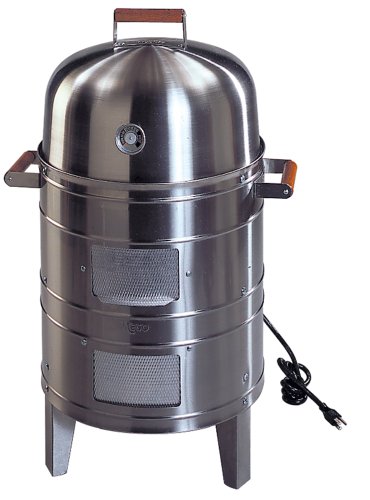 The stainless steel finish on the Southern Country Smokers Electric Smoker Combo will shine bright in the summer sun and keep it rust-free throughout the seasons. It has two sturdy, chrome-plated cooking grids that will clean easy when the party's over. With 351 square inches of cooking space, it gives you enough room to cook for a handful of people. If you're grilling for a large group, however, you might need to stay for a few rounds.
This Southern Country Smokers unit makes slow-cooking easy. With its 5.5 quart water pan, you can trust that your food will be tender and juicy each and every time you cook. The unit also has wooden, heat-resistant side and hood handles to help protect your hands.
Positives
Made with durable stainless steel

Built in temperature gauge

1500 Watt heating element
Negatives
5. Char-Broil SmartChef Electric Smoker & Roaster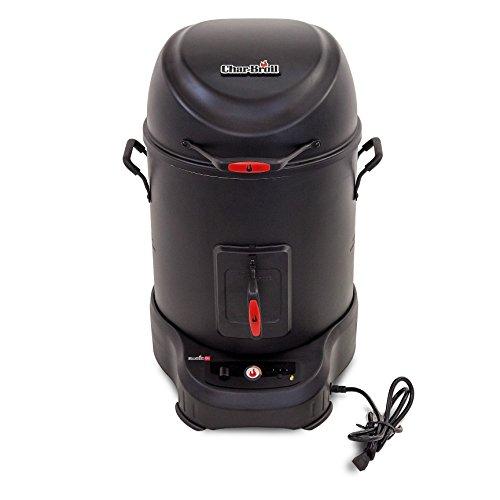 The Char-Broil SmartChef Electric smoker grill combo uses technology to give you a more convenient grilling experience. The integrated SmartChef app allows you to watch the cook time, chamber temperature, and internal meat temp right from your smartphone. It also sends notifications to your phone about different cooking stages.
At first glance, you might think that the Char-Broil SmartChef electric smoker combo is just a smoker because of its compact size. In fact, you can actually use the bottom of the unit to grill your food. It also comes with an external smoke box, which allows you to add different seasonings and enhance the flavor.
Positives
Convenient SmartChef app lets you monitor temperatures

Integrated meat probe

Inexpensive
Negatives
App is inconsistent

Hard to clean
Buying an Electric Smoker Grill Combo
If you aren't very fond of technology, you should probably stay away from electric smoker grill combos like the Char-Broil SmartChef or the Masterbuilt Sportsman. These combo units' mobile apps are very convenient, but confirmed Luddites can probably do without them.
How much should you spend on an electric smoker grill combo? A high quality smoker can be expensive, so if you're new to smoking or don't expect to use it much, you might want to start with something cheaper. You can find grills on this list for $100 or less. The Char-Broil SmartChef, the Masterbuilt smoker combo and the Southern Country 2-in-1 combo grill offer users the most value for their respective prices.
The cooking space and size of an electric smoker grill combo are things to keep in mind too. Also, you'll probably want a compact sized electric smoker grill combo with a fairly decent cooking space so that you can fit the grill in smaller areas but still cook for at least a handful of people. Finding the right balance can be tricky, but it's possible. Most of these combo grills are tube-shaped, so it shouldn't be too difficult to fit them somewhere close to your house or apartment.
Also, think about where you plan to smoke and/or grill your food. Since you'll need electricity to fire them up, you'll probably need some extension cords if you want to cook in the backyard but don't have outdoor outlets.
About Electric Smoker Grill Combos
There are pros and cons to using electric smokers and grills. Nonetheless, they can be just as good–if not better than–some of the charcoal or gas smokers out there.
Cooking with an electric smoker grill combo unit is easy. You can power them up with the flick of a switch. Other types of fuel take much more time and effort. With an electric unit, you won't need to light the charcoal, wait for it to heat up or check on it every other minute. Also, you won't need to clean up the mounds of ash that come with cooking charcoal.
In theory, electric smoker grill combos can cook any cut of meat. However, some types of meat cook better on a smoker than on other devices. Fish, for example, cooks very thoroughly on an electric smoker. So do steak, ribs, sausage, bacon and peppers.
On the other hand, certain foods simply taste better on a charcoal, gas, or pellet smoker. Pork ribs, pulled pork, and beef brisket tend to have a much better flavor because their texture absorbs the smoke.
If you buy an electric smoker grill combo, you can still get a good smoky flavor. Grillers can add wood chips specifically made to give cooked food that wood-smoked taste. Liquid smoke creates the same effect.
The downsides to using electric smoker grill combos aren't terrible, but they're worth noting. For starters, these units don't get as hot as charcoal or propane smokers do. Electric smokers can also take a little while to heat up at first.
One should also keep in mind the consequences of using wood to add flavor. Burning wood produces an odorless chemical called carbon monoxide, which could prove fatal if you inhale it for extended periods of time. This can make smoking or grilling indoors problematic.
At the very least, having an electric smoker grill combo beats having nothing at all. They're very easy to use and can deliver the smoky taste that grilling enthusiasts love if you apply the right ingredients.