Portable electric smokers give you the freedom to go wherever you please, so you can smoke your favorite meats at the park, while camping, or in your backyard, as long as you have access to a power outlet.
Plenty of outdoor cooking enthusiasts are attracted to electric smokers because of this convenience. There is no fuel source to keep tabs on and no residue or ash to clean up. Just plug it in and start cooking.
The combination of the portable size and the consistent heating is a major to consider getting a small electric smoker. Though some will say that they don't get the "true" or "authentic" smoked flavor, many buyers love the convenience of an electric smoker.
If you want to get the best results, you need the best product. Below, you'll get to examine the top 5 portable electric smokers. Featuring easy-to-carry designs, wheels, handles, and digital controls, these options will help simplify your outdoor cooking experience.
Top 5 Portable Electric Smokers
Masterbuilt 20073716 Portable Electric Smoker
Char-Broil Deluxe Digital Electric Smoker
Meco Americana Double-Grid Electric Water Smoker
Southern Country Smokers 2-in-1 Electric Water Smoker
Masterbuilt 20078616 Electric Bullet Smoker
1. Masterbuilt 20073716 Portable Electric Smoker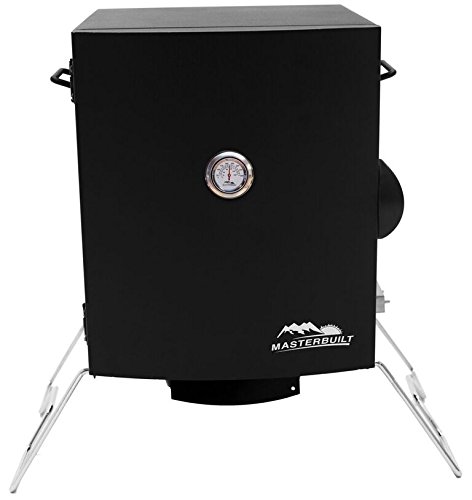 The Masterbuilt 20073716 is the ideal portable electric smoker. It can be used for the backyard, camping trips, tailgating, and road trips. It has two chrome racks that will come in contact with the 1,400-watt heating element. This heating element maintains a consistent temperature throughout the cooking process.
The control settings are very simple. You can choose from low, medium, and high heat. No need to deal with complex heating controls, just estimate how hot you want your food to cook and go for it. Once you set the heat, you can monitor the temperature on a gauge located on the door.
Another reason why the Masterbuilt is the model portable electric smoker is due to the legs used on this unit. The legs can fold effortlessly so you can transport it to the next destination or just store it somewhere convenient. All you need to do is fold up the legs, grab the smoker by the side handles, and take it with you. Easy as that!
Positives
Has a 1,400-watt heating element

Temperature controls are simple

Smoker legs can easily fold

Temperature gauge is easy to read

Fair price
Negatives
Does not have a clear door to view food cooking
2. Char-Broil Deluxe Digital Electric Smoker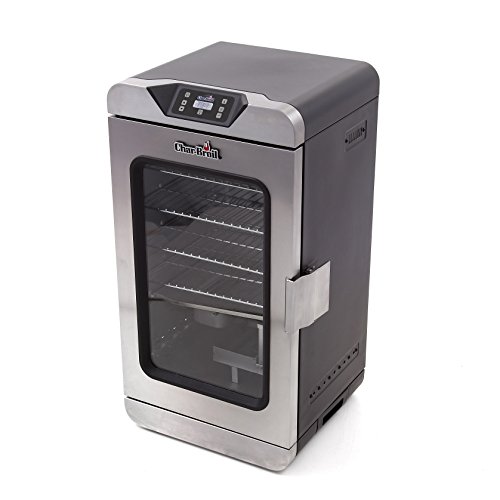 This digitally controlled electric smoker will allow users to sit back and watch their food smoke. Using advanced technology, the Char-Broil Deluxe digital electric smoker can easily cook large cuts of meat to perfection. The double wall construction will provide the perfect amount of insulation needed to cook your food.
The glass door in the front will allow you to watch the meat slowly transform from raw to cooked. Through the glass door, you can see 6 grates placed vertically; more than enough space to cook for a handful of people. The lightweight frame of this electric smoker will make it easy to carry back and forth.
The blue LED display shows you the exact temperature of the smoker, while providing additional cooking controls. Besides a power button, there are two arrows to increase or decrease the temperature, along with options to enhance the smoker experience.
One feature that helps this electric smoker stand out from the rest is the latch on the door. There is a stainless-steel locking latch which provides a smoke-tight seal so that no heat leaks from the unit. With this latch, you can be certain that your meat will obtain the maximum amount of heat possible.
This is another convenient, easy-to-use electric smoker. It has a stylish design with a large LED display. Some people may be put off by the extra settings, but they allow you to have more control over your smoked foods.
Positives
Easy to carry

Removable food thermometer

LED display control panel
Negatives
Controls aren't easy to use

Temperature is inconsistent at times
3. Meco Americana Double-Grid Electric Water Smoker

The Meco Americana electric water smoker has an old school smoker look. This smoker contains a stainless-steel hood and body that will help it stand out from other smokers while eliminating the possibility of rust.
You will have about 351 square inches of cooking surface; a good amount for a small family. The two nickel plated cooking grids will give you plenty of room to cook with, and now they're easier to use than ever with integrated handles. The temperature gauge in the front of the unit is straightforward; displaying three heat levels of "warm, ideal, and hot", as well as numerical temperatures above these sections.
Portability is evident with the Meco Americana Double-Grid electric smoker. This smoker is equipped with three handles in total: two on the sides, and one on top of the lid. These handles will let you pick the smoker up and move it when you need to. In addition, there are durable steel legs which offer extra strength and stability. Regardless of the type of terrain, these legs will have your back. As for the price, you will likely find it to be reasonable after considering everything this smoker has to offer.
Positives
Made of durable material

Sturdy handles make it easy to carry

Convenient temperature gauge
Negatives
4. Southern Country Smokers 2-in-1 Electric Water Smoker

The very versatile Southern Country Smokers 2-in-1 electric water smoker is another inexpensive portable electric smoker. A steal for most people, you can pick up this smoker for less than $100. There are 351 square inches of space available to you; consisting of 2 chrome-plated cooking grids. This smoker also has a porcelain water pan that can hold up to 5.5 quarts of water to help produce tender and juicy meat.
This electric water smoker combo grill from Southern Country Smokers will be safe to carry at any time during the cooking process thanks to the heat-resistant wooden side and hood handles. Now you won't need to wear gloves or wait for the smoker to cool down before moving it where it needs to go.
This electric smoker is designed for portability, with two extra-strength steel legs and convenient handles. The legs will hold up against rough terrain, as will the rest of the smoker.
If you're the type of cooker who enjoys variety, you'll embrace the fact that this smoker can also transform into a Lock-N-Go portable electric grill; giving you options when you get ready to cook. Though, this isn't the only electric smoker/grill combo.
For those wanting a budget option, this electric smoker should fit your needs. It is affordable, versatile, and provides more than enough cooking space.
Positives
Heat resistant handles

Plenty of cooking space

Cheap

Turns into an electric grill
Negatives
5. Masterbuilt 20078616 Electric Bullet Smoker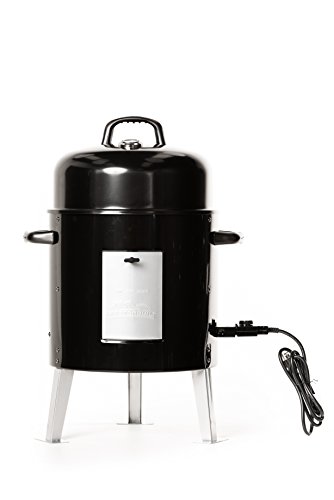 Another perfect portable electric smoker for the individual with a budget, the Masterbuilt electric smoker has a lot of surprises. Let's start with the smoker's portable features. There are two handles (one on each side) and a handle on the lid, so you can pick up the smoker at any time. Since the unit is relatively small, there shouldn't be any issues carrying it with you wherever you go.
The price is also an important factor. If you shop at the right time, you may be able to get this smoker for less than $50, which is as low as you can go for a quality smoker. Despite the cheap price, this smoker is capable of handling your outdoor cooking.
There are almost 400 square inches of cooking space available on two porcelain coated racks. With the 1,650-watt heating element, you'll be certain that your food will come out even and fully cooked; with consistent smoking up to 400-degrees Fahrenheit. How will you be able to control such temperatures? There's a very easy to read temperature gauge on the lid that displays the exact temperature.
Positives
Very inexpensive

Compact size encourages portability

1,600-watt heating element
Negatives
Takes a while to heat up

Doesn't get as hot as other fuel sources
Buying Guide
Having an electric smoker can come in handy when you want to smoke your meats and not deal with a messy fuel source. All you need is access to a power source.
The most convenient portable grills will have handles that you can use to easily carry the unit to parks, the garage, your car, or wherever you would like it. Along with handles, the smoker should have sturdy legs, which may or not be capable of folding.
The Southern Country Smokers 2-in-1 electric smoker and the Masterbuilt electric bullet smoker are absolute steals for people who aren't looking to spend a substantial amount of money in one place. They will provide you with the cooking surface and heat needed to cook your food perfectly. They have enough cooking room for a small family, and are small enough to be considered very "portable."
It should go without saying, but durability should also play a role in your decision-making process. Brands such as Masterbuilt have been known to produce high quality, durable smokers, and the electric smokers listed above aren't an exception.
Controlling the temperature is very important for any smoker, especially electric ones. The Char-Broil smoker listed at #2 probably has the best display compared to the other smokers. The LED is very clear and will let you easily adjust the temperature. This bright display is great if you have vision problems or you just want the temperature to be easy to read.
Portable electric smokers tend to be more convenient than smokers fueled by wood, pellets, or charcoal. You plug the smoker into an outlet, turn on the heat, and wait for the unit to heat up. Temperature control is easier, meaning you don't have to stand glued to the side of the smoker all day.
The potential drawback is the taste, with some people missing the smoky flavor associated with charcoal or wood, though this largely depends on how you cook your food. With the right electric smoker, you can still get the same great taste and all the smokers listed above can help you achieve this.
About Portable Electric Smokers
Different smokers require their own designated fuel. Charcoal, propane, wood, and electric all provide different advantages and disadvantages. The electric smoker is known to produce heat using a heating element, and wood chips in some cases.
Ever wonder why smokers have that water bucket lookalike attached to it? The water pan is used to make sure that the meats smoked in the unit contain enough moisture so that they don't dry out. The water located in the water pan transforms into steam once it comes into contact with the heating element, keeping the food as moist as possible.
The water pan can be used in a variety of ways. For example, there are different spices and seasonings that you can add to the water pan and enhance the flavor of the cuts of meat.
Portable electric smokers are a perfect match for those who are often on the go. These units are usually lightweight and small enough to fit in the trunk of a sedan or a small closet. If you don't have many people to cook for, portable electric smokers will be just enough to satisfy yourself and those around you. If portability isn't an issue, then you may want to check out the 5 best vertical electric smokers.
Starting up an electric smoker is a very straightforward process as well. Most units have a heating element that can be powered on by the flick of a switch or a push of a button, so you won't have to wait too long to get the party started.
Another advantage of electric smokers is temperature control. The heating element is electronically controlled, while charcoal and wood smokers are sometimes unpredictable. There are times where they reach a significantly high-temperature, which proceeds to drop tremendously. To summarize; these fuel sources are great for reaching high temperatures but could do better at staying consistent. With electric smokers, these units are engineered to reach and maintain a certain temperature and can be controlled using an LED display.
Despite having some wonderful features, there are some disadvantages to having an electric smoker that deters a select amount of people that are interested in finding a portable smoker. Regardless of the fuel source, it will take quite a while to fully cook your meat, especially if it's a thick cut. Compared to charcoal, propane, and wood, electric typically takes longer to heat up and may not reach as high as a temperature, which can result in longer cook times.
Another potential issue when using portable electric grills is the power source. Portable grills are meant to be taken to a variety of areas, yet you'll have to limit yourself to areas that have power outlets available. Luckily, an extension cable can give you a little extra distance. For rustic camping, without access to a power outlet, consider getting one of the best portable charcoal smokers.
The bottom line is that electric smokers offer precise control and consistent heating. The potential drawback is that other fuel sources can reach higher temperatures, possibly reducing the total cook time.
If you like the portability that these smokers offer, remember to consider one of the 5 listed above. These are among your best options for an easy-to-use push-button smoker.