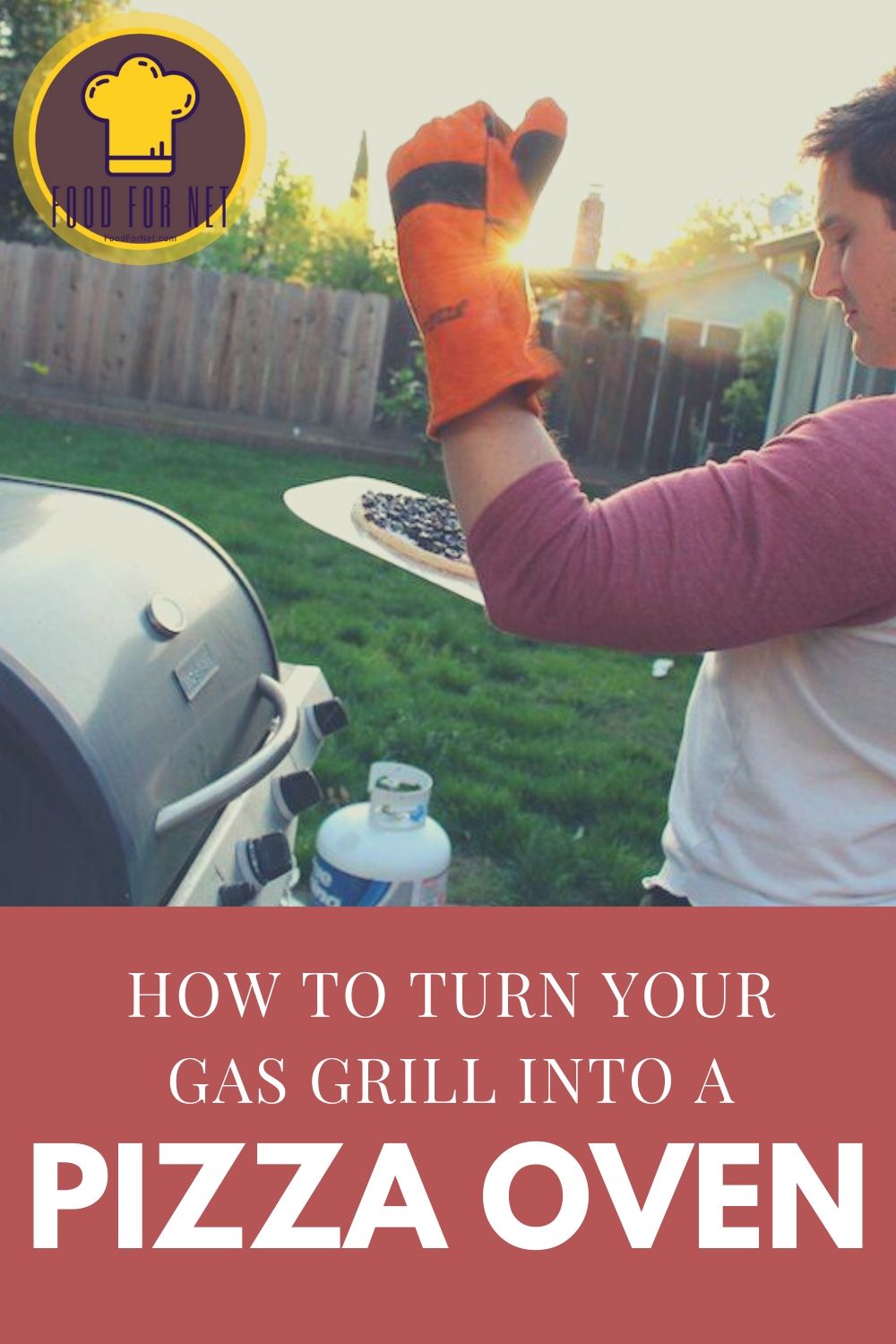 Summer is here, and so is grilling season. Grills are great because you can get outside, get some sun, and keep the house cool when you're cooking. It's time to turn your gas grill into a pizza oven.
You can grill a lot more than just burgers and ribs though, including homemade pizzas! You don't need a special grill for this though, since you can turn your regular gas grill into a pizza oven in a couple of different ways!
There's an art to grilling pizza. Though you can just stick some dough on a grill and see what happens, if you want to get the perfect crust, evenly cooked, with melted cheese and decently cooked toppings, you need to do a few practice runs for sure.
It's not easy!
Even so, it's worth the practice. Grilling pizzas outdoors is a super fun activity for kids, great for date night, or just something fun to do that you can post on Instagram. Everyone loves a homemade pizza!
Personally, I like to use the KettlePizza Gas. It's a bit of an investment, but the thing is indestructible, and works as expected. You only need to buy it once, and the quality of your pizzas will show. That's how you get those 800º temperatures required for Neapolitan, thin crust, crispy pizza!

Gas Grill Pizza Oven Kit – KettlePizza…
Gas grill pizza oven enclosure allows optimum cooking temperatures for cooking pizza outdoors
Made of the highest quality American Made stainless steel for years of use
Made in USA, Patented
Does not include grill, stone or pizza peel
Ways To Turn Your Gas Grill Into A Pizza Oven (With Pictures!)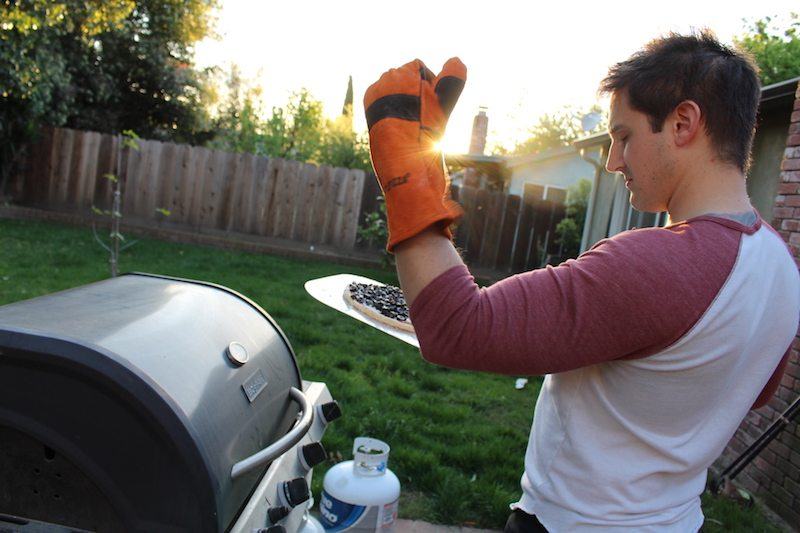 Two Very Basic Grill Options To Get Started
1. Do Nothing And Grill Your Pizza Like A Boss!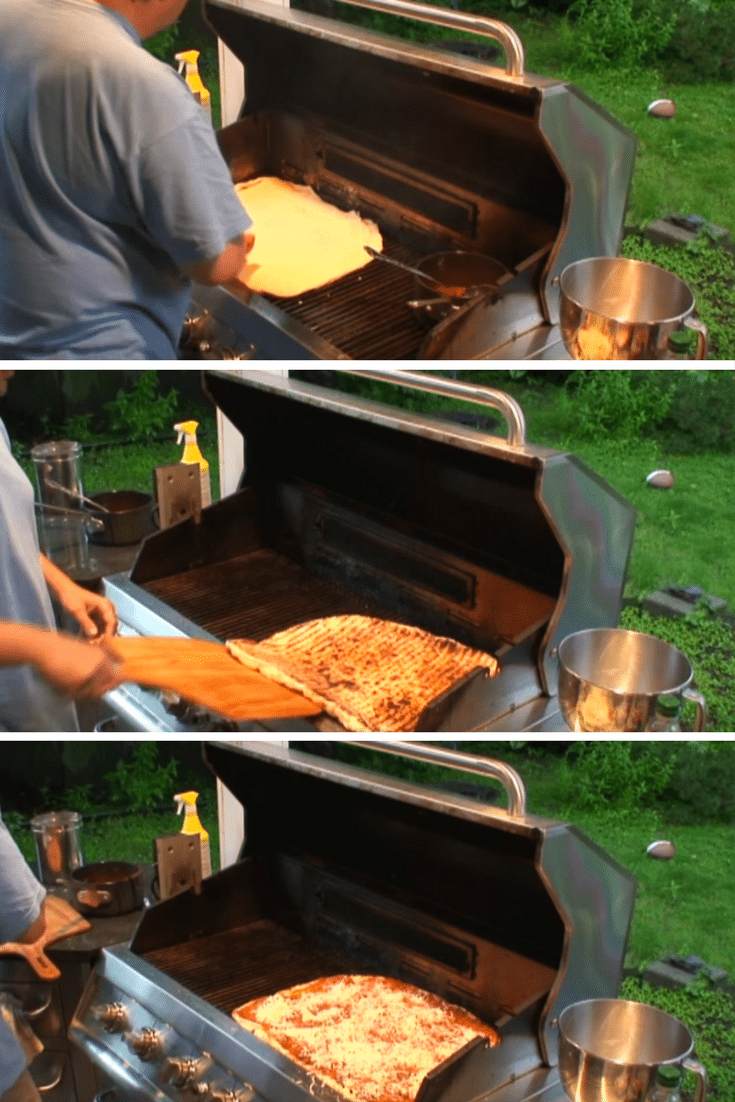 After all my practice with some really cool barbecue accessories that turned my gas grill into a legit pizza oven, I was surprised to find out that many people literally "grill" their pizza dough.
They don't use anything other than a basic barbecue grill. Typically, how this process goes is to make dough thick enough so it doesn't fall through the grates, so keep that in mind. No thin-crust pizza! Some people spread oil on one side of the dough so it doesn't stick, or use non-stick spray on the grill first. Others just toss it on.
You can use a pizza peel to flip your dough to the other side or use tongs if your dough is small enough. In the image above, you can see that this is an extra large pizza. Some people prefer to make "personal pan" pizzas, especially when barbecuing with friends or kids where everyone wants different toppings.
Grilling on both sides is essential. This will ensure that your dough is cooked all the way through. There's nothing worse than biting into a pizza where the middle is still soft and stringy like uncooked dough. So cook one side, flip it, then add toppings and cook until finished.
The downside to this method is that your grill will only reach about 500ºF max. This is not "true" pizza cooking temperature. Then, you run the risk of the dough sticking to the grill and making a huge mess. The texture of the dough may not be to your liking as well, since you will get some grill lines in your dough!
However, for many people and many events, this is good enough, especially since it doesn't require that you buy any equipment!
There's also a slight hack for this, where you can use a muffin tray or something similar under your pizza instead of placing it directly on the grill (like in the video below). Doing so gives you most of the same benefits, while also stopping the base of your pizza from burning.
2. Use A Pizza Stone Made For The Grill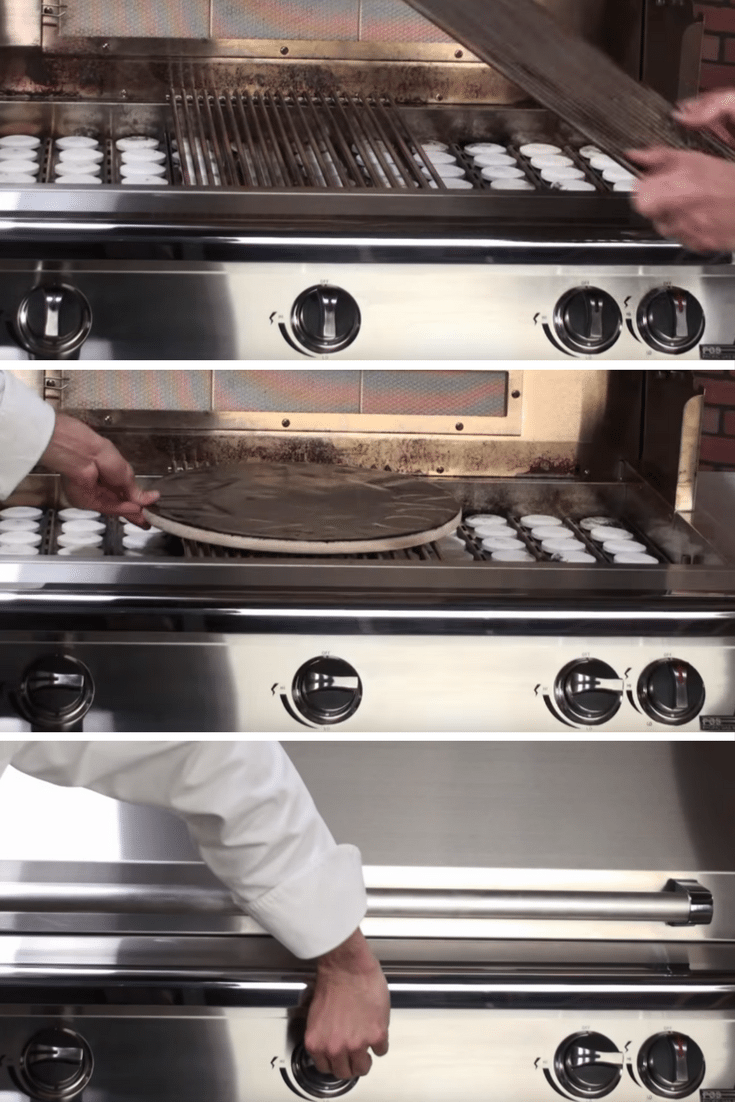 If you want to spend a little bit of money (but not much), you can make a more traditional looking pizza with the purchase of grill-approved pizza stone. Not all pizza stones are made for the grill environment! Direct heat or flames may crack regular stones meant for baking in the oven!
With a pizza stone for your grill, you can take some simple steps to mimic a brick pizza oven environment. With a 3 burner grill, remove the side grates so you have just one in the middle. Actually, my grill only has two grates, so I just removed one, and moved the other one to the middle. This helps the hot air flow to the top of the pizza so it cooks evenly on all sides.
Once you achieve your pizza cooking temperature in your gas grill (400º-500ºF), you can test your stone to make sure it's hot enough. Toss some beads of water on top. If they roll around, then your stone is ready to cook! Use a pizza peel to transfer your pizza to the stone. Cook for 5-10 minutes depending on your cooking temperature.
Again, this won't reach proper pizza cooking temperature of 700º-1000ºF like wood-fired brick ovens, but you'll still get a really good pizza. Plus, you won't have those grill marks or have to worry about losing dough through the barbecue grates. With a stone, you can cook that thin crust or deep dish style pizza (with a proper pan for deep dish of course).
Redneck DIY Options
If it looks dumb but it works, then it ain't dumb!
3. Foil Cover In The Grill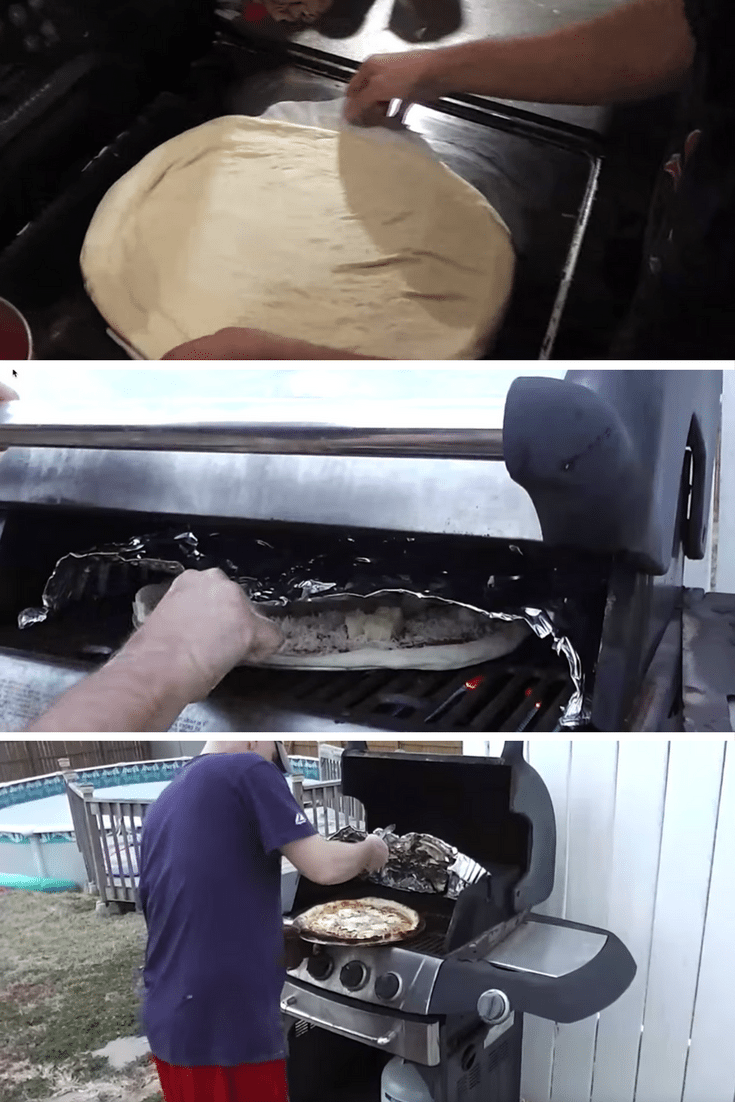 Who doesn't have a bit of extra foil on hand? Though this approach isn't as sturdy as a stainless steel KettlePizza cover (indestructible!), it works in a similar way.
This is another great way to turn your gas grill into a pizza oven for cheap – and this time, you'll get something close to the proper pizza temperatures!
It turns out that if you reduce the head space above the grill, you can heat that space up very quickly and very high. I'm sure this has to do with the fact that you now have an insulated pocket of super hot air between the ambient outside temperature and your "pizza making" area beneath the foil.
Depending on the size of foil you have in the house, it may take a bit of craft-making skills to fold a little cap for your grill.
Using this method, you should definitely turn the pizza a few times. It will cook in 5-10 minutes, but the temperature will get around 700º if you have your burners on high.
The back of the grill will be much hotter than the front, so to prevent burning, turning is essential! You can see from the photo that this pizza got a bit burnt around the edges. Personally, I don't mind it, but many people do.
Oh, and make sure you have oven mitts and tongs so you don't burn yourself!
The downside to this method is that you have to make the foil cover yourself, and it cant take a bit of practice and planning to get it the right shape/size to fit your grill, as well as fit a pizza underneath it. Plus, you don't want it too big or it won't get hot enough inside! Even then, turning the pizza may be a bit of a chore. If you lift the foil you lose all that built-up heat.
Combining this method with a pizza stone and pizza peel may be a bit difficult, and using a pizza peel is part of the fun of grilling pizza in the backyard!
So, the idea certainly isn't perfect. Still, it works well enough and doesn't require any special products beyond a pizza stone.
3B: Use A Turkey Pan
Rather than going to all the effort of shaping foil exactly right, you could experiment with a foil-like product that's already in the right shape. An easy starting point is a large turkey foil turkey roasting pan.
These pans are easily found at the dollar store, so you're not wasting much if they don't work. The trick is to cut off one side so that you can get the pizza in and out without a problem. If the pan is the right size, then it should function in roughly the same way as the foil setup we discussed above.
While you might still need to experiment, this process should be simpler than trying to get foil in exactly the right shape.
4. Homemade Brick Pizza Oven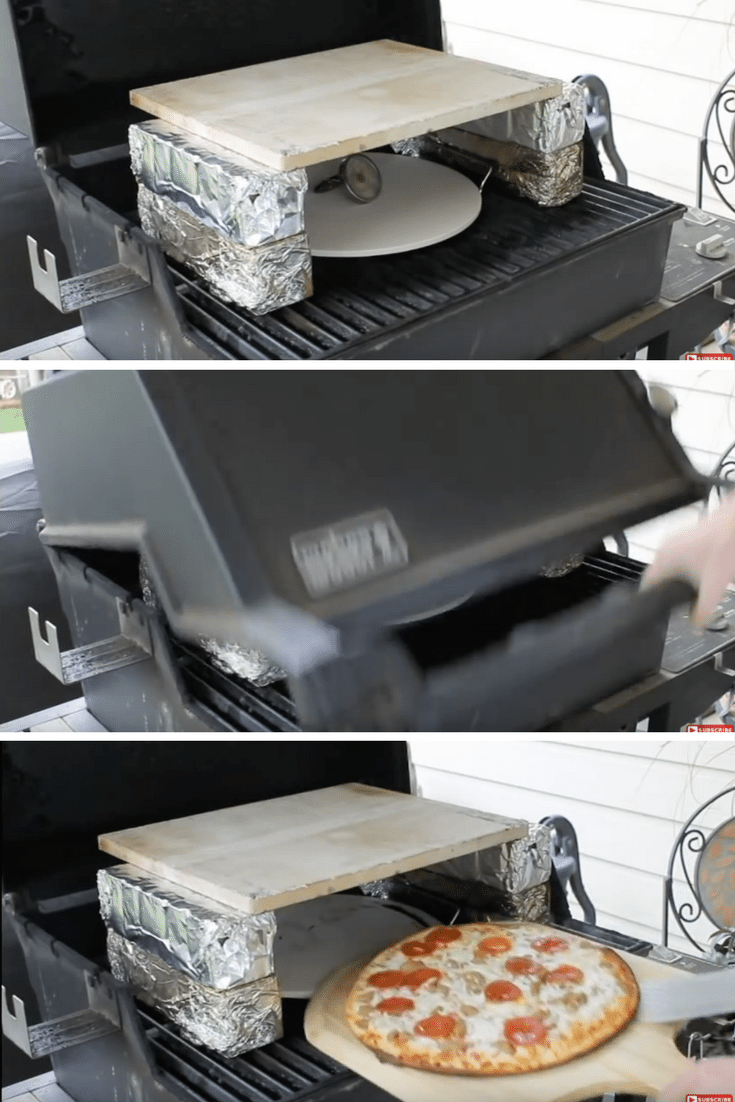 This is definitely some redneck ingenuity going on here. This is literally a brick oven. It's an oven, made of bricks, that's on top of a gas grill. You could use fire bricks, or just regular bricks covered in foil as this pizza maker has done. He also uses a pizza stone on top and bottom for an "authentic" pizza environment.
Unfortunately, using bricks doesn't make the pizza taste any better or worse. And the way this oven is set up, I'm not convinced that it gets much hotter inside the structure than outside. He mentions in the video that the temperature reaches about 500º, but that's pretty much what a grill can do on its own.
Still, it's fun to play with it. Perhaps with some bricks in the back and only stacking them one high (instead of two), you could get a higher temperature under the hood.
This will make a pizza, for sure, but you'd probably be better off doing method 2 above, and just getting the pizza stone for your gas grill, without the extra bricks.
Special Equipment For Making Pizzas On A Gas Grill
*note: These require a 3-burner gas grill approximately 24" wide, 17" deep
5. Bakerstone Pizza Oven Box
The BakerStone Pizza Oven Box is basically a professional way to do what we've been talking about with a foil or brick cover. The light brown box part is made using pizza stones, so there's a highly conductive surface surrounding your pizza. This is encased in a stainless steel cover and even has a small icon-based temperature gauge on top.
There's not a lot of space between the top of your pizza and the roof of the box, which makes this a little fiddly to use. However, the small space should help to keep the air hot (much more effectively than a makeshift brick oven on your grill).
There are multiple versions, including both a basic 12-inch, a basic 14-inch, and a basic 15-inch, which all work on gas and charcoal grills. There's also a version designed for gas stoves and a portable version that runs on its own gas. All of the versions get up to 900°F, which makes them fantastic for cooking pizzas.
Reviews are generally positive, although some users find that the pizza stones crack or that the oven doesn't get up to the advertised temperature. Also, because the temperature gauge only provides a hot/cold indication, you may need some way to test the actual temperature.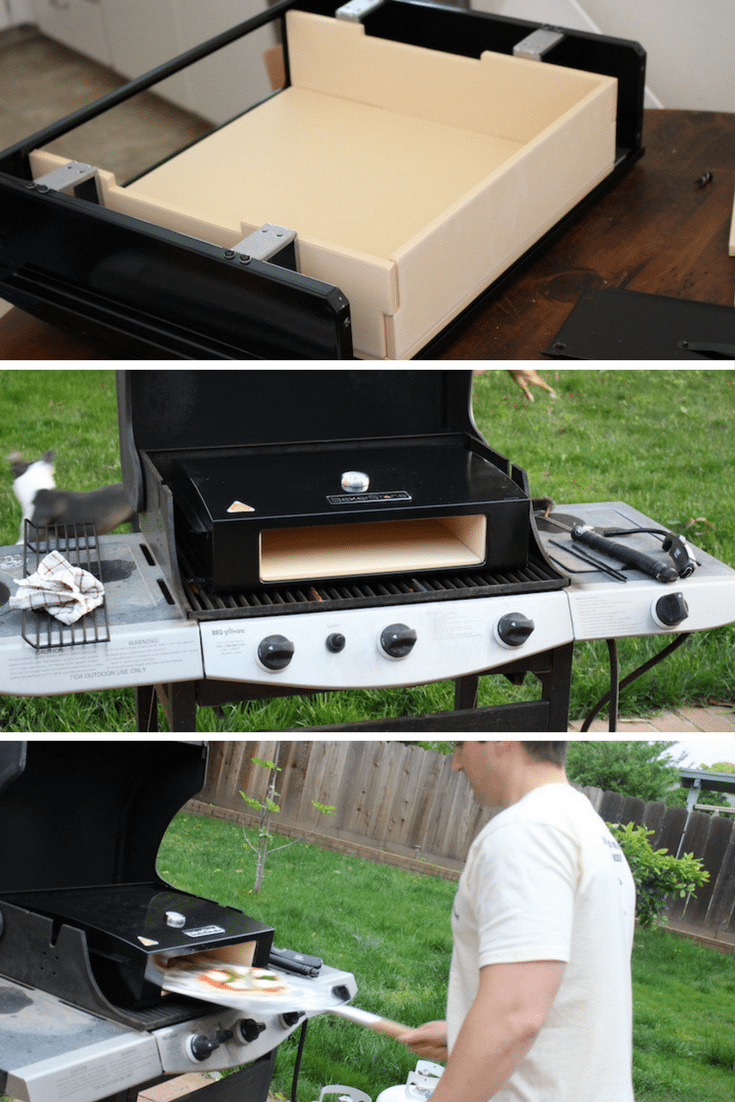 Below are some of the pizzas that I've personally cooked on my gas grill (shown above). As you can see, you don't need a fancy new grill to get amazing tasting pizza. My favorite invention was the sriracha fried egg pizza! Yeah, I like those weird artisan pizzas.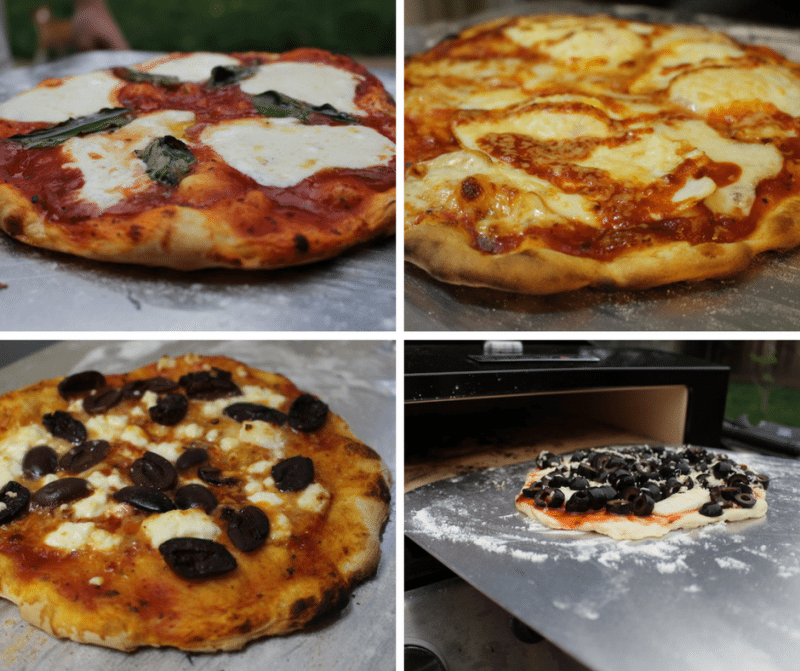 The one downside to this oven is that it can take 20-30 minutes to heat up to the proper pizza making temperature depending on the weather outside. You can close the grill to heat it up faster (and I do this), but according to the instructions you are not supposed to.
6. KettlePizza (My Favorite)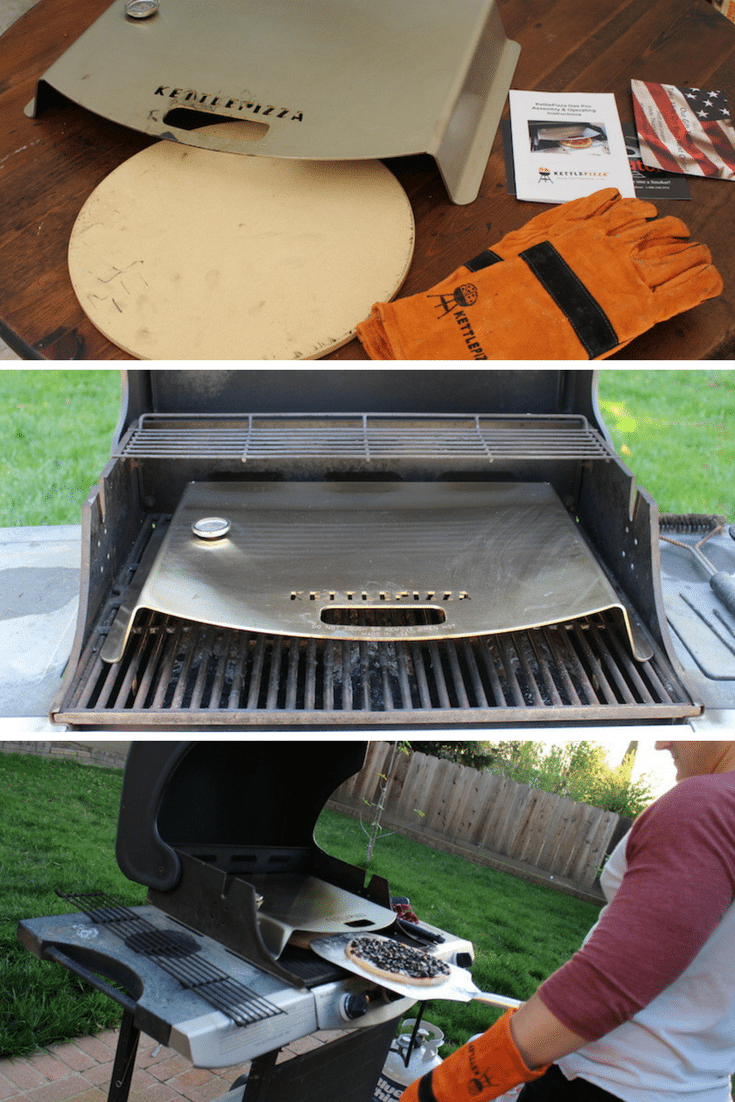 This is another very cool device that's specifically designed to make pizzas on a gas grill. KettlePizza actually started out with a device to make pizzas on Weber charcoal kettle grills, hence the name KettlePizza. However, they recently released their Gas Pro version, made for gas grills. You can see it below. It fits perfectly on a 3 burner grill!
Actually, it looks quite like the foil method above, right? Except this is not made out of flimsy aluminum. Quite the opposite. It's a very thick, very sturdy, single piece of solid stainless steel.
This thing is indestructible, and when you're done for the summer, just toss it in the garage. It won't rust, bend, or anything else.
Get KettlePizza Gas Pro from Amazon!
When you start making pizzas, don't forget to get two pizza peels! Use a wooden one dusted with corn flour for making the pizza and putting it on the grill, then a metal one for removing it from the grill.
I find that the raw dough sticks to the metal one too easily!
Below are some pizzas I made with the KettlePizza Gas. A couple got burnt on the edges because I was still learning how to use this thing properly. My favorite was the jalapeño, bacon, and pineapple pizza on the top left. I tend to like spicy pizzas.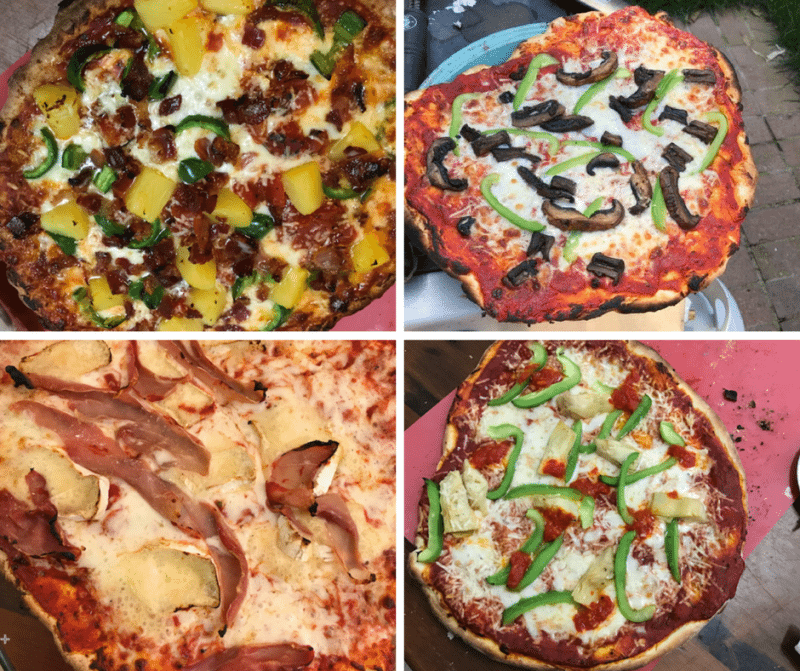 The downside to KettlePizza Gas is the cost. It's more expensive than BakerStone, plus, you need a pizza peel and pizza stone. You can get those as part of a package deal, but still, it's a bit pricey.
7. Try Another Product
KettlePizza Gas and the BakerStone Pizza Oven Box are two specifically designed products for cooking pizza on your home grill, but they're not the only options. Other companies have picked up the idea and created their own versions that function similarly.
For example, there's a Grill Top Pizza Oven Kit from Cuisinart that looks incredibly similar to the BakerStone version. There's also the Grilife Outdoor Pizza Oven. This one offers a bit more space above the pizza stone, which would allow you to cook other types of food (perhaps even loaves of bread). Interestingly, while plenty of companies follow the style of Bakerstone Pizza Oven Box, I've yet to see any that mimic the KettlePizza Gas. I'm not sure why that is, given that the KettlePizza version outperforms the box style and is incredibly resilient.
What About Your Grill?
Which of these methods are you going to try? Or do you have an alternative method to share? In my research for this post, I was surprised to find how common it was to grill pizza on a gas barbecue. I saw everyone from seasoned grillin' dads, to stay-at-home moms, to kids making their pizzas in the backyard like this.
I still want to get a portable grill and make some pizzas while camping or tailgating!

Gas Grill Pizza Oven Kit – KettlePizza…
Gas grill pizza oven enclosure allows optimum cooking temperatures for cooking pizza outdoors
Made of the highest quality American Made stainless steel for years of use
Made in USA, Patented
Does not include grill, stone or pizza peel
Why Make A Pizza Oven Out Of Your Grill?
The process of turning your gas grill into a pizza oven takes a bit of time and possibly some financial investment. So, why go to all that effort when you can simply throw a pizza directly on the grill?
The first reason is the quality of your pizza. I've found that tools like KettlePizza give my pizza a crisp thin crust that's difficult to get otherwise. The pizza seems to taste much better too, although perhaps that's just a placebo effect.
Second, it's cheaper than the alternative. Buying or building a special purpose oven is an even larger investment of time and money.
There's the amusement factor too. Using a pizza oven, even an ad-hoc one is way more fun than making pizza in the oven indoors in the oven.
Once you have your pizza made, it's time to figure out what sides to serve with it.