Our Picks For Top Stainless Steel Propane Grills
Our #1 choice for the best stainless steel propane grill is the KitchenAid 6-Burner Dual Chamber Propane Gas Grill. This is a grill with so much cooking capacity, that even if you invite lots of family and friends over for a BBQ party, you'll never struggle to keep up with the demand for food.
It isn't just the grill capacity that's big on the KitchenAid 6-Burner Dual Chamber Propane Gas Grill. You have loads of storage underneath to keep everything within easy reach, such as tools and condiments.
Shortlist Of Our Favorite Stainless Steel Propane Grills
1. KitchenAid 6-Burner Dual Chamber Propane Gas Grill
2. Napoleon LEX 485 Freestanding Propane Gas Grill
3. Weber Genesis II LX S-340 Liquid Propane Grill
4. Lion 40-Inch Stainless Steel Freestanding Propane Gas Grill
5. Blaze 32-Inch 4-Burner Freestanding Propane Gas Grill
The Napoleon LEX 485 Freestanding Propane Gas Grill has been designed to make the job of the BBQ chef as pleasurable as possible. With plenty of grilling area and a side burner, you won't lack cooking capacity and when you are ready for a cold and refreshing drink, there's a built-in ice bucket within arm's reach.
For smaller BBQs, the Weber Genesis II LX S-340 Liquid Propane Grill is a perfect option especially as it has a side burner so you can fry or boil food as well. If you hate cleaning you'll love this as it has a grease management system, to direct all the excess oils and fat to a drip pan. This grill also has an option for free assembly.
For a grill which is going to last for years, you should consider the Lion 40-Inch Stainless Steel Freestanding Propane Gas Grill. It comes constructed with high-grade stainless steel and is certainly built to last. This larger than normal grill has over 1000 sq. inches of cooking capacity so no one is going hungry when you cook with this monster.
The Blaze 32-Inch 4-Burner Freestanding Propane Gas Grill gives you the versatility to cook at different speeds and temperatures thanks to its heat zone separators. An infra-red burner at the rear also enables you to warm food slowly and adds to the scope of how you can cook with this grill.
#1 KitchenAid 6-Burner Dual Chamber Propane Gas Grill
Our top choice for the best stainless steel propane gas grill is the KitchenAid 6-Burner Dual Chamber Propane Gas Grill, and in truth by quite some distance. Normally our top choices are either the one with the highest specifications or the best value for money, but with this KitchenAid grill, it hits the top spot for both.
The first thing to mention is the huge amount of cooking capacity you get with this grill. You have five main burners which are capable of cooking over 40 burgers at a time, which would give some McDonald's restaurants a run for their money. Next to this, you have a side burner which can you can use for boiling or frying.
To the rear, there is an infra-red rotisserie which is ideal for heating chicken and other poultry. When you add all this together you have a jaw-dropping 1,057 square inches of cooking area with a potential heat output of 91,000 BTUs.
With all this space used for cooking, you might think that there won't be room for anything else, but you'd be wrong. There is a cabinet underneath for the safe storage of your gas tank, plus there are a shelf unit and a large drawer to hold all your cooking tools, accessories, and condiments.
Firing up the gas burners is achieved with the battery operated electronic ignition system, and adjusting the heat thereafter is a simple matter of using the control knobs on the front of the grill. If all that wasn't enough the grill comes supplied with a rotisserie kit, and a cover to keep it protected when not in use.
What We Liked
• Massive cooking area
• Side burner and rotisserie
• Plenty of storage space
• Easy to ignite and control
• Excellent value for money
What We Didn't Like
• Side serving shelf space is limited
• Not easy to maneuver
#2 Napoleon LEX 485 Freestanding Propane Gas Gri

ll

Sometimes you can come across a product with little extras that tell you the people who designed it had the end user in mind. This is certainly the case with the Napoleon LEX 485 Freestanding Propane Gas Grill.

The first extra to mention is an integrated side cutting board which will be a great help to the chef as they prepare food before cooking. Once the cutting board has done its job, this part of the grill can then be used as an ice bucket to keep bottles beer or soft drinks extra cold and at arm's reach of the designated chef. Now, if that's not thinking about the user, we don't know what is!

In terms of its main function, this grill provides you with a total of 645 sq. inches of cooking area, which consists of four main burners giving an output 48,000 BTUs. Part of the main grill can also be used to keep food warm, and if that wasn't enough there is a rotisserie at the rear too.

We haven't finished yet, as this grill has a side burner with an output of 12,500 BTUs which can be used for searing and creating delicious stir fries. Everything is easy to ignite and control, and for convenience, you have the option to light all the burners at the same time.

What We Liked

• Easy ignition and control
• Side burner for searing and frying
• Rear rotisserie and warming area
• Integrated cutting board
• Ice bucket for cold drinks

What We Didn't Like

• A lot of assembly required
• No storage drawers
#3 Weber Genesis II LX S-340 Liquid Propane Grill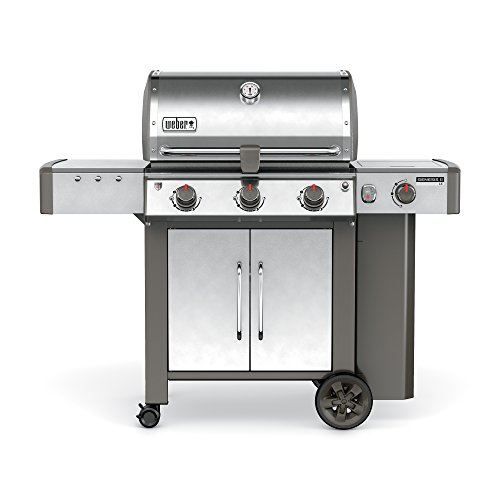 If you want the ability to have occasional cookouts and small intimate BBQs the Weber Genesis II LX S-340 Liquid Propane Grill fits the bill exactly. It is not the biggest grill on the market, but what it lacks in capacity it more than makes up in other features designed to help make the cooking experience a highly enjoyable one.
Although the cooking area is only 513 sq. inches, when you take into consideration the 156 sq. inches of warming space, you will see that this will still be more than enough for a family sized BBQ. This is before we even mention the side burner for heating up side dishes, soups, and sauces. To free up more space, the warming rack can be folded down when it is not needed.
The grill is easy to get started, with electronic ignition and simple to operate control knobs, which can be backlit if you are cooking out on a dark evening. An LED light in the grill hood will also help you to see clearly when cooking after dark. As you are cooking, there are two side tables fitted to the grill which can be used to keep seasoning and condiments within easy reach, and another neat feature is the hooks on the side for hanging your BBQ grilling tools.
Convenience seems to be the theme with this Weber grill as it incorporates a grease management system to funnel grease away from the burners and into the drip pan, for easy cleaning. Last, but certainly not least, is the option of free assembly which is currently being offered with this Weber grill.
What We Liked
• Easy to ignite and control
• Grease management for easy cleaning.
• LED lights for use in dark conditions
• Side hooks for holding grill tools
• Free assembly offer
What We Didn't Like
• Lack of storage space
• No rotisserie
#4 Lion 40-Inch Stainless Steel Freestanding Propane Gas Grill
If you're someone who likes to get a lot for their money both in terms of quantity and quality, then the Lion 40-Inch Stainless Steel Freestanding Propane Gas Grill is a product you will want to look at.
The term which bests describes this grill is 'beast' as it is made from high-grade stainless steel that you can tell just by looking at, is going to make this a very durable product. The grill head, for example, has double layered construction with strong welded joints, to withstand wear and tear. With construction like that, it should come as no surprise that the grill has a lifetime warranty on its frame, housing, and cooking grids.
On the subject of cooking, you have five burners in the main grilling section and you also have a motorized rotisserie unit so chicken can be cooked with the infra-red heat whilst you focus on the steaks and burgers. All this adds up to give you a massive 1030 sq. inches of cooking area so whatever the size of your guest list, you should be able to cater for all of them.
Using the grill is easy thanks to a quick ignition system and push and turn control knobs with which you can control the cooking temperature of the burners and the rotisserie. To help you whilst you cook, there are two side shelves for serving or for holding sauces and condiments.
You have two drawers which can be used to store away all your cooking tools and there is even a kitchen towel holder for when you need to wipe away any excess grease. To top it all you'll also receive a free accessory package when you purchase this grill.
What We Liked
• Tough and durable construction
• Very large cooking capacity
• Motorized rotisserie unit
• Large side shelves
• Two drawers for storage
What We Didn't Like
• No side burner
• Assembly instruction manual lacks detail
#5 Blaze 32-Inch 4-Burner Freestanding Propane Gas Grill
For something that will help you cater for both small family BBQs and for those occasions when you have additional guests to cook for, the Blaze 32-Inch 4-Burner Freestanding Propane Gas Grill seems perfect. It is not too big that it is going to dominate your garden but at the same time, it has the capacity to cook at least 20 burgers at once, so it is no camp stove.
The main grill has four burners so you have plenty of scope to both sear meat, and to gently cook it. There is an additional infra-red rear burner which can be used to keep food warm on a rack, or if you purchase the rotisserie unit (optional), you can use it for roasting chicken or pork.
When you have different types of food to cook which all require a different temperature, you will be able to cook them to perfection thanks to the grill zone separators. These effectively give you multiple grilling surfaces, each able to cook at variable temperatures and give you the ability to use different cooking methods in each one.
A shelf on each side of the grill is a handy area for sauces and seasoning or you could use them to serve up each guest's food when it is ready. Underneath there is a storage area for your gas tank, your cooking tools, and for the grill cover when the grill is in use.
What We Liked
• Ideal cart size for smaller gardens
• Infra-red burner for warming or roasting
• Heat zone separators
• Decent sized side shelves
• Large storage unit underneath
What We Didn't Like
• Rotisserie unit not included as standard
• No drawer storage
Buyers Guide For Stainless Steel Propane Grills
Assuming that you want your stainless steel propane grill to last more than one summer, you should first check to see which grade of stainless steel has been used. 430-grade stainless steel does a good job of preventing corrosion, but if you want a better level of protection, then look for those grills made with at least 304 grade.
When it comes to using the grill, your first consideration should be whether the grill has the cooking capacity you'll need when holding BBQs or garden parties. For BBQs where it is just you and some family, then a capacity of 500 – 650 sq. inches will be sufficient to cope with the amount of grilling you'll need to keep everyone fed.
However, if you are someone who invites half the neighborhood round, then you'll want to consider some of the larger capacity stainless steel propane grills that are available. These are more likely to have an additional side burner for extra capacity and cooking options. Most larger grills tend to have a rear infra-red burner which can be used to keep food warm or in conjunction with a rotisserie allow room for spit roasting chicken, and small pork or beef joints.
With capacity still in mind, you should also think about whether the grill you are buying gives you enough prep or serving space for the amount of food you're likely to cook. Most grills have a least one side shelf, and some have two, but the differences in the size of these can be significant.
There's also the matter of the amount of storage that your grill has. There is likely to be a storage cupboard underneath, but bear in mind this is where your gas bottle will be located, so take that into account. Ideally, you want one with a decent sized cupboard and drawers so that all your tools, and sauces can be neatly stored away.
Check also for any extras or freebies that come included with your grill purchase. These can include free accessories or free assembly, which can be worth up to $450 in some cases.
Why Stainless Steel Propane Grills Tick Every BBQ Box
The choices you have when it comes to buying a BBQ grill are many and varied, often to the point of being overwhelming. You have different fuel types, styles, sizes, and of course a vast variation in the price you can pay.
At one end of the scale, you have simple charcoal stoves costing no more than a child's pocket money, all the way up to built-in grill islands costing over ten thousand dollars. Most BBQ enthusiasts are probably searching for a grill that falls between these two extremes but finding one with great features, which is easy to use, plus affordable can be tricky.
In our view, stainless steel propane grills offer the perfect solution to this dilemma by giving the user, the cooking capacity, and functions that you'd find as standard on the most expensive grills, but not costing amounts that would be difficult to justify spending. But don't take our word for it, let's go through all of these to see if stainless steel propane grills really can tick all those boxes.
For a start, they generally have a decent amount of cooking capacity and in some cases even greater capacity than some built-in grills. Depending on the model in question, in addition to the main grill, you could have side burners, infrared back heaters, searing burners, and rotisseries. All this adds up to giving you as much capacity as you will ever need for your BBQ gatherings.
Something else you will normally find is that stainless steel propane grills are every bit as easy to ignite and control as built-in grills or grill islands. Most have electronic ignition and controllability that is akin to using the cooker you have in your kitchen. With this control and in some cases with grill separators you can have three or four different dishes cooking separately on your grill, whilst food that is already cooked sits on a warming rack waiting to be served.
Whilst the size of grills varies greatly, most stainless steel propane grills come with a reasonable amount of storage, and in some cases a significant amount of storage. Obviously, there needs to be somewhere for the propane gas tank to be stored and this will likely be in a storage unit under the grill. Beyond that, you will find grills with additional storage drawers, hooks, shelves and even ice buckets where you can keep drinks cold.
It must be said grill islands are without a doubt some of the most beautiful grills available and many are truly stunning pieces of garden furniture. Whilst we are not claiming stainless steel can match marble or stucco, it can still be a very visually pleasing material. Stainless steel also has practical advantages in terms of its durability and resistance to corrosion.
How are we doing for boxes ticked so far?
Well up until now we have shown that stainless steel propane grills can offer as much cooking capacity, as much convenience, as many features, and equal amounts of storage as other grills. They are also very pleasing to look at even they don't have the style of more expensive grills. And thus, we come to the final tick-box…the price!
For comparison, high-quality stainless steel propane grills will be priced from $1000, up to around $3,000, whereas grill islands start around $3,000 and go up to…well there really isn't a limit. Naturally, if your budget allows and your preference is for a built-in or island grill then go for it and enjoy the experience of cooking with them.
On the other hand, think of all the boxes stainless steel propane grills ticked, including the price, and you'll see that they are definitely a worthy alternative.